Data is the most valuable asset for individuals and businesses. Data loss can occur due to various reasons, such as system crashes, human errors, malware attacks, and hardware failure. One of the most reliable ways to protect data is by using RAID (Redundant Array of Independent Disks) technology. However, even RAID systems can fail, and when they do, it can be a nightmare for anyone who relies on them. To help users recover their data from failed RAID systems, there are several RAID data recovery software available in the market. These software are designed to recover data from various types of RAID configurations, including RAID 0, RAID 1, RAID 5, and RAID 10.
After researching and testing multiple RAID data recovery software, we have compiled a list of the 6 best RAID data recovery software for 2023. Among the software we tested, Eassiy Data Recovery stands out as the best RAID data recovery software. It provides users with a user-friendly interface, powerful features, and a high success rate in recovering lost or corrupted data.
Part 1: The Things You Need to Know About RAID
What is RAID?
RAID (Redundant Array of Independent Disks) is a data storage technology that uses multiple hard disk drives (HDDs) or solid-state drives (SSDs) to increase data reliability and performance. RAID arrays can be configured in different ways, known as RAID levels, each with its own advantages and disadvantages.
RAID technology is commonly used in servers and data centers, where data reliability and availability are crucial. However, it can also be used in personal computers and workstations to improve performance and data redundancy.
Some of the most common RAID levels include RAID 0, RAID 1, RAID 5, and RAID 10. Each RAID level has different characteristics, such as the number of disks required, data redundancy level, and performance impact. Choosing the appropriate RAID level for a particular application depends on the specific requirements and priorities of the user.
What's the difference from RAID 0, 1, 5, 10?
Here are the main differences between the most common RAID levels:
RAID 0: This level is also known as striping. It uses two or more disks to improve performance by splitting data across the disks. However, it does not provide any redundancy, meaning that if one disk fails, all data is lost. RAID 0 is commonly used in gaming computers or for applications that require high-speed data transfer rates.
RAID 1: Also known as mirroring, RAID 1 uses two disks to create an exact copy of the data on one disk on the other disk. This provides redundancy, meaning that if one disk fails, the data can still be retrieved from the other disk. However, it does not provide any performance improvement. RAID 1 is commonly used for important data that requires high reliability.
RAID 5: This level uses at least three disks and distributes data and parity across all disks. Parity data is used to reconstruct data if one disk fails. RAID 5 provides a balance between performance and data redundancy, but it can be slower than RAID 0. It is commonly used for applications that require high performance and data protection.
RAID 10: Also known as RAID 1+0 or nested RAID, RAID 10 combines RAID 1 and RAID 0. It uses four or more disks and creates mirrored sets of data that are then striped across the disks. This provides both high performance and redundancy, making it a popular choice for servers and other applications that require both speed and data protection.
Is it Possible to Do RAID Data Recovery?
It is possible to do RAID data recovery. RAID (Redundant Array of Independent Disks) is a technology that combines multiple hard drives to create a single logical unit with improved performance, reliability, and capacity. However, when one or more drives fail, it can result in data loss or corruption. RAID data recovery is the process of recovering lost or corrupted data from failed RAID arrays.
There are several RAID data recovery techniques, including software-based recovery and hardware-based recovery. Software-based recovery involves using specialized software tools to rebuild the RAID array and recover the lost data. Hardware-based recovery involves repairing or replacing the faulty hardware components in the RAID system to recover the lost data.
The success rate of RAID data recovery depends on several factors, such as the type of RAID configuration, the severity of the damage, and the quality of the recovery tools and techniques used. In some cases, data loss due to RAID failure may be irreversible. However, with the right expertise and tools, it is possible to recover a significant amount of data from failed RAID systems. It is always recommended to have a backup of your data to avoid losing important information due to RAID failures or any other unforeseen circumstances.
Part 2: Top 3 RAID Data Recovery Software for Windows/Mac (Paid)
1. Eassiy Data Recovery
The best RAID data recovery program, hands down! When it comes to performing a safe and effective recovery process on Windows, Mac, Linux, USB drives, NAS servers, memory cards, and other devices, Eassiy Data Recovery software works miracles. When scanning lost or deleted files from different storage media, even those used in the RAID configuration, it outperforms one's expectations because of its sophisticated algorithm. It works with RAID 0, RAID 1, RAID 5, RAID 6, RAID 10, and all other RAID levels. It addresses more than 500 RAID data loss scenarios, including recovering files after the Recycle Bin has been empty or without it, recovering data after a power outage, malware attack, disk formatting, RAID damage, RAID reconstruction failure, partition loss, etc.
Main features:
Recover data from more than 2,000 different storage devices, including PCs, USB drives, SD cards, cameras, hard disks, SSDs, etc.
More than a thousand different file formats can be recovered
Recover data that has been lost as a result of deletion, formatting, raw partitioning, system failure, virus attack, etc.
There are two scan modes available.
24/7 Customer support.
Pros:
Simple hardware- and software-based RAID data recovery.
Supports all RAID arrays, including RAID 0, RAID 1, JBOD, and Dynamic Disks from Microsoft.
Allows you to mount virtual drives and access them through File Explorer as if they were local disks.
Disk arrays are automatically detected.
Cons:
Some recovered files may be broken – not usable.
How to Do RAID Recovery by using Best RAID Data Recovery Software:
Step 1: Select the Data Type and External Drive.
Open Eassiy Data Recovery and attach an external storage device to your computer from which you want to restore erased data. As soon as the external drive is connected, Eassiy Data Recovery will instantly recognize it and add it to the list of drives that may be scanned using the Removable Drive option. The external device can be chosen by checking the box next to the Removable Drives item in the list.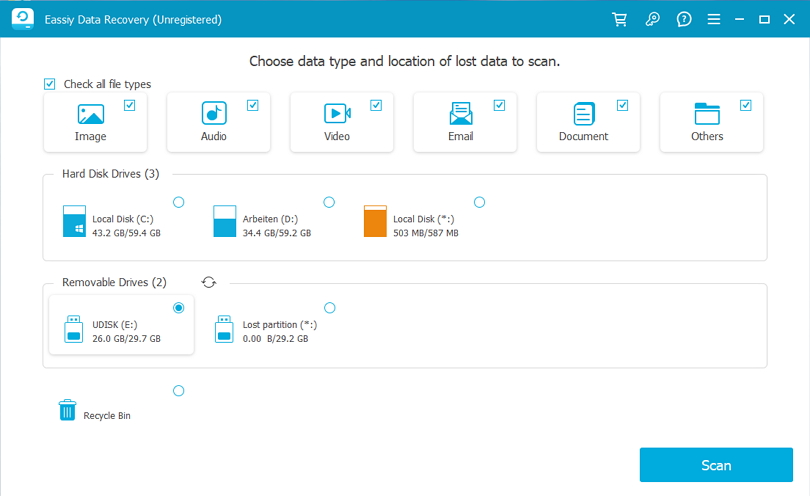 Step 2: Scan and review the findings.
There are two scanning options offered by Eassiy Data Recovery: Quick Scan and Deep Scan. While Deep Scan is more thorough and advised for instances involving complicated data loss, Quick Scan is quicker and better suited for recent data loss.
To see if the data you wish to recover is present, look through the type list and path list of the external drive's scan findings.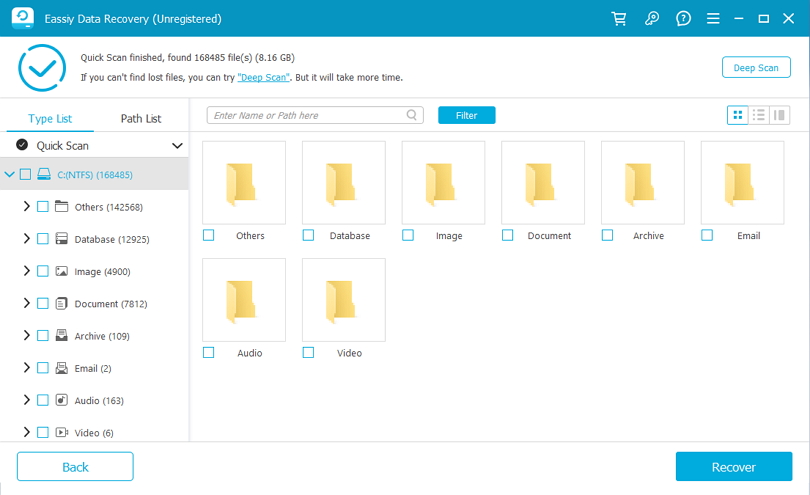 Step 3: Preview and Recover Data.
Select the files you want to recover and click "Recover" after the scan is complete.
Finally, pick a secure location to store the recovered files, but away from the area where the data was lost. As you can see, Eassiy Data Recovery is a dependable and user-friendly program that, through its Removable Drive option, can assist you in recovering lost data from external storage devices. Anyone who needs to rapidly and effectively recover deleted data should choose it because of its strong scanning automation and simple interface.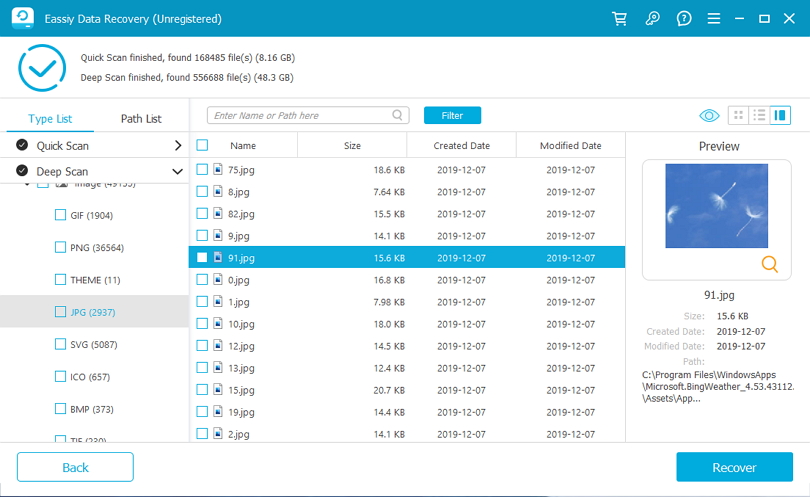 2. DiskInternals RAID Recovery
Reliable program with both manual and automated recovery options is DiskInternals RAID Recovery. UI for the app is straightforward. By dragging and dropping icons for the disks, it creates a RAID array from the provided hard drives. The software also recognizes all array configurations, including RAID 0, 1, JBOD, RAID 5, and 0+1. It is capable of recovering data from hard drives whether they are attached to an Intel, VIA, or Nvidia RAID-capable motherboard or controller. Additionally, the software includes a drag-and-drop feature for manually assembling RAID configurations. Additionally, the software is capable of recovering various types of data, including documents, images, and multimedia files, even from disks with corrupt file systems or lost partitions.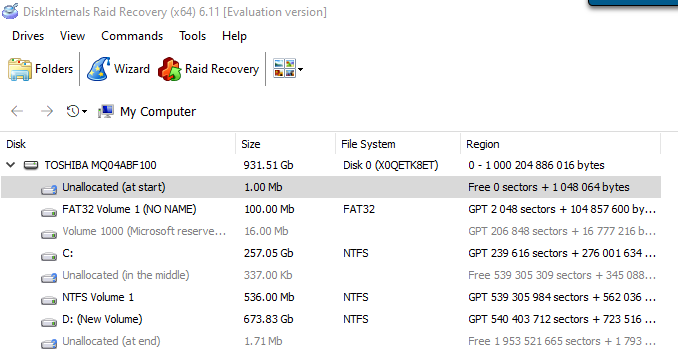 Pros:
Retrieves information from hardware- and software-based RAID
Supports file recovery from Dynamic Disks, JBOD (span), RAID 0, 1, and 5 in Microsoft software RAID.
Automatically determines the type of disk array and completes RAID data recovery.
The choice between manual and automated modes of operation
Cons:
There are no secure solutions for disk image or bootable recovery for RAID data.
 It only functions on Windows systems.
3. Zero Assumption Recovery
Another potent program for recovering lost or deleted data from corrupted or crashed system and storage systems is Zero Assumption Recovery. Additionally, it makes it easier to recover data from missing or lost drive partitions, hard drives, memory cards, thumb drives, and RAID arrays. Three recovery kinds are included in the software: RAID Recovery, Data Recovery for Windows & Linux, and Image Recovery. This thorough data recovery program is capable of rebuilding failing RAID arrays and restoring data. You can also use it to restore data from disk image files.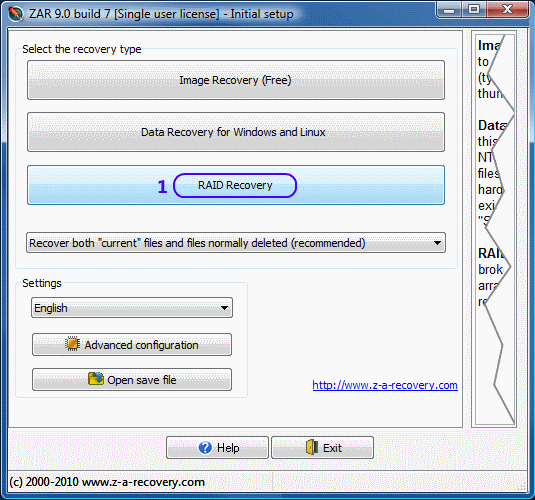 Pros:
Support for file recovery on RAID arrays, hard disks, memory cards, and thumb drives
Repair RAID 0, RAID 1+0, and RAID 5 drives that are damaged. virtually
Specialized image recovery option for recovering images and videos
Supports file system recovery from FAT, NTFS, ext2, ext3, and ext4
Cons:
Not accessible on Mac computers
scanning procedure that takes a long time for malfunctioning hard disks
Part 3: Top 3 Free RAID Data Recovery Software
1. R- Studio Technician
One of the most complete data recovery programs for drive partitions, disk drives, and virtual RAIDs is R-Studio Technician. The software has a file viewer option to preview data that can be recovered. This utility can be used to recover data from damaged RAID configurations. A SMART monitoring capability is also present, which aids in the identification of probable HDD failure.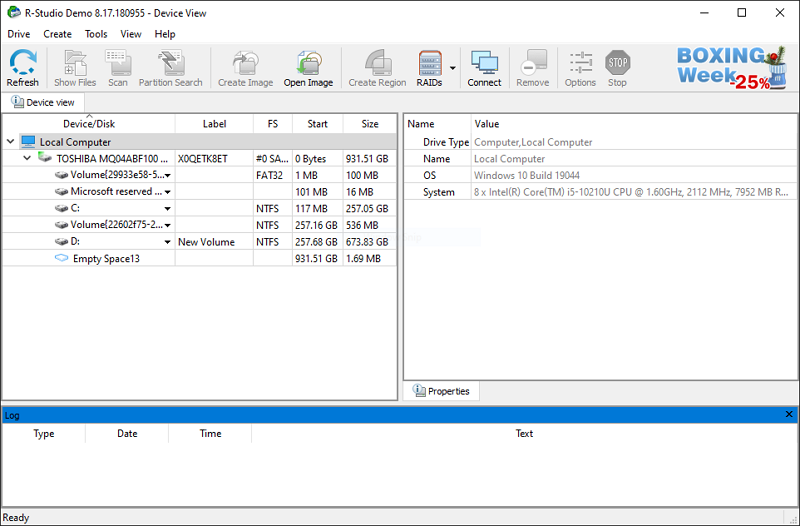 Pros:
Available customized scan recovery option
Identification and understanding of data patterns
Recognizes RAID settings and consistency automatically
Support for file recovery across all file systems and RAID disks
Cons:
There is no guarantee of a full data recovery.
Possibility of data overwriting if data recovery attempts to replicate missing files to the same directory or disk.
2. Get Data Back
Runtime Software provides the sophisticated RAID data recovery program called Get Data Back. To recover from RAID 0 and RAID 5 arrays, the software supports a variety of file types and formats. The software also enables you to replicate the rebuilt RAID on a real drive, a virtual image, or an image file. Furthermore, you can restore any file from a hard disk that has been formatted, re-partitioned, or is otherwise inoperable. Additionally, it restores data after unintentional deletion and malware assaults.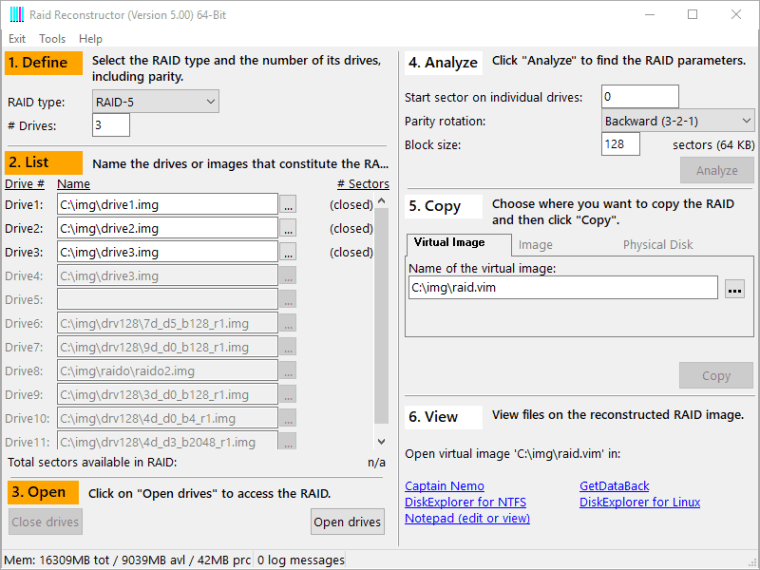 Pros:
Supports RAID 0 and RAID 5 recovery
Data recovery for hard drives that have been formatted and re-partitioned
Read-only architecture with various scan levels
Supports the file formats NTFS, FAT12, FAT16, and FAT32.
Cons:
Outdated and unfriendly user interface.
Iterative searching is required to find the proper drive partition.
Not appropriate for all Windows systems.
3. ReclaiMe RAID Recovery
The fact that this RAID recovery solution is totally free to use and devoid of any spyware or adware is one of the reasons to choose it. Even a beginner computer user may easily navigate the UI and take advantage of a variety of useful features. Data recovery from RAID 0, RAID 5, RAID 10, RAID 6, and RAID 5E are exceptional with ReclaiMe RAID Recovery. You may recover RAID setup details including drive order, block size, and start offset with the ReclaiMe Free RAID Recovery software. Also compatible with NAS (QNAP, NETGEAR, Synology, and Buffalo) RAID disk setups is this software solution. This software, however, cannot be used for file-by-file recovery.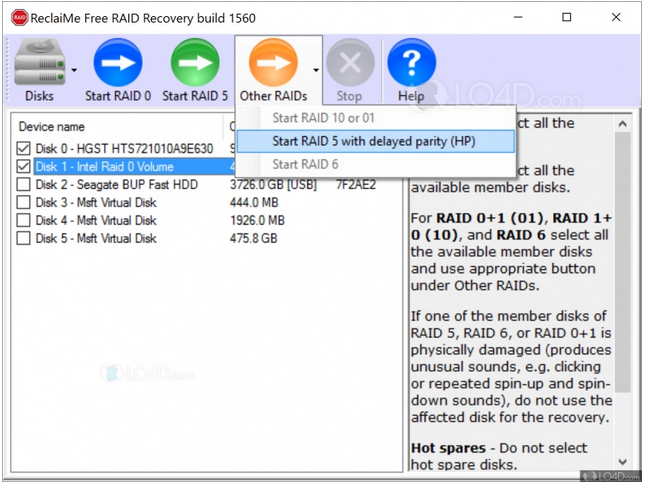 Pros:
Simple and intuitive interface
Free to use and devoid of any spyware or adware
Compatible with a variety of RAID kinds
NAS devices from QNAP, Buffalo, NETGEAR, and Synology are supported.
Cons:
To finish the RAID data recovery process, you might need to apply additional appropriate data recovery software.
MacOS and Linux systems are not supported.
Part 4: FAQ about Raid 5 Data Recovery
1. What is RAID 5?
RAID 5 is a type of redundant array of independent disks (RAID) configuration that uses block-level striping and distributed parity. It requires at least three hard drives and provides fault tolerance by distributing parity information across all disks in the array.
2. What are the common reasons for RAID 5 failure?
The most common reasons for RAID 5 failure include hardware failures, such as disk failure or controller failure, software errors, power outages, and human errors, such as accidental deletion or formatting of data.
Conclusion
After reviewing and testing several raid data recovery software options, we have concluded that Eassiy Data Recovery is the best choice for raid recovery in 2023. It provides a user-friendly interface, supports multiple raid configurations, and has a high success rate in recovering lost data. Additionally, it offers a free trial version and reasonable pricing for its full version, making it an affordable and effective option for individuals and businesses. Therefore, we highly recommend Eassiy Data Recovery as the top choice for raid data recovery in 2023.