Data is the lifeblood of businesses and individuals alike in this digital era. From crucial business documents to cherished memories captured in photos and videos, our reliance on digital storage has never been greater. However, even with the most advanced technologies at our disposal, the possibility of data loss continues to loom over us.
Today, one of the challenging scenarios a user can encounter is when a hard drive or storage device becomes inaccessible due to formatting issues is data loss. But thankfully, tech experts have innovated helpful tools to help users easily recover data from formatted hard drive within a few clicks.
So, if you're in a similar situation, this article will walk you through the best method to recover formatted hard drive in 2023. You'll also find out reasons why your hard drive might be formatted. Read on to find out more.
Part 1: What Hard Drive Format and its Causes?
Hard drive format refers to the process of preparing a storage device, such as a hard disk drive (HDD) or solid-state drive (SSD), to store and organize data. It involves creating a file system on the drive that allows the operating system to read and write data on it. While this is typically done intentionally by users to erase data or prepare a new drive, there are instances when a hard drive becomes unintentionally formatted or encounters formatting issues due to various causes.
Here are five different causes of hard drive format:
1. Human Error:
One of the most common causes of accidental hard drive format is human error. This can occur when a user mistakenly selects the wrong drive for formatting during the operating system installation process or while managing disk partitions. Unintentional formatting may also result from accidentally executing the format command or selecting the "Quick Format" option without realizing its consequences.
2. Malware or Virus Attacks:
Malicious software or viruses can wreak havoc on a computer system, including its storage devices. Some malware may corrupt the file system or trigger a format operation on the affected drive. This can lead to an unintentional format, resulting in the loss of data stored on the drive.
3. Operating System Errors:
Operating system errors or glitches can sometimes trigger unintended formatting of hard drives. This can happen during system updates, driver installations, or when the operating system encounters critical errors. In some cases, a malfunctioning operating system may prompt a format operation during the booting process, leading to data loss.
4. Power Surges or Electrical Issues:
Power surges or electrical issues can cause abrupt shutdowns or disruptions in a computer system. These sudden power failures can interfere with the ongoing read/write operations on the hard drive, potentially corrupting the file system or triggering a format process. Such situations can occur due to faulty power supply units, electrical storms, or improper power management.
5. Hardware Failures or Disk Errors:
Hard drives consist of complex mechanical and electrical components that can fail over time. Hardware failures, such as a faulty read/write head, damaged controller board, or spindle motor malfunction, can result in data inaccessibility or drive corruption. In some cases, the operating system or disk management utilities may prompt for a format to repair or restore functionality, although this can lead to data loss.
It's important to note that formatting a drive erases the file system and the associated data structures, making the data appear inaccessible. However, formatting itself does not necessarily overwrite the actual data stored on the drive. This means that data recovery software and techniques can sometimes help retrieve lost files even after a format, depending on the extent of the formatting operation and subsequent usage of the drive.
Part 2: How to Recover Files from Formatted Hard Drive Looselessly
Recovering files from a formatted hard drive looselessly is very easy when you have software like Eassiy Data Recovery at your fingertips. This is a simple, yet effective data recovery tool that is trusted by millions of users globally for recovering data loss due to any scenario.
It allows you to recover various types of data, including photos, videos, business documents, and many other types of data. And another good thing about this tool is that it's not limited to just recovering data from hard drives but also SSDs, USB flash drives, digital cameras, mobile phones, and lots more.
Key Features:
It's designed to seamlessly function on Mac and Windows system.
Filter recovered data based on the file type, size, date, and streamlining process.
Pause and resume scanning process without compromising the recovery operation.
Recover already recovered files during the scanning process easily.
It's very effective and boasts a high-success rate up to 98.6% compared to its competitors.
Supports both quick scan and deep scan to recover severely damaged hard drive.
Recover 1000+ types of files, including photos, videos, documents, emails, archives, etc.
How to recover data from hard drive losslessly
Step 1: Install the Eassiy Data Recovery software on your Mac or PC.
Step 2: Open the installed app and use the connect the hard drive to establish a connection between the hard drive and the computer .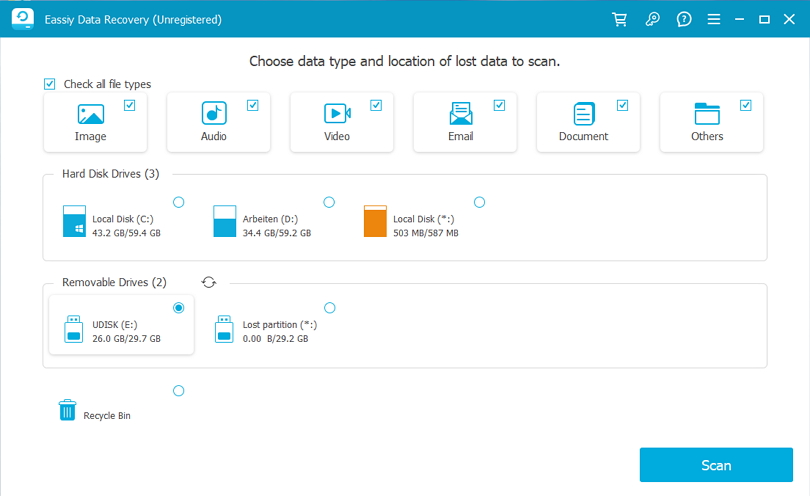 Step 3: Select the connected hard drive and click Scan. By doing so, Eassiy Data Recovery will perform a quick scan to recover your lost data.  However, if you don't like the output of the data, select the Deep Scan mode to execute an extensive scan.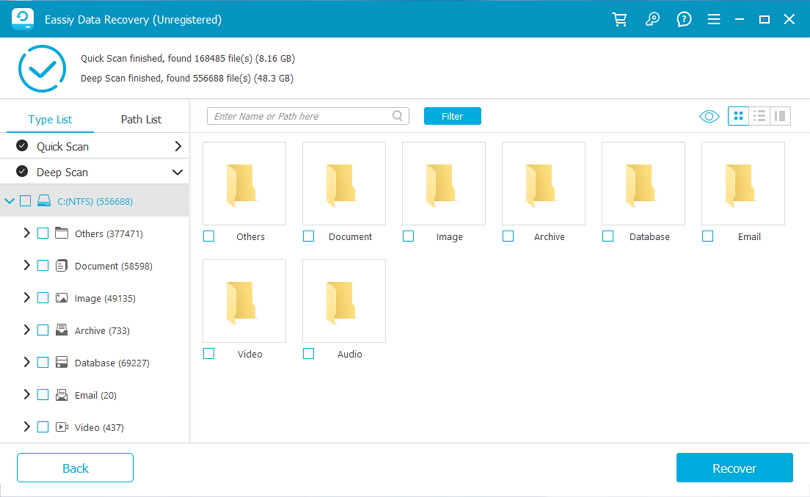 Step 4: After the deep scan is complete, preview the recovered files. Then, click the Recover button to restore the files.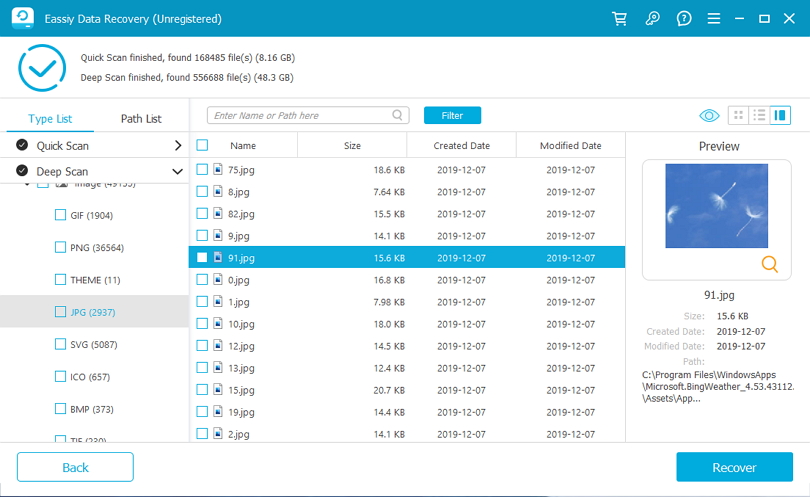 Part 3: Other Helpful Tools to Recover Formatted Hard Drive
There are more helpful tools that you can use to recover formatted hard drive besides Eassiy Data Recovery. Here, we'll show you a list of some if the best ones that are worth trying in 2023.
1. Disk Drill
Disk Drill is the first tool on our list. It's one of the top-rated data recovery tools that supports recovery of data loss due to various scenarios, including formatting.
With Disk Drill, you can recovery lost data without requiring technical knowledge, and thanks to it's simple interface, you won't find it difficult to navigate your way around the app.
Key Features:
Supports over 400 types of file formats.
It's compatible with Mac OS and Windows.
Supports built-in data protection tools.
 Easily filter recovered files.
Repair damaged partition within a few clicks.
Pros:
It's easy to operate.
Supports free version.
Simple and intuitive user interface.
Cons:
The cost of upgrade is quite expensive.
2. Recuva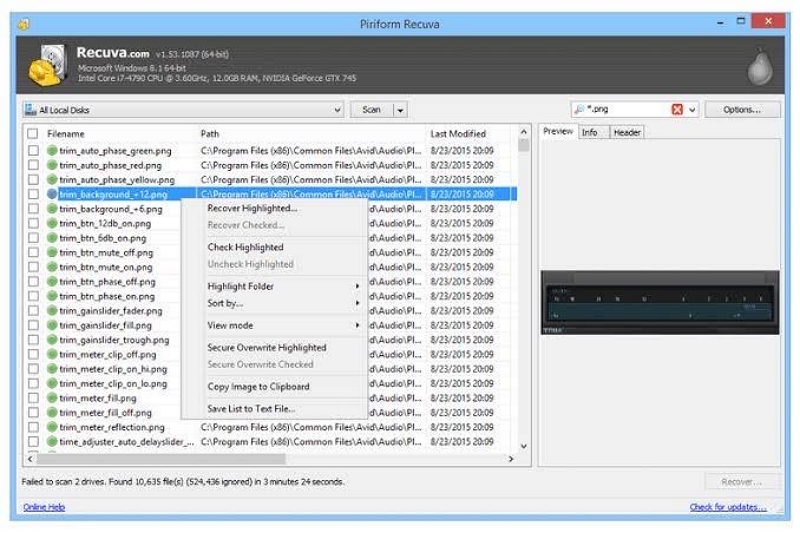 Recuva is a fast and reliable data recovery tool that can be used to recover formatted hard drive within a few minutes. The tool supports a wide range of features, including formatted hard drive scanner, virtual hard drive support, and lots more. Plus, it supports different types of storage devices, including SSDs, hard drives, and lots more.
Key Features:
Preview recovered files.
Supports built-in securely overwrite tool.
It supports both quick scan and deep scan scanning modes.
Simple and intuitive UI.
Pros:
Fast and effective scanning process.
It's very affordable.
Supports unlimited free trial.
Cons:
The deep scan is really slow.
The user interface could be better.
3. EaseUs Data Recover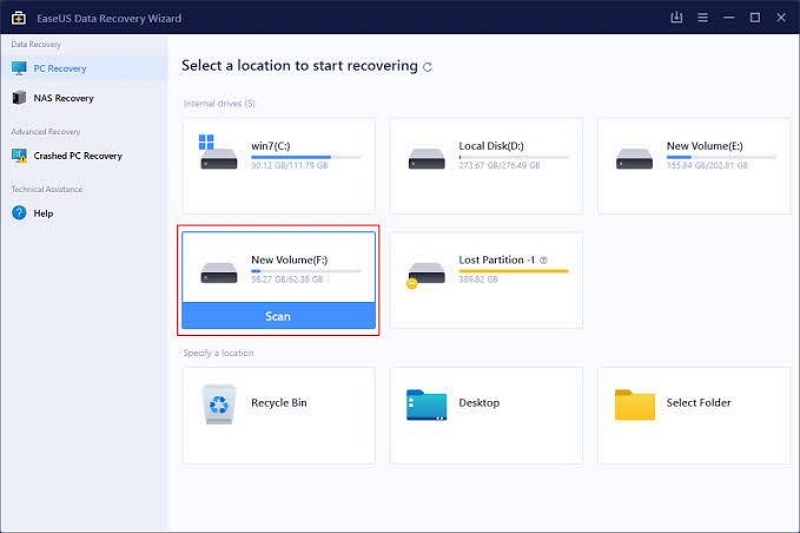 Another data recovery tool that has been consistent in helping users recover different types of files is EaseUS Data Recovery. This is a popular tool that boasts many effective features to recover data flawlessly. It supports up to three types of scanning mode, including quick scan, deep scan, and raw scan. And it recovers data from formatted hard drive without reducing their quality.
Key Features:
Supports over 1000 file formats.
Supports quick, deep, and raw scanning mode.
Recover different types of files within a few clicks.
Supports recovery of RAW partition within a few clicks.
Pros:
Fast and reliable data recovery process.
Easily sort recovered files as per requirements.
Recover formatted hard drive with high-quality.
Cons:
You need to upgrade to a premium account to be able to access helpful features.
It does not scan the entire hard drive.
Part 4: More Helpful Tips to Prevent Recover Formatted Drive In The Future
Recovering data from a formatted drive is easy when you have the right data recovery tool at hand. However, there are more helpful tips that can help you prevent your hard drive from being formatted. Let's check them out below;
Stop Using the Drive:
After realizing that a drive has been formatted unintentionally, it's crucial to stop using the drive immediately. Continued usage, such as saving new files or installing software, can overwrite the sectors on the drive where the original data was stored, making recovery more difficult or even impossible. By avoiding any further write operations on the drive, you increase the chances of successful data recovery.
Use Data Recovery Software:
Data recovery software is a valuable tool for recovering files from a formatted drive. There are numerous reputable data recovery software options available, each offering different features and capabilities. Choose a reliable and professional data recovery software specifically designed for formatted drives. These tools can scan the drive, identify recoverable files, and restore them to a different location. Remember to install the recovery software on a separate drive or external storage device to avoid overwriting the data you are trying to recover.
Perform a Deep Scan:
When using data recovery software, opt for a deep or thorough scan rather than a quick scan. A deep scan thoroughly examines the entire drive, searching for traces of the lost files and reconstructing the file structures. While a deep scan takes longer to complete, it provides a higher chance of recovering a greater number of files and folders. Be patient and let the software complete the scanning process before previewing and recovering the files.
Choose Professional Data Recovery Services:
Another thing you can do when you're experiencing formatted hard drive problem is to request help from a professional data recovery service. These services can help you employ specialized techniques and equipment to recover data from even the most challenging scenarios. But keep in mind that professional data recovery services can be expensive.
Regular Backup and Prevention for the Future:
Regular backup your important files and store them in multiple locations, such as external hard drives, cloud storage, or network-attached storage (NAS). By doing this, even if a drive is accidentally formatted, you'll have a recent copy of your data readily available.
Conclusion
Recovering data from a formatted hard drive may seem like a daunting task, but with the right approach, it can be simpler than you think.
By following the steps outlined in this article, you can increase your chances of successfully recovering your valuable data. However, remember to always exercise caution and avoid overwriting the formatted drive to prevent further data loss.