Some individuals prefer saving their contacts directly onto the SIM card, making it easy for them to transfer contacts between phones by simply swapping out the SIM card. Yet, what they fail to realize is that all phone contacts are saved locally on the SIM card and are not backed up unless exported specifically. Therefore, if you're currently facing a scenario where you have mistakenly deleted or lost contacts saved on the SIM card, you may be wondering how to retrieve contacts from the SIM card. However, there's no need to worry! In this post, we are introducing 8 proven ways for you to perform SIM card contacts recovery. You can choose any of them to recover contacts from SIM card.
Part 1: Can You Recover Contacts from SIM Card?
If you have lost the contacts saved on your phone's SIM card and are wondering if it's possible to retrieve them, the good news is that you can recover them. Deleting a contact from a SIM card doesn't result in permanent deletion; instead, the space where the contact was stored is marked as empty. This means that deleted contacts can still be recovered from the SIM card since they remain on the phone and are only invisible to the user until new contacts are added to the SIM card. Therefore, to recover deleted contacts from the SIM card of your phone, it's crucial to refrain from adding any new contacts or other data.
Why Did I lose Contact from SIM Card?
There are several reasons why contacts may be lost from a mobile SIM card. Before learning how to recover deleted SIM contacts, it's essential to understand the primary causes of contact loss. We've compiled the most prominent reasons for you:
Performing a factory reset while the SIM is still in the device
Accidentally deleting contacts
Virus attacks that wipe out all device data
Physical damage to the device although the SIM card is in the device
The SIM card getting bent or damaged while inserting or removing it from the device
Part 2: 8 Best Solutions for SIM Card Contacts Recovery
This section will undoubtedly come in handy if you are wondering about the best solution for SIM card contacts recovery. This section will provide you with 8 best solutions to recover deleted contacts from SIM card.
Way 1: Most Useful Way to Recover Deleted Contacts from SIM Card
Are you looking for a way to perform SIM Card contacts recovery? Then, Eassiy Data Recovery is one of the most useful ways to recover deleted contacts from SIM card. This powerful Android data recovery tool is developed to recover lost or deleted data. With its user-friendly interface, you can easily recover your deleted contacts. Besides contacts, it also allows you to recover photos, videos, WhatsApp attachments, audio, call logs, etc. For photos and videos, this software has got the highest recovery rate in the industry. You can directly recover contacts from SIM card by using this tool. It provides you with fast scanning speed and 6000+ Android devices are supported. Eassiy Android Data Recover can be downloaded for free on both Windows and MacOS. Moreover, it supports almost all types of Android phones, which is remarkable.
Key Features:
It supports over 16 file types, which is a leading number among similar software.
In just seconds, it can scan over 1000 deleted files.
Recover deleted WhatsApp messages and their attachments on an Android device.
It offers 3 recovery modes: recovering data directly from Android devices, Android SD cards, and SIM cards.
You can view and preview the scanned data in detail before recovering it, free of charge.
Here are the steps to recover deleted contacts from SIM card
Step 1: Download the Mac/Windows version of the software that matches your system. With this software, you can recover phone numbers, email addresses, contact names, and more from the SIM card memory on your Android phone.
Note: For optimal results, refrain from adding new contacts to prevent them from overwriting the deleted ones.
Step 2: Open the software and connect your Android phone to your PC via a USB cable. Ensure that you have enabled USB debugging on your phone as well.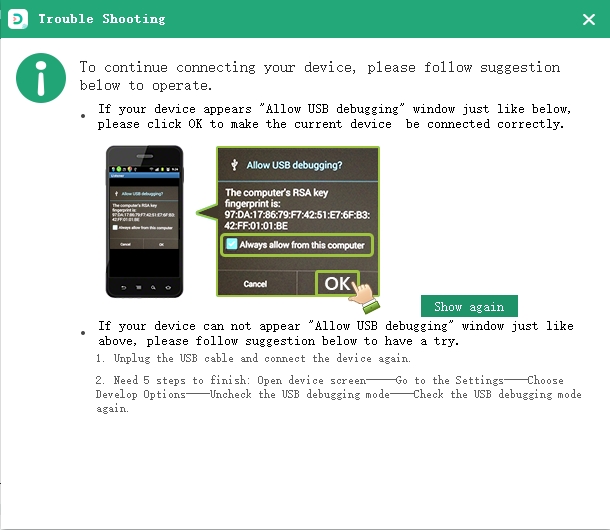 Step 3: Once your PC recognizes your phone, choose the type of deleted data you wish to recover from your SIM cards - such as contacts or messages - and click "Next.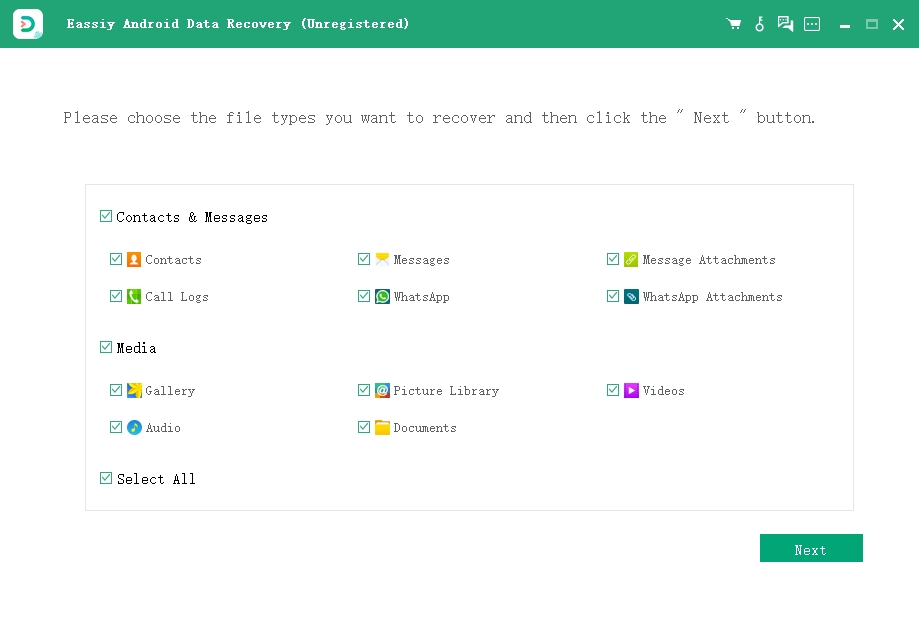 Step 4: You need to grant permission to the program to scan the data on your Android SIM card. Follow the instructions to install the Eassiy app on your device.
Once you have installed the app on your Android phone, a pop-up will appear, requesting permission for Eassiy to access your phone's data - such as contacts and messages. Click "Allow" and tap on "Scan authorized files." The program will then be able to detect deleted data from your SIM card.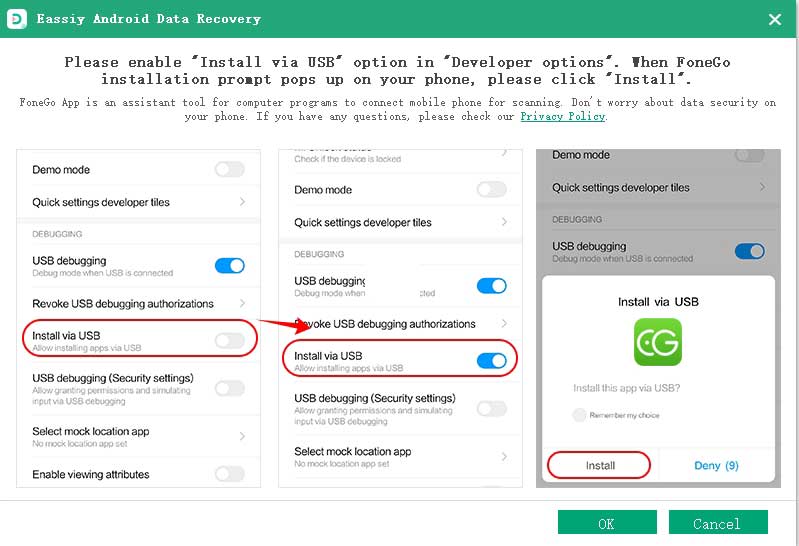 Step 5: Once the scanning process is complete, you can select the desired data. If you are unable to find what you are looking for, tap on "deep scan." Please note that this process may take longer.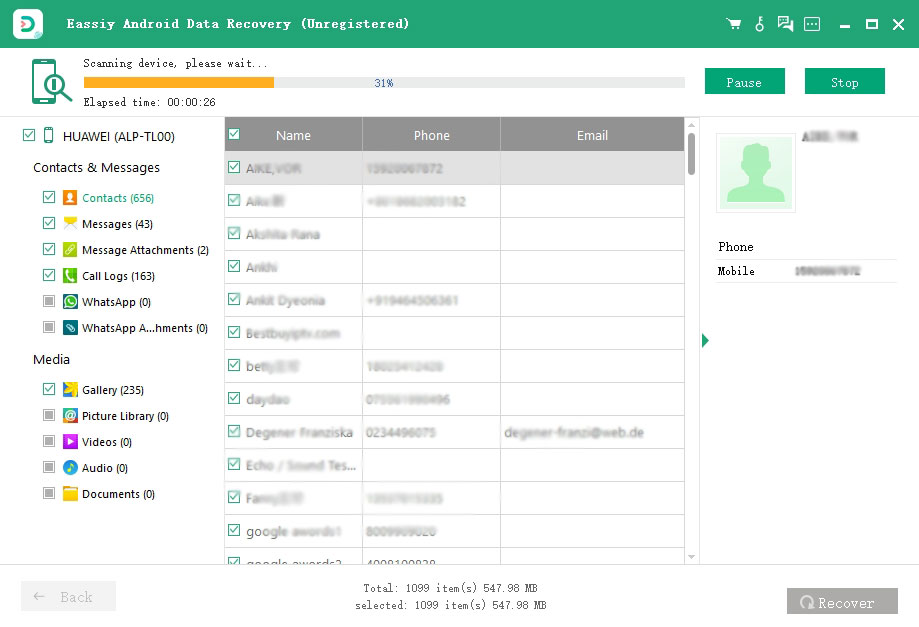 Once the deep scan is complete, you can select the category of data you wish to restore and choose the items you need. For example, if you need to recover phone numbers, select the Contacts category, and choose the phone numbers you want to restore. The deleted phone numbers are marked in red. Finally, click on the "Recover" button to retrieve the deleted contacts.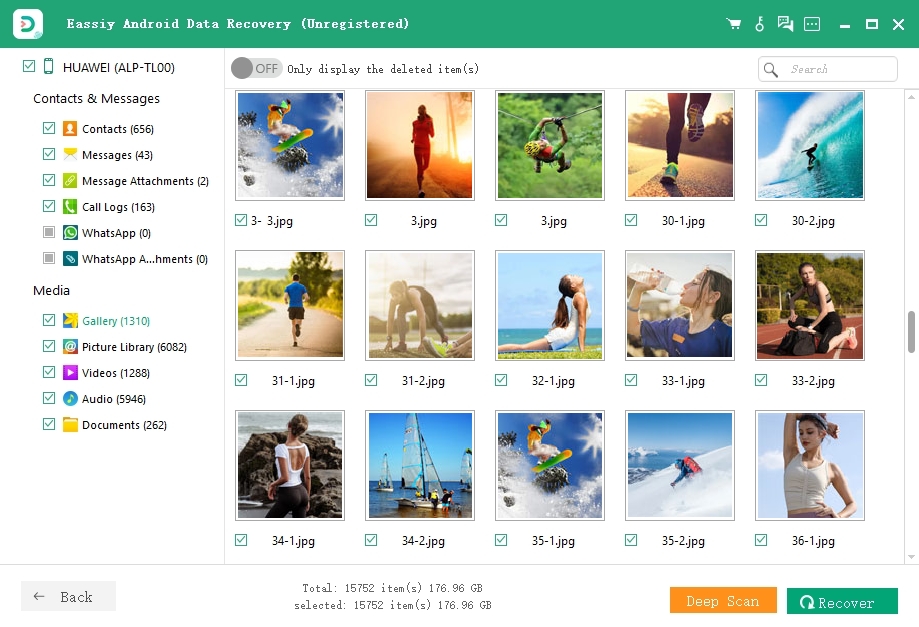 Way 2: Recover SIM Contacts on Android Using Google Contacts
An online contact management system, Google Contacts is offered by Google as part of its suite of web applications including Gmail and Google Calendar. It is a free service that enables users to store, organize, and manage their contacts in a centralized location that can be accessed from any internet-connected device. Google Contacts provides various features, such as the ability to add and edit contacts, import and export contact information, and merge duplicates, making it easier to maintain an updated and organized contact list. Additionally, it offers automatic contact syncing across devices and integrates with other Google services. If you have previously backed up your contacts using Google Contacts, it is possible to use it to restore your contacts from your SIM card. Here are the steps to recover SIM contacts on Android using Google Contacts.
Step 1: Go to Google Contacts and log in using your Google account.
Step 2: Afterward, you can select the contacts you wish to retrieve and then click on "More actions" followed by "Export" from the interface.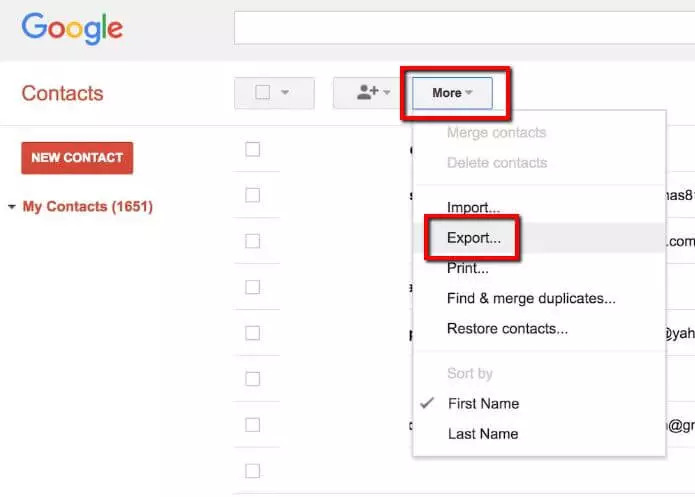 Step 3: To save your file, choose the "Export" option and download the file to your desktop. Next, attach your Android phone to your computer and transfer the Google CSV file you just downloaded to your device.
Step 4: Once you have disconnected your phone from the computer, please restart it so that it can access all of your contacts.
Way 3: Sim Contacts Recovery on Android Via Google Account
If you utilize a Google Account to synchronize and backup your contacts, you can be confident that if you ever lose or require a replacement for your phone or SIM card, you can effortlessly restore all of your contacts on the new device. Therefore, if you have already enabled this feature, then follow the below steps to perform SIM contacts recovery on Android via Google Account.
Step 1: Launch the Settings application on your phone and choose "Google".
Step 2: Select the Google account that you have previously used to back up your contacts. Then, navigate to "Set up & restore" and tap on "Restore contacts".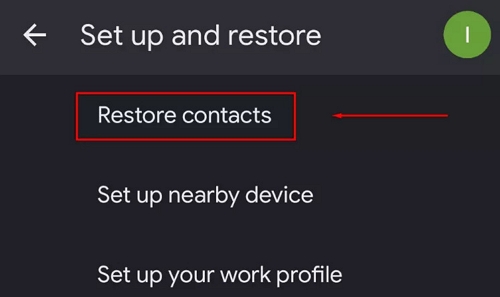 Step 3: Choose the backup file and click on "Restore".
Way 4: SIM Card Contacts Recovery without PC
If you utilized your Gmail account to synchronize your contacts with Google, then it is possible to recover any lost contacts from your SIM card. Below are the steps to perform SIM card contacts recovery without a PC.
Step 1: First, go to Google Contacts and log in using the Gmail account that is linked to your phone.
Step 2: At the top-right corner of the screen, click on the Settings icon.
Step 3: Select the "Undo changes" button and then choose the time at which you want to restore your contacts to the previous state before any loss occurred.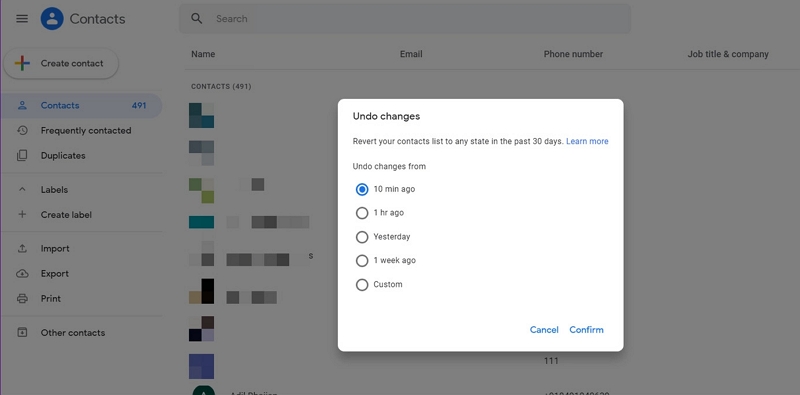 Step 4: Click on "Confirm" to complete the process, and then verify whether the deleted contacts have been successfully restored to the Android SIM card.
Way 5: Recover Contacts from Damaged/Deactivated SIM Card
Taking precautionary measures such as creating backups or regularly transferring data from the SIM card to the device is important as a deactivated/damaged SIM card cannot be used. However, if such measures were not taken, there may still be a way to recover lost data. Follow the below steps to recover contacts from damaged/deactivated SIM cards.
Step 1: Get in touch with your mobile operator to assist you in retrieving contacts from the deactivated SIM card.
Step 2: Upon agreement, they will furnish you with a record of your previous phone calls. However, you'll need to recall the numbers by yourself, as no names of the mobile number's owners will be provided.
Step 3: You will receive the list either on your new mobile number or via email. Once you have it, save each number on another device individually. This method will enable you to extract contacts from a deactivated SIM card.
Way 6: Recover Deleted Contacts from SIM Card Android with ES File Explorer
ES File Explorer is a file manager tool with versatile capabilities including selecting, moving, creating, deleting, renaming, searching, sharing, extracting, and recovering data. Its 'recover' function can be utilized to retrieve SIM contacts. Additionally, it can directly open, back up, or uninstall any application. However, there are notable drawbacks such as no recent updates, difficulty in previewing file formats, and no longer supported file compression and decompression, among others. Here are the steps to recover deleted contacts from SIM card Android with ES File Explorer.
Step 1: To access the home screen of ES File Explorer on your Android phone, you need to download, install and run the application. Additionally, if you haven't done so already, you must root your mobile to grant permissions to this program.
Step 2: At the bottom of the window, you'll find the "Search" icon. Click on it and fill in the blank with the contact path:
"/data/data/android.providers.contacts/databases" or "contacts/databases". Then, tap the "Magnifier" icon to proceed.
Step 3: Once the quick scan is complete, your file containing SIM contacts will be located. However, due to certain technical limitations, the chances of successfully recovering the file are restricted.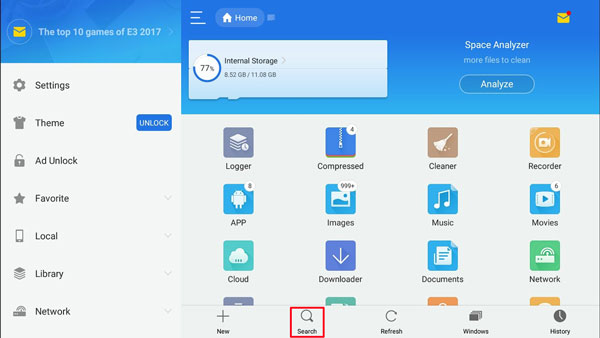 Way 7: SIM Contacts Recovery Using iPhone/Android App
Easy Backup (compatible with most iDevices) enables you to back up your entire iPhone contact list with a single click. The process involves uploading your contacts to a secure cloud or sending the .vcf file to your email. Additionally, it allows for contact transfer and restoration among family and friends. It is fully compatible with iPhone, iPad, and iPod touch, but requires a strict OS (iOS 12.0 or later). Moreover, it has an Android version available. Follow the steps to perform SIM contacts recovery using iPhone/Android app.
Step 1: To download Easy Backup on your iPhone, visit the Apple Store. After installation, tap on "Trust" to grant the tool access permissions. Once granted, tap on "Back Up" to upload your iPhone and iPhone SIM contacts, as well as other data, to the tool's cloud.
Step 2: Navigate to "My Backups" and preview the backup files you wish to retrieve. Select the contacts you want from the file list, and click on "Restore Contacts" to retrieve them from the backups and restore them to your iPhone.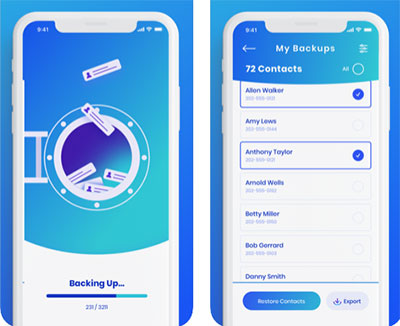 Way 8: Recover SIM Contacts from iPhone via an iCloud Backup
Whenever we plug our iPhones in at night and they are connected to Wi-Fi, they back up to iCloud. This ensures that all of your contacts are saved in the event of any mishap. Moreover, the best aspect is that you receive 5GB of free iCloud storage, which is adequate to store all of your contacts. iCloud backup is activated by default, implying that a backup is most likely already in place, which you can restore if required. Follow the below steps to recover SIM contacts from your iPhone via an iCloud Backup.
Step 1: It is recommended to create a backup of your iPhone before restoring iCloud contacts. This will ensure that if any issues arise during the process, your iPhone can be restored to its original state before attempting to restore the contacts. To create a backup, go to Settings, tap your name at the top, select iCloud, then iCloud Backup, and finally Backup Now.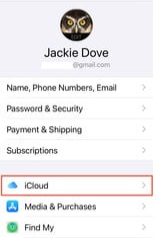 Step 2: To perform a factory reset on your iPhone, access the Settings app and navigate to General > Reset > Erase All Content and Settings. Once you confirm the action, your iPhone will reset and display the setup screen upon completion of the process.
Step 3: We can now proceed with the setup process, where you'll encounter a screen prompting you to restore data. Now, you have to choose the option to restore from an iCloud backup. Please ensure that your iPhone stays powered on and connected to Wi-Fi throughout the entire process.
Step 4: When restoring iPhone contacts from iCloud, search for a backup that corresponds to the approximate date when you last recall having them on your device.
Step 5: Once the restore process is finished, verify whether the missing phone numbers have been reinstated on your device.
Part 3: FAQ about SIM Card Contacts Recovery
1. What could be the reason for the disappearance of my contacts from the SIM card?
There are several reasons why your device may encounter the issue of contacts disappearing from the SIM card, including:
Mistakenly deleting your contacts
The bug was caused by updating the version
Incorrect settings of the contacts app
2. What steps can I take to prevent my contacts from disappearing from the SIM card?
Preventing contact loss on your SIM card may not always be feasible, as accidental causes are often beyond your control. Nonetheless, you can minimize the risk by backing up your contacts to your Google account. By doing so, you can easily restore your contacts whenever they go missing.
3. Is it the SIM card where your contacts are stored?
When you create new contacts, you'll be asked to save them in either your phone's internal memory or on the SIM card. Opting to save a contact on the SIM card won't sync it with your phone or cloud. You can easily check where contact is stored by looking at its Info section.
4. What is the maximum storage capacity of a SIM card?
SIM cards can store up to 250 contacts, while 32 KB of space can accommodate 33 mobile network codes.
Conclusion
Recovering lost data from a SIM card is possible if you follow the correct procedure. Similar to an SD card, various methods can retrieve deleted data from a SIM card. One of the simplest ways is to restore from a Google backup, provided you had taken backups beforehand. We have compiled the most effective and dependable techniques for retrieving lost data from SIM cards. However, we would recommend you use Eassiy Android Data Recovery. This software is well-known for its remarkable and efficient data recovery capabilities across multiple scenarios. Its user-friendly interface allows even beginners to quickly and easily retrieve data.