Rather than a notebook, we take notes of important things with the iPhone nowadays. And you must feel frustrated especially when you find no way to get the disappeared notes back to your iPhone if you accidentally delete or mysteriously lose some of your notes. You might be reading this article because the same thing has happened to you. However, there are some ways to recover deleted notes on iPhone with or without backup. In this article, we are suggesting 5 ways how to recover deleted notes on iPhone with/without backup.
Method 1: How to Recover Deleted Notes on iPhone Without Backup [Important]
You can consider some third-party tools if you cannot find your accidentally deleted notes anywhere and even if you don't have any backup. Eassiy iPhone Data Recovery is an excellent one to be your best choice. This tool provides you with 3 recovery modes to recover all your deleted data. It has an intuitive easy-to-use interface with the highest rate of recovery. No matter how you have lost your notes on your iPhone, this program is capable of bringing you back all of them. Almost all types of iOS devices and versions are supported by this software. While recovering your data, it doesn't cause you any data loss. So, you can run this tool to recover your data without worrying about data loss.
Features:
Compatible with the newest update of iOS devices.
In recovery, it has the highest rate among similar other products.
From any iOS device, you can easily recover 36+ file types by using Eassiy.
It is versatile enough to deal with any data loss scenario no matter which you are in.
In a few seconds, this tool is capable of scanning more than 1000 photos.
Steps to recover deleted notes on iPhone without backup
Step 1: First of all, you have to download and install the latest version of Eassiy iPhone Data Recovery software on your computer. After that make sure to connect your iOS device to the computer by using a cable. Run the software on your PC and choose "Recover from iOS Device" to scan the deleted notes directly from your iPhone. To get started, you can only choose "Notes" and "Notes Attachments".
Step 2: Once you tap the "Start Scan" button, the software will start to analyze your iOS device for the deleted notes.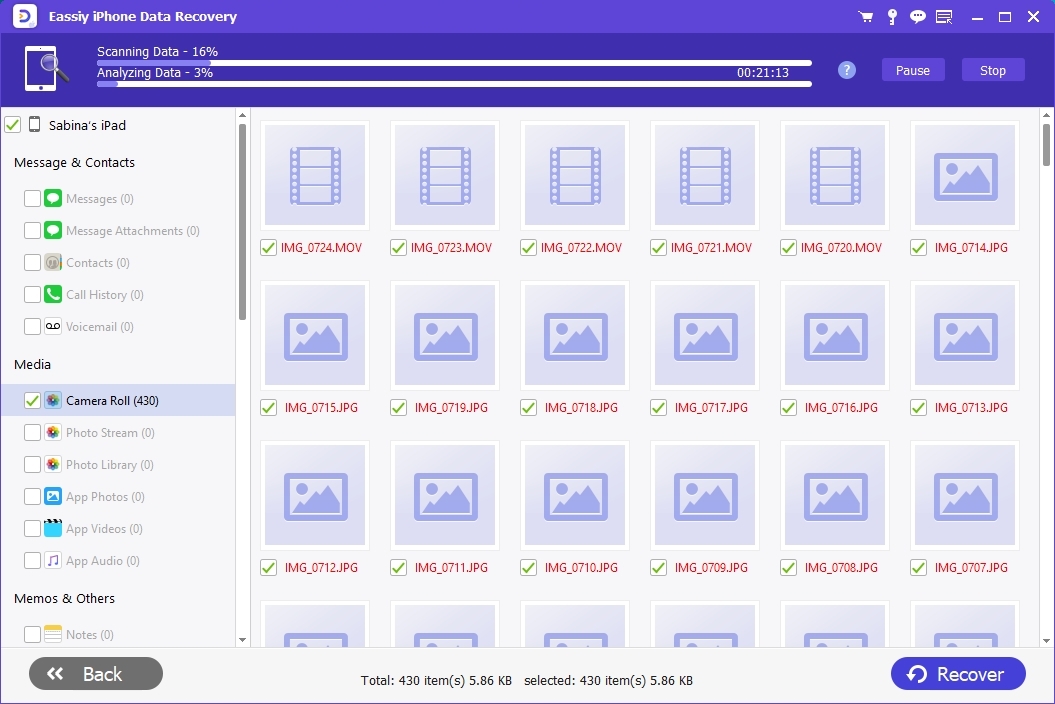 Step 3: All notes will be listed orderly after scanning. This tool allows you to preview them one by one. Find the deleted notes, click the "Recover" button to get iPhone notes back to the computer.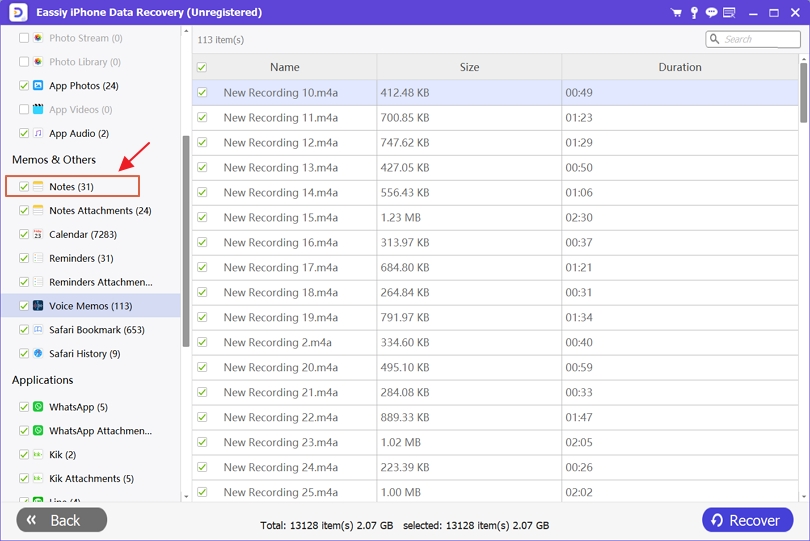 Method 2: How to Recover Deleted iPhone Notes without Backup via Recently Deleted Album
In the Notes app of your iPhone, the Recently Deleted folder is a built-in feature. This feature keeps the deleted notes of your iPhone usually for 30-40 days. The notes are permanently deleted after this time and you won't be able to use this method to recover those deleted notes. In iOS 11 and above, this feature is available. Here are the steps to recover deleted iPhone notes without backup via the Recently Deleted album
Step 1: Tap on the Recently Deleted album after opening the Notes app on your iPhone.
Step 2: You will see the list of recoverable notes and from the upper-right corner, tap on "Edit".
Step 3: Click on "Move" after choosing the notes to recover.
Step 4: From the next screen, select the Notes Folder and you will be done.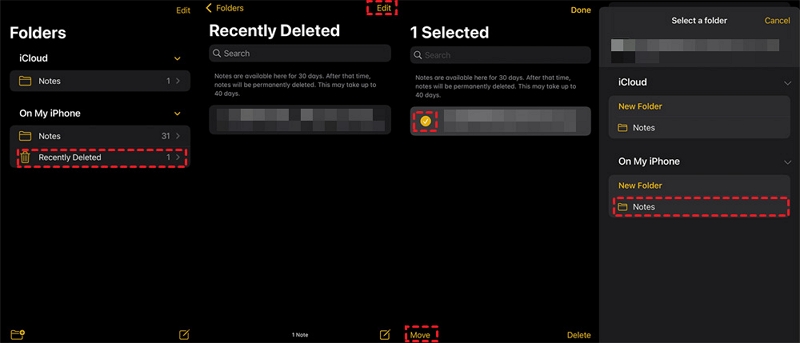 Method 3: How to Recover Deleted Notes on iPhone Without Backup by Checking Email Account Settings
You might lose all your iPhone notes when you change your Notes app settings. If you delete an email address from your iPhone, your saved notes can also go along with it which means your iOS device will not be able to locate the Notes anymore. You can check your account settings to ensure everything's on the up and up if you use a third-party email account such as Gmail to store the notes. To make sure your notes don't disappear, it's good to keep your email accounts connected. Follow the below-given steps to recover deleted notes on iPhone without backup by checking email account settings.
Step 1: Open Settings on your iPhone and select "Mail" after scrolling down. Click "Accounts" from the Mail option.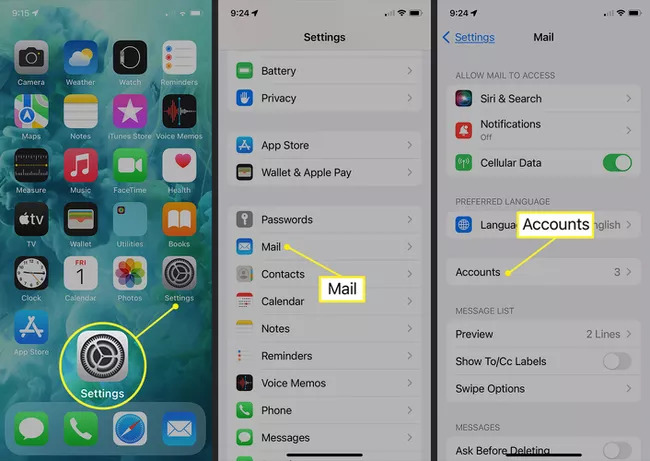 Step 2: Select the email account you wish to check.
Step 3: Make sure that the toggle next to Notes is on. To see if your notes appear in your app, turn it on if it isn't.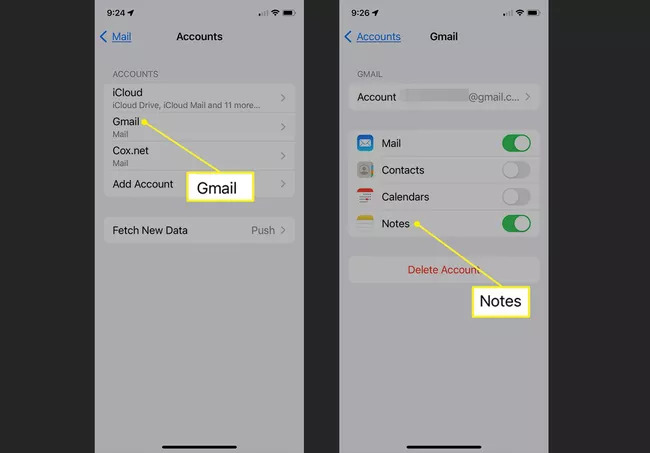 Bonus Tips 1: How to Recover Deleted iPhone Notes With iTunes Backup
You might be able to get your deleted notes back if you back up your data to iTunes. But again, files created and deleted before the next backup won't be available, you can only recover the notes that are in the backup. To recover deleted iPhone notes with iTunes backup, follow the given steps below.
Step 1: Open iTunes after you have finished connecting your iPhone to your PC. Ensure that the computer is the same one you made your backup before.
Step 2: Go to "Summary" on the sidebar and click on "Restore Backup".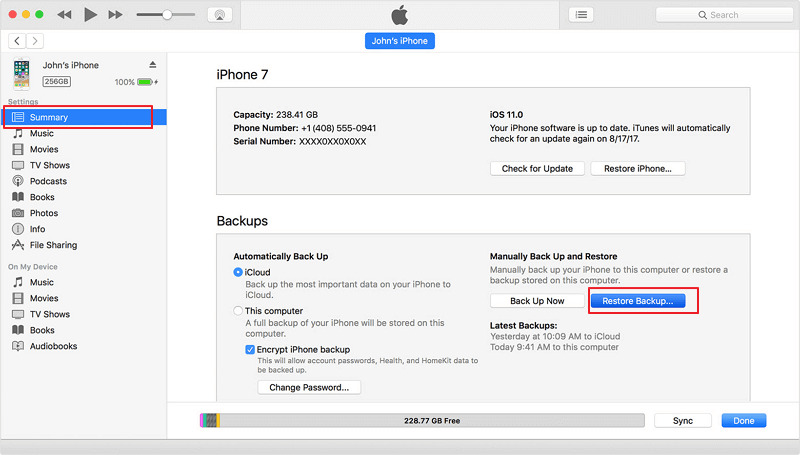 Bonus Tips 2: How to Retrieve Deleted Notes on iPhone with iCloud Backup
For Apple devices, iCloud is the built-in cloud backup tool. You might already have set it up if you have a backup. To get your notes back, you will just need to restore them. But including media, this method will erase all your data. If you still want to do this, follow the below-given steps to retrieve deleted notes on iPhone with iCloud backup.
Step 1: At first, you need to go to "Settings > General > Reset". Now click on "Erase All Contents and Settings" and after that erase iPhone on the pop-up.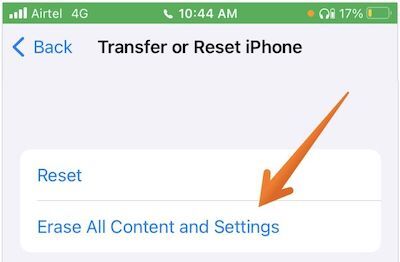 Step 2: You have to wait until the process is complete and the set-up screen appears.
Step 3: Follow the prompts once it appears, enter the required details and go ahead until the "Apps & Data" screen appears.
Step 4: Choose "Restore from iCloud Backup".
Step 5: Enter your iCloud details by following the prompts and selecting the appropriate backup from the list.
FAQs
1. How can I get a backup of notes on my iPhone?
In several different ways, you can make a backup of notes. If you want an offline backup, you can use iCloud and iTunes to do so. Also, you can back it up to your Gmail account. You can also go for some third-party software that allows more manageable backups other than this.
2. How can I retrieve deleted folders on iPhone?
Using iCloud, you can retrieve folders and files on your iPhone. For 30 days, it keeps your data saved. However, you can recover it using iCloud and iTunes backups if it is turned off. You can even use third-party backups if you made one. You can go for Eassiy iPhone Data Recovery to easily recover your folders and a lot of other data besides this.
3. Why do some of the notes disappear from iPhone?
A lot of reasons can cause notes disappearing issues on your iPhone. The first reason is if you accidentally delete them. Make sure to check in the recently deleted album to see if it's there. It is also possible that the note has slipped down the list. You would better search for it or find it manually by scrolling through every note in the list. Since there might be some bugs too, updating your apps and device is better other than this. Sometimes data gets saved in a different account so make sure that your account settings are correct.
Conclusion:
Losing your important notes from your iPhone might cause you unbearable pain. However, you can get them back by adopting some methods. In this article, we have suggested 5 ways how to recover deleted notes on iPhone with/without backup. Among all the ways, we would like to highly recommend you to use Eassiy iPhone Data Recovery software to get back all your deleted notes on iPhone without any backup. This program has a very simple and easy-to-use interface with three different recovery modes. You can easily recover any type of data from any iOS device or version with the help of this tool.