Notes have upgraded the way we capture a quick thought, create checklists and more greatly. However, it has some troubles which upset the users as well. For example, stored notes get lost once in a while. The top priority is to figure out effective ways to get them back as some notes are so crucial that we cannot afford to lose them. Things will go easier for you if you have your notes backed up before. But before you back it up, there are times when you accidentally delete or lose the notes. Luckily, there are solutions for both cases. In this article, we are describing amazing 5 ways how to recover deleted notes on iPhone.
Method 1: How to Recover Deleted Notes on iPhone Without Backup [Must Read]
If you don't have any backup of your deleted notes, it would be better for you to use a third-party program. There are several programs available, but we would like to suggest you use Eassiy iPhone Data Recovery. It is one of the most powerful recovery tools among similar products. Including notes, photos, videos, messages, and so on, this tool can help you to recover removed data from your iPhone. Not only on iPhone but it can also be used to recover lost or deleted data from your iPad and iPod touch as well. This tool can also recover data from iCloud and iTunes including iPhone. With a simple and easy-to-use interface, it takes care of your data and recovers them safely.
Features:
Owns a simple interface and is easy to get started.
With no data loss, this program can recover 36+ file types.
With a higher success rate, it can recover data from iPhone, iTunes and iCloud.
Scans 1000+ deleted data in seconds with just one click.
Among similar products, it boasts the highest recovery rate.
Steps to recover deleted notes on iPhone without backup:
Step 1: Launch the latest version of this software after downloading it and with a cable. Connect your iPhone to your computer. Move to iPhone Data Recovery to scan the deleted notes directly after running Eassiy software. To get started, you can choose "Notes" and "Note Attachments" only".
Step 2: After you click the "Start Scan" button, the program will start to analyze your iPhone for the deleted notes.
Step 3: All notes will be listed orderly after scanning, you are allowed to preview them one by one. To find the deleted notes, choose "Notes". Click the "Recover" button at the right corner of the bottom.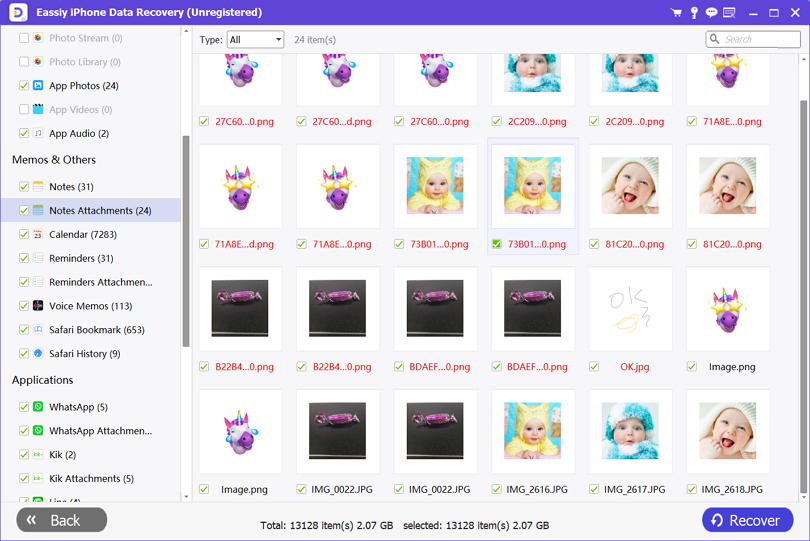 Method 2: How to Recover Notes on iPhone Via Recently Deleted Album
You will find the Notes app contains a folder called "Recently Deleted" if you are using iOS 11 and above. This album lets you recover recently deleted notes but the deleted notes only stay here for 30 days. The deleted notes will be permanently removed after 30 days. Therefore, you can firstly head to the Recently Deleted album to recover notes that were deleted within 30 days. Here are the steps to retrieve notes on iPhone via recently deleted album.
Step 1: Find the "Recently Deleted" album after opening "Notes".
Step 2: From the top-right corner, tap "Edit".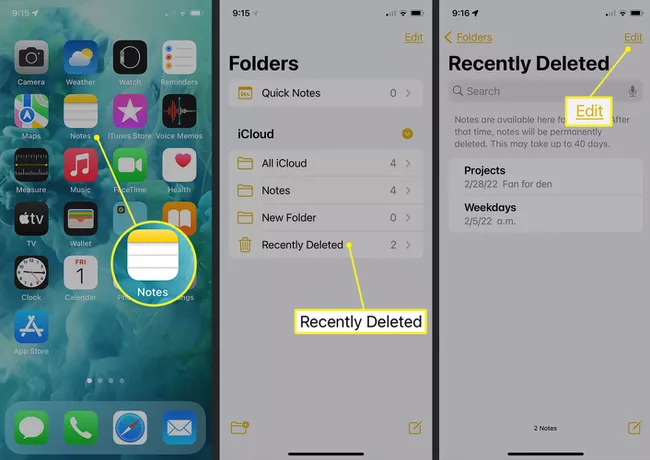 Step 3: Make sure to choose the notes you want to restore.
Step 4: Select a folder on your iPhone as the destination of this move after tapping the "Move" option.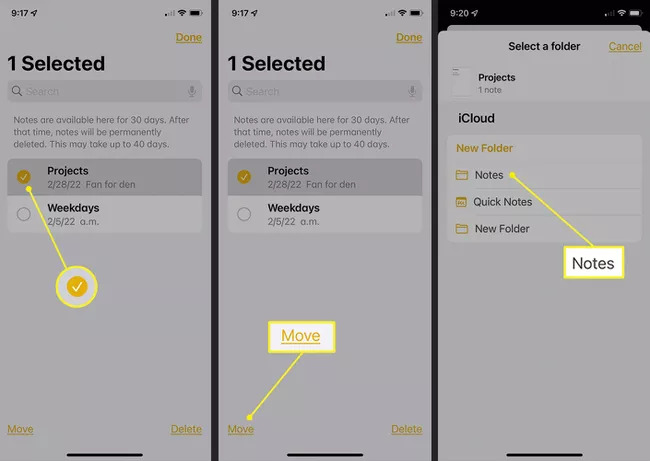 Method 3: Recover Deleted Notes iPhone By Checking Email Account Settings
If you change your Notes app settings, some of your iPhone notes might be missing. Maybe you deleted an email address from your iOS device that caused your notes to go along with it. This means the Notes cannot be located on your iPhone anymore. Check your account settings to ensure everything's on the up and up if you use a third-party email account like Gmail to store your notes. To ensure your notes won't disappear, it's a great rule of thumb to keep your email accounts connected. For future accidents, it creates a simple backup. Follow the given steps to recover accidentally deleted notes on iPhone by checking email account settings.
Step 1: First, click "Settings > Mail > Accounts" on your iPhone.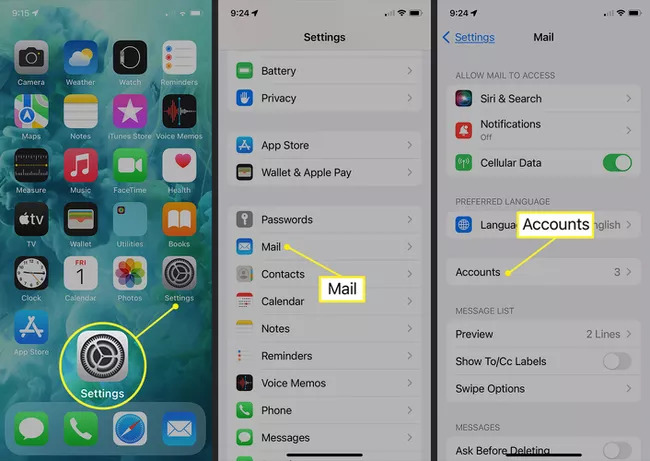 Step 2: After that make sure to click the email account you want to check.
Step 3: Next to Notes, confirm the toggle is on. Turn it on to see if your notes appear in your app if it isn't.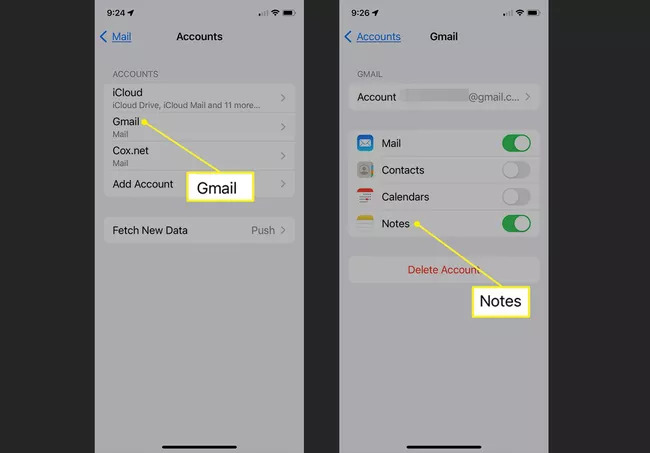 Method 4: How to Find Deleted Notes on iPhone with iTunes Backup
If you still can find your deleted notes on iPhone, you have the option to retrieve notes on iPhone with iTunes backup. A previous version of your iPhone will be located by this where you might find your notes saved. Follow the below-given steps to find deleted iPhone notes on iPhone with iTunes backup.
Step 1: Connect your iOS device to the computer properly after running the latest version of iTunes and then tap the "iPhone" icon.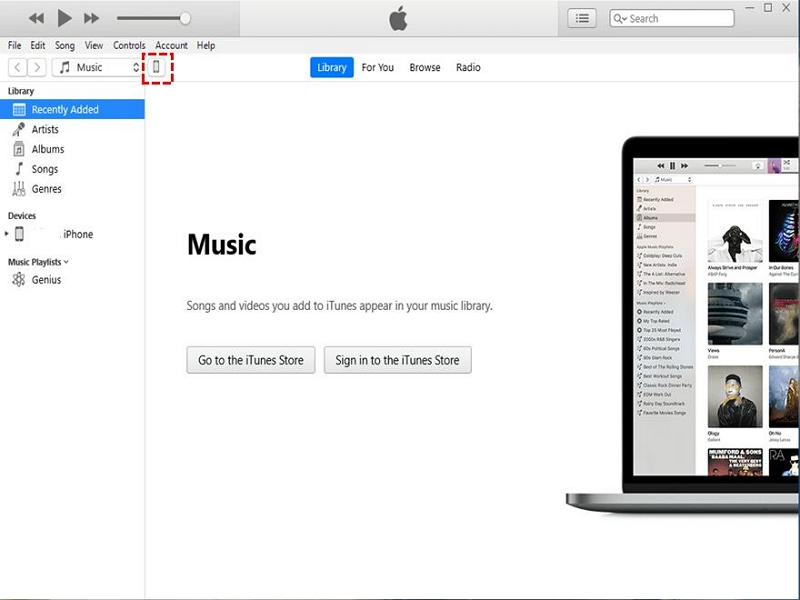 Step 2: Choose the backup that contains your lost notes by clicking "Summary > Restore Backup".
Method 5: How to Retrieve Deleted Notes on iPhone with iCloud
If you can't locate your notes in your Recently Deleted album, also your account settings are fine, then try to locate your notes using iCloud if they have been permanently deleted. For your notes to be stored there, you need to have previously used iCloud. Here are the steps to retrieve notes on iPhone with iCloud backup:
Step 1: First, tap "Settings" on your iOS device.
Step 2: From the top of the menu, choose your name.
Step 3: After that click "iCloud".
Step 4: Any notes stored in your iCloud account will be downloaded to your iPhone after turning on the "Notes" toggle.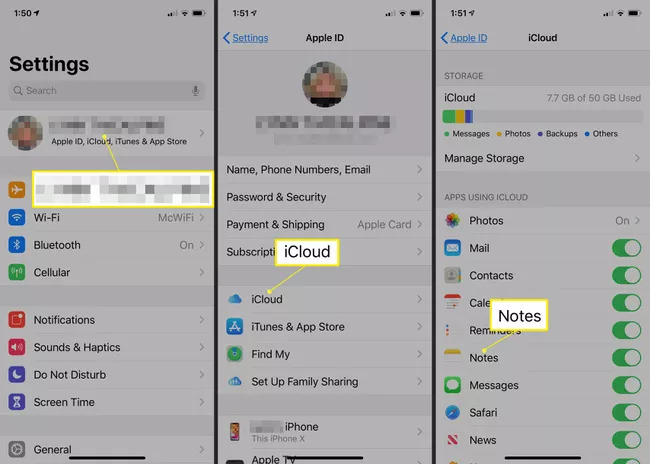 FAQs:
1. How come my iPhone doesn't have any Recently Deleted album?
For this issue, there are several possible reasons for accounting. You are using the upgraded version of Notes might be the first reason. Besides, to sync your notes, maybe you have set Gmail, or the recently deleted notes were cleared or because you didn't delete any notes. Lastly, deleting it only removes it from your list but not from the owner's or other participants if you are only a participant of a shared note and the deleted notes will not be moved to the Recently Deleted album.
2. Why some of my notes disappeared from my iPhone even if I didn't delete them?
As well as in addition to just sending and receiving emails, the email accounts on your iPhone can store notes. They haven't been deleted but still, live on a server tied to your email address sometimes when notes disappear. And because something goes wrong with your email address is the reason why you cannot see them in the Notes app. You have to set up your email account again to recover the notes in a situation like this.
Conclusion:
In this article, we have described amazing 5 ways how to recover deleted notes on iPhone. It might be a complex task to recover deleted notes on iPhone without backup, but Eassiy iPhone Data Recovery makes it much easier for you. This program enables you to recover what you want effectively within just a few steps with 3 powerful methods and a simple but clear interface. While protecting users' data security and integrity, it performs exceedingly well. Give it a shot and Eassiy won't let you down if you are still at a loss about which method to adopt facing deleted notes.