Did you accidentally delete all your iMessages? Well, there's nothing to be worried about. It happenes to the best of us. Today we will guide you on how to retrieve old iMessages on iPhone. We know the pain of recovering iMessages on iPhone or any other data such as attachment files, important links, and inserted images. The main problem that we all face is finding the right method to recover our data. So, there are different conditions and different solutions for them. We will write down the conditions briefly below and then we will talk about the solutions in detail.
iMessages completely vanish there is no backup.
There is a backup stored on iTunes.
iPhone Backup is up to date.
You have a backup on iPhone.
Below we will be explaining some of the easiest ways to recover deleted iMessages on iPhone.
Part 1: How to Recover Deleted iMessages on iPhone Without Backup
If you are a busy person and never get time to properly backup your iPhone then you can always rely on Eassiy iPhone Data Recovery software. It's extremely easy to use, all you have to do is connect your iPhone to the computer using the iPhone's lightning cable and it will automatically start scanning your iPhone for deleted media and iMessages. The best part of Eassiy is that it runs a deep scan in your device's internal memory and extracts every deleted data to that date. There can be photos, videos, iMessages, voice memos, and any other type of deleted data. It has all kinds of advanced features that can be helpful for all kinds of users.
Key features:
Recover up to 30+ file types without any data loss.
Can recover data from, iPhone, iTunes, and iCloud.
The scan rate is 1000 photos per second.
Highest data recovery rate amongst competitors.
Pros:
The plug and Play feature does not need configuration or settings.
1000 photos per second scan rate.
Cons:
Recovering big files will take some time.
Steps to Recover Deleted iMessages on iPhone Without Backup:
Step 1
Choose Recover from iOS Device.
Make sure your iPhone is connected to the laptop, after that when "Device Connected" appears on the screen choose Recover From iOS Device from the menu and click on Start Scan.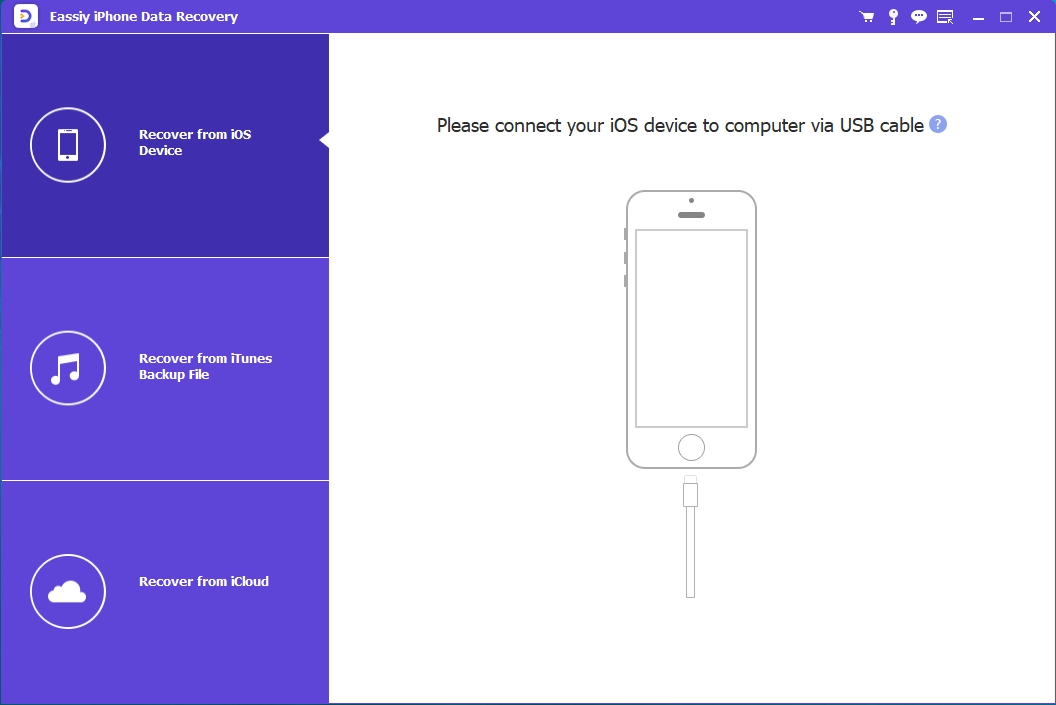 Step 2
View Deleted Images and Videos.
After the scanning starts, wait for some time and the estimated time for scan completion will appear on the screen. The scan time depends on the amount of deleted data you want to restore.
Once the scan is completed, the restored data will appear on the main screen from there select the desired photos and videos you want to restore.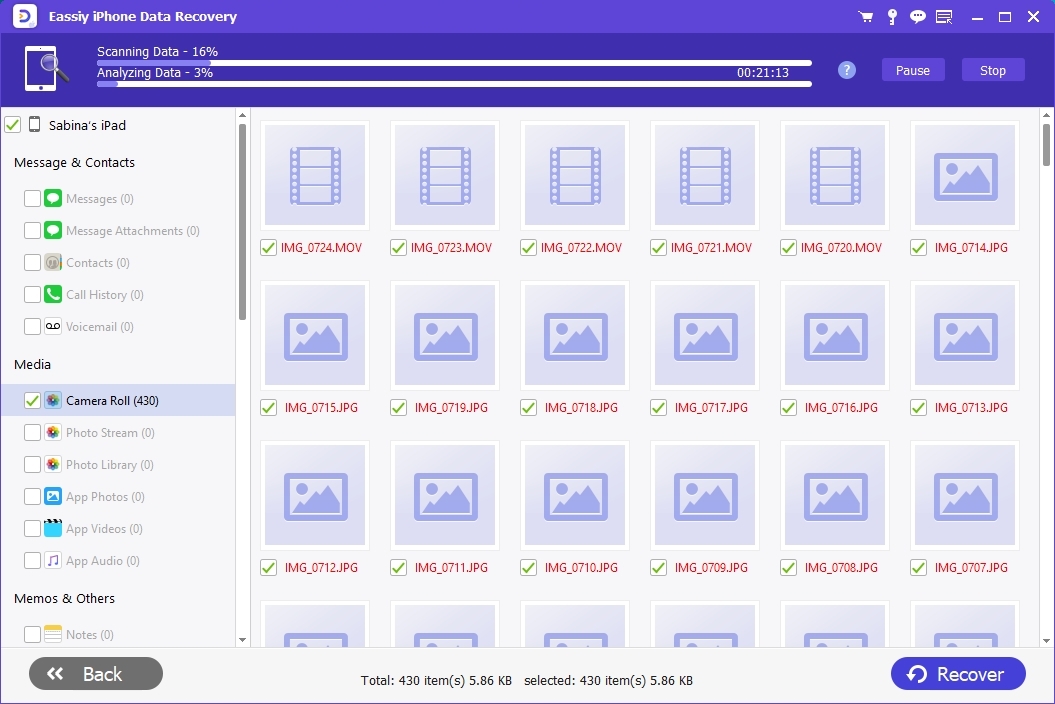 Step 3
View Deleted Messages.
For viewing deleted messages, Toggle the box next to iMessages and if you also want to recover Message Attachment then don't forget to select the "Message Attachment". By doing this it will recover all the attachments which you sent along with your iMessages such as Files, Links, and any type of Media.
One more important thing is that you need to unselect all the messages because all of them will be selected by default so when you recover them they will be in a CSV file and selecting your desired messages from a CSV file will be a nightmare. So to not go through that hassle, deselect them all and toggle the ones you want to recover.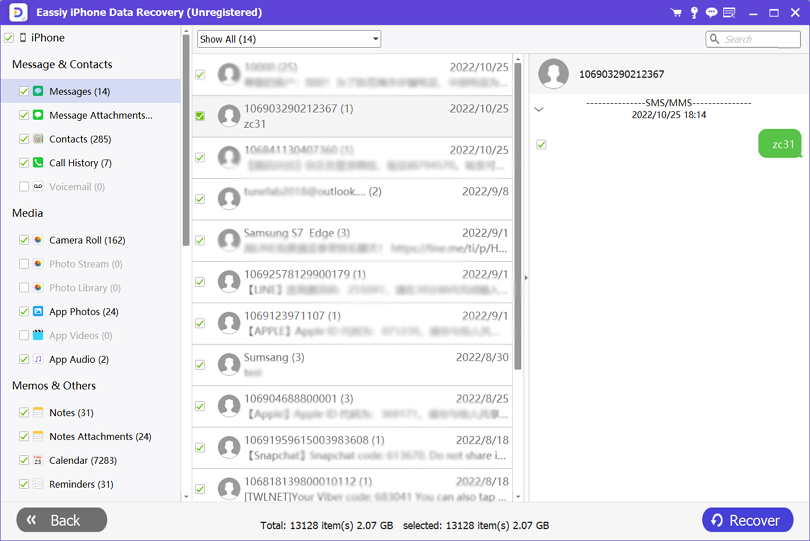 After selecting, click the Recover button on the bottom right of the page.
Step 3
Set Restore Location.
After clicking the Recover button this window will appear from here choose the location where you want to save all the restored data. The data will be saved at your desired location.
Part 2: How to Recover Deleted Text Messages on iPhone with iCloud/iTunes Backup
This method will only work if you have a backup stored on iTunes or iCloud. Follow the below steps for recovering iMessages on iPhone.
Method 1: Using iTunes Backup
For this method, you need iTunes already installed on your computer. iTunes is a software application designed by Apple to assist their users in uploading data from PC or Mac to their iPhones. But there are a bunch of other features as well that iTunes provides. One of them is "Restore Backup" which we are going to use. This feature only works if you have already created a backup on iTunes before your messages were deleted.
Pros:
Allows you to backup and restore your iPhone.
Saves all of your backup on a laptop hard drive which saves the cost of cloud storage.
Cons:
Can only be used to restore an iPhone if there is a backup already saved in iTunes.
Follow the below steps for recovering iMessages on iPhone using iTunes
Step 1: Open iTunes
Open the iTunes app, and connect your iPhone using a lightning cable. Once the iPhone is connected, a button will appear under Account. Click on the button shaped like an iPhone. Upon clicking this button you will see a new window.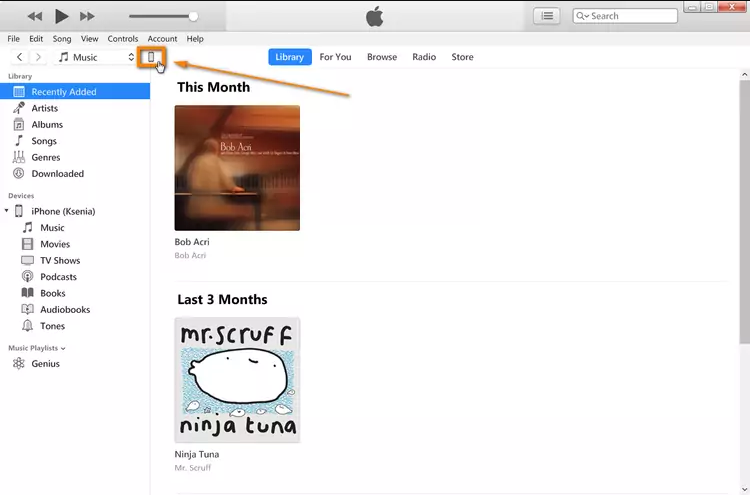 Step 2: Click on Restore from Backups
In this window, all specifications of your iPhone will appear such as Capacity, Serial Number, etc. Under Backups, select "Restore Backup".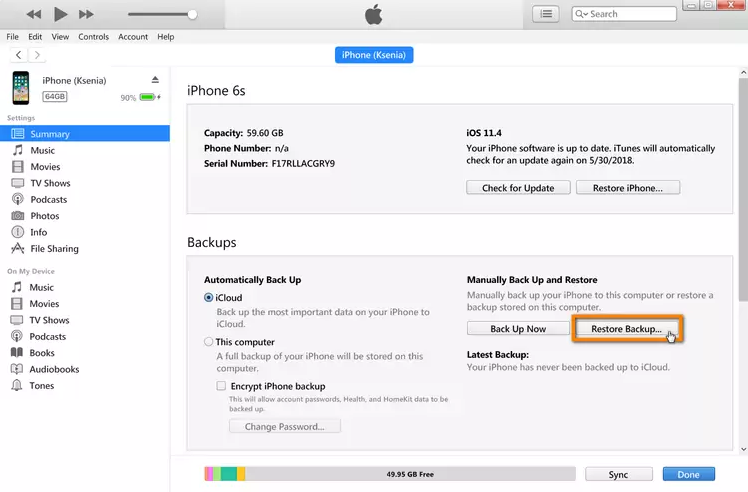 Step 3: Choose your iPhone
Upon clicking "Restore Backup" you will see this small window. Select your iPhone from the drop-down menu and hit "Restore".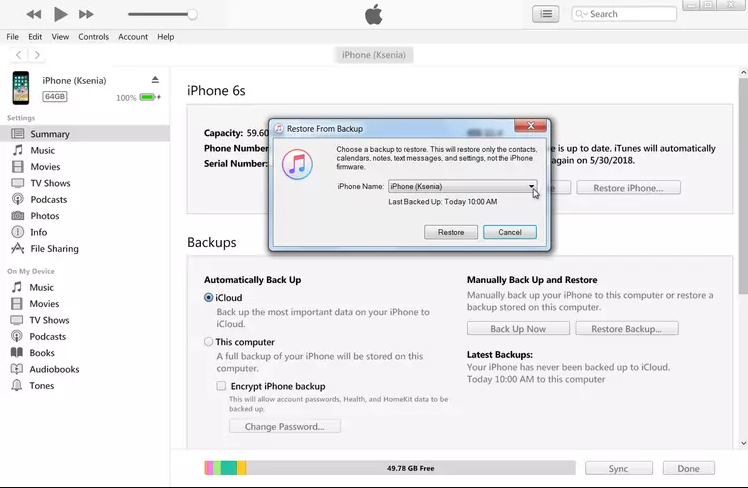 Step 4: Backup Restoring Starts
The iPhone will be overwritten with the backup saved in iTunes so "All the data stored on iPhone will be deleted and overwritten". If there is any new data in your current iPhone save it in the iCloud backup because it will be gone after you hit the Restore Backup button.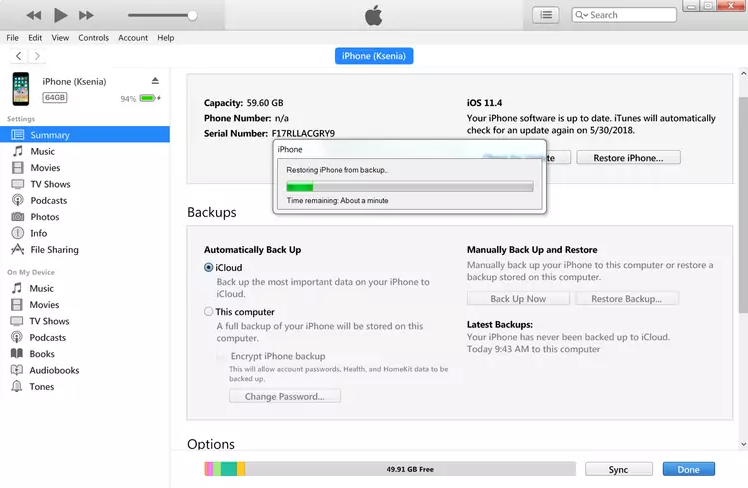 Method 2: Using iCloud Backup
The iCloud is a cloud storage for all Apple devices. The good thing about iCloud is that it continuously backs up all of your data in the background. Which saves you from the hassle of doing backup frequently.
Pros:
Automatic Backup, no need to save the backup on iTunes.
Cons:
The iCloud storage is limited; you have to pay for extra.
Here are the steps for recovering iMessages on iPhone using iCloud
Step 1: Open the Setting app on iPhone
First you need to go to the "Settings" menu and select "General". Then choose "Reset" and confirm the option that says "Erase All Content and Settings".
You will be asked to enter your Apple id password. Once you enter the apple id, it will ask you to enter your iPhone password after that your iPhone will reset and set up as a new device.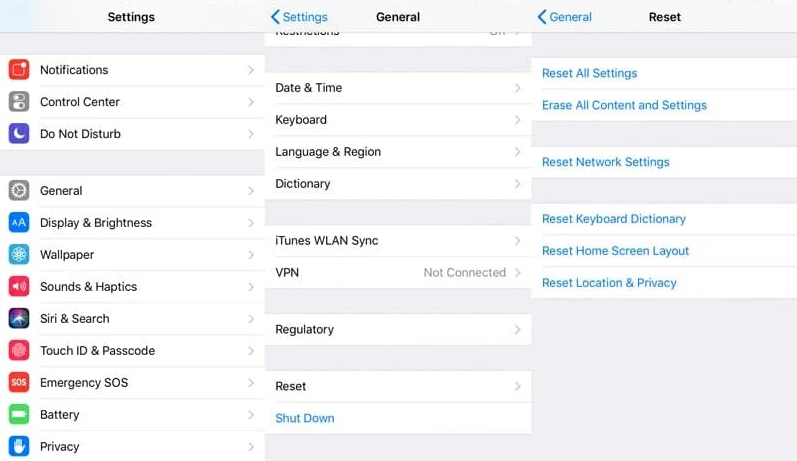 Step 2: Set up your iPhone
After the reset is finished everything will be erased from your iPhone and it will be like a brand-new device. Start setting up the iPhone, just like you do when you buy a new iPhone. You will have to enter your Apple ID and continue. After that when you reach the Apps & Data screen, Click on Restore from iCloud Backup.
Part 3: How to Retrieve Text Messages iPhone Without Computer
Nowadays almost everyone has a backup phone. It's necessary especially in situations like this when you delete your important data by mistake. If you have a backup iPhone then follow the below steps.
Step 1: Factory Reset Your Current iPhone
Go to Settings, then select General. Next click on Reset option and select Erase All Content and Settings.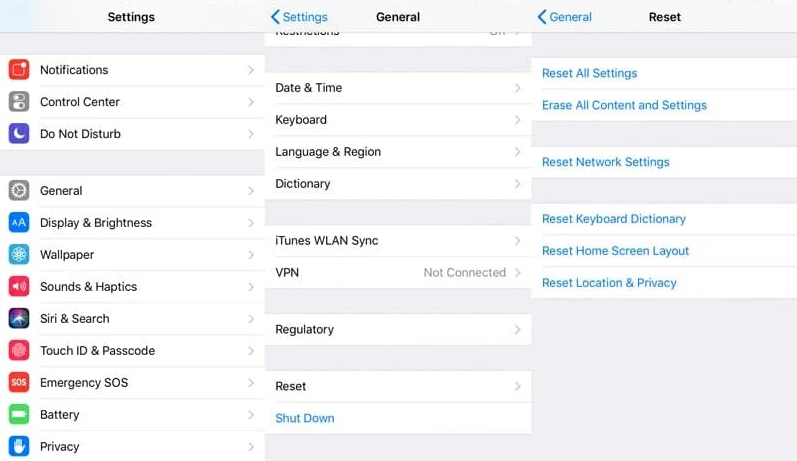 Step 2: Transfer Data from the backup iPhone to your current iPhone
After your iPhone is Factory Reset, unlock it and unlock your backup iPhone too. Place them next to each other and a screen will pop up on your iPhone. Tap on Continue.
Upon tapping Continue, a new screen will pop up asking for the passcode of your backup iPhone. Enter the passcode and another screen will appear. Where you need to select Transfer from iPhone and it will start transferring all the data from your backup iPhone to your current one.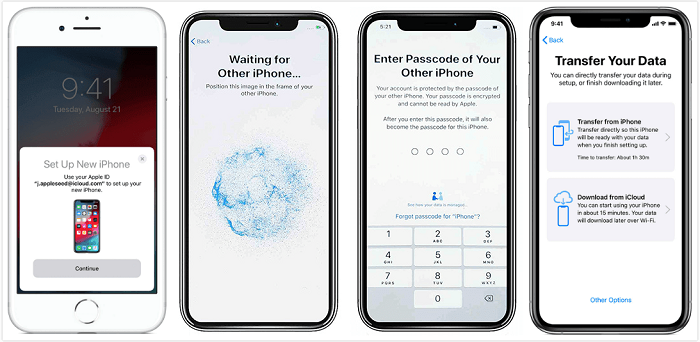 Part 4: FAQ About Recovering Deleted iMessages on iPhone
Here are some frequesntly asked questions related to recovering deleted iMessages on iPhone with/without backup
1. How to find deleted text messages on iPhone without overwriting it?
The best and most preferable approach is to use a third-party tool to recover your data such as Eassiy iPhone Data Recovery. This software allows you to recover deleted iMessages without deleting a single thing from your iPhone.
2. How to see deleted messages on iPhone using Finder?
Finder is the same as iTunes, above we have mentioned the whole process of how to see and restore deleted messages on iPhone using Finder/iTunes.
Conclusion:
Above we have discussed a total of 5 hacks to recover deleted iMessage. All of the methods are applied in different situations such as if you have a backup of your device saved anywhere or if you have access to a computer or not. We have almost covered all the scenarios but the one method which is universal, easy to use, and most reliable is using Eassiy iPhone Data Recovery software. This tool allows you to recover 1000 images in one second and with its deep scan feature, anything ever deleted on your iPhone can be easily recovered.