Skype has been a popular telecommunication provider for a long time. This application evolved so does the data loss rate like messages as we are getting more connected through these services nowadays. There are several ways you may lose Skype messages. It could be technical or human error. However, we don't want our crucial chats to be deleted forever from platforms like Skype, so we seek solutions. But how can you successfully recover deleted Skype messages on your android without hassle?
In this article, we will try to answer that by discussing five effective methods that include: AppData function, main.db file, Skype's previous version, checking old messages, and an Android data recovery tool to restore any Skype attachment in no time. We will also offer our best strategy, which does not require any backup and is easy to follow. So, let's get on to the solutions.
Part 1: What Are the Reasons Behind Losing Skype Messages?
Just like other telecommunications applications, people of Skype users also face data loss due to various reasons. For example:
Sometimes Skype forces upgrade that may cause older conversation deletion due to technical reasons.
If you forget to upgrade your "Skype" application to its latest version, your chats may vanish unexpectedly.
If your computer crashes, the default Skype chat history in your Windows system, particularly on the C drive, will be wiped or erased.
You may also delete your Skype messages accidentally through any human error while using the application.
Is It Possible to Recover Deleted Skype Messages on Android?
All electronic data that you may have lost can be recovered or restored by applying different technical methods. This also applies to lost Skype messages. There are two most popular ways to get back your lost Skype data: recover from any cloud storage application or use a third-party Android recovery tool to retrieve the deleted chats without backup. There are other methods too, like using a PC or making use of the data recovery features of Skype itself can serve as a solution in this scenario.
Part 2: How to Retrieve Deleted Skype Messages on Android? [Best 5 Ways]
No matter how you lost your Skype data it is always recoverable using multiple methods. In this solution section, we will show every possible way for various situations according to your preference. So, let's get on that.
Way 1: Best Way to Recover Deleted Skype Messages on Android without Backup [Most Effective]
Eassiy Android Data Recovery is a professional application that easily retrieves your Skype messages or any other attachments without any backup. It offers the industry's highest Android data recovery rate for photos and other media. Also, this application supports around 6000+ Android devices and 16+ file formats. On top of that, data recovery has never been so easy with its easy-to-follow procedure and user-friendly interface. This software features both quick and deep scan options for advanced data search and recovery functionality in no time. In fact, you can scan 1000+ deleted files within seconds. So, when it's an emergency, especially for those who conduct business over Skype, this software could be the right solution for the right moment. Eassiy offers three recovery modes: Android device, SD card, and SIM card. Like most other popular data recovery tools, this software also has a selective restore option. So, you can preview lost data and decide which one to retrieve, saving you a lot of time during the process.
Features
Recovers data from both rooted and unrooted Android device.
100% risk-free data restoration.
Supports over 16+ data types and 6000+ Android phone models.
Preview of lost data is available.
Offers both quick scan and deep scan functionality.
Steps to Recover Deleted Skype Messages on Android without Backup
Step 1: Go to Eassiy's official webpage and Download > install the appropriate version of the software that supports your system.
Step 2: Next, connect your Android device to your computer and enable "USB debugging".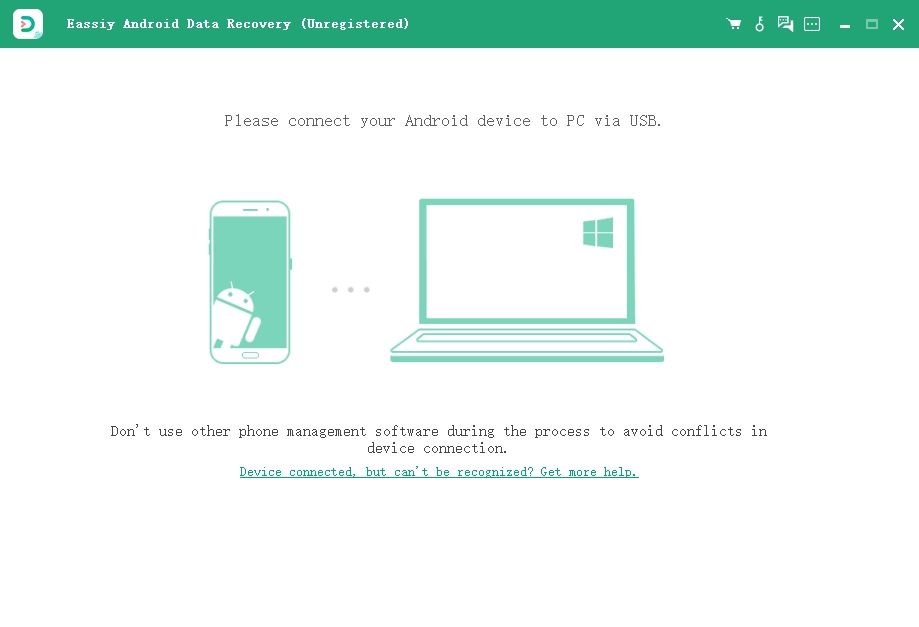 Step 3: To retrieve Skype messages, choose the file category. After connecting your Android smartphone to your computer, pick the file type to scan for deleted data and press the "Next" button.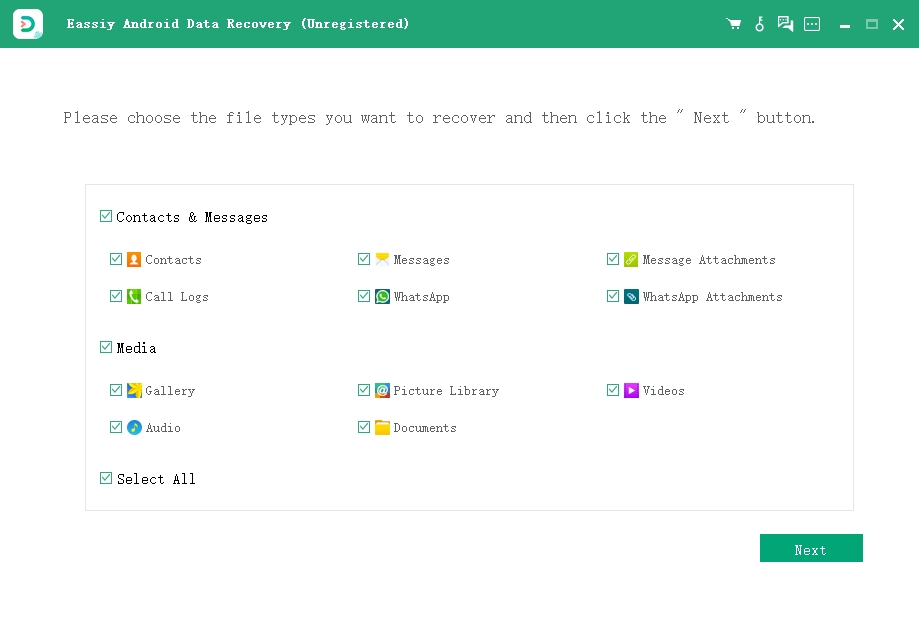 Step 4: Next, you have to install the Eassiy software into your Android device to give access to your files by enabling the "Install via USB" option in the developer settings and clicking "Install" when the pop-up appears on your Android phone. Allow the software to read the memory of your Android device as Eassiy pop-up appears on your screen seeking permission to read data by clicking "Allow." After that, on the computer application, select "Scan Authorized Files" to begin searching for the lost data.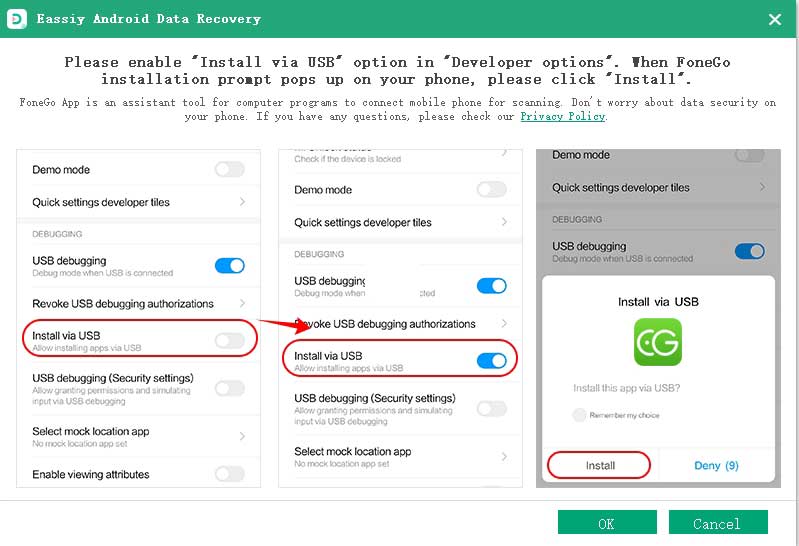 Step 5: Finally, when the scanning procedure is finished, you can select each file type to preview the data and click "Recover" to retrieve your deleted Skype messages.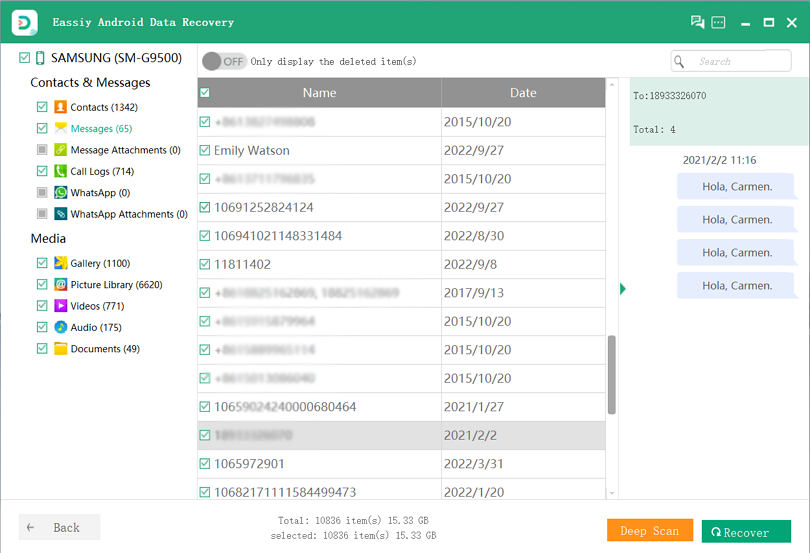 Note: Keep your phone linked to the system during scanning. Check if the data you want is there after the initial scan. If not, select "Deep Scan" to look for buried data.
Way 2: How to Retrieve Deleted Skype Messages on Android via main.db File
Those who use Skype on PCs may quickly retrieve their lost Skype messages using a simple procedure. When someone deletes messages or other data from Skype, it does not completely disappear. There is a database file entitled Main.db on your computer that holds all of the lost Skype data. So, you can simply retrieve your lost Skype attachments with this file.
Step 1: To begin, you will need to install additional software on your computer, such as Skyperious or Skype Log Viewer. These programs will allow you to read the data from the database file.
Step 2: Open the program and navigate to the location of the Skype database file on your computer. You will find all recoverable Skype data in the Main.db folder.
Step 3: Finally, select the messages that you want to recover and restore them to your preferred location on your pc.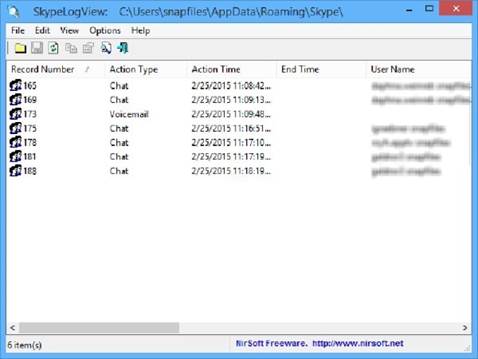 Way 3: Retrieve Deleted Skype Messages on Android from Previous Version
Let's look at another way to restore lost Skype chats by utilizing Windows' built-in backup capability. Windows Previous Version allows you to recover your data by going back to any version of the folder. Before you begin, keep in mind that this approach will only work if you have previously enabled the Windows Backup option.
Step 1: First, navigate to the following path on your computer. "C:\Users\YourWindowsUsername\AppData\Roaming\Skype\YourSkypeUsername," It will bring up a window listing all of the recoverable Skype folders.
Step 2: Next, right-click on the folder containing your chat history or messages and choose Properties. On the screen, a pop-up window will appear. Navigate to the "Previous Versions" tab and choose an older version from the pop-up box.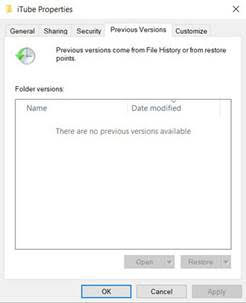 Step 3: Finally, click the Restore option, and your data should be safely retrieved on your computer.
Way 4: Recover Deleted Skype Messages on Android Using AppData
To restore old Skype messages, use the AppData command on the command prompt. This procedure is quite similar to the second method from our list. It's comparatively easy to follow for the successful restoration of your Skype data.
Step 1: First, go to the "Start" menu on your PC.
Step 2: Next, press "Windows + R" at the same time and type the following: "%appdata%\Skype" and press "OK".
Step 3: After that, Windows Explorer will appear on your screen, where you'll select the folder containing your Skype name.
Step 4: Next, search for the file named main.db and download "SkypeLogView" to view the file's contents and read the old Skype text messages for recovery.
Way 5: Recover Skype Messages Android by Checking Old Messages
The last method is checking your old Skype messages manually. This is possible because Skype has a separate folder that displays texts that you have had for a long time. To access this feature of Skype follows these simple steps:
Step 1: Sign in to your Skype account and navigate to the "contacts" page. It should display all of the contacts on your Skype account.
Step 2: Now, find the connection, who had the missing conversation on the list of contacts. Click on the name of that particular contact.
Step 3: Once the contact has been highlighted, you will see a number of options from which you will select the "Show messages from" checkbox. Also, there are other time periods like 'yesterday,' 'one year,' or even 'since the beginning.' So, select the time range you wish to include. Finally, you will now be able to watch the chat from any point in time.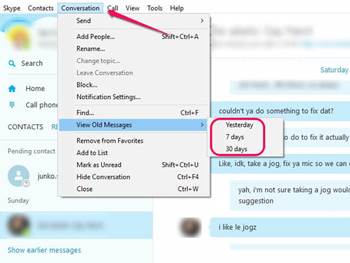 Note: Skype stores data for a limited time period which is 30 days.
Part 3: FAQs to Retrieve Deleted Skype Messages on Android
1. Are Skype messages stored on any server?
Skype chats, as well as attachments, are instantly synchronized with the back-end technology. While text chats are retained permanently on Microsoft servers or until expressly removed by the user, attachments are only preserved for a maximum of 30 days on the server.
2. Where to find the Skype attachments on Android?
If you're using an Android smartphone, any downloaded files from your Skype account will be placed in the Download folder by default. In any Android device, go to My Files > All Files > Device Storage > Download to open the Download folder to find the attachments.
3. Is Skype safe to use for privet chat?
All Skype-to-Skype voice, video, file transfers, and instant messages are protected. This safeguards you against potential eavesdropping by unauthorized users. It's why Skype is mostly secure for private chats.
Conclusion
Skype has become an integral part of our daily life. However, losing data from a platform like this seems like a big problem that needs effective solutions. So, this article focuses on several strategies for recovering lost and outdated messages from Skype, as well as ways to see and export the chat history. We discussed a few methods that require backups and may not guarantee successful restoration. That's why we highly suggested Eassiy, a new Android data recovery tool that enables restoration of any Skype attachment in a targeted format, making the procedure quick and effective without the need for backup.