WhatsApp is a popular messaging app that also features audio messages with lots of other media-sharing attachments. So, no doubt, this application plays a crucial part in our social and work life. However, as every technology has flaws, people often lose data like audio files/messages in this platform for various reasons. More specifically, though WhatsApp creates a local backup for your files, you may still lose data that could be corrupt programs or accidental deletion of data while using the app.
In this post, we will look into four effective WhatsApp audio recovery solutions that include both backup and non-backup approaches. We also have an overall best-recommended method for you that doesn't require any backup and has a high success rate in WhatsApp attachment recovery for any Android device. So, without further ado, let us proceed to the main section.
Part 1: What Are the Reasons for Losing WhatsApp Audio?
Whatsapp has been favored quite heavily as opposed to many other messaging applications. However, when it comes to data loss, WhatsApp isn't immune to that scenario. Just like other data types, you can lose WhatsApp audio files for several technical/human error reasons. It might be as follows:
Any corrupted data that forces the deletion of WhatsApp files from your system.
Damage to your phone may impair its internal storage, causing you to lose WhatsApp audio files.
Sometimes we forget to back up WhatsApp files when upgrading to a new Android system.
Accidental deletion of a WhatsApp audio file while using the app.
Is It Possible to Recover Deleted WhatsApp Audio on Android?
Any deleted data can be recoverable if it's not too late before restoration. Things get easier if you have already taken a backup of your audio files on your computer or Google Drive, then you won't face any issues. If this is not the scenario for you, then you can take the assistance of any Android data recovery tool to restore WhatsApp audio from your SD card or device's internal storage, respectively. In other words, you can restore data without backup in this method.
Part 2: How to Recover Deleted WhatsApp Audio Android? [Top 4 Methods]
When using WhatsApp, you may lose data, and it's recoverable as deleted data like audio files can be stored on any cloud system or internal/external storage of your device. There are additional solutions that are simple to utilize as well. So, let's get started on those ways.
Way 1: Best Way to Recover Deleted WhatsApp Audio Android without Backup [Most Effective]
Eassiy Android Data Recovery is a sophisticated software that can easily retrieve your deleted WhatsApp audio file or other WhatsApp attachments without any backup. It offers the industry's highest Android data recovery rate for photos and other media files. Also, this application supports around 6000+ Android devices and 16+ file formats. These numbers refer to better compatibility and show its wide range of usability for any data restoration solution. On top of that, data recovery has never been so simple with its easy-to-follow instructions and user-friendly interface. This software features both quick and deep scan options for advanced data search and recovery functionality. With its swift scan tab, you can process 1000+ deleted files within seconds. So, when it's an emergency data retrieval scenario, this software could be the right solution for the right moment. With Eassiy, you can recover data with three modes: Android device, SD card, and SIM card. Like most other popular data recovery tools, this software also has a selective restore option. So, you can preview lost data and decide which one to retrieve, saving you a lot of time during the process. This tool is 100% secure and safe for your personal data recovery solution.
Features
Supports over 6000+ Android phone models
Faster scan rate (1000+ deleted files in seconds)
Can recover 16+ data types
Supports restoring all types of WhatsApp attachments
Don't need any backup file for data recovery
Steps to recover deleted WhatsApp audio Android without backup
Step 1: First, you have to download and install the Eassiy data recovery software from their official website. Choose the right version for your operating system.
Step 2: Connect your phone to your PC and enable "USB debugging" on your Android device.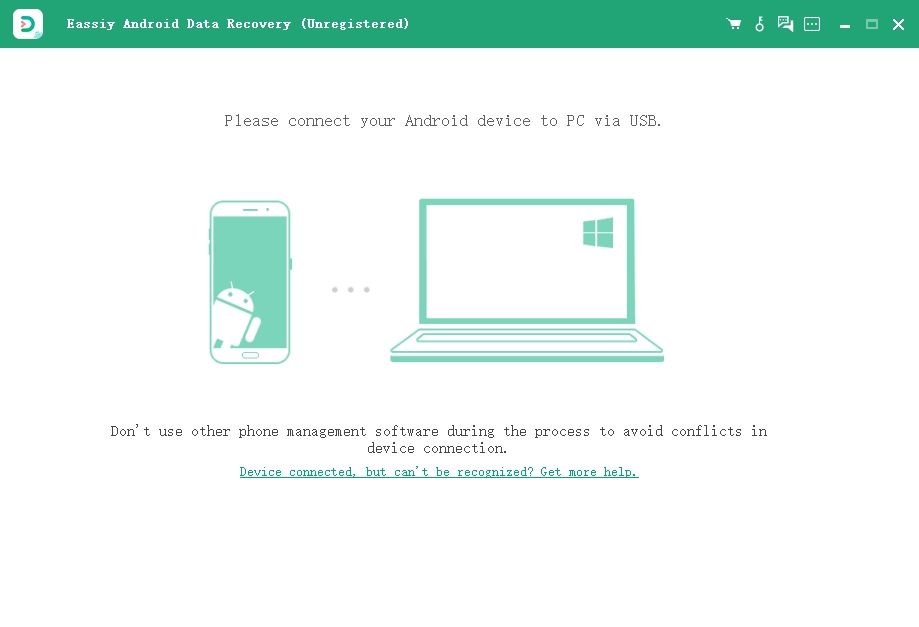 Step 3: Now, select the file type by choosing the "WhatsApp" and "WhatsApp attachments" options on the interface of the software.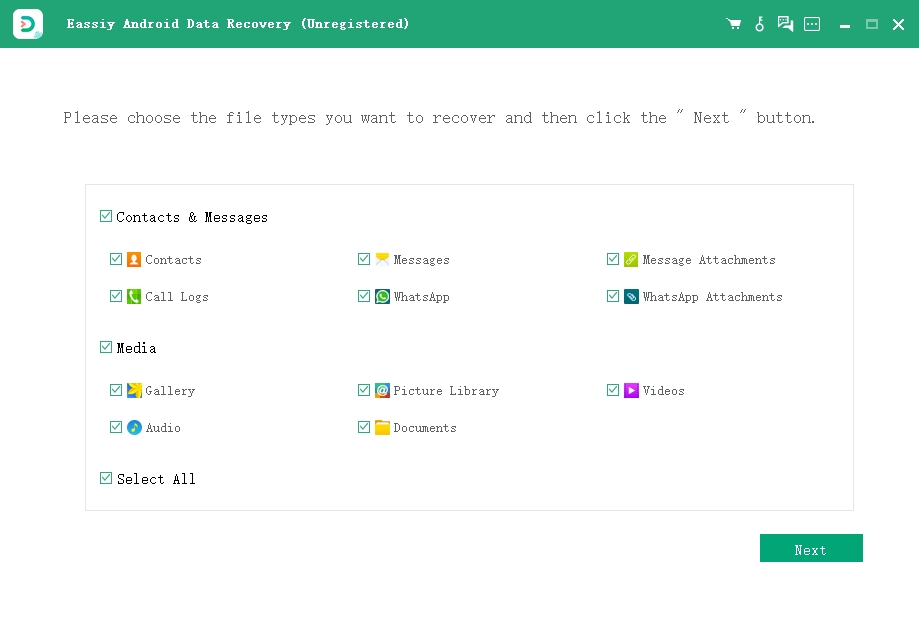 Step 4: Next, you need to enable the "Install via USB" tab in "Developer options" when the installation prompt (FoneGo) pops up on your phone screen. Click "Install" for granting access to the software for reading your Android phone data. Click the "Scan authorized files" option to begin scanning. If your deleted WhatsApp audio files aren't there after the first scan, use Deep Scan to find out those missing files.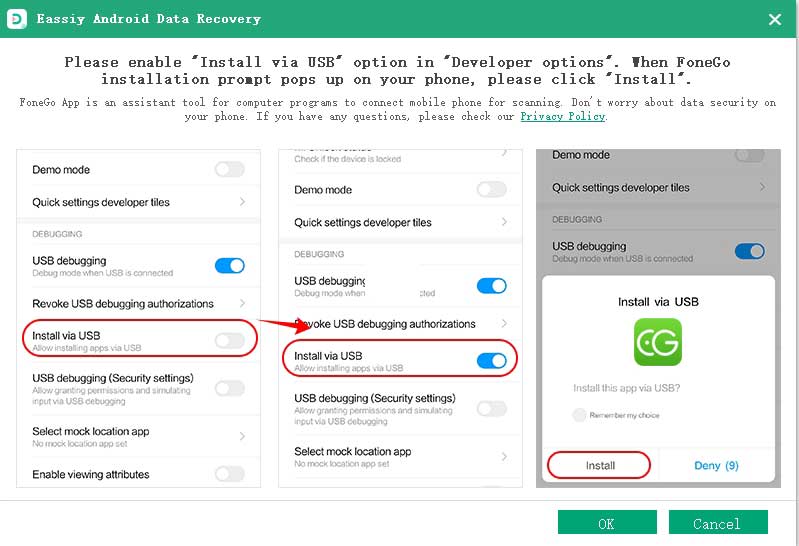 Step 5: Finally, choose the WhatsApp audio files you want to recover and click "Recover" to start the process. Depending on the file size, the recovery may take a few seconds. Also, you can preview the deleted audio files before restoration.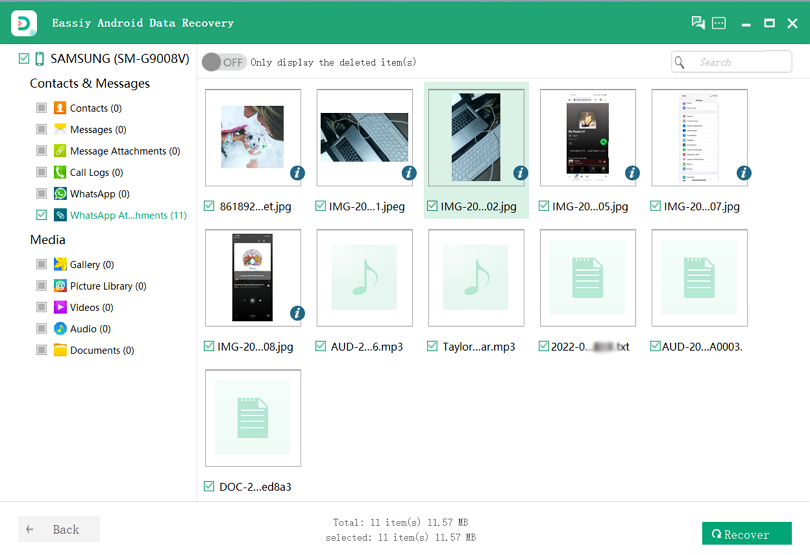 Way 2: How to Retrieve Deleted WhatsApp Audio Android via Google Drive
WhatsApp offers a backup program that enables users to back up and recover data. The data will be stored in Google Drive. You can simply retrieve the lost WhatsApp audio from the Google Drive backup if you used this backup option and produced a copy of your WhatsApp data before deleting the audio file.
Step 1: To begin, navigate to Settings > Chats > Chat backup > Last Backup to see if you've created any backups.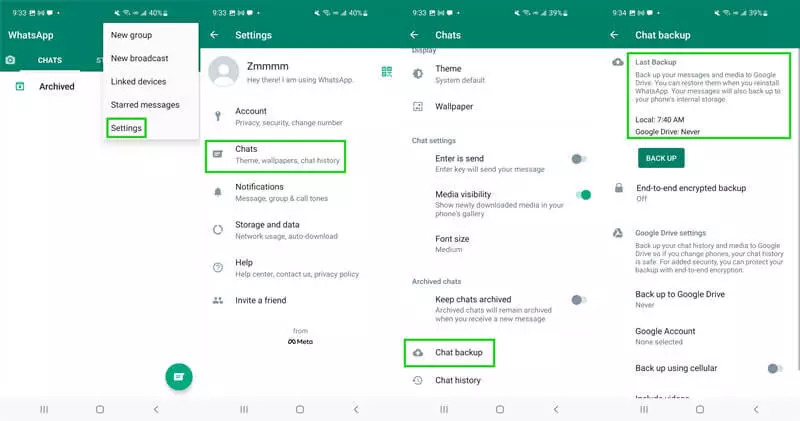 Step 2: Next, you have to uninstall WhatsApp from your smartphone and then install WhatsApp again from the Google Play Store. Follow the steps to set it up, and then provide the verification code to complete the process.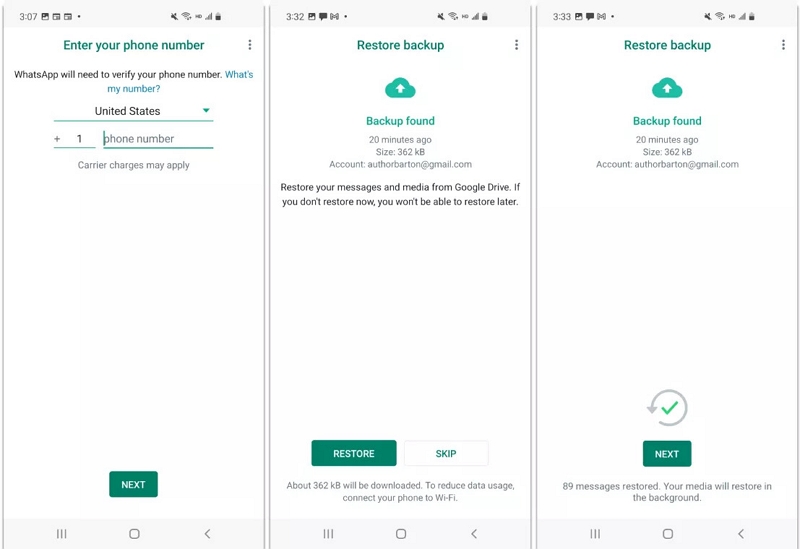 Step 3: Finally, press the "Restore" button to recover all your deleted WhatsApp audio, as WhatsApp will automatically recognize any backups saved on Google Drive.
Way 3: Retrieve Deleted WhatsApp Audio on Android from Local Backup
Another simple approach for Android users to recover deleted WhatsApp audio is to use an automatically created local backup in the internal storage. You can restore the local backup to your devices to recover lost WhatsApp audio. It's an easy way to recover lost WhatsApp data that doesn't require any Google backup service or data recovery tool. All you need is your Android device that will do the work for you.
Step 1: First, you have to download a File Manager application on your Android device.
Step 2: Now, launch the File Manager app, then tap on WhatsApp and then Databases. You can check on your local storage or SD card depending on where your audio files are stored.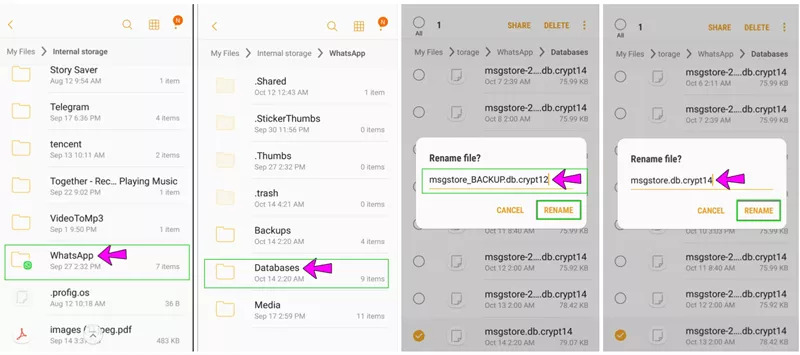 Step 3: Finally, reinstall WhatsApp and select "Restore." to retrieve your lost files.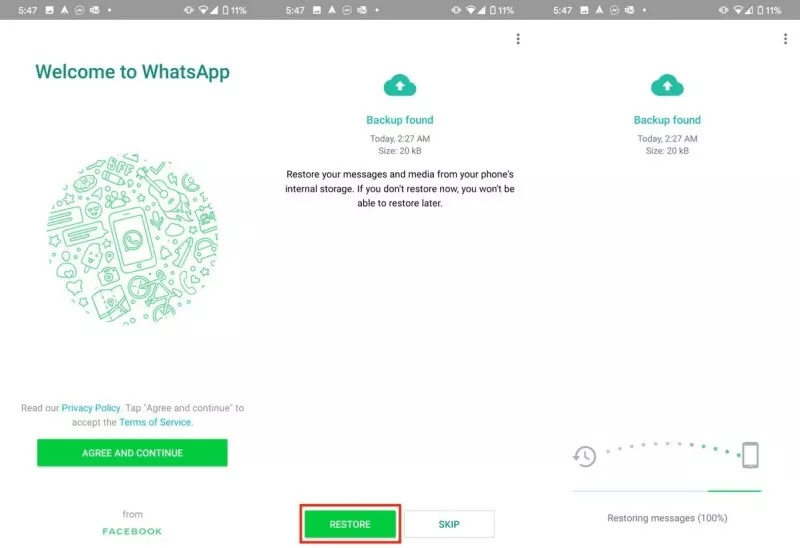 Way 4: Recover Deleted WhatsApp Audio Android by Asking a Friend
It's the last option you can use that doesn't require any backup or third-party data restoration tool. You can just ask your audio file receiver in WhatsApp to resend the message, as you may accidentally delete the audio while using the app. However, there is a catch. If you delete the file by tapping on the option "DELETE FOR ME" then this method will work. On the other hand, if you select "DELETE FOR EVERYONE," then that particular message will be removed for both sender and receiver. So, in this case, although you ask the receiver to resend the deleted audio file, he/she can't do the favor for you. So, you need to be careful about this while using the application while chatting. In other words, you can consider this method if other options don't work for you anyway.
Part 3: FAQs to Recover Deleted WhatsApp Audio Android
1. Does WhatsApp keep your chat history?
Your WhatsApp conversations are automatically backed up and stored in your phone's memory regularly. Depending on your settings, also you may back up your WhatsApp chats to Google Drive.
2. Where is the WhatsApp data stored in your phone?
You will find your WhatsApp attachments in WhatsApp/Media/folder, which is on your device's internal storage. However, if your phone has insufficient internal storage, the folder will be saved to your SD Card or External SD Card.
3. How long deleted messages from WhatsApp stay on your phone?
If a user does not open WhatsApp during the next 24 hours, 7 days, or 90 days, the message will be deleted from the chat. However, the message preview may continue to appear in alerts until WhatsApp is accessed.
Conclusion
We hope that after reading this article, you will be able to restore lost WhatsApp audio on your Android smartphones. As you can see, it's always a good idea to make a backup of all your vital data since it gives you more options for retrieving what you've lost. In this post, we examined two methods for recovering WhatsApp audio: local backup and data recovery tools, from which the better option is going with "Eassiy" an efficient solution for retrieving any kind of lost/deleted WhatsApp attachments without any backup.