WhatsApp is currently used and relied upon for all types of communication, whether it be a phone message, group chat, video call, or personal chat. Even though more people use WhatsApp today, many users find that accidentally deleting photographs causes more difficulties.
If this has happened to you as well, don't panic because the pictures are still accessible. Even if you don't have a backup, we'll go over five alternative techniques in this post to restore deleted photographs from WhatsApp on Android. In this post, the complete procedure for retrieving deleted Pictures from WhatsApp on an Android phone will be described in depth. If you accidentally deleted your crucial images from WhatsApp on your Android device and want to get them back, this post will be your true messiah. This article lists the top 5 ways to retrieve WhatsApp photographs. The best Android data recovery tool, Eassiy Android Data Recovery, which is a tool for recovering lost or deleted photographs from WhatsApp on your android device, will also be introduced. Follow along as we read on!
Part 1: Why Do We Lose WhatsApp Images?
Nowadays, we have a wide range of apps that can perform almost anything. Among them, WhatsApp is a very well-liked photo-sharing app. As long as you are connected to the internet, which is typically the case, you can transmit messages, movies, files, images, and music files for free using its user-friendly interface through WhatsApp. Nevertheless, it's possible for your photos to be removed somehow. The audio files could be missing for a variety of reasons, including any of the following:
Unintentionally deleted: Maybe you were a little distracted and erased the audio file instead of seeing. Even if it happens frequently, it really leaves you sitting there staring at an empty phone.
Corrupted data: Although it may seem arbitrary at times, sometimes things just happen. Corrupted data can occur for a variety of reasons, including incorrectly disconnecting your phone or inserting your SIM or SD card. All you know is that there are certain images missing right now that you must have back.
Damaged phone: Nobody wants to acknowledge that their phone is broken, but the truth is that they already carry the humiliation in their pocket or handbag. Even with today's modern technology, human error will always exist. Once we drop our phone, it won't just result in the screen breaking but also may be the loss of your images.
Phone switching: When we switch to newer phones, we occasionally fail to save the WhatsApp images, which has led to this situation. We have a tendency to ignore backing up various images.
Again, there may be many more factors that contribute to missing data; of course, there may be a combination of the aforementioned factors. However, we'll demonstrate the best 5 methods for recovering deleted photographs from WhatsApp for you.
Part 2: How to Recover Deleted WhatsApp Audio Android? [Top 4 Methods]
WhatsApp photographs are more endearing to us all, as we are all aware. But occasionally you do misplace those priceless photos for unforeseen reasons. You're currently trying to figure out how to get it back. Due to this, we've included the top 5 ways for you to recover deleted WhatsApp photos on your Android device below.
Way 1: Best WhatsApp Deleted Images Recovery Android without Backup [Highly Effective]
Eassiy Android Data Recovery software provides a number of options for you to easily recover WhatsApp images from your Android. Due to its user-friendly design, Eassiy Android Data Recovery will be the best option even if you are a rookie when it comes to working with android data recovery for your WhatsApp images retrieval. Eassiy Android Data Recovery provides the greatest rate of photo and video data recovery from Android devices. This software supports 16+ file types, which is a record number in the industry. Samsung, Huawei, HTC, Google, LG, Sony, and more Android smartphones are supported by Eassiy Android Data Recovery.
Eassiy Android Data Recovery is the most amazing method to get back your WhatsApp pictures, regardless of the reason why your Android images were lost—a system crash, an accidental deletion, exterior damage, or any other circumstance. Eassiy's top-notch Android data access and recovery technology allows us to retrieve accidentally deleted images from WhatsApp. Eassiy Android Data Recovery is best source because it has a greater data recovery rate than its competitors and can scan 1000+ deleted files in only a few seconds.
Key Features:
The highest industry average for photo and video data recovery from Android devices.
Scan 1000+ deleted files in less time with a faster scan
Supports 16+ file types, which is a record number for the industry.
assistance for 6000+ Android smartphones
3 recuperation modes are offered, each with a variety of features.
Steps to recover deleted data on android using Eassiy:
Step 1: Download and launch Eassiy
You can get back your lost pictures from WhatsApp with the excellent Eassiy Android Data Recovery. Installing the most recent version of this software on your computer is necessary to accomplish this.
Step 2: Link your Android device to a computer.
Your computer and Android should be connected. After that, open "USB debugging" on your Android phone.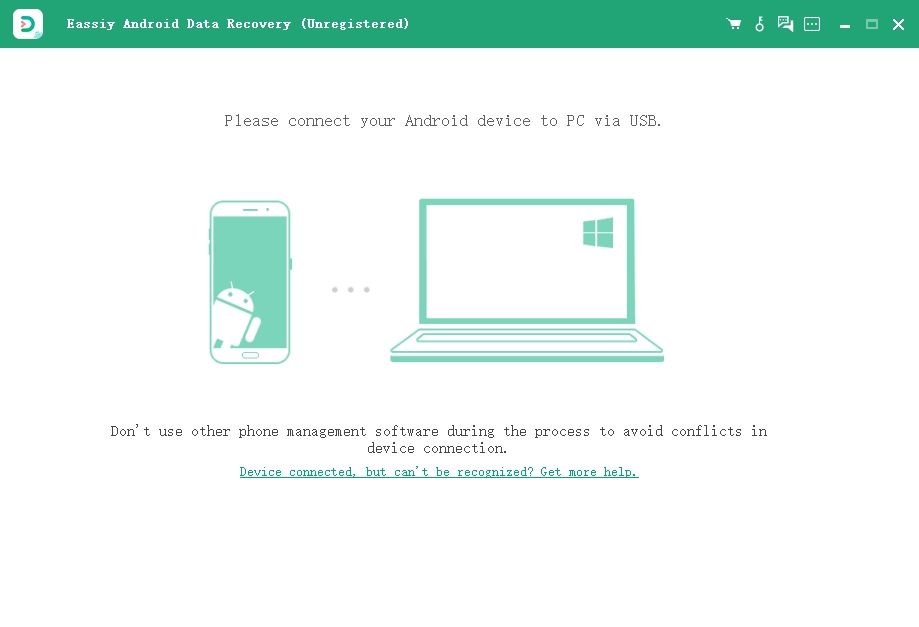 Step 3: Select Your File Types
Select the file type you want to recover. Connect your Android device to your computer, then select "Next" after selecting the file type you want to search for deleted things in.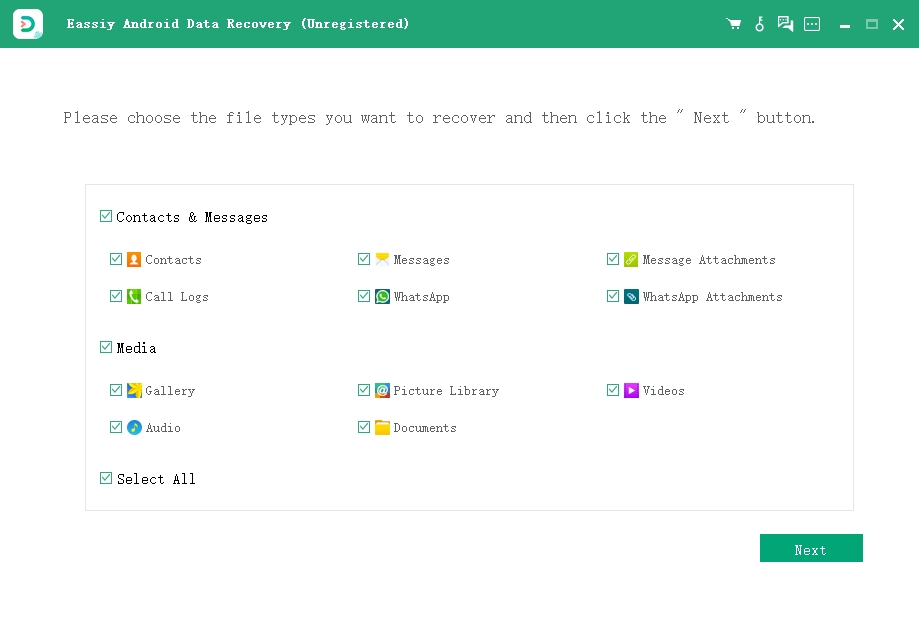 Step 4: Download the Eassiy app on an Android device.
You must install the application on your device in order to access your Android device through Eassiy Android Data Recovery software. When the pop-up appears on your Android device, click "Install" after enabling "Install through USB" in the software's developer options.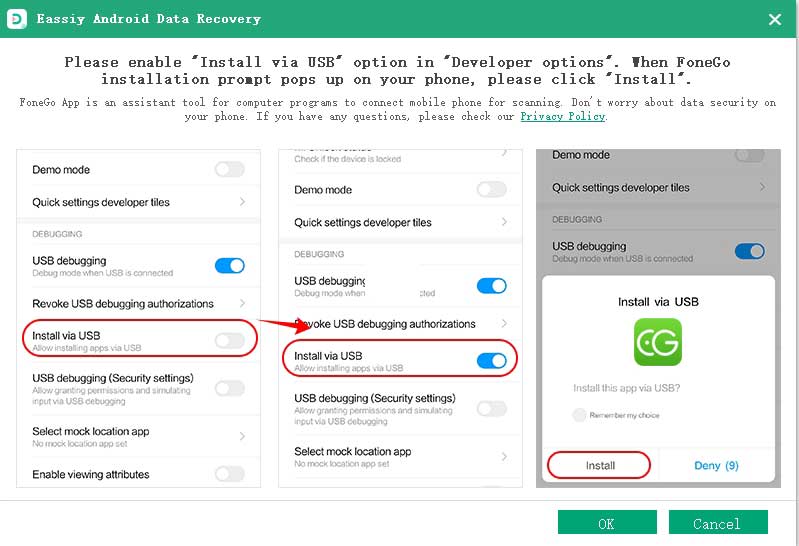 Give Eassiy permission to read the memory of the Android device. When the Eassiy pop-up window appears on your Android device and asks for permission to read data, click on "Allow." This will enable the application to successfully scan the phone. After that, launch the computer application and choose "Scan Authorized Files" to begin looking for the deleted data.
Step 5: Recover Data from Android
Keep your phone plugged into the network while the system is being scanned. Verify that the data you require is present after the initial scan. Otherwise, select "Deep Scan" to look for buried info. You can now select each file type to view the data after the lengthy deep scan process is finished. After that, select "Recover" and mark the data you wish to get back. You will get back your WhatsApp pictures after that.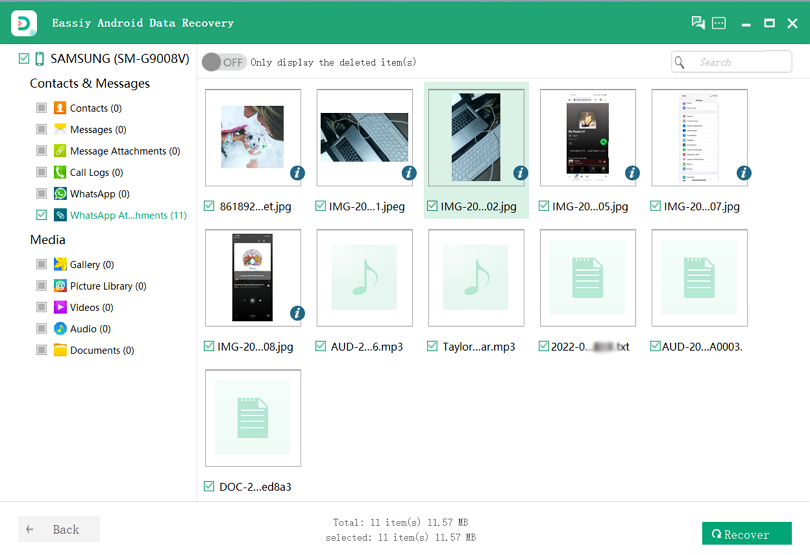 Way 2: How to Retrieve Deleted WhatsApp Images on Android via Google Drive
You must use the same phone number and Google account that you used to start the backup if you have backed up your WhatsApp photos to your Google account and want to restore those photos from a Google Drive backup. Learn how to restore WhatsApp photographs from a Google Drive backup by reading the steps down below:
Step 1: Verify that the Google account you used for the backup has been added to your phone.
Step 2: Kindly reinstall WhatsApp after uninstalling it.
Step 3: A call to your phone will be made to confirm it.
Step 4: You'll get an email with directions on how to get your Google Drive pictures, videos, and messages when you've validated your phone number.
Step 5: After the restoration is complete, click "Next."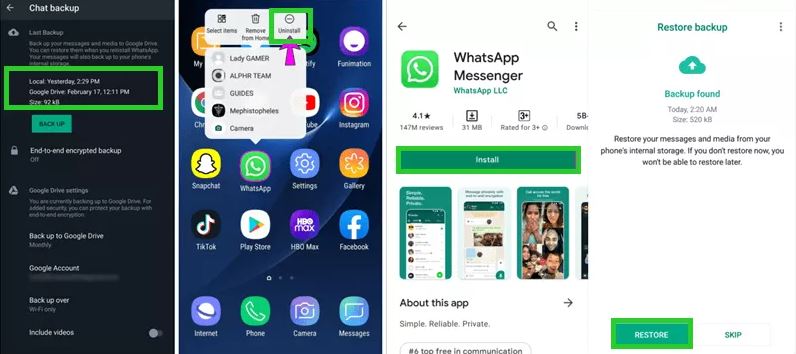 After your chats have been restored, WhatsApp will start restoring your media files, such as pictures and videos.
Way 3: Recover Deleted WhatsApp Images on Android from Local Backup
Every image you transmit and receive over WhatsApp is automatically saved to a specific folder on your Android smartphone. As a result, you are able to remove an image from a discussion and save it to this phone folder. Take note of the procedures listed below and use a free Android file explorer app, such as Files by Google, to dive down to the following folder.
Step 1: Start by opening files.
Step 2: Navigate to the internal memory or phone storage.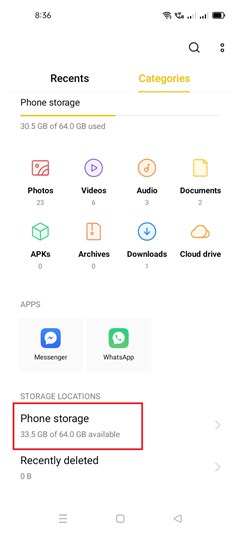 Step 3: Search for the WhatsApp folder.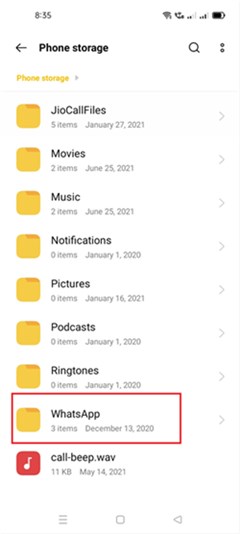 Step 4: Click the WhatsApp file when you have located it. You'll see the media selection.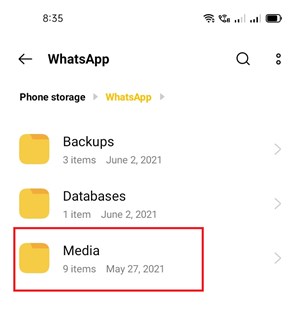 Step 5: Go to WhatsApp Images after choosing your media. All of the sent and received media files on the platform are accessible here.
In addition to this, you will see a "Sent" folder with all the pictures you've sent. The "Received" section is where you can find all of the photographs you've received via WhatsApp.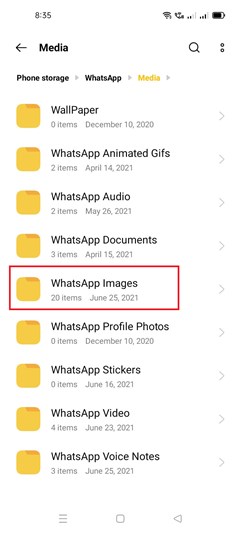 Way 4: WhatsApp Deleted Images Recovery Android from Gallery or Google Photos
You might be backing up or saving your photos using Google Photos. Look for the WhatsApp photographs in your phone's cloud storage if they aren't already in the Gallery app.
Step 1: Launch Google Photos on your mobile device.
Step 2: Select the Library link towards the bottom.
Step 3: Tap the folder for WhatsApp images. Locate and choose the necessary WhatsApp images.
Step 4: Select the top-right three dots. To recover the deleted WhatsApp photos from Google Photos, select any of the options.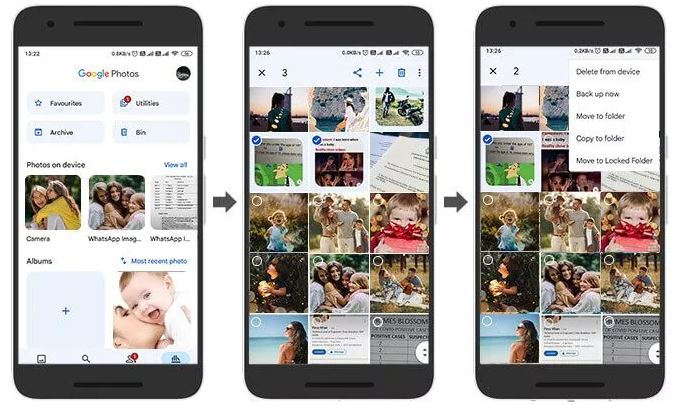 Way 5: Recover Deleted WhatsApp Images Android by Asking a Friend
The simplest way to retrieve lost media is to see if the person you were speaking to has a copy of the message that the lost media was connected to. There's a good chance the recipient, or several recipients in the case of a group SMS, will still have the image on their phone if you upload an image and then delete it for yourself.
Simply request the image from the other user, or for longer-term and safer media storage, have them store it to their phone and share it with you using Google Drive or Google Photos. The recipient of the image file does not lose access to it when you tap the trash icon and then select the "Delete for Me" option, assuming they downloaded the file. As a result, if you unintentionally delete a file from your phone, you can ask the receiver to assist in restoring it.
Part 3: FAQs to Recover Deleted WhatsApp Images Android
1. How do I recover deleted WhatsApp pictures on android?
Go to Settings > Chats > Chat Backup first. Here, you'll find details such as the most recent backup date and the frequency of your data backup schedule. You can uninstall and reinstall WhatsApp to restore the backup and recover your images if you deleted them since the last backup.
2. How to recover photos from WhatsApp web on PC or Mac?
On your computer open WhatsApp Web in browser. Now, on your Android or iPhone, open WhatsApp. Click on the 3 dots on top right and select WhatsApp Web and scan the QR code on WhatsApp Web using your phone. You will now be able to log in to WhatsApp web on your laptop. Next, simply go to the chat from which you want to recover the photographs. Search for the photos, click, and download on your PC or Mac. The photos will be saved in the download folder of your computer.
Conclusion
Mistakenly deleting WhatsApp images is a typical occurrence. If you make a mistake, the app's photos are lost. Frustration sets in, though, when no rehabilitation advice or technique works. This is further demonstrated by the number of forum questions asking how to retrieve deleted WhatsApp photos. We have presented five of the most effective solutions to the widespread issue. Users can recover deleted WhatsApp photographs using the Eassiy Android Data Recovery app in addition to the other 4 methods. Using the aforementioned methods, you can recover your WhatsApp deleted or lost images from any android device.
Nonetheless, we advocate using the Eassiy Android Data Recovery software because it will enable you to recover those priceless pictures while still ensuring the security of your data. Furthermore, it is really simple to use and doesn't require any technical knowledge.