It is generally in agreement that Samsung's smartphones provide the highest integrity regarding data security. However, it leads to difficulty in rooting; thus, you need to know how to root your Samsung. This tutorial will discuss rooting the Samsung S6 and Samsung S6 Edge using the PingPong Root application. You may head to Root Android with 1 Click Root if you want to root your Samsung Galaxy S4, S3, or S2, even if it's running a different version of Android.
Part 1: Questions about the rooting process for the Samsung Galaxy S6 and S6 Edge.
What exactly does "rooting" Android mean?
Rooting an Android smartphone removes restrictions that come with using an Android device and gives users administrative access to the phone's operating system. Users may get permission to control system apps and settings and carry out any operation following their requirements by rooting their devices.
Why should you root your Samsung phone?
The Samsung Galaxy S6 and S6 Edge have captured the attention of a large number of consumers. On the other hand, similar to other Android phones, Samsung phones come with several pre-installed applications and services for consumers when they purchase new phones. There may be times when you feel you do not need specific applications and services, and you will wish to remove them from your Samsung phone. But Samsung says no. How can we find a solution to this issue? Using a rooting program, you can get root access on your Samsung S6 or S6 Edge.
When you want to recover deleted SMS on Android or to recover deleted Android photos with some third-party recovery tools, you will find that those programs require you to root your phone first to get more permission to continue the following process. This is another problem you may encounter if you want to recover deleted SMS on Android. If this is the case, you will need to root your Samsung phone to access the stored data.
The benefits of having your Samsung device rooted
You will have complete control over your Samsung Galaxy S6 or S6 Edge, including the ability to manage programs and the files that make up the operating system.
You may clear up space on your Android phone by uninstalling programs that aren't essential.
You can immediately unlock and remove files that are obstinate, enhancing your phone's safety by eliminating viruses and Trojan files.
Using third-party data recovery software, you may get back any data that you accidentally deleted or lost on your Samsung phone.
Is rooting a Samsung phone safe?
When you root an Android phone, you make it possible for any software to run on it. Any app you install on your phone will be able to access and edit your personal information since it will receive "administrator" privileges. Wow, rooting an Android phone certainly seems like a dangerous endeavor. Nevertheless, rooting an Android phone is relatively safe if you are careful while installing applications.
If your phone enters Android recovery mode while you are rooting it, there is no need for an alarm since you can exit the mode by following the instructions in this step-by-step tutorial.
Why should you go for PingPong Root?
You will turn to Google to find rooting tools when you cannot restore lost contacts on Samsung as a result of an unsuccessful rooting attempt. However, it isn't easy to pick among the many rooting tools. Why should you go for PingPong Root instead of another option? PingPong Root is an advanced rooting application developed specifically for the Samsung Galaxy S6 and S6 Edge. It is possible to securely root your Samsung Galaxy S6 or S6 Edge without having to delete any of the data on your phone, and then you will have complete control over Samsung. You might try referring to the following Samsung S6/S6 Edge version to see whether your phone is included. Doing so will give you a better chance of rooting successfully. You may verify the version of your phone by going to "Settings" > "About device" on your phone. This is the option if you are unsure about the version of your phone.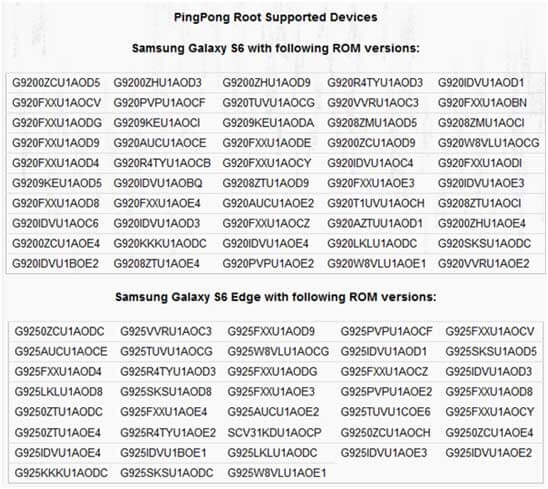 Part 2: PingPong Root tutorial on how to root the Samsung Galaxy S8, S7, and S6.
After becoming familiar with the fundamentals of rooting Samsung devices, you may begin rooting your Samsung Galaxy S6 or S6 Edge by following the instructions provided in the following paragraphs.
You are going to require a Samsung S6 or S6 Edge phone in addition to a USB cord. We strongly advise you to create a backup of your phone's messages, contacts, images, and other data on your personal computer in case an accident causes you to lose the data on your phone.
Step 1. Download PingPong Root.
Visit the website for PingPong Root at https://pingpong-root.com/, download the apk file to your computer, and then use the USB cord to move the file from your personal computer to your Samsung S6 or S6 Edge phone.
Step 2. Turn on support for "Unknown Sources."
On your phone, go to the "Settings" menu, choose "Lock Screen and security," and then toggle "Unknown Sources" to the "ON" position.
Step 3. Install PingPong Root and Super SU.
Locate the.apk file on your device, and then go inside that file to "Install" > "Install ANYWAY." After you have installed it, there will be a notice that reminds you to install SuperSU. However, you will not be able to begin rooting your phone until all the installations are complete.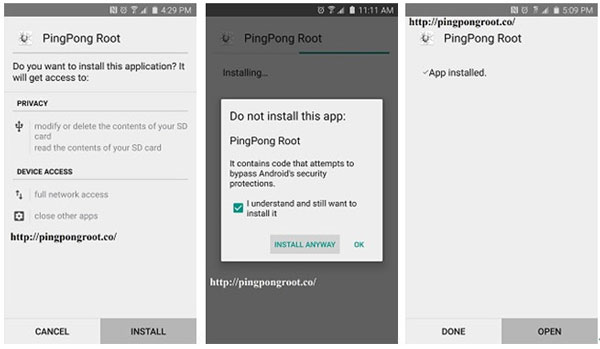 Step 4. Rooting Samsung Galaxy S6 and S6 Edge is possible.
When you first launch PingPong Root, once the installation process is complete, you will see that the software has two buttons: "Get root!" and "Download Data."
To begin rooting your Samsung Galaxy S6 Edge, you need first choose "Download Data" from the menu on your phone and then press the "Get root!" button. This is the case if your phone is visible in the attached picture.

The whole procedure of rooting your smartphone will take some time. When you are through, tap the "OK" button to restart your device.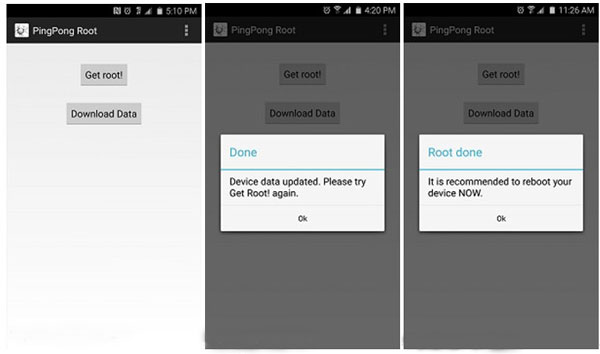 Step 5. Bring the SuperSU binary up to date.
After you have rooted your phone, go to the SuperSU tab. "In the pop-up reminder that "The SU binary has to be updated," you should choose "CONTINUE." Continue" > "NORMAL" > "REBOOT ".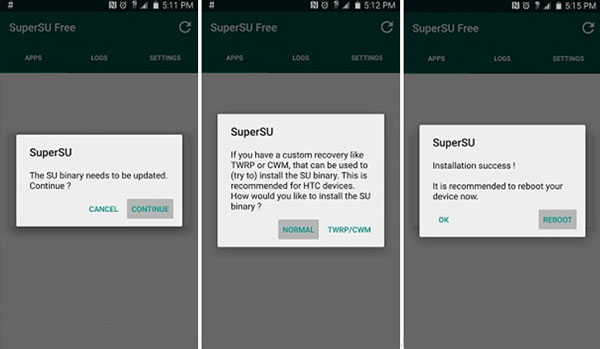 Step 6. Verify the rooting.
After you have rooted your phone, if you are unsure whether the rooting process was successful, you may attempt to verify by removing any pre-installed applications. You also have the option of downloading "Root Checker" to get the confirmation by seeing the picture in the following format: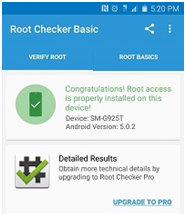 Help if you are unable to root your phone.
If your phone or other electronic device keeps force-restarting itself, you may try the following solutions:
Before starting PingPong Root, you should clear off all background processes.
After choosing Download Data, you need to switch to airplane mode.
Create a backup of your information using one of the many Android backup programs, and then do a factory reset.
When there is a delay, you should refrain from doing anything else.
The steps outlined above to root your phone may take you a little bit longer than they did for others. However, this is the most effective method for rooting your Samsung Galaxy S6 or S6 Edge. After that, you are free to delete any applications you have installed. Additionally, you can retrieve Samsung data from the internal storage on your terms.
Part 3. PingPong Root your Samsung Galaxy S6 or S6 Edge on your Mac in this tutorial
If you wish to root your Samsung phone on a Mac, you will have a tough time doing it. This applies to users of the Mac operating system mainly because few root tools are available on the market. Therefore, we recommend using PingPong Root on your computer to root your Samsung smartphones.