Several things can cause a video to be lost from your Samsung device. Maybe you forgot to make a backup of the videos before factory resetting your Samsung device, or you accidentally deleted them. If, for whatever reason, you no longer possess the videos, there is no need to give up. It can be upsetting when you unintentionally delete data from your Samsung phone and are unable to recover it. The same goes for deleting videos from your Android device because it can be difficult to get them back after deletion.
Before we explore any specific approaches, you need to know if deleted video recovery from Samsung is actually possible. It is feasible, which is wonderful news! There are several ways you can recover videos that you may have accidentally deleted. In this article, we'll go over how to retrieve accidentally deleted videos from a Samsung Android phone. Continue reading to learn all there is to know about this operation and what precautions should be taken to make sure it doesn't happen again. In addition to the best option, Eassiy Android Data Recovery Software, we will provide access to all 7 of the best solutions in this article.
Part 1: Is It Possible to Recover Deleted Videos Samsung?
Let's be honest; there's a good possibility that you share my thoughts. In a nutshell, yes, deleted videos from Samsung or any other device can be recovered. This holds true for all other types of data, including pictures, documents, and other types. You must be familiar with how data is kept on a device in order to comprehend this.
Specific locations for storing data are stored (and allocated) in a primary memory allocation table. A video is not immediately erased from the memory of an SD card or a phone when it is deleted. Instead, its memory table cell is turned on. This indicates that the space assigned to it is now open to being overwritten by anything else. As a result, if you decide to stop using the device, you may quickly execute Samsung video recovery and see success.
Part 2: Top Ways to Retrieve Deleted Videos Samsung [Best 7 Ways]
Now that you are aware that deleted movies from Samsung can be recovered, let's learn more about the numerous solutions. For your convenience, we've included several methods for recovering deleted Samsung videos.
Way 1: Samsung Deleted Video Recovery without Backup [100% Working]
No matter how your Android videos were lost on your Samsung device—due to a system failure, an accidental deletion, external damage, or any other reason. Eassiy Android Data Recovery is the most outstanding recovery program to help you out of data loss. We are able to recover unintentionally lost videos from a Samsung mobile with the help of Eassiy's advanced Android data access and recovery technology. Since Eassiy Android Data Recovery has a greater rate of data recovery than its rivals and can quickly examine 1000+ deleted files, it is the best recovery source.
Even if you are a greenhorn when it comes to working with android data recovery, Eassiy Android Data Recovery would be the finest choice due to its user-friendly design. The quickest rate of photo and video data recovery from Android devices is offered by Eassiy Android Data Recovery. This application supports 16+ file types, which is a record. A variety of Android phones, including those built by Samsung, Huawei, HTC, Google, LG, and Sony, are compatible with Eassiy Android Data Recovery.
Key features:
Support for over 6000 Android mobile devices.
The industry's highest recovery rate for Android video and photo data.
Quick scan: in one second, scan more than 1000 deleted files.
The ability to support the most file types—more than 16—in the market.
Provides additional features and three recovery possibilities.
Steps to recover deleted videos on Android without backup:
Step 1: Download and Install Eassiy Android Data Recovery
The proper software version for your system can be downloaded and installed by clicking the button on the official website.
Step 2: Connect your computer to your Android device.
Link your Android device to your computer. Open "USB debugging" on your Samsung device after that.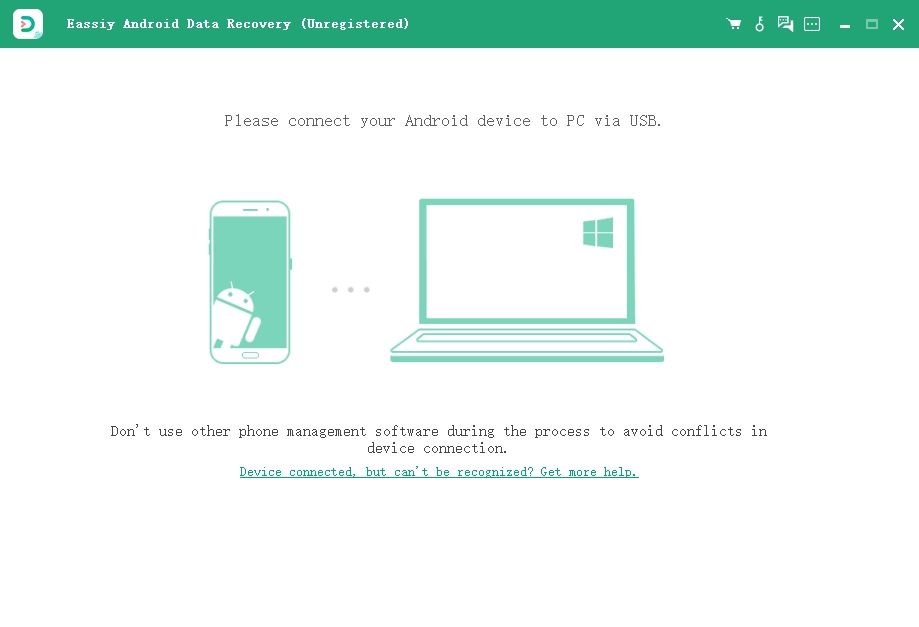 Step 3: Choose your File Types
The file type you want to recover should be chosen. Connect your Samsung device to your computer, choose the file type you wish to search for deleted items in, and then click "Next." If it is video, then tick out the "videos".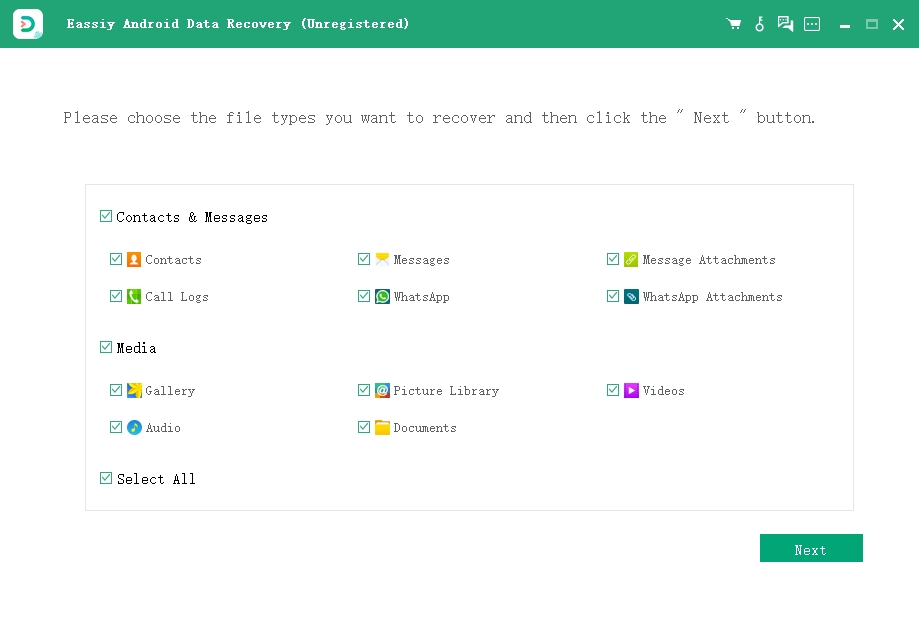 Step 4: Install the Eassiy App on your Android.
Eassiy Android Data Recovery needs access to the software on your Samsung Android smartphone in order to use it. Click "Install" when the pop-up displays on your Android device after turning on "Install through USB" in the program's developer options.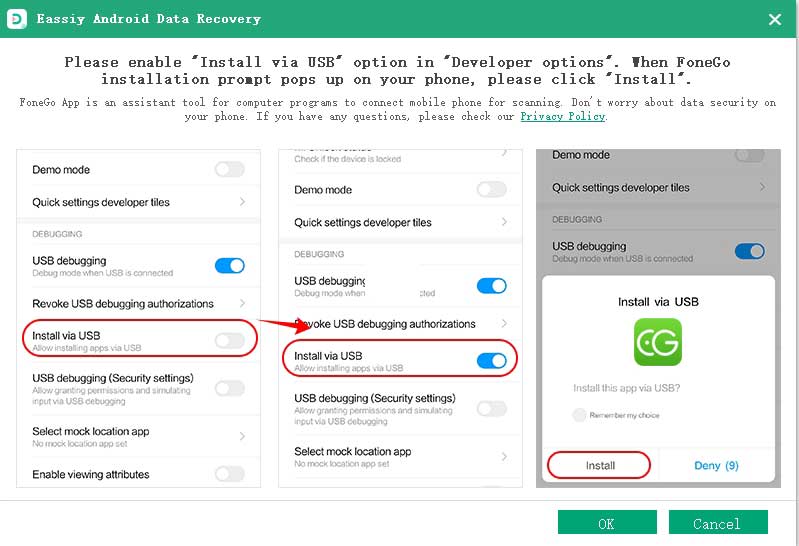 Please Provide Eassiy access to read the memory of the Android smartphone. When the Eassiy pop-up window appears on your Android device and asks for permission to read data, click on "Allow." This will enable the application to successfully scan the phone. In order to begin searching for the deleted videos on your Samsung phone, click "Scan Authorized Files" on the computer software.
Step 05: Recover Your Deleted videos.
Keep your phone plugged into the system while the system is being scanned. Verify that the deleted videos on your Samsung device you require is present after the initial scan. Otherwise, select "Deep Scan" to look for buried deleted videos. Afterwards. Click "Recover" to get back your deleted videos. By following the steps above, you can easily retrieve your lost videos on your Samsung android device.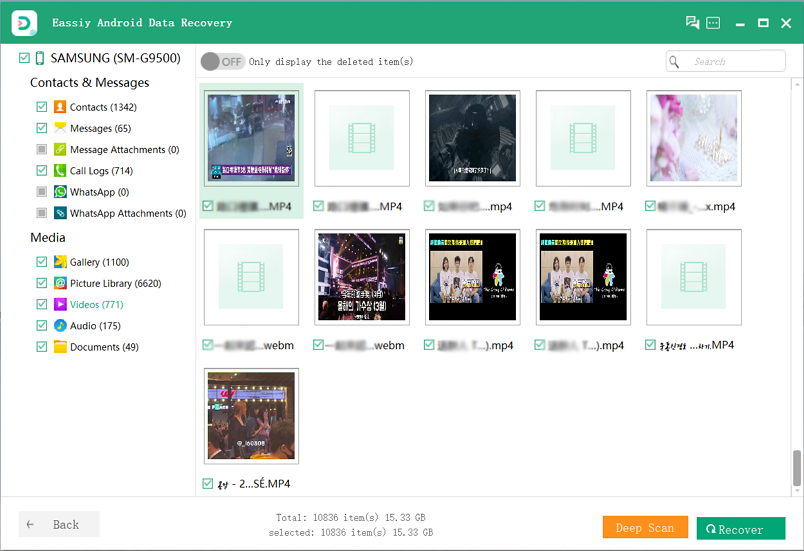 Way 2: How to Recover Deleted Videos Samsung from Gallery
How can I free restore films that I erased from my Samsung phone? In fact, most Samsung smartphones come with a built-in feature called Recycle Bin that can be used to store deleted videos and photos. As a result, you can search for it and instantly retrieve your deleted movie from Samsung. It typically keeps deleted files for 15 days.
Step 1: Open the Gallery app
On your Samsung smartphone, please tap the Gallery app and select the three dots at the top right.
Step 2: Access the recycle bin
Then select "Recycle Bin" from the menu, where you can view your deleted videos.
Step 3: Get the Videos
Now, choose the videos you wish to restore by briefly touching them. In the end, press the "Restore" button. The removed videos will appear soon again.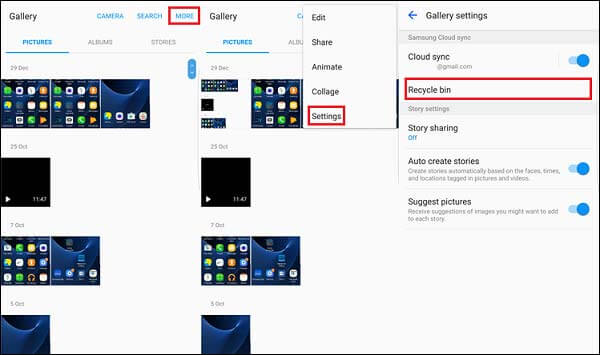 Way 3: How to Recover Deleted Videos Samsung S8 via Google Photos
We are all familiar with Google Photos, where you can upload the pictures and movies you take with your phone. Check this folder if you don't find the missing videos. Using Google Photos, you can recover irreversibly deleted images and videos from your Samsung S8 cell phone.
Step 1: Start by launching the Google Photos app on your Samsung mobile.
Step 2: Now select "Menu" from the top-left menu.
Step 3: Afterward, select "Trash."
Step 4: Choose the pictures or videos you want to save.
Step 5: Lastly, select "Restore".
Way 4: How to Retrieve Deleted Videos Samsung with Dropbox
Dropbox is a practical program for managing and backing up your information, and it lets you store deleted files for 30 days. Here's how to retrieve your videos if you've backed them up on Dropbox.
Step 1: Use your Dropbox account to log into the Dropbox website.
Step 2: On the left side, select Deleted File.
Step 3: Choose the deleted videos and press the Restore button.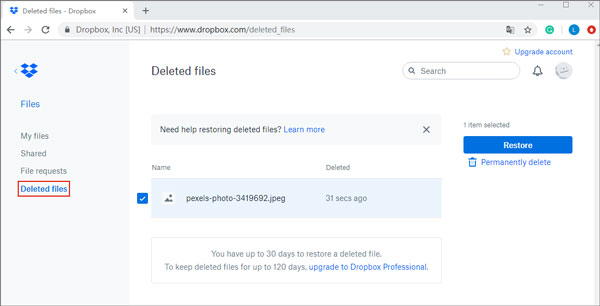 Way 5: Recover Deleted Videos Samsung from Google Drive
You can also use Google Drive to restore videos that have been completely erased from Samsung devices. Your most significant videos have likely been uploaded there if you actively use this app. You might be able to locate these films in the app's Trash folder if you unintentionally removed them.
Step 1: To open the Google Drive app on your Samsung device, tap it.
Step 2: The Trash option can be accessed by first tapping the Menu symbol in the top left corner of the screen.
Step 3: Tap the three dots when you've located the videos you wish to preserve, then select Restore.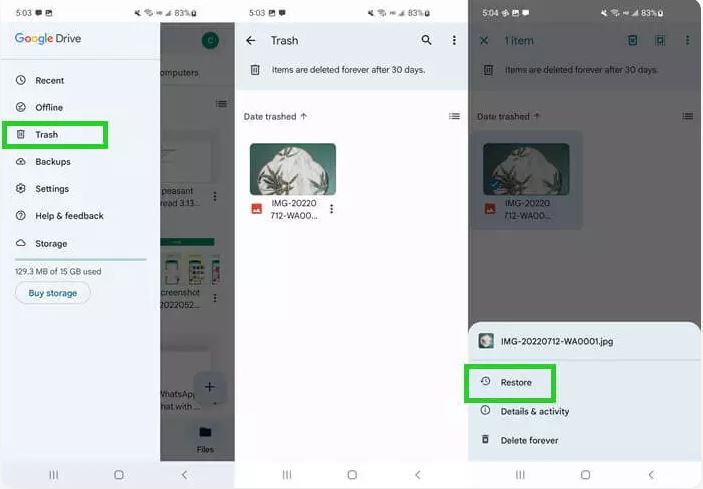 Way 6: How to Find a Deleted Video on Samsung from Samsung Cloud
One of the greatest ways to backup all of your lost phone data is with Samsung Cloud. Users can easily retrieve films or other data, such as contacts, images, messages, videos, etc., using this technique.
Step 1: On your Samsung Galaxy phone, go to Settings and select "Samsung Cloud."
Step 2: Next, select "Backup and Restore" > "Restore Data" from the menu. There, select the "Videos" radio button.
Step 3: Finally, to retrieve videos, select "Restore Now."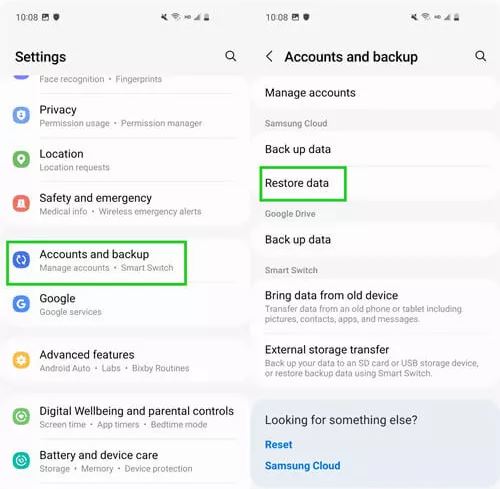 Way 7: How to Get Back Deleted Videos on Samsung Using Kies
Samsung Kies is another helpful function available to Samsung phone users. Samsung created it so that consumers could sync and transfer data between their devices and PCs. Keep in mind that this will only work if you have previously backed up your data.
Step 1: Launch Kies first on your computer.
Step 2: Connect your gadget to the PC now using a USB cord.
Step 3: Tap the "Backup/Restore" button after that.
Step 4: Afterward, choose "Restore data" and the backup that contains the lost videos.
Step 5: Choose the videos you want to recover from here.
Step 6: Finally, select "Restore" from the menu.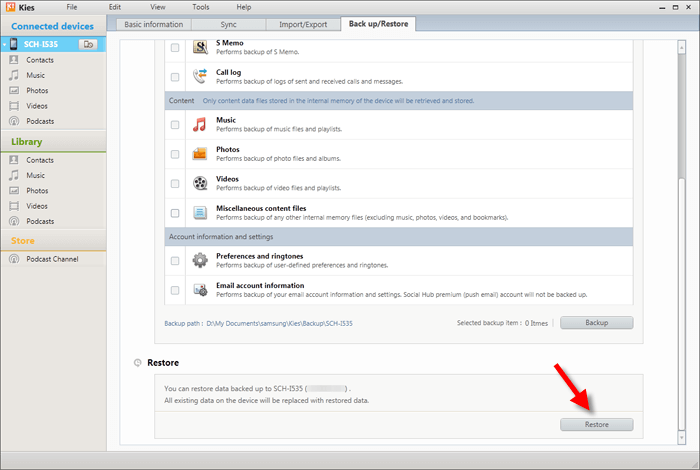 Part 3: FAQs for Samsung Deleted Video Recovery
1. Does Dropbox keep permanently deleted files?
Dropbox stores previously deleted files and versions of those files for a predetermined amount of time so you can recover them if needed. The deleted files are then marked in our system for permanent deletion and destroyed from our storage servers. They cannot be recovered or restored after being deleted.
2. How do I recover permanently deleted videos from my Samsung?
You can check your Samsung phone's recycle bin if your videos have been removed. The steps are as follows:
On your Samsung phone, launch the Gallery app.
Next, select the settings icon with three dots.
Then select Recycle Bin.
You may view recently deleted movies and photographs here.
To restore the videos, pick them from this list.
3. Can permanently deleted photos be recovered?
If removed from the trash, there is no approved way to restore permanently erased images, movies, or files. You will always require a backup service, such as Google Photos, Google Drive, One Drive, or any other local backup, in order to retrieve your erased data. The erased data and photos can always be accessed using the backup.
Conclusion
We all know how unpleasant it can be to accidentally delete a video that you really wanted to save from your Samsung phone. The act of deleting a video with the aim of watching it again later is another scenario. But we have provided a number of strategies to assist you in recovering those videos. By following the steps we've outlined above, you should be able to recover any videos you deleted or lost from your Samsung device. Keep in mind that your phone must have taken a backup for backup disks to work. Your only choice at that point will be to restore your destroyed video files using data recovery programs. It is advisable to use software from Eassiy Data Recovery. With this software, you may quickly and effectively recover data from a formatted memory card. Sincerely speaking, we think the outstanding Eassiy Android Data Recovery application is the best. Eassiy is the ideal software to choose if you're looking for a data recovery program to help you recover lost videos from your Samsung device.