YouTube is the world's second leading search engine after Google. Be it teachers, professionals, or companies, all use YouTube to communicate with the world. But what if you want to discuss something that is already on YouTube? How do you share your views on the videos that are uploaded on YouTube?
Well, you can use a YouTube screen recorder. And this guide will help you find the best YouTube video recorder, specifically for Mac devices. You will also discover the step-by-step instructions on how to record YouTube videos on Mac. The guide includes both online and offline tools, as well as paid and free YouTube video recorders.
Part 1: The Best Way to Record Youtube videos on Mac
Eassiy Screen Recorder Ultimate is the most comprehensive screen recorder that comes laden with tons of features to record the screen, edit them, and make them look professional. Aimed at beginners and liked by professionals, Eassiy Screen Recorder Ultimates always makes the top of the list when the discussion is about beginner-friendly screen recorders. But today, let's not focus on its modern and intuitive interface; instead, let's look at the features it offers to record the screen and make the video look professional.
Besides allowing you to record the screen in the desired way, i.e., full screen, custom screen, specific window, Eassiy Screen Recorder Ultimate empowers you to record YouTube in an advanced manner. For instance, its Mouse Follower lets you move the recording area depending on the mouse movements. The advanced audio management system allows you to manage the sound levels of internal and microphone sounds. At the same time, you will find real-time editing tools that allow you to draw shapes and insert words during the live recording.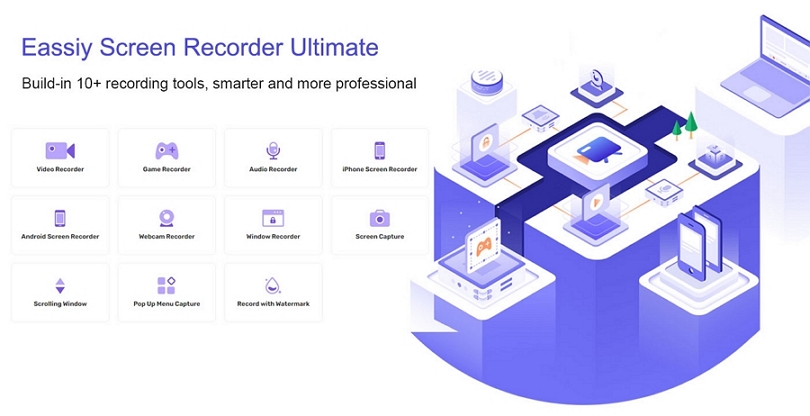 Key Features:
Record the screen: full screen, partial screen, window recording.
You can record a YouTube screen with a webcam overlay.
Take a screenshot while recording on YouTube.
Real-time annotation tools include shapes, highlighter, text, and other drawing tools to highlight aspects of YouTube recording.
It allows you to take long-form scrolling screenshots to include anything present in the bottom fold on YouTube.
Brand and personalize the YouTube screen recordings using stamps and watermarks.
Save or share the YouTube recorded video in any format and any social platform.
Personalize keyboard shortcut and use your personal hotkey to capture a screenshot and start recording YouTube anytime.
Capture a small video on YouTube and convert it into GIF.
A clean and minimalist user interface, making it suitable for any skill level user.
A lightweight application that runs on MacBook Pro, Air, or iMac.
How Do I Record a YouTube Video on My Mac with Audio Using Eassiy Screen Recorder Ultimate?
Eassiy Screen Recorder Ultimate presents a simple user interface for anyone to record YouTube or Mac screens easily and quickly.
Step 1. Download and Install Eassiy Screen Recorder Ultimate on Mac. Launch the tool. Choose Video Recorder from the main interface.

Step 2. Set the Preferences (one-time requirement, you can skip).
Click on the three bars icon on the main interface. And choose Preferences.
Personalize the Eassiy Screen Recorder Ultimate by setting hotkeys, mouse cursor color, etc.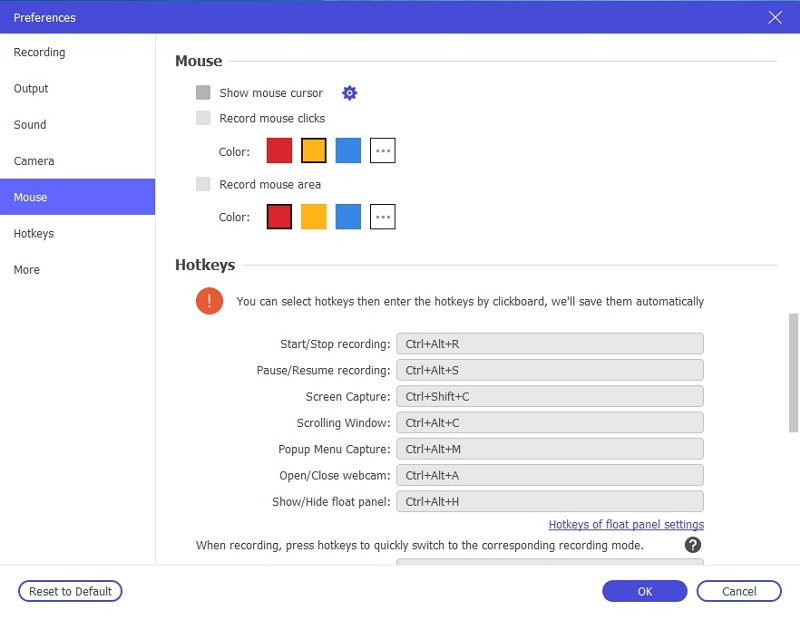 Step 3. And define the parameters like custom screen, aspect ratio, microphone audio, and so on. Click on Rec to start the recording.

Step 4. Start recording the YouTube video. You can use the Pause button to pause the YouTube recording. Click on the Edit icon at the right corner to draw on the recording in real-time. The camera icon allows you to click a screenshot during the live recording.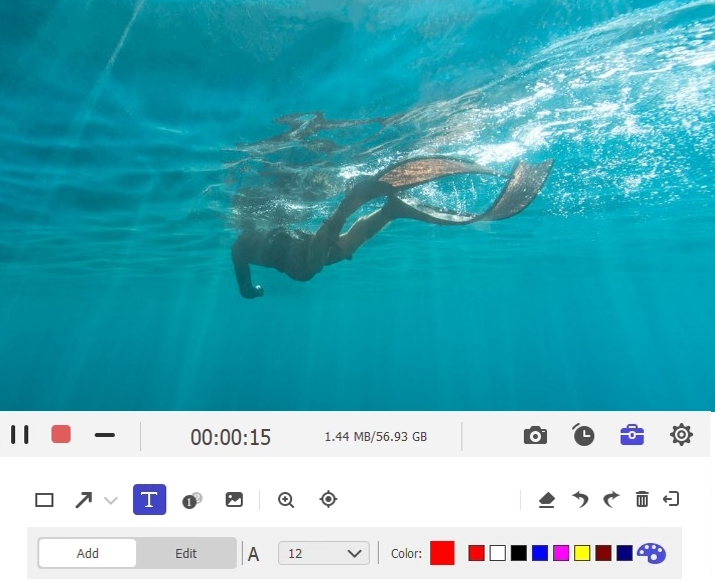 Step 5. Click on the Stop icon to save the recording. You can access the recording via Recording History.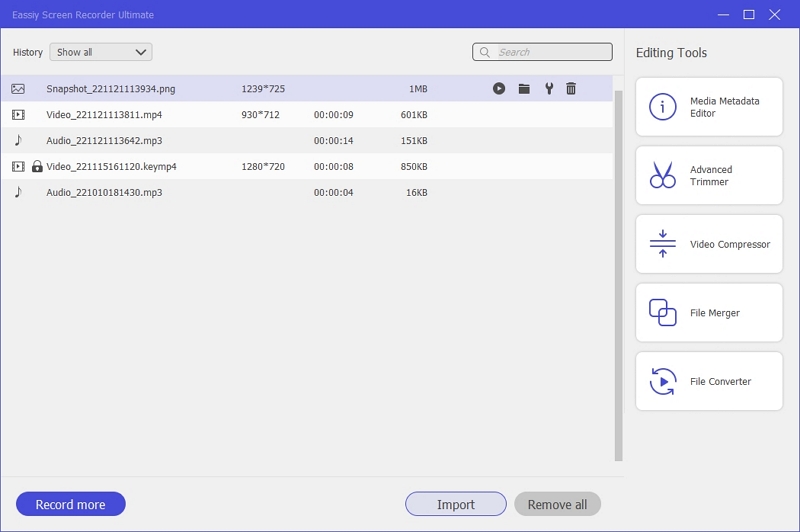 You can also save the recording to other channels like YouTube, Vimeo, Facebook, and more. Upon that, you can also define the output format, quality, and more such options. The Recording History allows you to access the video recordings anytime you want and edit them. You can trim, clean audio, and annotate the recording as needed.
Part 2: Record a YouTube video on Mac Using QuickTime
QuickTime Player is the native multimedia player familiar to Apple users. But it also includes other features like video editing and screen recording. Its Screen Recording is decent and allows you to record with audio. However, do not expect advanced real-time editing and post-production video editing features like Eassiy Screen Recorder Ultimate.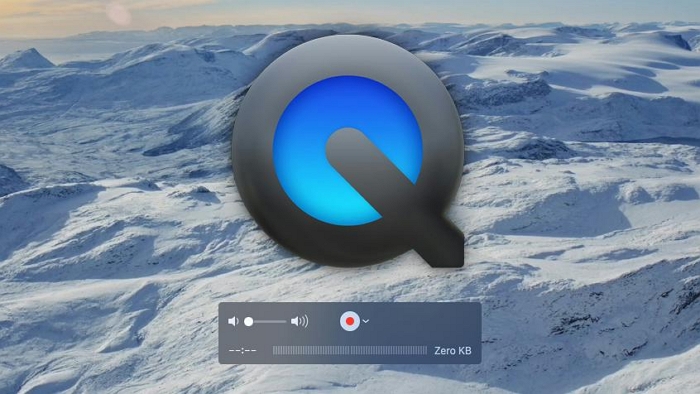 What's exceptional about QuickTime Player's Screen Recorder is it allows you to customize the recording area. This will be helpful to capture only the necessary area on YouTube. Plus, the audio options allow you to choose whether you want to include the YouTube audio or not.
Key Features:
Record YouTube on full screen or customize the recording area.
Record with audio.
Use the editing tools to trim the video after recording it.
Show mouse clicks or hide it.
Pros:
There is no need download any tool to record YouTube on Mac, as QuickTime Player is a native app on Apple devices.
Free.
Cons:
You will not find advanced editing features.
No drawing tools.
No way to include a webcam.
Audio levels are default, no way to manage it.
Here's How to Record YouTube Video on Mac Using QuickTime Player:
Step 1. Open Finder. Click on Applications. And from the right pane, choose QuickTime Player to record YouTube on Mac.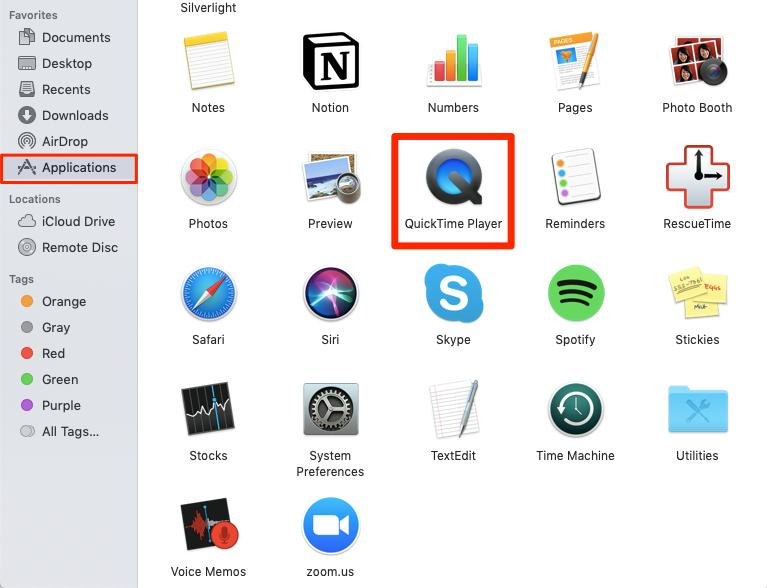 Step 2. Choose New Screen Recording to record YouTube on Mac.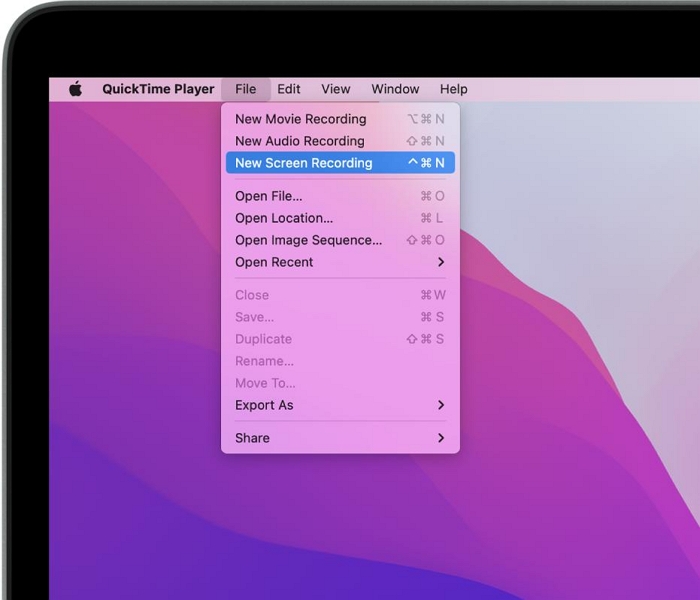 Step 3. The screen recording menu will open.

Step 4. You will have to click on the down arrow button to change the recording parameters for capturing YouTube. For instance, choose the options like including internal sound to include YouTube audio. And more parameters like including the mouse cursor and clicks in the recording or not.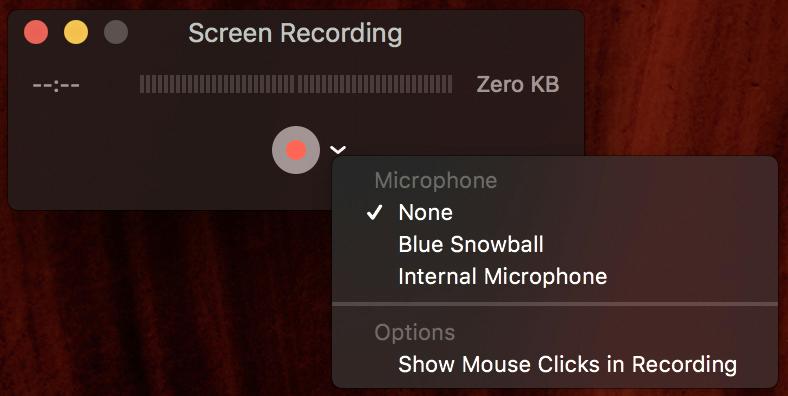 Step 5. You can customize the recording area. And click on the red button to start the recording.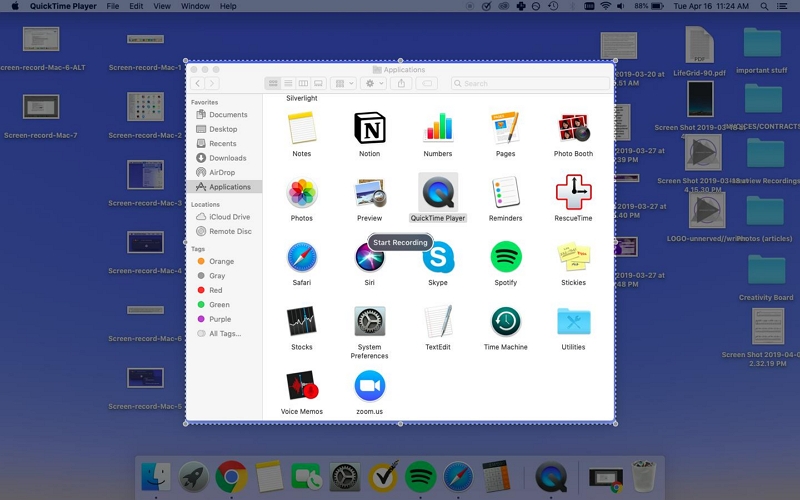 Step 6. Click on the Stop button to stop the screen recording with audio.

Step 7. Click on File. And choose Save.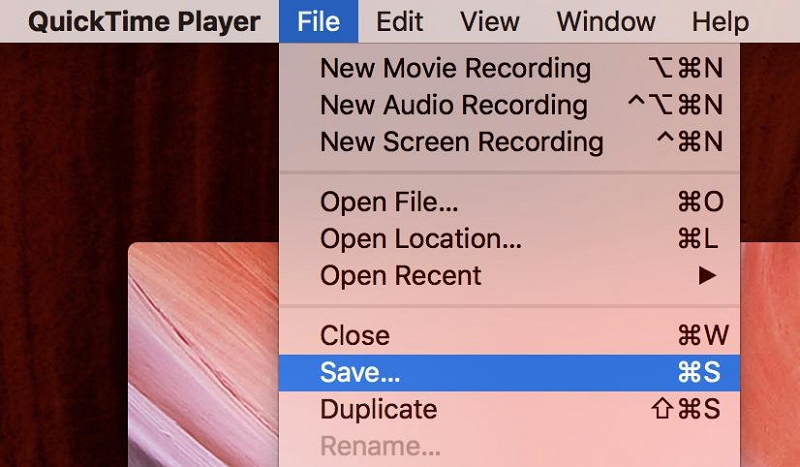 As can be seen, QuickTime Player offers a simple way to record the screen on Mac. But the very simplicity also makes it a useless feature in most cases. For instance, the lack of real-time editing features makes it difficult to highlight certain aspects of the video. At the same time, apps like Eassiy keeps things simple while offering more possibilities.
Part 3: Record YouTube on Mac with Hotkeys - Command + Shift + 5
Command+Shift+5 is just the shortcut to trigger QuickTime Player's screen recording. You can press the Command+Shift+5 keys on the Mac simultaneously to trigger screen recording. The same Screen Recording menu will appear as underlined in the QuickTime Player.
Here's How to Record YouTube on MacBook using the Keyboard Shortcut:
Step 1. Press Shift+Command+5 together to start recording the YouTube on Mac.

Step 2. You will find some screen options to manage the YouTube recording beforehand.
If you want to record the entire YouTube page, choose Record Entire Screen icon to record the video of the entire screen.
Choose the Record Selected Portion icon (dotted) to customize the YouTube recording.

Step 3. Click on Record to begin the YouTube screen recording. Drag and specify the region to record.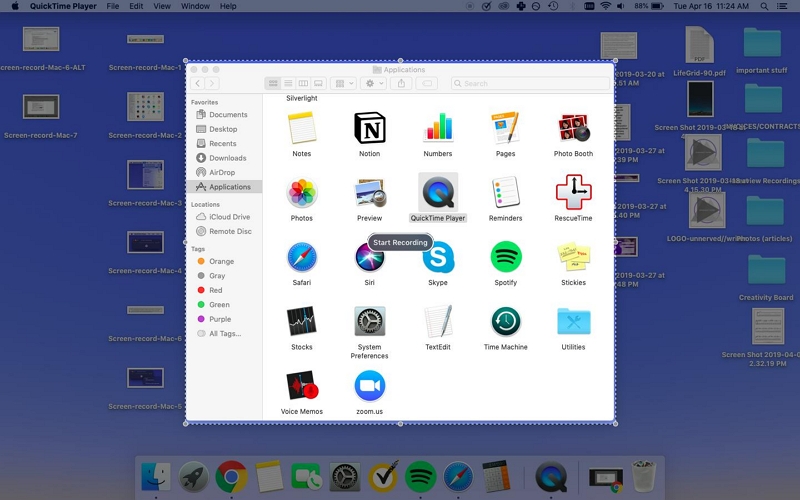 Step 4. Click Record to start the YouTube recording.

Step 5. Press Command+Shift+Esc together to stop the YouTube recording. Type in the name of the YouTube recording and save it.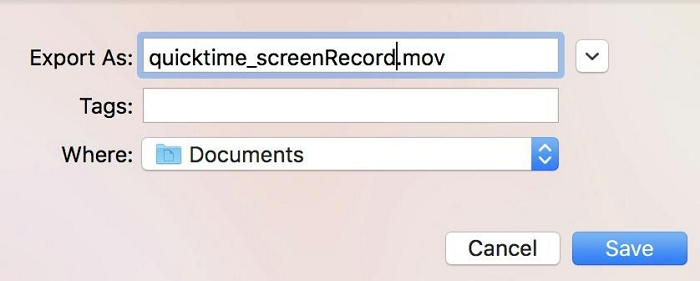 Again, as mentioned, there aren't any specific features or options when you trigger the screen recording using the Keyboard shortcut to record YouTube on Mac. It is just a replicate of QuickTime Player. Still, it is handy to record YouTube on Mac using a keyboard shortcut.
Part 4: Record A YouTube Video on Mac with an Online Tool
The internet is not short of online YouTube screen recorders. You can simply visit the website, load the website, and start recording YouTube on Mac. However, do not expect sophisticated features like Eassiy Screen Recorder Ultimates from an online tool like Movavi Screen Recorder. One of the most revered tools is Movavi Screen Recorders.
Accessible to anyone, Movavi allows you to record YouTube in 4K quality. And it is free. And in case you have the license for Movavi's Video Editor, you can avail all the benefits under one roof. Be that as it may, the free version leaves a watermark on the videos.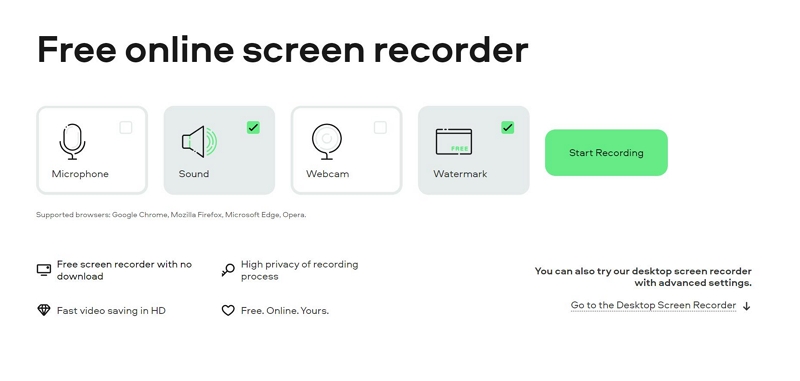 Key Features:
Record the screen in 4K quality.
High privacy of the YouTube recording process
It works on all major browsers, including Chrome, Brave, Mozilla, and Opera.
Pros:
Simple, efficient, and online.
It allows you to include microphone audio with the internal computer's audio.
You can include a webcam along with the screen recording.
Cons:
You must pay to remove the watermark.
It is not supported on Safari.
Here's How to Use Movavi Online Screen Recorder to Record YouTube on Mac:
Step 1. Visit the official Movavi Online Screen Recorder website. Choose the parameters like whether you want to include a microphone, sound, webcam, or not. There is no option to disable the watermark.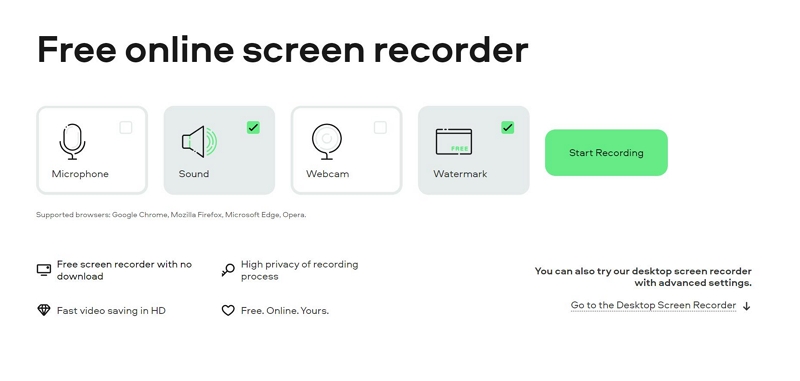 Step 2. Click on Start Recording.
A new window will launch, asking you to choose what part of the screen you want to record.
Click on the Entire screen to record the entire screen.
Choose a window to record a specific window.
And you can also choose to capture the entire tab.
As well as enable system audio if you need it.
Choose Share to start the recording.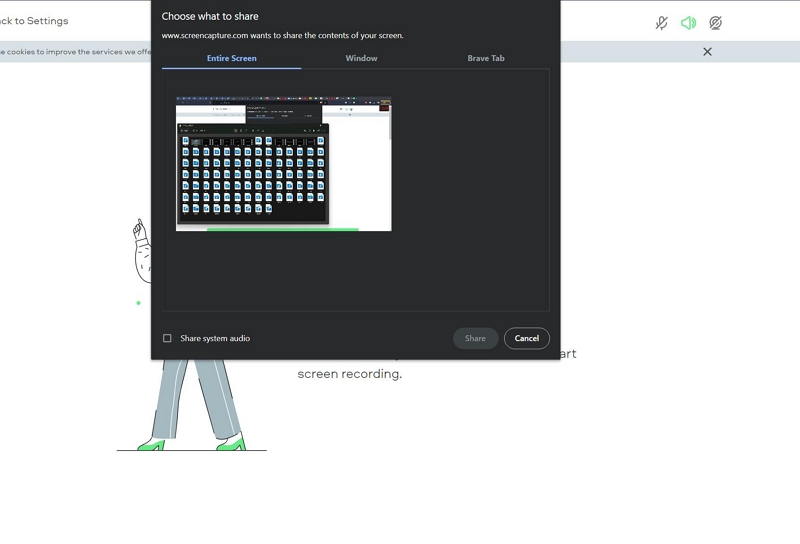 Step 3. Once you click on Share, Movavi Online Screen Recorder will start the recording.
Click on Stop Recording to stop the recording.
Click on Download to save the recording.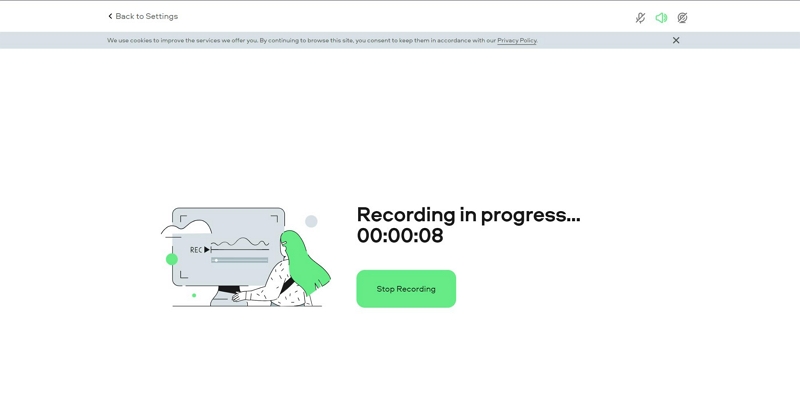 That's how to record YouTube video on Mac using Movavi's online screen recorder. But as evident, there are no options to edit the video during post-production. Even more importantly, an online screen recorder does not provide the option to draw on the video in real-time.
Conclusion
Recording YouTube video on Mac with audio doesn't come easier than this. As you can see, there are several tricks that can come in handy to record YouTube videos with audio on Mac, and the amazing thing is that you can either use advanced software, free built-in tool, shortcut key, or online screen recorder. Just ensure you stick to the stepwise guide of any YouTube video recording on Mac technique introduced on this page. But for a seamless and more efficient screen recording operation, tech experts recommend using Eassiy screen recorder.