With over 10 million downloads, it is safe to say Bandicam is one of the most popular screen recorders among PC users. And there is a good reason behind its popularity. Supporting 4K UHD screen recording, Bandicam for PC allows you to capture the desktop in high definition for tutorials, demonstrations, and webcams. But Bandicam is particularly popular among gamers, given its handy webcam overlay, lightweight nature, and recording up to 480fps.
Scroll down to learn about everything about Bandicam for PC. The in-depth review of the Bandicam app will let you decide whether it is the right tool for you or not. If you like what Bandicam has to offer and decide to use it, the step-by-step guide will explain how to use the tool. And in case you do not like what Bandicam has to offer, we have also mentioned a few alternatives to Bandicam.
Part 1: What is Bandicam?
Bandicam is a lightweight screen recording application supporting 4K UHD recording and capturing up to 480fps. A "true" screen recording application, Bandicam can capture the screen in high-definition, including audio and webcam overlay. In theory, you can use Bandicam to create any video, including product demonstrations, tutorials, business presentations, and more. But its gamers-focused approach and lack of editing tools make it inappropriate for creating other types of videos like product demos, explainer videos, and business presentations.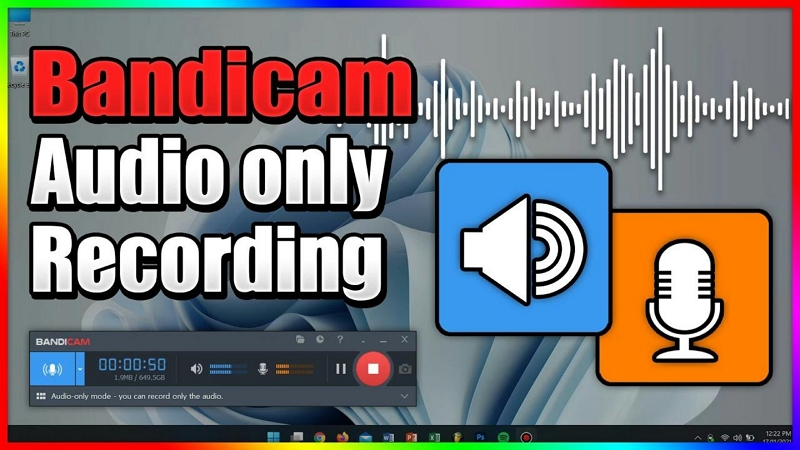 Other features like record-only audio allow you to capture high-definition audio from YouTube and other sites. Mixing your voice lets you personalize the audio, do commentary and share your views in a creative and funky way. The real-time drawing tools are useful to highlight something important during live recording. But then again, you will need another video editor to carry out editing and make your video suitable for a professional environment.

Bandicam promotes its video editor and offers an exclusive package if you purchase its video editor and screen recorder together. So, if you need a screen recorder tool with no video editing tools, Bandicam is a handy solution. Bandicam's interface is clean and modern, making it simple and accessible for both beginners and experts. Nevertheless, if you are looking for a screen recorder cum video maker, it is best to look for alternatives like Eassiy Screen Recorder and Camtasia.
Part 2: Key Features of Bandicam
Bandicam may lack video editing tools, but it includes everything one needs to record in high-definition on their PCs. Here's what you have to know about the Bandicam program:
Screen/Game/HDMI Recording. Bandicam has three recording modes. Each to record a special type of video, including a screen, 2D/3D games, and external video devices.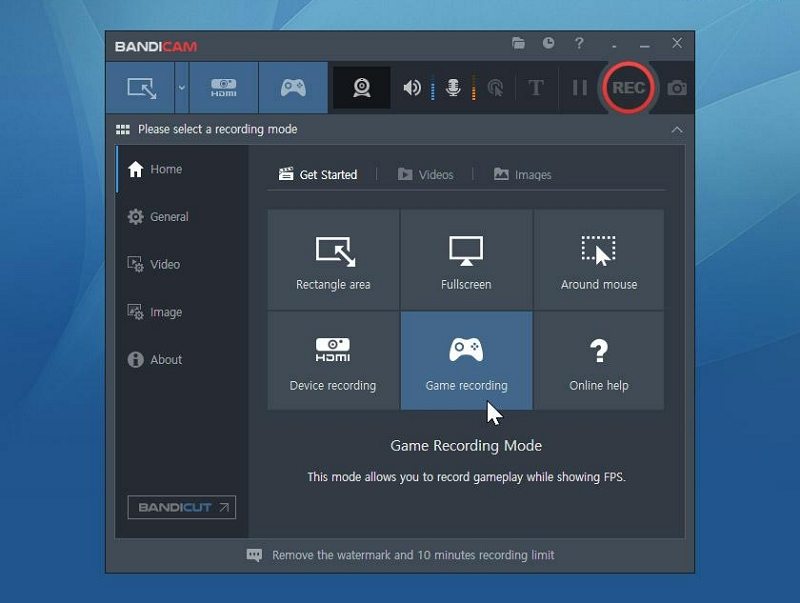 Screen Recorder. Bandicam screen recorder allows you to customize the recording area and capture the screen in 4K Ultra HD video up to 3840x2160. This mode also allows you to include both system and microphone audio. Plus, you can also record the webcam with the screen.
Game Recorder. The game recorder in Bandicam is a dedicated 4K recorder to capture 2D and 3D games without consuming system resources. You can also capture games that run on  DIRECTX, OpenGL, or Vulkan.
HDMI Recorder. The device recording allows you to capture external devices like  Xbox/PlayStation, smartphones, IPTV, etc. You can also connect the external devices and record in picture-in-picture with the screen.
Schedule Recorder. The schedule recorder in Bandicam allows you to set a time and choose the presets like the quality, resolution, aspect ratio, and output format. And Bandicam will record the device automatically. There are other handy features like Repeat, which allow you to repeat the scheduled recording automatically without any intervention.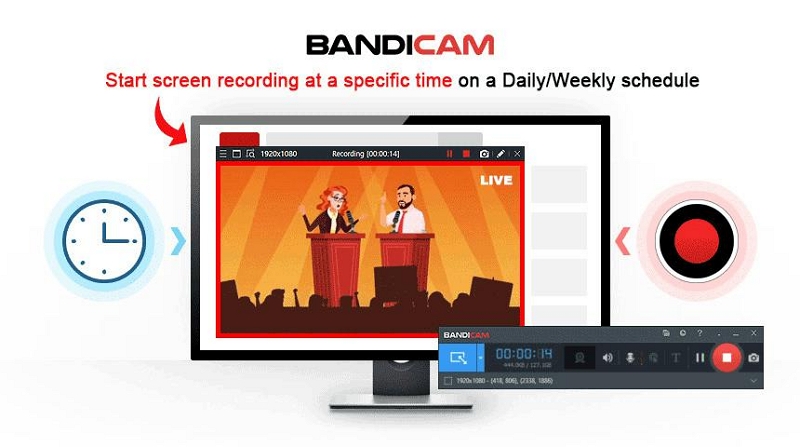 Real-Time Annotation Tools. You can draw on the videos in real time. The annotation tools include a cursor, pen, highlighter, line, arrow, and other drawing functions to stress important points. You can also manage the line width and other parameters within each recording tool to really define everything in the desired manner. There is also an option to create custom keyboard shortcut keys for each annotation tool and use them using hotkeys.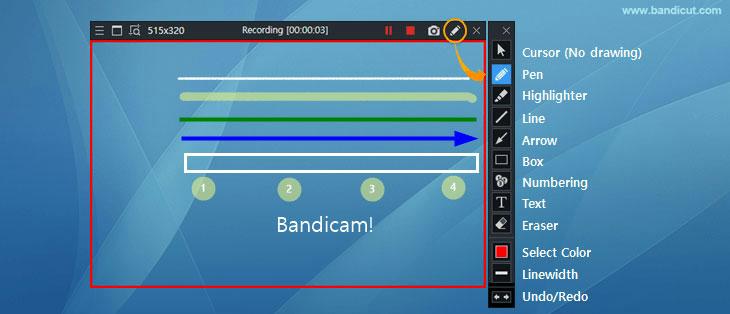 Mouse Cursor Effects. Bandicam features a tab for customizing the mouse cursor and its effects. For instance, you can get the highlight function and so on. You can also change the cursor color, size, and other parameters.
Record System and Your Own Voice. Bandicam also features an audio management system to capture audio in high-definition. You can also use different settings and mix your voice in the video. The best thing about Bandicam's audio setting is the level of control it offers to the users. There are even advanced options like Noise Suppression and more to record the audio.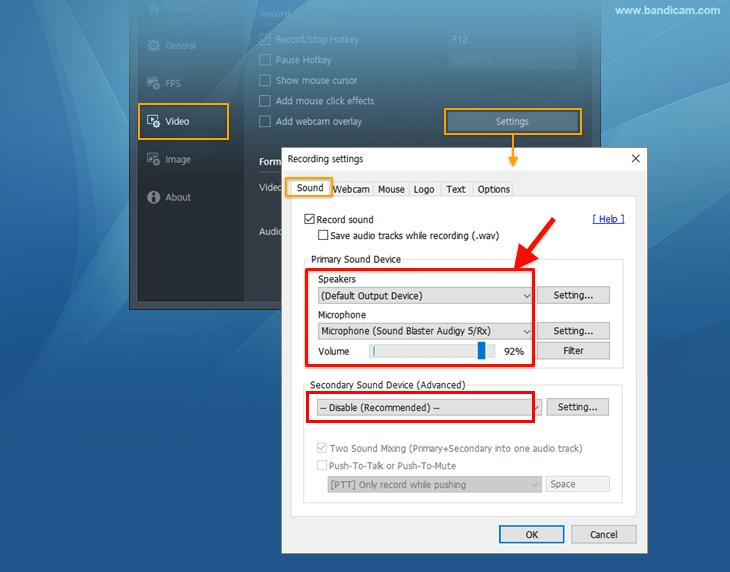 Audio Recorder. Bandicam's new version offers an audio recorder that allows you to capture only audio without the video. This allows you to capture high-definition audio without recording the screen. For instance, if you want to capture only audio from YouTube or other channels, this function will be helpful.
Part 3: How to Install and Use Bandicam Screen Recorder
Bandicam is available only for Windows users. Some sites do promote Bandicam for Android and Bandicam Mac versions, but you will not find the tools on its official site. This means the other versions of Bandicam are fake and ingenuine. Your computer or mobile device could be at risk if you install the Bandicam from other devices.
That said, here's how to install and use Bandicam Screen Recorder on the PC:
Step 1. Download the Bandicam program on your PC.
Navigate to the official site of Bandicam. Click on Download on the main interface of the website. Open the Installer (.exe file). Choose the Language. And click on Next to install the application.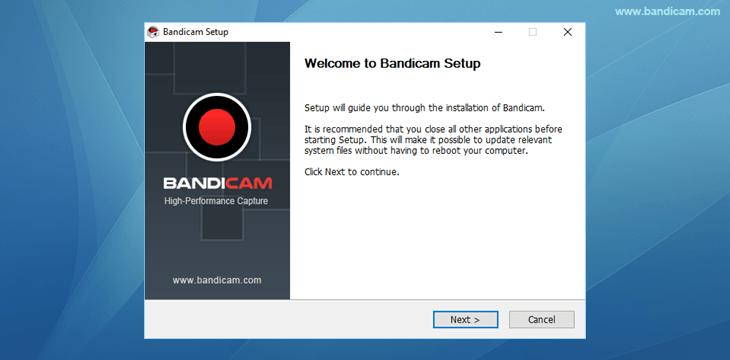 Note: Bandicam's free version only allows you to record up to 10 minutes (with a watermark). So, you have to upgrade the account and subscribe to one of its plans to record the screen for more than 10 minutes.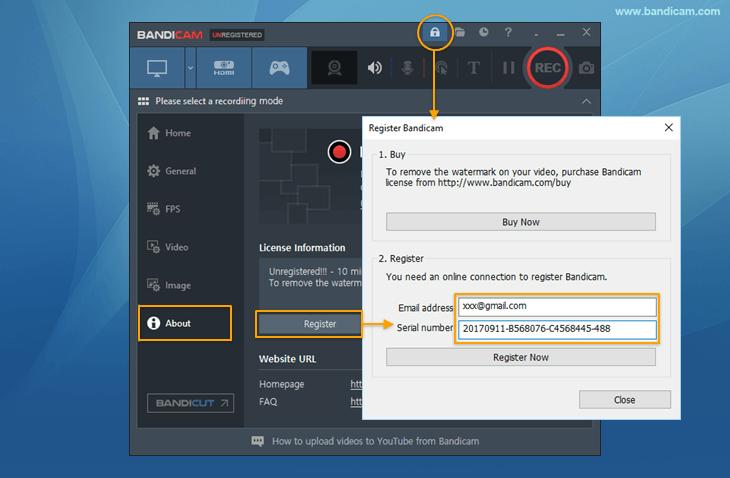 Step 2. Record the Screen.
Select the Desktop icon at the upper-left corner of the screen. Via the Dropdown menu, choose Fullscreen or other recording modes. Via the right pane, you can access the Settings. And customize things like the Output format, Resolution, Aspect Ration, and other parameters. Click on the REC button to start the recording.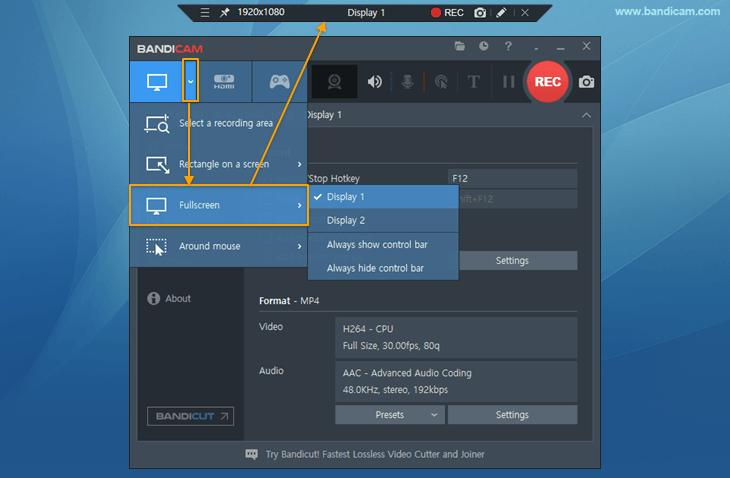 Step 3. Use Drawing Tools.
Once the recording starts on Bandicam app, choose the Pen icon to use the annotation tools. The Drawing tools include lines, highlighter, arrows, and other tools to draw on your videos in real-time.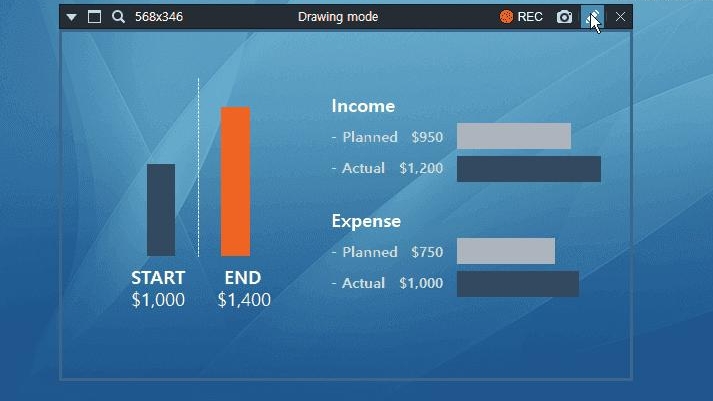 Step 4. Save the Recording.
Click on the Stop button to end the recording. Once you end the recording, you will have the option to save it to the local storage.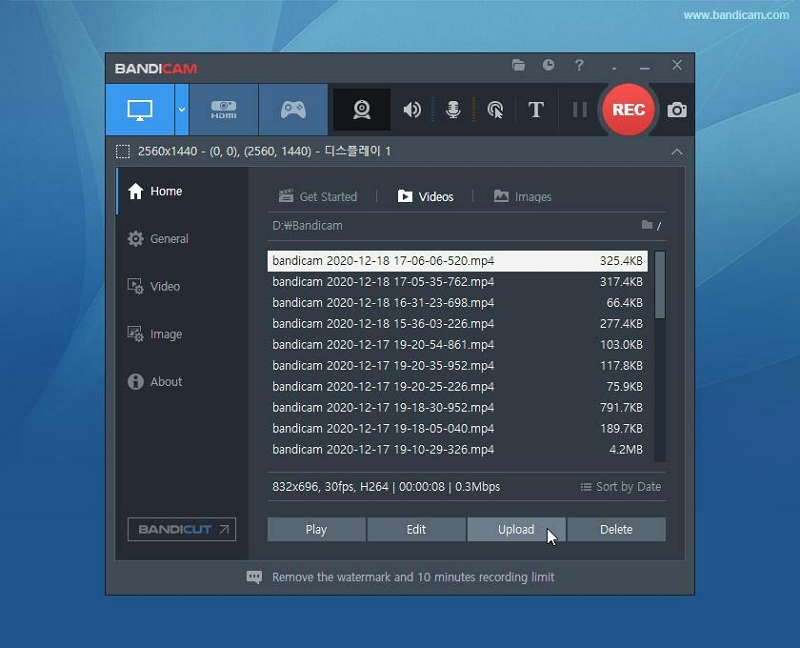 That's how to record the screen with Bandicam. Retain that this is a simple introduction to the tool. You can also use a webcam and internal audio in the recordings. Nevertheless, Bandicam does not have editing functions to professionally polish the screen recordings. And that is why you might want to check other alternatives to Bandicam. For that reason, we have mentioned four alternatives to Bandicam in the next section.
Part 4: Top Alternatives to Bandicam Screen Recorder
There are numerous reasons you might want to check the alternatives to Bandicam. First and foremost, Bandicam is unsuitable to create online tutorials and presentations. And the list goes on. That said, scroll down to find four alternatives to Bandicam for PC.
1. Eassiy Screen Recorder Ultimate - Best Choice
Eassiy Screen Recorder Ultimate is the ultimate screen recorder for any purpose. Be it recording presentations, creating an online tutorial, showing how the software works, or designing explainer videos, Eassiy Screen Recorder will allow you to record all types of videos and edit them in a professional environment. Starting with Eassiy's flexible recording options, you can choose to capture the entire screen, partial screen, or state custom aspect ratio. Plus, you can include internal audio and a webcam in the recordings. You also have the option to manage the resolution and mouse cursor color, and so on beforehand. During the recording, you can draw on the videos using arrows, lines, airbrushes, and other annotation tools.
Talking about the features that Bandicam lacks, Eassiy presents a dedicated video and audio editor. So, instead of using a different tool for performing simple tasks like trimming and changing the audio levels, you can use the built-in video editor to professionally polish the video and make it suitable for professional environments like YouTube, Vimeo, and Facebook. Of course, it includes a direct share option to publish your videos directly on social platforms.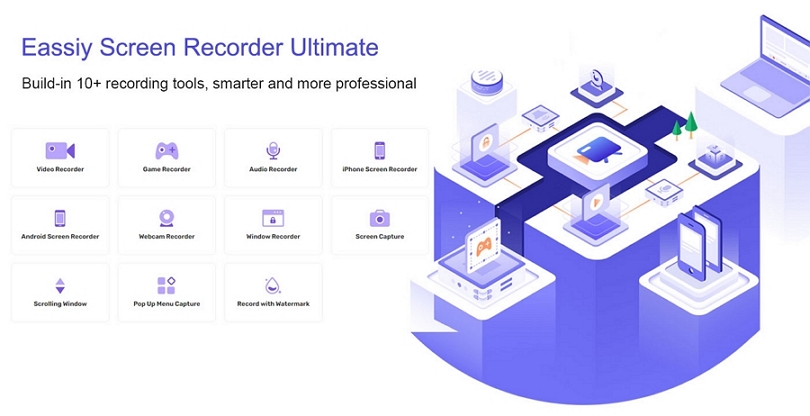 But the most significant thing about Eassiy is its modern and sleek user interface that allows even the tech-neophytes to record and edit a video like a professional.
Key Features of Eassiy Screen Recorder Ultimate:
Flexible screencast options. Record the entire screen, partial screen, a specific window, Android Screen, or iPhone screen for uninterrupted recording.
Scheduler and Auto-end recordings. Set the start and end time and the parameters for recording. Auto ends a recording that is already in progress using the auto-end function.
Capture your webcam. Capture the webcam with screen recording in different shapes like oval, square, elliptical, and more. Or, you can capture the webcam individually.
Record only audio. A dedicated audio recorder allows you to capture audio on a computer with external sound. Add effects and so on. Limit background interference and enhance microphone sound.
Advanced Screenshot options. Snap a screenshot of a long chat, a webpage, and so on using the scrolling screenshot options.
Draw on recordings. The live annotation tools allow you to draw shapes, doodle and scribble the live recordings. Add texts and shapes in any color and font during post-production.
Edit the recordings. Trim tool to remove unwanted parts, audio cleaning to make the audio sound clear, auto-split, and more.
Why Should I use Eassiy instead of Banicam for PC?
Capture 2D/3D games in high-definition up to 60fps. And lock the game window to record uninterruptedly.
Use the webcam overlay..
Follow Mouse Recorder to record the selected mouse movements. Around Mouse Recorder. Lock Window Recorder.
Save the screen recordings and screenshots in any format.
Record HD videos up to 4K.
A simple and clean user interface makes it simple for tech neophytes to create professional-looking videos.
Smart recording features such as schedule recording, auto-stop recording, auto split etc.
Things to consider:
The free version only allows you to record up to 3 minutes.
2. SimpleScreenRecorder
SimpleScreenRecorder is a Qt-based graphical user interface screen recorder for Ubuntu systems. That is to say, if you have a Linux OS and looking for a screen recorder, SimpleScreenRecorder is the tool for you. As its name describes, SimpleScreenRecorder is a simple screencasts tool. You will not find any fancy tools like annotation. To give you a clear idea of SimpleScreenRecorder, think of its like the built-in screen recorder of VLC. However, SimpleScreenRecorder is much faster than FFmpeg/avconv and VLC on Linux. What's substantial about SimpleScreenRecorder is its intuitive design. For context, if the computer works too slowly, SimpleScreenRecorder will reduce the frame rate of the video footage to record without any lags.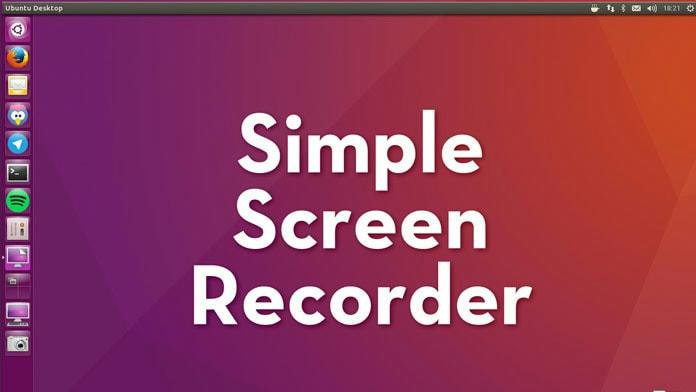 SimpleScreenRecorder also allows you to select whether you want to show the mouse cursor in the recording or not. The same goes for the frame rate and bit rate. You also have the option to create custom hotkeys for performing primary tasks like screenshots, start recording, and end recording. And like Bandicam for PC, SimpleScreenRecorder also presents a clean user interface for Linux users.
Key Features of SimpleScreenRecorder:
Record the entire screen, partial screen, or capture an OpenGL (beta phase).
The GUI is built on the Qt library.
Advanced features to synchronize the audio and video of the screen recording.
Option to include or leave mouse cursor in the recording.
View CPU usage and other stats during live recording.
Why Should I use SimpleScreenRecorder instead of Banicam for PC?
A far more advanced recording tool than FFmpeg/avconv and VLC on Linux.
Adjust the bitrate and frame rate of the screen recording.
Include internal/external audio in the screen recording.
Choose custom resolutions.
Live stream on Twitch, Facebook, and other platforms.
Things to consider:
You have to use the Command Line to install the SimpleScreenRecorder.
It lacks advanced tools like Annotation tools, Webcam, and Video Editor.
You should be an advanced user to figure out SimpleScreenRecorder issues.
3. ShareX
A free and open-source program, ShareX is available for all the major operating systems and comes with a rather sophisticated user interface with features ranging from task scheduler to screen recording. You can record the entire screen, partial screen, or even choose to record a specific application or window. But the best thing about ShareX is its intuitiveness; for context, you can start a new recording using the same customizations of previous recordings. You can also draw on the recordings in real-time using the annotation tools, text, and other highlighters. Upon recording, you can save the recording in many formats or share it to 80+ platforms that ShareX supports.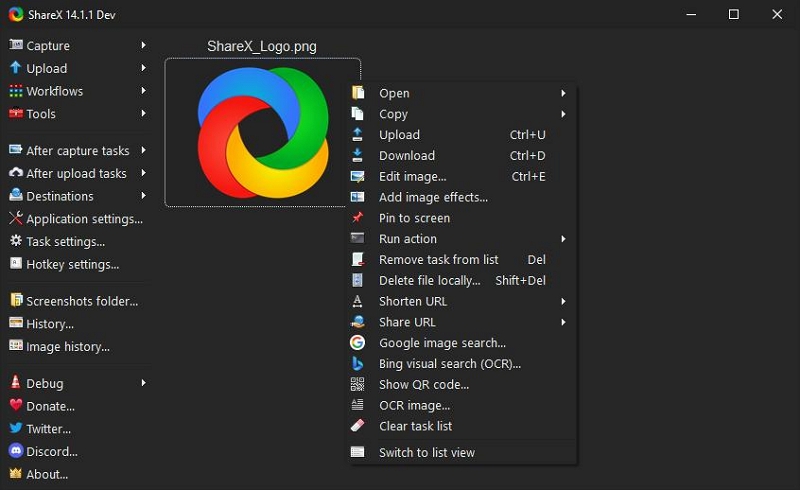 You also have the option to capture a screenshot during live recordings, like in Bandicam for PC or Eassiy mentioned above. ShareX also allows you to customize the hotkeys and manage everything using keyboard shortcuts. Beyond this, ShareX presents productivity tools like a task scheduler, monitor test, and DNS changer that have nothing to do with screen recording but are often required by an average Windows user.
Key Features of ShareX:
Use the default readymade templates to start recording for online tutorials, gameplays, and so on.
ShareX supports more than 80+ destinations to share the screen recording.
Use presets or customizes the program for personalized use.
Built-in video, audio, and image editor to professionally polish the screen recordings.
What makes ShareX a superior alternative to Bandicam for PC:
Free and open-source; some 14+ years of continuous development and going strong.
The real-time annotation tools make it simple for you to record the screen like a professional.
You can also upload existing media from the local storage and edit them using its built-in editor.
Other productivity tools like QR Code Generators, DNS Change, and more.
Things to consider:
ShareX does have an option to include internal audio, but not a webcam in the screen recordings.
Unlike Bandicam for PC and Eassiy Screen Recorder, ShareX does not have presets for game recordings.
You can only capture the screen in 720p resolution.
4. Camtasia
TechSmith's Camtasia is an industry standard for recording windows as desired. The readymade templates ease the job for average users and allow them to record gameplays, online tutorials, and business presentations conveniently. From flexible screen recordings to transitions, cursor effects, and animations, Camtasia allows you to unleash your creativity and publish crafty and immersive video recordings. The multiple timeline editor allows you to work on every bit of the screen recording and customize everything according to your preference.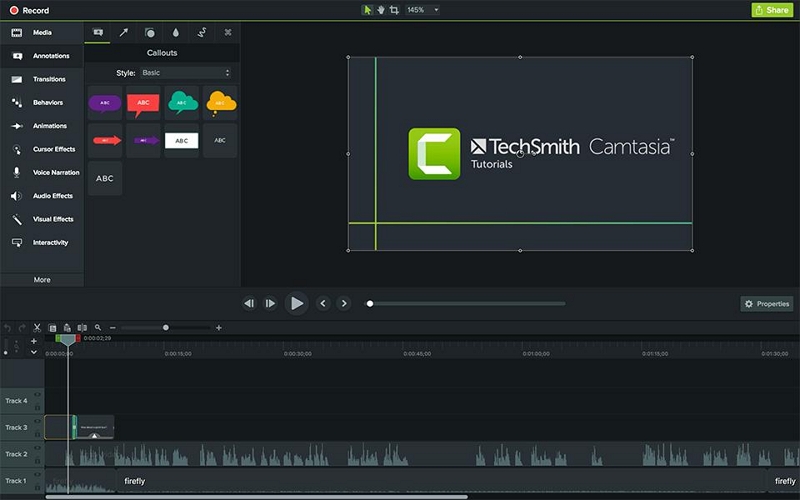 Be that as it may, Camtasia is a costly tool. In fact, its other program Snagit, brings the cost down significantly but limits the features. Another problem with Camtasia is you will have to learn how to use the tool. And it is only after learning the tool that you will be able to use it conveniently.
Key Features of Camtasia Screen Recorder:
Camtasia comes with more than 100 transitions and readymade templates for easy recording.
Flexible screen recording options, include webcam and internal audio.
Royalty-free music and images to make your video shine.
What makes Camtasia a superior alternative to Bandicam for PC:
Publish the video to YouTube and Facebook directly.
Powerpoint Integration.
Import local content and edit it with Camtasia editor.
Step-by-step tool to create beautiful online tutorials.
Things to consider:
Costly tool. You will get a single license for US$ 270/annually. And updating the program will cost you US$ 150/upgrade.
Complex user interface. You will need some time before you can work seamlessly. 
Part 5: Bamdicam FAQs
1. Does Bandicam have a time limit?
Yes. The free version of Bandicam limits the screen recording to up to 10 minutes. If you want to record more than 10 minutes, you must purchase the license. Retain that the free version also imposes a watermark on the videos. In comparison, Eassiy Screen Recorder allows only 3 minutes of recording, but it does not leave a watermark on the videos.
2. Is Bandicam Free Screen Recorder?
No. The free version of Bandicam is simply an introduction to the product. You cannot use advanced options. Nor Bandicam will allow you to record more than 10 minutes.
3. Can I record more than 10 minutes on Bandicam?
Yes. You can record more than 24 hours at one go if you have purchased the license of Bandicam.
Conclusion
Bandicam is an excellent screen recorder. Unfortunately, it consumes physical resources. So, it is an option for only gamers with high-end PCs. Plus, the lack of editing tools makes it useless if you want to share and publish the game recordings in a professional environment like YouTube and Facebook. Furthermore, Bandicam for PC is almost useless for creating online tutorials or any other type of screen recordings other than capturing gameplays, given the lack of tools. That is why we have mentioned other alternatives like Eassiy Screen Recorder Ultimate to capture any type of video and edit it conveniently.