Snapchat is no doubt one of the best, and most fun-thrilled social media platforms that you can use to connect with friends and relatives globally. It's also a great place to make new friends on the internet. The app is well-known for the incredible features it holds. From photo & video snaps to rich photo & video filters, and more.
Another quality feature users of this platform enjoy is the ability to save other users' snaps easily. Add snaps you find on-screen to your local storage or gallery using the Share feature found on the platform. Although you can conveniently save snaps, Snapchat always sends notifications to the other user about your action. Is this an issue for you? If so, you need a private screen recorder for Snapchat. We will share with you the 7 best private screen recorders for Snapchat.
Part 1. All-Time Best Private Screen Recorder for Snapchat You Must Have for Android & iPhone
Eassiy Screen Recorder Ultimate is an all-in-one screen recording software program suitable for taking screen recordings on Snapchat. It allows you to record snaps you find on your contact easily without notifying the other user about your action.
This cross-platform screen recording software, Eassiy Screen Recroder Ultimate works with iOS and Android mobile operating systems. Eassiy Screen Recroder Ultimate also offers screen mirroring services as it allows you to share your mobile screen with your PC and vice versa. It is well-built with several features.
It allows you to capture your gameplay screen on your mobile devices without hassles. Also, it could be used to create presentations, tutorial videos, and more. Navigating around Eassiy Screen Recroder Ultimate isn't an issue. The user interface is clean enough for you to find your way around it.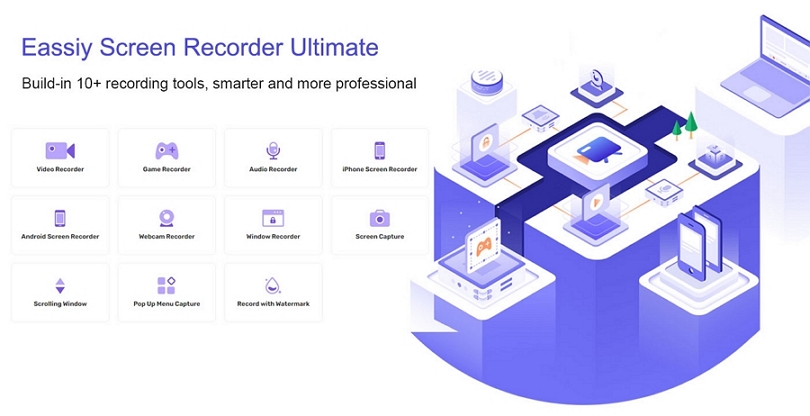 Key Features
Record and share your gameplay screen with other players conveniently
Share screen with friends and relatives wirelessly without jailbreaking your device
Include audio to screen recordings without distorting the quality
Record Android phone screen, iPhone screen, windows screen, and Mac screen.
Save recordings in several media formats like GIF, AVI, MP4, and many others
Record gameplay on phone or computer no lag without any distraction.
Create schedules to record video automatically or set auto-stop recording.
How to Record Privately on Snapchat Android/iPhone?
Just before we get started with the stepwise guide, kindly navigate your way to the official website for Eassiy Screen Recroder Ultimate to download and install a compatible version of the app on your computer. Follow the instructions given below:
Step 1: Ensure you have a strong internet connection. Connect your mobile device and computer to the same WiFi source. Once that's set, swipe up or down depending on the generation of iPhone you are using so you can launch the Control Center.
Step 2: Locate the Airdrop or Screen Mirroring icon and click on it. Your device will scan the available screen recorder. Select Eassiy Screen Recorder Ultimate to connect to iPhone. On linking your mobile device to your computer, the screen below will display on your computer: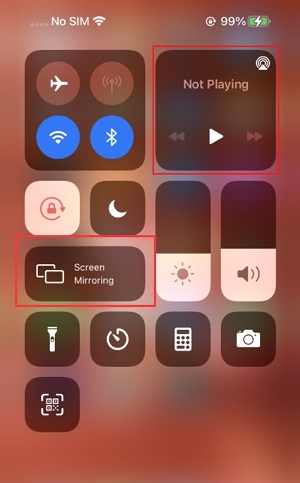 Step 3: Next, launch Snapchat on your mobile device, and then click on the Screen Recorder button. Eassiy Screen Recorder Ultimate will immediately start screen recording.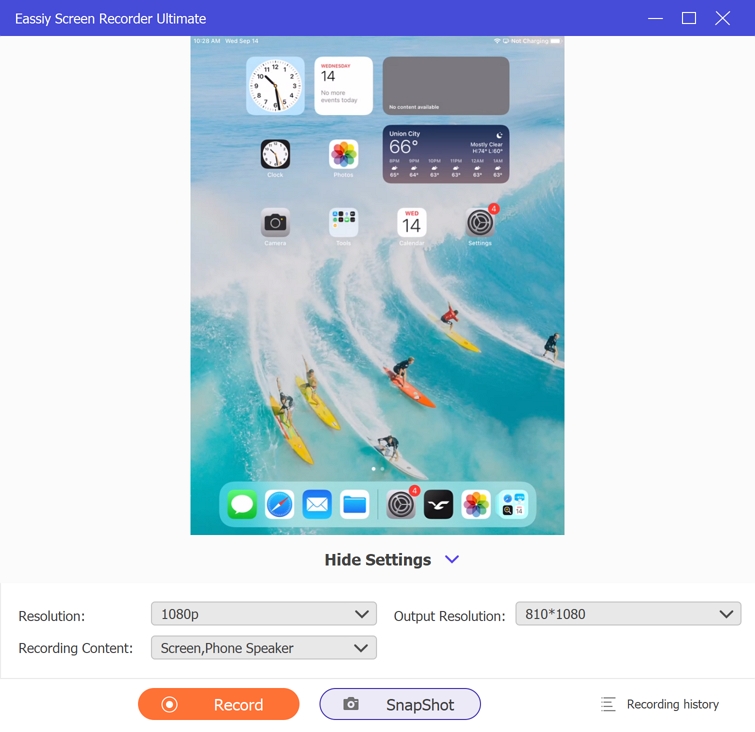 Wait for the screen recording to complete then you click on the Screen Recorder icon to stop recording. The recorded file will be stored on your computer in MP4 format.
Part 2. Best Private Screen Recorder for Snapchat Without Them Knowing
As aforementioned, we have 7 top-quality screen recorders to share with you. The ultimate one has been unveiled above. Check out the list below for the other 6 screen recording software for Snapchat:
1. SnapSave
Here is another app that you can use to save snaps on your Snapchat without being noticed. The app works perfectly on Android and iOS operating systems as it helps you save snaps with high quality.
Although not available on Google and Apple Play Stores, SnapSave can be accessed from third-party services like Chrome, Firefox, and more. The app offers one of the simplest user interfaces. So whether you are vast with information technology or not, you can easily find your way on the app.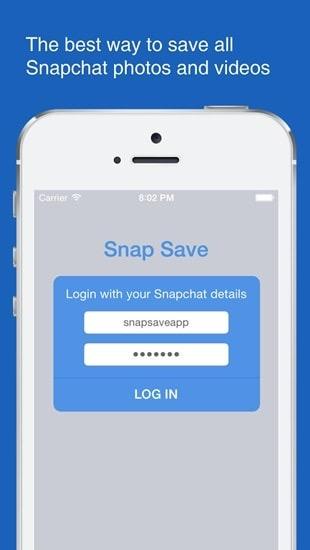 Pros
Integrates with Snapchat so you can easily capture snaps secretly
Available on iOS and Android operating system
Saves snaps directly to your gallery
Cons
Frequent lagging due to bug attack on the app
Requires premium subscription for usage
2. Casper
Casper is a top-rated screen recording app that integrates with the popular social media platform, Snapchat. With this app, you can save snaps from your timeline easily and quickly without being noticed. The app can also be used to save Snapchat stories.
It's well-designed and equipped with features like stickers, filters, and more that you can choose from to adjust saved snaps so they appear astonishing to viewers. Saving snaps or stories via Snapchat is simple. You don't have to log in to your Snapchat account before usage.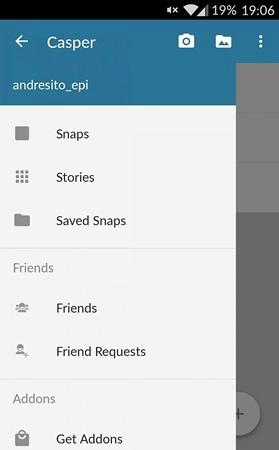 Pros
Interactive user interface with robust editing tools
Allows you to save snaps and stores with zero stress
Casper offers free services so you don't have to subscribe to a premium package to use it
Cons
Casper is incompatible with iOS devices
Requires data connection for usage
Third-party may access your Snapchat profile without your notice
3. SnapCrack
SnapCrack is another app highly effective for recording your Snapchat screen on iOS and Android mobile devices. With just a click you can save images (snaps) and stories on your Snapchat profile secretly. The app comes with features like doodles, and stickers that you can use to beautify snaps.
Like Casper, with SnapCrack you can easily access your Snapchat profile without launching Snapchat itself. SnapCrack offers free services. It allows you to share snaps and stories with your contacts at zero-cost fee.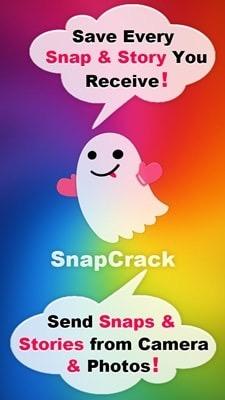 Pros
Compatible with all iOS and Android mobile devices
Designed with lovely stickers and doodles
SnapCrack is free to use
Cons
No way to use SnapCrack and Snapchat simultaneously
4. SnapBox
SnapBox is an old-fashioned snap saver designed for Android owners to save snaps directly to their gallery. iOS users also find it handy as they can also use it for similar operations. The app has a simple interface that allows you to save snaps with just a few clicks.
Operating SnapBox so you can record snaps is easy. However, you must meet the condition that you are logged out of the Snapchat app. SnapBox does not work with Snapchat simultaneously.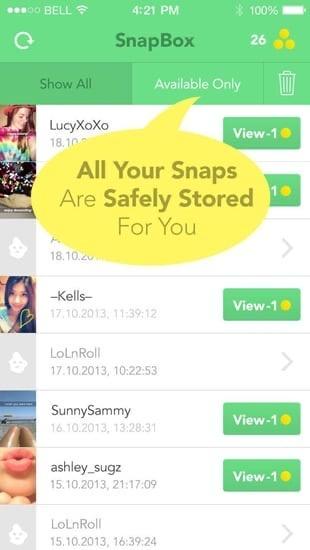 Pros
Allows you to save snaps and stories directly to your local storage without viewing them
All operations are free to use
Android and iOS compatible
Cons
Frequent bug attack leading to continuous lagging
Both Snapchat and SnapBox can't run at the same time
5. SaveStory
SaveStory is another app to look out for when you are searching for a screen recorder that lets you save snaps without difficulty. The app saves snaps directly to your local drive freely with high quality. Users of this app find it handy because of the smooth-running interface.
The app supports continuous screenshotting of snaps without notifying the other user. SaveStory is fast and reliable. It's available for download only for Android mobile users.
Pros
No registration is required for usage
Take continuous screenshots on Snapchat without hassles
It saves snaps in your gallery with zero quality loss
Cons
Not available for iOS devices
6. SnapKeep
SnapKeep is the last screen recording app on our list. The app helps you save snaps without notifying the other party. It saves snaps without compromising the quality.
The app is well-designed with a clean user interface for easy access. SnapKeep is built with editing features like Doodles that you can upload on your snaps to make them appear gorgeous to viewers.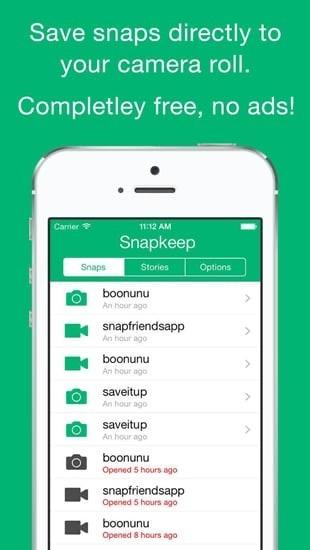 Pros
SnapKeep is free and easy to operate
Designed with additional features like Doodles
Suitable for all iOS and Android devices
Cons
Your account is opened to hackers since SnapKeep isn't linked with Snapchat inc
Part 3. The Things You Need to Know Before Using Private Screen Recorder for Snapchat
For additional knowledge about the topic, we have some extended knowledge questions to help you out. We also provided the best answers to each. So check them out:
Q1. Can you screen record on Snapchat Secretly?
Yes, of course, you can! However, you must have a screen recording service that supports such operations. We've highlighted some top-quality screen recorders that allow you to save snaps and stories on Snapchat without being noticed. But our best pick is the Eassiy Screen Recorder Ultimate.
Eassiy Screen Recorder Ultimate is simple to operate, fast and reliable. Record your snaps in the best output format- MP4. It can screen record on Snapchat not only Android but also on iPhone secretly.
Q2. Does Snapchat notify when you screen record on Android?
Depending on the screen recording media you are using to capture your screen, Snapchat may/may not notify the other user about your action. To be on the safe side, we implore you to use Eassiy Screen Recorder Ultimate to prevent the other user from noticing your action.
Q3. Can someone screen-record Snapchat video calls?
Yes, someone can screen record Snapchat video calls. But you have to bear in mind that the other party will be notified of your action. If you do not want such to happen, then you can employ the services of Eassiy Screen Recorder Ultimate.
Q4. Can apps detect screen recording?
This answer to this isn't direct. While some apps can detect screen recording, others can't. Also, the screen recording media determines whether or not the app can detect screen recording. Recording your screen with Eassiy Screen Recorder Ultimate prevents the app from detecting.
Conclusion
With our top 7 private screen recorders introduced above, saving snaps and stories from Snapchat is simple and easy. Each app is built with unique features that you need to make your snap appealing to viewers.
Our best pick remains the Eassiy Screen Recorder Ultimate. The software is the most versatile on the list as it offers quality features. Eassiy Screen Recorder Ultimate is universal as you can access it from multiple mobile and computer operating systems. It offers screen mirroring service.