Capturing your PC screen and webcam simultaneously can sometimes be a difficult task to execute when you don't have the right screen recorder at your fingertips. But is that the only problem? Well, NO! The enormous number of screen recorders available on the internet has also complicated issues as users usually come across underperforming software.
Is this the same for you? We have the solution right here in this post. Our team of experts has carried out thorough research on the top-quality screen recording software in 2023. We discovered 5 top-rated screen recorders that you can use to capture your screen and webcams simultaneously. Check out our list now!
Part 1. What's The Best Screen Recorder With Webcam and Audio for PC/Mac Online?
Eassiy Screen Recorder Ultimate is a popular screen recording software with several built-in features that you need to create HD-quality recordings on Windows and Mac computers. The software lets you record your display screen and webcam simultaneously without stress.
You can also use the software to perform scheduled screen recording like streams, events, etc, and there's is auto-stop recording that allows you end a screen record without necessarily staying in front of your PC screen during the recording operation. Using the software for your screen recording activity is simple. This is due to the easy-to-manage user interface tucked into the software during development.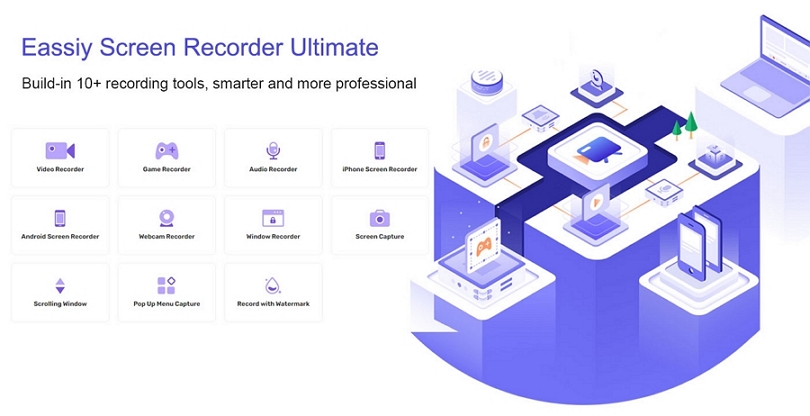 After creating or capturing your screen with this software, users can take advantage of the basic editing features to adjust their recordings. Eassiy supports editing features like annotation, effects, and many others. Taking screenshots is also possible with this screen recording service. Eassiy allows you to screenshot whatever you find on your display screen with ease.
Key Features
Records your computer screen, audio, and webcam simultaneously
Customize hotkeys to create screen recordings or screenshots
Supports robust editing features including real-time annotation
Record your screen in several dimensions- full-screen, specific portion, specific window, and phone screen
Records your screen up to 60FPS with 4K resolution results
Smart features such as auto-stop recording, schedule recording, auto-split and more
How to Record Screen and Webcam Video Simultaneously
Follow the set of instructions provided below to record your screen and webcam simultaneously with Eassiy:
Step 1: Download and install a compatible version of the software on your device. Wait for the installation to complete then run the software and follow the on-screen instructions.
Step 2: Click on the Video Recorder icon

Select full-screen or a specific portion as you wish. Then, click on the Webcam feature to enable it so you can capture your screen and webcam at the same time as shown in the screenshot below.

Step 3: Tap on the System Sound option to select your audio source and also make necessary adjustments.

Once the above is set, select the Microphone icon to activate it. To further customize your recordings, click on Setting icon on the top, select Preference. A new interface will come up with several customization options. Make the necessary adjustments, then click on the OK button.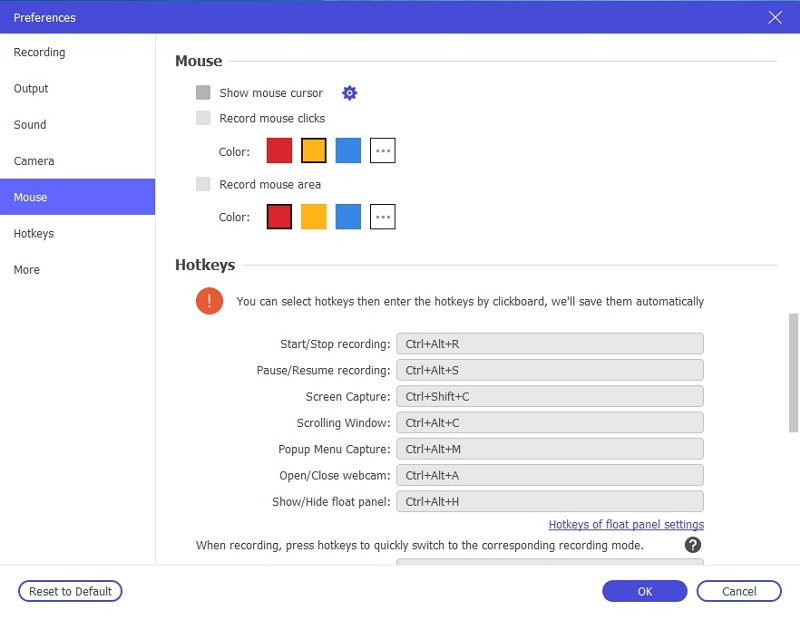 Step 5: Now click on REC and Eassiy will immediately start recording your computer screen and webcam simultaneously. Annotate while recording if you wish. Be patient for the recording to complete, then tap on Stop to end screen recording.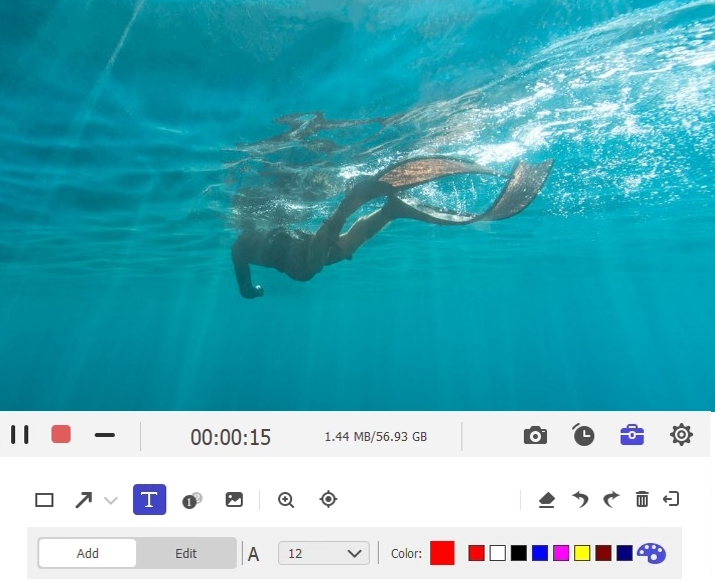 Check out the recorded file and Select a destination folder to store the recording on your local drive.
Part 2. Top 5 Free Screen Recorder with Webcam for PC/Mac
Aside from the screen recorder mentioned above, there are other amazing software programs that you can use to record your screen and webcam simultaneously on a PC. Find below our top 5 screen recorders:
1. OBS Studio
With OBS Studio, you can take breathtaking recordings on your PC without stress. The software lets you capture your screen and webcam conveniently at the same time. OBS Studio also functions as a streaming platform as it allows you to stream events on popular platforms like YouTube, Twitch, and more.
OBS Studio screen recorder works with multiple platforms such as Windows, Mac, and Linux. One incredible feature found on this freemium software that makes it stand out is the capability to capture your screen with no time limit. Also, it records your screen with no watermark on it.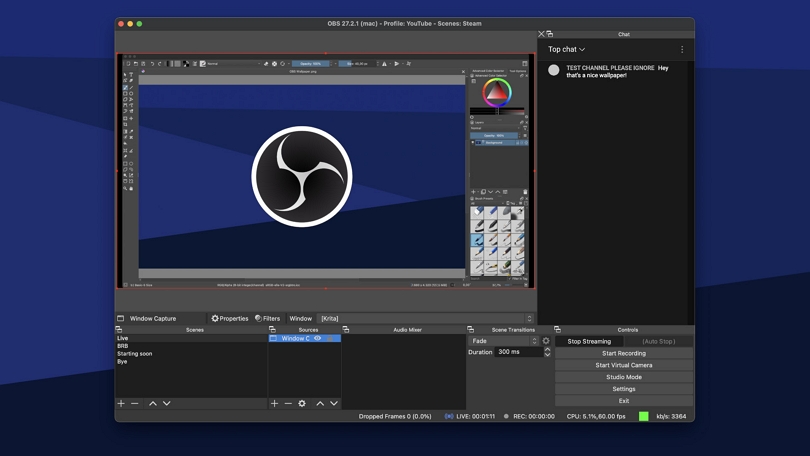 Pros
OBS Studio is open source, so it's free to use
Cross-platform, could be accessed via popular platforms like Windows, Mac, and Windows
Records your screen at 60FPS
Supports live streaming of events on YouTube
Cons
Unless you are a professional in the information technology space, navigating around the software program can be quite challenging
OBS Studio lags frequently during operation
2. Debut Video Capture
Debut Video Capture is another groundbreaking software that lets you record your screen and webcam simultaneously without a subscription. The software is well-designed with loads of incredible screen recording features needed for creating mind-blowing recordings.
From screen recording to editing, and more. You can create scheduled recordings on this amazing software- one reason why most organizations employ the service. Like OBS Studio, Debut Video Capture does record live streams. It could also be used to record your gaming screens. Capturing recordings with external devices like Microphone is also possible with the software.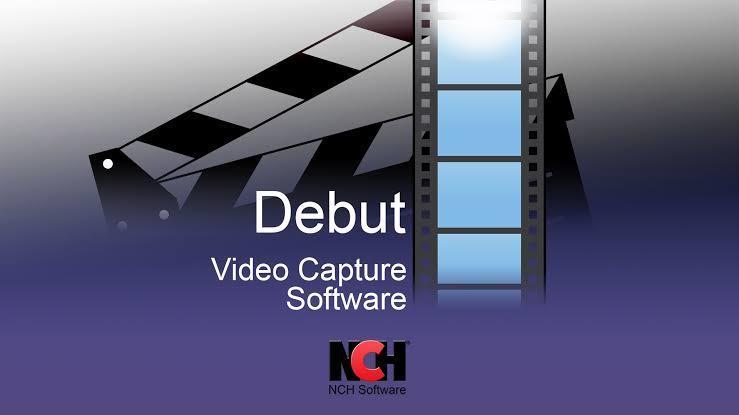 Pros
Allows you to record your entire screen, selected portion, or windows
Debut Video Capture does support webcam overlay
Capture recordings in several formats such as AVI, WMV, MPG, FLV and more
Publish recordings directly on social media platforms like YouTube, Flickr, and Vimeo without stress
Cons
Debut Video Capture won't allow you to take screenshots
Outdated user interface which makes it difficult for non-tech literate to navigate around
3. SplitCam
SplitCam is definitely an amazing webcam screen recorder. The software offers incredible webcam screen recording services. From the addition of effects to webcam recordings to the splitting of webcam video recordings and many more.
This screen recording software also features video hosting. SplitCam allows you to chat with friends and relatives via video calls without stress. It can also function as a streaming service as it allows you to stream your recordings to popular streaming networks like Livestream, Justin.tv, and more.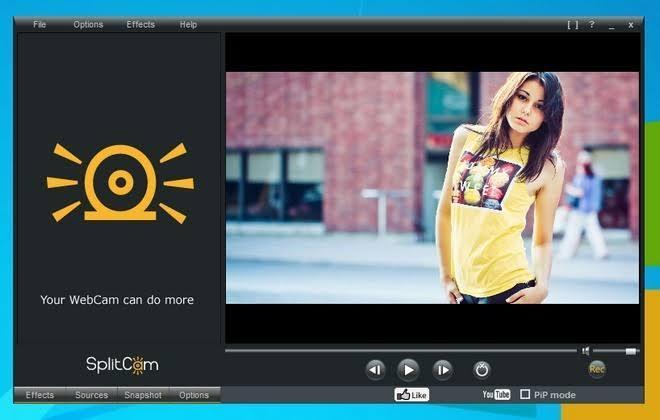 Pros
Split Cam integrates with social media platforms like YouTube, Skype, Gtalk, Yahoo Messenger, and many others
Recordings are stored in high-resolution HD format
Capture your recording screen and webcam simultaneously for free
Create slideshows, zoom video recordings, and split videos without stress
Cons
Does it support screenshot services
SplitCam works with just Windows operating systems
Complicated user interface
4. Active Webcam
Active Webcam is a simple screen recorder built for novices and professionals to record their screens and webcams without hassles. The software allows you to create recordings and stream them live via web servers.
This software can also function as a CCTV camera. Wondering how? Well, thanks to the built-in Motion Detector- a feature designed to detect motions and then send signals to connected devices via emails, SMS, and more. Active Webcam also lets you take screenshots. Thus, it can serve as a screenshot app.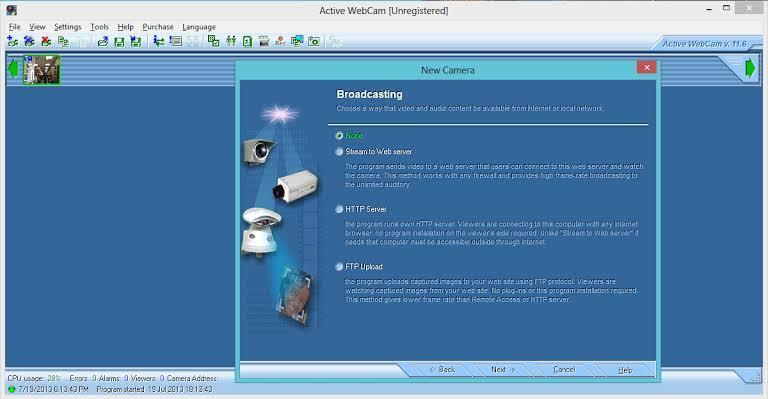 Pros
Record your screen, take screenshots, and edit results
Publish recordings on streaming services in MP4, and MP3 formats at 30FPS
Capture footsteps or any sort of motions in your homes, or workplace, easily
Interactive user interface
Cons
Can only be used to create screen recordings on Windows
Active Webcam doesn't support multiple camera source or webcams
Users may experience frequently lagging when using Active Webcam
5. QuickTime Player
Lastly, we have the QuickTime Player. Although designed primarily for streaming audio and videos on Mac, the software does support screen recording. You can create clean screen recordings with webcams via this screen recording service.
Since QuickTime Player is a system application for Mac operating systems, it works with only Mai computers. You can also access it with Windows via the official website. QuickTime Player is easy to navigate. So your tech literacy isn't a criterion to use the software for screen recording.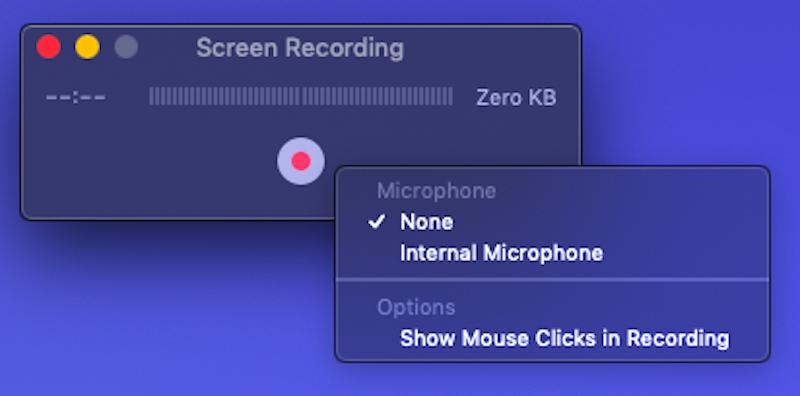 Pros
Integrates smoothly with Mac operating system
Records video, audio, and webcam simultaneously
Allows you to record only audio
Cons
QuickTime Player prints recordings in MP4 formats
You can not play media  files like WMV, AVI, and many others using this screen recorder
Recording can only be shared with Mac computer owners or any Apple-related devices
Part 3. Tips for Choosing the Best Screen Recorder with Webcam for PC/Mac
To help you make the best decision when selecting the perfect screen recording software to use for capturing your screen and webcam on PC/Mac, here are some key factors to put into consideration:
Ease of Use:
The screen recording software should have a clean user interface that allows you to navigate your way around easily. Novices in the tech space should be able to navigate their way around without requesting help.
Screen Recording and Webcam Support
The screen recorder must support the simultaneous recording of your PC screen and webcam. With this feature, you can create self-demonstrated clips, tutorial videos, and how-to videos.
Compatibility
Lastly, the software has to be compatible with popular computer operating systems like Windows and Mac. Also, the screen recorder should integrate with web browsers like Chrome, and Firefox for easy access.
Conclusion
Now you have it all at your fingertips the 5 top-rated free screen recorders for PC with webcams. All screen recording software provides quality services. However, Eassiy is the best amongst them because of the excellent services. Recordings created with this platform are clean, engaging, and outstanding.