Microsoft's Xbox Game Bar was designed to provide an Xbox-like game experience for Windows users. It allows users to record full-screen clips of video games, take screenshots, and join social groups. It also works for recording other things on Windows 10 & 11. But at the same time, it doesn't support recording the desktop, File Explorer, and several other applications.
So, let's learn how to record the screen on Windows 10 & 11. In this guide, you will find everything about Game Bar, its features, downsides, and a step-by-step tutorial on recording screen with Xbox Game Bar. We have also listed four alternatives for Windows 10 & 11 users.
Part 1: Here is How to Record the Screen on Windows 10 & 11 Using Xbox Game Bar
As the name suggests, Xbox Game Bar is an Xbox gaming experience for Microsoft's desktop OS. By default, the Game Bar is disabled. However, once you enable the function, you can record anything on the screen in HD with microphone sound. Moreover, Game Bar only works on computers with one of these three video cards: Intel Quick Sync H.264, Nvidia NVENC, or AMD VCE encoders. All the major computer/laptop manufacturers have them, so there is a good chance Game Bar will work for you.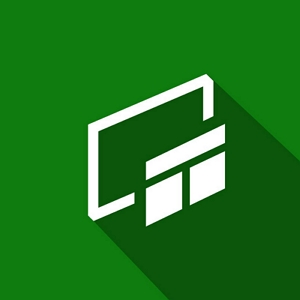 Xbox allows you to create custom keyboard shortcuts and record the screen using keyboard shortcuts. The interface is relatively simple and provides a higher level of customization than what is generally seen in freeware programs. You can also capture screenshots.
Key Features:
Record the computer screen in HD.
You can record with internal and microphone sound.
Take screenshots with a keyboard shortcut.
It shows the computer's performance in real-time and allows you to manage the version.
Spotify widget to listen/pause songs while playing games on the computer.
Collaboration and social features, like joining groups, talking with friends, playing team games, and more.
How to Use Xbox Game Bar on Windows 10 & 11 and Record Full Screen?
You have to enable Xbox Game Bar to use it on Windows. Follow on to learn how to use Xbox Game Bar to record the full screen:
Step 1. Open the Settings menu on Windows. (Win+I is the default shortcut key to open Settings). Select Gaming from the list of options.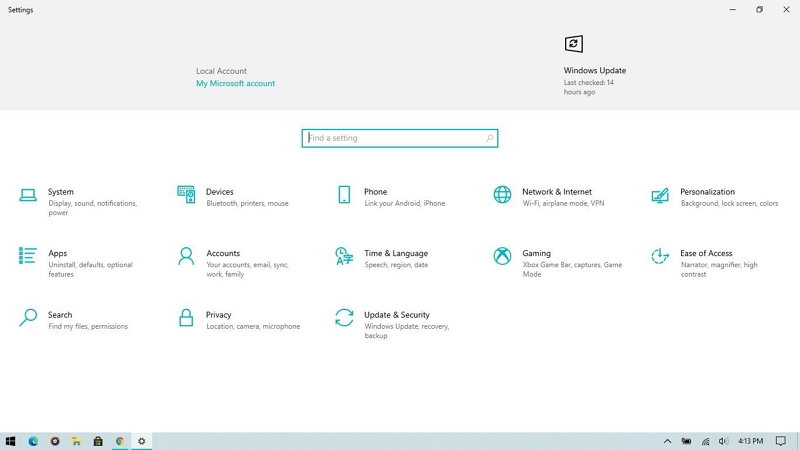 Step 2. Turn ON the toggle assigned to the "Record game clips, screenshots, and broadcast using Game bar" option. After enabling the option, you can create custom hotkeys to take a screenshot, open the game bar, a record that, and so on.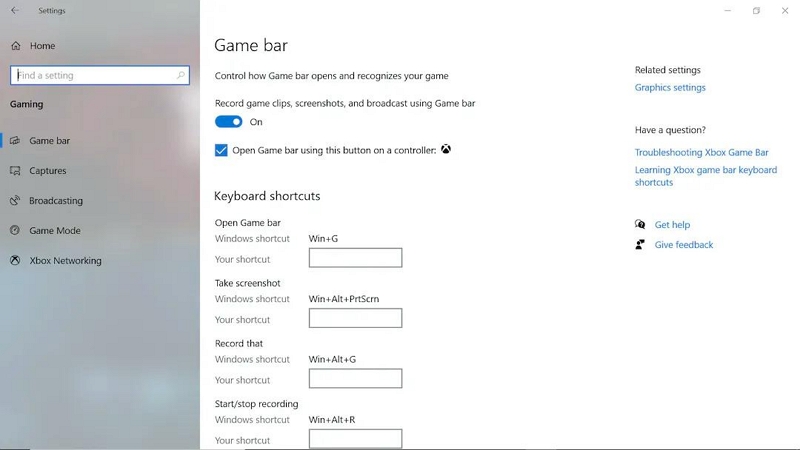 Step 3. Record the Screen.
Press Win+G or your default keyboard shortcut to open the Xbox Game Bar on Windows.
The entire Game Bar will open (only for the first time). You will find all the options from sound to microphone to computer performance and advanced settings like connecting to a group.
For instance, you can click on the Mic icon to enable the microphone. And you can control the sound levels under the Audio panel.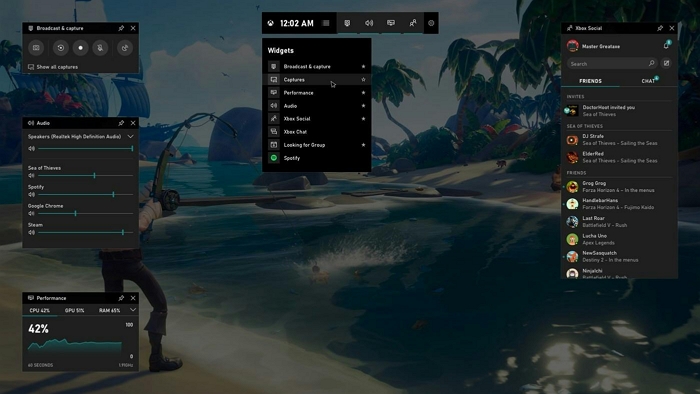 Note: You can close the individual options by clicking on the X (cross) icon. Closing the menu items will not turn off the Game Bar.
Step 4. And click on the Dot icon to start the recording.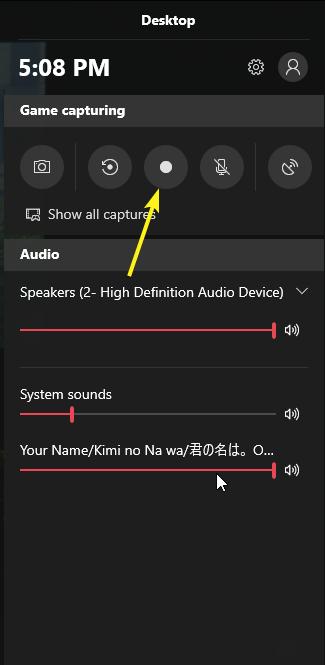 Step 5. End the recording.
Once the recording starts, only a small menu will appear. You can enable/disable the microphone during the live recording on the menu. And click on the Blue (Stop) button to end the recording. (Alternatively, you can also press Win+Alt+R to stop the recording). Once the recording stops, you will see a green notification saying, "Your capture is shared."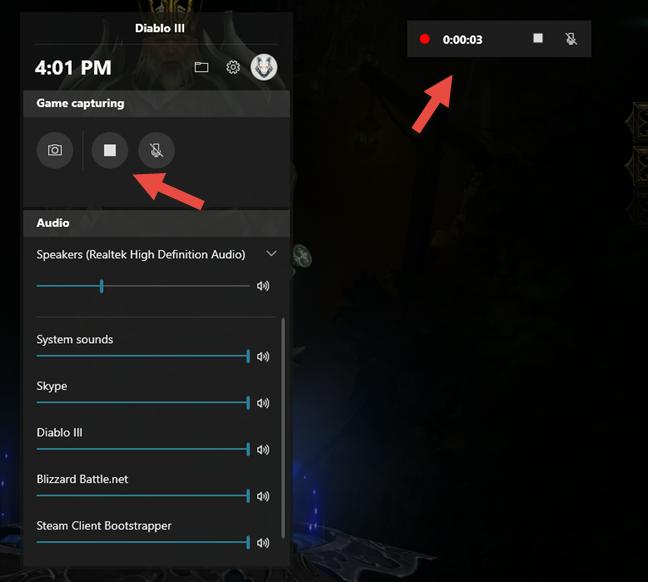 You can access the recorded clips from the "Captures" folder under Picture via This PC. All the screenshots taken will be saved by default in the Captures folder.
That's all there's to Game Bar. As hinted, Game Bar doesn't record File Explorer, Desktop, or other applications. But that's not the only concern with Game Bar; for instance, It will automatically close if you minimize the recording screen (like an online tab). You can record only one application at a time.
Moreover, Game Bar doesn't have other important screen recording features like annotation tools. Plus, there aren't any advanced functions like partial screen recording, follow mouse recording, and so on; that's why you have to check alternatives to Game Bar.
Part 2: Best Alternative Method to Record Full Screen Without Windows 10 Xbox Game Bar
While many other alternatives to Windows Game Bar are listed here, let us first discern the industry-best screen recorder: Eassiy Screen Recorder. Just to clarify, Eassiy Screen Recorder is not an alternative to Game Bar; given it is one of the best screencast tools in the realm, it sits at the top among the giants, whereas Game Bar sits at the bottom in the industry. That said, here's what you have to know about Eassiy Screen Recorder:
Eassiy Screen Recorder Ultimate
An all-inclusive tool, Eassiy Screen Recorder Ultimate comes with several recording options, like full-screen recording, partial-screen recording, and window-specific recording, and allows you to include both webcam and microphone sound along with the internal audio. Presenting a clean and modern interface, Eassiy works for users of any skill level. So, be it using live annotation tools or exporting the video to social channels, you do not have to go through guides to learn the tricks; everything is self-explanatory and requires no learning curve.
But Eassiy is not all about manual full-screen recording; there are innovative options, like Audio Recorders or Game Recorders. The Game Recorder option allows you to record games like Xbox Game Bar, but with more functionality. For instance, you can draw on the recordings. There are even options to include your logo or custom watermarks in your recordings to make them suitable for professional use. After recording, you can use editing tools to remove unwanted parts and give your recordings a professional polish.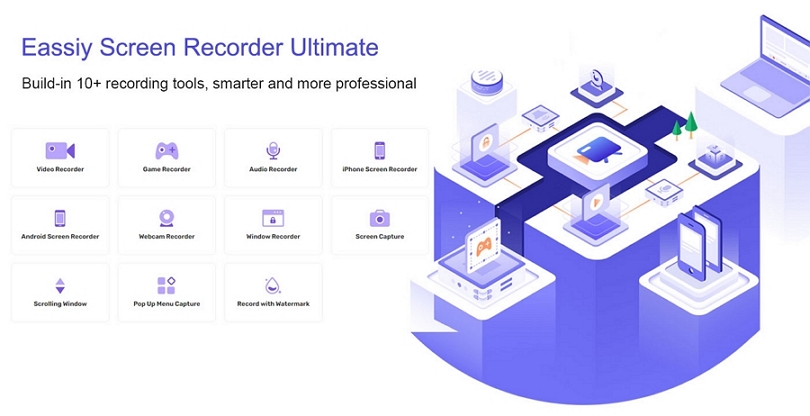 Key Features:
Screencast the entire screen, customize the recording area, record individual tabs, or exclude certain apps and tabs and record anything in 1080p resolution (up to 60fps).
Advanced audio and voiceover option: Include external and internal sound in the screencast, manage sound levels, enhance microphone sound, and limit background interference.
Game Recorder: capture 2D/3D games in high resolution without any lags and interruptions.
Webcam overlay: include webcam overlay in different shapes (like circular, elliptical, and more). Manage resolutions and other customizations available.
Live annotations to draw on your recordings using highlighters, arrows, airbrush, and text editor.
Custom watermarks and logos to personalize the video and make it suitable for professional use.
Task schedule to start and end recording automatically. Auto end recording feature to stop recording after the assigned time.
Follow Mouse Recorder (follows mouse movements and records selected area around the cursor), Around Mouse Recorder, Exclude window recorder, and so on.
Advanced screenshot tools, like taking infinitely long scrolling and panoramic snaps.
Video editing tools include auto-split, trim, audio mix, and more.
Social sharing options and save in the format of your choice.
How to record full screen on Windows 10 & 11 using Eassiy Screen Recorder?
While Eassiy includes numerous recording features, we will show you how to record full screen on Windows 10 & 11:
Step 1. Download and Install the Eassiy Screen Recorder on the computer. Click on Game Recorder on the main interface. The Game Recorder allows you to record a particular game without any interruptions. By default, the Game Bar will record the full game window or application.

Step 2. You will see a pop-up window once you select the Game Recorder window. Under Game Window, you can choose the game that you want to record on Windows in full screen. And click on OK after selecting the game.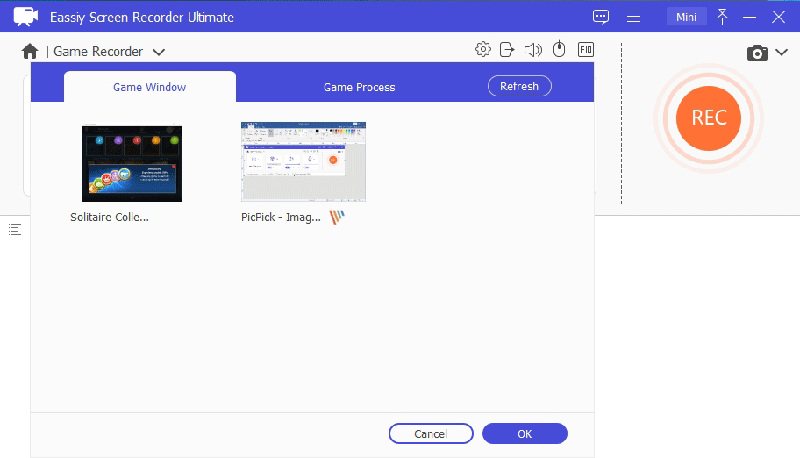 Step 3. After selecting the game, choose the other aspects like if you want to include the Webcam and Microphone sound in the screen recording or not. Click on REC button to start the recording the game window in full screen.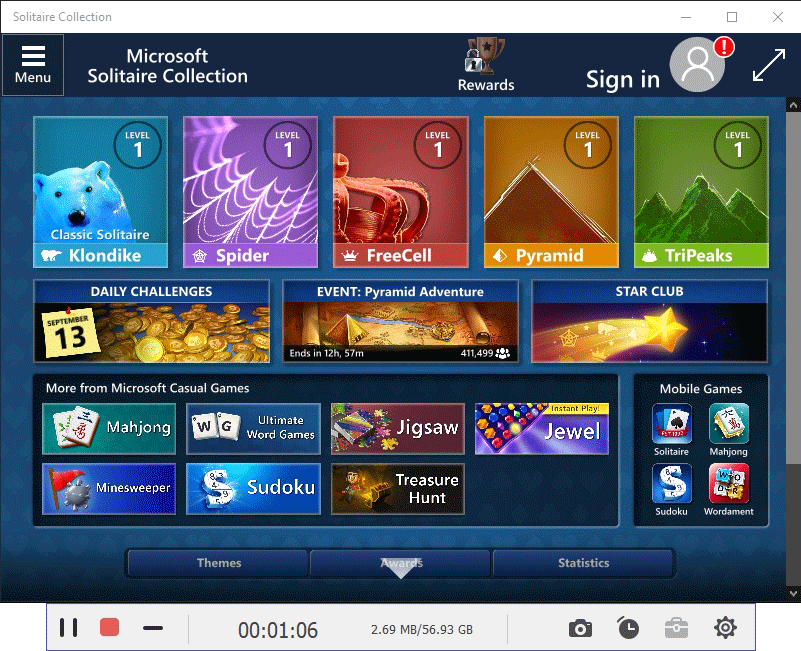 Step 4. After starting the recording, you can click on the Briefcase icon to annotate during the game play. You will find arrows, highlighter, and text options to draw and doodle on your gameplay.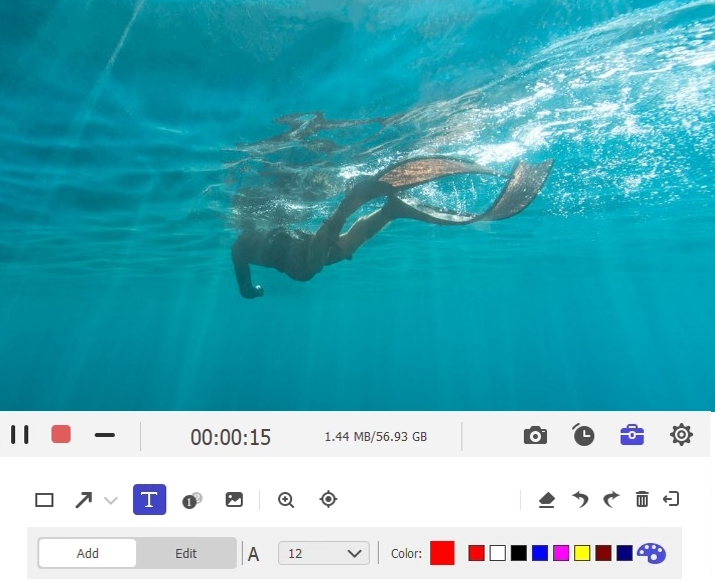 Step 5. Click on the Red (Stop) icon to end the full screen recording.
Once you end the recording, Eassiy will load the gameplay recording on the editor. You can use the editing tools like trimmer and auto-play to remove unwanted parts from the game recording. Click on Done to end the recording.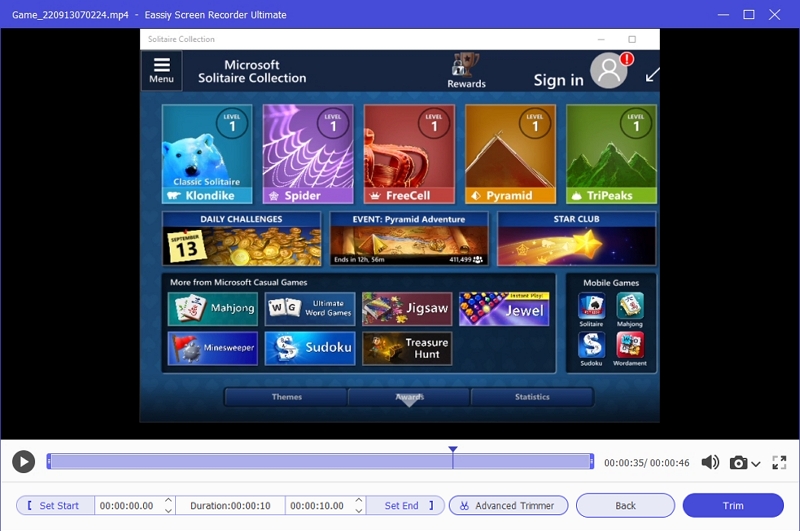 Step 6. You can find the recording in the Recording History panel.
You can click on Pen icon to edit the recording. Or you can click on Share icon to share the full-screen gameplay recording to social channels like YouTube and Facebook.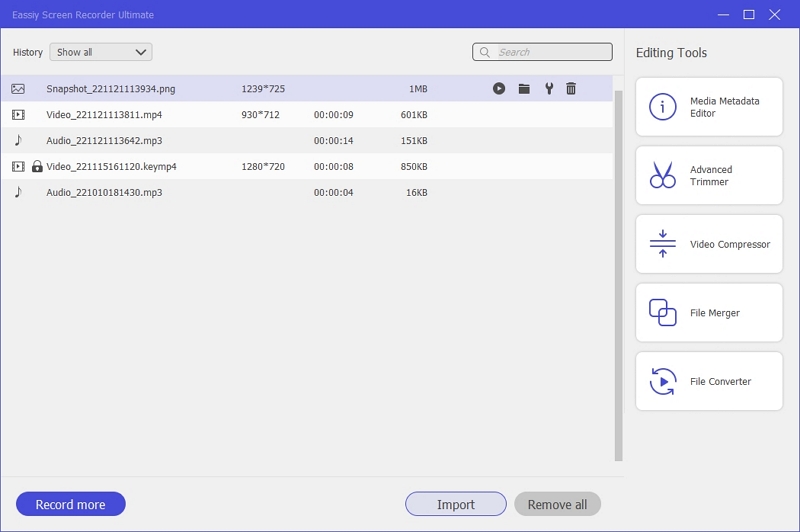 Part 3: 3 Helpful tools you can use to record full screen on Windows 10 & 11.
Eassiy must clear the doubts in your head about choosing a screen recorder. No doubt, it is the industry leader. But let's face it, it is a premium tool, and many of you might be looking for freeware like Xbox Game Bar on Windows 10 & 11. So, we have compiled a list of the three freeware screen recorders that are pretty much similar to the Xbox Game Bar:
1. OBS Studio
A free and open-source screencast and live streaming tool, OBS Studio is anything but simplistic and complex. There is a good learning curve before you can take the benefits of all its features, but once you overcome the interface challenges, you will never abandon OBS Studio.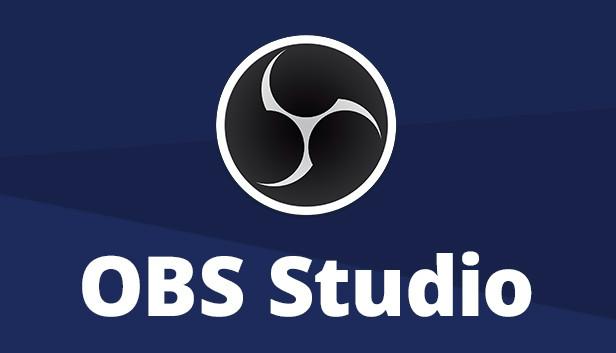 Suitable for live streamers, OBS Studio comes with studio features, like viewing how others on the web see you, and all such features. Screen recording will allow you to record the screen in HD up to 60fps with internal and external sound. Plus, you can include webcam footage in the screen recordings. You will also find Audio mixing options, like Xbox Game Bar. You will also find readymade templates, and in case you need extra features, OBS Studio allows you to incorporate VST plugins and increase its capabilities.
Key Features:
You will find numerous recording modes and templates to start broadcasting without any fuss and presets.
OBS Studio has live stream capabilities, webcam support, an audio mixer, and VTS Plugin support.
Theater mode shows how others will see the stream.
You can setup multiple scenes and switch between them using beautiful transitions.
Pros:
OBS Studio is completely free, and available for Windows, Mac, and Linux.
OBS has a highly customizable interface, so you can personalize the program.
Create recording settings and save them as profile.
Cons:
You will not find editing functions in OBS Studio.
No real-time drawing tools in OBS.
A tool suitable for streamers.
2. VLC
Another free program, many of you might know VLC as a media player. However, VLC has many tools, like recording, speed changer, and effects. Coming to its recording capabilities, VLC allows you to record screens seamlessly. However, you cannot include a webcam and external sound in the screen recording. Plus, you will have to enable the options via Advanced Controls (like Xbox Game Bar, the feature remains hidden until you turn it ON manually).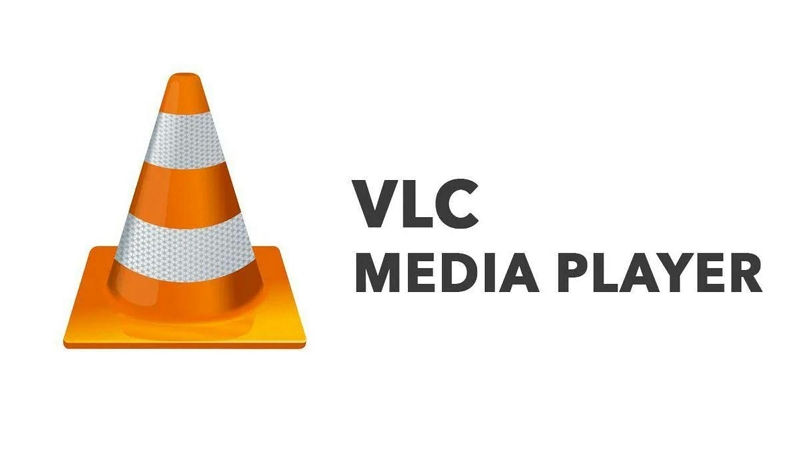 In all, if all you want to do is record the screen with no advanced options like annotations, partial recording, or window-specific recording, VLC is the tool for you. You can also save the file in supported formats, or transcode other video files using VLC (however, the process is slow).
Key Features:
Capture desktop screen, network streams, or your discs.
Record audio.
Activate audio normalize to protect your ears (eliminates white noises).
Transcode video files into other formats.
Pros:
VLC media player is completely free.
You can play image, video, and audio content.
Cons:
VLC is not even close to a real screencast tool.
No editing features and recording features like webcam and microphone support.
3. Nvidia Share
Earlier known as GeForce Experience, Nvidia Share comes from Nvidia (a prominent name in the GPU industry) to allow gamers to screencast their game seamlessly. Nvidia Screen Recorder is free, like the Xbox Game Bar for the Nvidia, given that you use Nvidia graphic card. That means if you use another graphic card like Intel, you cannot use them. Coming to recording features, Nvidia allows you to retrieve 30 seconds of your gameplay via the Alt+Tab keyboard shortcut. You can also manage the background activity like in Xbox Game Bar and control the computer's processes.

You can also record in 4K up to 60fps, plus advanced access controls like bit rate and manage other audio settings. Upon recording, Nvidia allows you to share the screen recordings to Twitch, YouTube, and Facebook. Needless to say, there aren't any editing options, given it is exclusively limited to the screencast function; still, you can turn small clips into GIFs.
Key Features:
Screencast games seamlessly in 4K up to 60fps.
Capture the last 30 seconds of the gameplay and share it automatically on YouTube and other social channels.
Hardware acceleration to ensure smooth performance while playing games.
Pros:
The simple to use interface of Nvidia Share leaves no room for confusion.
Integrates with any computer or laptop.
Cons:
Nvidia Share is only available for users with Nvidia GPU cards.
No real editing features other than creating GIFs.
Exclusively for recording games.
Conclusion
Xbox Game Bar is intended for gamers, and in a way, it serves its purpose, given users can record their game clips on Windows 10 & 11 without any third-party support. And given that it comes with social integration options and presents an opportunity to connect with friends and stream together, it is helpful in several ways. However, If you are recording gameplay for a professional environment, it will disappoint on many levels. And you cannot include watermarks or logos to personalize the video. Xbox Game Bar does not let you get creative with your video, given it lacks essential editing functions.
And that was the main reason for including some alternatives to the Xbox Game Bar. The three options mentioned, i.e., OBS Studio, Nvidia Share, and VLC Media Player, offer similar functionality to Xbox Game Bar and can only help you record gameplay. So, if you want the ultimate tool to record gameplay (or other types of videos) with webcam overlay, annotation tools, and editing features, Eassiy is the way to go.