Losing crucial data like photos, text, or contacts is a nightmare. Technologies like android or IOS can lose your files through accidental deletion, lacking backup, memory card malfunctions, and so on. However, you don't have to be concerned because there are data recovery applications available to assist you in retrieving any data you lost from your android device.
The best two variants you will get are Eassiy and Dr.Fone android data recovery software. You cannot, however, utilize both at the same time. So, which one is better basically depends on various factors like,
Performance
Scan speed
Compatibility
Successful recovery rate
Price
Customer support, etc.
In this article, we will go through all these aspects and have an in-depth comparison between Eassiy vs. Dr.Fone android data recovery tool to find the best one.
Part 1: Features
The essential features of any data recovery tool assist you in determining which one is compatible with your system and go with your demands. Now, when we talk about Dr.Fone, there are several aspects to look for.
Dr.Fone can recover a variety of data types like contacts, messages, call history, documents, WhatsApp & Attachments, photos, videos, and audio.
This software supports recovering data from broken Samsung phones and tablets. Various scenarios are supported, such as inadvertently damaging your Android device's screen, the screen going black and showing nothing, and so on.
This data recovery tool is compatible with around 6000+ android devices.
Dr.Fone operates with a basic hard drive scan option.
Dr.Fone provides three types of recovery modes: internal storage, damaged device, and SD cards.
This Android data recovery tool provides a free scan and preview of lost files.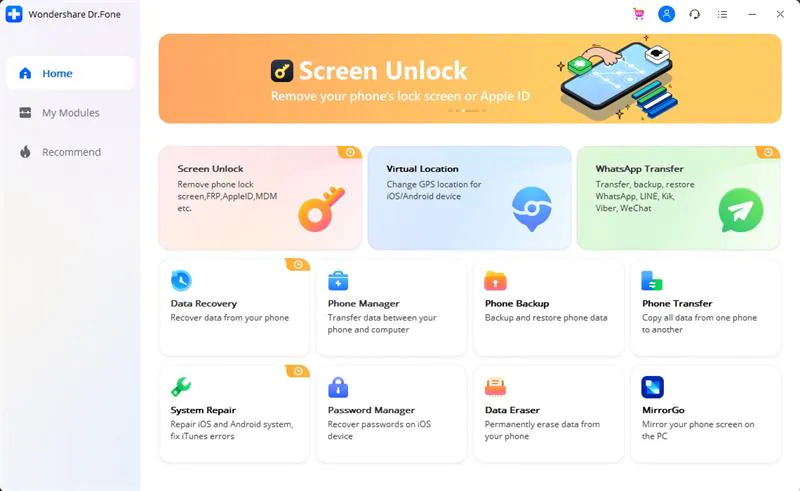 Now, let's have a look at Eassiy Android Data Recovery software. It's new to the industry with a ton of lucrative features.
This software supports around 16+ file types to recover.
It can scan about 1000+ deleted files in seconds.
Eassiy supports around 6000+ android devices, including Samsung, HTC, Huawei, Google, LG, Sony, and so on.
The software has three recovery options: Recover straight from Android devices, Android SD cards, and SIM cards.
Before recovery, Eassiy allows you to freely verify and evaluate the scanned data in detail.
Eassiy works with both rooted and unrooted android devices.
Unlike Dr.Fone, Eassiy offers both basic and deep scan options, which help to detect and restore overwritten data.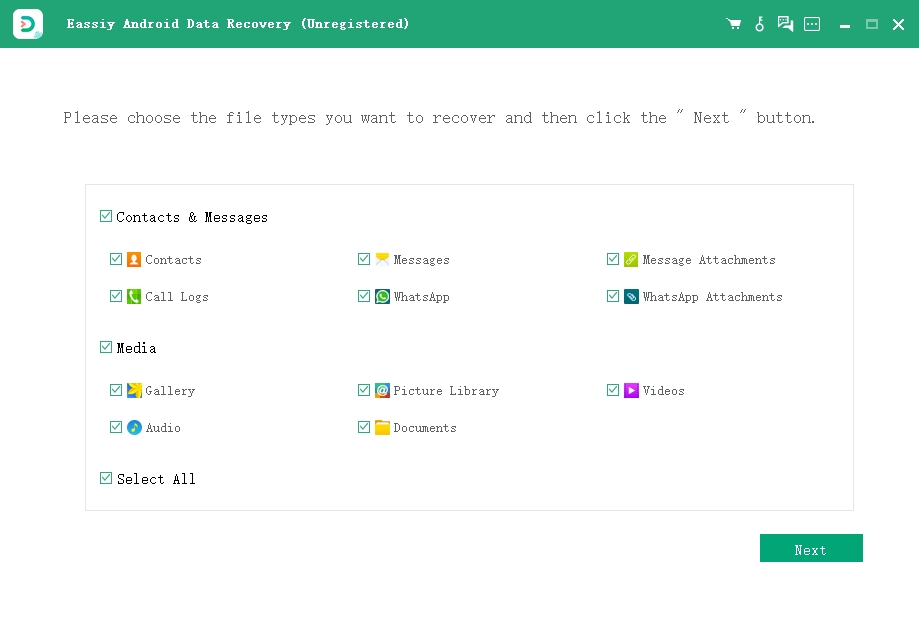 Part 2: Performance
In terms of performance for any data recovery tool, we need to consider a bunch of criteria like scan time, quality of the recovered data, deep scan functionality, and restoration of not-so-common file types. Dr.Fone can retrieve newly erased data within a minute, depending on the number of files to be recovered. After recovery, you can restore the files by copying them onto the desktop. From various performance tests, it's seen the recovered data, such as images and text messages, had no apparent loss in quality or readability.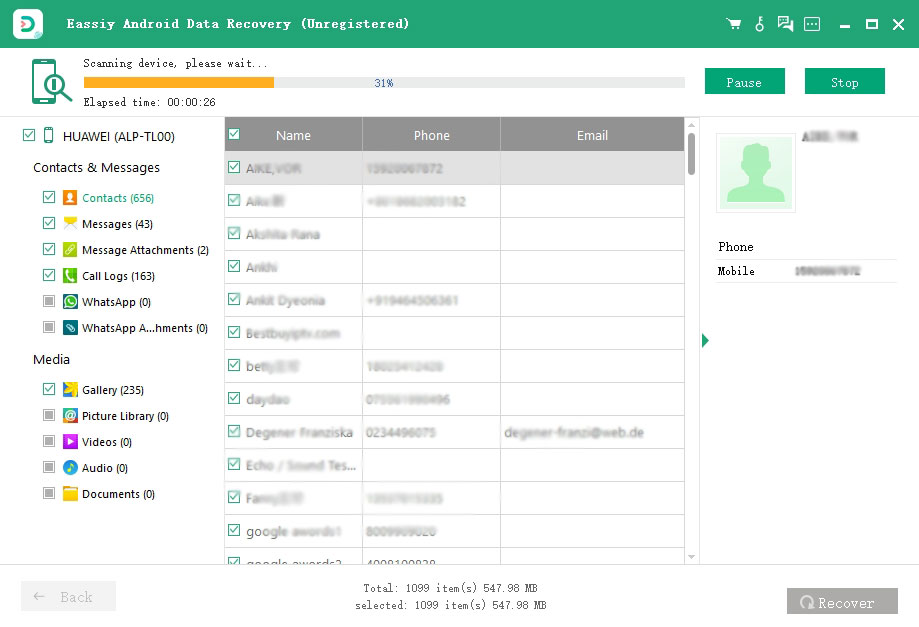 Now, the Eassiy android data recovery tool can operate within seconds to recover any number of files. Also, the quality of the data recovered remains the same as the original. Eassiy has a deep scan function that can take several minutes to complete the task. The performance test reveals that Eassiy's deep scan can efficiently restore recently wiped files as well as hundreds of other files that have been lost over the last few months. Moreover, compared to Dr.Fone, Eassiy shows a higher recovery rate in restoring 16+ supported file types, a significant benefit in terms of software performance.
Part 3: Scan Speed
The scan speed for Dr.Fone takes a few minutes to process and fully scan your Android phone to recover deleted data. Basically, the software scours the memory of your device in order to locate any recoverable data. Therefore, the process takes a bit of time to complete. Dr.Fone doesn't feature any high-speed scanning option or deep scanning function.
Eassiy is comparatively quicker in terms of scan speed than Dr.Fone. It has both quick scan and deep scan functionality. The quick scan option will take less than a minute, whereas the deep scan option may take several minutes to complete the task as it has to identify and restore the files that have been overwritten. To put it another way, you don't have to wait all day for scanning and recovery processes to ultimately get your hands on something urgent.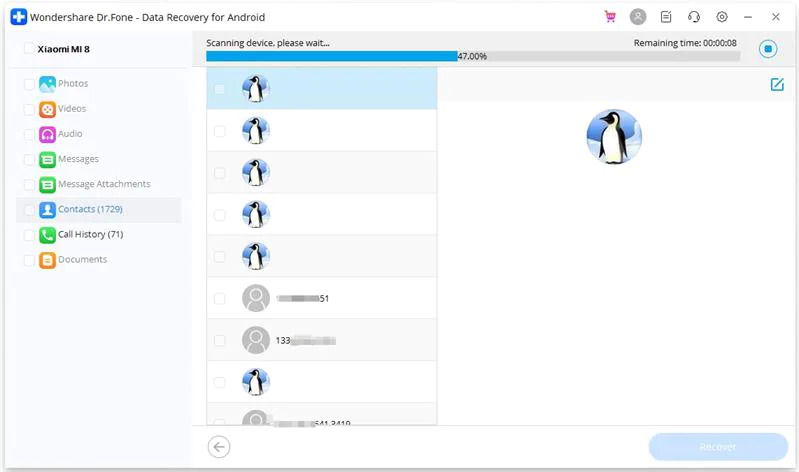 Part 4: Compatibility
In terms of compatibility, Dr.Fone runs over 6000+ Android devices. It also works on iOS devices. However, for iOS, this software can't recover audio, photos, APK, WhatsApp, and Google Drive applications. However, on the bright side, Dr.Fone can recover data from broken Samsung phones and tablets, making it compatible with damaged devices. The software runs on 1GHz (32-bit/64-bit) CPU, 200 MB and above free space on hard disk, 256 MB or higher RAM, and Android version of 2.1 and up to the latest.
Eassiy also supports 6000+ Android devices. Moreover, the application is compatible with root and unrooted Android systems making it a better competitor than Dr.Fone. You can run this software on Windows 11/10/8.1/8/7/Vista/XP and Mac OS X 10.7 or above, 1GHz (32-bit/64-bit) Intel/AMD CPU, 1 GB and above free space on hard disk, 1 GB or higher RAM, and Android version of 2.1 and up to the latest (Android 12).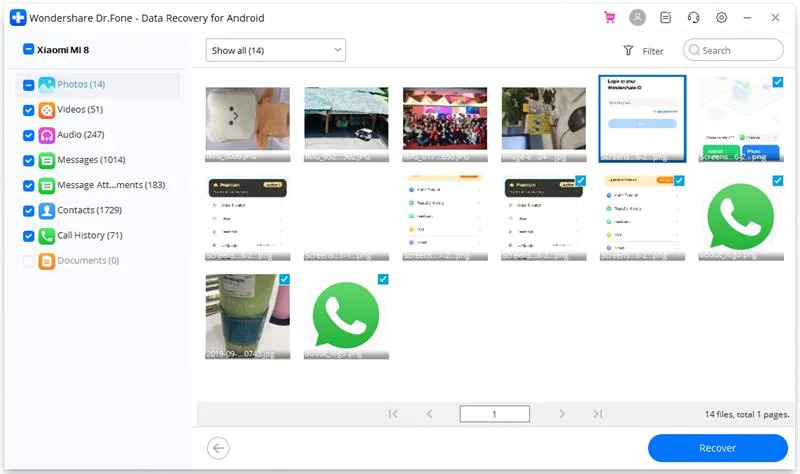 Part 5: Successfully Recover Rate
Dr.Fone has the highest success rate for data recovery in the industry. Just like other data recovery software, it has a higher recovery rate for recently deleted files compared to old erased files from your system. Eassiy, on the other hand, has the highest Android data recovery rate for restoration of photos and videos. Also, the software showed a good recovery rate on Android phones, Android SD cards, and SIM cards.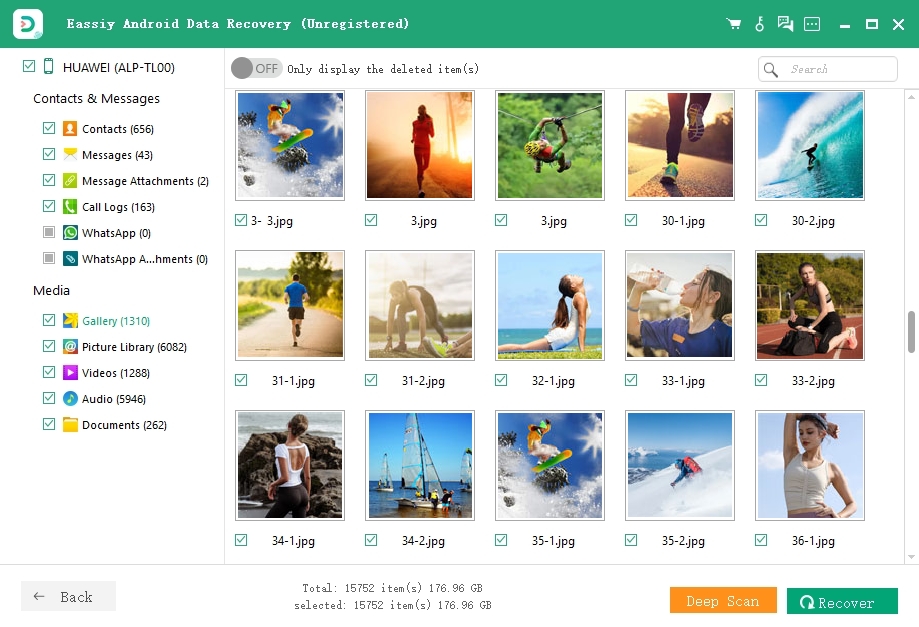 Part 6: Prices
In terms of pricing, Dr.Fone offers three options yearly that include different services according to various price ranges. Its best-seller option provides a one-year license that covers 1-5 mobile devices and one pc under $39.95. The software also provides a perpetual license that covers 1-5 mobile devices and one pc over $49.95. Its most expensive deal is the business license that covers unlimited devices with multiple PCs for $399.
Eassiy Android data recovery tool is comparatively cheaper than Dr.Fone when it comes to pricing. The company has quarterly, annual, and perpetual plans that offer a number of services concerning various price ranges. For just $35.99, the quarterly subscription includes six devices/one computer, auto-renewal, and three months of free updates. Its most popular pricing option is the annual plan which covers an additional full one-year free upgrade for only $39.99. The perpetual plan is a bit pricy ($69.99) as it provides lifetime access to all features of this software.
Part 7: Customer Support
The technical support team for Dr.Fone data recovery software provides both email and phone support from 9 PM to 2 PM Eastern. The website of the firm contains incredibly extensive lessons with brief walkthrough videos. Also, the account center of Dr.Fone offers a dedicated customer ID to get various facilities like invoice requests, redeeming serial numbers, subscription cancellations, etc.
Eassiy has a very dedicated technical support team that works 24/7 to provide customer care to help with any issue with their service. Just like Dr.Fone, they provide both email and phone support. You can also contact them through their website. For ease of understanding, Eassiy posted various data recovery tutorials for their products on their official site.
Part 8: Comparison Table
Factors

Dr.Fone Android Data Recovery

Eassiy Android Data Recovery

Scan Speed

Takes more time to complete full scanning

Scanning completes within few minutes

Deep Scan

Doesn't provide deep scan option

It has both quick and deep scan functionality

Data Type

The software supports 8-10 types of data for restoration

It supports 16+ file types for data recovery

User-Friendly

It has an old interface that's sometime difficult to navigate

User-oriented interface and easy to understand for a simple and quick data recovery

Pricing

$39.95/Annual, 1-5 devices 1 PC

$39.99/Annual, 6 devices 1 PC

Android Device Types

It doesn't support all kinds of Android devices

Works on both rooted and unrooted Android phones for data recovery

Recovery Options

From Android device
From SD Card

From Android device
From SD Card
From SIM Card
FAQs:
1. Are Data Recovery Tools Safe to Use for Android?
Data recovery software is simply intended to recover data. It has no negative effects on your system or device. Data recovery software cannot take your phone's private information or install malware on it. It just recovers the bits that were lost someplace on the disk.
2. Can I Use Data Recovery Tools for Free?
Some Android data recovery applications purports to be free. However, all of them have restrictions.
3. How Old Deleted Files You Can Recover?
When a file is permanently deleted for an extended period, it remains on the hard disk until it is overwritten with new data. As a result, regardless of how long the file has been lost, a data recovery tool may be used to retrieve some or all of it via deep scan.
Conclusion
Data recovery tools come in handy when it comes to retrieving important personal files, which may get lost for various reasons. This article discusses Dr.Fone and Eassy, two outstanding data recovery tools for Android. Following a comprehensive comparison of these two software, we can conclude that Eassiy Android data recovery exceeds Dr.Fone in terms of performance, user experience, features, and affordability. In addition, Eassiy's deep scan is speedy, and an unlimited lifetime subscription is reasonably priced in comparison to Dr.Fone and other popular data recovery applications. In the end, regardless of the type of file, you lost from the Android device you use, data recovery software like Eassiy provides an effective, safe, and speedier approach to retrieving it.