Are you aware that when recorded in high resolution, the videos you make with your camera frequently exceed 1GB? There are frequently restrictions on the size of videos on several social media platforms. Therefore, if your video is larger than the platform's maximum allowed size, you will need to use the best video compressor to reduce its length so that it complies with the requirements of a specific social network.
You can also utilize a number of online video MP4 compressors as well as certain video compression programs for Windows and Mac. Therefore, if you need a quick method to downsize your films, you don't need to spend a lot of money on expensive professional video editing tools. In addition, chores can be completed online for free on any operating system. In this article, we'll show you how to choose the best MP4 free video compressor while teaching you.
Part 1: What Features Are Necessary for a Top MP4 Compressor?
MP4 Video compressors are pieces of software made to cut down on the amount of bits required to display a video without sacrificing quality. Depending on your needs, you can utilize these tools online or offline. The primary capabilities of MP4 compressor are.
Storage - You'll save up a lot of storage space on your smartphone because video compressors shrink the size of your video files. Therefore, you must determine whether the video compressors can genuinely shrink the size of your files.
Quick transfer- Compared to huge files, smaller video files can be sent utilizing a variety of sharing sites. Therefore, check to determine if the program you are choosing is indeed capable of speedy transfer.
Quality - Although the quality of the video may not be significantly affected, video compressors reduce the size of the video file. However, depending on the level of compression needed, many tools offer choices to alter the video quality. Therefore, you must ascertain whether the tool can preserve the video's quality.
Video format - You may convert videos from one format to another without losing quality with the use of best video compressors. It is an additional method of determining whether your compressor can modify the video format.
Fast loading - Your website cannot have any 50Mb videos because doing so will slow down page load times and harm SEO. Small-sized videos on websites load quickly, and you may do this by utilizing effective video compressors. Check to see if the compressor has the ability to reduce video size.
Prior to selecting a MP4 video compressor, the first thing to remember is to avoid programs with too complicated or superfluous user interfaces. Along with a number of output formats, the compressor should let you choose the finished movie's size and resolution. Pick an instrument with a respectable compression rate. One last time, check the other features of your tool. It will be helpful to have a tool with the common function of compression as well as capabilities for converting, downloading, or editing.
Part 2: 12 Best MP4 Compressor to Compress Video MP4
1. Eassiy Video Converter Ultimate
Eassiy Video Converter Ultimate is a more effective and complete multimedia toolkit. The bulk of tools are accessible in the all-inclusive multimedia program Eassiy Video Converter Ultimate. A number of multimedia file types, including video, audio, GIFs, photographs, MVs, ID3 subtitles, and more, can be created, edited, viewed, and shared using these capabilities.
Everyone should acquire Eassiy Video Converter Ultimate, whether they are a vlogger, a student, enjoy movies and music, share movies at home, or all of the above. Eassiy Video Converter Ultimate can convert, edit, compress, generate MVs, create collages, and much more with its 20+ multi-media capabilities. It tops the industry in supported formats with batch conversion and 1000+ video/audio formats. Eassiy's built-in editors are great for increasing your video creation because they provide features like merging, trimming, cropping, adding effects, subtitles, and watermarks, decreasing video shaking, removing video noise, and more.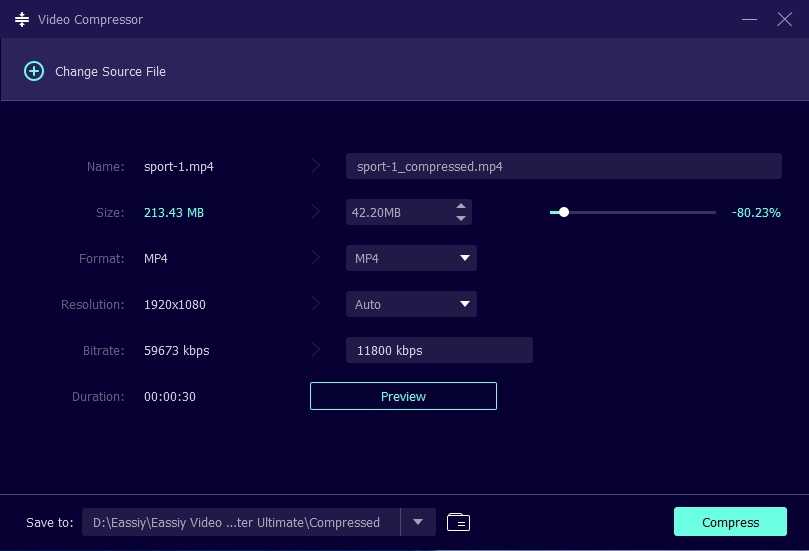 Key features:
Support for 1000+ video/audio formats and industry-leading batch conversion
Lossless Conversion Technology that is 60x faster
No-quality-loss conversion of up to 8K video
Offers more than 20 multimedia tools for editing, compressing, creating MVs, making collages, and other tasks.
AI technology boosts multi-core processors to increase conversion rates.
Pros:
Can convert HD/4K/5K/8K footage, including H264(AVC) and H265(HEVC), from drones, GoPro cameras, HD cameras, camcorders, and more to any format for playback.
Compression of HD video for Facebook, TikTok, and other sharing website.
Integrated Editors to Improve Your High-speed conversion and GPU acceleration are both available.
Cons:
Advanced version offers more features.
2. VideoProc (Windows)
When you need to compress 4K, HD, SD, 3D, and 360° VR videos without sacrificing quality, VideoProc is a complete piece of video software that works well. You can transcode a video, which gives you access to a number of simple options for resizing videos. Even on sluggish systems, you may compress your movies without them stalling or crashing. Most importantly, it gives you adequate time to try it out before you buy.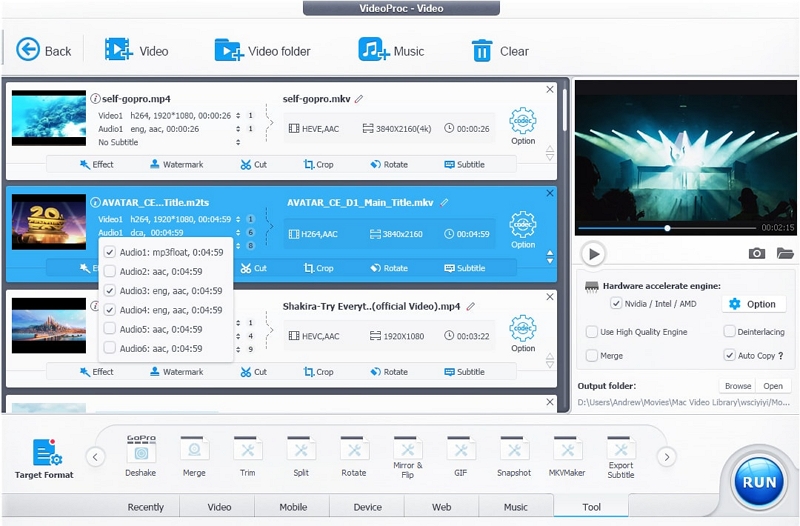 Pros:
Utilizes full hardware acceleration technology to deliver up to 47 times quicker real-time video conversion and compression speed.
Supports more than 420 output profiles and formats batch resize and convert
Changes the speed, rotates, trims, combines, resizes, adds an effect, etc.
Subtitle extractor, video/music downloader, and screen recorder.
Cons:
Five-minute audio or video files are the maximum length for the free version.
Downloads can occasionally be sluggish.
3. Videosolo (Windows)
With its amazing, attention-grabbing layout, Videosolo allows users to efficiently compress their movies in more than 300 codecs. It is compatible with practically all electronic devices, whether they are mobile or web-based, and it has a number of intriguing features. Its batch processing capability enables users to compress a sizable number of audio and video files all at once.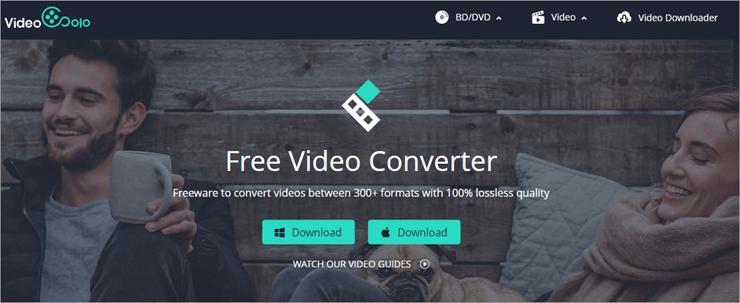 Pros:
Batch conversion allows you to convert many videos and audio files at once, saving you time and effort.
User friendly; even novice users the utmost convenience when navigating the UI.
Conversion with GPU hardware acceleration is supported by this leading video converter, making conversion 6X faster than usual.
Excellent and comprehensive converter that provides access to over 200 supported video files
Cons:
Windows-only Video Toolbox
4. WinX HD Video Converter Deluxe (Windows)
Any enormous 4K/1080p high frame videos are accepted by WinX HD Video Converter Deluxe, regardless of their source—a smartphone, a drone, a camcorder, or any other device. By changing video parameters like resolution, frame rate, bit rate, etc. and converting the video to the 50% smaller HEVC codec, it can compress 4K films to 1080P/720P. Additionally, to reduce the size of the video, its built-in video editor can cut and remove unnecessary video clips.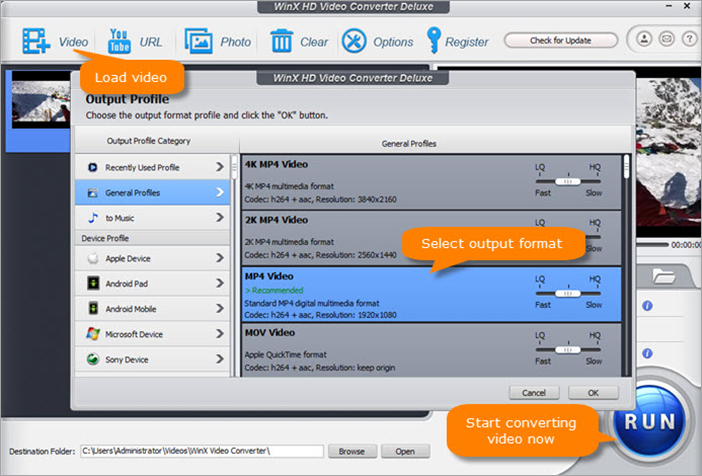 Pros:
Reduce the size of a video file by up to 90% without sacrificing quality.
Change the codec and format of any video.
Download videos from 1,000+ websites, including YouTube.
Edit video content with a few mouse clicks.
Cons:
limited to simple trims and crops
lacking certain features that allow you to customize your videos
5. Aiseesoft Video Converter Ultimate (Mac)
Aiseesoft Video Converter Ultimate is a comprehensive program with both simple and sophisticated features for video editing, converting, and compressing. Various encoding types, including VP8, VP9, MP3, and others, are supported. HD, 4K, 5K, and 8K conversion are supported, as well as batch conversion.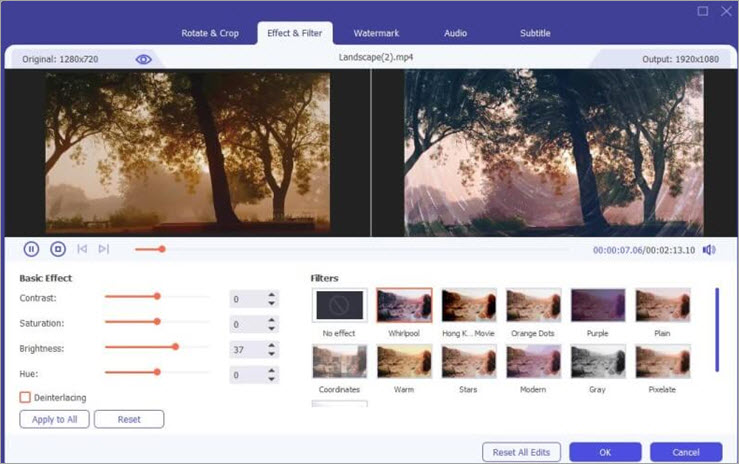 Pros:
The solution includes numerous filters similar to Orange Dots, the Hong Kong movie, and others.
It enables fundamental effects including hue, brightness, saturation, and contrast.
It has the ability to add and modify audio tracks and subtitles.
It has numerous additional features, including the ability to add watermarks, split-screen videos, and 3D effects.
Cons:
No built-in functionality exists to facilitate burning converted films to DVDs.
The annual license is somewhat costly when compared to other programs of a similar nature.
6. Wondershare UniConverter (Mac)
Users who use Wondershare UniConverter have access to a straightforward compression tool that effectively reduces file size. The interface is quite straightforward, and there are no unnecessary structures in the compression. It upholds the idea of video compression without sacrificing image quality.
Pros:
Provides simple video editing tools to improve videos.
Supports 150+ output formats
1,000+ video/audio formats for video conversion.
Addition of Common Format Encoders
Cons:
Free test period with few features.
A video can be reduced to a third of its original length
7. HandBrake (Mac)
With the aid of the open-source and free HandBrake program, users can efficiently do video conversion and compression tasks on Mac. It has many presets that enable smooth operation on mobile and other platforms. However, the reason we strongly advise it is due to its batch processing feature, which enables you to compress videos in bulk and save time.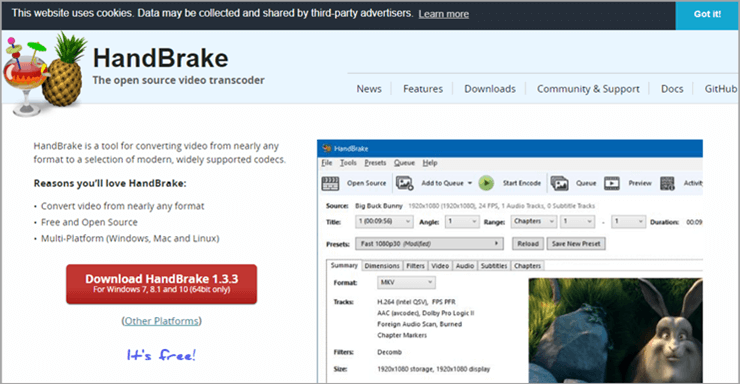 Pros:
Conversion in batches is supported.
It supports a variety of video formats.
An intuitive user interface makes getting started simple.
It has lots of cutting-edge features.
Cons:
For beginners, all the advanced features could be too much.
8. Movavi (Mac)
The biggest selling point of Movavi is its lightning-fast conversion and video compression capabilities. Users may swiftly complete their assignment, whatever it may be, because to its user interface's simplicity. Additionally, it has pre-set settings that make using the software even simpler. We advise you to let the preset feature provide you with high performance unless you are an expert with such tools.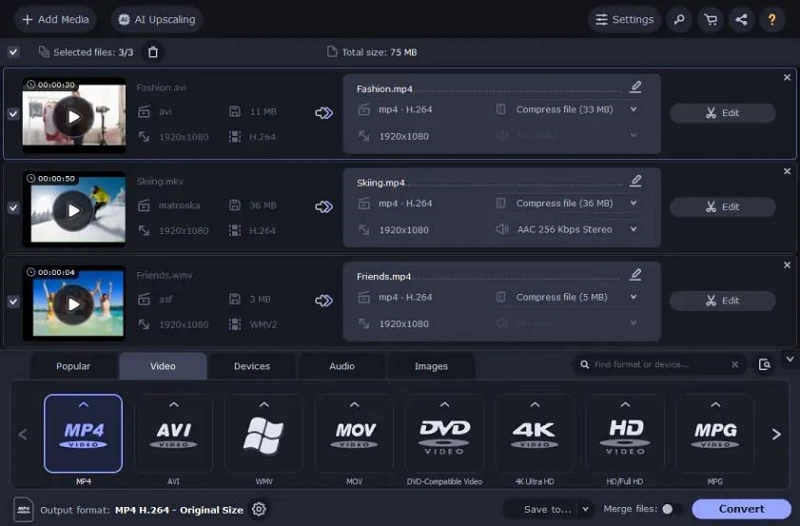 Pros:
Nice user-friendly, quick processing
This program instantly recognizes gadgets and detects them automatically.
Many additional capabilities, including support for 180+ formats and subtitle search
Can change the video's orientation and add a watermark.
Cons:
Only a seven-day free trial is available.
Watermarks are included in the trial version to your converted clips
9. FreeConvert (Online)
A straightforward online video compressor is FreeConvert. Users can choose between the H.265 and H.264 codecs, and you can target compression for file size, video quality, resolution, or bitrate. The entire compression procedure only requires a few steps and is incredibly simple. However, users will require a lot of bandwidth for uploads and downloads because this application is only available online.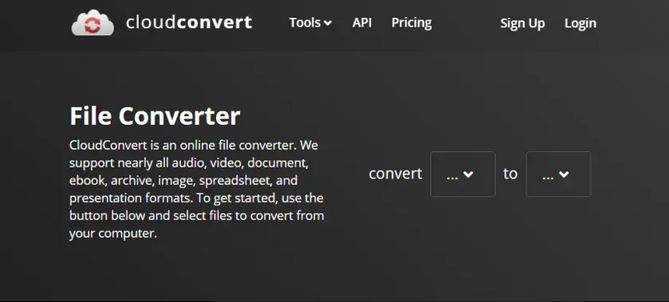 Pros:
pleasant user interface
No pop-up advertisements while converting
rapid download times, batch transformations
Free conversion of files up to 1.5 GB, ability to combine files
Cons:
The free version's daily conversion cap
There may be bugs in the premium version.
10. Clipchamp (Online)
An online video converter and compressor is called clipchamp. There is a free version available, but you can't compress movies with it; instead, you must upgrade to one of three expensive subscriptions. It accommodates a wide variety of formats and resolutions.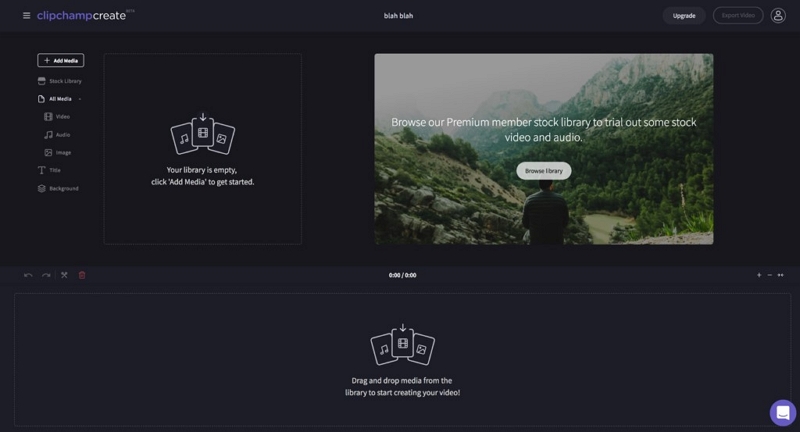 Pros:
In Chrome, it provides quick batch processing.
No restrictions on input file size exist.
This tool provides quick compression.
It works with many different formats and resolutions.
Cons:
To compress videos, you must upgrade to a premium account.
With the free version, your exports are limited to 480p.
11. YouCompress (Online)
 YouCompress is a free online video compressor that is, in our opinion, ideal for beginners. It needs no configuration and features an easy-to-use interface. The finished video is watermark-free.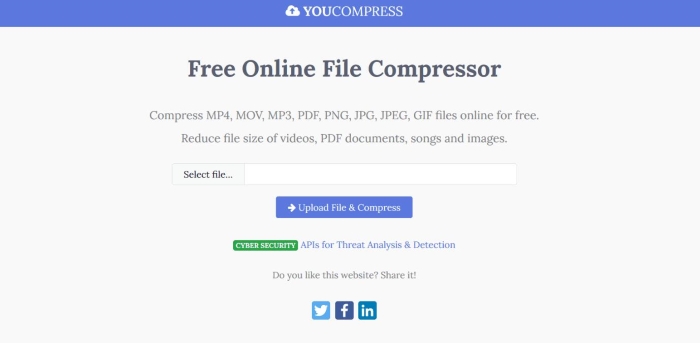 Pros:
Easy-to-use online tool.
No watermark.
All-in-One File Compressor, Encrypted connection
Zero Configuration with no software installation
Cons:
Supported formats - MOV, MP4, AVI only.
No advanced options.
CloudConvert
12. CloudConvert
A free online file compressor and converter is CloudConvert. It features a robust API for integrations and supports a large variety of formats. Although the free edition only allows for 25 files each day, it is simple to use. You must register for either a package (one-time payment) or a subscription in order to convert/compress more files (rolling monthly payments).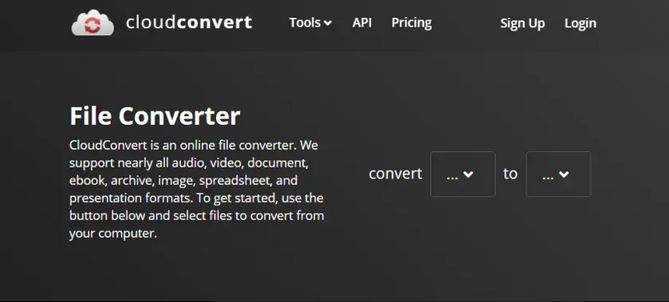 Pros:
easy to use online interface
Wide-ranging format support, including MP4, MOV, AVI, and others
Detailed online instruction manual to get you started
Up to 25 files can be compressed or converted without cost each day.
Cons:
For beginners, the user manual might be too much information.
If you want to convert or compress more than 25 files per day, you must pay.
Part 3: Comparison Table of Mp4 Compressor to Compress MP4 Video to Smaller Size

Name

Best for

Free Trial

Ratings

Supported files

Pricing

Eassiy Video Converter Ultimate

Most Effective all-inclusive multimedia program

Free trial with limited features.

5 Stars

1000+ File Format

Annual Plan for
US$39.99

VideoProc (Windows)

Capabilities for converting, compressing, and editing videos

Free Trial

4 Stars

420+ formats

Family License/ Lifetime for
$57.95

Videosolo (Windows)

Free and simple Video Compression

Available

4.5 Stars

200 supported video files

1-Year Plan. Auto-renewal, for. $69.95

WinX HD Video Converter Deluxe (Windows)

Reducing file size by up to 90% with quality unaffected visually.

Free trail with limited features.

5 Stars

420+ File Format

Ultimate License For $39.95

Aiseesoft Video Converter Ultimate (Mac)

Video compressing, converting, and editing capabilities.

Available

5 Stars

39+ File format

Lifetime License for $49.96

Wondershare UniConverter (Mac)

Efficient Online and Offline Video Conversion/Compression

Free trial with limited features.

5 Stars

150+ output formats

Quarterly plan for
$39.99

HandBrake (Mac)

Free and Fast Video compression and conversion.

None

4 Stars

22+ File format

Free

Movavi (Mac)

Fast and Unlimited Video Conversion and Compression

7 Days free trial

3.5 Stars

180+ formats

Lifetime / 1 Mac
$69.95

FreeConvert (Online)

pleasant user interface, No pop-up advertisements while converting

Free conversion of files up to 1.5 GB

4.5 Stars

350+ file conversions

Basic-$9.99. / Month

Clipchamp (Online)

No restrictions on input file size exist, quick compression

2 free months of video editing.

5 Stars

Variety of File format

Business at $13.00 per month

YouCompress (Online)

no configuration and features an easy-to-use interface

available

4 Stars

3+ File type

Free

CloudConvert

a robust API for integrations

allows for 25 files each day

5 Stars

25+ File format

$8.00 / month
Part 4: FAQ about Compress an MP4 video File
1. Which video file is smaller?
The amount of horizontal lines the video has running from top to bottom defines resolution.Videos with higher resolution will have significantly larger files. As you might expect, a video with a resolution of 1920 x 1080 (1080p) will be larger in file size than one with a resolution of 1280 x 720.
2. What is the lowest video quality?
The smallest video resolution, 720p, is frequently referred to as "HD." The allowed resolution for small web content is 720p (1280 × 720 pixels), even though most videos use at least 1080p. Today, the best practice is to use a resolution higher than 720p for web and streaming because the majority of computer displays are in HD.
Conclusion:
We consider the following systems and applications to be the top MP4 video compressors available at the moment. We wish you success on one of the aforementioned platforms as you work toward your objective. Sincerely, we believe that Eassiy Video Converter Ultimate is fantastic and deserves your support. It provides the best opportunities and knowledge for recovering deleted data. What was your preferred platform, and why? In the space provided below, kindly share your thoughts.