Let's be honest. Discord does not allow you to upload files heavier than 8MB. So, when you share a large video file on Discord, anything larger than that will result in an error notice saying, "Your files are too powerful." You cannot share a video larger than 100MB on Discord, even if you purchase Discord Nitro (which costs $9.9USD per month). We can't always avoid sharing videos less than 100MB in size. The good news is that with a competent Discord video compressor, you can quickly reduce the video file size to 8MB or less.
In this post, we will give you the 12 best video compressors for discord on both windows and Mac OS. Also, there will be some free online video compressors with fascinating features. In addition, we'll provide you with an in-depth comparison between all these applications and help you choose the best option possible. So, let's dive into the main section.
Part 1: What is The Best Video Compressor for Discord?
There are several video compression solutions available, each with its own methodology for determining which data to discard. Lossless compression methods eliminate just redundant information, such as several identical frames, without affecting video quality. Meanwhile, lossy compression loses visible detail from the video file, which may result in pixelation or other visible degradations. You should look for four key factors that make a video compressor effective for any platform like discord.
File export types: The application should offer both "lossy" and "lossless" file format exports, allowing you to select whether or not to retain your data while compressing.
Batch compressing: It's essential if you have a large number of files to compress.
Compression speed: It is also vital to evaluate how fast your program can compress your files and how much memory it needs to do so.
User-friendly interface: Should be easy to follow the procedure.
Part 2: 12 Best Video Compressor for Discord to Compress Video to 8MB
1. Eassiy Video Converter Ultimate
Eassiy Video Converter Ultimate is a complete multimedia software suite that includes the majority of the market's utilities. These tools may assist you in compressing, creating, editing, enjoying, and sharing a variety of multimedia file formats such as video, audio, GIF, picture, MV, ID3, Subtitle, and so on. Eassiy Video Converter Ultimate is a must-have tool for video makers, movie and music fans, home video sharers, students and learners, and vloggers. Convert video/audio to 1000+ video/audio formats, including MP4, MOV, AVI, MKV, MPG, MP3, and more, for use on a variety of devices, including iOS, Android, Drones, VR devices, gaming consoles, and more. Also, batch compress numerous videos at once with a single click, making it simple and efficient to use. In addition, its advanced converting technology convert and compress 8K/5K/4K/HD videos without over-encoding/decoding in just a few minutes. Also, the multi-core processor optimization improves the compressing speed by 60X faster. This is why it's no surprise that this video converter tool will be at the top of the list when it comes to video compression for Discord or any other platform.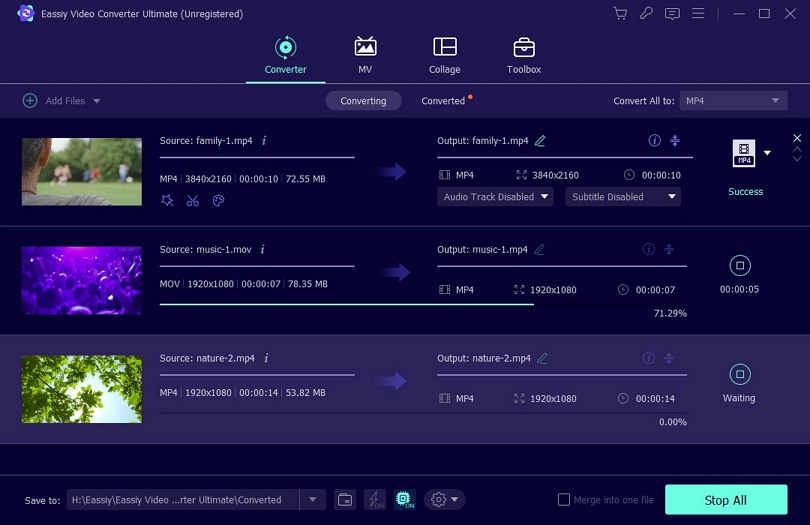 Features:
Eassiy provides 20+ multimedia tools for various video editing possibilities.
Supports videos to HD, 4k, and up to 8k for resizing or converting.
Compatible with 1000+ video/audio formats as well as batch conversion
Features GPU acceleration
Offers multi-core processor optimization for obtaining the highest performance rate.
Pros:
High-speed video compression.
Industry-leading supported video file formats.
Productive with batch conversion functionality.
Minimum to no quality loss in video resizing.
Cons:
The free version doesn't feature all the functionality.
The paid plans include tax.
2. HandBrake
HandBrake is a well-known video transcoder that can encode video files and resize them for various use. It's an open-source and free application that supports cross-platform. It works as a Discord video compressor and fits every windows OS. You can complete the video compression process in a matter of minutes. HandBrake has a variety of options for optimizing videos for your device and websites like Discord, YouTube, and Vimeo. Because of its batch scanning and queue encoding features, the program can manage many video conversions and has built-in device presets for quick compression. This video compressor software also includes video editing features, such as deinterlacing, denoising, and cropping. With Handbrake, you can utilize the universal format to compress high-quality videos. In a nutshell, this application compresses any typical multimedia file, whether it's DVD or BlueRay. However, there is no copyright protection on the video.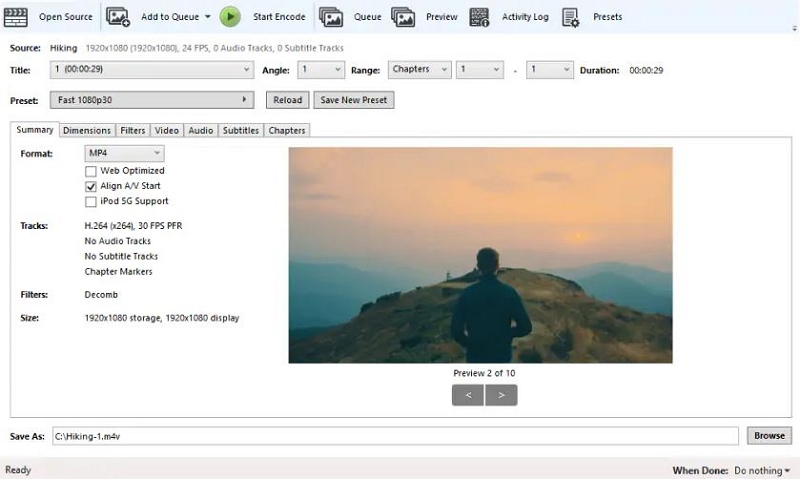 Pros:
Supports batch compressing large files.
Supportive with a variety of video file formats.
Features some comprehensive video-editing features.
It's a light-weight and open-source software.
Cons:
Not so user-friendly for newbies.
The UI design appears to be unapproachable.
3. VideoProc
VideoProc is a fully-featured video compression/convertion application that works well, especially when it comes to compressing 4K, HD, SD, 3D, and 360° VR films without sacrificing quality. It's a simple and quick way to convert and compress any video, even 4K and large-sized files. All of the functions have an easy-to-use interface and navigation. You can compress videos without crashing or freezing, even on sluggish PCs. Using Full hardware acceleration technology this web program provides up to 47x faster real-time video conversion/compression performance. In other words, you'll receive a full video compression experience that will allow you to share high-quality resized videos on Discord. Most significantly, it provides ample trial time before purchasing. Short videos can be converted and compressed for free, with no functional restrictions.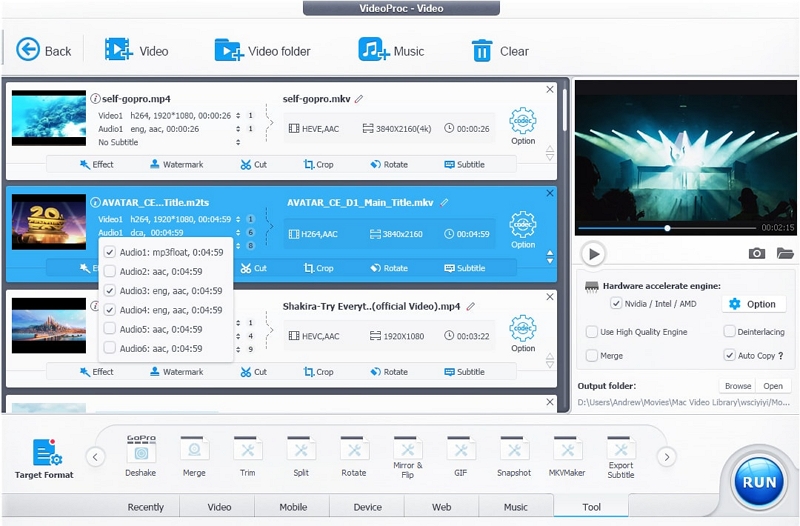 Pros:
Suports over 420+ file formats and profiles.
Easy to use, drag and drop user interface.
Minimal loss in video quality.
47x real-time video compression speed.
Cons:
Customer support channel limited to email only.
The trail version limits video file duration up to five minutes.
4. VLC Media Player
VLC Media Player is a cross-platform freeware, open-source media player, converter, and compressor. It does not require the installation of additional codecs because it supports practically all file types, including MP4, MOV, FLV, and WebM. This popular media player has multiple options for reducing video file size, such as cutting/trimming/cropping videos, lowering resolution/frame rate/bit rate, and so on. You can also quickly convert between compressed and uncompressed formats. It functions as a Discord video compressor that supports Blu-ray and DVD ripping, making any video resizing task simple. Furthermore, its hardware decoding capability leaves no trace on the CPU, making it lightweight and efficient. Video compression using VLC is completely free. However, it may be too tricky and sluggish for specific users, particularly those unfamiliar with VLC and with an old computer configuration.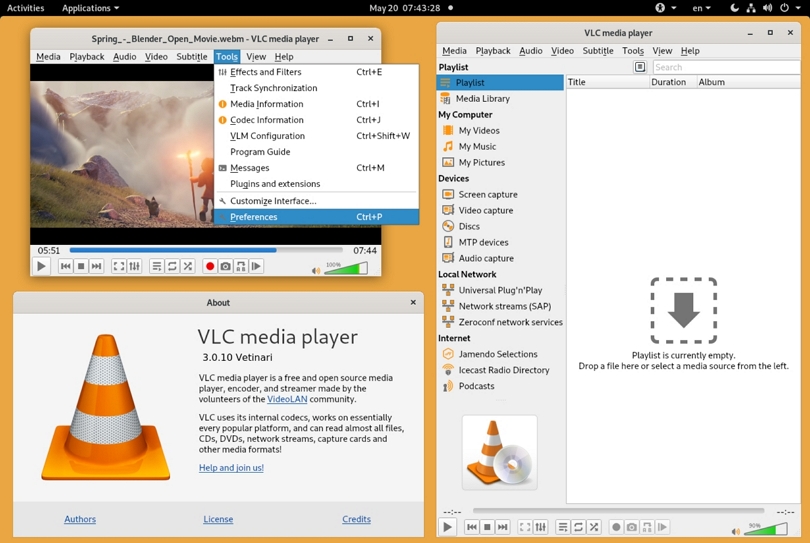 Pros:
VLC features an intraframe and interframe coding algorithm to compress video size up to 80%.
Provides unique level-3 GPU acceleration tech that makes video compressing 47X faster.
Compressed videos from VLC don't have noticeable quality loss.
Features a bunch of ways for video resizing.
Cons:
Doesn't feature any bitrate control mode.
Sometimes the end result shows undesired video pixilation.
5. Final Cut Pro X
Final Cut Pro X compressor is an Apple-designed video compressor for Mac users. It's powerful, has a plethora of editing options, and allows you to save compressed videos in high-resolution formats such as HDR, HEVC, and others. Its simplistic UI and clear controls make this software the ideal companion for bespoke encoding. You can encode video at higher speeds, even in breathtaking 8K resolution. using Final Cut Pro X on a new Mac studio with M1 Max and M1 Ultra. Editors with a 16-inch MacBook Pro can enjoy workstation-class speed and quicker transcoding between ProRes video formats than ever before. By integrating audio descriptions while encoding a range of video file formats including MOV, MP4, M4V, and MXF, this premium solution makes your work even more accessible and delicate for Discord sharing.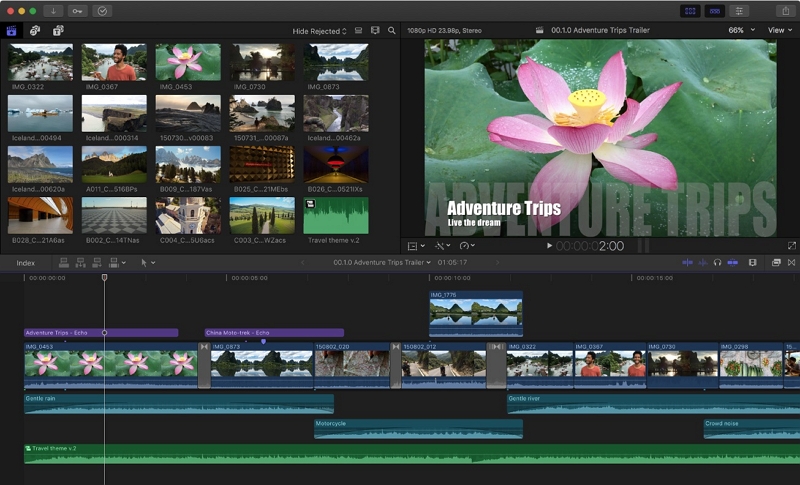 Pros:
The compressor works in tandem with Final Cut Pro to provide customized output settings and numerous distribution options.
The application Supports HDR, HEVC, 360° video, and MXF output.
Features a sleek interface that makes it simple to manage compression projects.
It employs optical flow processing to achieve a high-quality format and standard conversions.
Cons:
A bit expensive.
The free trial doesn't support key features.
6. Movavi Video Converter
Movavi is well-known for its lightning-fast conversion and compression on any Mac OS. It also has a good user interface for rapid navigation. You can even change the parameters to your liking in order to discover high-quality converted videos in the result.
It offers a very basic user interface that allows users to get right to work on their assignment, whatever that may be. You can compress an endless amount of files using it. Movavi appears with a variety of preset settings, video editing options, and compression powers, as well as compatibility with several output formats. Movavi requires you to be online in order to experience all of its features. Movavi provides a seven-day free trial. You can purchase the product with a lifetime license after finishing the free trial term.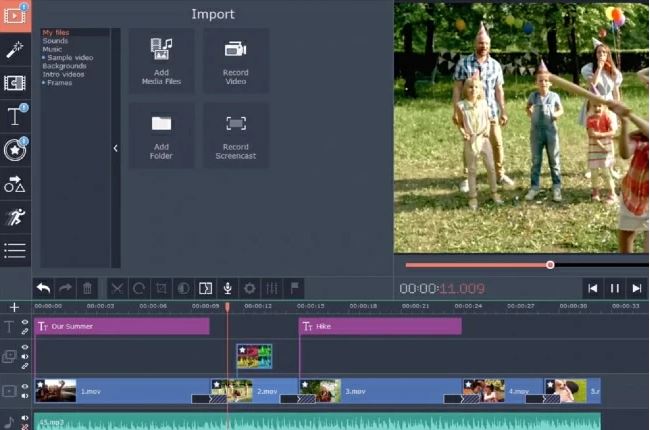 Pros:
More than 150 popular codecs, including AVI, MKV, MP4, MOV, and others, are supported.
Video compression, editing, and default settings are all speedy.
Support for 4K video compression.
Movavi can be used to capture screenshots and modify images and audio recordings.
Cons:
Its a paid tool
Compared to its competitors, it includes fewer editing features.
7. Wondershare Uniconverter for Mac
What about a video compressor for Mac that can easily reduce file sizes and has a user-friendly structure? Isn't it fantastic? Wondershare is already well-known in the realm of video editing, but its compression software is on par with its competitors. If you are a newbie, you may also try out their online version. UniConverter also has intriguing features such as batch processing, extra effects, trimming or combining videos, adding subtitles, and making several adjustments before the final output is expected. If you want to convert files up to 100MB (appropriate for Discord) to a shorter form, the free version is sufficient enough. However, to compress anything more than 100MB, you must purchase the commercial edition of Wondershare UniConverter. This application supports MP4, MOV, AVI, and many more video file formats.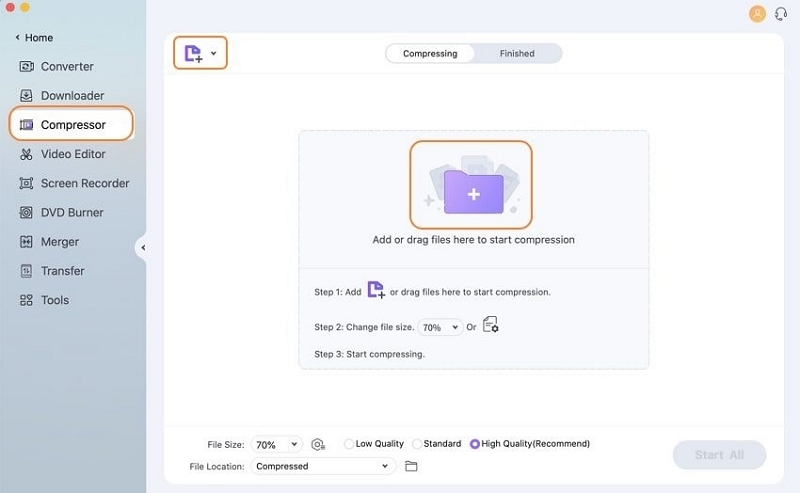 Pros:
Automatically or manually compress video size for Mac by modifying video settings.
Supports over 1000+ video file formats, including MP4, MOV, WMV, FLV, AVI, MPG, and more.
Video/audio compression and transcoding can be done in batches.
The toolbox includes extra features such as Screen Recorder, VR Converter, GIF Maker, Media Metadata Repair, and more.
Cons:
There is no video hosting site for uploading.
Some features appear to be Unfinished.
8. iMovie
The iMovie is a popular video editing application for Mac and iOS devices. The application allows you to quickly and easily reduce the size of your videos. This software is provided for free on all Mac computers, making it a freeware compression utility. The iMovie is more than just a free video compressor for Mac, it's also a video editing suite. Because of the user-friendly features, using this program does not require any expert techy knowledge. Apple iMovie offers outstanding tools for any media organization, colour grading, speed, green-screen effects, narration, and score in your digital movies, in addition to video compression. Furthermore, this free compressor tool shrinks your file size, outputs lossless quality, and stores it as a Quick Time File. On top of that, you can easily share your resized videos on Discord and other social media platforms.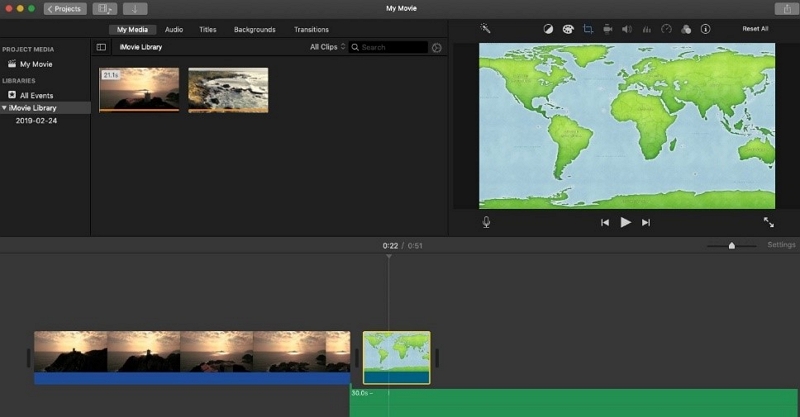 Pros:
Easy to connect iCloud, AirDrop, and other social. media networks.
There is minimal to no sacrifice in video quality.
Quickly reduce video size.
Support for standard video formats.
Available options for fine-tuning the final video.
ConsL
A bit slow on performance.
Subscription plans are not cost-effective.
9. VEED.IO Video Compressor
VEED is an online video compressor that allows you to minimize the size of your uploaded video. You may upload any size video and select the size at which you want the video compressed. VEED has one of the most user-friendly interfaces in the industry. You may change the size of your movie by using the compression ratio tool. Take huge video files and compress them to a smaller file size while maintaining visual quality. MP4, MPEG, HD video files, and all other video and movie file formats are supported. However, there are a limited number of free services that may be upgraded to a fundamental, pro, or enterprise level based on your demands. If you come to a halt or seek assistance, this service provides many help choices, including a chat function.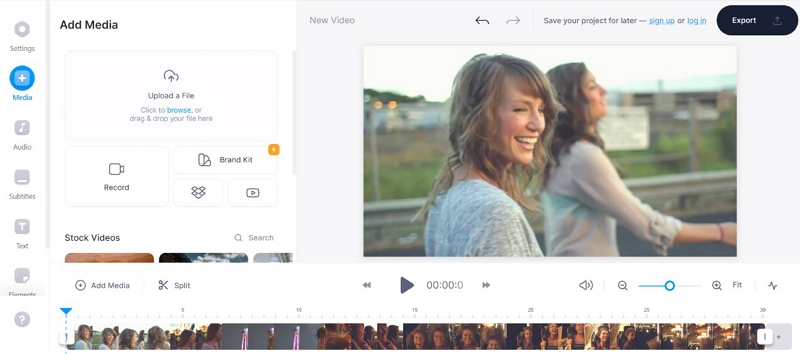 Pros:
Easy video file selection with drag and drop method.
Automatic compression option selection.
Compatible with all popular formats.
Compress videos with no noticeable loss in quality.
Cons:
Limited free service.
No mobile app version available.
10. Media.io
Media.io is an online tool for compressing Discord videos, but they also include audio editing capabilities, so you can do everything in one place. One of the main advantages of their video compressor is that they provide their clients with a broad range of sophisticated tools, like their video converter, audio converter, thumbnail builder, audio cutter, picture resizer, and more. Media.io provides an easy-to-use video scaling procedure: simply upload your video clip, tweak options (size, resolution, etc.), then compress and download. The best thing is that even if you are compressing your video clip, the quality will not be compromised. The free version compresses video files up to 500 MB. However, if your order is more than this, you will have to pay for their extra features.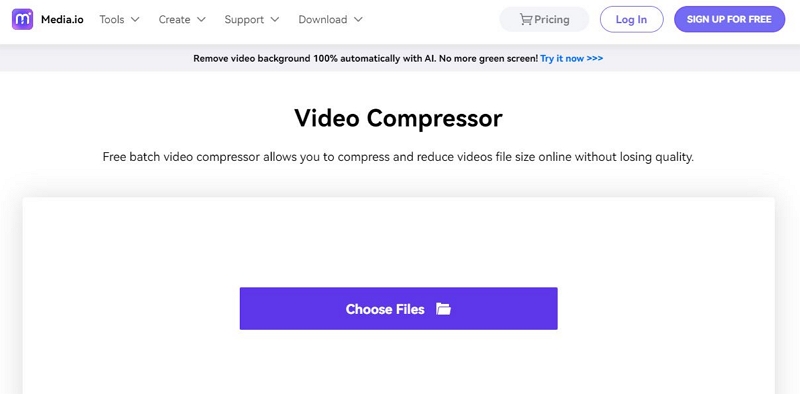 Pros:
Easy to follow procedure and convenient for sharing.
Features smart output settings.
Compatible with any resolution and video file formats.
The software doesn't attach any watermark.
Cons:
The free version has definite features.
The file size limit is 500MB for free users.
11. FlexClip Online Video Compressor
FlexClip's free online video compressor may help you decrease the size of your MP4 clip that is compatible with discord video sharing. It accepts MP4, MOV, M4A, WebM, and other commonly used file types as input. Along with Discord, you can use it to compress a video for WhatsApp, email, and more. It also includes a variety of video editing features, such as cropping, cutting, splitting, and more. In addition to basic editing options, this online editor can help you convert file types, capture computer displays, create a slideshow, and do other tasks. While in the editor, you may utilize FlexClip's features to make any further modifications to your video for social sites such as Discord. Furthermore, this utility does not apply any unwanted watermark to your compressed video files.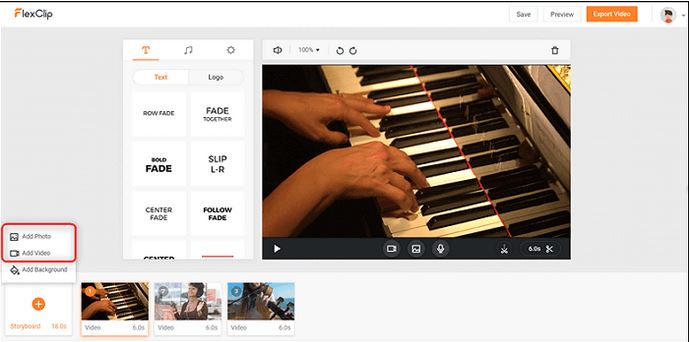 Pros:
Super easy to follow and intuitive.
It's a free tool, you don't have to download or install any additional applications.
This program comes with an all-in-one toolkit.
Supports popular video file formats, like MOV, MM4V, MP4, and so on.
Cons:
It takes significant time to load long videos.
Limited options on free version.
12. FreeConvert Video Compressor
FreeConvert is an excellent online video compressor that can also be used to compress your MP4 files without adding a watermark for free. Almost all common file formats are supported by FreeConvert. This utility, for example, can convert image file formats, video file formats, music file formats, document file formats, and others. It functions flawlessly as an online MP4 file compressor. Also, you can modify the compression ratio of the videos by changing the codec, compression type, and video size of the compressed video. FreeConvert uses H.264 and H.265, two prominent video encoding technologies supported by most contemporary devices and browsers. However, H.265 compression is superior to H.264 compression, especially at higher resolutions like 1080p or 4k. With this online tool, you can effectively resize any video file within the range of the Discord video-sharing policy.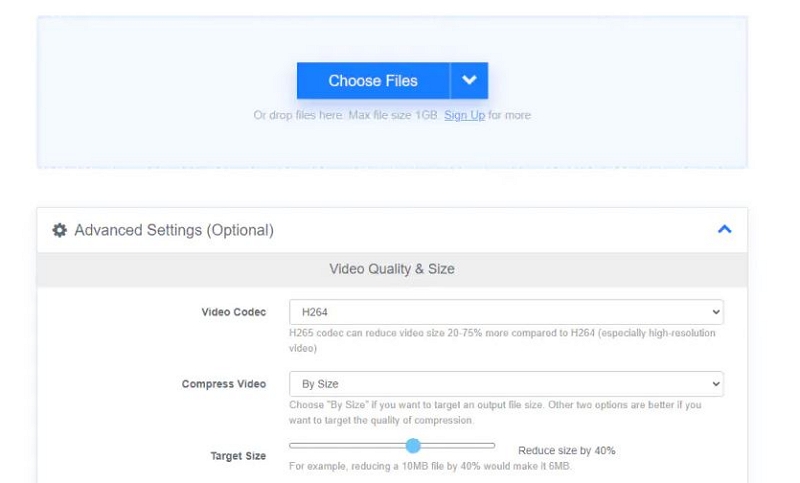 Pros:
FreeConvert has CRF (Constant Rate Factor) for keeping the constant perceived video quality.
Allows faster preset in terms of video compression speed.
You can set the max bitrate for controlling the bandwidth rate for uploading videos on any streaming application.
Supports all most used video file formats.
Cons:
The paid version is a bit expensive.
The free version is extremely limited in features.
Part 3: Comparison Table of Mp4 Compressor to Compress Video File Free
Software Name

Supported Video file formats

Batch Conversion

Lossless conversion

Price

Eassiy Video Converter Ultimate

1000+ video/audio formats

Supported

100% lossless conversion

$39.99 - $55.99 (Annual, perpetual)

HandBrake

Supported by Overall popular formats

Supported

Minimal loss in video quality

Open-source program (free)

VideoProc

Supported by Overall popular formats

Supported

No loss in video quality

$38.90 - $119.90
(Premium, lifetime, and family license)

VLC Media Player

Not all video formats supported by VLC

Not supported

Video fragmentation occurs

Open-source program (free)

Final Cut Pro

Wide range of industry-standard formats

Supported

Adjust's image quality parameters

$49.99

Movavi Video Edior

Wide range of industry-standard formats

Not supported

Minimal loss in video quality

$89.95 - $224.95 (yearly and lifetime subscription)

Wondershare UniConverter

1000+ video/audio/image/DVD formats

Supported

Minimal loss in video quality

$29.99 - $69.99 (Quarterly, annual, and perpetual plan)

iMovie

Wide range of industry-standard formats

Not supported/p>

No significant loss in quality

Free application for iOS and macOS

Veed.IO

Supported by Overall popular  formats

Not supported

No loss in video quality

$12 - $59 (basic, pro, and buisness subscription)

Media.io

1000+ video formats

Not supported

Reduces video size without losing quality

$47.4 - $79.99 (yearly plan)

FlexClip

Supported by Overall popular  formats

Not supported

No significant loss in quality

Free online program

FreeConvert

1500+ file formats

Not supported

"Target video quality option" keeps perceived video quality

$9.99 - $25.99 (Standard and monthley subscription)
Part 4: FAQ about Compress Video Discord
1. How can I compress a video on my phone for Discord?
To compress a video for Discord on a phone, use an online video compressor for Discord like Eassiy Video Converter Ultimate or Veed.io, or a mobile-based video compressor software.
2. Discord compresses videos?
Discord does not compress any of the videos we upload or distribute. It solely compresses images such as PNG and JPG.
3. How can I reduce a video for Discord while maintaining quality?
There are several offline and online solutions available in the multimedia market to help you with video compression, but you must choose one that provides high-quality compression.
Conclusion:
This article lists the top twelve Discord video compressors to help you compress your videos to less than 8MB. Without a doubt, they all perform effectively in some way, and you should select the one that most meets your demands. Although video quality may be lowered, most effective video compressors do a decent job of maintaining bit rate, as our top choice "Eassiy Video Converter Ultimate" demonstrates to be the leading option for both online and offline users. The reason for this is their user-friendly interface, simple processing, fast compression, superior output outcomes, and extensive functionality. So, give this application a go if you're looking for the best Discord video-sharing solution.