Are you aware that the MP4 videos you routinely shoot with your camera frequently exceed 1GB when they are captured in high resolution? On a number of social media networks, there are typically limitations on the length of MP4 videos. As a result, if your MP4 video exceeds the platform's maximum allowed size, you must use the best video compressor to shorten it in order to meet the specifications of a certain social network.
Additionally, you can use a variety of online MP4 video compressors and specific Windows 10/8/7 apps for MP4 video compression. Therefore, you don't need to spend a lot of money on pricy professional video editing programs if you need a quick way to compress your MP4 videos. On any operating system, tasks can also be accomplished for free online. In this article, we'll demonstrate how to select the top free MP4 video compressor. We have compiled a list of such MP4 video compression programs that can actually assist you in reducing the file size of your videos.
Part 1: Which Video Compressor is Best to Compress MP4 Video Windows?
MP4 video compressors are computer programs that are used to lower the amount of bits required to display a video without sacrificing quality. The primary purposes of the best compressor are:
Storage: You'll save up a lot of space on your smartphone because MP4 video compressors shrink the size of your video files. You should therefore verify whether the video compressors can genuinely reduce the size of your files before using them.
Quality: Although MP4 video compressors reduce the size of the video file, the quality of the video may not be significantly affected. However, depending on the needed level of compression, a number of technologies offer choices to alter the video quality. Therefore, you must ascertain whether the tool can preserve the MP4 video's quality.
Quick transfer: As compared to huge files, smaller MP4 video clips can be transferred more quickly via a variety of sharing platforms. Examine the program you are considering to see if it can genuinely transport data quickly.
Video format: You may convert MP4 videos between formats without losing quality by using the best video compressors. It's another approach to see if your compressor can modify the format of the MP4 video.
Quick loading: 50Mb movies are not allowed on websites because doing so would slow page loads and harm SEO. Websites with little movies load more rapidly because effective MP4 video compressors are employed. Check the compressor's ability to reduce MP4 video size.
The first thing to keep in mind before choosing an MP4 video compressor is to stay away from programs with overly complex or unnecessary user interfaces. The compressor should allow you to select the resulting movie's size and resolution in addition to a variety of output formats. Select a device that has an acceptable compression rate. Check the other functions of your tool one last time. A tool with the common capability of compression as well as abilities for converting, downloading, or editing will be useful. However, a fantastic MP4 video compressor's premium version must be chosen because the free version may not always have these wonderful capabilities.
Part 2: Top 12 Video Compressor Tool to Compress MP4 Windows 10/8/7
1. Eassiy Video Converter Ultimate
Eassiy Video Converter Ultimate is a more effective and complete multimedia toolkit. The bulk of tools are accessible in the all-inclusive multimedia program Eassiy Video Converter Ultimate. A number of multimedia file types, including video, audio, GIFs, photographs, MVs, ID3 subtitles, and more, can be created, edited, viewed, and shared using these capabilities.
Everyone should acquire Eassiy Video Converter Ultimate, whether they are a vlogger, a student, enjoy movies and music, share movies at home, or all of the above. Eassiy Video Converter Ultimate can convert, edit, compress, generate MVs, create collages, and much more with its 20+ multi-media capabilities. It tops the industry in supported formats with batch conversion and 1000+ video/audio formats. Eassiy's built-in editors are great for increasing your video creation because they provide features like merging, trimming, cropping, adding effects, subtitles, and watermarks, decreasing video shaking, removing video noise, and more.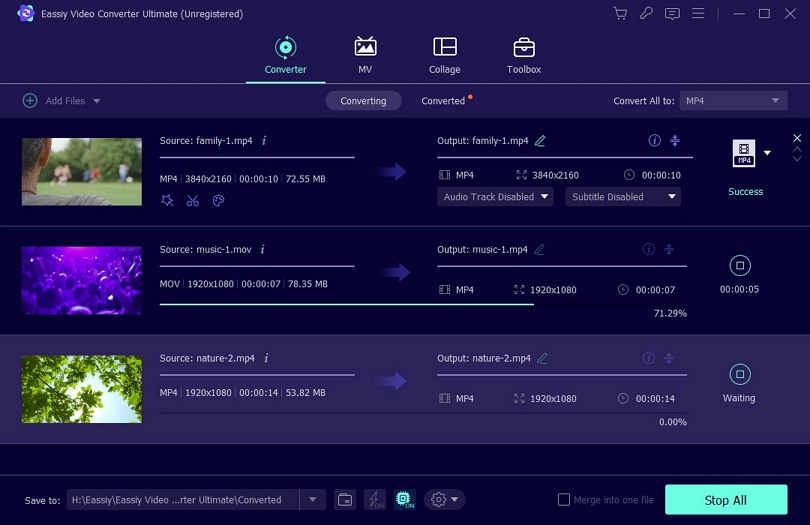 Key features:
Support for 1000+ video/audio formats and industry-leading batch conversion
Lossless Conversion Technology that is 60x faster
No-quality-loss conversion of up to 8K video
Offers more than 20 multimedia tools for editing, compressing, creating MVs, making collages, and other tasks.
AI technology boosts multi-core processors to increase conversion rates.
Pros:
Can convert HD/4K/5K/8K footage, including H264 (AVC) and H265 (HEVC), from drones, GoPro cameras, HD cameras, camcorders, and more to any format for playback.
Compression of HD video for Facebook, TikTok, and other sharing website.
Integrated Editors to Improve Your High-speed conversion and GPU acceleration are both available.
Cons:
Advanced version offers more features.
2. VideoProc
VideoProc is a complete piece of video software that performs well when you need to compress 4K, HD, SD, 3D, and 360° VR videos without sacrificing quality. You can transcode a video to gain access to a variety of quick alternatives for video resizing. You can compress your videos without worrying about them crashing or stopping even on sluggish PCs. The most crucial part is that it allows you enough opportunity to try it out before you buy. So VideoProc is definitely a useful tool to compress MP4 Windows 10.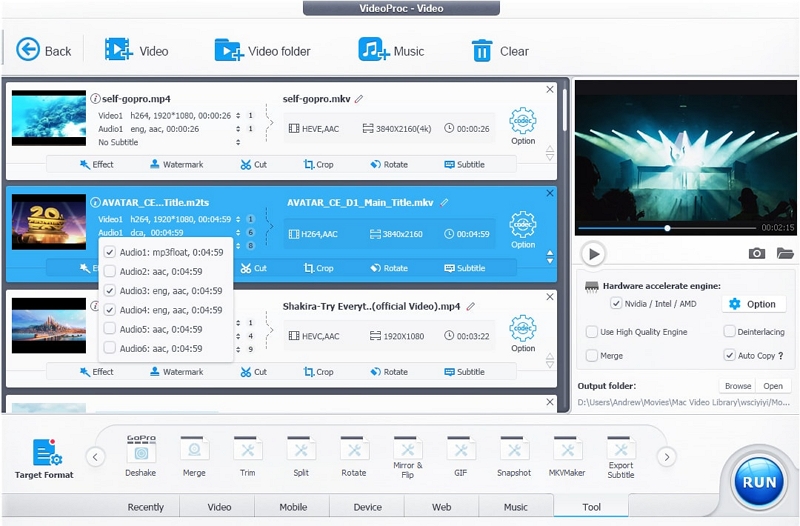 Pros:
Utilizes full hardware acceleration technology to deliver up to 47 times quicker real-time video conversion and compression speed.
Supports more than 420 output profiles and formats batch resize and convert
Changes the speed, rotates, trims, combines, resizes, adds an effect, etc.
Subtitle extractor, video/music downloader, and screen recorder.
Cons:
Five-minute audio or video files are the maximum length for the free version.
Downloads can occasionally be sluggish.
3. WinX HD Video Converter Deluxe
WinX HD Video Converter Deluxe can handle any sizable 4K/1080p high-frame videos, regardless of their origin—a smartphone, a drone, a camcorder, or any other device. It can compress 4K movies to 1080P/720P by altering video parameters like resolution, frame rate, bit rate, etc. and transforming the video to the 50% smaller HEVC codec. Its built-in video editor may also trim and delete pointless video bits to minimize the videos file size.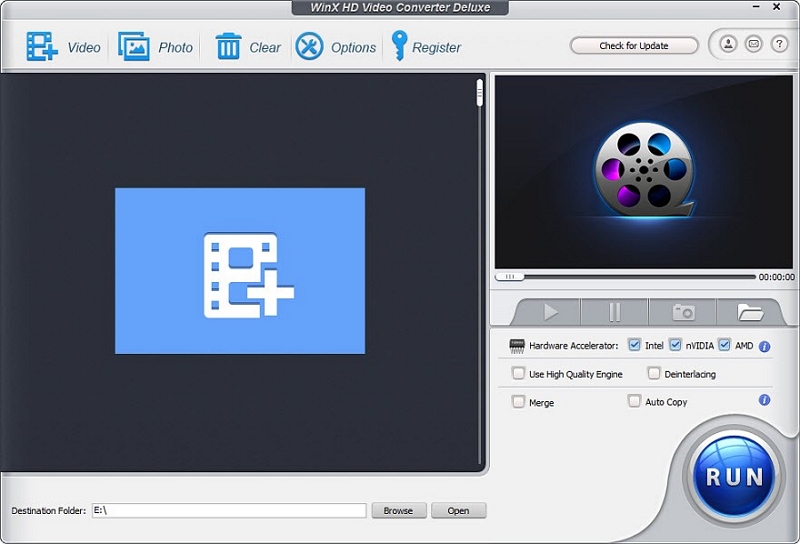 Pros:
Reduce the size of a video file by up to 90% without sacrificing quality.
Change the codec and format of any video.
Download videos from 1,000+ websites, including YouTube.
Edit video content with a few mouse clicks.
Cons:
limited to simple trims and crops
lacking certain features that allow you to customize your videos
4. Videosolo
Videosolo's fantastic, captivating design enables users to effectively compress their movies in more than 300 different formats. It includes a variety of exciting features and is compatible with almost all electronic devices, whether they are mobile or web-based. Users can batch compress a large number of audio and video files using its batch.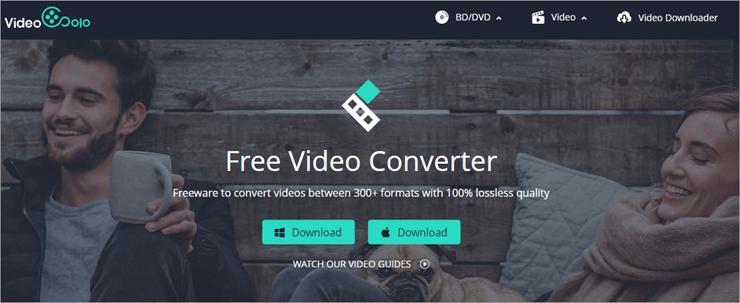 Pros:
Batch conversion allows you to convert many videos and audio files at once, saving you time and effort.
User friendly; even novice users the utmost convenience when navigating the UI.
Conversion with GPU hardware acceleration is supported by this leading video converter, making conversion 6X faster than usual.
Excellent and comprehensive converter that provides access to over 200 supported video files.
Cons:
Windows-only Video Toolbox.
5. Aiseesoft Video Converter Ultimate
Aiseesoft Video Converter Ultimate is a feature-rich utility with both basic and advanced tools for compressing, transcoding, and editing video. There are several encoding formats available, including VP8, VP9, MP3, and others. Conversion to HD, 4K, 5K, and 8K is supported, as is batch conversion.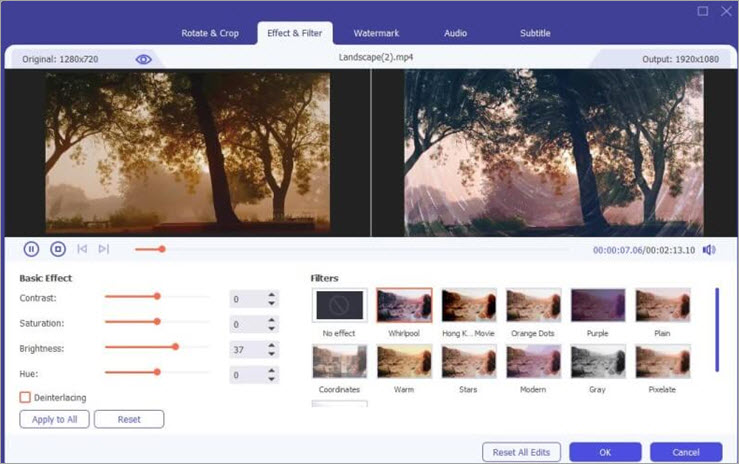 Pros:
The solution includes numerous filters similar to Orange Dots, the Hong Kong movie, and others.
It enables fundamental effects including hue, brightness, saturation, and contrast.
It has the ability to add and modify audio tracks and subtitles.
It has numerous additional features, including the ability to add watermarks, split-screen videos, and 3D effects.
Cons:
No built-in functionality exists to facilitate burning converted films to DVDs.
The annual license is somewhat costly when compared to other programs of a similar nature.
6. Movavi Video Converter
Movavi Video Converter is another choice for Windows 10/8/7. The program converts media files into more than 180 formats, compresses videos without compromising quality, and has an editor. Movavi Video Converter is easy to use even for beginners, and the trial version is free.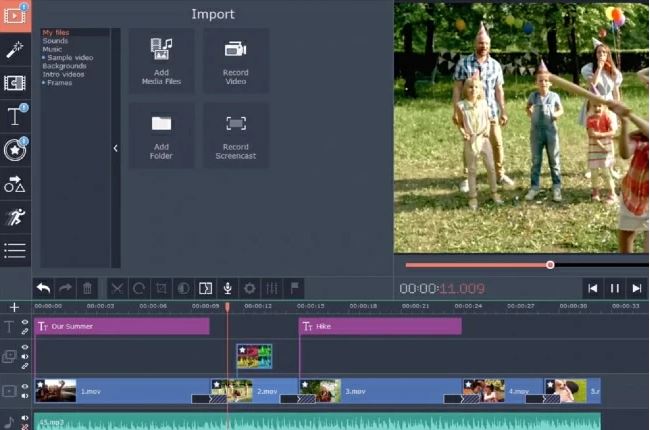 Pros:
Nice user-friendly, quick processing
This program instantly recognizes gadgets and detects them automatically.
Many additional capabilities, including support for 180+ formats and subtitle search
Can change the video's orientation and add a watermark.
Cons:
Only a seven-day free trial is available.
Watermarks are included in the trial version to your converted clips.
7. HandBrake
An open-source, free video compression program called HandBrake has a ton of capabilities, such as batch processing and DVD ripping. It has a user-friendly interface and supports file conversions between a wide varieties of formats.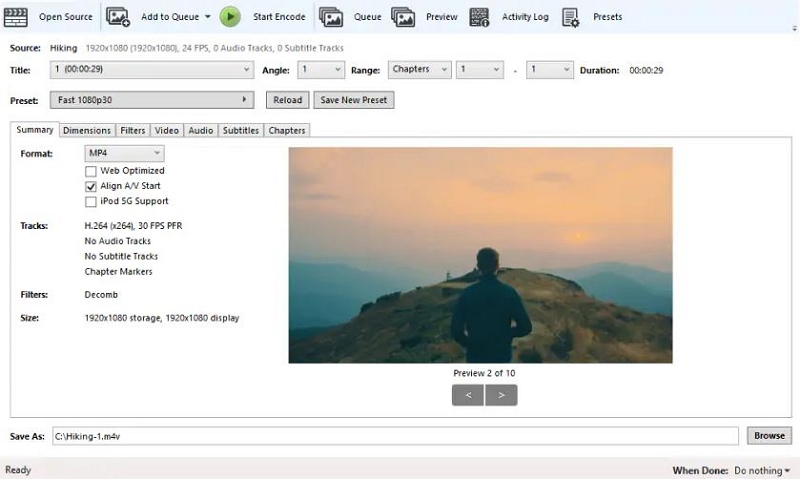 Pros:
Conversion in batches is supported.
It supports a variety of video formats.
An intuitive user interface makes getting started simple.
It has lots of cutting-edge features.
Cons:
For beginners, all the advanced features could be too much.
8. Leawo Video Converter Ultimate
You can convert videos, DVDs, burn videos to DVDs, backup DVD movies, download online videos, etc. using Leawo Video Converter Ultimate. You can also use it to convert videos, make photo slideshows, and watch online videos.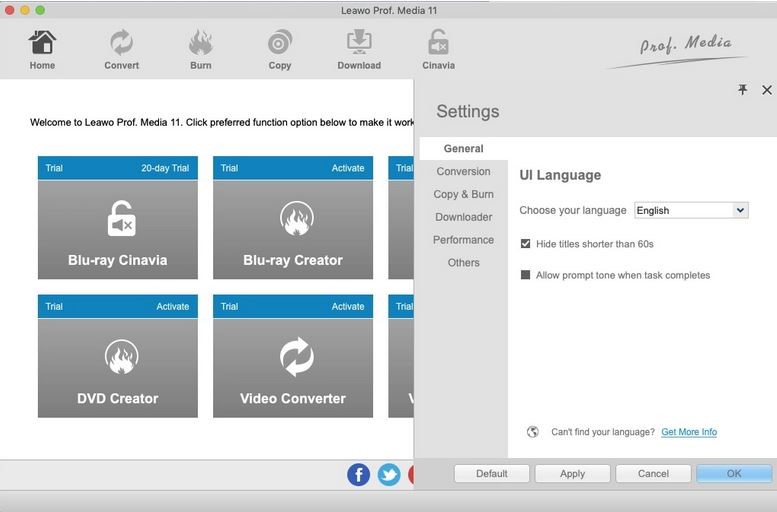 Pros:
More than 180 different video and DVD formats can be converted.
It enables quality-preserving backup of DVDs to a computer or blank disc.
Enables you to create ISO images, DVDs, or folders from videos.
Six different 3D effects can be used to create 3D movies from 2D video/DVD sources.
Cons:
You must purchase additional Leawo suite modules in order to access more capabilities like online video downloads and DVD-burning tools.
9. Gilisoft Video Converter
You can compress or convert videos with the help of Gilisoft Video Converter without affecting their quality. With the aid of this tool, you may simply improve your video footage.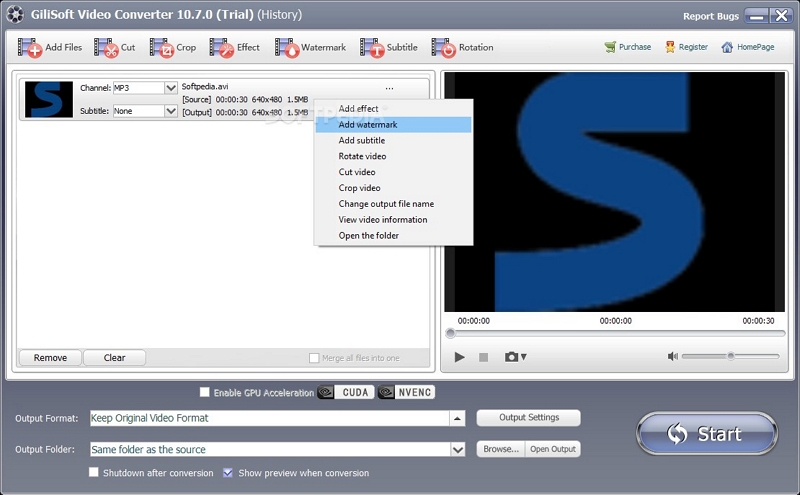 Pros:
More than 160 video formats, including AVI, FLV, MP4, and others, are supported.
Makes it possible to rotate, edit, or combine videos.
Your videos can have subtitles.
You can do so to give video clips special effects.
Cons:
Complex method of operation.
Not designed for long edits.
10. Wondershare UniConverter
Users of Wondershare UniConverter have access to a simple tool for file compression that works well. There are no extraneous structures in the compression, and the interface is extremely simple. The principle of video compression is upheld while maintaining the quality of the images.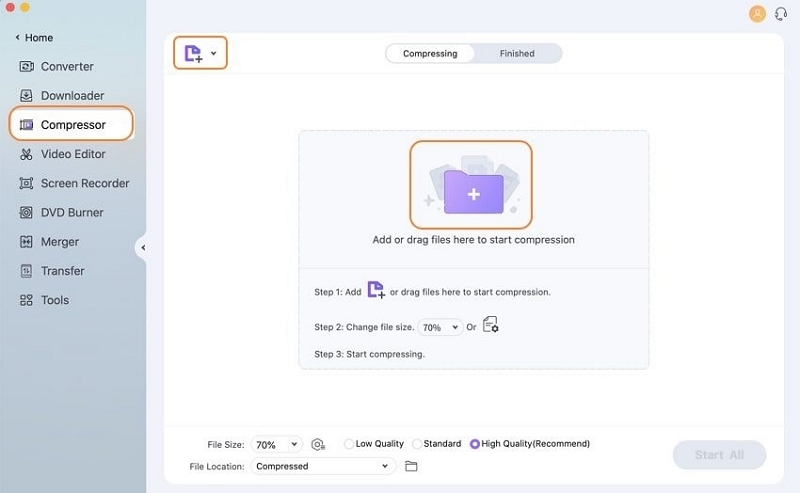 Pros:
Provides simple video editing tools to improve videos.
Supports 150+ output formats
1,000+ video/audio formats for video conversion.
Addition of Common Format Encoders
Cons:
Free test period with few features.
A video can be reduced to a third of its original length.
11. Freemake Video Converter
Freemake Video Converter is one of the best free video compressors for computers. A wide range of supported formats, including MP4, MPG, AVI, WMV, ROM, and many others, are available for you to choose from. It is user-friendly and easy.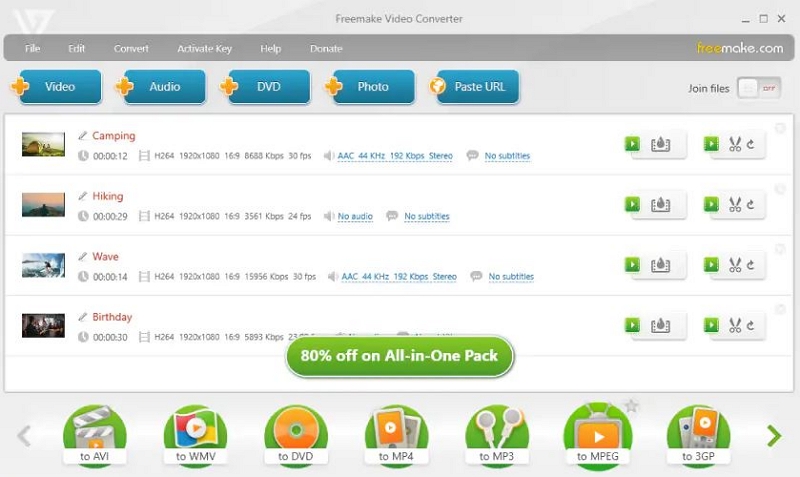 Pros:
Directly upload videos to YouTube.
Setup profiles for tablets, smartphones, and gaming consoles
Adding and modifying subtitles.
Rotate, cut, and join MP4 or other video clips.
Cons:
Three days will pass before the Web Pack unlocks all of its advanced capabilities.
12. FFMPEG
FFMPEG is a free and open-source video compressor and converter. It supports a wide range of video formats and runs on Windows 10/8/7. These consist of MP4, AVI, MOV, and numerous others. It can compress, convert, record, and transmit audio and video.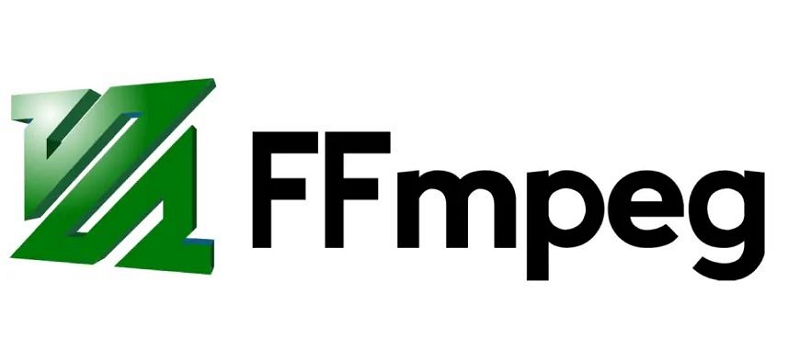 Pros:
Built-in editor for cropping, combining, and other features
It offers an intuitive user interface that is simple to use.
It is cross-platform, open-source, and free.
It can play a wide variety of video formats.
Cons:
Quality reduction during converting could be apparent.
For newcomers, the learning curve is high.
Part 3: Comparison Table of Windows Compress Video Tools
Name

Best for

Free Trial

Ratings

Supported files

Pricing

Eassiy Video Converter Ultimate

Most Effective all-inclusive multimedia program

Free trial with limited features.

5 Starts

1000+ File Format

Annual Plan for
US$39.95

VideoProc (Windows)

Capabilities for converting, compressing, and editing videos

Free Trial

4 Starts

420+ formats

Lifetime license for $78.90

WinX HD Video Converter Deluxe (Windows)

Reducing file size by up to 90% with quality unaffected visually.

Free trail with limited features.

5 Starts

420+ File Format

Lifetime license for 1 pc is $39.95

Videosolo (Windows)

Free and simple Video Compression

Available

4.5 Starts

200 supported video files

1 year plan for $69.95

Aiseesoft Video Converter Ultimate (Windows)

Video compressing, converting, and editing capabilities.

Available

4.5 Starts

39+ File format

Lifetime license for $62.45

Movavi Video Converter (Windows)

Fast and Unlimited Video Conversion and Compression

7 Days free trial

3.5 Starts

180+ formats

$59.95-1 year subscription

HandBrake (Windows)

Free and Fast Video compression and conversion.

None

4 Starts

22+ File format

Free

Leawo Video Converter Ultimate (Windows)

Efficient Online and Offline Video Conversion/Compression

Available

4 Starts

180+ Different files

1 Year Update License $94.80

Gilisoft Video Converter (Windows)

Quick and limitless video compression

Free trail with limited features

4 Starts

160+ Video Format

$49.95

Wondershare UniConverter (Windows)

Efficient Online and Offline Video Conversion/Compression

Free trial with limited features.

5 Starts

150+ output formats

Annual plan
$39.99

Freemake Video Converter (Windows)

Adding and modifying subtitles

Available

4 Starts

19+ file format

$54.95 for 1-year subscription

FFMFG (Windows)

open-source video compressor and converter

None

5 Starts

Multiple file format

$17.99 Single License
Part 4: FAQ about Compress Video Windows 10 Software
1. What is the best video compressor without losing quality?
The best video compressor that lets you make a video smaller without visible quality loss Eassiy Video Coberter Ultimate. With features like using the advanced encoding technique and the max-quality compression engine, it can reduce video file size while maximizing the output quality.
2. How can I compress a 2GB video for free?
Use Eassiy Video Converter Ultimate for the greatest free internet video compression. Numerous video file types, including MP4, MOV, AVI, WebM, and others, are supported by Eassiy. Eassiy allows you to compress any size video file without cost, registration, or software installation, whether it is a 3GB or 200MB file.
Conclusion:
These are the platforms and programs that we believe to be the best video compressors on the market for your windows 10/8/7 right now. We hope that one of the aforementioned platforms will help you achieve your goal. Sincerely, we think that the fantastic Eassiy Video Converter Ultimate merits your help. It offers the finest chances and practical knowledge for recovering deleted data. What platform did you prefer, and why? Please leave your opinions in the space provided below.