Both AVI and MP4 are widely used video formats, and there are a number of reasons why someone might want to convert AVI to MP4. So, the question "How to convert AVI to MP4" is one that is frequently asked today. Fortunately, we are aware of 8 effective instruments that are fully capable of responding to the query.
There are several situations where video transcoding is unavoidable. Video converters are an essential tool in your toolbox for managing your video files effectively on any device, including considerations like compatibility and storage management. We will be introducing 8 working methods on how to convert AVI to MP4 on Windows 10/Mac/Online comfortably.
Part 1: Can You Convert AVI to MP4 on Windows 10?
The sheer thought of video transcoding could be intimidating to a new user. Such apprehension, however, is only common among people who are unaware of the advancements in technology that have been made recently in the field of video processing. We have a wide range of tools that make the process of converting videos from one format to another highly intuitive, quick, and above all very simple. This is to accommodate the several reasons conversion is required. Some solutions allow you to convert films in a matter of minutes by simply following a two- or three-step process.
Additionally, modern video converters have the essential propensity to take videos in any format and transform them into any output you require. We will delve further into the AVI to MP4 conversion procedure in this tutorial. We will examine 8 of the finest video converters and bring you through the converting procedure for each program separately.
Part 2: How to Convert AVI to MP4 on Windows 10/Mac?
Please stick with us if you want to learn how to convert AVI to MP4. We'll talk about 8 ridiculously nice ways to convert zoom recordings to MP4 videos.
Method 1: Best Way to Convert AVI to MP4 on Windows 10/Mac [Highly Working]
On Windows/Mac, there are various AVI to MP4 converters. Eassiy Video Converter Ultimate is the ideal option if you're looking for a strong program that can handle all of your conversion needs. The professional software is developed specifically for converting purposes with a variety of additional advanced settings, and it is accessible for both Mac and Windows systems.
With the majority of tools available, Eassiy Video Converter Ultimate is a complete multimedia program. These tools can assist you in producing, editing, enjoying, and sharing a variety of multimedia file types, including video, audio, GIF, photos, MV, ID3, subtitles, and more. The Eassiy video converter uses cutting-edge converting technology to convert 8K/5K/4K/HD videos in only a few minutes without over-encoding or decoding. It features over 20 multimedia tools that may be used to edit, compress, produce MVs, create collages, and more.
Key Features:
Twenty or more multimedia tools are available to convert, edit, compress, create MVs, create collages, and do much more.
The Simple HD video converter uses cutting-edge conversion technology to convert 8K/5K/4K/HD videos quickly and without having to over-encode or under-decode them.
A multi-core processor optimized
Integrated Editors to Improve Your Video Production
HD video compression for sharing on Facebook, YouTube, TikTok, etc.
Step 1: Launch Eassiy Video Converter Ultimate and Upload AVI Video.
On your computer, download, install, and start Eassiy Video Converter Ultimate. Go over to the Conversion section. From the system, drag and drop the desired AVI file(s) onto the software interface. By selecting the Add Files icon located in the top left corner, you can also add files.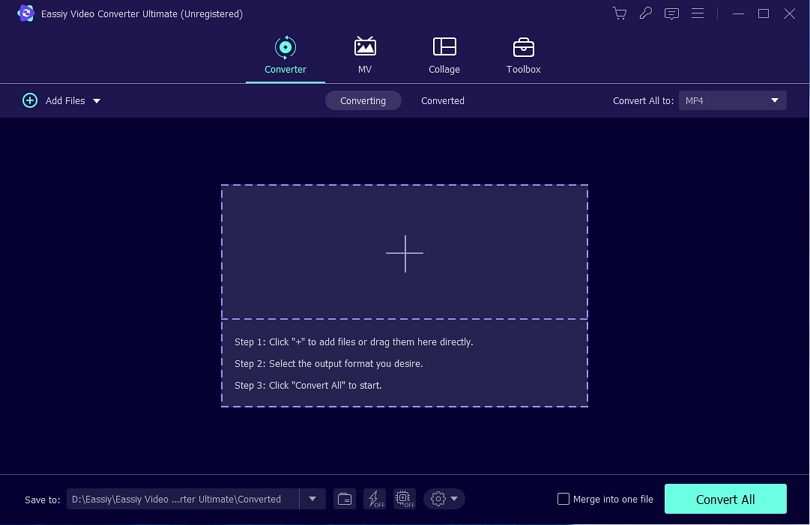 Step 2: Choose MP4 as the output format for AVI.
To access the format panel, click the drop-down arrow next to the Output Format option. From there, choose the MP4 and resolution options under the Video tab as the desired output format.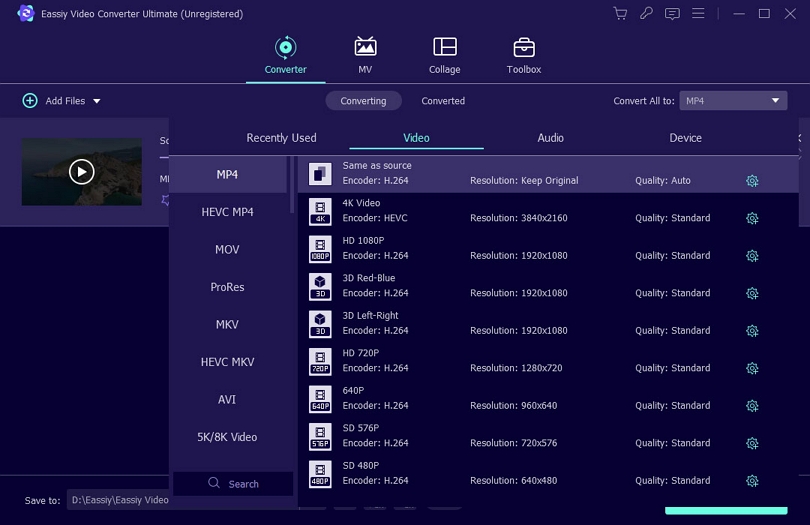 Step 3: Convert AVI file to MP4.
Lastly, to convert .avi to.mp4 on your computer, click the "Convert All" option. By clicking the Completed button, you may select the file location.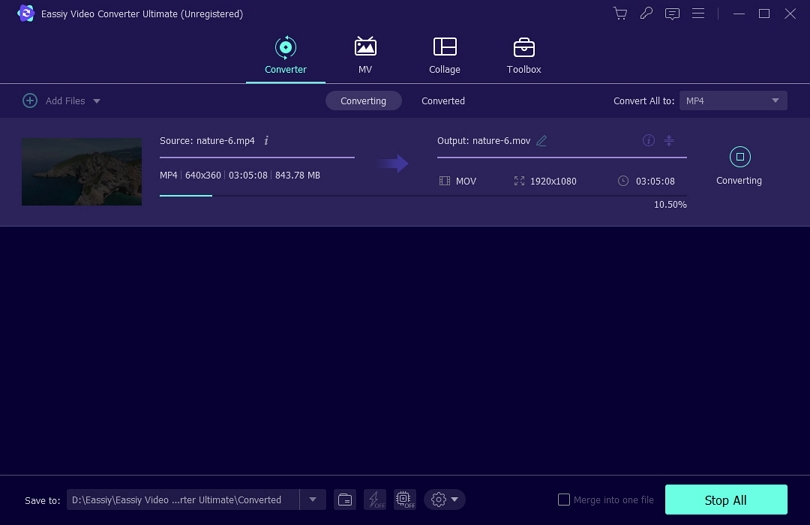 After some time, your AVI files will be converted to MP4 format. You can use the identical procedures above on the Windows version because the interface and features are the same on both the Mac and Windows versions.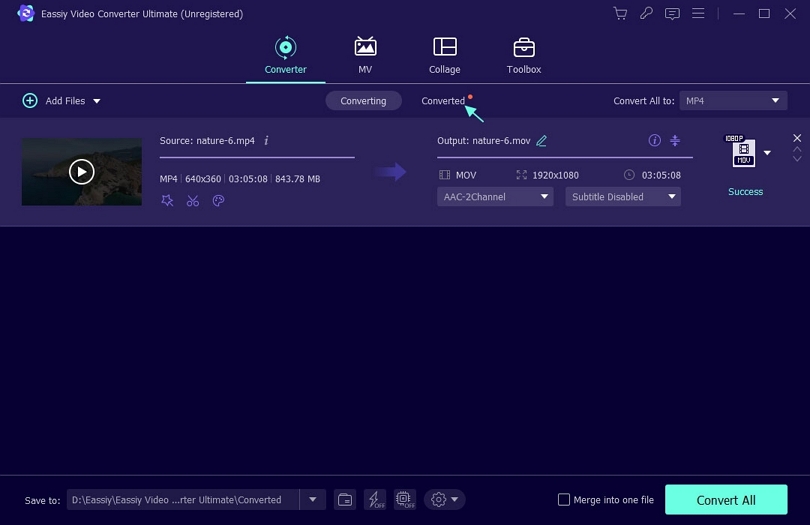 Method 2: How to Convert AVI to MP4 Windows 10 by VLC Media Player?
VLC is a free and open-source video conversion software program. The benefit of using its editing features without spending any money is available to you. When converting AVI to MP4, its user-friendly interface will undoubtedly be to your favour. It is a straightforward and highly effective AVI to MP4 converter.
Step 1: After installing the VLC program on your computer, you may begin the actual conversion of your files.
Step 2: Select "media" from the menu bar, then "convert/save" after that.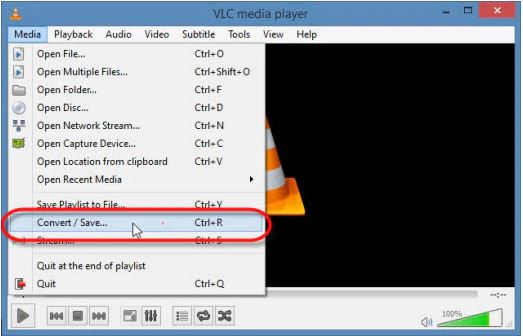 Step 3: Use the "add" option to add the videos that you want to convert in the next step. Select whether to add a single file or several.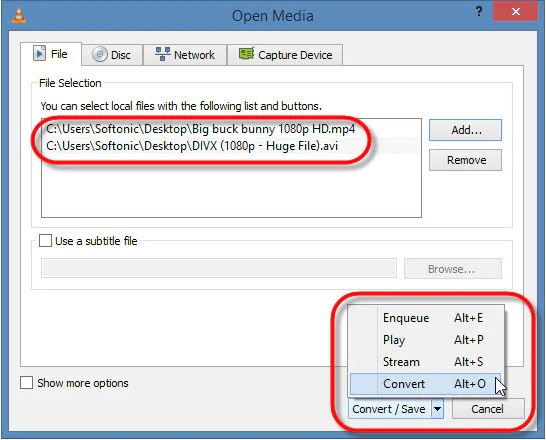 Step 4: Give the files appropriate names before choosing a folder to keep them in.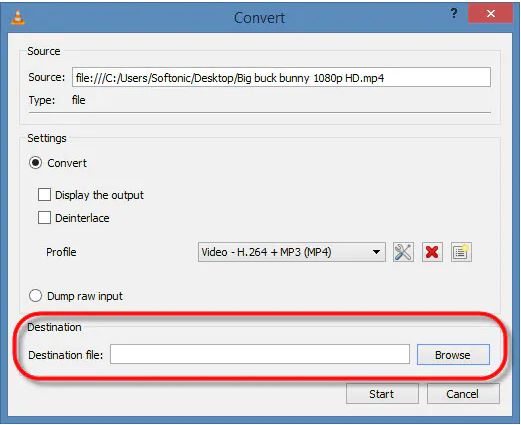 Step 5: After selecting MP4 as the output format, click "start" to begin the conversion process.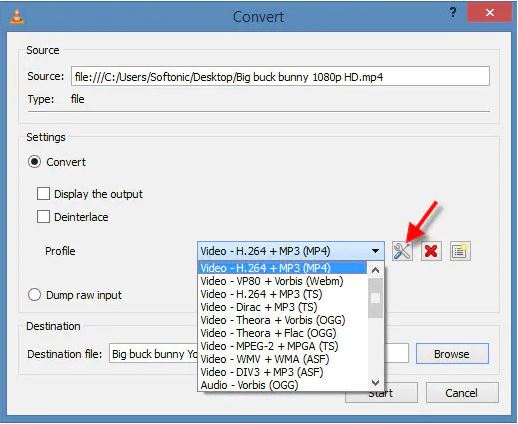 Method 3: How to Convert AVI File to MP4 Online Using CloudConvert
CloudConvert is your universal app for file conversions. It support nearly all audio, video, document, ebook, archive, image, spreadsheet, and presentation formats. Plus, you can use its online tool to convert AVI format to MP4 format.
Step 1: On your Windows, Mac, or Linux computer, open a web browser and go to CloudConvert AVI to MP4 Converter.
Step 2: Select the AVI file you wish to convert to an MP4 format by clicking the Select File button.
Step 3: Select Download. Then watch for the conversion and upload of the AVI file. When compared to desktop programs, online technologies always take substantially longer to complete this stage. Once finished, select download to save the MP4 file to your computer's hard drive.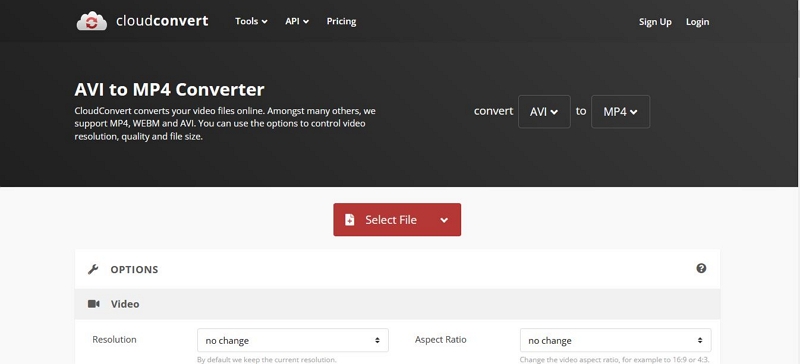 Part 3: FAQ to Convert AVI to MP4
1. Is MP4 more compact than AVI?
DivX codec, known for compressing videos into small quantities with excellent visual quality, is closely related to AVI. A lossy format based on MOV called MP4 uses the MPEG4 AVC codec. Because of this, people think AVI is superior to MP4.
2. Is AVI superior to MP4?
The container formats AVI and MP4 both support several video and audio formats as well as various compression techniques. AVI and MP4 each have advantages and drawbacks. The uncompressed nature of AVI ensures that the original quality of any video stored in it is maintained. This also means that an AVI file has an extremely big file size. Another drawback is that AVI doesn't support streaming or menus. AVI is a good format for storing and editing video, but it's not a viable option for delivering video over the Internet or through physical media.
Contrary to AVI, MP4 offers streaming, different data kinds, compression, and subtitles. It reduces file size without drastically lowering quality. It is frequently selected as the finest format for streaming and recording.
Conclusion:
On Windows 10/Mac PC, converting from AVI to MP4 only requires a few clicks. There are many ways that you can find online which might help you to convert AVI to MP4 on Windows 10/Mac/online, but not all of them are effective. Most of them has various limitations and some of them might not give you the result of your expectation. So we heartily suggest Eassiy Video Converter Ultimate among such AVI to MP4 converters. It allows you to merge and combine all of your converted files into a single one in addition to assisting you in changing your video and audio formats. This one of a kind toolbox will give you complete control over video and audio to make it look more professional and attractive. So choose your converter wisely.