MP4 is a video compression format developed by the MPEG (Moving Picture Experts Group) that employs MPEG-4 compression to hold video, audio, subtitles, and pictures. MPG is also a MPEG standard that uses a digital video format to store video, audio, and metadata while compressing video and audio with MPEG-1 or MPEG-2. In terms of popularity, MP4 files are far more widespread and more universal video format than MPG. The MP4 format also enables high-quality video and music, holds more data, is compatible with nearly all systems, and is ideal for streaming and sharing. In other words, to experience all of the benefits of the MP4 format, you have to convert your mpg file to mp4.
In this article, we'll discuss eight easy and effective ways to convert any MPG file to MP4 for both online and PC platforms. We'll go through each method step by step to find out the best possible solution you'll find on the web.
Part 1: Is MPG The Same as MP4?
MPG and MP4 are two different file formats that support digital video recording. The first is a standard created by the Motion Picture Experts Group (MPEG), an international committee to develop standards for data compression and coding for audio/video. The second is a proprietary format developed by Apple, Inc. to store video on its iOS devices. It's possible to convert MPG files into MP4 files using some software applications. These programs can be online-based, or you can download them on your PC. However, it's more efficient to use a conversion tool designed specifically for converting between these two formats.
Part 2: Top 3 Ways for How to Convert MPG to MP4 on Windows/Mac?
The MPG file format can only be opened with certain players, which is somewhat inconvenient. To put it another way, they are not necessarily compatible with other digital sites. So, converting your MPG files to MP4 is an overall better option, as MP4 is the most widely used video format on the web. Here are four easy ways to convert MPG to MP4 on your Computer.
Way 1: Ultimate Way to Convert MPG to MP4 on Windows/Mac
Eassiy Video Converter Ultimate is a great application to convert all kinds of files that you need including convert an MPG file to an MP4. To put it generally, this program can help you to convert clips of any popular format to many different file types with ease. This software supports more than 1000+ audio/video formats, including PS2 (DVD), WMV (VP6), AVI (XVID), MPEG-2 and others. Furthermore, you can use this tool to convert HD/4K/5K/8K videos from various devices including GoPro, Camcorders, Drones, HD cameras and other devices. Convert them into any viewing format, including H264 (AVC) and H265 video (HEVC). Eassiy also offers it's users a variety of tools to compress, edit and create collages. These unique and amazing features make this software ideal for both professionals and newbie users who want to easily edit, convert and compress their media files.
When it comes to video editing, you can use this program to merge different clips and compress video content that can fit better into any suitable frame of your choice. You can apply various professional effects, such as sepia tone or black-and-white filters, into your video files. Moreover, this software employs GPU acceleration technology that can provide a seamless MPG to MP4 and other video conversion. To maintain file quality, it uses multi-core CPU optimization that can ensure each file is converted 60X quicker. So, not only this toolbox provides MPG to MP4 conversion solution, it also allows you to effectively compress, convert and change your visual media smartly in one place.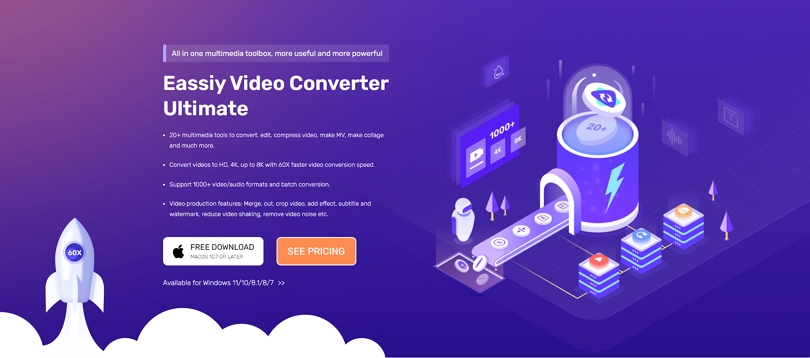 Features:
HD, 4K, and up to 8K resolutions support while converting video files to MP4 format.
Supports more than 1000+ video and audio formats.
You can do wide range of video editing activities using more than 20+ multimedia tools.
Best performance consumption offered by using multi-core CPU optimization, which confirms 60X speed all time.
The program enables GPU acceleration and batch conversion to increase productivity.
Step 1: Visit Eassiy's official website and download the ssoftware to start converting MPG videos to MP4. Then, double-click its desktop icon to run the app.
Step 2: Now, you need to launch Eassiy Video Converter Ultimate on your computer. After launching the program, you'll get an interface like below, from which you can select which video format you want to convert.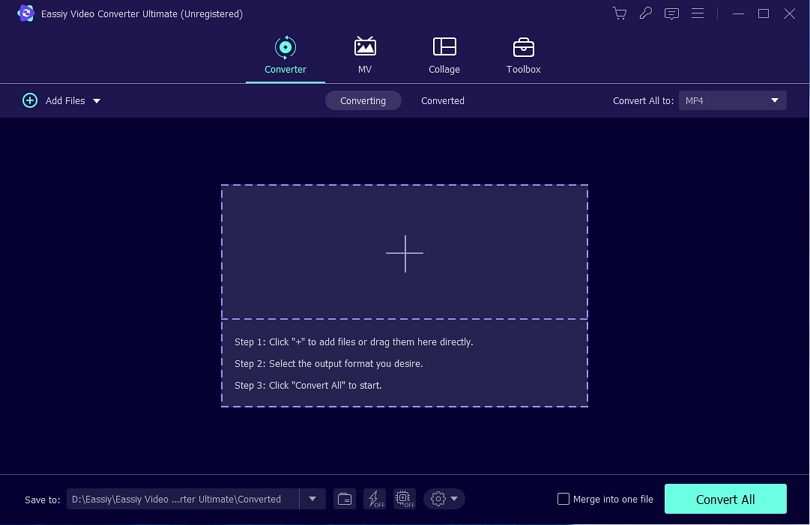 Step 3: After importing the MPG file, go to the "Convert All to" tab's drop-down menu and choose MP4, as your final output format. You can also select the format icon and browse through each video format individually.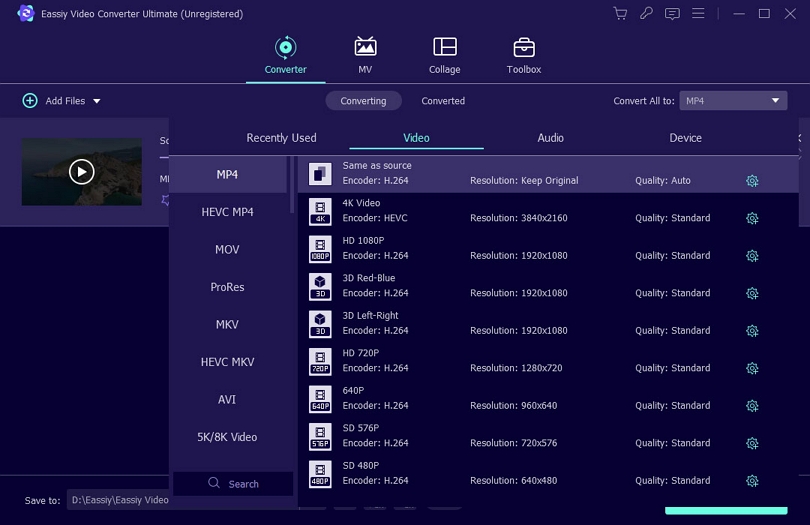 Step 4: Finally, you need to click on the "Convert all" button to start the conversion process. You may change the output folder by clicking on the arrow keys at the bottom from "Save to". When the conversion is complete, the interface will show "Success" notification and you'll see a red mark to the right of "Converted" tab.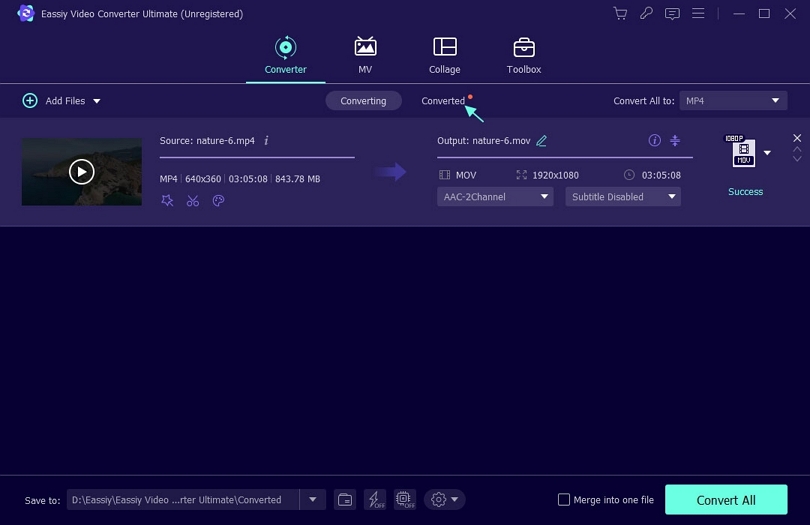 Your MPG input file has now been converted to MP4 format, for further use.
Way 2: How to Convert MPG to MP4 Using Freemake
FreeMake Video Converter (opens in a new browser) has over 93 million users, and it was simple to see why until lately. Its name indicates that it just encodes videos in various formats - which it does extremely well - but it can also convert audio files and photos as well as extract video from DVDs. It's in fact, one of the top free DVD rippers available that offer a wide range of output formats, including AVI, WMV, MPG, and MP4. It can also burn films on DVD or Blu-ray discs and has profiles pre-set for gaming consoles, smartphones, and tablets. You may even upload the video directly to YouTube. Freemake Video Converter can convert files in over 500 formats. Furthermore, Freemake free MPG converter for Mac enables users to download web videos by simply pasting the URL.
Step 1: First, you have to download and launch Freemake Video Converter.
Step 2: Next, select the option "Video" to add any MPG file you want to convert into MP4.
Step 3: In this phase, choose video editing tools from the Freemake Video Converter interface's drop-down "Edit" option.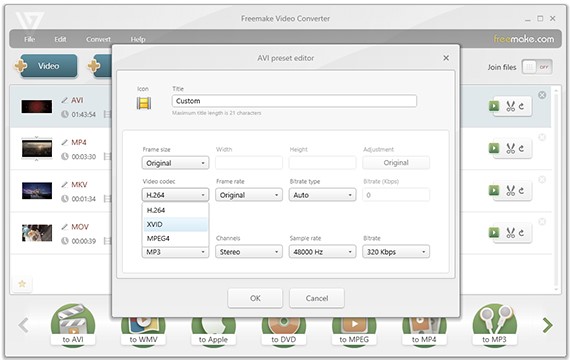 Step 4: Finally, you have to select the "to MP4" option, which is situated at the bottom, to convert MPG to MP4 on your PC.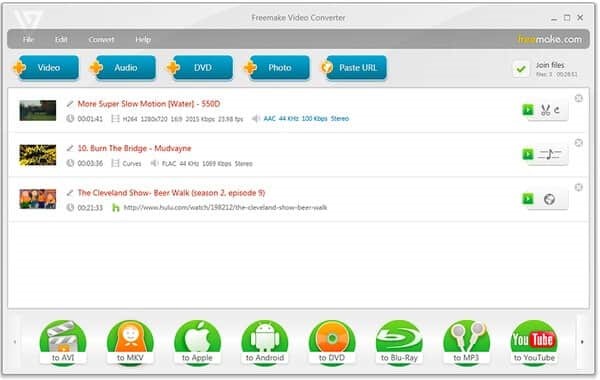 Way 3: Convert MPG File to MP4 by XMedia Recode
XMedia Recode injects hardware acceleration into the MPG to MP4 conversion process by using NVIDIA CUDA, Intel Quick Sync, and AMD GPUs. This results in not just a speedy conversion procedure, but also consistent high-quality output. Furthermore, by utilizing the batch convert tool, you may convert many MPG files into MP4 at the same time. Instead of searching for an external video editor, XMedia Recode includes one and provides a plethora of choices to rotate, flip, denoise, blur, stabilize, and color-correct videos, among other things.
Step 1: First, run XMedia Recode then click the "Open File" button, secure the source folder, choose the MPG file, and lastly press the "Open" button.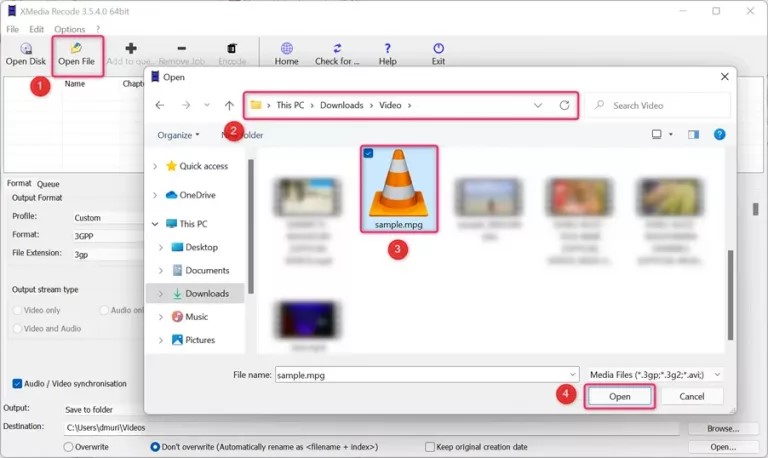 Step 2: Now select MP4 as the output format. To do so, choose "Custom" from the "Profile:" section, "MP4" from the "Format:" section, and "mp4" from the "File Extension:" options below the file list section.

Step 3: Finally, use the "Browse..." button to choose where the output should be saved, then add the conversion job by expanding the "Edit" menu and selecting the "Add to queue" option. Once all these settings are completed, begin converting.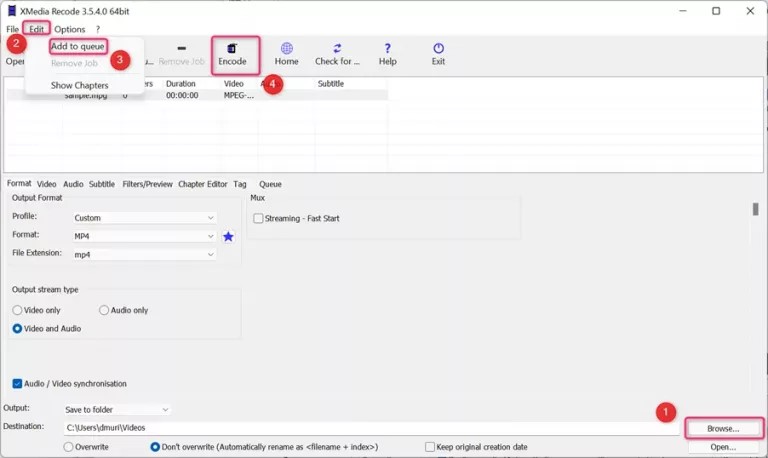 Part 3: FAQ to Convert MPG to MP4
1. Is MP4 identical to MPEG?
The answer is no. MP4 is, in many ways, the same as MPEG-4, but it is not the same as MPEG. MPEG stands for Moving Pictures Expert Group, and there are 21 distinct MPEG standards. MPEG-4 is one such standard, which is frequently abbreviated as MP4. Meanwhile, MPEG is sometimes abbreviated as MPG.
2. Is MP4 superior to MPG?
MP4 files are substantially smaller than MPG files and, at the same bit rate, have higher quality since they support more complex video codecs. MP4 files are also easy to open in a variety of apps. MPG is still used, although MP4 files are becoming more popular.
3. Is MPEF-4 a type of codec?
Yes! MPEG-4 is a codec created by the Moving Pictures Expert Group (MPEG). It was the first codec developed by MPEG, and since then, the standards have varied from 1 to 21, with MPEG-4 being one of them.
Conclusion
This article has fully covered the many methods for converting MPG to MP4 that are both convenient and produce excellent results, owing to the inclusion of the best video conversion software for the job. You may also have an all-around experience by working from several platforms, such as Windows/Mac, or online depending on the program you choose. However, for the overall best solution, Eassiy video converter ultimate is the application you should look for. Its extensive features provide a great deal of versatility while converting video files, guaranteeing that you obtain exactly the format you want with no effort. So, select the MPG to MP4 video converter tool of your choice and begin the conversion.