Since MP4 is the perfect format for playing movies on your desktop or laptop and for publishing online, this program is becoming increasingly popular. But if you want to use a DVD player, it can lead to problems as not all of them are compatible with MPEG-4. You can overcome the problem quickly by converting MP4 videos to a more appropriate format like AVI. In this article, we are describing how to convert MP4 to AVI on PC/online easily.
Part 1: Can VLC Convert MP4 to AVI?
Yes, VLC can convert MP4 to AVI. VLC is not just a mere media player but also a feature-rich toolbox that can deal with your numerous multimedia problems like playing DVDs, streaming IPTV playlists, editing footage, and converting videos. Those who want to convert MP4 to AVI can easily use VLC Media Player to fulfill their task.
What Are The Benefits of AVI Files?
Audio Video Interleave, AVI is a multimedia container developed by Microsoft in 1992. With Windows-based players and other programs with related codecs, this format enjoys full compatibility. Both audio and video data are carried by AVI files and saved with the .avi extension. There are various benefits of AVI files. Some of the benefits of AVI are given below for you.
To run, AVI doesn't need special hardware or software.
You can use AVI to make playable DVDs.
Audio fidelity is high quality.
Many codecs support this to achieve the desired AVI audio output format.
Because of its familiar format and compression capabilities, AVI is suitable for promos, short movies, and ads.
AVI is best for master files as it is good at maintaining its quality over time.
Part 2: Best MP4 to AVI Converter for Windows and Mac
With a simple interface and multiple features, Eassiy Video Converter Ultimate is a powerful video converter that supports over 1000+ formats and can convert both video and audio files. This video converter provides you with 60X faster conversion speed to convert quickly. Besides conversion, this program also offers you 20+ multimedia tools to edit, compress video, make MV, make college, and much more. You can enrich your converted videos with the built-in editors of this video converter. With no quality loss, you will be able to convert MP4 to AVI for free on both Windows and Mac.
Features:
Batch conversion will allow you to convert many MP4 videos into AVI format instantly.
Supports converting MP4 videos to AVI and 1000+ video and audio formats with no quality loss.
Before conversion, you are allowed to preview the output.
Allows to edit your videos with various editing tools like trim, cut, crop, add subtitles, etc. before converting them.
The video and audio quality stays excellent while converting MP4 files to AVI or any other conversion.
Steps to convert MP4 video to AVI in Windows/Mac
Step 1: Open Eassiy Video Converter on your device after installing it from the official website. From the interface, you will be able to choose video files to convert. Click the "+" button and browse for them or you can drag and drop videos from your desktop.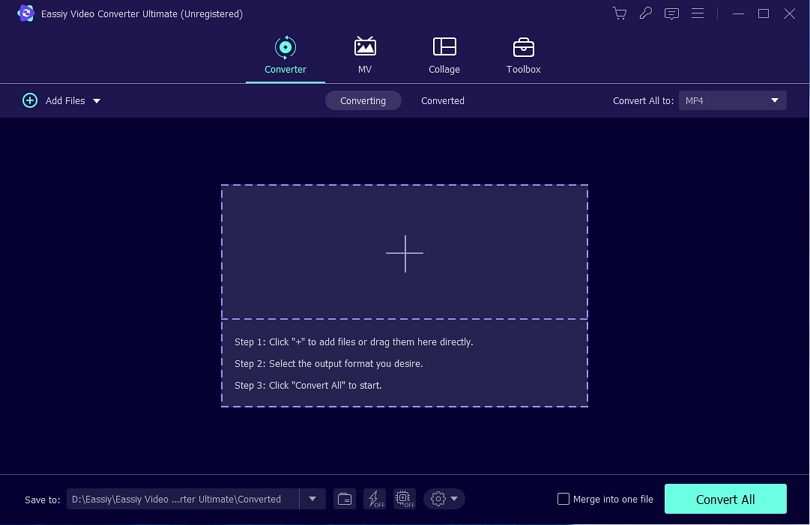 Step 2: Tap on the Convert All to tab's drop-down menu when your video is uploaded and choose AVI video format for the final converted video file.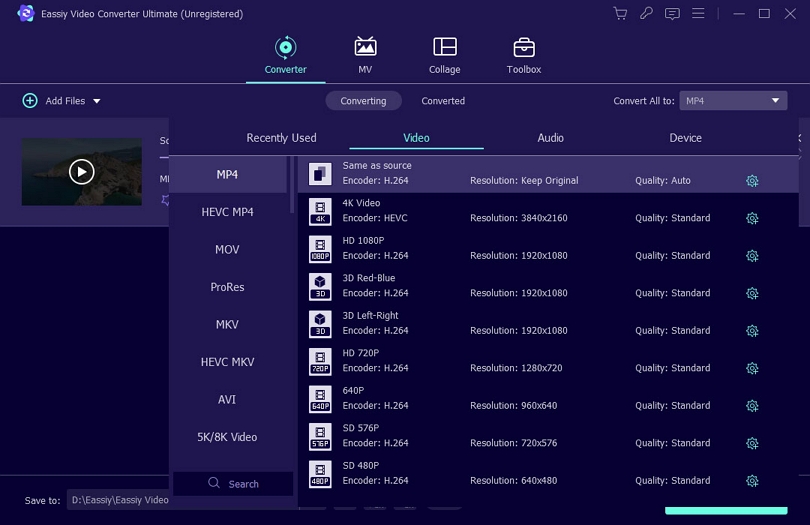 Step 3: Convert your video files by tapping the "Convert all" button and start the conversion. If you need, you can tap the arrow key on the bottom to edit the Save to the path. The interface of the software will show "Success" after finishing the conversion process and the Converted option will have a red mark on its right.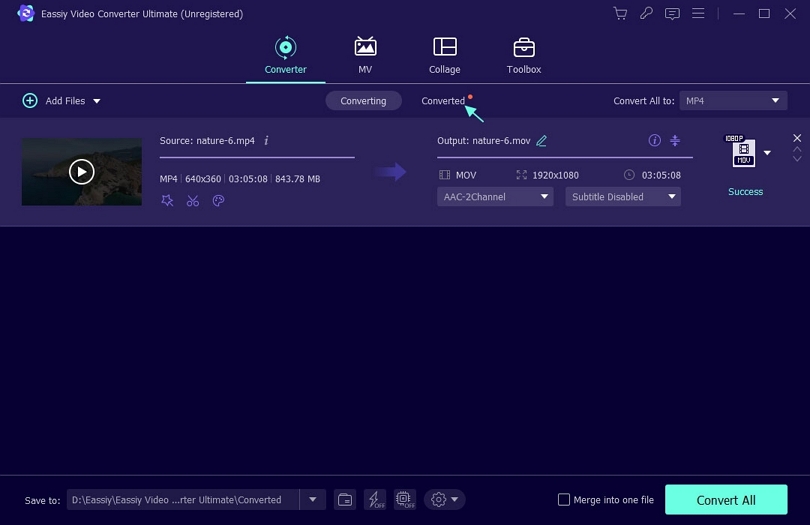 Part 3: Best MP4 to AVI Converter to Convert MP4 to AVI on Android/iPhone
Do you want to convert your MP4 files to AVI on Android/iPhone? To do that, you will need an MP4 to AVI converter. Here we are introducing the best MP4 to AVI converter to convert MP4 to AVI on Android/iPhone.
1. Media Converter
A free video converter, Media Converter can convert MP4 to AVI on Android and iPhone. This app doesn't only support MP4 and AVI formats but also supports other famous video and audio formats. By using this app, you can convert, crop, compress, and clip videos on your phone. Here are the steps to convert MP4 to AVI using Media Converter.
Step 1: First of all, you need to install the Media Converter app on your device and then launch it. Click on the "+" sign from the top right corner of your phone's screen.
Step 2: To add your MP4 videos, select the "Import Videos" option.
Step 3: Set AVI as the output video format after selecting your MP4 video.
Step 4: You need to adjust video size, frame rate, and other settings.
Step 5: To convert MP4 to AVI on iPhone or Android, select "Convert".
2. Video Converter by VidSoftLab
A versatile Android video converter and editor, VidSoftLab can convert almost all video formats. Various devices like Apple, Samsung, Sony PlayStation, and more are supported by this mobile video converter. This app supports 4K/8K video conversion. To edit videos such as trim, merge, stabilize, slow motion, crop, reverse, compress videos, and more, this mobile app provides various editing functions. Follow the below steps to convert from MP4 to AVI via Video Converter by VidSoftLab.
Step 1: Install VidSoftLab and run it on your mobile phone.
Step 2: Click the "Video Converter" tool on its main interface.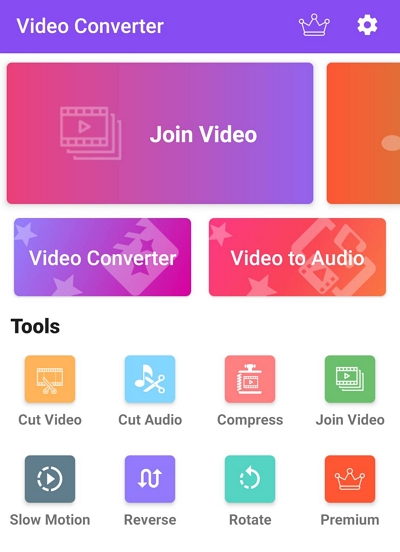 Step 3: Click the arrow in the lower right corner after you have selected a MOV video from your Android phone.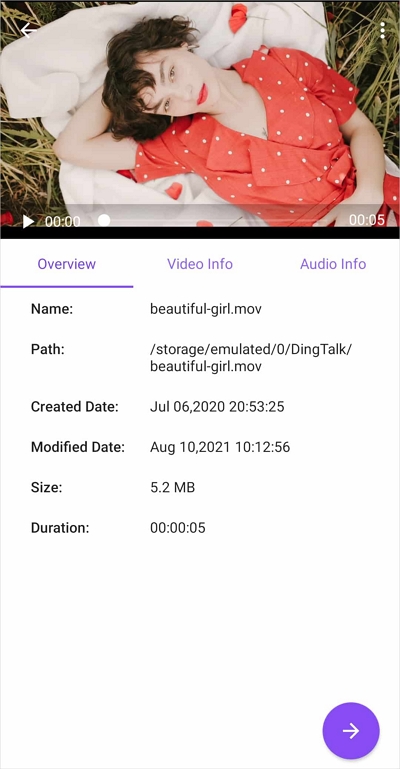 Step 4: Select a format. After that, tap "arrow" again as the default "Common" is fine.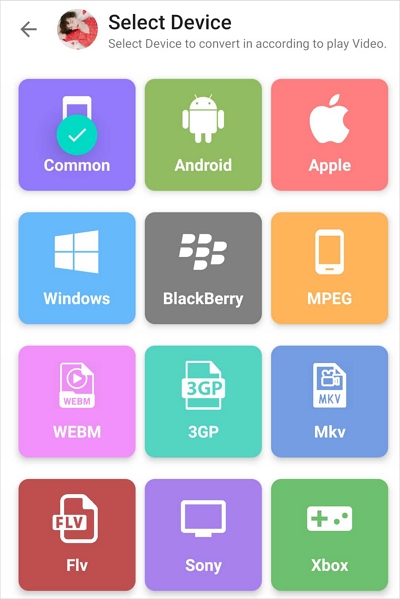 Step 5: Based on your preferences, configure video and audio settings and then continue.
Step 6: To change the video format on Android, tap the "Right" button.
Part 4: Best Online Free MP4 to AVI Converter
If you are looking for an online-based way to convert MP4 files, we are introducing two best online free MP4 to AVI converters here for you.
1. Aconverter
AConverter is another online tool that helps you to convert MP4 files to AVI easily. To use this tool, you don't have to install any software on your desktop. Follow the below steps to convert .mp4 to .avi using AConverter.
Step 1: On your browser, open the AConverter site first. To select MP4 files on your computer, click the "Choose Files" button. To choose an online MP4 file from URL, Google Drive, or Dropbox, click the dropdown button.
Step 2: After that, you have to set the target video format, bitrate, aspect ratio, frame size, and frame rate. If the "Mute" option is checked, all audio streams will be removed.
Step 3: To start the conversion of MP4 to AVI, click the "Convert Now" button. In the "Conversion Results" section, the output files will be listed. To show the file QR code or save the file to online storage services like Google Drive or Dropbox, click the download icon.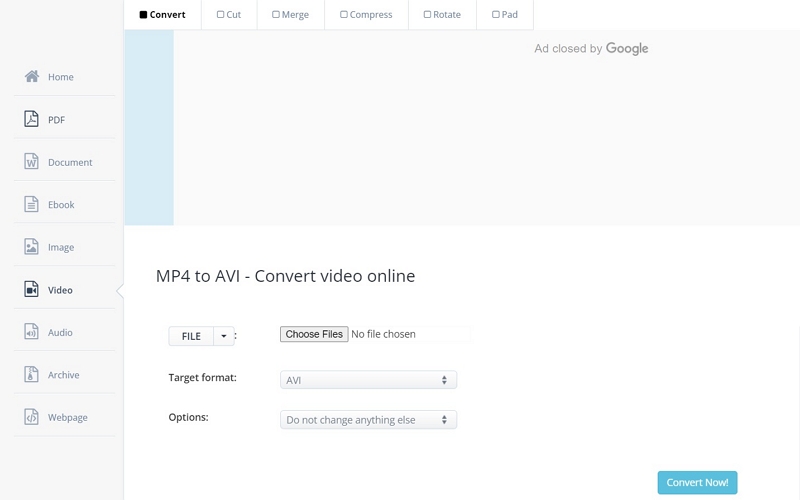 2. MConverter
MConverter is an online video converter that helps you to convert MP4 to AVI in bulk. This online tool also supports large MP4 video files. Here are the steps to convert from MP4 to AVI online with MConverter.
Step 1: Open MConverter's website on your computer.
Step 2: Drag and drop your MP4 file at the top of this page. By using your operating system's file picker, you can also choose MP4 files. To paste an MP4 file you have copied to the clipboard, pressing the keyboard shortcut Ctrl+V (⌘+V on Mac) is another method.
Step 3: From the list of target formats, click on the "AVI" format. To quickly find the format you need, you can use the search field alternatively whether it's AVI or something else.
Step 4: After MConverter has finished processing the files, download your AVI files.
Part 5: FAQ to Convert MP4 to AVI
1. How can I convert multiple MP4 files to AVI?
To convert multiple MP4 files to AVI, you can use appropriate software like Eassiy Video Converter Ultimate. This video converter converts your video files in batches quickly without quality loss.
2. Can I play AVI files?
Yes, you can play AVI files. You just need to download a media player on your device that supports the AVI format. For instance, you can use VLC Media Player and play AVI files easily.
3. How can I convert MP4 to AVI on Mac?
If you want to convert MP4 to AVI on Mac, you can try the Eassiy Video Converter Ultimate software. For the detailed steps to convert MP4 to AVI, you need to follow the Way 1 part of this article.
4. Do you think AVI is a good video format?
Both AVI and MP4 are more famous video formats than other formats. But while MP4 is a default format for iPhone, iPad, and many other devices, many mobile phones don't support AVI format. So it's better to choose MP4 if you want to transfer videos to your phone. But you can keep the videos in AVI format if you only want to watch them on a PC.
Conclusion
Both MP4 and AVI video formats are widely used to store video footage on computers or smartphones. However, there might be situations where you need to convert MP4 to AVI. In this article, we have described how to convert MP4 to AVI on PC/online easily. We have introduced the top 8 ways to help you in converting easily. Among the ways, we would highly recommend you to use Eassiy Video Converter Ultimate as it is the best solution for video file conversions. You can convert your MP4 videos into any format you like by using this video file-converting tool.