The MOV video container format was created by Apple Computers and is primarily used by Apple QuickTime to store video files. Large, uncompressed MOV files are frequently used by Mac users. Despite being compatible with Mac OS X, MOV files occasionally fail to open properly in QuickTime. These files also take up a lot of space on your computer and cannot be transferred to video-sharing websites or played on other portable devices or game consoles.
The best option in all of the aforementioned circumstances is to convert MOV to MP4 on a Mac. With practically all media players and portable devices, MP4 is the most widely used and popular video format. See numerous methods for converting MOV to MP4 on a Mac in the sections of the article below. The.mov to.mp4 conversion trend is also a respectable approach to share your files with others who don't own Macs and resolve the "format is not supported" error. Here are 6 methods you may use to convert your MOV files to MP4 on a Mac, regardless of your level of skill with video conversion.
Part 1: Can I Convert MOV to MP4 on Mac?
The MP4 format is superior to MOV in many ways, including being lower in size, supporting 3D, and being recommended by streaming providers. Anyone in their right mind would choose the MP4 format to be on the safe side. The primary distinction between MOV and MP4 is that the former is solely compatible with Apple devices, whilst the latter is almost universally compatible (Including Apple itself) Therefore, for the user, converting to MP4 with little quality loss is obvious.
It's a bit difficult to answer the topic of how to convert MOV to MP4 for free since practically all worthwhile software requires payment, either ahead or during the trial time. Numerous websites will offer the conversion for free, but the quality will be compromised and it won't be practical because the quality will get worse when you try to submit that file to a streaming platform because they typically lower the video quality even further to save some space. But don't worry; we'll talk about how to do that in the following section.
Part 2: How to Convert MOV to MP4 on Mac? [Top 6 Ways]
Are you trying to convert MOV to MP4 quickly? This post will demonstrate 8 easy and free ways to convert MOV files to MP4 on a Mac.
Way 1: Exclusive Way to Convert MOV to MP4 Mac? [Highly Recommended]
Understanding how to convert MOV to MP4 on a Mac is crucial. You may create MP4 files using Eassiy Video Converter Ultimate, making it simpler to use them on any device, independent of operating system. You may quickly and easily convert videos on a Mac by downloading this conversion program. Since Eassiy Video Converter Ultimate works with all operating systems and file formats, you may use it as your go-to tool for both professional and domestic needs.
Eassiy Video Converter Ultimate can convert, edit, compress, make MVs, create collages, and much more thanks to its 20+ multi-media functions. It tops the industry in supported formats with batch conversion and more than 1000 video/audio formats. Eassiy's built-in editors are great for refining your video creation because they include features like merging, trimming, cropping, adding effects, subtitles, and watermarks, lowering video shaking, decreasing video noise, and more.
Step 1: Download and install Eassiy Video Converter Ultimate.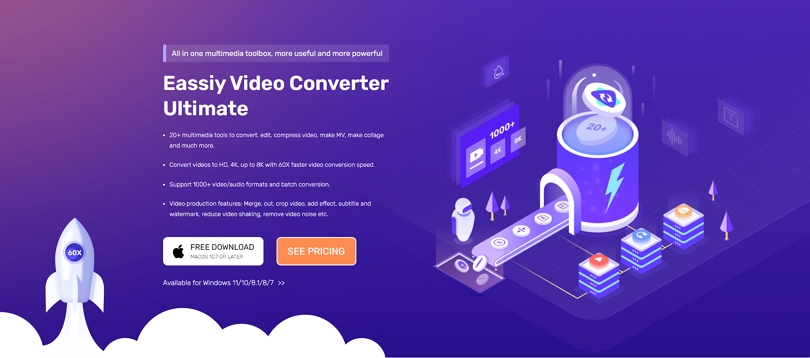 Step 2: Open and Insert Files
Launch Eassiy Video Converter Ultimate on your device to get started. Drag and drop video files from your device or use the "+" button to browse for them.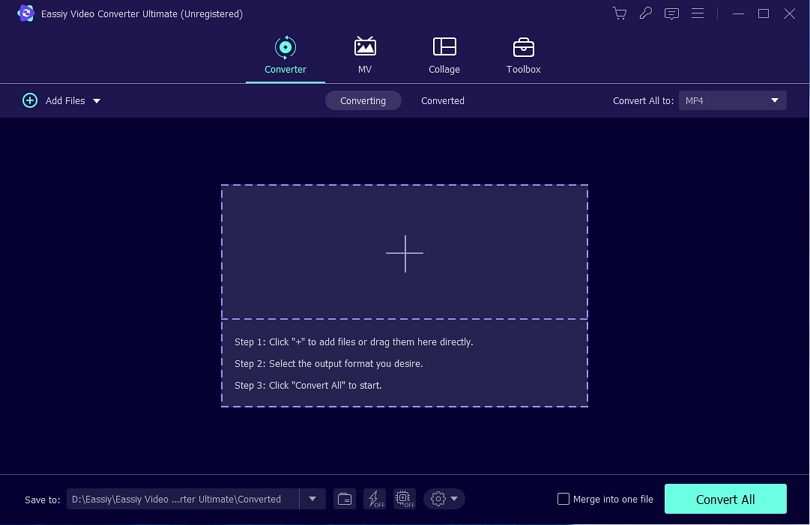 Step 3: Choose Your Video's Output Format
Once the video has been uploaded, choose MP4 video formats from the drop-down box on the Convert All to tab. alternately, click the format icon to the right and individually choose each video format you desire.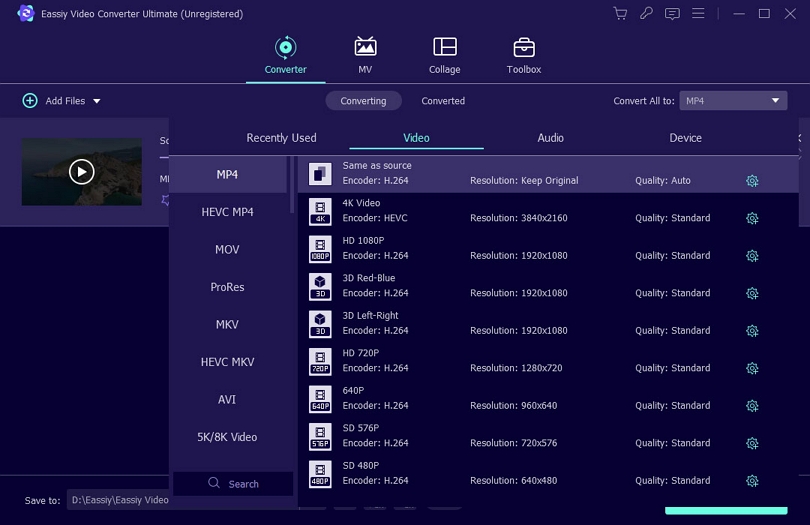 Step 4: Convert the video
Click the "Convert all" button to start converting your videos right away. If you'd like, you may edit the Save to path by tapping the arrow key at the bottom. The conversion's progress bar will be visible. The interface will display "Success" after the operation is finished, and Converted will have a red mark to its right. Additionally, the software will instantly open the folder where the finished Video is kept.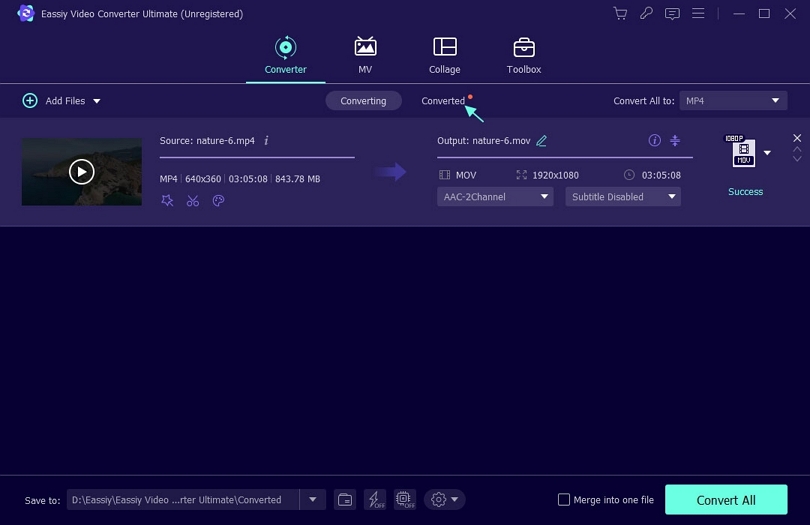 The main advantage of utilizing this program is that it works with over 150 different devices, including the iPhone and iPad, and supports a wide range of video formats. Your videos can also be converted into 2D or 3D video formats.
Way 2: Convert MOV to MP4 on Mac Using QuickTime Pro
Apple's QuickTime can open and play MOV video files directly on a Mac computer. The steps are as follows:
Step 1: Launch QuickTime Pro on your Mac. Click File in the top toolbar, then select Open File to import your.mov files.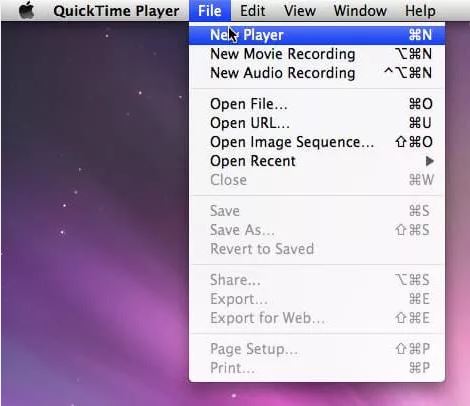 Step 2: After importing the files, select Export from the drop-down menu. Press the Save button after choosing "Movie to MPEG-4" from the list in the first window. Then, QuickTime Pro will convert the MOV file format to MP4. The change will take only a short while to complete.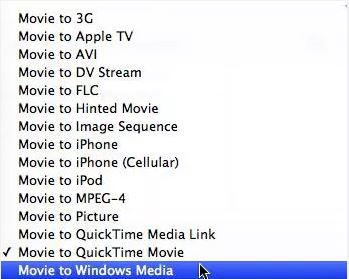 Way 3: How to Convert MOV to MP4 Mac with iMovie
Apple produces the movie editing program iMovie for iOS and Mac computers. This free video editor and player doubles as a respectable tool for video transcoding. Therefore, you can just use the iMovie app that is already installed on your Mac to fulfil your basic MOV to MP4 Mac conversion needs.
Step 1: Open the iMovie Mac MOV to MP4 converter application on your Mac. If you cannot locate the app's icon in your dock, open the Finder, choose Applications, and then select iMovie from the list.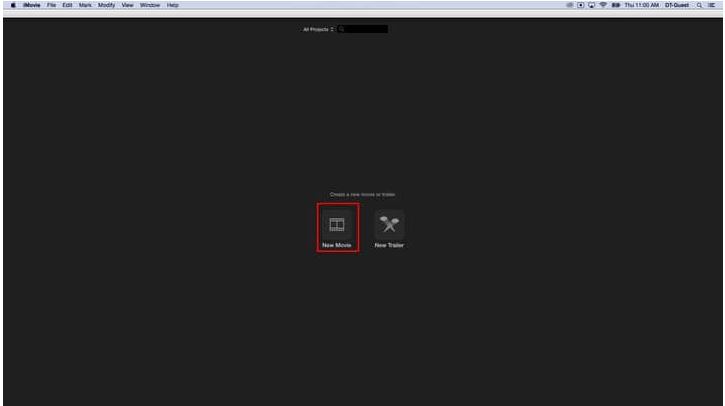 Step 2: Click on the File menu and choose "New Movie" from the drop-down menu. If you are given the choice to select a theme, click "No Theme."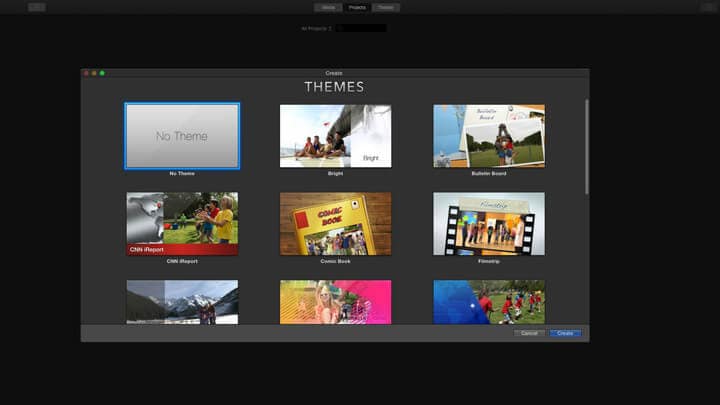 Step 3: Select "Import Media" after that. By selecting and pressing the "Import Selected" button located in the bottom right corner, you can browse for and add the MOV file that you wish to convert.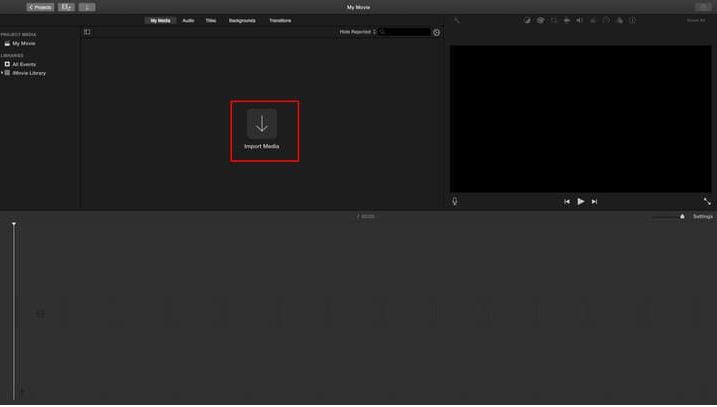 Step 4: A new Project will open with the selected MOV video selected. Next, select File from the app's toolbar and then click the Share button.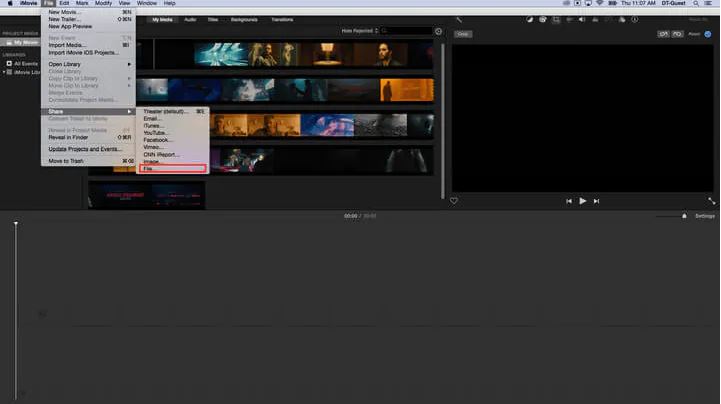 Step 5: Click the File button in the ensuing window, make any necessary changes to the preferences, and then click the Next button.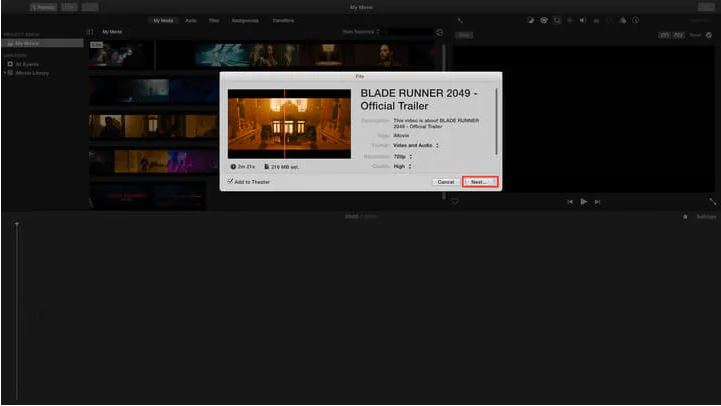 Step 6: Enter the place where you wish to save the converted MOV file from the new pop-up window. To begin the conversion of MOV to MP4, click Save at the end.
Way 4: Mac Convert MOV to MP4 with HandBrake
You can use HandBrake, a free and open-source program, to convert your file formats to high-quality ones. The program essentially acts as a video encoder and comes with a ton of pre-set file conversion options. It is available on the HandBrake website without charge.
Step 1: From the menu at the top of the Handbrake window, select Open Source.
Step 2: Select the file that has to be converted.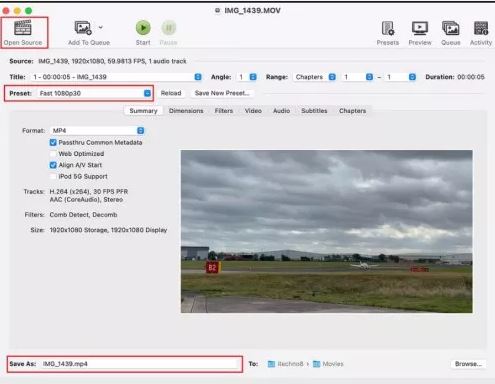 Step 3: After the file has been opened in Handbrake, choose the desired file format from the Preset menu. Similarly, using the Save As menu at the bottom of the window, choose the location where you want the exported file to be stored.
Step 4: To batch convert your files, select the Add to Queue option. Once the first file has been added to the queue, just open a new window and add a new file to the queue by following the directions above. Click the Start button to start the encoding once Handbrake has loaded all of your files.
Way 5: How to Convert Video to MP4 Mac Using Terminal
Another conversion option to try to convert MOV to MP4 for tech-savvy individuals is through Terminal. Right immediately, we must inform you that in order for this to function, you must download some free open-source software. You are free to omit this step if you don't want to do that.
Step 1: Download FFmpeg (a suite of open-source libraries for handling media formats)
Step 2: Launch Terminal on your Mac.
Step 3: Enter the aforementioned command. Replace input.mov and output.mp4 with the exact names of your files' file paths by typing ffmpeg -i input.mov output.mp4.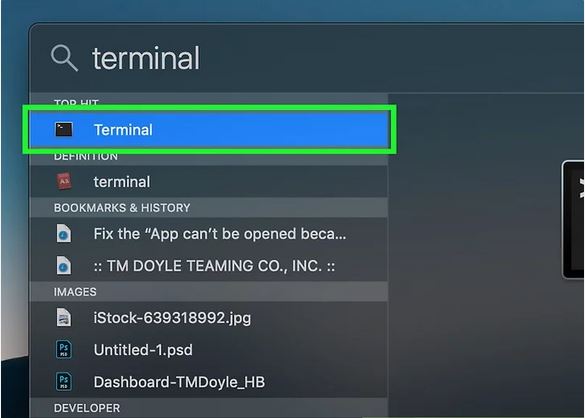 Way 6: How to Convert Video to Mp4 on Mac with CloudConvert
Similar to the previously stated online MOV to MP4 converter, cloudconvert is a complimentary online utility that enables MOV to MP4 conversion. Additionally, it's free, simple, and rather quick. However, it also falls short of perfection. If your MOV file is more than 1GB in size or if you convert more than 25 files per day, you must upgrade to the premium version.
Step 1: Open cloudconvert.com in your web browser and select your MOV file by clicking the "Select File" (red) button. You can select your input MOV from a local computer, a URL, or a cloud service.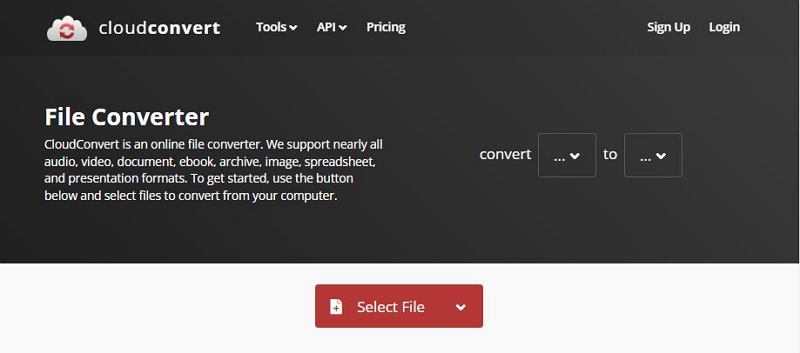 Step 2: From the "Convert to" menu, select MP4 format. Of course, you may change your video's codec, resolution, aspect ratio, frame rate, H264 profile/level, and other characteristics by clicking the wrench symbol next to the output format zone.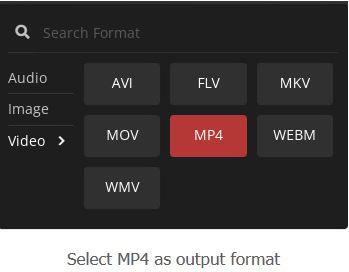 Step 3: Click the Convert button to start converting videos online from MOV to MP4. You must wait a moment because the conversion time is greatly influenced by the length of the video, the speed of the network, and the setup of the computer hardware.
Step 4: After the conversion is complete, click the Download button (green) to free download the converted MP4 file to your MacBook Pro, MacBook Air, or iMac.

Part 3: FAQ for Convert to MP4 Mac
1. How do I play MP4 on a Mac?
If the videos are compressed using the MPEG-4, MPEG-2, or H.264 codecs, you can open MP4 files on your Mac using the built-in player. Installing a player that supports the desired codec is required if you want to play an MP4 file encoded with a different codec. Alternatively, you can convert the MP4 file to the MOV format.
2. Is the MOV format good?
The MOV format works well with Macs since it uses the same QuickTime-compatible file type. Digital data can be shared and stored in a high-quality file format. Although .mov files are good, their size might be significantly more than that of other multimedia files. This implies that it might consume more space than you have available, which is one of the factors to consider when choosing between MOV and MP4.
Conclusion
MOV was originally an ambitious initiative that led to Apple creating a video format that was only available on Macs. It goes without saying that MOV could only be used by MAC computers. Fortunately, this isn't a significant concern with the selection of video converting programs available to people nowadays. All of the aforementioned MOV to MP4 converter software can quickly and effortlessly convert your MOV files into the widely supported MP4 format. Additionally, the converting process is largely automated, requiring little effort from your end. You may quickly create an MP4 file by simply following the two- to three-step typical conversion process. As for our advice, choose Eassiy Video Converter Ultimate if you want a full-service video processing tool in addition to conversion.