Since the outbreak of influenza, many users have started using Zoom, a well-liked video conferencing service. People who want to record Zoom meetings do so because they believe the recordings will be useful in the future. At the conclusion of a meeting, Zoom automatically converts the raw video to an mp4 file. However, the video will be stored as a. zoom file if the operation is paused. This post will outline various techniques for converting Zoom meetings to MP4 format. Read on to learn more.
Part 1: Why is my Zoom recording not converting?
Zoom allows you to record meetings, and once the meeting is over, it will begin to convert the recording to MP4. But a number of factors could lead this phase to fail. You might be wondering, "Why is my zoom recording not converting?" when you encounter the Zoom failed to convert recording problem. It could be due to many system issues. This post will describe where recorded Zoom meetings go, how to convert the recordings with 8 crazy methods to MP4 films, and some straightforward approaches to convert Zoom to MP4.
Part 2: How to Convert Zoom Recording to MP4 on PC? [Windows/Mac]
Please stick with us if you want to learn how to convert a Zoom recording to MP. We'll talk about 8 ridiculous ways to convert zoom recordings to MP4 videos.
Way 1: How to Convert a Zoom Recording to MP4 on Windows/Mac? [Top Way]
You might find it useful to know how to convert Zoom recordings to MP4. Eassiy Video Converter Ultimate makes it simple to produce MP4 files, making it easier to use them on any device, regardless of operating system. You can download this conversion tool and quickly and easily convert videos. Eassiy Video Converter Ultimate can convert, edit, compress, make MVs, create collages, and much more thanks to its 20+ multi-media functions. It tops the industry in supported formats with batch conversion and more than 1000 video/audio formats. Eassiy's built-in editors are great for refining your video creation because they include features like merging, trimming, cropping, adding effects, subtitles, and watermarks, lowering video shaking, decreasing video noise, and more.
Key features:
Support for 1000+ video/audio formats and industry-leading batch conversion
Lossless Conversion Technology that is 60x faster
No-quality-loss conversion of up to 8K video
Offers more than 20 multimedia tools for editing, compressing, creating MVs, making collages, and other tasks.
AI technology boosts multi-core processors to increase conversion rates.
Step 1: Download and install Eassiy Video Converter Ultimate.
Step 2: Open and Insert Files
Launch Eassiy Video Converter Ultimate on your device to get started. You can choose which video files to convert from the following interface after the program has launched. Zoom local recordings are automatically stored in the following directory:
Windows: C:\Users\[Username]\Documents\ Zoom
Mac: /Users/[Username]/Documents/Zoom
Drag and drop video files from your device or use the "+" button to browse for them.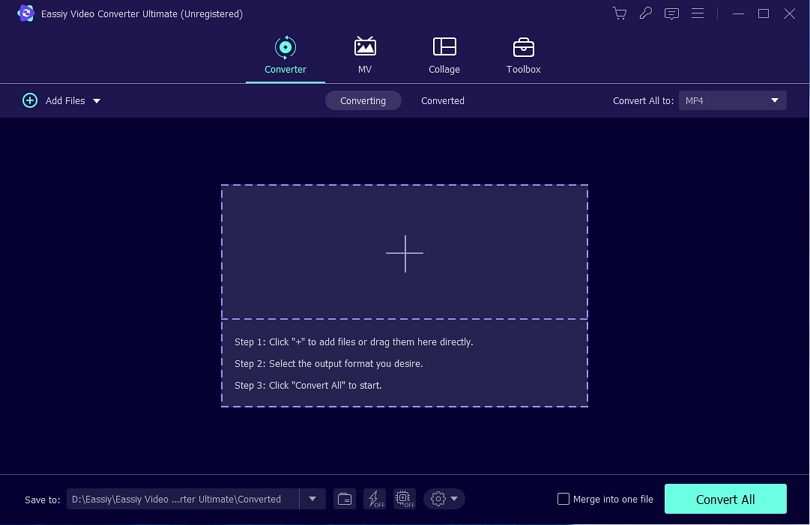 Step 3: Choose Output Format
After importing the video, select MP4 as the output format from the drop-down box on the "Convert All to" tab. Alternatively, you can click on the format icon to the right and individually select each video format of your choice.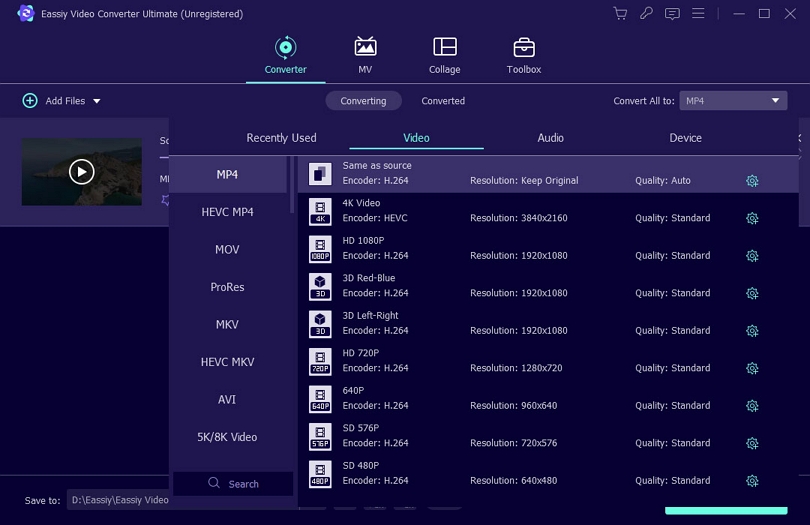 Step 4: Convert Video
Finally click on the "Convert all" button to start the conversion process. You can change the output folder by clicking on the arrow key at the bottom beside "Save to" path.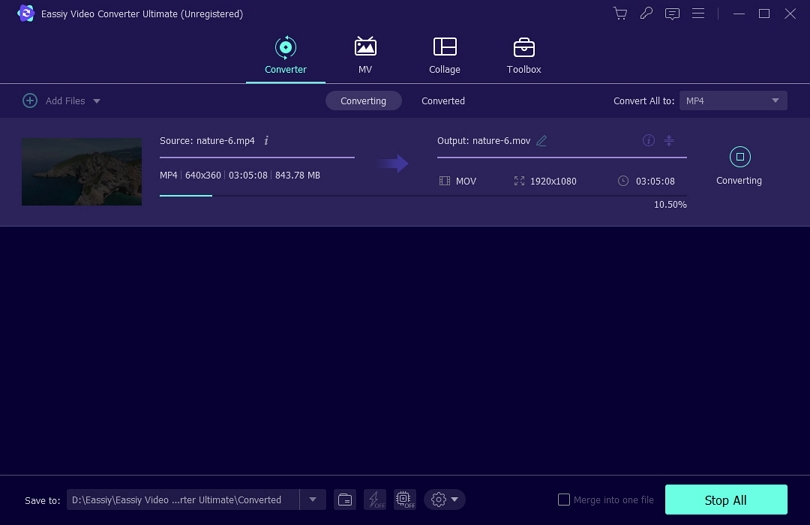 You'll see the conversion's progress bar and the interface will display "Success" after the conversion is complete. You'll see a red mark on the "Converted" tab where you can find the converted video. Also the program will open the output folder where the converted video is available for you.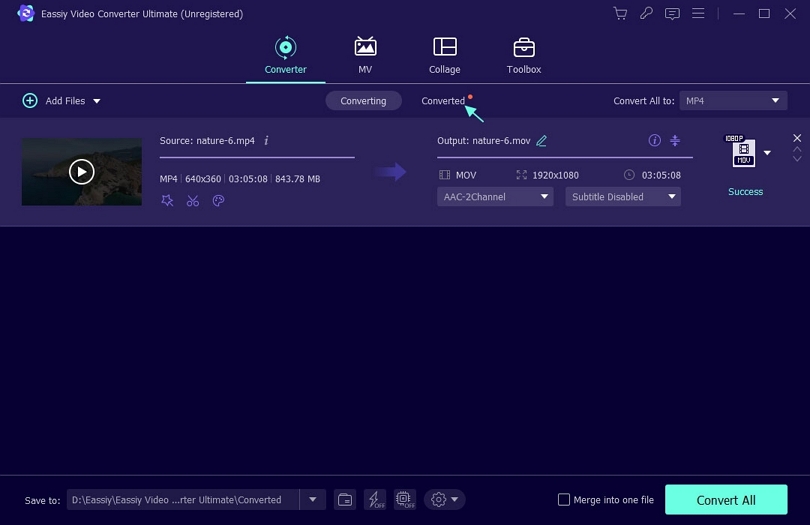 The main advantage of using this software is that it works with 150+ different devices, including the iPhone and iPad, and supports various video formats. You can also convert your videos into 2D or 3D video.
Way 2: How to Convert .zoom to MP4 with Zoom Client App
The Zoom Desktop Client makes it simple to convert Zoom recordings to MP4 if you'd like to know how to do so. Users don't need to brainstorm to complete this, making it one of the simplest approaches available. To learn how to achieve this, follow the instructions below.
Step 1: Launch the Zoom Desktop Client application.
On your computer, launch the Zoom program. You can find any meetings you've recorded in the app.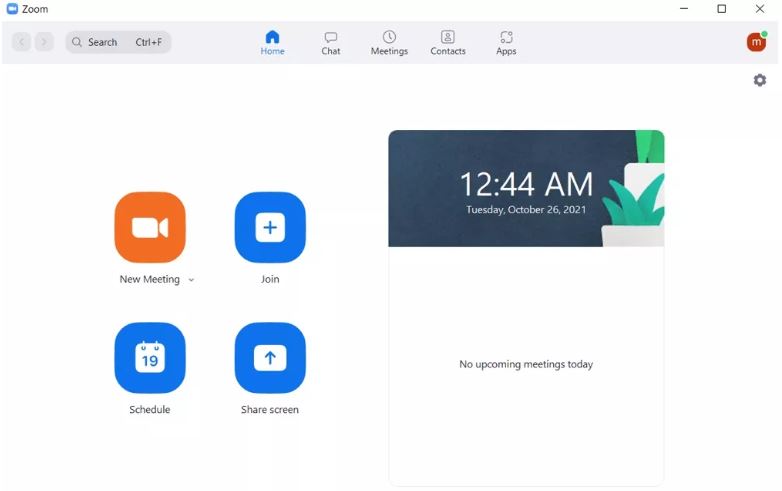 Step 2: Go to meetings
A number of tabs are visible at the top of the window. Toggle to Meetings. There are two options, Upcoming and Recorded, on the Meetings page. You must select Recorded.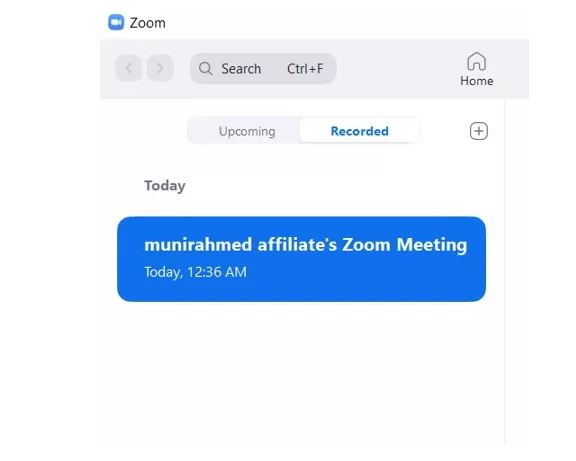 Step 3: Convert the File
The meetings you've recorded are displayed on the left. Select the recording by clicking on it. If the recording is in .zoom format, the Convert button will be shown. The Play button will be available if not. Your recorded file will be rapidly transformed if you click the Convert button. You may now start the video.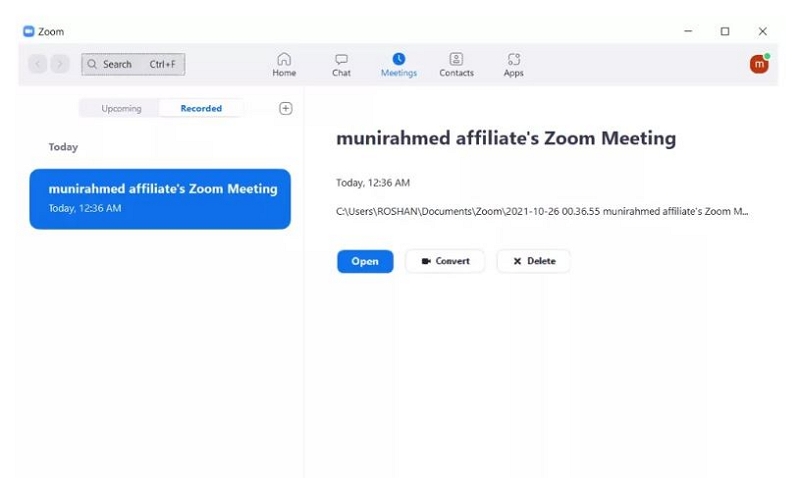 Way 3: Convert Zoom to MP4 by Switching with New .zoom Files
This approach is a workaround that occasionally functions. For converting zoom files to MP4, give it a shot. It operates on the premise that when the meeting is over, Zoom transforms the recording to MP4. We can take advantage of this by setting up a new meeting, recording it, and then replacing the existing non-converted files with the newly produced zoom recording files so that they may be converted to MP4 after the meeting is over. Let's examine the procedures.
Step 1: Copy the Zoom Files
You must first locate the non-converted zoom files. To start, launch the Zoom application. Go to Recordings under Meetings. The recordings can be found there. Click on any recording, even if you can't find yours there. Select Open. It'll launch a folder. You may locate the zoom files you need to convert in this directory, which houses all Zoom files. Copy the files once you've located them.
Step 2: Begin a New Meeting and Recording
Start a new meeting by opening the Zoom app. Start the recording, then pause it after a little interval. Go back to the location where the zoom files are kept. The newly generated recording folder will be visible.. Open the folder and add the files you copied in the previous step to replace the existing ones.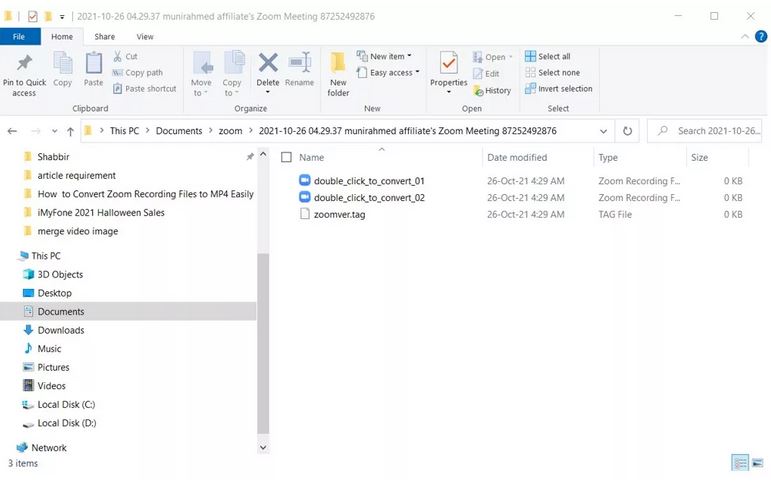 Step 3: Conclude the Meeting
Put an end to the meeting and the recording now. Once the file has been converted to MP4, you can view your recording in the same folder by using the Zoom app.
Part 3: FAQ to Convert Zoom Recording to MP4
1. Where are Zoom meetings recorded?
The location can change based on your preferences. If you use the Zoom Desktop app, you can find the location at:
It can be found in C >> Users >> [Username] >> Documents >> Zoom (Windows)
It can be found in Users >> [Username] >> Documents >> Zoom (Mac)
The recordings made with Zoom on the browser will be kept in the cloud. Open your profile in the Zoom web app. Users will see the Recordings section on the left. Users can access the Cloud Recordings by clicking this option.
2. What's wrong with my zoom video conversion?
This problem typically has two causes: an invalid path and a lack of storage. Users who get this problem can check their disk space and, if necessary, free up some memory. Users may encounter this problem if they switch off their PC during the converting process or if they change the name of the zoom file. Users can try the aforementioned methods to convert Zoom recordings if they encounter such a problem.
Conclusion
We've just looked at 8 insane methods for converting Zoom recordings to MP4 in brief. Eassiy Video Converter Ultimate is the greatest recorder to use because it makes it simple and comfortable to play videos on Zoom. Zoom meetings can be recorded in high definition without permission.