There are several reasons why you might want to convert a video to MP4 format. MP4 is a popular video format that is compatible with a variety of devices and platforms. It is also a highly compressed format, which means that it takes up less space than other video formats. If you have a video that you want to watch on your phone or tablet, for example, converting it to MP4 format can save you a lot of storage space. There are many different converters available that can help you convert a video to MP4 format. Some are more versatile than others, and some are better suited for specific types of videos.
In this article, we will discover 12 amazing MP4 converters to convert video to MP4 and see which one is best suited for your needs. So, let's get started with our top-rated application for effortlessly converting videos to MP4 formats.
Part 1: What is The Best MP4 Converter to Convert MP4 Videos?
It's crucial to have a great converter since many people watch videos on their mobile devices, which are often limited in terms of storage space or processing power. The best video converter for MP4 videos is one that offers high-quality conversion of your video files, along with a wide range of output options. To determine if the video converter you're considering is good enough, consider the following features:
Compatibility: The ability to convert videos between different formats such as MP4, MOV, WMV, AVI, and more.
Variety: A wide range of output options including HD and SD quality versions of your video file.
Speed: A fast conversion speed without any noticeable lag or stuttering.
Interface: A simple user interface that makes it easy to find what you need without having to spend too much time learning how to use it.
Part 2: 12 Useful MP4 Converter to Convert to MP4 [Hot List]
1. Eassiy Video Converter Ultimate
When it comes to MP4 video conversion, Eassiy Video Converter Ultimate might be your multimedia software bundle that includes a great majority of the market's video conversion, compression, and editing programs. This software can convert, compress, generate, edit, and share a variety of multimedia file formats such as video, audio, GIF, picture, MV, ID3, Subtitle, and so on. Eassiy Video Converter Ultimate is an essential tool for video creators, YouTubers, music fans, students, and vloggers. Convert/compress video/audio to 1000+ formats, including MP4, MOV, AVI, MKV, MPG, MP3, and others, for use on iOS, Android, Drones, VR devices, gaming consoles, and more. Eassiy also features batch conversion functionality which saves a lot of your time. It improves the effectiveness and efficiency of video editing and conversion for all creative video content creators. Its strong converting technology also transforms and compresses 8K/5K/4K/HD video files in minutes without over-encoding/decoding. Furthermore, multi-core CPU optimization boosts your MP4 conversion speed by a factor of 60. So, considering all these handy conversion features, this software is worth a shot.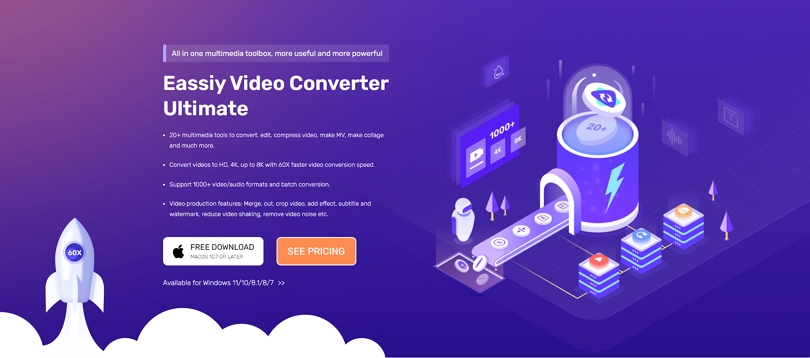 Features
This program allows MP4 conversion for videos in HD, 4K, or up to 8K resolution.
Multi-core processor optimization is included for maximum performance.
It has GPU acceleration as well as batch conversion capability.
It supports over 1000 video/audio formats.
The software includes more than 20 multimedia tools for various video editing activities.
Pros
Supported by all popular video file formats.
High-speed video conversion for videos of any size.
Features batch conversion, which increases productivity.
It includes over 20 multimedia tools for easy video editing.
Cons
Tax is included in the priced plans.
The free trial does not provide all of the required features.
2. VideoProc
Digiarty's VideoProc is a lightweight utility. Although VideoProc is lightweight, it does not sacrifice performance when converting MP4 files. It's GPU hardware acceleration allows for quick conversion speeds and high video quality. This converter is particularly popular among GoPro users since it has a few features that notably improve the GoPro converting process. The deshake and denoise tools will greatly assist you in swiftly improving your raw footage. Other features include split, trim, slide, merge, fisheye correction, subtitles, and snapshots. It supports over 70 input formats, including MOV, MP4, MP3, and AVI, and comes with a plethora of pre-configured profiles. Do you require 4K conversions? No worries. In reality, VideoProc can handle resolutions up to 8K. This program is available for a free trial, but you have to pay an annual membership subscription to use it for videos longer than five minutes.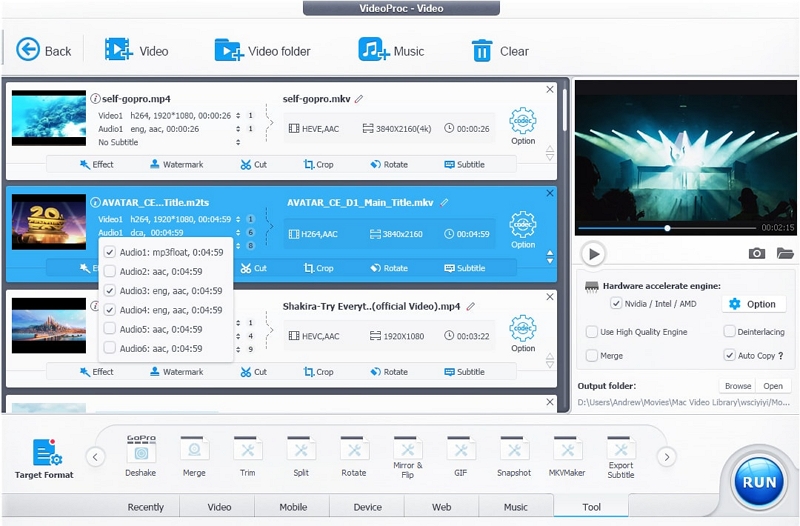 Pros
Provides excellent speed in MP4 conversion.
User-friendly UI.
Batch conversion functionality is available.
Comes with video recording functionality.
Cons
Its free trial is limited to only five minutes videos.
Email-only client service.
3. Wondershare UniConverter
Wondershare UniConverter is a powerful and easy-to-use tool that can convert any video format to MP4, AVI, FLV, MKV, and MTV. The program offers multiple capabilities such as editing videos before converting them or creating custom profiles for different devices. It also allows you to add subtitles or watermarks to your converted files.
Once downloaded and installed on your computer system (Windows 7/8/10), simply launch the application after choosing an appropriate output format, in this case, "MP4," for each type of file that needs conversion. You can also choose whether you want it converted automatically when starting up Windows 10 if so desired by ticking this box during the installation process; otherwise, go ahead and manually select which files will be processed first based upon their order in the provided list.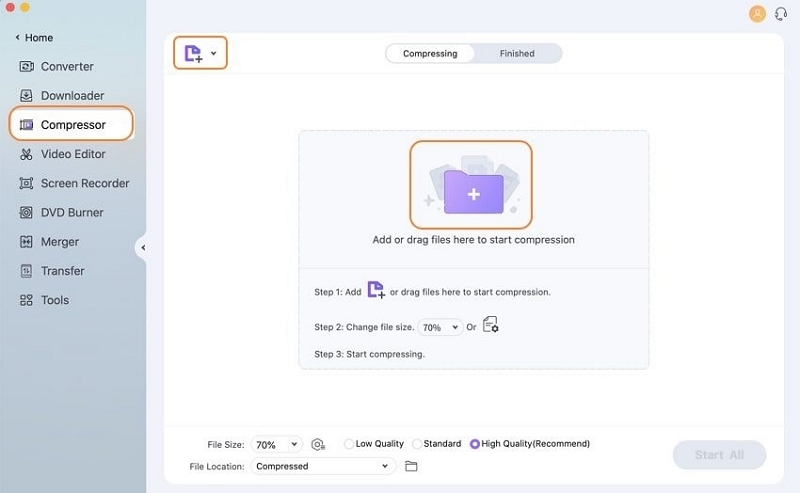 Pros
Fast MP4 conversions.
Quite a beginner-friendly application.
Comes with disc burner.
Easily handles 4K conversions.
Cons
More pricey than some competitors.
The free version has limitations.
4. HandBrake
HandBrake is a free video transcoder for Mac, Windows, and Linux. It's an open-source tool that lets you convert video from nearly any format to a selection of modern, widely supported codecs. The program supports both frame-by-frame processing (using FFMPEG) as well as command line operations via the config file — so if you want to use it in the command line interface then no problem! HandBrake has been around since 2007 and has become one of the most popular programs when it comes to converting videos from one format into another. It supports over 70 formats including AVI/AVCHD, MKV/MOV files, etc., but there are some limitations when compared with other tools such as DVD ripping software or Blu-ray ripping software due to its lack of support for Blu-ray discs at present time.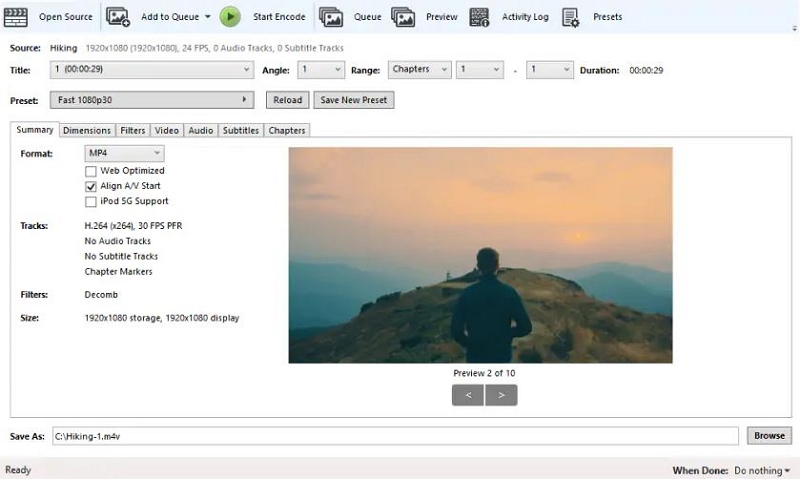 Pros
It's an open source and free program.
Supports high-quality video conversion.
A wide range of editing possibilities is available.
There are no advertisements or upsells.
Cons
Slow conversion speed.
Not so convenient in terms of usage.
5. Any Video Converter
Any Video Converter does not disappoint with a good variety of supported file formats. This is a great application that works well on any Mac device. It enables both online and offline files, which means that if you like the aesthetic of any YouTube videos, you can quickly and easily convert them into an appropriate format like MP4 for offline watching on your smartphone without worrying about your data allotment. It's not only for YouTube, but you can also download and convert videos from Facebook, Vimeo, Metacafe, and other sites. On top of that, this application effectively extracts audio from CDs and DVDs. You'll find compatibility for any video format you can think of, as well as ready-made profiles for various devices, and editing capabilities like clipping, cropping and rotating allow for basic cleanup operations.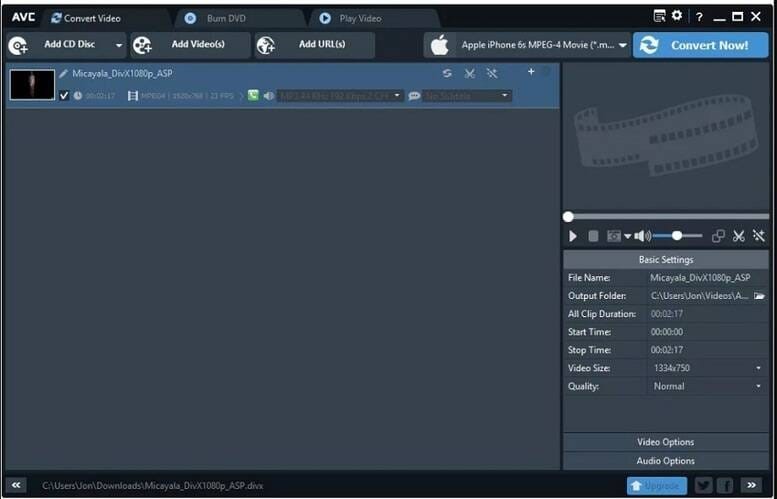 Pros
The free version is adequate.
Provides excellent video file conversion output.
Burn to disc functionality (For paid version).
Supports video resolutions up to 4K.
Cons
Additional software installation is required.
The conversion speed is not that great.
6. Movavi Video Converter
Movavi Video Converter is a premium application with a simple, user-friendly design and a superb user experience. Conversions are quick, output quality is excellent, and you can choose up to 4K resolution videos. There are a number of pre-configured profiles available, and this program including MP4 supports over 180 formats. You can test out this service for seven days for free. You will not get full access to the program since you will only be able to convert the first half of a video file, but you will be able to get a sense of its usability and speed. You will have to put up with a watermark and frequent reminders to purchase the full license while using the free trial edition. The premium edition is ad-free. Movavi installation does not include any demands of installing extra applications.
Pros
You'll get quality video conversion outputs.
Sleek and modern interface.
Comes with plenty of preset profiles.
The paid version doesn't have any annoying ads coming.
Cons
A bit pricy application.
No free version, only a trial is available.
7. DivX Converter
It is yet another popular MP4 converter for Mac that supports a wide range of input and output formats. The application has editing features that allow you to tweak videos before converting them. In addition to local files, you can convert videos from Blu-ray discs, Google Drive, and Dropbox. The UI of DivX Converter is straightforward. It features a simple gray and black color scheme. Furthermore, it is simple and easy to follow for video conversion tasks. Drag your file from your computer or click the Add files button. You can also view the different formats to convert files besides the Add files button. DivX Converter is safe to use and install on any Mac OS. This software converter guarantees that no third party offers to detect your personal details.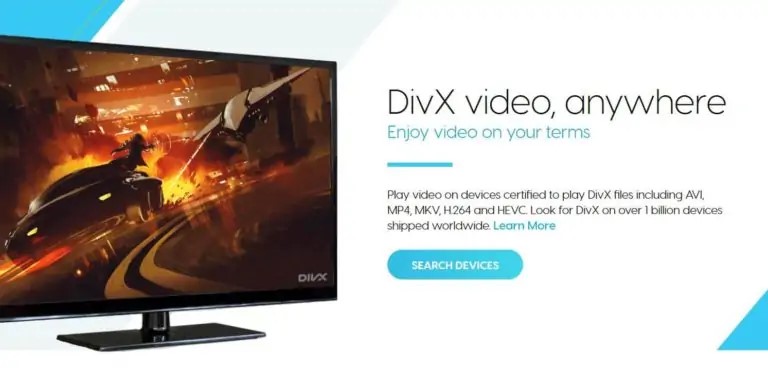 Pros
Provides a very usable free version.
High-speed video conversion.
Ensure quality output.
Supports videos up to 4K resolution.
Cons
This application doesn't have a 64-bit version.
It needs additional software installation.
8. QuickTime
QuickTime is the Mac Operating System's default and built-in media player. Aside from video playback, the software program does a variety of additional tasks. It can, for example, be used as a free video converter to mp4 and other formats. There is no need for any other program while using the QuickTime software because it will download videos from web sources, convert formats, and operate as a media player. This software also features some simple video functionality. It offers MOV (H264/HEVC)) output video or MPEG audio. Because QuickTime is a native software, there is no need to be concerned about a lack of optimization or compatibility. Even the video file format conversion process is simple enough for a first-time user to complete.
Pros
This application is free and preinstalled on any Mac OS.
Easy to follow for beginners to MP4 conversion.
The program supports different resolutions up to 4K.
This application also allows you to create videos with an image sequence.
Cons
The application has limited codec and format support.
Doesn't feature any advanced codec and format settings.
9. Online-Convert.com
Although this is not the ultimate online video converter, it is the only one that also converts audio, eBooks, documents, images, and archives. It also includes a Google Chrome plugin that allows converting videos to MP4, AVI, WMV, and most other supported formats as simple as opening your browser and clicking an icon. To put it another way, this easy-to-use tool can instantly convert one file type to another in no time. So, if you have a variety of converting requirements, Online-Convert.com is a must-visit. There are also pre-selected device profiles to facilitate converting to iPad, iPhone, PS4, Blackberry, Android, and other devices. However, the downside of this application is it's not completely free (you must pay to convert videos larger than 100M) and that it does not handle as many file types as competing tools.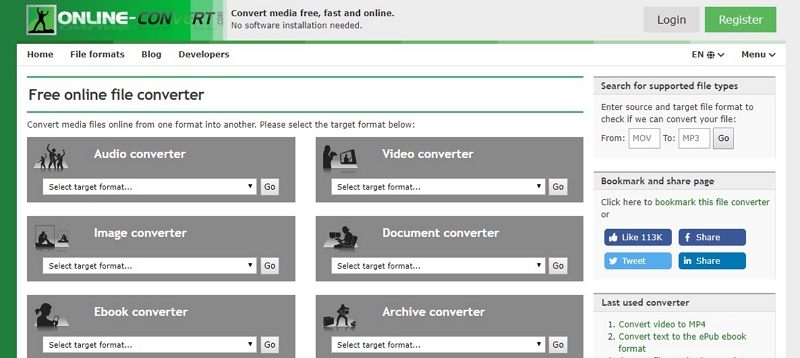 Pros
This online video converter supports all major video formats.
Convert videos to make them compatible with multiple devices.
Converts images, ebooks, archives, and audio files.
It's a multi-platform online tool.
Cons
Limited file size conversion in its free edition.
The paid version enables extra features.
10. VEED.IO Video Converter
Veed is a handy online application since it is a converter and compressor tool that helps users to convert videos more efficiently. This program allows users to compress videos to the required size and convert them to the desired format, making the job easier. You can convert your video files to a variety of formats, including MP4, AVI, MKV, WMV, MOV, FLV, and so on. Also, you can transform videos into animated GIFs! This online file conversion tool is really simple to use. It only takes a few mouse clicks. Choose the original video format and the format you want to convert to, upload your video, and press 'Convert,' and VEED will convert it for you. It also has several useful video editing functions, such as the ability to cut video clips and filter them based on their appearance. Users can also insert images into the videos, edit them, add text, and draw on them.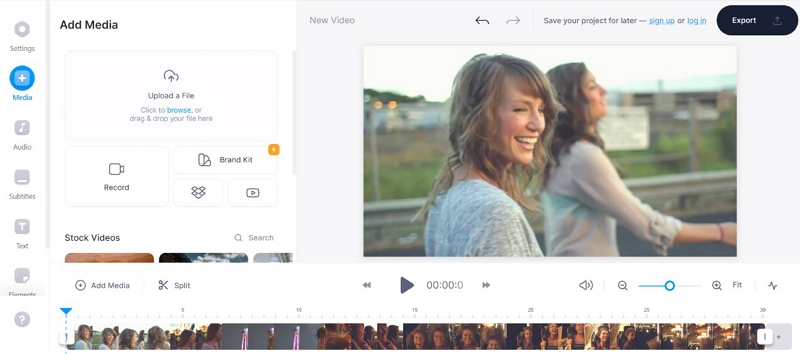 Pros
Simple and user-friendly UI.
Can convert MP4 videos in no time.
Supported by all the major video file formats.
Helps to convert your videos to multiple formats.
Cons
The paid version has more features.
A bit expensive compared to other online converters.
11. CloudConvert
CloudConvert is an online converter that supports over 200 file types, including audio, video, and ebooks. It's known that the majority of online converters are simple to use. All you have to do is browse the website, select the format you want, and then upload and download the converted video. Furthermore, you can utilize this web tool without having to download any software. In other words, this utility is designed for those who do not want to install video-converting software on their device for a variety of reasons. You can use the program to convert several video and audio file formats. However, there are certain drawbacks to employing such a tool. You have to upload and download the file to be converted. Also, a paid membership is required if you wish to convert a video file larger than 1 GB in size.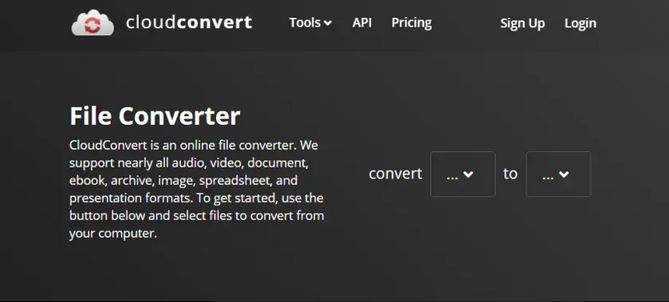 Pros
Supported by 200+ file formats.
Powerful data security.
Extensive API
High-quality MP4 conversion.
Cons
Limited file size upload.
Takes time to convert large video files.
12. FreeConvert
FreeConvert is an extremely useful online video converter. It allows you to choose between H.265 and H.264 codecs and convert to MP4 or any other file with ease. The entire video converting process is pretty straightforward and only consists of a few phases. It works well as an online video file converter, particularly for MP4. Users will, however, require a large amount of bandwidth for uploads and downloads, much like with other online tools. Furthermore, the free edition of FreeConvert limits file sizes and the number of video files that can be converted every month. However, there are other quality options available to meet a variety of budgets and expectations. Overall, you may use this online application to convert any video clip to your specifications.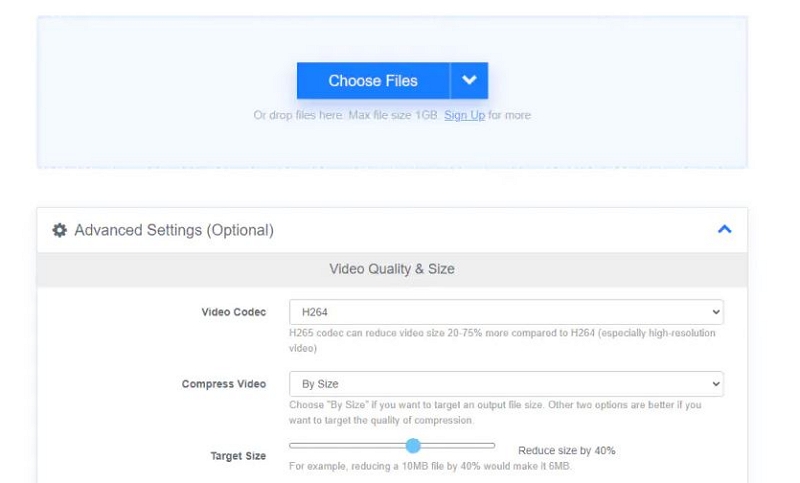 Pros
Easy to follow video conversion procedure.
This online tool comes with file-merging functionality.
You don't have to face annoying pop-up ads with this online tool.
Protected with 256-bit SSL encryption.
Cons
To handle large video files, you will have to upgrade to the paid version.
The free account has a daily conversion limitation.
Part 3: Comparison Table to Convert Video to MP4
Program

Platform

Best For

Supported Formats

Price

Eassiy Video Converter Ultimate

Windows and Mac OS

Commercial ad studios, freelancers, and home video editing.

1000+ video/audio formats

$39.99 - $55.99 (Annual and perpetual)

VideoProc

Windows and Mac OS

Beginners, Educators, Gamers, live enthusiasts, Sports lovers, etc.

Supported by Overall popular  formats

$38.90 - $119.90
(Premium, lifetime, and family license)

Wondershare UniConverter

Windows and Mac OS

Small to large businesses and freelancers.

1000+ video/audio/
image/DVD formats

$29.99 - $69.99 (Quarterly, annual, and perpetual plan)

HandBrake

Windows, Mac OS, and Linux

Small studios and freelancers.

Supported by Overall popular  formats

Open-source program (free)

Any Video Converter

Windows and Mac OS

Commercial ad studios, freelancers, and home video editing.

Supported by Overall popular  formats

$49.95 (Forever susbscription with free updates)

Movavi Video Converter

Windows and Mac OS

Small to large businesses and freelancers.

Wide range of industry-standard formats

$89.95 - $224.95 (yearly and lifetime subscription)

DivX Converter

Windows, Mac OS,
Android, and iOS

All businesses, basic video conversion

Supported by almost every popular  formats

$19.99 (One-time payment)

QuickTime

Windows and Mac OS

Small to large businesses and freelancers.

Supported by Overall popular  formats

$49.95 (Forever susbscription with free updates)

Online-Convert.com

Windows, Android, and iOS

Small studios and freelancers.

Supported by Overall popular  formats

Starting from $8.99

VEED.IO Video Converter

Windows, Mac OS, and Linux

Small to large businesses and freelancers.

Supported by Overall popular  formats

$12 - $59 (basic, pro, and buisness subscription)

CloudConvert

Windows, Mac OS, and Linux

Small to large businesses and freelancers.

200+ file formats

$8.00 - $2,314 (Monthly), price depends on conversion minutes per month

FreeConvert

Windows, Mac OS, and Linux

Small to large businesses and freelancers

1500+ file formats

$9.99 - $25.99 (Standard and monthley subscription)
Part 4: FAQ for MP4 Converting
1. Is it worthwhile to get a lifetime video editor license?
This is dependent on a few factors. First and foremost, how frequently do you need to edit videos? If you're just doing it for pleasure, you could be fine with the free version. On the other hand, if you require access to the premium features and convert videos often (for example, as part of your employment), a lifetime license may sound interesting.
2. What is the most widely used video format?
If you're not sure which video format to use, it's usually best to stay with MP4. This is by far the most popular and widely compatible video format on the internet today.
3. Is MP4 and MPEG the same thing?
MP4 is a video file format, whereas MPEG is a video codec that is utilized in a variety of video formats. As a result, we cannot draw an accurate comparison because both file types have specialized applications. MP4 is a popular format for creating high-quality videos that can be broadcast on mobile phones, PCs, and the internet.
Conclusion
No doubt it's a headache when you come to the position of having to choose one specific MP4 converter. The most important thing is to make sure that you combine quality and simplicity in your search for an MP4 converter. Do not be afraid to spend some time trying out different solutions to see which one works best for your specific needs. The best MP4 converter will efficiently convert your video files with the highest possible quality. It's crucial to combine simplicity and advanced features while making sure they provide value to the customer. This is why we chose Eassiy Video Converter Ultimate as the best MP4 video conversion software because it's the most professional one. It's a complete all-in-one video converter with powerful editing functions. Finally, regardless of which option you select, it is always advisable to seek the overall best alternative.