There is a plethora of YouTube MP3 Recorders on the internet. But that does not mean you should choose any tool that claims to be the best YouTube MP3 recorder. Yes, only some can record YouTube music and audio in high quality. But only high-quality audio is not the way to go when choosing a YouTube recorder.
You should get a tool that allows you to record YouTube music within a few clicks. You should also be mindful of the cost of the application. There are free YouTube MP3 recorders in the list too, but their functionality is nowhere near what professional tools offer.
Part 1: Which is the best YouTube Recorder You Must Have in 2023
Be it any software, the internet is full of them. But the problem is it is troublesome to figure out which ones are reliable. Don't worry! We understand you. And for that reason: we've compiled a list of the best YouTube MP3 recorder for Mac, Windows, iPhone, and Android users. So, no matter the device, at the end of this guide, you will have a reliable tool in your hands.
1. Eassiy Screen Recorder Ultimate [Best Choice]
Price: Free, US$ 19.5/mo; Lifetime license: US$ 79.7
"Eassiy packs everything you a user might need from a YouTube MP3 recorder in a  modern and user-friendly UI."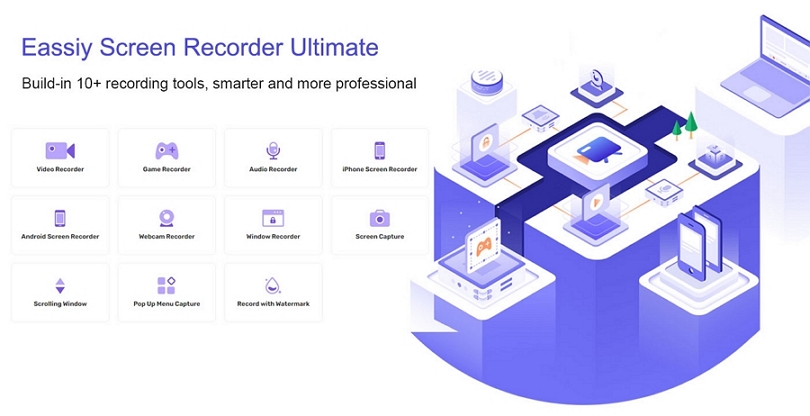 Eassiy Screen Recorder Ultimate stands at the top for a reason. The Eassiy program is simple-to-use, feature-rich, and affordable. At most, users expect solely to capture audio when looking for a YouTube MP3 recorder. But aside from recording audio, Eassiy also offers numerous other features.
Starting with its audio recording capabilities, Eassiy's dedicated Audio Recorder lets you record any audio on the computer (from YouTube or other channels) in high quality. You can also include microphone sound if needed. You will also find a scheduler that starts the audio recording and saves it automatically.
But it does end there; Eassiy primarily serves as a screen recorder. A screen recorder that allows you to capture the Window or Mac screen as needed. You can lock the window, customize the recording area, or even record the entire screen. Plus, you can include a webcam along with the screen recording. Aside from this, you can also capture screenshots of any length (like scrolling and endless) using Eassiy. You can also export the audio or video recording in any format or quality. MP4 or FLAC, Eassiy Audio Recorder can help you export the YouTube recording in any format.

Above all, Eassiy's Audio Recorder or Screen Recorder (both features available in the same program) presents a modern and user-friendly interface; and the self-explanatory nature of Eassiy's interface is what makes it simple for both a beginner or techie alike. In addition, you can create custom hotkeys and manage audio recordings or screen recordings via keyboard shortcuts.
Key Features:
Record YouTube Audio Conveniently: manage system sound levels.
Include microphone sound to add custom sound created by you.
Use custom-made watermarks for the YouTube recorded clips.
Lock YouTube video and only record only YouTube video screen without any distraction.
You can limit background interference and enhance microphone sound.
Include a webcam along with the screen recording.
Snap a screenshot, full-screen, partial screen, or scrolling screenshot using custom-created shortcuts.
Create a schedule to record music, live sport events, streaming videos.
Auto-stop recording of online courses, serials and more you like without staying on the computer screen.
Pros:
Modern and self-explanatory user interface.
Record fast lossless audio from YouTube, the recorded audio quality is perfect
Powerful smart recording features such as schedule recording, auto-stop recording, auto-split etc.
All-in-one screen recorder with build-in 10+ recording tools
Feature-rich advanced recording features such as lock window then record, record video follow mouse etc.
Customized keyboard shortcuts makes it simple to manage everything.
Cons:
The free version only allows you to record YouTube music upto 3 minutes.
2. Wondershare Democreator
Price: Standard — US$ 45/year, Premium — US$ 65/year
"An essential demo-making tool that helps learners, educators, freelancers and gamers to take idea-sharing to the next level."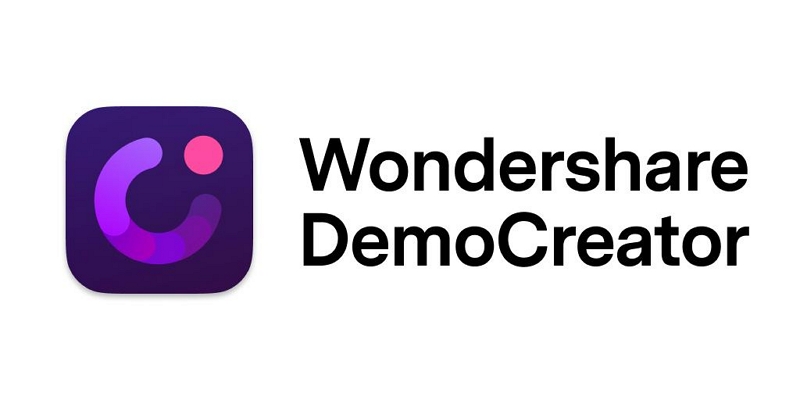 Wondershare Democreator is another exceptional tool that more or less carries the same functionality as Eassiy Screen Recorder but costs more. Laden with exceptional recording features, Wondershare Democreator lets you record music from YouTube in the desired manner. Plus, you can export the captured YouTube audio in any format of your choice.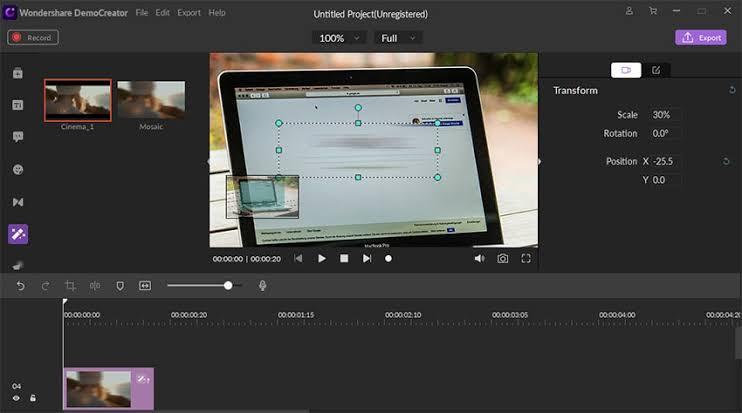 Democreator also carries screen recording tools. You can record the YouTube screen along with a webcam. Plus, you can draw on the YouTube recordings using the annotation tools. There are numerous audio and video effects that you can apply to YouTube recordings.
Coming the Democreator's interface is modern, colorful, and self-explanatory. However, you will have to note that, Democreator is more of a video recorder and editor. So, the audio functionality is really limited. Essentially, even Eassiy primarily serves as a video recorder and editor. But it has a dedicated channel to record YouTube recordings which makes it suitable even for professional audiophiles.
Key Features:
Record Music from YouTube and include microphone sound in the recording.
Save the YouTube recording in any format, including MP3 and WAV.
Add audio effects to make your audio sound professional.
Intuitive audio editing component that allows you to mix the sound.
Pros:
The simple, clean, and colorful interface is easy on the eyes and simple to use.
You will also find tons of video editing and video recording features in Democreator.
Edit the recorded YouTube music by trimming or cutting it down.
You can live stream your events.
Cons:
A costly tool; Eassiy offers more features for way less.
Democreator comes with bells and whistles that audio editors might not need in a YouTube MP3 recorder.
3. Videoder
Price: Free
"A free YouTube downloader that bothers you some ads, but can download videos in up to 4K quality."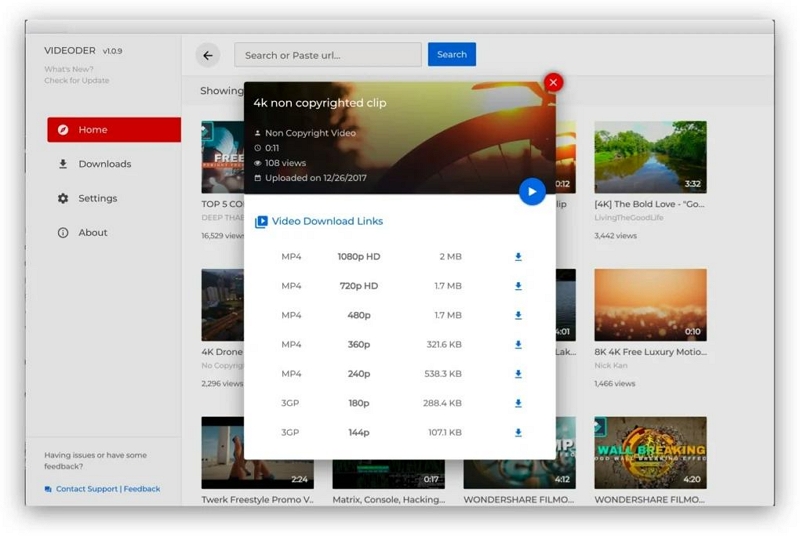 Videoder is a free YouTube downloader that allows you to get any video and audio clip from YouTube for free. Although you can stream via the program, Videoder's primarily serves as a YouTube downloader. Videoder has both Windows and Android apps. The Android version has a premium choice that does not bother you with ads. However, the Windows version has no such options, and you will see bothersome ads (unless you use an adblocker).
Unlike many YouTube downloaders, Videoder is completely safe and virus free. Or, at least, no such complaints have been received in the past from the users. Nevertheless, its vendor collects data as a unique identifier, meaning they will try to understand what language you speak and your gender, among other things.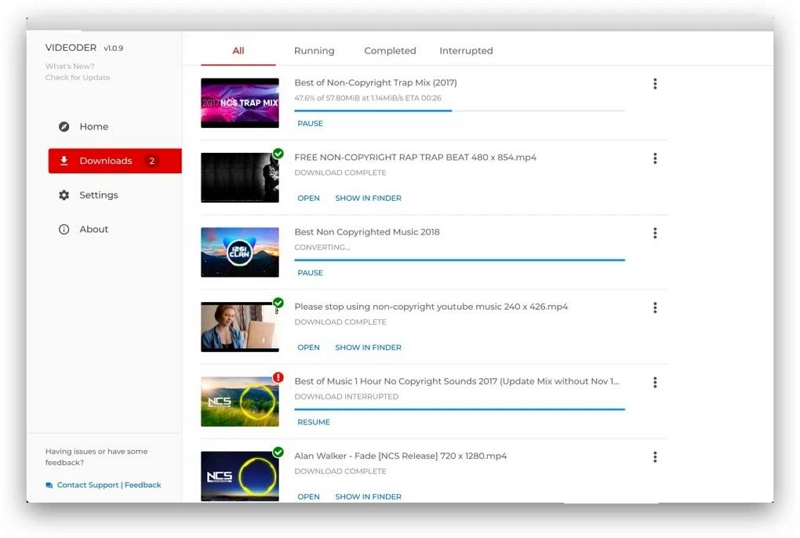 Coming to the user interface, both Videoder for Windows and Videoder for Android has a clean and simple user interface. At most, you can download any YouTube video within minutes.
Key Features:
Copy any YouTube URL, and Videoder will download the video within minutes.
It also works on other hosting sites like Vimeo, Soundcloud, and Spotify.
It supports batch downloads, meaning you can download hundreds of videos at once.
Videoder allows you to choose the format and quality of the video.
Pros:
Available for Android and Windows.
Lightweight application.
Clean and modern interface.
The in-app search tool makes it simple for you to locate desired music easily.
Cons:
The built-in search feature is not substantial; eventually, you will have to head over to the host site.
The built-in player only plays some part of the file.
The ads on the Windows and Android free versions are annoying.
4. VideoProc Converter
Price: US$ 26.95/ year
"A fast processing software that converts YouTube music into more than 450 audio file formats and comes with added benefits of repairing audio files."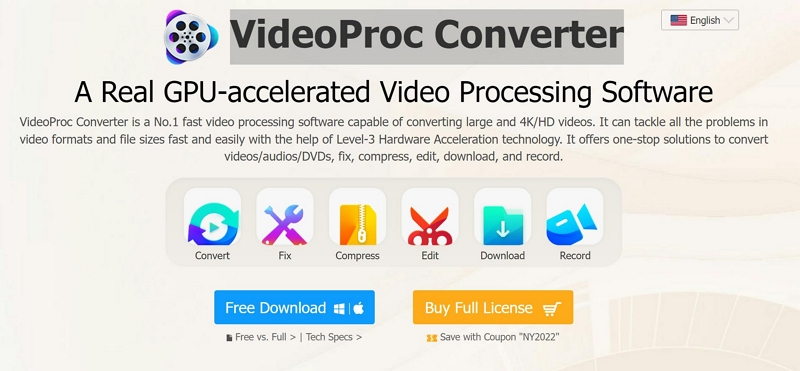 VideoProc Converter allows you to convert YouTube audio easily. There are even editing features that let you add effects, trim the recorded audio, and convert it into the desired format. Supporting more than 450 file formats, the VideoProc converter is more of a video and audio converter. Still, the ability to download YouTube audio using a URL also makes it suitable to find a place a list of YouTube MP3 recorders.

Coming to the user interface, VideoProc Converter makes it very simple for users to record YouTube audio and video seamlessly. There are even ways to fix corrupt video and audio files.
Key Features:
Record MP3 from YouTube using just URL.
Fix broken audio files.
Edit the audio recordings from YouTube by adding the audio effects or cut them down.
Compress the audio files into another format.
Pros:
You can also record YouTube video using VideoProc Converter.
450+ audio and video file formats supported, means you can convert from one format to another conveniently.
Faster performance.
VideoProc Converter presents a simple-to-use interface.
Cons:
A costly tool for audio files. It is suitable if you are looking to repair audio files.
There is no way to add microphone sound.
5. Peggo
Price: US$ 19.9/year (Android), Free
"Peggo is a simple to use tool for Android and Windows users to record MP3 from YouTube and SoundCloud."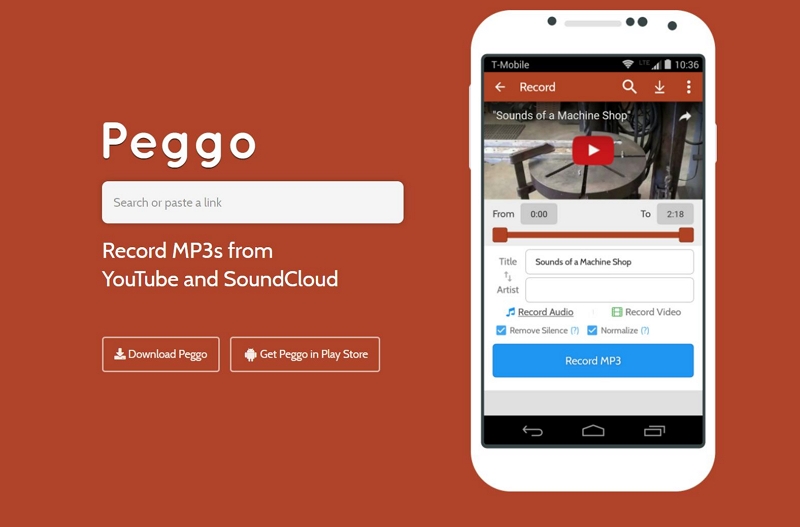 Peggo is a digital audio recorder that allows you to pick a song from YouTube and convert it into the desired format conveniently. Peggo is available only for Android users, and a version of it can also be accessed online. However, there is no official Peggo app on the Google Play store, so you will have to download the Peggo app from third-party vendors like CNET or SoftwareCase, and so on. There is also a Windows version of Peggo. Be it any platform, Peggo annoys you with ads. And there is no way to get rid of them on Windows or Online. The Android version of Peggo, however, does allow you to upgrade the app and get rid of the ads.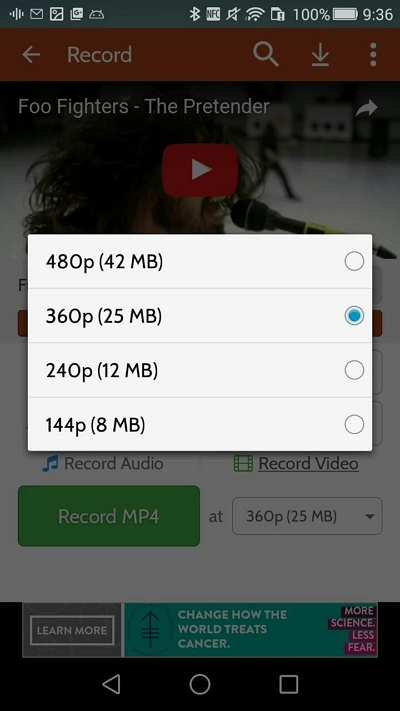 Coming to the audio recording features, Peggo lets you copy the YouTube URL and convert it to MP3. You also have the choice to choose the duration of the recording. Upon recording the audio from YouTube, you can add some effects like Normalize and Remove Silence. Overall, Peggo is convenient, free, and suitable for users looking to record YouTube music for personal use.
Key Features:
Record YouTube music using the URL.
Set the duration of the audio you want to record.
Convert the YouTube music into MP3.
Add effects to the recorded YouTube audio.
Pros:
Available for Android, Windows, and Online.
The Android version has an upgrade plan to get rid of ads.
You can also record YouTube videos using the Peggo app.
Cons:
Not available for Mac and iOS users.
There is no way to get rid of ads on Windows and the online version.
The quality of the audio degrades a little bit compared to the original YouTube video.
6. Softorino YouTube Converter
Price: US$ 2.92/annum
"An affordable YouTube MP3 recorder that presents simple interface and gets the job done."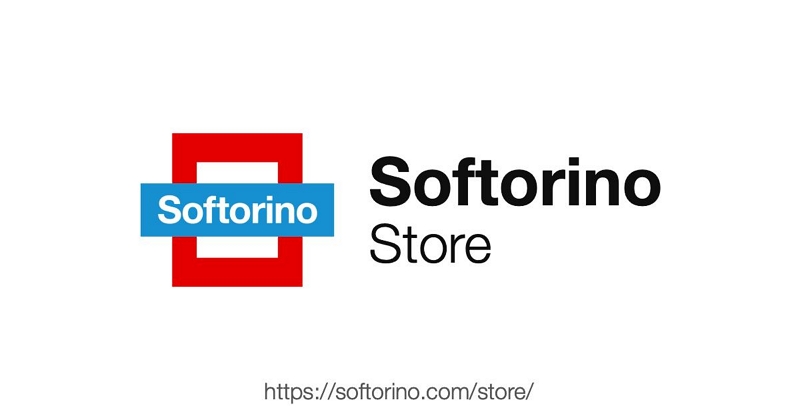 Softorino is a simple program that charges you meagerly and gives you a simple interface to copy YouTube URL and converts them into the desired audio format. There are even simple editing options like trimming and cutting to remove unwanted parts from the audio recording. However, there aren't sophisticated features like background noise remover. Plus, there isn't a way to record microphone sound.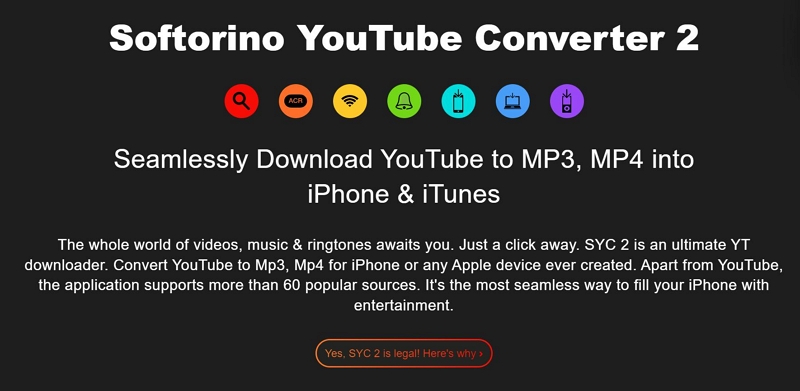 Apart from YouTube, Softorino supports more than 60 other sources. So you can also download music from other sources like Spotify, Saavn, Soundcloud, and Apple iTunes. Another substantial feature about Softorino is you have to pay for the features you need. For instance, if you want to download music from iTunes, you can buy the features of the iTunes downloader and save audio files from iTunes.
Key Features:
Download YouTube music and audio files from 60+ other sources.
A fast processing technology makes it very simple to download YouTube music quickly and efficiently.
You can download an entire playlist at once, eliminating the need of choosing audio files manually every time.
The in-app browser makes it simple to locate desired audio files and add them to the converter.
Pros:
A simple and beautiful interface.
It is available for both Windows and Mac users.
You can pay for the features you need.
Cost-effective and charges you only US$ 2.92 annually.
Cons:
There are no fancy features like a microphone.
A very basic YouTube MP3 downloader.
Part 2: Comparision Table Of the Best YouTube MP3 Recorders
Looking individually at the software must have given you a clear idea of the individual tools. Still, you might be looking for a way to compare the best YouTube MP3 Recorders mentioned in the list and see how they compare against each other. And for that reason, here's a quick comparison of the best YouTube MP3 Recorders mentioned in the list.
YouTube MP3 Recorders

Interface

Key Features

Price

Rating

Eassiy Screen Recorder Ultimate

Simple, easy-on-eyes, and self-explanatory.

More than 10 recording tools such as video recorder, audio recorder, game recorder, window recorder, phone recorder etc. with rich smart and advanced features

US$ 19.9/mo.
Free version available.

10

Democreator

Simple and colorful. Also, easy-to-use.

Audio Recorder. Add Microphone Sound. Convert in any format. And share on social channels.

US$ 45.99/annum.
No free trial.

8

Videoder

No learning curve whatsoever.

Convert YouTube audio.

Free.

7

VideoProc Converter

Extra bells and whistles make the interface complex.

Audio repair tool. Download from YouTube.

US$ 25.59/annum

6

Peggo

Simple and easy.

Record audio from YouTube and Soundcloud.

Free on Windows.
US$ 19.99/ annum (Android).

8

Softorino

Decent!

Download desired audio files from YouTube and 60+ other sources.

US$ 2.52/annum.

9
Part 3: How to Record MP3 Music From YouTube In a Few Clicks
Although all the tools in the list are good on some level and get the job of recording music from YouTube done. It is the Eassiy Audio Recorder that makes it simple for even the least tech-literates to record music from YouTube and other channels. So, let us learn how to record music from YouTube using Eassiy Audio Recorder.
Here's How To Record Music From YouTube using Eassiy Audio Recorder:
Step 1. Download and Install the Eassiy program on your Mac or Windows. Launch the Eassiy program. On the main interface, there are many options: Video Recorder, Audio Recorder, Game Recorder, and so on. Choose Audio Recorder.

Step 2. On the next page, you will find options to manage the System Sound, Microphone Sound, and so on. Adjust the volume levels using the sliders. Plus, there are a bunch of other options like Schedule Recorder (starts and ends the audio recording as scheduled).

Note: You can even opt for options like Microphone noise cancellation and Microphone enhancement via the Preferences tab. This will enhance the microphone sound and limit the background noises, eliminating the need for audio editing during post-production.
Step 3. Click the Rec button to start recording the YouTube music. You can also use the default keyboard shortcuts or use your own custom-created hotkeys to manage the YouTube audio recording.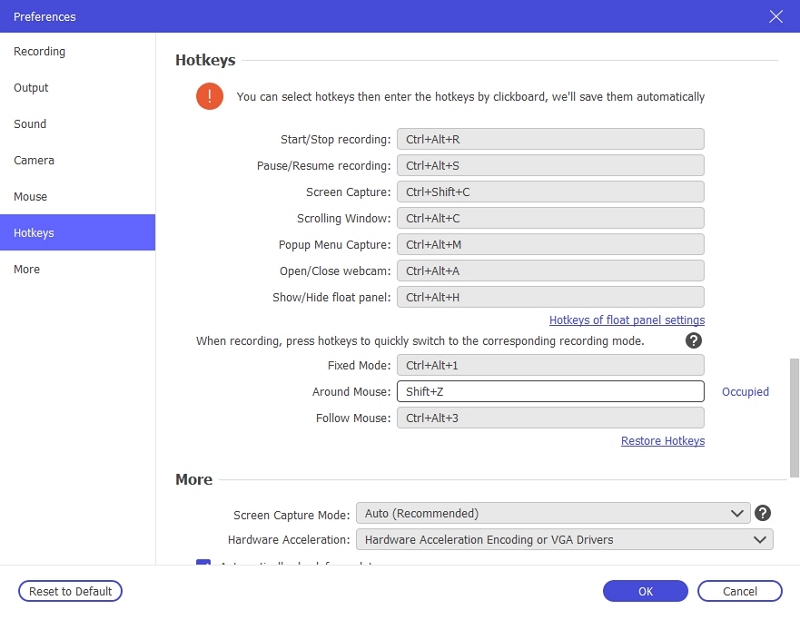 Step 4. You can also change the volume levels during live YouTube recording. Click on the Pause button to interrupt the YouTube recording. At the same time, click on the Stop button to stop the YouTube music recording.
Note: Just like Schedule Recording, there is also a way to end the recording after a specific time automatically. Click on the Clock icon to set up the time after which you want to end the YouTube recording. And Eassiy will stop and save the recording automatically.
You can also navigate to  More Settings> Output > Audio Format and change the desired format of the YouTube music recording.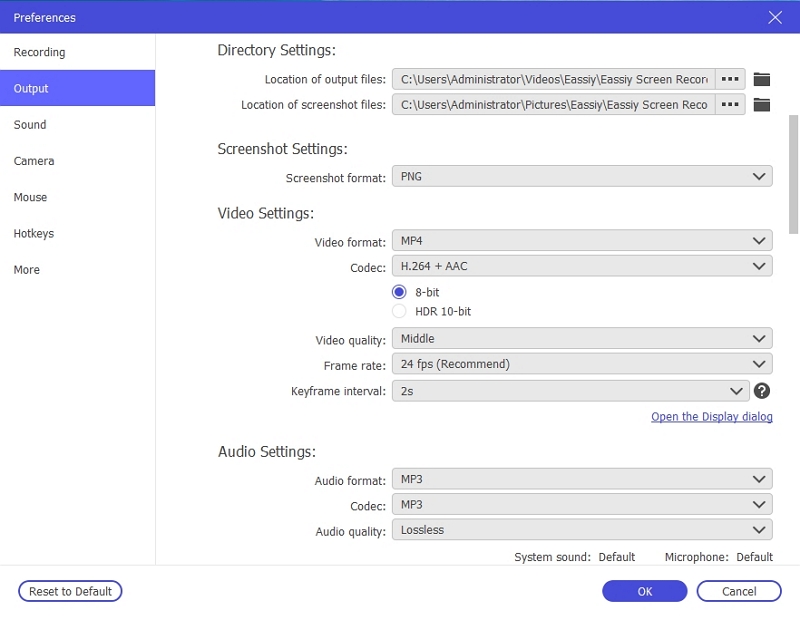 Step 5. Once you Save the Audio Recording. Eassiy allows you to edit the YouTube music. So, you can remove the unwanted parts and make the music suitable for professional environment.
Eassiy, no doubt, makes it simple for beginner or experts to record audio conveniently. By giving you the option to manage sound levels during live recording, limit background interferences, and so on, it cuts down the editing time during post-production.
FAQs
1. What is the best recorder for YouTube?
Hands down, Eassiy Audio Recorder, is the best YouTube MP3 Recorder. It allows you to record audio of anything on the screen. Plus, it lets you include microphone sound in the audio. Additionally, there are intuitive features like Auto Schedule and Clock to start and end the YouTube recording automatically. Moreover, you can also save the audio file in any desired format.
2. What Audio Recorder do YouTubers Use?
YouTube prefers a combination of Screen Recorder and Audio Recorder. And that's why Eassiy is preferred by top YouTubers. You can record the screen in any desired way. Plus, you can record audio with microphone sound. Additionally, you get your hands on the best editing tools.
3. Can I Record YouTube Audio on My Computer?
Yes. Tools like Eassiy Audio Recorder make it simple to record YouTube audio on Windows or Mac.
Conclusion
Finding the right YouTube MP3 Recorder for you need can be quite challenging, especially if you have no knowledge on which YouTube screen in the industry can satisfy your need. 
However, in the article above, we've discussed the best six YouTube MP3 recorder that are reliable for not just YouTube mp3 recording but for performing other kind of recording tasks. So, if you've read the article, we're pretty sure you've found the YouTube MP3 recorder that is perfect for you. But, if you're still contemplating on the YouTube MP3 recorder to choose, Eassiy screen recorder is the ideal tool as it is packed with lots more robust features that facilitates high-quality YouTube audio recording and screen recording.