We all somewhat face situations like losing important contacts as our Android devices get damaged or broken. Then comes the period when we search for possible solutions to get back our data no matter what. However, it seems like retrieving contacts from a broken phone is a complex and time-consuming task. So, if you are in a similar situation and looking for possible methods to retrieve your contacts from any broken Android device, we got you covered with our 5 easy to follow methods and our most recommended solution that includes.
A data recovery tool
Contacts App
Google Drive
SD card
Samsung Account
All these methods require less technical knowledge, and you can perform the solutions in almost any Android system.
Part 1: Can I Recover Contacts from Broken Android Phone?
You can still recover contacts even if your Android phone is damaged by several methods. For example, you can retrieve data using a Google account or any other local backup service. Other external data storage technologies like SD cards or PC can solve the problem though you need to have a backup first to make this work. You can also use a local data recovery service to automatically retrieve your contacts, all you need is an OTG cable and a pc to make this software work for your broken Android device.
Part 2: How to Recover Contacts from Android Phone with Broken Screen?
In this section, we'll explain each method step by step to restore contacts from your broken Android device. These solutions contain both third-party data recovery software and backup services that will help you to retrieve contacts even if you have a damaged or broken screen issue in your device.
Method 1: Best Way to Recover Contacts from Broken Android Phone [Most Important]
Android data recovery tools like Eassiy Android Data Recovery comes in handy, especially when you can't access your phone directly because of a damaged screen or broken hardware problem. This application has the highest data recovery rate in the industry. With its sophisticated three-data restoration mode (Direct from Android devices, SD cards, and SIM cards), you can easily retrieve all your contacts and many other files in a few seconds. Talking about speed, this tool can scan 1000+ lost files in seconds. It has both quick and deep scan options that support 6000+ Android devices, including Samsung, HTC, Google, Sony, and many other famous brands. Along with contacts, you can also recover 16+ file formats providing you with a broader range of solutions regarding data loss.
Features:
Supports 6000+ Android devices.
Previewing and selectively restore of deleted files is available.
Offers 100% safe recovery.
Scans 1000+ deleted files in a few seconds.
Without backup, you can restore all WhatsApp attachments and messages.
Steps to Recover Contacts from Broken Android Phone:
Step 1: Download and install the Eassiy Android data recovery tool from their official website. Choose the required version for your system.
Step 2: Enable USB debugging for your Android device so that the software can detect your phone for the scan.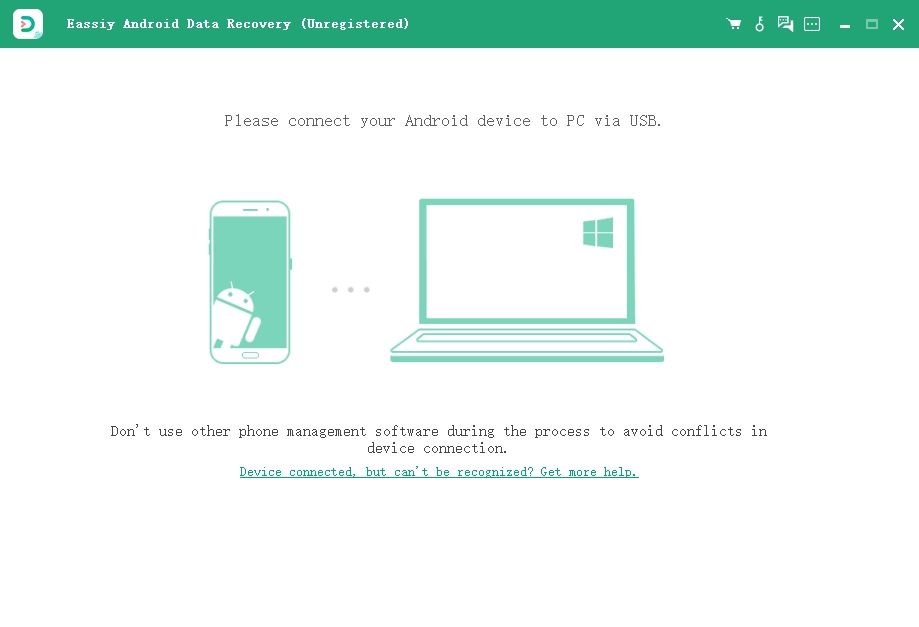 Step 3: Select the "contacts" option that you will find in the categories of deleted files on the interface of the software. Click the "NEXT" button.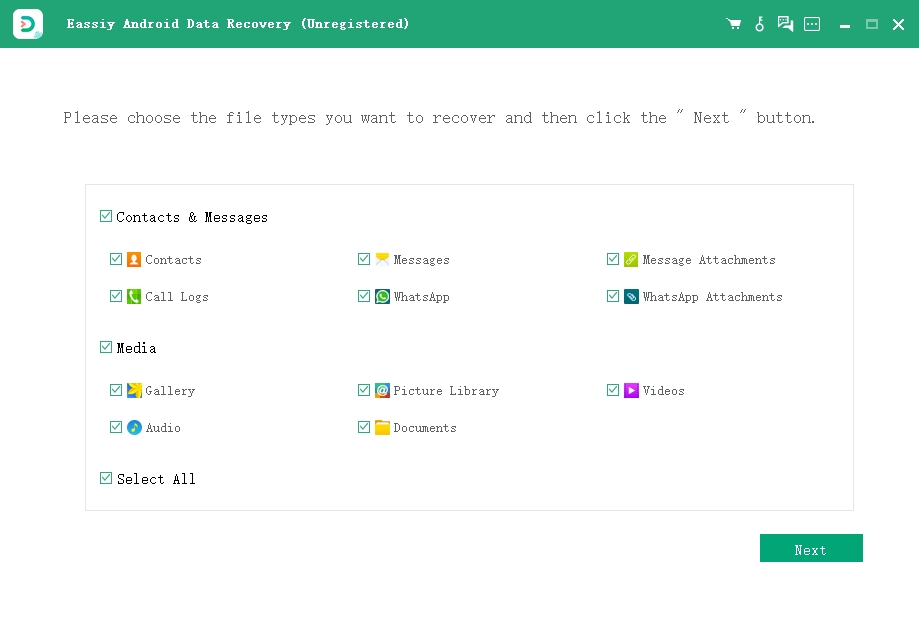 Step 4: To access lost "contact" files, the application will add an app to your phone asking for permission, which will be promptly removed following your data recovery. After opening your phone, go to the Developer Options and select Install to download the Eassiy app through USB. Allow the Eassiy app's queries on your phone to access your phone data. After granting permissions to the program, select "Scan Authorized Files" to begin searching for deleted contacts.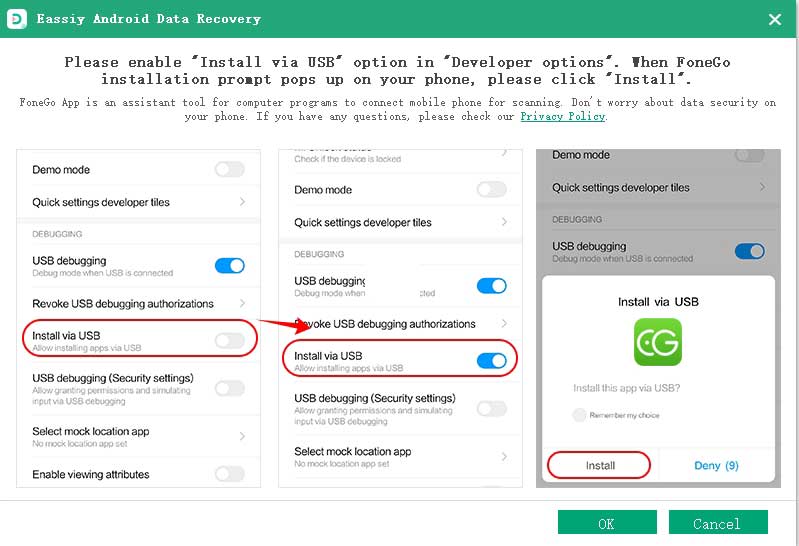 Step 5:  Following the scanning, you may get a short glimpse of the data saved on your Android. After that, pick "Contacts" from the left menu to select the contacts you want to restore to your system. Finally, click the "Restore" button, and it will do the job for you.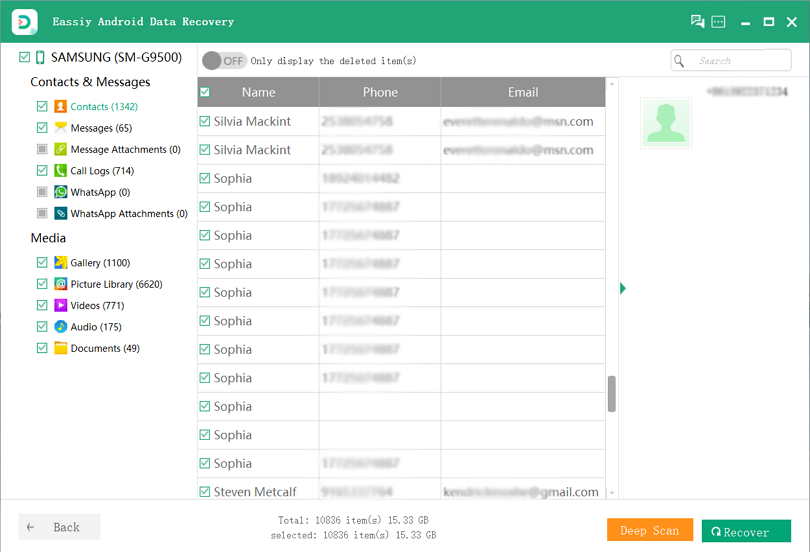 Method 2: Recover Contacts from Android Phone with Broken Screen Using Contacts App
Every Android device has its own contact app, which keeps deleted contacts (in the Trash folder) for just 30 days before permanently deleting them. It's similar to a "Recycle Bin" that is located in your contact app. It is an overall straightforward procedure.
Steps to Recover Broken Screen Android Contacts Using Contacts App:
Step 1: Open the contact app on your Android device and tap on the "Fix & Manage" button or simply the "hamburger" tab.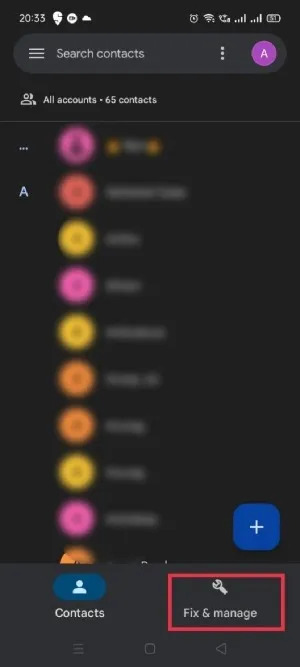 Step 2: Find the trash option and check for the lost contacts that you are looking for.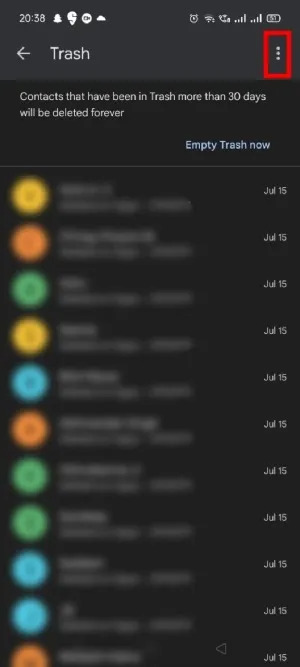 Step 3: Long-click the phone numbers you wish to recover, then hit the three vertical dots symbol in the upper left corner of the screen and select "Recover." All of your deleted phone numbers will be returned to your smartphone in an instant.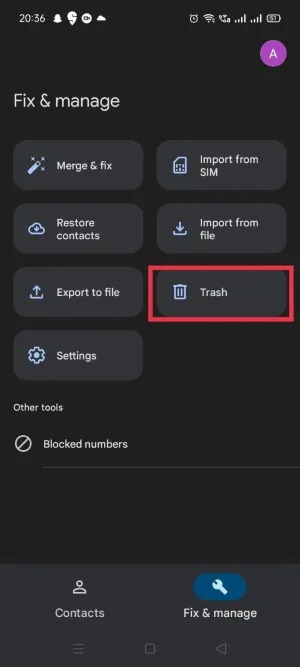 Method 3: Recover Contacts from Broken Android Phone with Google Drive
If your Android smartphone is broken, you may use your Google account to restore your contacts to any device, whether it be a new Android phone or a PC. If you have a new phone or another Android device, all you have to do is set it up and log in to your Google account (the same account where you saved the contacts). Once you log in and download the Google Contacts app, it will instantly sync and restore your contacts from Google Drive to your phone.
Steps to Recover Broken Screen Android Contacts with Google Drive:
Step 1: Open the Settings app on your phone, then go to the "Google" option.
Step 2: Next, tap on "Set up & restore".
Step 3: Finally, hit the "Restore contacts" tab to retrieve all the lost contacts from your broken Android device.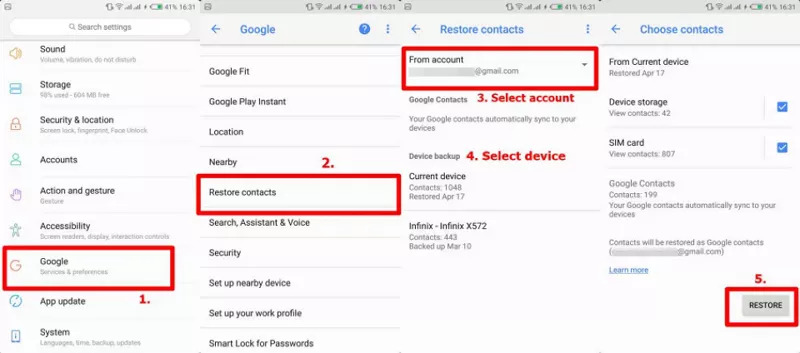 Method 4: Recover Contacts from Android Phone with Broken Screen by SD Card
It's another simple method that requires a backup of your contacts on your external storage system, like the SD card. All you have to do is connect your memory card containing your backup contacts to a new/another Android phone and import the ".vcf" or ".csv" file. You can also use a card reader to transfer the contact files to your PC.
Steps to Recover Broken Screen Android Contacts by SD Card:
Step 1: First, insert your SD card into another/new Android device
Step 2: Open the contact app and click the "menu" button. There you will go into the settings option and click the "Import/Export" tab
Step 3: Select "Import" and then chose "Contacts from MicroSD Card."
Step 4: Finally, select the VCF/CSV file that you want to import to a new device.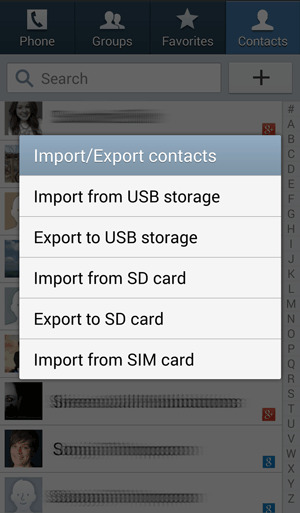 Method 5: Broken Android Data Recovery Recover Contacts from Broken Galaxy note 5 [Samsung Account]
If you are a Samsung smartphone user who wants to restore your contacts because of device damage, you can use your Samsung account to back up the contact files and retrieve them to any other device by following these simple steps.
Steps to Recover Broken Screen Android Contacts Using Samsung Account:
Step 1: Go to your phone settings, select the "Personalisation" tab and click on the "Accounts" option.
Step 2: After that, sign in to your Samsung Account by entering your email address and password.
Step 3: Finally, press the "Recover" and "OK" buttons to restore contacts from your Samsung phone.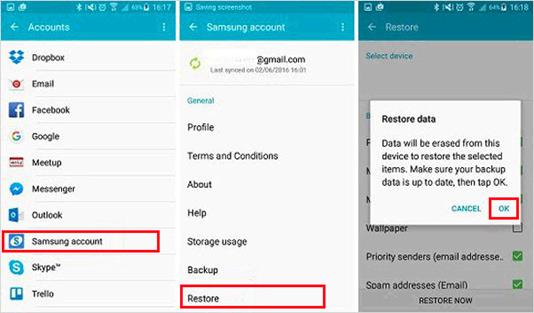 Part 3: FAQs
1. Can I access my phone contacts from my computer?
When you store your contacts correctly, any phone numbers saved on your Android smartphone can be accessed from a computer or laptop when you are logged in with your Google account. In other words, you can access your contacts through any local backup service directly from your PC if you've backed up your data.
2. Is it possible to recover Google contacts from a year ago?
Unfortunately, this service is not currently accessible on Google accounts. When you delete a contact, it is moved to the trash folder in your Google contacts and remains there for 30 days before being permanently erased. You can no longer recover a deleted contact if it has been more than 30 days since you deleted it.
3. Is using third-party recovery software safe?
Yes, third-party recovery applications are generally safe to use. They are designed to retrieve data and will not affect your system or device. Untrusted applications, on the other hand, may steal sensitive data from your phone or install spyware on it. Before selecting a recovery app, do your homework.
4. If I factory reset my Android, will I lose my contacts?
The phrase "factory reset" refers to the process of removing user data from an electronic device and restoring it to factory defaults. A factory reset will remove all additional data from your phone. While the files in Google Account can be recovered, all applications and associated data will be removed.
Conclusion
Losing important contacts is not what we want from modern technologies like Android phones. However, your phone may become damaged or shattered, resulting in data loss, and eventually, you seek options that really work. In this article, we discussed some of the possible solutions like google backup, external storage systems, contact apps, etc. to help retrieve lost contacts due to phone damage. However, our best recommendation was the "Eassiy Android data recovery tool" that guarantees successful data recovery, in this case, your contacts though you have a broken device. All that is required is to connect the device, scan, and recover.