Have you ever regrettably deleted a text message on your Android device after making a mistaken deletion? Good to have you join the club! Text messages are currently the most popular form of communication because of their effectiveness and dependability. The agonizing feeling of discovering a crucial SMS communication has been deleted is something you never get used to. Users who are desperate to save those important texts will do anything. Although recovering lost texts is not an easy task, it is possible with some effort. There is a chance you can retrieve those priceless text messages, and we can assist you in doing so!
In this article, we'll go over in detail all you need to know about recovering deleted text messages on an Android handset. If you accidentally deleted crucial texts on your Android phone and wish to recover them, this article will be your true saviour. In this article, we've highlighted the top 6 ways to retrieve deleted text messages from Android devices. The best Android data recovery tool, Eassiy Android Data Recovery, which is a useful tool for retrieving lost or deleted text messages, will also be introduced. Continue reading along with us!
Part 1: Is It Possible To Retrieve Deleted Text Message Android?
The answer to your query is yes, it is possible to recover text messages from your android. With the cutting-edge technology we have today, it is feasible to effectively recover deleted text messages on Android by using a computer and a data recovery tool. Thankfully, using the other techniques and connecting into your Google Drive, you may retrieve them. But most users don't use Google to back up their data. In this situation, this article lists the top 6 ways to recover phone numbers that may have been inadvertently deleted from your Android device.
Part 2: How to Retrieve Deleted Text Messages Android? [Best 6 Ways]
Text messages, as we are all know, are essential to us all. You do, however, occasionally lose messages for unforeseen causes. You are now trying to figure out how to get it back. Due to this, we have included many techniques for retrieving deleted text messages from your Android phone below.
Way 1: Best Way for Android Deleted Text Message Recovery [Safest & Fastest]
You can recover irreversibly deleted text messages from your Android device without a backup by using Eassiy Android Data Recovery. Due to its user-friendly design, Eassiy Android Data Recovery would be the best option even if you are a neophyte when it comes to working with android data recovery. Eassiy Android Data Recovery provides the quickest rate of data recovery from Android devices. This application supports a record-breaking 16+ different file types. Eassiy Android Data Recovery works with a wide range of Android handsets, including those made by Samsung, Huawei, HTC, Google, LG, and Sony.
Accidentally deleted text messages can be easily recovered thanks to Eassiy's cutting-edge Android data access and recovery technology. Whatever the cause of the lost text messages on your Android phone, system failure, an unintentional deletion, external damage, or any other issue, Eassiy Android Data Recovery is the best recovery tool to get you out of this jam. The finest recovery source is Eassiy Android Data Recovery since it recovers data more frequently than its competitors and can swiftly go through 1000+ deleted files.
Key Features:
Assistance with more than 6000 Android mobile devices;
The highest industry average for Android smartphone data recovery.
Look through 1000+ deleted files quickly by using a quicker scan.
There is a separate set of functionality available for each of the three recovery possibilities offered by this software.
Supports astonishingly more than 16 distinct file kinds.
Steps to recover deleted data on android using Eassiy:
Step 1: Install and run Eassiy Android Data Recovery
Your erased text messages information can be recovered with the excellent Eassiy Android Data Recovery. Installing the most recent version of this software on your computer is necessary to accomplish this.
Step 2: Connect your Android to a computer.
A connection between your PC and Android is required. Next, go to "USB debugging" on your Android smartphone.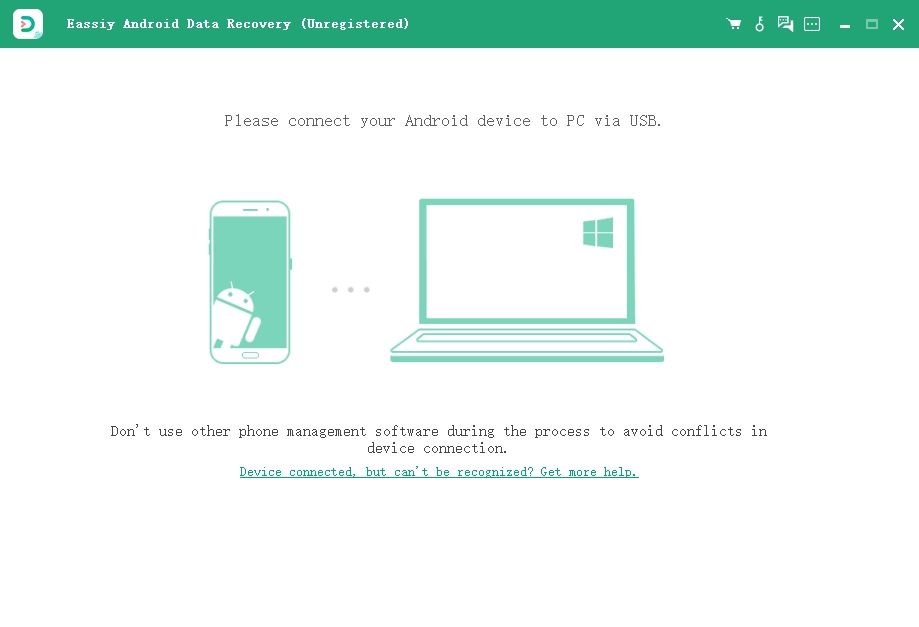 Step 3: Select Your File Types
Pick the type of file you want to recover. Check all the boxes pertaining to "Contacts & Messages" after choosing this option. After choosing a file type, click "Next" to restore your deleted text messages.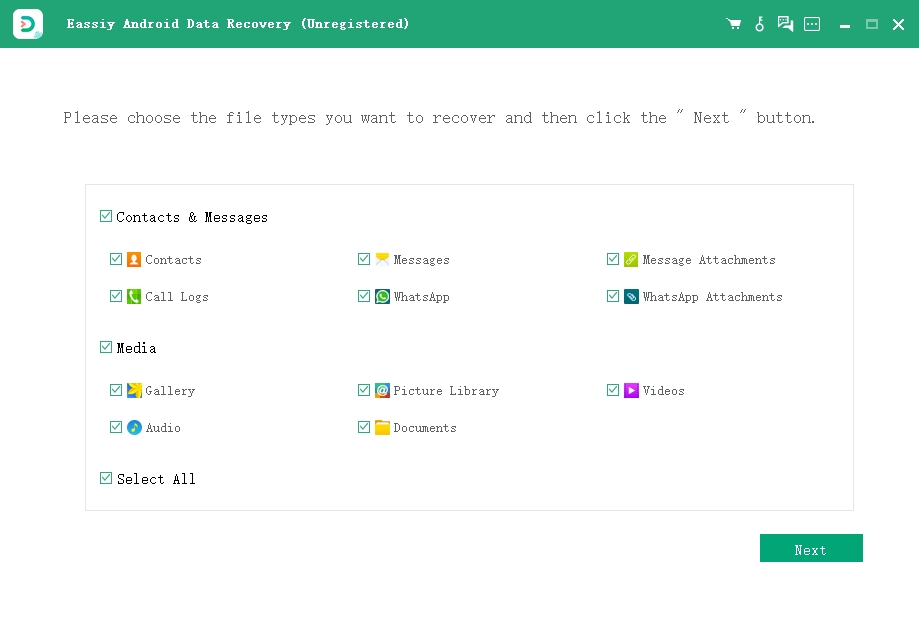 Step 4: Download the Eassiy app on your device.
The Eassiy Android Data Recovery program needs to be installed on your Android smartphone in order for you to access it. When the pop-up appears on your Android smartphone, pick "Install through USB" in the software's developer options, then click "Install."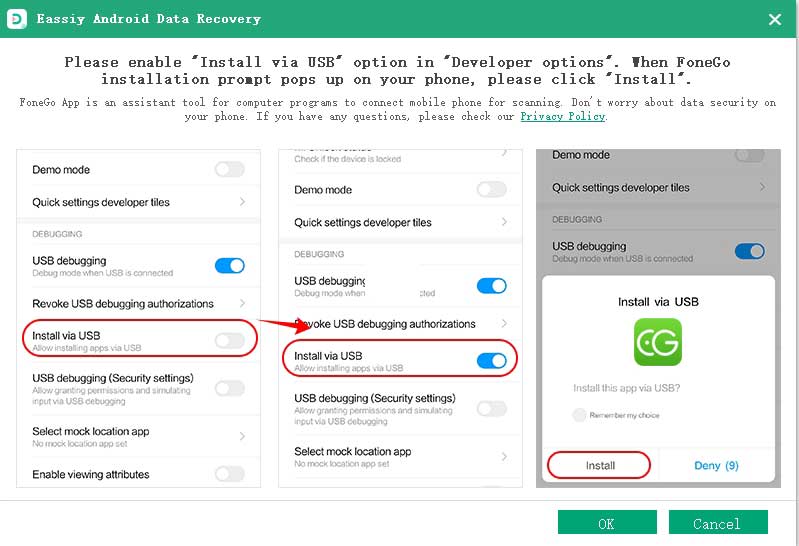 Give Eassiy permission to access the memory of the Android device.When the Eassiy pop-up box asks for permission to read data from your Android smartphone, click "Allow." As a result, the software will be able to successfully scan the phone. Select "Scan Authorized Files" on the software to start looking for the deleted text messages.
Step 5: Restore Android Data
Keep your phone plugged into the network while the system is being scanned. Verify the necessary data is present after the initial scan. If not, select "Deep Scan" to look for concealed data. You may now select each file type to view the data after the deep scan technique. For instance, you can view text messages along with names, emails, and phone numbers by clicking on the sub option of "Contacts & Messages". After that, select "Recover" and indicate text messages you want to get back.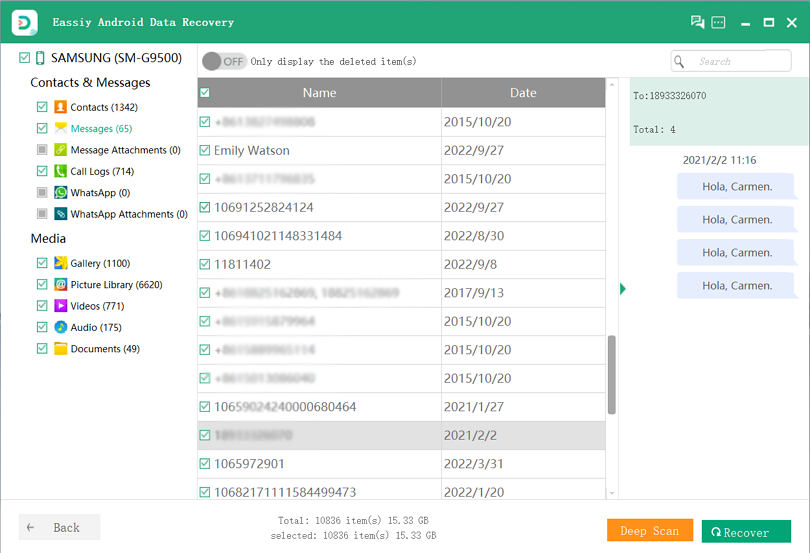 Way 2: Android Recover Deleted Text Messages by Checking Archive
In the Messages app, archiving a message is done by default by swiping. The software archives the chat thread if you unintentionally swipe left or right on one of the conversation threads in Messages. Here's how to locate and remove key messages from your archive:
Step 1: On Android, launch Messages.
Step 2: Press the three dots in the top-right corner to open the menu.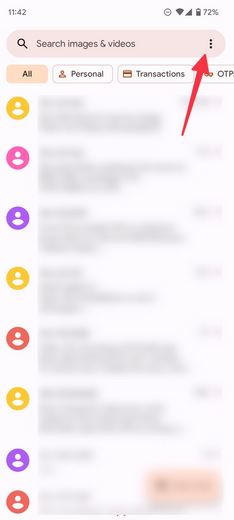 Step 3: Click on Archived.
Step 4: Tap the up arrow icon at the top after long-tapping the message you want to unarchive.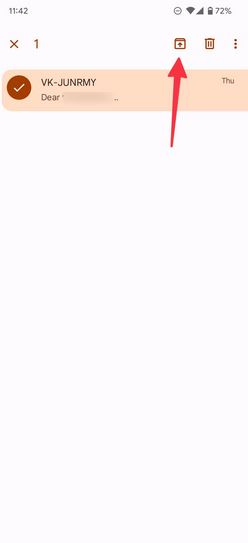 Way 3: Recover Deleted Text Messages Android with Google Drive
Your deleted text messages and photographs may still be included in the Google Drive backup that you previously enabled on your Android smartphone. For instructions on how to recover your Google Drive backup, see below:
Step 1: Open Google Drive on your mobile device.
Step 2: Select the menu button (three lines) located in the top left corner of the screen.
Step 3: Select "Backups" from the menu.
Step 4: At this point, confirm that your communication has been backed up.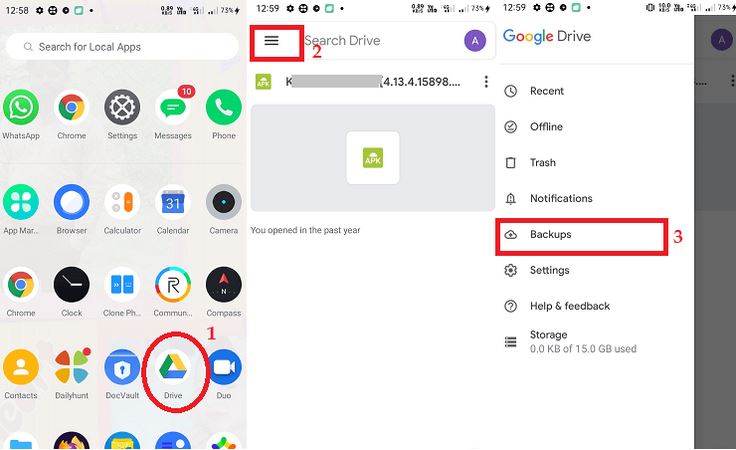 Way 4: How to Recover Deleted Text Messages on Android by Checking Carrier App
Carriers preserve messages in their large databases even after they have been removed. Therefore, you can contact your carrier to get free access to deleted text messages from a different phone. Direct access to stored text messages may not be available from all carriers. Instead, they allow you to retrieve deleted SMS using their backup software. Customers can employ Verizon's retrieval software, for instance.
Way 5: Recover Deleted Text Messages Android Free App GT Recovery
Although it is not advised, you can still use a mobile app to recover deleted SMS on an Android phone. After all, some of you might feel that using a computer is not practical. You can simply recover your deleted text messages on your Android phone by using the feature-rich, free program GT Recovery. The steps listed below can help you quickly recover your deleted texts with GT Recovery:
Step 1: Open the GT Recovery app that you downloaded from the Play Store on your device. GT will prompt you to first root your smartphone if it hasn't been done.
Step 2: You must perform a scan to look for your lost messages on the screen that appears after that. To do that, click Start new scan.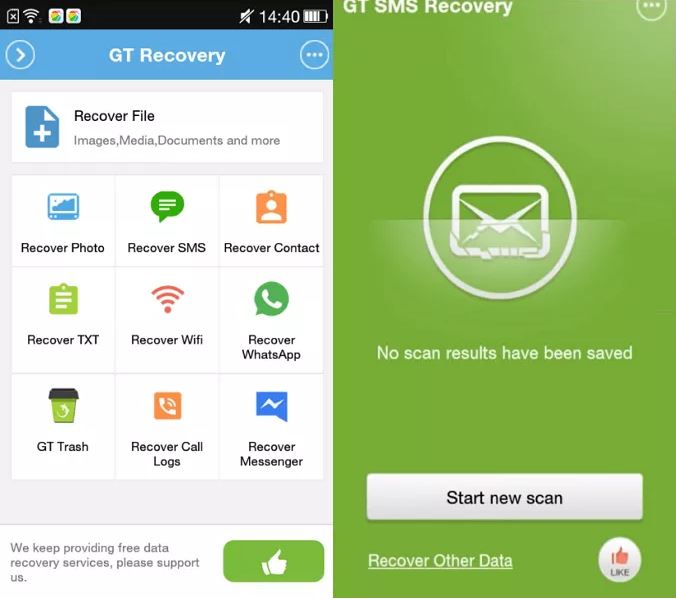 Step 3: You can preview the phone number and choose the desired messages after your phone has been checked for recoverable texts. To retrieve them, click "Recover Selected SMS".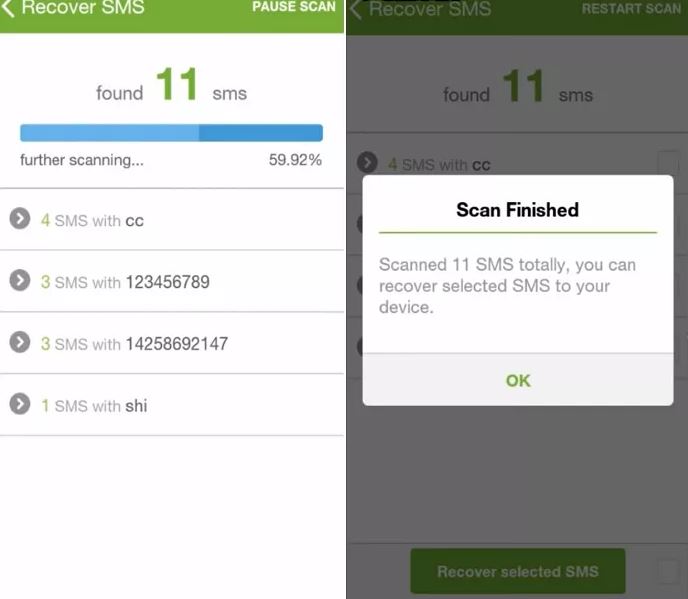 That was the procedure for recovering deleted messages from an Android device without a computer. However, when you download and install the program on your Android phone, new data will be created in the phone's memory, which could overwrite any previously erased messages and result in their permanent deletion.
Way 6: Recover Deleted Message Android by Asking From Sender/Recipient
This could be the less time-consuming answer to the issue. See if you can get in touch with the person you were speaking with to see if they still have the text. If not, they might be able to recall and communicate the data you were trying to find. If talking to someone isn't an option, maybe one of the other strategies in this article can help.
Part 3: FAQs to Retrieve Deleted Text Android
1. Can I Recover Deleted Messages on Android Without Root?
NO. We must be clear that deleted text messages are stored in a hidden folder of your phone memory, which can't be accessed by standard file explorer, for people who seek about questions like "Where are deleted text messages stored on Android?" The deleted texts can only be accessed by an Android data recovery app after rooting your Android device. Consequently, it is quite difficult to recover your lost text messages without rooting your device, despite the fact that several apps claim to be able to do so.
2. Can you still see messages through the phone carrier if I delete them?
They can, so if you've been cheating on your partner or engaging in questionable behaviour at work, be careful! On the SIM card, messages are organized as data files. The data doesn't truly transfer when you move or delete messages. You are merely instructing the phone to point at the files in various directions.
3. Where do my texts go when I delete them?
When you remove an Android message, the space it occupied is marked as "unused," and the deleted message is only overwritten when new data is created while you are still using the device. Before the deleted messages are rewritten, there is no set amount of time or duration.
4. Is anything ever really deleted from your phone?
Though the phone is unaware of its location or contents, it is nonetheless stored. Another piece of software might discover the erased data if the phone hasn't replaced it. Although identifying and decoding it isn't always simple, the forensic community has access to some incredibly potent technologies that aid in the process.
Conclusion
Our lives are not complete without text messages, and occasionally losing one can be really problematic. It is preferable to be safe than sorry even though it is relatively simple to recover your text messages using recovery software, Google Drive, or any other Cloud Storage backups. To prevent such scenarios in the future, keep in mind to save screenshots and backup the crucial messages. Nevertheless, we've provided you with the top 6 techniques for recovering text messages from your Android smartphone so you don't have to scavenge about looking for your lost texts. You should be able to recover any deleted messages from your Android devices by following the instructions we've provided above. You should be aware, nevertheless, that Eassiy Android data recovery is your most sane option out of all of these methods. This may function as a trustworthy source in addition to guaranteeing your entire security of data recovery.