One of the most important types of files on Android phones is contacts. It can be a frustrating experience to lose all contacts from your Android device. You might accidentally delete contacts on Android while doing other kinds of stuff. However, there are several ways to recover lost contacts on Android phone. Here, we are describing 6 ways to recover deleted contact Android without root. So if you are in such kind of situation, you can try out the given 6 ways.
Part 1: What Are The Reasons Behind Lost Contacts On Android?
Android phone contact loss might be caused by many factors. Here are the main reasons behind lost contacts on Android:
Contacts Deletion:
Contact deletion is a very common phenomenon. You might delete some important ones by accident when you want to delete some invalid Android phone contacts. Or sometimes, you mistakenly press the Delete button while you want to edit the contact. These unexpected operations can cause you the loss of Android contacts.
Android Update:
Most of you will choose to update the Android phone to the newest version and enjoy its new feature when the new Android version is released. But some users have reported that after the upgrade to the Android version, their Android contacts are missing. More types of files are lost after the Android upgrade in most cases.
Factory Reset:
After your Android phone has been used for some time, the device might run slowly. After that, you will be able to restore your Android device to factory reset and run it as a new one. Before factory resetting your device, you have to back up all your contacts. But if you forget to back up your Android contacts in advance then you will lose all of them.
Virus Attack:
Another cause of Android phone contact loss is a virus attack. You had better firstly use a piece of antivirus software to scan and remove the virus if you suspect the Android phone contact loss is caused by a virus attack. After that, you have to consider recovering lost contacts on your Android phone.
Phone Loss:
It will be a disaster if your Android phone is lost or stolen by accident. If you have synced them with your Google account, you can get deleted Android contacts back from Gmail under this circumstance.
Part 2: How to Recover Deleted Contact Android? [Best 6 Ways]
Losing all important contact numbers can be a real pain no matter how you have lost them. Luckily, several ways are available on the internet to recover contacts on Android. We are suggesting the best 6 ways to recover delete contact Android below.
Way 1: Recover Contacts Android Using Best Contact Recovery Tool
Eassiy Android Data Recovery is one of the best contact recovery tools that helps you to recover contacts from Android phone. You can recover your contacts with 3 different modes provided by this tool. This software offers amazing ways to recover contacts without backup, recover contacts from SIM card, and recover contacts from SD card. It offers you two different scanning processes and you can also recover any data selectively. Lost data can be previewed after the scanning process is done. You can recover any lost data safely with this program. It helps you to get back your data from both rooted and unrooted Androids. You can get this program for only $39.99 per year.
Features:
Deleted messages and attachments from WhatsApp can be restored on Android.
3 recovery modes are provided to recover deleted items from Android – recover contacts from Android device, SIM card, and SD card.
Has the highest Android data recovery rate.
6000+ Android devices including Samsung, Huawei, HTC, Google, LG, Sony, etc. are supported.
Lost data can be rescued in all scenarios.
Steps to recover contacts Android using the best contact recovery tool
Step 1: Download and install the right version of Eassiy Android Data Recovery software on your computer from their official website.
Step 2: Make sure to connect your Android phone to your computer. Once you have connected your Android to the computer, enable "USB Debugging" on your Android phone.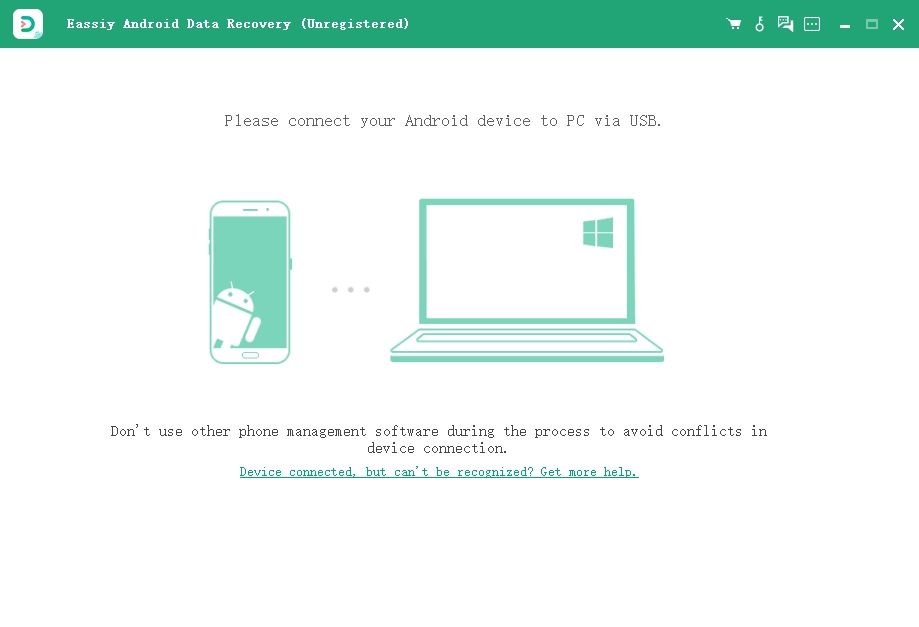 Step 3: Choose the file type you wish to scan for deleted items and select "Next" after connecting your Android device to your computer.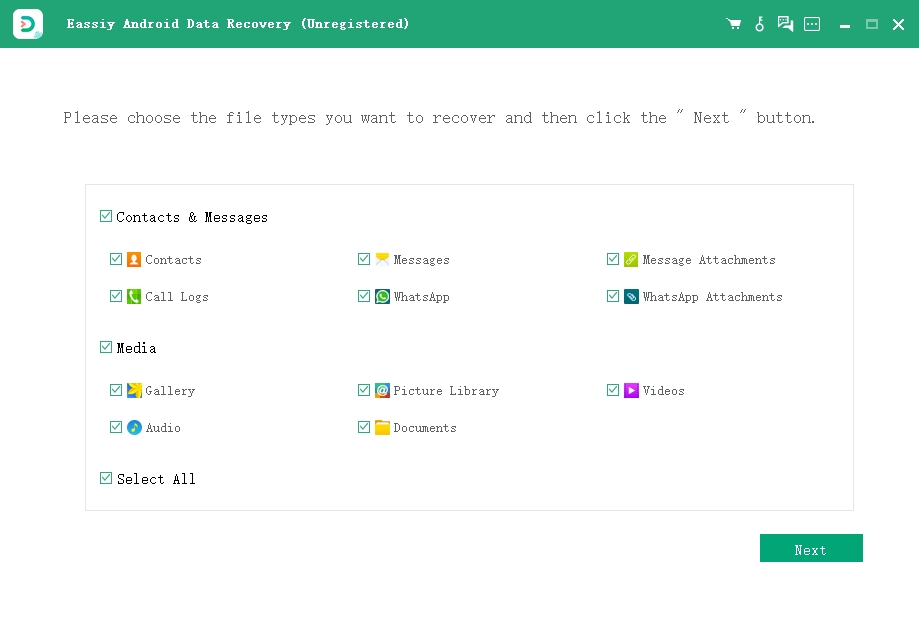 Step 4: For the software to access your Android, you have to install it on your device. From the developer options of the software, enable "Install via USB" and once you see the pop-up on your android, click on "Install".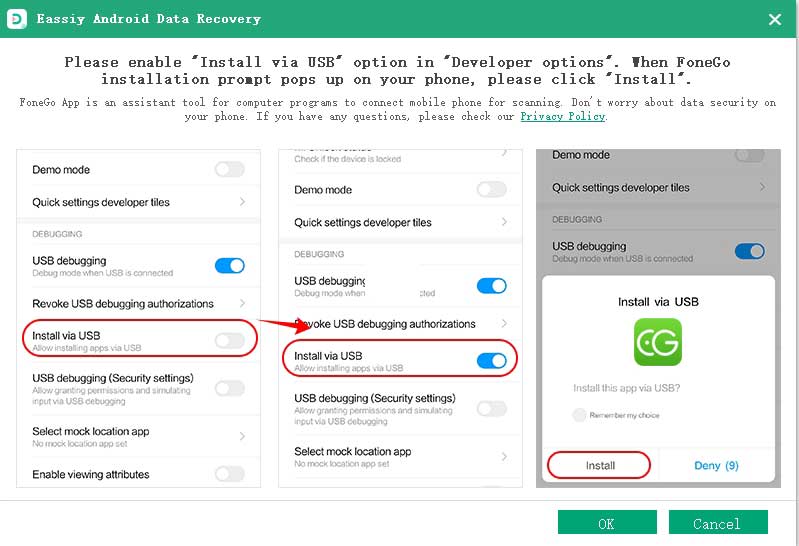 You have to permit Eassiy for reading the Android device memory. Once you see the Eassiy pop-up comes on your Android requesting permission to read data on android, click on "Allow". Once you have allowed it, the program will get permission to scan the phone successfully. To start scanning for the deleted data, tap "Scan Authorized Files" on the computer program.
Step 5: During the whole scanning process, your phone should be connected to the computer. Ensure that the data you need is there after the first scan is done. You have to deep scan the device if it is not there.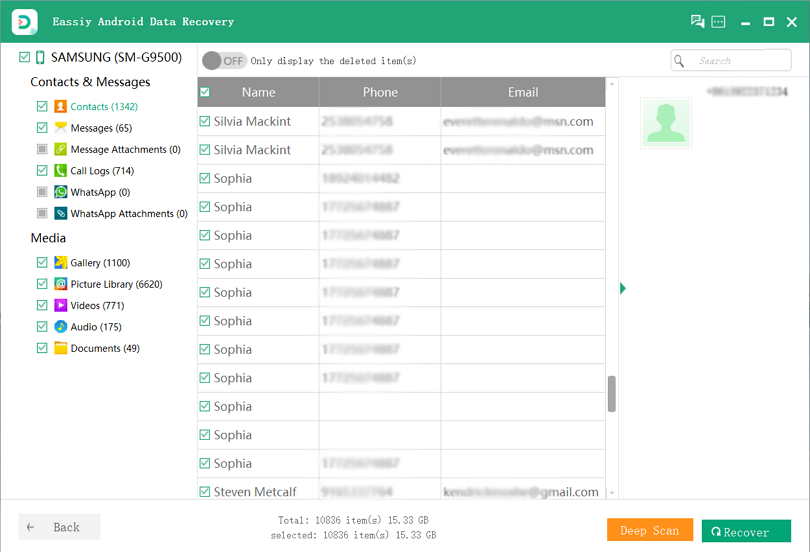 The deep scan will take some time and you can highlight each file type to preview the data once the deep scan is done. Tap "Recover" once you have marked the data you want to recover.
Way 2: Recover Lost Contacts on Android Using Contacts App
On most Android phones, Contacts comes pre-installed. Download it from the Play Store if it's not on your device. Before the contacts are permanently deleted, the app will store them for only 30 days. So you will need to use one of the other methods if you wish to recover a phone number that you deleted more than 30 days ago. To recover lost contacts on Android using Contacts app, here are the steps given below.
Step 1: Launch the Contacts app. (If you don't have it, install it from Play Store)
Step 2: Click on the Hamburger menu. (The three lines on the top left)
Step 3: Choose "Trash" and a list of contacts will be displayed that you have deleted from your Google account in the past 30 days.
Step 4: After that, you have to long-press the contacts that you would like to restore on your phone.
Step 5: Click on the three-dot on the top right.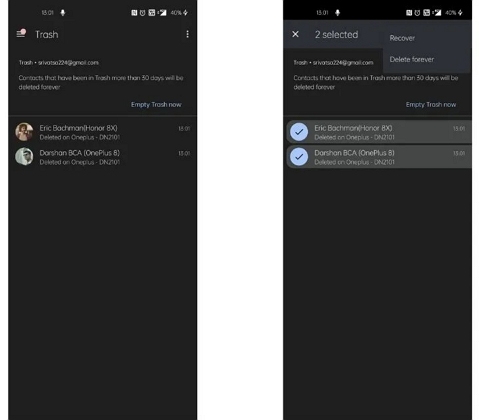 Step 6: Choose "Recover".
Besides, the contacts can be hidden in other places like the internal memory card or SD card. You can follow the steps below to check if the contacts are hidden in your phone's internal memory.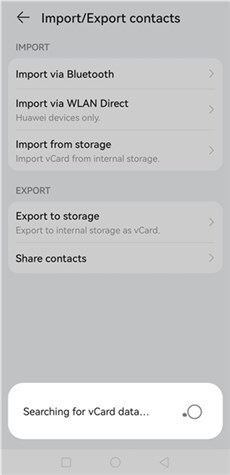 Step 1: Click the "Contacts" app on your phone.
Step 2: From the upper corner, tap on the "More" menu.
Step 3: Click on the "Import-Export" option after choosing "Settings".
Step 4: With the vCard format, you can export contacts from different channels. To search for hidden phone numbers in your Android phone, tap on "Import from storage".
Way 3: Recover Deleted Contacts Android without Root Using Gmail or Google Account
You can also recover deleted contacts Android without root using Gmail or Google Account. As you have to follow only a few steps, this is slightly easier and especially if you want to restore contacts in bulk, this process is useful. Here are the steps to recover deleted contacts android without root.
Step 1: You have to visit the Google Contacts website first.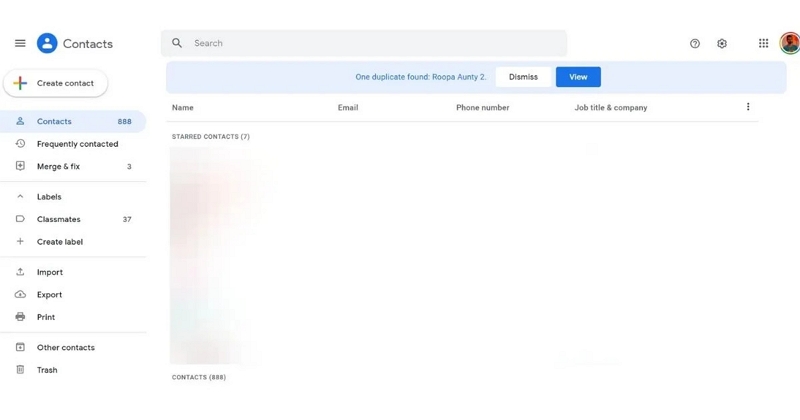 Step 2: Click on "Trash" from the left menu.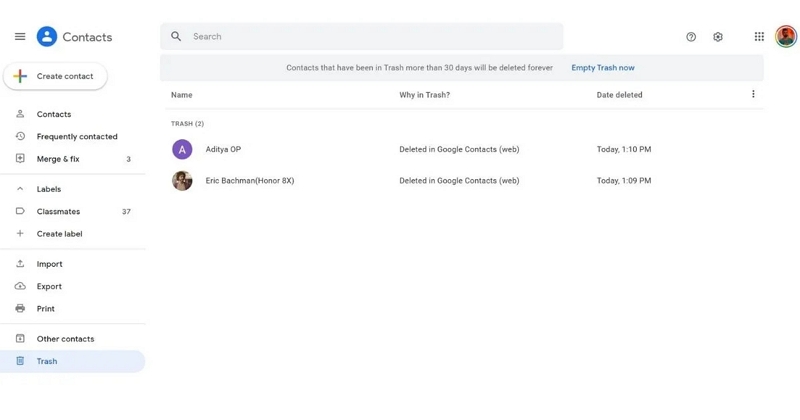 Step 3: Choose the contacts that you want to restore on your phone. (Tap on the logo or profile image)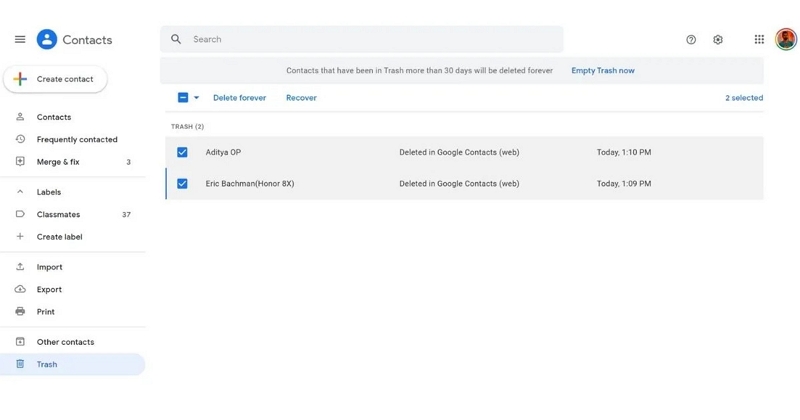 Step 4: Tap on the "Recover" option.
Way 4: Recover Lost Contacts on Android Phone Using SD Card
You can recover your lost contacts on Android phone if you have foreseen the data loss and create a backup of your contacts on the external storage. You have to insert your memory card that contains your contacts backup to your Android phone and after that import the ".vcf" or ".csv" file. Similarly, you can also import contacts from your SIM card. Here are the steps to recover lost contacts on Android phone using an SD card.
Step 1: To your Android phone, insert your SD card.
Step 2: Click the "Menu" button after opening your Contacts app.
Step 3: Select "Settings" and after that you have to click the "Import/Export" option.
Step 4: Choose to import contacts from the MicroSD card after selecting "Import".
Step 5: Import the VCF/CSV file to your Android device once you are done selecting it.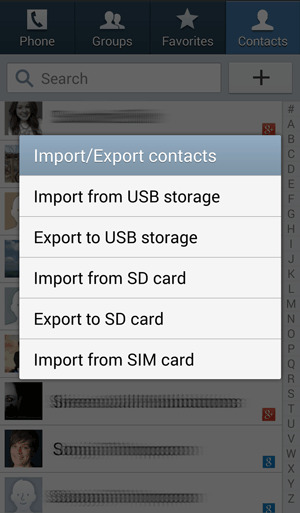 Way 5: Recover Lost Phone Contacts on Android from Google Drive
You will need to restore the contacts saved to your Google account if you have lost all your phone contacts on Android. To recover lost phone contacts on Android from Google Drive, here are the steps that you should follow.
Step 1: On your phone, you have to launch the "Settings" app.
Step 2: Scroll down to find "Google" in Settings and when you find it, tap on it.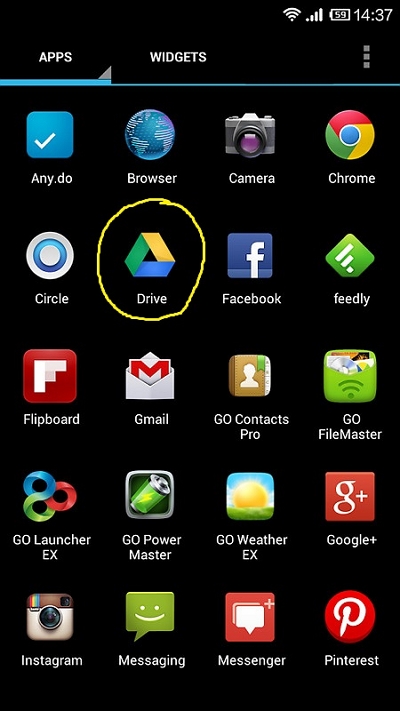 Step 3: Choose "Set up & restore".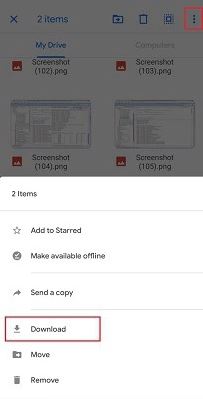 Step 4: Click on "Restore contacts".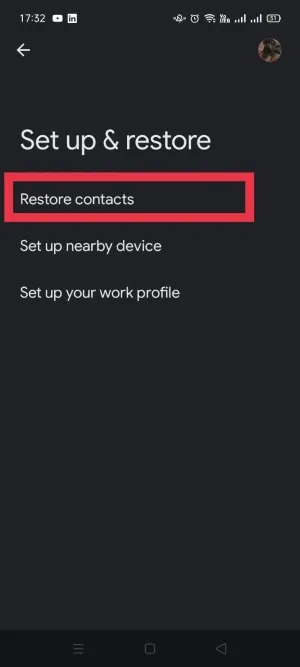 Step 5: Your lost contacts will be restored to your device once you tap on the "Restore" button.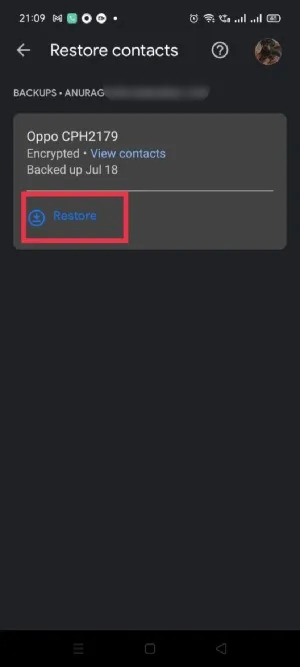 Way 6: Recover Contacts from Android Phones Using Samsung Cloud
You can recover deleted contacts from Samsung Cloud if you are a Samsung user and have created a backup using Samsung cloud. Here is how you can recover deleted phone contacts Android by using Samsung Cloud.
Step 1: Tap on "Account and backup" by going to "Settings". After that, you have to click on "Cloud and accounts".
Step 2: Click on the "Backup and restore" button and then "Restore data".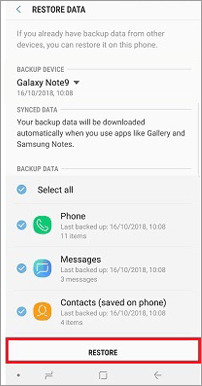 Step 3: To restore contacts, tap on "Restore Now" after selecting the contacts you want to restore.
Part 3: FAQs
1. How to recover deleted contacts on an Android phone?
You can restore the contacts from the backup file if you have made a backup of the contacts on your Android phone. You will need to use Eassiy Android Data Recovery to get the contacts back from the device directly if there is no available backup.
2. Are the deleted contact numbers still there on the Android device?
Luckily yes, the deleted contact numbers remain on your Android device. However, the space of the deleted contacts is marked as "Deleted" and becomes available for the new data. The deleted files are overwritten and removed permanently once you add more data to your device.
3. How can I create a backup for my contact numbers?
Your contacts, app data, call history, and more are automatically backed up to your Google Drive if you have signed in to your device with a Google account. Go to Settings on your phone and after that go to "Google > Settings for Google apps > Google Contacts sync > Also sync device contacts > automatically back up & sync device contacts", you can also manually enable backup for contact numbers.
Conclusion
In this article, we have listed 6 ways to recover deleted contact Android without root. You can choose any of them and try it on your device if you are facing the problem of recovering lost contacts on Android phone. However, we would like to suggest you use Eassiy Android Data Recovery to recover deleted phone contacts Android. Including photos, videos, audio, contacts, and more, you can easily recover up to 16+ file types with this program.