As the technology evolved, we started to store our precious data, like photos, on mobile devices. However, the probability of losing our data is also a typical scenario nowadays for various technical and personal reasons like accidental deletion, corrupted memory, phone reformat, rooting error, and so on. No matter what's the reason, you have still got a few effective options to recover deleted pictures on Android.
In this article, we will discuss five possible solutions for successfully recovering lost photos from any Android system. These proven ways include:
Using the Eassiy Android data recovery tool (The best solution)
Restoring pictures through the file manager
Going through the Google Photos
Recovering with the help of OTG cable
Retrieving from an SD card
So, let's get on these solutions step by step so you can effortlessly restore your valuable images from your Android device in no time.
Part 1: Can You Recover Deleted Pictures on Android?
Yes, you can recover your deleted photos from any Android device under certain conditions. Let us explain the situation. When you delete a photo, whether accidentally or for other technical reasons, one of two things can happen: your deleted photos go to your recently deleted album/trash album, where they stay for 30 days before being permanently deleted, or they go to any backup service like Google Photos, Google Drive, One Drive, or any other local backup (if they are backed up), where they stay for 60 days before being permanently deleted. So, you can restore your photos from these backup services or your trash album within 30-60 days if you haven't erased them from the trash already. You need to use the "Backup & Sync" option on your Android device to make this work in the first place. In other words, there is no official solution to restore permanently deleted images that have been discarded from the trash, as you'll always require backup services.
However, you can still recover your lost photos through Android data recovery tools like "Eassiy," which works even without backup.
Part 2: How to Recover Deleted Pictures Android?
Recovering your images is not a big deal if you know the exact methods to follow in the right situations. So, what are those possible solutions that almost guarantee the successful restoration of your deleted images? Let's find out.
Way 1: Best Android Picture Recovery Without backup
Eassiy Android Data Recovery is an android data recovery tool that could be your best solution for restoring lost images without any technical hassle. This tool recovers data directly from Android devices, Android SD cards, and SIM cards. The application supports over 6000+ Android devices, so you don't have to worry about compatibility. On top of that, recovering deleted photos takes no time as the software can scan 1000+ lost images within a few minutes and restore them while maintaining their original resolution. If you haven't backed up your lost photos, this application can still recover them using the quick scan/deep scan option. So, Eassiy Android Data Recovery is the best way to get out of this situation, regardless of whether your Android photos were lost due to a system crash, an unintentional deletion, external damage, or any other reason.
Key features
This software supports 16+ file formats
Scans 1000+ lost files within a minute
Supports both rooted and unrooted Android devices
Previewing scanned data is available before the recovery
Supported by 6000+ Android phones
Steps to recover pictures from Android without backup
Step 1: Go to the official website of Eassiy, then download and install its Android data recovery application for your preferred platform.
Step 2: Connect your Android device to your PC and choose the "USB debugging" option on your Android device.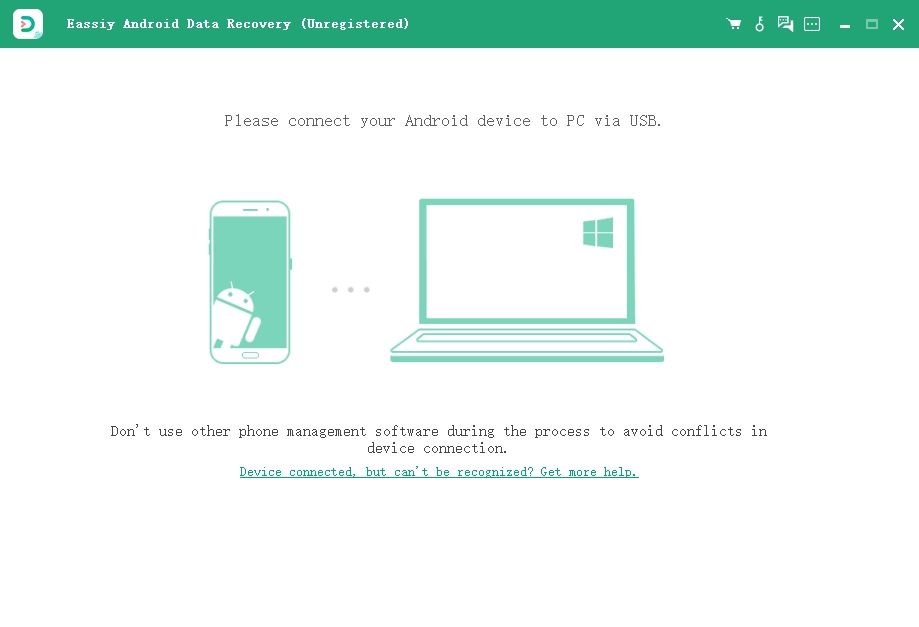 Step 3: Now, go to the software's interface, select the "gallery" option, and then press "NEXT".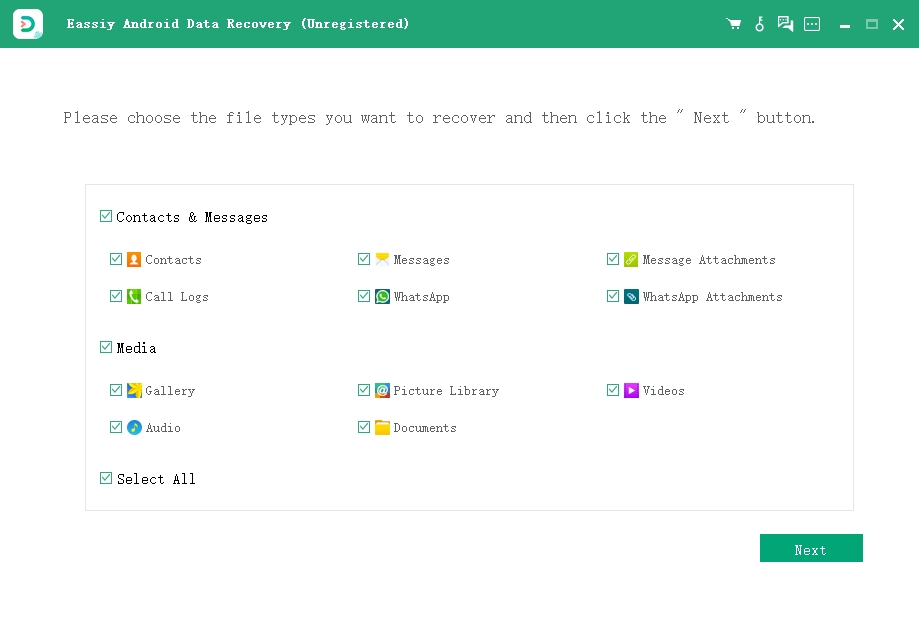 Step 4: To use Eassiy Android Data Recovery, you must first install the application on your Android smartphone. After activating "Install through USB" in the software's developer settings, click "Install" when the pop-up displays on your Android device. You need to provide Eassiy access to the Android smartphone's memory. When the Eassiy pop-up window displays on your Android smartphone and requests data reading permission, tap "Allow." It will permit the app to successfully scan the phone.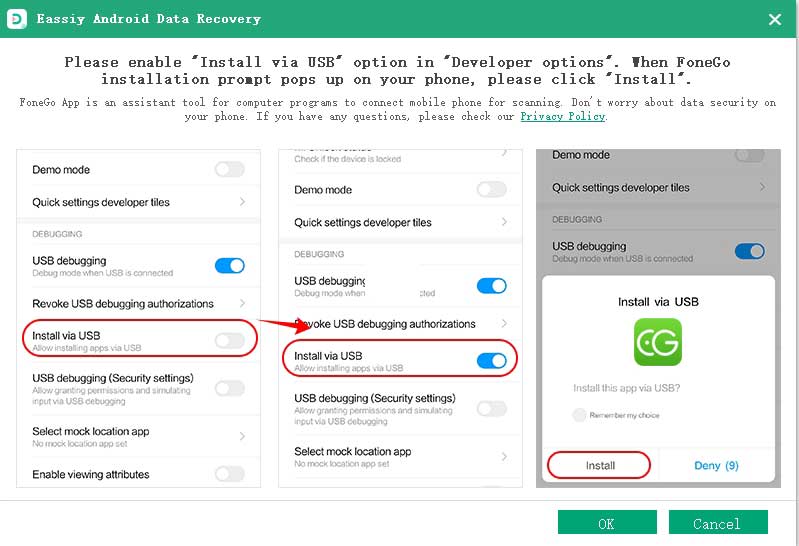 Step 5: Finally, restore your lost photos by simply clicking the "Recover" option to start the process.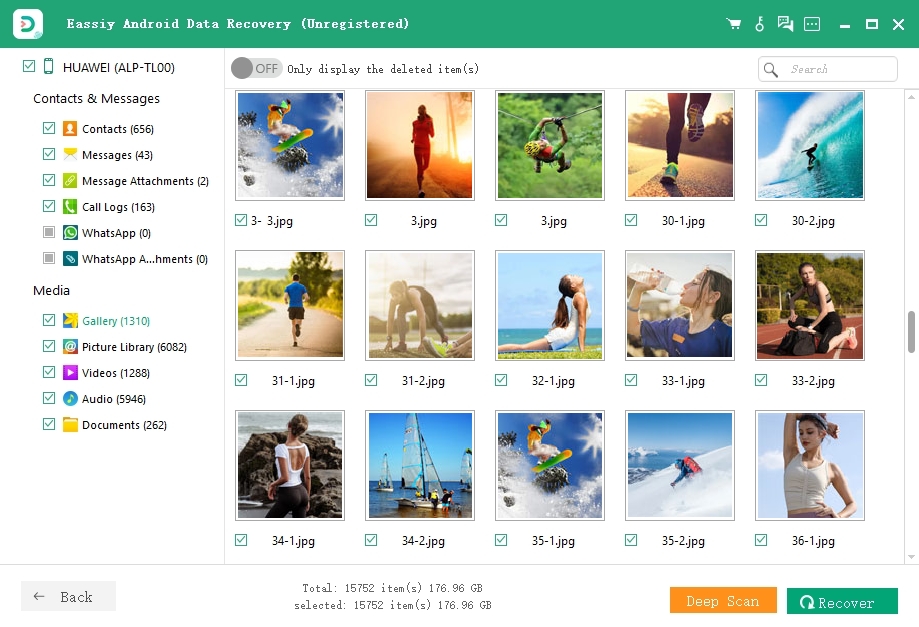 Note: Always keep your device plugged in when the scanning process is running. After the initial scan, confirm that the deleted images you require are still present if not, then choose "Deep Scan" option to hunt for buried deleted photos.
Way 2: Recover Pictures from Android Phone Using File Manager
Android has a "File Manager" option that contains your phone's internal storage data from which you can retrieve your lost photos. However, the name of the File Manager varies depending on the phone you are using, it may be My Files, File Manager, Files, or anything along those lines. Some Android smartphone makers include a recycle bin for their phones. It's usually a folder called "Recently Deleted" or something like that. Mobile devices like Huawei have this recycle bin function. You can use Google Backup through your Android file manager for restoring lost images.
Step 1: Install the app, then sign in using your Google Account.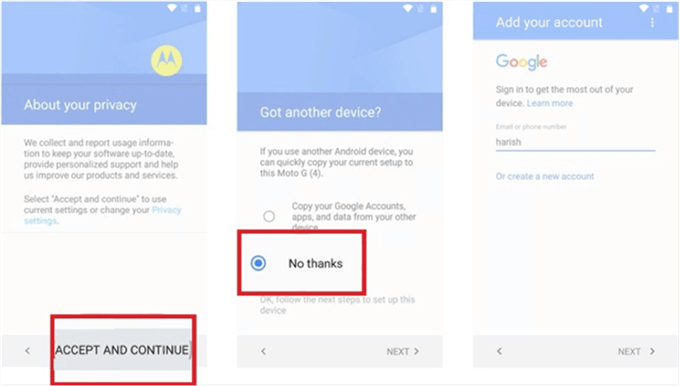 Step 2: Once you're in, pick the device type, and all the files will appear on the screen.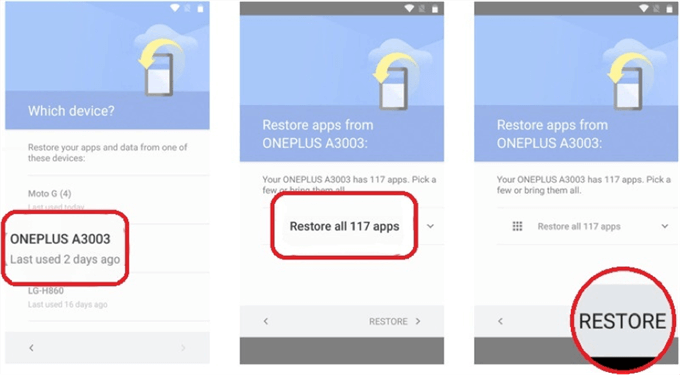 Step 3: Finally, choose the images you want to recover and click the "Restore" button to finish.
Way 3: Retrieve Deleted Pictures on Android Using Google Photos
Google Photos is another excellent option for recovering images from any Android device. It's a storage house where you can back up unlimited photos and videos for free. If you have synced your images then using the same account, you can easily retrieve photos without any extra hassle.
Step 1: To begin with, launch the "Google Photos" app on your Android device.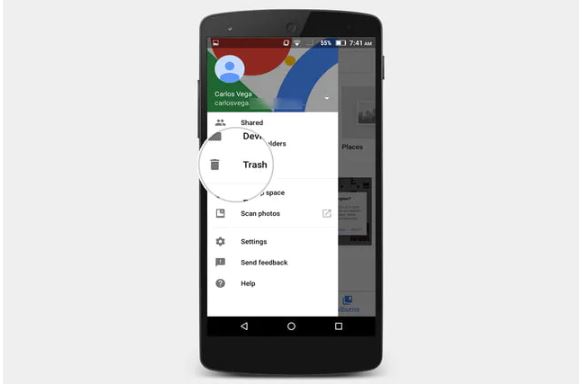 Step 2: Tap the menu in the upper left corner to select the trash option.
Step 3: By clicking and holding, you may now choose your deleted pics.
Step 4: Finally, tap on the "Restore" option, and you are good to go for retrieving those lost images.
Way 4: Recover Images Android with OTG Cable
Sometimes you may face more trouble if your Android phone gets damaged and you need to retrieve your photos from that device. If this is the scenario, you need an OTG cable to get access to those pictures and transfer them to a cloud storage space. However, you will also need a mouse to go along with the process.
Step 1: Connect the USB OTG cable to the broken Android phone, then link the mouse to the USB cable on the other end.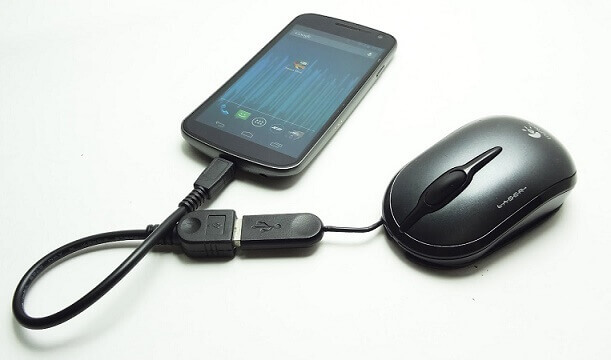 Step 2: Next, activate Bluetooth and transmit files to another Bluetooth-enabled device. You may also download Google Drive to upload images and get access to them.
Way 5: Recover Deleted Images Android from SD Card
Nowadays, most Android phones save photos to an attached SD card. If you store your images in this manner, you are in luck. However, there are two ways you can use your SD card to restore lost images: one with a PC that requires a card reader and a local photo recovery software, and another that doesn't require any computer, which you can perform straight on your phone. The second method is far superior because it is easier and takes less time.
Step 1: On your Android device, open the Gallery app.
Step 2: Select the Recycle Bin option.
Step 3: Check to see if the SD card deleted images are still present.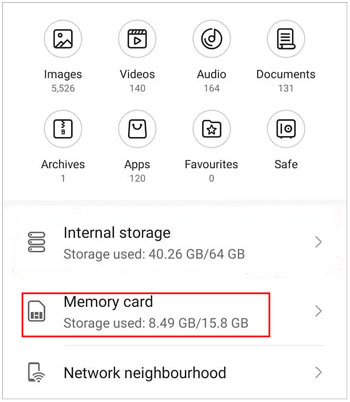 Step 4: If so, choose those images and press the "Restore" button. That will do the work for you.
Part 3: FAQs about Lost Pictures on Android
1. How to find your deleted pictures on android?
You can find your deleted pictures on Android by opening the gallery app, navigating through your albums, scrolling to the bottom, and hitting the "Recently Deleted" option. Here you'll discover all of the images you've deleted in the previous 30 days in that folder.
2. Are permanently deleted files gone forever from your device?
The file will remain in the identical spot until another file replaces it. If you inadvertently and permanently delete a file, you may recover it by utilizing reliable data recovery software and retrieving the file directly from your device's system.
3. Does Android system have a Recycle Bin?
The file will remain in the identical spot until another file replaces it. If you inadvertently and permanently delete a file, you may recover it by utilizing reliable data recovery software and retrieving the file directly from your device's system.
Conclusion
Our photos are precious to us, so when we lost them, we try to find solutions that can successfully restore our data. In this article, we discussed a few methods to recover deleted pictures from any Android device, the best of which is to use the Eassiy Android data recovery program, as this application allows previewing and selecting the photos you want to recover, it also supports recovering data from practically all Android phones with its quick and deep scan functionality. Hopefully, our solutions will help you restore your deleted photos with ease.