Let's hazard a guess. You unintentionally erased a contact from your Android device? Or have you misplaced all of your Android device's phone numbers? And now you're scrambling to find the lost phone number in any case. Losing a phone number could be more annoying, especially if we don't have a backup Android phone number. Let us first reassure you that you have no reason to be worried.
In this article, we'll go over everything you need to know in depth on how to get back lost or deleted phone numbers on an Android device. This article will be your actual rescuer if you unintentionally erased a saved contact on your Android phone and want to retrieve it. We've outlined the best 5 methods in this article for getting back a phone number that has been removed from your Android device. Additionally, we will introduce the top Android data recovery program called Eassiy Android Data Recovery which is an effective instrument for recovering lost or deleted phone numbers. Keep reading with us!
Part 1: Is It Possible to Recover Deleted Phone Numbers Android?
It can be very frustrating to lose crucial phone numbers. It's always really distressing, regardless of whether you unintentionally deleted them or your Android phone crashed and you found yourself without them. Thankfully, you may retrieve them by logging into your Google account, Google drive, SIM card, and backup. However, the majority of people do not Google backup their data.
In this case, we can recover phone numbers using third-party programs like Eassiy or Android Phone Data Recovery. This guide demonstrates 5 best methods for retrieving phone numbers that you may have accidentally erased from your Android device.
Part 2: How to Recover Deleted Phone Numbers Android? [Top 5 Methods]
As we are all aware, phone contacts are crucial to us all. But occasionally, you also lose your contacts for unintended reasons. Now you are looking for ways to get it back. In light of this, we have provided below a list of methods for restoring deleted phone numbers from an Android phone.
Method 1: Best Way to Recover Deleted Numbers Android [Highly Effective]
Using the Eassiy Android Data Recovery program, you can restore permanently deleted contacts from your Android without a backup. Eassiy Android Data Recovery would be the finest choice even if you are a novice when it comes to working with android data recovery because of its user-friendly appearance. The fastest rate of data recovery from Android devices is offered by Eassiy Android Data Recovery. A record-breaking 16+ file types are supported by this application. Numerous Android smartphones, including those built by Samsung, Huawei, HTC, Google, LG, and Sony, are compatible with Eassiy Android Data Recovery.
No matter how your Android phone contacts were lost—due to a system failure, an accidental deletion, exterior damage, or any other reason—Eassiy Android Data Recovery is the most outstanding recovery program to help you out of this predicament. Eassiy's slashing Android data access and recovery technology makes it simple to restore inadvertently lost contacts. Since Eassiy Android Data Recovery has a greater rate of data recovery than its rivals and can quickly examine 1000+ deleted files, it is the best recovery source.
Key features:
The highest industry average for recovering data from Android smartphones.
Support for 6000+ Android mobile devices
Utilize a quicker scan to quickly examine 1000+ deleted files.
Three recovery modes are available, each with a selection of characteristics.
Supports a record-breaking 16+ file types
Steps to recover deleted data on android using Eassiy:
Step 1: Download and run Eassiy
With the superb Eassiy Android Data Recovery, you may recover your deleted contact information. To do this, you must install the most recent version of this software on your computer.
Step 2: Connect your Android handset to a computer.
You should have a connection between your PC and Android. Open "USB debugging" on your Android device after that.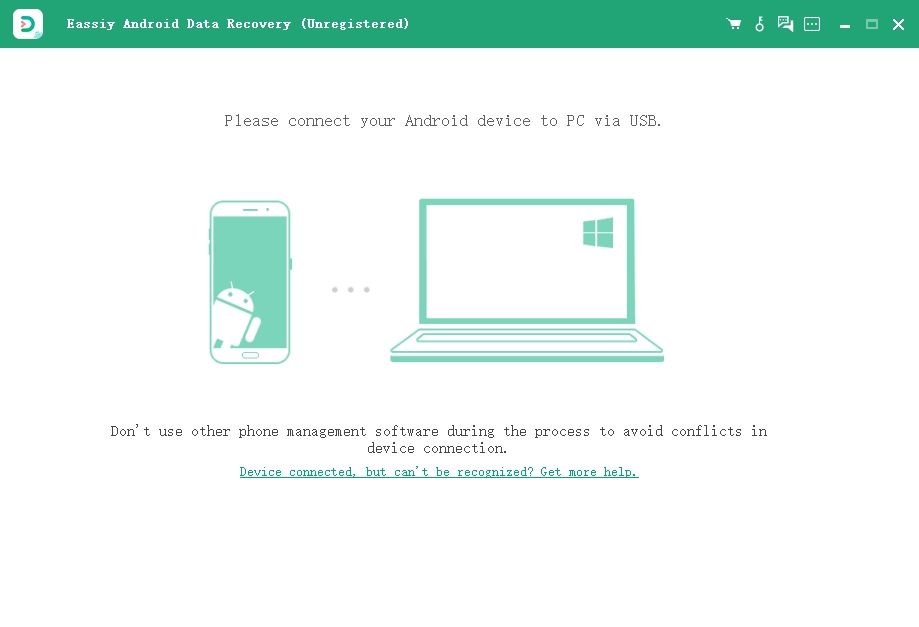 Step 3: Choose Your File Types
Choose the file type you want to recover. Select "Contacts & Messages," then check all the boxes related to this area. Then click "Next" after the file type selection to recover your deleted contacts.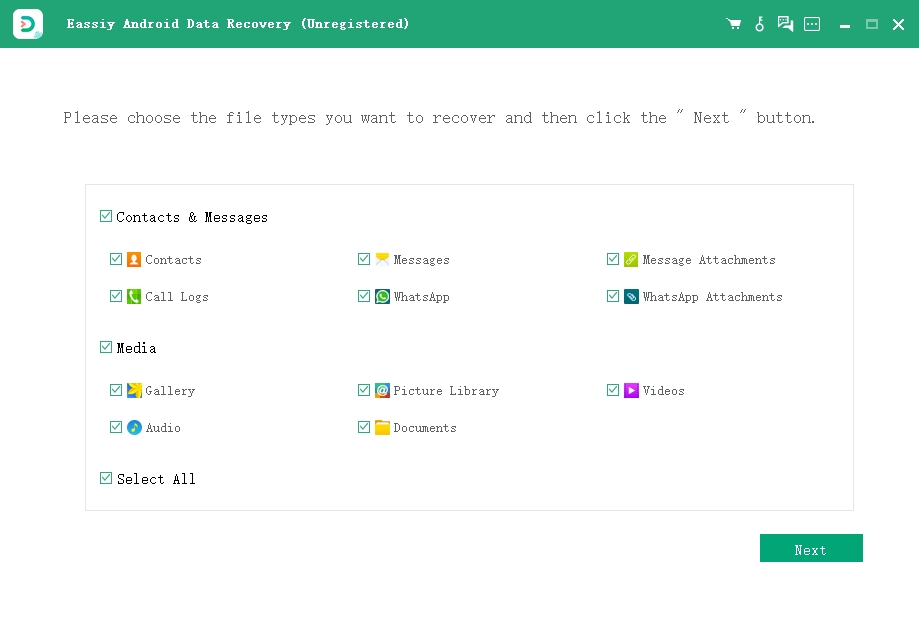 Step 4: Install the Eassiy app on an Android device.
To access your Android device using the Eassiy Android Data Recovery program, the application must be installed on your device. Click "Install" after selecting "Install through USB" in the software's developer options when the pop-up opens on your Android smartphone.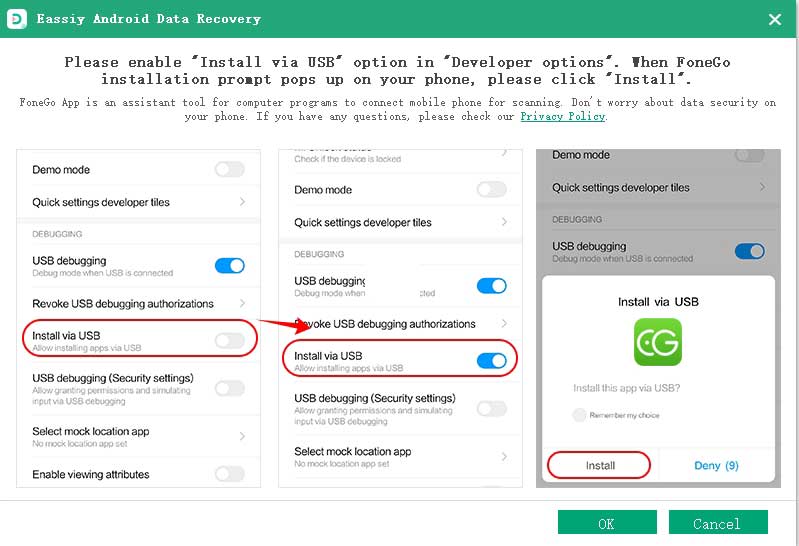 Give Eassiy authorization to access the Android device's memory. Click "Allow" when the Eassiy pop-up box requests permission to read data on your Android smartphone. The software will be able to successfully scan the phone as a result. In order to begin searching for the deleted contact numbers, click "Scan Authorized Files" on the computer software.
Step 5: Recover Android Data
Throughout the system scan, keep your phone connected to the network. After the initial scan, make sure the data you need is there. If not, choose "Deep Scan" to search for hidden information. Following the deep scan procedure, you can now choose each file type to view the data. By clicking on contacts, for instance, you can examine names, emails, and phone numbers. Next, choose "Recover" and mark the data you want to recover.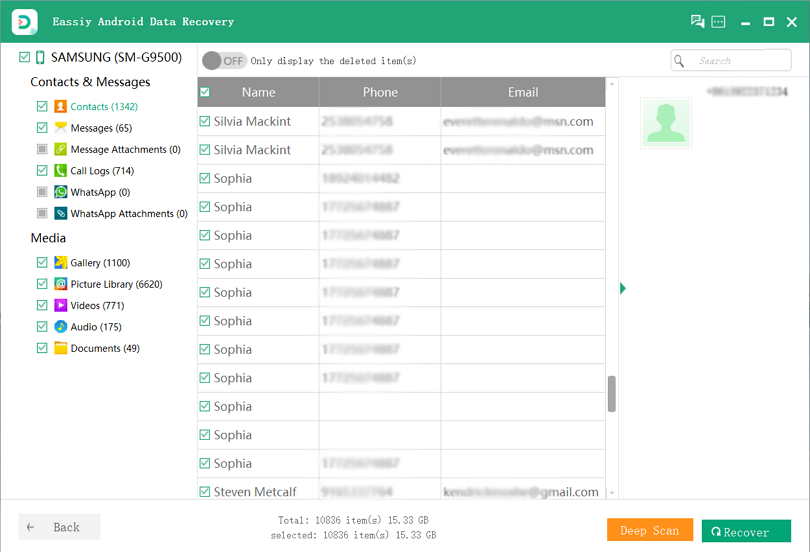 Method 2: Recover Deleted Numbers Android from Google Drive
One of the most effective methods for restoring deleted numbers from Google Drive. Almost all of us have Google accounts connected to our Android devices. Android contacts are synced and backed up to your Google Account along with all other device info. Therefore, even if you accidentally deleted or lost any data, you may still restore it from Google Drive by logging into your Google account. You may find the backup on your PC or do this directly from your Android phone.
Please be aware that this only functions if you've deleted the contacts within the last 30 days before continuing. After 30 days, Google permanently deletes the content.
Step 1: Go to "Settings" on your Android phone's home screen and select "Accounts -> Google."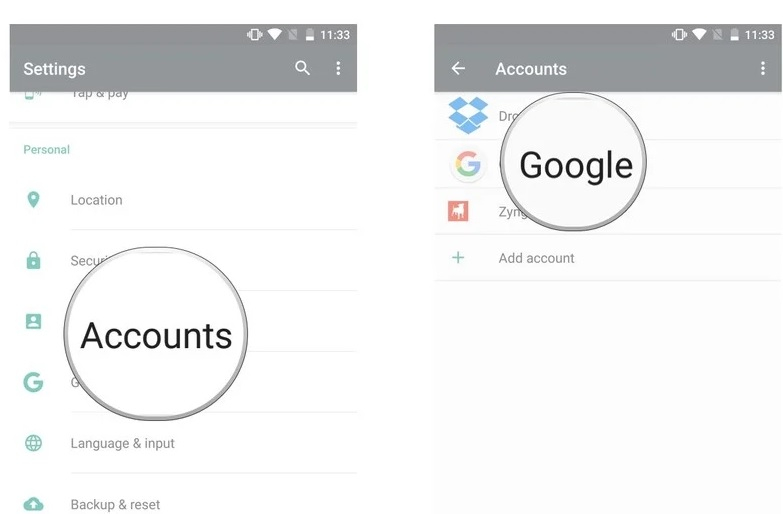 Step 2: When logged in, select the "Menu" option in the top right corner of the screen. To access the menu options, click the three vertical lines.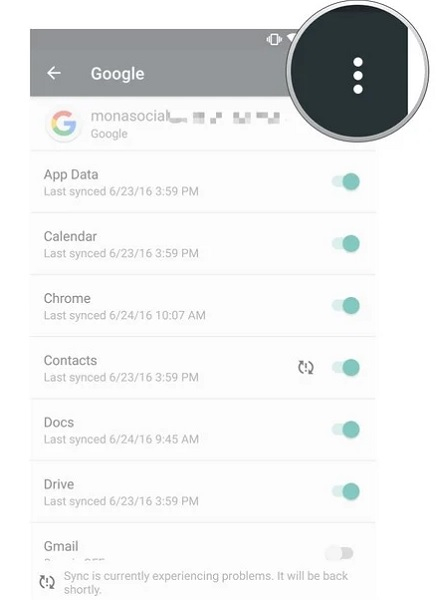 Step 3: Select "Sync Now" from the pop-up menu.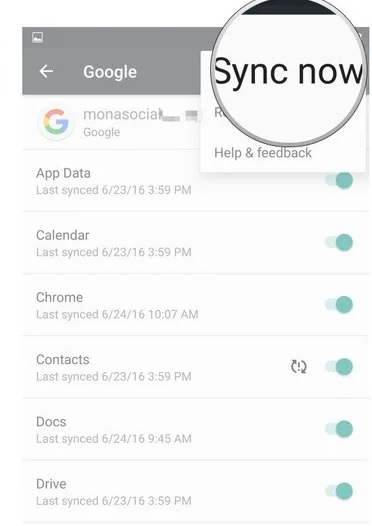 Following the aforementioned procedures, your Android device will immediately sync with your Google drive and download the backup contacts.
Method 3: Use Contacts App to Recover Deleted Phone Numbers Android
When trying to recover deleted phone numbers on an Android device, you must first determine where deleted data go and whether they are still in the recycle bin. Similar to your PC computer's "Recycle Bin," the majority of Android models have one built in for contacts. The deleted contacts will be transferred there and saved for 30 days after you delete them from your phone. The Contacts App contains the "Recycle Bin." The next steps make it simple to locate.
Step 1: Launch your Android phone's Contacts app.
Step 2: Click on the three dots in the interface's upper right corner, as seen below.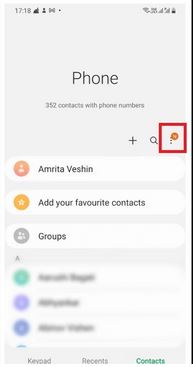 Step 3: Locate the Trash option written as "Recycle bin".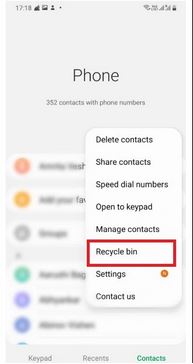 Step 4: Restore the phone numbers.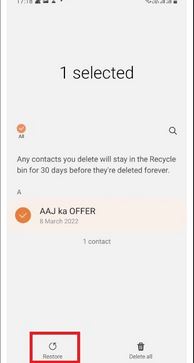 Method 4: Use SD Card to Recover Deleted Phone Numbers Android
You can recover your deleted contacts on Android without rooting if you anticipated the data loss and made a backup of your contacts on an external storage device. Simply insert your memory card into your Android phone and import the ".vcf" or ".csv" file to restore your contacts. Similarly, you can import contacts from your SIM card.
Step 1: Insert your SD card to your Android phone.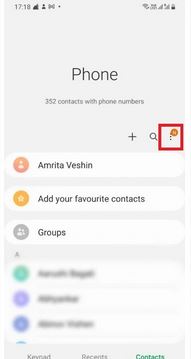 Step 2: Select Manage contacts from the drop-down list by clicking it.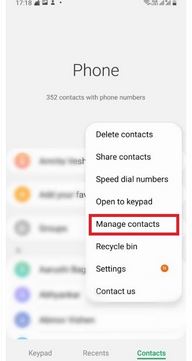 Step 3: Select "Import or export contacts" from the menu. Press import button.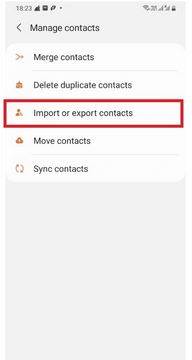 Step 4: Choose the source from which you wish to import your contacts.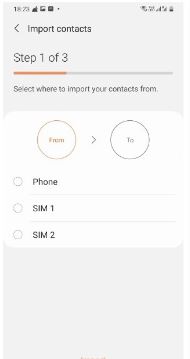 Step 5: Click "Done" after selecting every contact you want to import, even the deleted one.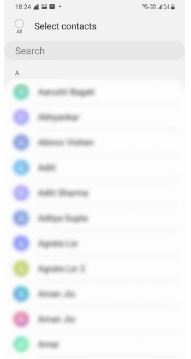 Step 6: Click the Import button at the bottom after choosing the location to which you wish to import your chosen contacts. Along with every other contact that you chose to import, the deleted contact will also be recovered.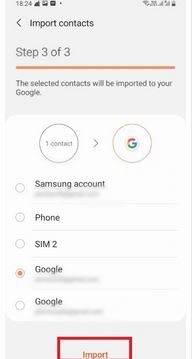 By following the steps above, you can easily restore numbers on your android.
Method 5: Use Google Account to Recover Deleted Numbers Android
If you frequently sync your Android device's contacts with your Google account, you can use the Restore Contact tool to get back all of your lost contacts and phone numbers. To accomplish the same thing using this technique, follow these instructions.
Step 1: Your Android smartphone should now be open, and you should select Google from the Settings menu.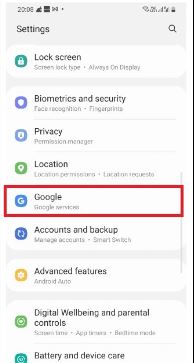 Step 2: Following the Google settings window's appearance, select the Set up and restore option.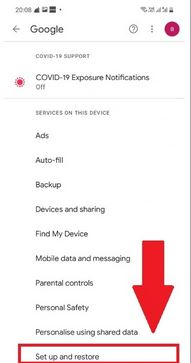 Step 3: Press the Restore Contacts button. To restore deleted contacts on your smartphone, utilize any contact backup that is synchronized with your Google account.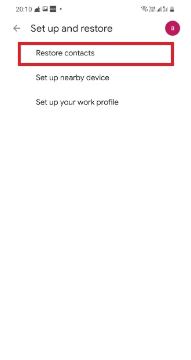 By following the procedures written above, you will find your precious contacts back to your android device.
Part 3: FAQs
1. Can I get my old Google contacts from one year ago back?
Unfortunately, the Google account does not currently support this feature. A contact that you delete from Google Contacts is first moved to the trash bin where it remains there for 30 days before being permanently erased. You can no longer restore a deleted contact once 30 days have passed from the deletion.
2. On Android, is it possible to recover a deleted phone number?
Open "Contacts" by tapping on the entry or selecting the "Open" button in the Contacts section at the bottom of the page. You might also just go to "Google Contacts" directly. A list of all the contacts saved to your Google account will now appear. Any numbers you've recently erased can be recovered by opening the side menu and choosing Trash.
3. Do I Need a Computer to Recover Deleted Numbers from My Android?
You might be wondering if there is a way to get your number back if you have an Android phone and it was removed. Thankfully, there are a few approaches you can use to accomplish this without a computer. Utilizing the Settings app > Google applications > Google Contacts sync is one option. You can access your smartphone contacts on a computer or any other device with internet connection if they are automatically saved to your Google account. Utilizing a data recovery app, like Eassiy Mobile data recovery for Android, is an additional choice. To see if they can help, you can also try contacting the device's manufacturer or the phone carrier.
4. Is Eassiy Mobile Data Recovery for Android Trustworthy?
Eassiy is the most successful program for safeguarding and restoring important data. The software is easy to use and is available in both free and paid versions. Of course, the free version has limited functionality, but it can help with simple recovery.
Conclusion
We are aware of the value of contact information and phone numbers in today's world. Even if not all of the people on our cell phones are in contact with us, you never know when a contact hiding in a shadowy corner of your contact list can be useful. And if the deleted phone number belonged to an important person, we would naturally panic because of the urgency. So that you don't have to go looking for an urgent answer all over the place, we brought you the top 5 best methods for recovering erased phone numbers from your Android smartphone.
By following the steps we've outlined above, you should be able to recover any contacts that you deleted or lost from your Android device's contacts. However, you should be aware that among all of these approaches, Eassiy Android data recovery is your most sensible choice. This can not only guarantee your complete security of data recovery but also serve as a reliable source.