Hard disk drives, or HDD is the heart of the computer. It stores all your personal and system data and allows you to retrieve them when necessary. However, more often than not HDD expires or gets damaged, and this causes several data loss issues. Even your operating system may fail to load.
In such cases, all is not lost – as HDD data recovery software can get you back your precious data. It is not an uncommon issue as, according to Novabackup, every week about 140 thousand hard drives fail in the US alone. The causes of this are not only due to aging hard drives and faulty manufacturing but also overuse, water damage, heat damage, improper power supply, interruption of firmware upgrades, and even human errors such as accidentally dropping the drive, improperly installing the OS or deleting important files – which is why it is always important to keep backups of your data.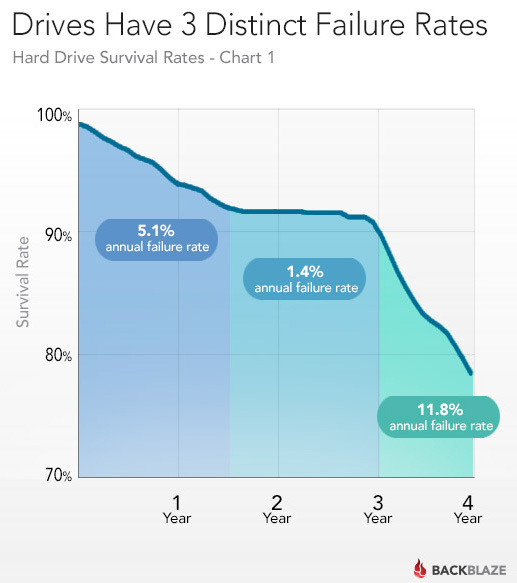 Didn't keep a backup? Don't worry! Now you can use HDD recovery software to easily restore your files and folders from damaged hard drives to be accessed again. This article will help you choose the best HDD Recovery Software from the plethora of choices available to you on the market.
Here are the 9 Best HDD Recovery Software chosen for you:
Part 1: Diagnosing HDD Failure and Data Loss before HDD Data Recovery
With proper care and in an ideal environment, HDDs can last up to 5 years, while SDDs last 5 to 10 years even. As mentioned previously, there are many reasons the process of HDD failure can start. If identified early, it may be possible to save your remaining data and recover the data already lost.
A. Identifying HDD Failure Signs
To check if your HDD is indeed starting to become corrupted, there are several signs and symptoms you should look out for:
1. Overheating, process lethargy, freezing, and BSOD
Slower computers are one of the first signs of internal damage. If you experience the following:
Overheating
Long process waiting time
Frequent freezing
Regular Blue Screen of Death (BSOD)
It is suggested to perform a fresh installation of your Windows OS. If the problems persist, HDD failure is a possible cause.
2.Corrupted files/folders, frequent error messages, and crashes
Another clear sign of your HDD failure is that files and folders are missing or fail to load altogether. Trying to open, copy, move, and save files will give you error messages. You may also get disk and file error messages during normal operations.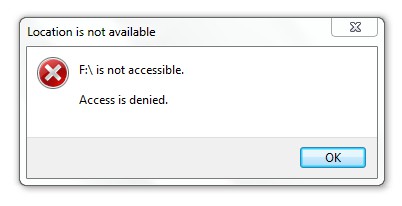 Files and folder names get scrambled or changed, and they crash randomly due to missing data or failing to open. In extreme cases, entire drive partitions may be missing.

Heavily-used and damaged drives can accumulate bad sectors, and data in these sectors become inaccessible.
3.Clicking and grinding noises
You may hear strange noises from the general area where the HDD is supposed to be. The repetitive sound of screeching, grinding, and clicking is called the "click of death" which happens as the spindle motor of the HDD is stuck or the bearing is failing.
4. System boot failure
In the worst-case scenario, the system fails to boot altogether due to missing OS files or missing partitions.
B. Assessing the Severity of Data Loss
The Windows OS automatically collects your system's status and condition through an automatic monitoring system called S.M.A.R.T. (Self-Monitoring, Analysis, and Reporting Technology). However, it doesn't show you warning notifications until a critical hardware failure occurs. Therefore, to assess the condition of your HDD by yourself through S.M.A.R.T., complete the following steps:
Step 1: Run the Command Prompt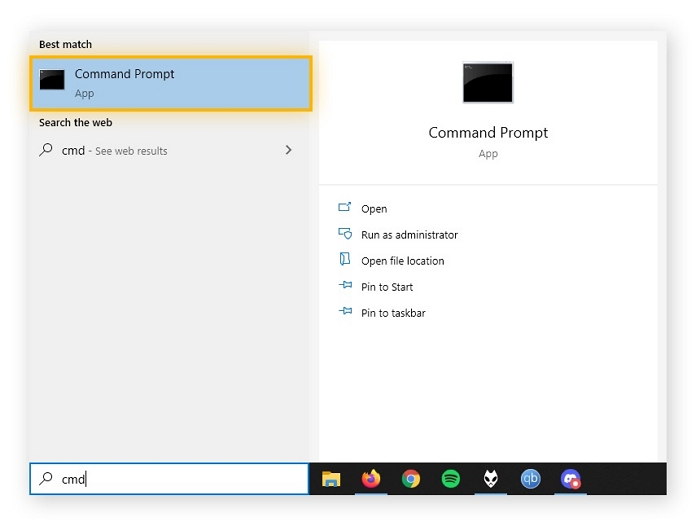 Step 2: Type in wmic diskdrive get status and press enter

Step 3: If you get the message Status, followed by OK, your HDD is still in a healthy condition.
If the status reads Pred Fail, there's at least one error in the HDD, which is unspecified by the monitoring system.
Before attempting to recover your drive, it may be worth a try to run CHKDSK on your HDD.
Step 1: Go to File Explorer > This PC
Step 2: Right-click the drive or partition, and select Properties > Tools tab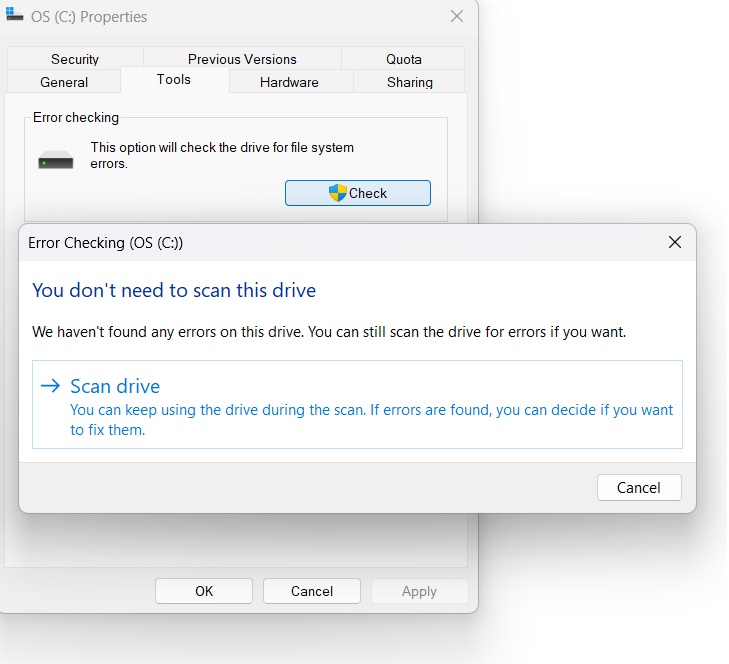 Step 3: Click Check. Windows may show you a message box titled "You don't need to scan this drive". Click Scan Drive and Windows will try to find and fix disk partition errors.
Part 2: 9 Best HDD Data Recovery Software for Failing Hard Drive
In the previous section, we saw how to do some quick partition repairs ourselves. But that may not bring back data that have been lost already. However, the best thing about the traditional spindle-motor-operated HDD is that data recovery is possible using HDD data recovery software. Even if the disks have been damaged or accidentally formatted, data recovery software is easily able to retrieve most, if not all lost data.
Here are the 9 Best HDD Data Recovery Software for Failing HDD:
1. Eassiy Data Recovery
Eassiy Data Recovery is one of the most effective software solutions for deep data recovery with a 98.6% success rate. Recommended by top tech journals worldwide, Eassiy has a powerful algorithm to recover 1000+ file types, with media files, document files, and e-mails – without any limitation of devices or storage types.  Not only can it recover files and folders lost due to system crashes, drive formatting, and virus attack, but also can help you to recover lost drive partitions.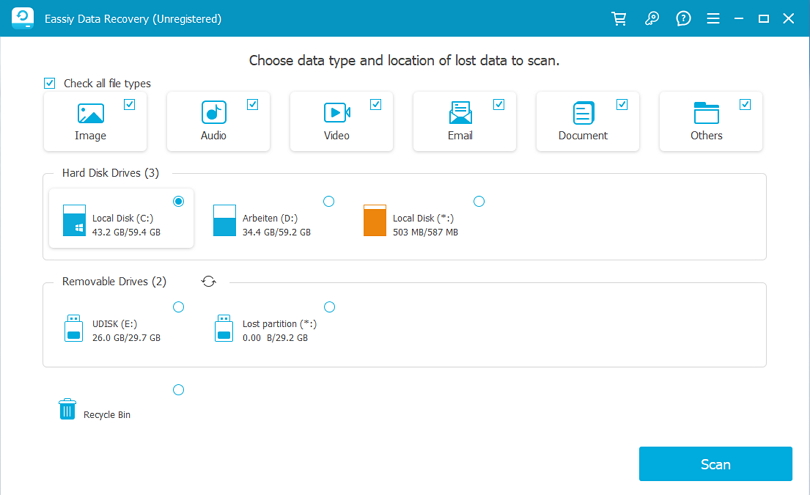 Pros:
One of the highest percentages of effectiveness of data recovery in the market with a sleek and modern GUI
Recover lost data encompassing 1000+ file types, from 2000+ storage types such as Windows (XP and above), Mac, USB drive, HDD, SD, SSD, cameras, etc in their original quality.
Two different recovery modes – quick scan and deep scan, ensuring data recovery for all intents and purposes
Flexible and sophisticated interface and option to choose which files to recover.
Cons:
No free options available, after the trial the user needs to pay to access its complete potential.
Pro tips:The best solution for recovering data from a failing HDD, which retrieves 1000+ file types from 2000+ storage devices under various situations with 98.6% success rate. The whole HDD data recovery process are completed as easily as 1-2-3 with its help.
2. EaseUS Data Recovery Wizard
EaseUS is one of the most well-known data recovery solutions in the world with a large user base. With a user-friendly interface and quick scanning options, EaseUS can recover a large number of inaccessible files quickly and efficiently.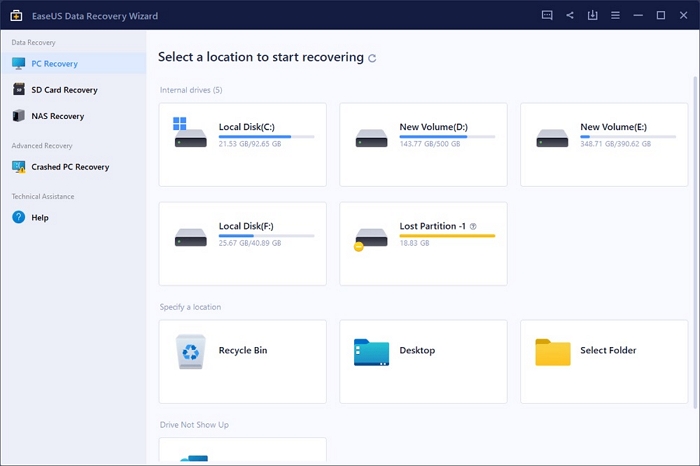 Pros:
Fast-operating, easy and beginner-friendly recovery process
Free version has a 2GB recovery limit
Ability to repair some damaged files
Cons:
Comparatively expensive pricing model.
Free version has limitations and pop-up ads.
Pro Tips: The software lags and sometimes provide slower recovery for bigger files.
3. Recuva by Piriform
Recuva by Piriform Ltd. is a lightweight, simplified recovery solution with deep cleaning options. It has a classic GUI, and there is a freeware version available for use.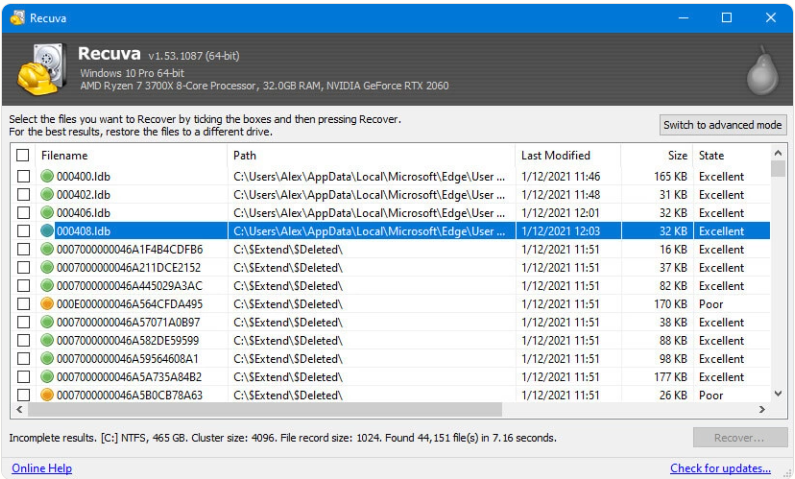 Pros:
Free version can recover an unlimited number of files  
Secure, military-standard data erasure feature built-in with the software
More affordable than other software solutions
Cons:
Performance is not competitive in comparison to other recovery toolkit
Minimal support and updates for the current version.
Pro Tips: Classic data recovery software with simple user interface. Not so powerful, so it can help in simple data recovery situations.
4. CleverFiles Disk Drill Data Recovery
Disk Drill Data Recovery by CleverFiles is a highly-celebrated data recovery tool for restoring deleted files from damaged HDD and even lost disk partitions. It supports a large range of storage types, both internal and external, including RAW, and has several versions for PC, Mac, iOS, and Android. It also shows you the recoverability of your files and allows you to choose the files before you recover them.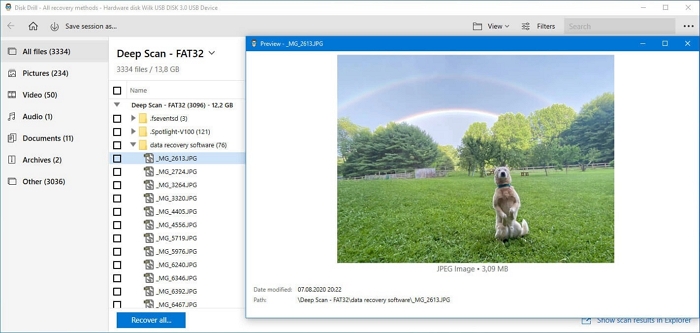 Pros:
Recovery vault for backups of deleted data
Free data protection, filtering, and categorizing features
Free version available and MacOS version for free with PC, granting you multi-platform support
Cons:
Only 500MB data recovery capacity in the free version
No technical support via phone and requires you to contact customer service by mail.
Pro Tips: Powerful data recovery tool with various features. Wide range of supported file types and systems.
5. OnTrack Easy Recovery by Kroll
Ontrack has been a long-term industry leader for bad HDD data recovery, with its simple and powerful solution. It also supports SSD, USB, RAID systems, and digital cameras, and has the function to rebuild deleted and corrupt Windows drive volumes of different file systems.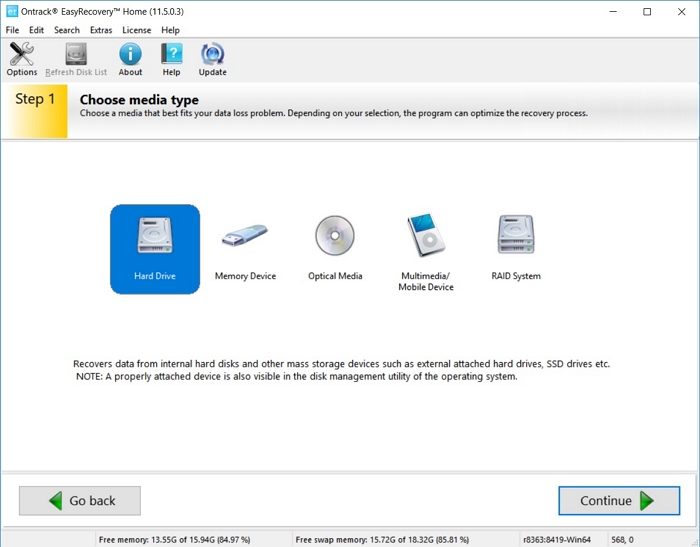 Pros:
Recover multiple file types for damaged, formatted, and deleted drive partitions
Deep scanning functionalities available
Restore and repair deleted volumes and some photo and video files
Cons:
Very expensive subscription packages
Free package is limited to 1 GB of data recovery for file sizes less than 25 MB.
Pro Tips: The advanced RAID data recovery feature is very effective.
6. Stellar Data Recovery
Stellar Data Recovery is a sought-after data restore solution that is especially useful for companies and corporations, as it can provide massive chunks of HDD crash data recovery. Trusted by over 3 million users worldwide, this software has a variety of packages for different needs, making it a highly customizable option.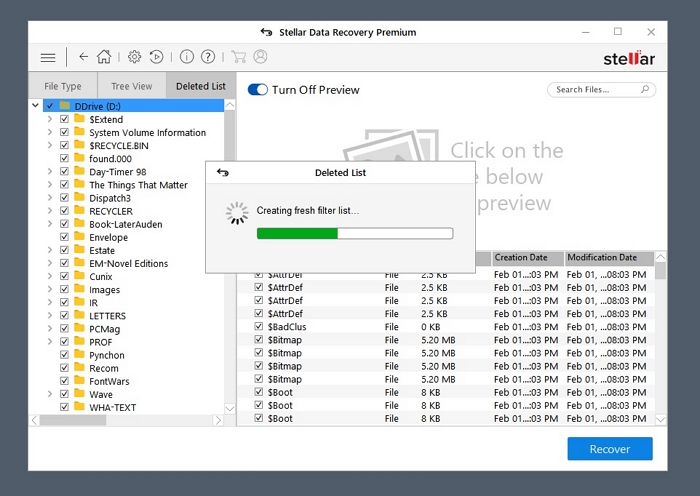 Pro:
A huge number of file type recovery support, including all types of documents, mail, and attachments
Repair tools for large database files, documents, photos, and video file formats
Multiple device support such as PC, Mac, iOS, and Android.
Cons:
Relatively slow speed of scanning
Extensive separate packages for different functions which can be quite expensive.
Pro Tips: You can use the SMART drive monitoring feature to monitor your HDD.
7. WonderShare Recoverit
Wondershare is renowned for its software solutions for different industries, and Recoverit has managed to become revered for data recovery for HDD. It can account for different data loss scenarios and has different scanning modes so that you can retrieve data, especially high-resolution media files in an uncorrupted format.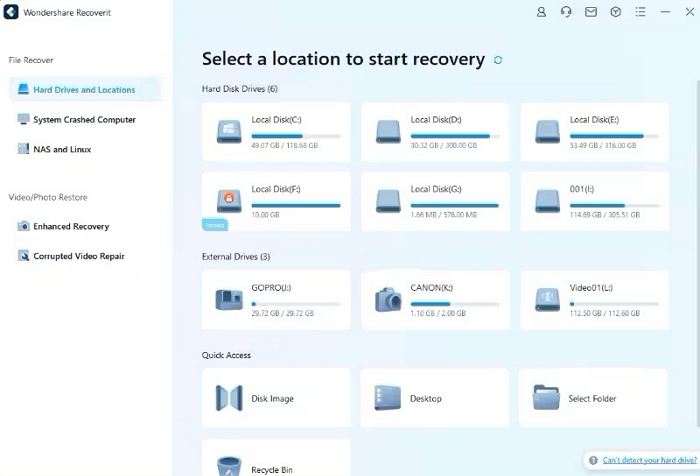 Pros:
Sleek and user-friendly interface
Multiple platform support for 1000+ file types
Patented technology to retrieve fragments of lost media files
Cons:
Free version is only limited to 100MB recovery files.
Possibility of duplicate results.
Pro Tips: It's a professional data recovery software with good user interface. You can easily recover data.
8. MiniTool Data Recovery
Minitool Data Recovery Software is a compact and powerful tool that has been popular among Windows users for a long time. It can easily perform HDD data recovery for accidentally deleted files and even OS crashes after HDD damage or virus attacks. You can even choose a specific location to recover data from.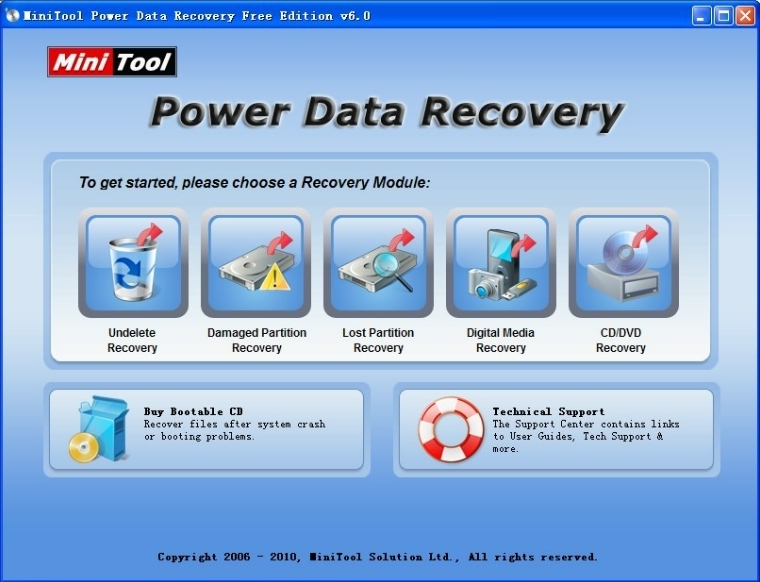 Pros:
Free trial available to use
Bootable version available for recovery after a major system crash
Fast and simplified scanning for a plethora of file loss scenarios, including recovering data from RAW partition
Cons:
Does not have data protection features built-in.
Free version for Mac is not available and is supported by Stellar Data Recovery Software.
Pro Tips: MiniTool can recover data from lost partitions, so you can try that feature.
9. TestDisk
TestDisk is a completely free and open-source data recovery software that has been created to rebuild broken HDD partitions and recover boot sectors to make disk drives bootable again. It accounts for a huge range of filesystems and is constantly supported and updated by a loyal developer community.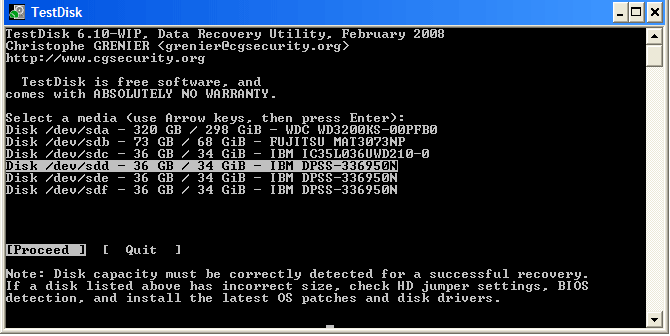 Pros:
Recover and rebuild disk partitions and boot sectors from backup
Completely free and bootable version available
Supports many partition types and OS - DOS, Linux, FreeBSD, NetBSD, OpenBSD, etc.
Cons:
Interface is command-line based and not GUI which is not very user-friendly  
Cannot repair files or show them in a categorized way.
Pro Tips: Don't use this tool if you are not an expert in data recovery, it's too much technical process to handle for a newbie user.
Part 3: Seeking Professional HDD Data Recovery Services
A. When to opt for Professional Data Recovery
HDDs are quite complex in design. Sometimes HDD recovery isn't possible, such as in cases where the HDD shows no sign of activity or is too damaged to be recognized in the BIOS. This can happen for several reasons:
Magnetic plates getting damaged
Hard drive power control board (PCB) giving out
HDD motors getting contaminated by liquid, dust, smoke, etc.
Manufacturing errors shortening its lifespan
Motor lubrication issue
High physical damage to the HDD
In these cases, you may need to repair individual parts to recover existing data, or even replace the entire HDD. This is no easy feat for regular users, as mishandling the drive can damage it irreparably. Thus, these operations are undertaken in an ISO-certified cleanroom by expert technicians.
So, if you face a situation where using the HDD data recovery soft isn't even possible, opt for a data recovery agency.
B. Choosing a Reliable Data Recovery Service Provider
There are several drive recovery engineering services around the USA, such as DriveSavers, Data Recovery Labs, and SalvageData. Some HDD data recovery software manufacturers provide this service: ProSoft, Stellar, EaseUS, and Seagate. While choosing a data recovery service, keep in mind these several factors:
Budget: These services can cost anywhere from $200 to upward of $2000. Almost all services offer a free evaluation. For emergencies, it's worth contacting them for an initial price quotation.
Customer service: You should ensure your chosen recovery agency has an extensive history of reliability. Check out review sites such as Trustpilot or Google to see what their customers are saying.
Confidentiality: Recovery service providers and engineers deal with potentially confidential and private data. Therefore, look out for your chosen company's "Confidentiality Guarantee": Review their policies to ensure they have guidelines for data security, monitoring, encryption, and complete erasure of physical and digital copies of your data.
Conclusion:
HDD is an integral part of computer anatomy. There are many ways it can break or get corrupted - most of which are not in our control. Therefore, you should always be proactive in safekeeping your data, and regularly and frequently keeping backups of them.
Also diligently take care of your HDD to increase its longevity and keep it running smoothly. Protect your device from the environment, regulate device power flow with grounding and backup power, monitor your HDD health, and perform defragmentation and CHKDSK scans regularly.
Hopefully, these tips will ensure you don't face HDD damage and data loss issues, as once data is lost, it takes a significant amount of money and effort to bring them back. Even so, damaged and broken HDD data recovery has been easier than ever before, thanks to the latest breakthroughs in HDD recovery technology like Eassiy Data Recovery, which is an amazing solution to quickly recover all types of data with ease. It has one of the highest data recovery rates and best service compared to other recovery solutions in the market with its efficient recovery algorithm, top-notch data encryption, and 24/7 free service support. Grab your copy of the Eassiy Data Recovery today!