In the age of smartphones, we often rely on our mobile devices to capture and store our precious memories in the form of photos and videos. However, accidents happen, and we may accidentally delete these important files or lose them due to device damage or malfunction. This is where mobile photo recovery tools come in, to help recover those lost or deleted photos.
Mobile photo recovery tools are designed specifically for mobile devices, such as Android and iPhone, and they work to recover lost or deleted photos from the device's internal storage or external memory cards. With the right tool and a few simple steps, you can recover those important memories that you thought were gone forever.
In this article, we will explore the top mobile photo recovery tools for Android and iPhone devices, highlighting their features and benefits. We will also provide a step-by-step guide on how to use these tools to recover your deleted photos. With our help, you can recover those precious memories and never have to worry about losing them again.
Part 1: Best Android Phone Photo Recovery for Window/Mac
Eassiy Android Data Recovery is a reliable and user-friendly software designed to recover lost or deleted photos from Android devices. It supports more than 6000 Android devices, including models from LG, Sony, Samsung, Huawei, and HTC. There are three recovery options available: recovering deleted or unrecoverable files from your Android device, recovering data from your SD card, and recovering data from your SIM card. Choose the data that you wish to restore first using the preview before recovery option. Industry-leading in the number of file formats it supports (16+), Eassiy Android Data Recovery includes attachments, WhatsApp, WhatsApp Attachments, Contacts, Messages, Call Logs, Attachments, Photos, Videos, Audios, DOC, XLS, PPT, PDFs, HTML, ZIP, RAR, etc. Some of its main features include.
Deep Scan: Eassiy Android Data Recovery uses advanced algorithms to perform a deep scan of your Android device's storage, ensuring that all lost or deleted photos are found.
Multiple File Types: Eassiy Android Data Recovery can recover a wide range of 16+ file types, including photos, videos, audio files, and documents.
Easy-to-Use: Even non-technical users can recover their deleted or lost images thanks to the software's user-friendly interface.
Faster scan: Eassiy can scan 1000+ deleted file in seconds.
Supported Devices: Eassiy supports with 6000+ Android devices including Samsung, Huawei, HTC, Google, LG, Sony, etc.
Pros:
The ability to recover your infected Android smartphone from viruses or malware
Comprehensive search and filtering are permitted.
High-speed work and prompt outcomes are also to be expected.
The UI is straightforward and open to all users.
Cons:
Free trial version has limited functionality.
Steps by steps to recover photos using Eassiy Android Data Recovery:
Step 1: Install Eassiy Android Data Recovery on your PC after downloading it. Utilize a USB cable to link your Android device to the computer.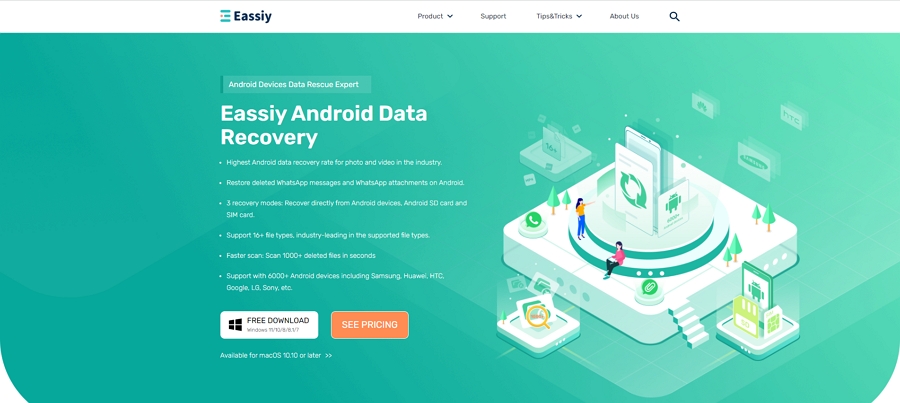 Step 2: You'll be prompted by the software to consent to USB debugging on your Android smartphone. To enable USB debugging, adhere to the on-screen directions.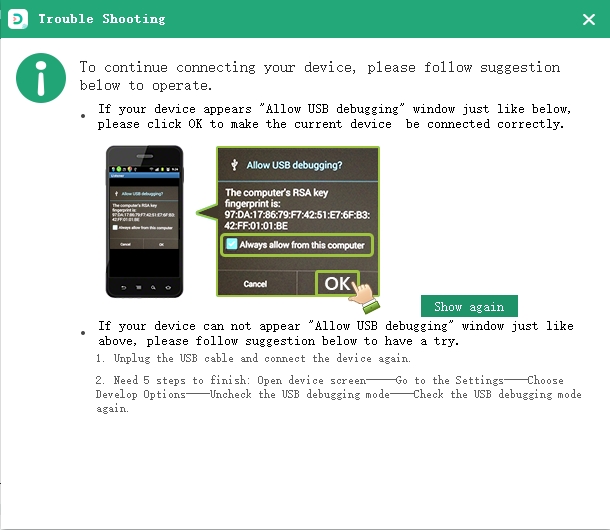 Step 4: Select file types you want to recover. Then click "Next" button. Install the Eassiy APP on your Android phone. And give the program permission to scan your phone. Eassiy Android Data Recovery will scan your device for recoverable files after USB debugging is enabled. Depending on the quantity of data on your device, this could take some time.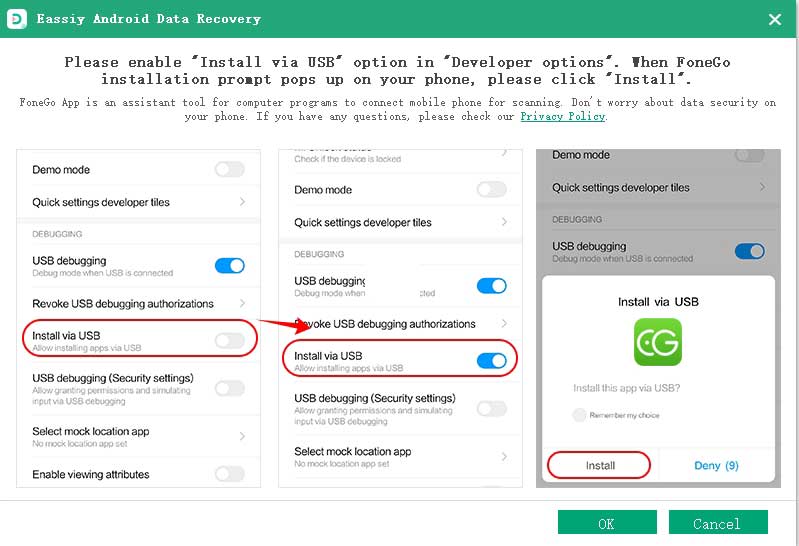 Step 5: You can examine the recoverable files after the scan is finished. Click "Recover" after selecting the files you want to recover.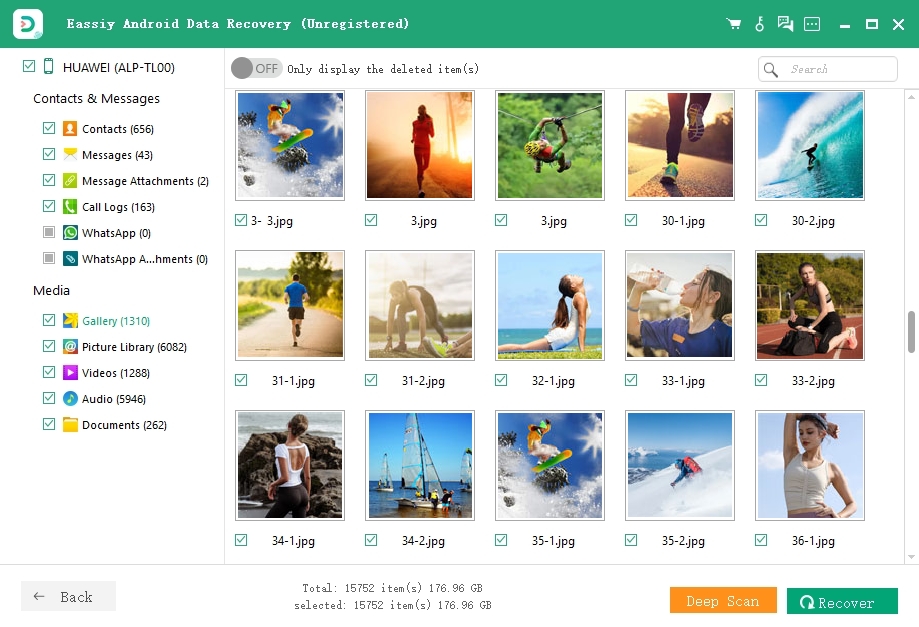 Step 6: Select a location on your computer to save the restored files. To start the recovery procedure, click "OK".
Part 2: Best Android Mobile Photo Recovery APP
One of the top android photo recovery apps is Ultdata by Tenorshare. This program is useful for more than just recovering deleted photos. In addition, it can recover deleted files including videos, messages, contacts, notes, and call logs. After a system failure, virus attack, or factory reset, Tenorshare enables you to recover erased files. It applies if your phone is stolen as well. You may effortlessly restore your backup files to another device with the aid of this recovery program. This program excels because it can restore deleted data from other apps. Tenorshare's ability to let you examine files before restoring them is one of its strongest features. It implies that you can pick and choose the files you want to recover with speed.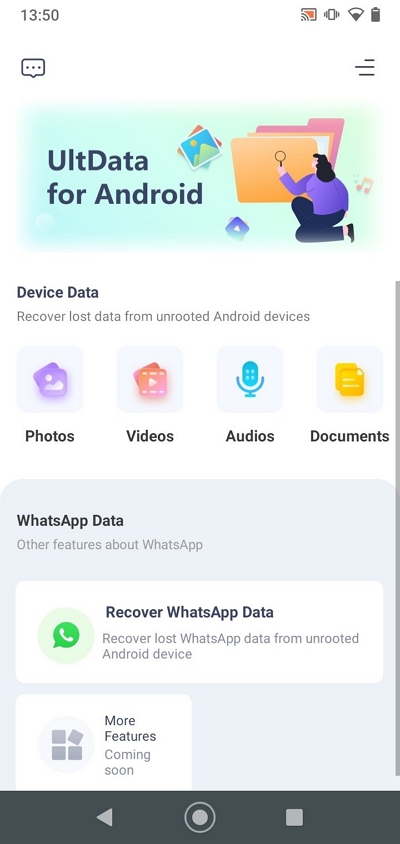 Pros:
Without rooting, it is highly compatible with photo and WhatsApp data recovery.
The application can recover deleted data for more than 6,000+ Android devices.
The most recent Android OS 12 system is capable of handling data recovery in a quick and safe manner.
It works with Google Drive to help download backups so you can quickly restore your data.
Cons:
For some huge disks, the scanning process can take up to 6 hours.
Some files, such as voice memos, page documents, and calendar events, cannot be properly restored.
Part 3: Best iPhone Photo Recovery for Window/Mac
Eassiy iPhone Data Recovery offers industry-leading support for 36+ file types, including Contacts, Messages, Call History, Calendar, Notes, Reminder, Safari Bookmark, Safari History, WhatsApp, Viber, Kik, Line, Messenger, WeChat, WeChat Contacts, QQ, App Documents, Camera Roll, Photo Library, Photo Stream, Voice Memos, Message Attachments, Voicemail, App Photos, App Videos, App Audio, and more. The industry's highest rate of photo and video data recovery for iOS devices is achieved by Eassiy iPhone Data Recovery. It works with iOS 15, 14, 13, 12, and older. With its three modes, Eassiy can restore iPhone data without any loss.
Main Features:
The best industry average for photo and video data recovery from iOS devices.
There are three different recovery options: iCloud, iTunes backups, and direct recovery from iOS devices.
36+ file types are supported, which is a record number in the industry.
Scan 1000+ deleted photographs in seconds for a quicker scan.
Supports iOS 15 and later, as well as versions 14, 13, and 12.
Pros:
Effective in recovering lost or deleted photos and other data from iPhones.
Supports recovery from iCloud and iTunes backups.
Offers a free trial version with a preview of recoverable files.
Easy to use with a user-friendly interface and clear instructions.
Cons:
The full version is relatively expensive compared to other data recovery tools.
The scanning and recovery process can be time-consuming, depending on the size of the data.
Steps by steps to recover photos using Eassiy iPhone Data Recovery:
Here are the steps to recover photos using Eassiy iPhone Data Recovery:
Step 1: Download and install Eassiy iPhone Data Recovery on your Windows or Mac computer.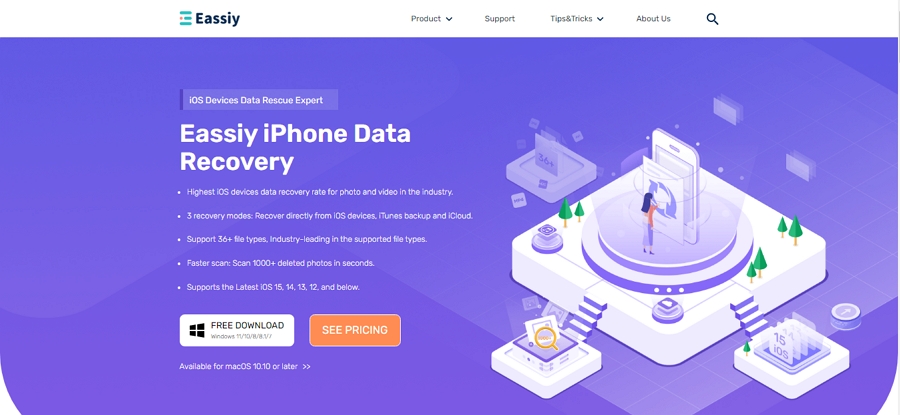 Step 2: Connect your iPhone to the computer using a USB cable.
Step 3: Launch the software and select "Recover from iOS Device" from the main interface.
Step 4: Click on "Scan" to begin scanning your iPhone for lost or deleted photos.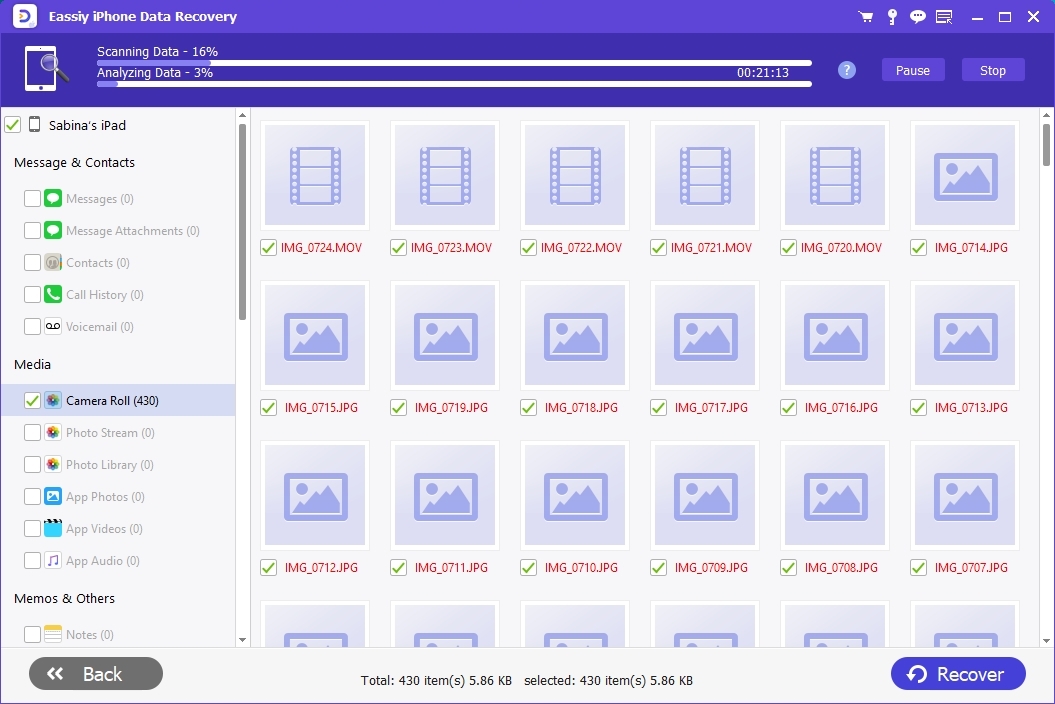 Step 5: Once the scan is complete, preview the recovered photos and select the ones you want to recover.
Step 6: Click on "Recover" and select a location on your computer to save the recovered photos.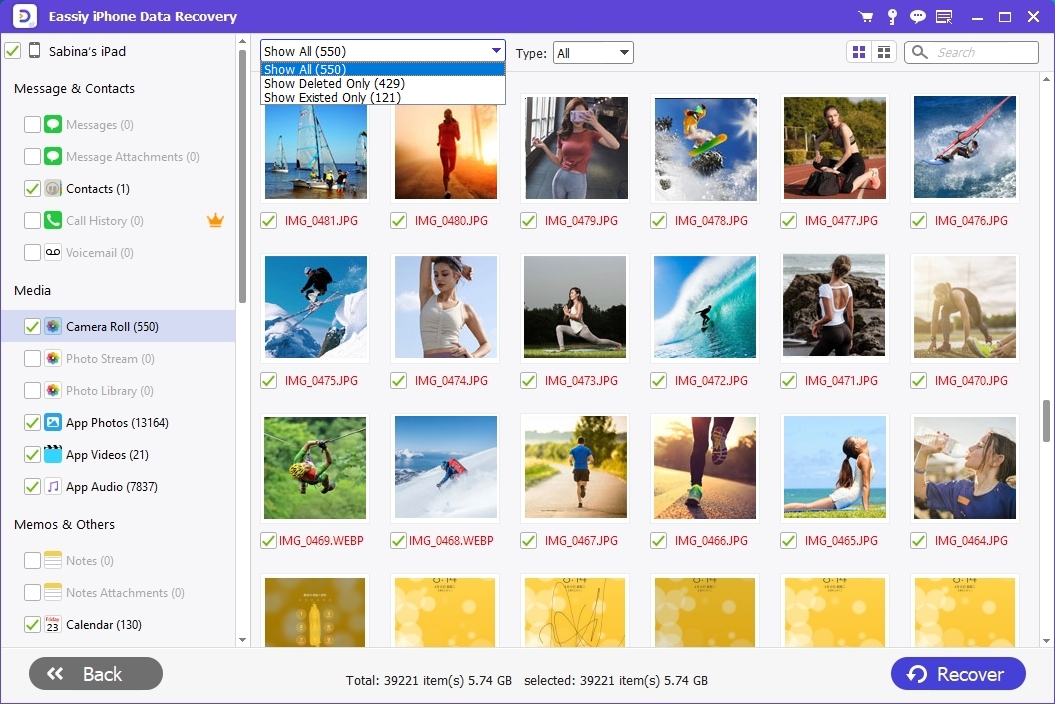 Step 7: Wait for the software to complete the recovery process. Once the recovery is complete, you can open the folder where the recovered photos are saved and view them.
Part 4: Best iPhone Photo Recovery APP
If you're not seeking for a totally free solution and are willing to spend some money to achieve amazing results, EaseUS MobiSaver is among the finest iPhone data recovery apps. It enables you to swiftly and safely recover deleted data, including as text messages, contacts, call logs, pictures, videos, notes, and more.
EaseUS MobiSaver can restore deleted files from your iPhone directly, as well as from an iTunes or iCloud backup. All current macOS versions are supported, but we noticed that scanning was a bit slow. There are free and pro editions of EaseUS MobiSaver for iPhone. It works with both Windows and Mac. While the Pro Edition for Mac is more expensive at $79.95, the Pro Edition for Windows costs $59.95.  The license only permits you to use the software on one machine at a time, despite the fact that it is a one-time payment. You can recover lost files you want to recover one at a time with EaseUS MobiSaver's free version. You can recover notes, call history, calendars, reminders, Safari bookmarks, and up to five contacts at once, as well as one image or video.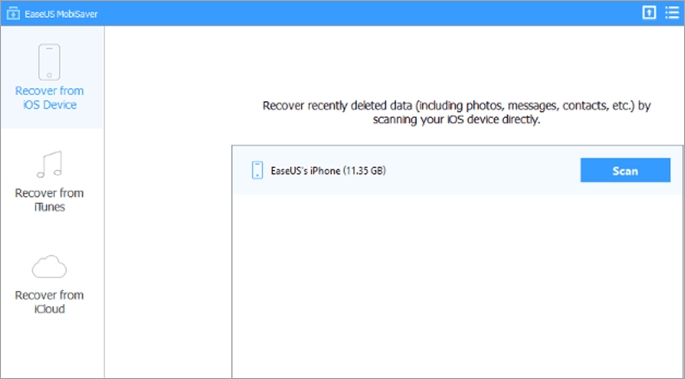 Pros:
You may recover your videos from an iCloud backup, an iTunes backup, or an iOS device with EaseUS MobiSaver.
The iPhone video recovery tool EaseUS MobiSaver supports 10 different file kinds.
Recover and restore deleted or lost iPhone data, including iMessage, SMS, contacts, and notes, without overwriting existing data.
It supports a number of languages, including English, German, French, Italian, Spanish, Portuguese, Dutch, Arabic, and Espaol.
Cons:
A minimal free recovery.
Limited capabilities in comparison to other tools.
FAQ:
1. How can I recover deleted photos from my mobile device?
There are several ways to recover deleted photos from a mobile device. One common method is to use photo recovery software, which can scan your device's storage for deleted photos and attempt to recover them. Another option is to restore your device from a backup, if you have one.
2. Can I recover photos that were deleted a long time ago?
It may be possible to recover photos that were deleted a long time ago, but the chances of success decrease as time goes on. It's best to try to recover the photos as soon as possible after they are deleted.
3. Is it guaranteed that I can recover all of my deleted photos?
No, there is no guarantee that you will be able to recover all of your deleted photos. The success of the recovery process depends on several factors, such as the amount of time that has passed since the photos were deleted, the amount of data that has been written to your device's storage since the deletion, and the condition of your device's storage.
4. How can I prevent losing my photos in the future?
To prevent losing your photos in the future, it's a good idea to regularly back up your device's data, either to the cloud or to an external storage device. You can also take steps to protect your device from physical damage or theft, such as using a protective case and setting up a passcode or biometric authentication.
Conclusion
In conclusion, mobile photo recovery is an essential tool for anyone who has lost valuable photos on their Android or iPhone devices. With the help of reliable and efficient photo recovery software, it is possible to recover deleted photos quickly and easily. Our highly recommended app solution is Eassiy Android Data Recovery for Android and Eassiy iPhone Data Recovery for Android, which is known for its user-friendly interface, fast scanning speed, and high recovery success rate. Eassiy is compatible with both Android and iPhone devices and can recover various types of files, including photos, videos, and documents. With this software, you can rest assured that your precious memories are in safe hands. In summary, for a reliable and efficient mobile photo recovery solution, Eassiy Android Data Recovery or Eassiy iPhone Data Recovery is highly recommended.