The video conversion is a critical process for anyone who wants to play or edit videos on their computer or other devices. However, not all videos are in the same format, and not all devices support the same video format. As such, video conversion becomes an essential task. A video converter is a software tool that can convert videos from one format to another.
There is several paid video converter software available in the market, but not everyone can afford them. This is where the free video converter comes in. They are ideal for people who want to convert videos but don't want to spend money on expensive software. They are also perfect for people who want to try out video conversion before investing in paid software. In this blog post, we will discuss some of the best free video converters for PC and online.
Part 1: Best 3 Video Converters for PC
#1. Eassiy Video Converter Ultimate
For those who are searching for a single tool that fulfils all their video-related needs, Eassiy Video Converter Ultimate is the one solution. This converter is compatible with both Windows and Mac Operating Systems. It can easily handle editing, merging, compressing and converting files to almost every video format. It's good to say that it is the software that is a go-to tool for both professional and personal needs. This is what makes it the best free video converter for PC.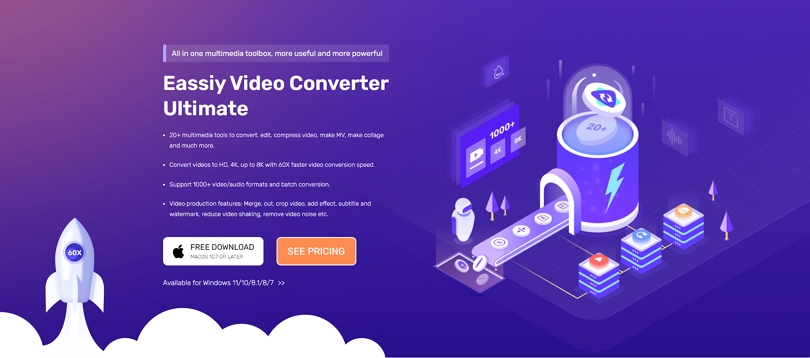 Features
Over 20+ multimedia tools to convert, edit and compress videos in different formats.
60X conversion speed of videos.
It supports 1000+ video and audio formats.
The easy batch conversion just with one click.
Many inbuild editors that enrich video production like creating, merging, editing, crop rotate, adding watermarks and lot more features.
Easily compress the HD video for sharing on YouTube, Facebook and many other social media platforms.
It is a comprehensive media player that can create, edit, and share videos.
Pros
Optimising Multi-Core Processors
Video Conversion in Bulk
Conversion of Lossless Videos
Video conversion to 8K resolution
Cons:
Unless you are purchasing the family plan, one licence per PC.
Provides no free version.
#2. Movavi Video Converter
Movavi video converter is a quick conversion tool that is compatible with Windows and Mac operating systems. It is the most powerful as well as a comprehensive tool that converts videos into an array of formats. It supports multiple input and output tools, including, MP4, MOV, MPG, AVI and many more. The Movavi video converter has easy to use and instinctive interface which allows quick access to different tools. The conversion process of the heavy and long videos does become easy. It can convert hour-long videos within a minute without compromising the quality of the video. It does have other advanced features for those who want more control over their videos.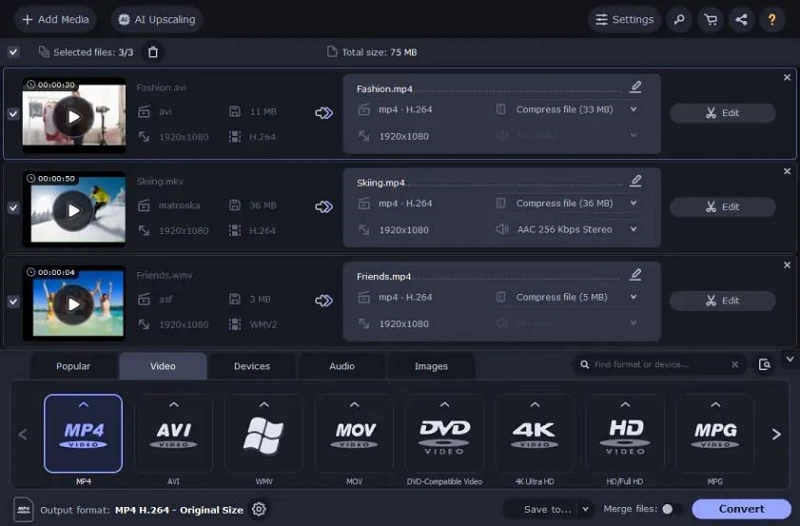 Features
An easy to use interface makes it possible for any user to use the solution.
The ability to upload videos to any platform.
The capacity to instantly extract MP3 from a video file.
Convert several files simultaneously.
Device detection is automatic.
The capability of quality-preserving video transcoding. As a result, all HD clips and movies will continue to be of a high quality which is not possible with conventional converters.
The preview function enables users to see the outcome even before they actually convert the files.
Pros
Simple to Use: This Windows video converter is strong yet user-friendly for newcomers.
Major Formats Supported: The software boasts an impressive 180+ file format support.
Additional built-in editing tools, such as those for trimming and merging, are available.
Fast File Conversions: The tool offers incredibly quick file conversion processing times.
Timeline scaling enables millisecond-accurate media file cutting by allowing you to enlarge or reduce the timeline scale.
Cons
Limited Editing Features: Unless you upgrade, you don't have access to all of the software's features.
When using the free trial, your converted clips will have watermarks added to them.
Lack of Features: There is no built-in "Help" file, but there is a comprehensive online manual that contains all the necessary information.
#3. AVS Video Converter
Another straightforward yet effective video conversion tool for Windows is AVS Video Conversion software. The programme can change the format of videos. This software can accelerate the conversion of full HD and 4K UHD videos by using hardware acceleration. You can quickly convert a sizable number of audio files using AVS video converter. Power users who want to batch process files automatically will love the software.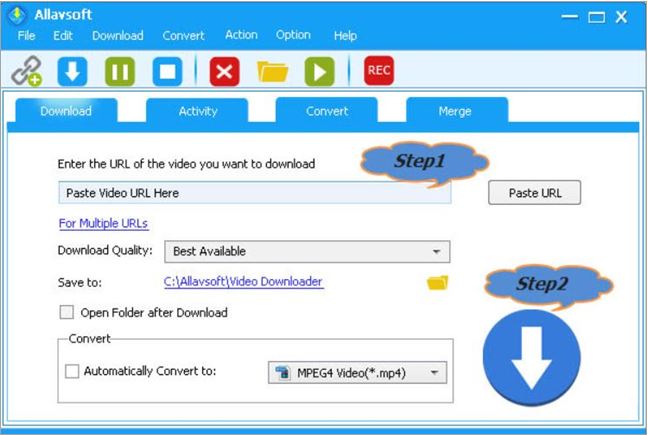 There are numerous presets that make it simple to convert videos to widely used mobile and gaming consoles. AVS Video Converter also offers a range of advanced features, including support for 4K resolution, the ability to create DVD and Blu-ray discs, and integration with popular social media platforms like Facebook and YouTube. With its powerful features and user-friendly interface, AVS Video Converter is an excellent choice for anyone looking to edit and convert videos.
Features
Support for hardware acceleration
Prepare videos for mobile viewing
Burn DVD and Blu-ray discs
Utilise command line mode to automate the conversion process
Share online converted videos
Pros
Virtually every format is supported, including high definition
Streamlined interface
Simple editing tools
A practical video cutter
Creates a disc
Clips are uploaded to video sharing websites
Builds DVD menus
Cons
No camera import allowed
Individual conversion profiles cannot be used
Part 2: Best 3 Online Video Converters [Free & Fast]
1. OnlineVideoConverter.com
The best online tool for converting videos is OnlineVideoConverter, which offers two conversion modes. By adding direct video URLs from websites like YouTube, Facebook, and Vimeo, the first mode assists you in converting videos. You can upload and convert local video files like AVI, MPG, MOV, WMV, MKV, and WebM in the other mode. Even better, OVC enables you to perform an infinite number of download and conversion tasks online. The only drawback is that some of the menus and buttons will display ads when you click them, which is a real bummer.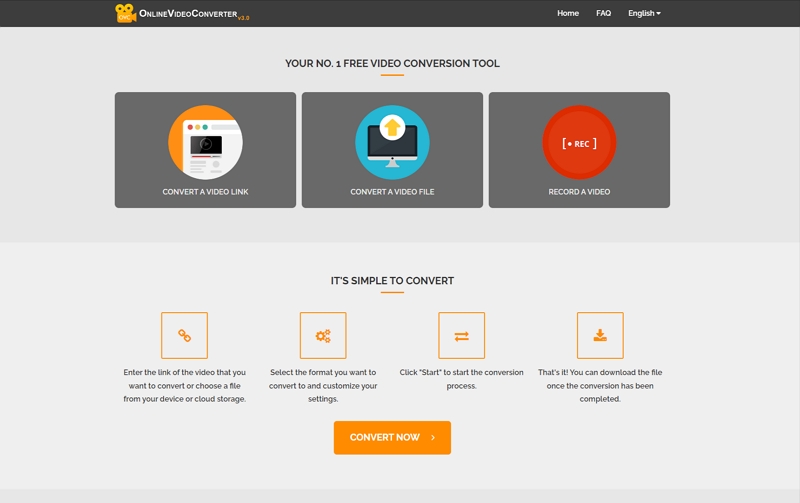 Key Features:
You can convert supported video formats into a number of other formats with its assistance, including MP3, AAC, OGG, WMA, M4A, FLAC, WAV, MP4, and AVI.
All web browsers are compatible with it, so you can convert videos from any device.
You can choose the audio bitrate and video resolution that you prefer.
When it is not necessary to convert the entire video file, you can convert a portion of the video.
It enables online video conversion without requiring registration.
2. Kapwing
For converting MP4 clips into other formats like MP3, GIF, MP4, or JPG, Kapwing provides a free online tool. This online tool is unique in that it offers a thorough timeline-based video editor to assist you in fine-tuning your conversion. Before conversion, Kapwing gives you the ability to trim, merge, crop, and resize your videos without the need to install any software.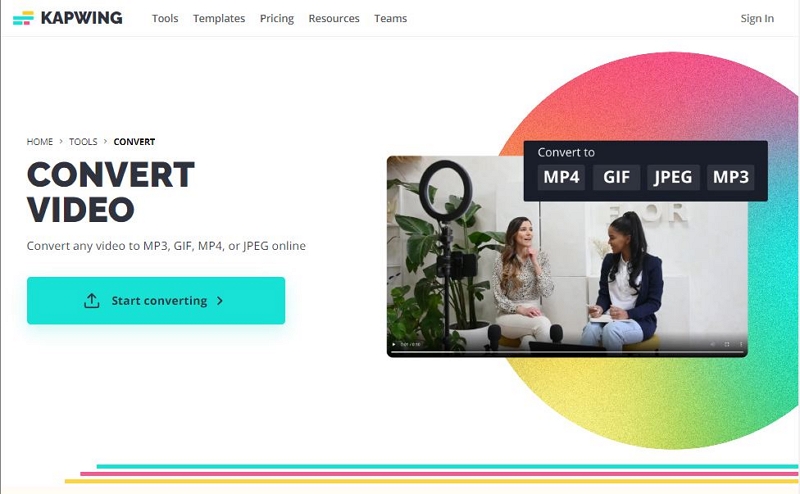 Before exporting your clips, you can also add music, text, animations, and transitions. You have the option to add a clip by pasting the direct URL if the file is saved online in addition to uploading the video to convert.
Key Features:
You can convert videos online without any intrusive ads or watermarks on the final product.
It has a special Smart Cut feature that recognises and eliminates silent video segments automatically.
You can convert videos in a variety of formats, including FLV, WMV, AVI, WebM, MOV, and 3GP.
You can select the output size and video quality you want (Standard 720P, High 1080P+).
3. CloudConvert
You have complete control over the output resolution (video), quality, and overall file size with CloudConvert, a full-featured online video converter. Although you can still choose a preset resolution ranging from 240P to 4K, this MP4 converter tool by default keeps the original video resolution. You can adjust the aspect ratio to something like 4:3, 14:9, or 16:9 depending on the target screen. This top online tool also functions admirably as an audio converter, letting you choose your preferred audio codec, bitrate, channels (mono or stereo), volume, and sample rate.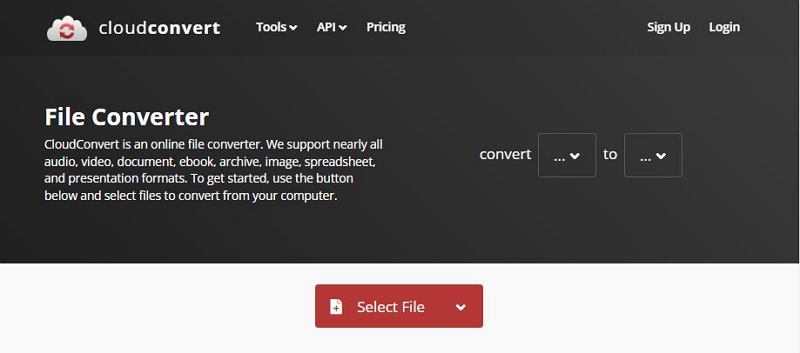 Key Features:
More than 200 formats are supported, and you can adjust the video and audio settings to customise the online conversion process to your particular needs.
You can trim a long video by choosing a start time and an end time.
You can use it to convert videos and, if necessary, hardcode or softcode subtitles.
You can use it to convert videos from direct URLs or cloud storage services like OneDrive, Google Drive, and Dropbox.
You can convert video files and add subtitles with its assistance.
Conclusion
Video conversion is an essential process for anyone who wants to play or edit videos on their computer or other devices. There are several free video converter software available in the market that can help you convert videos from one format to another without any cost. Eassiy Video Converter Ultimate is one of the best free video converters for PC and start converting your videos today.