You can convert a video between formats with video conversion software. You may need to convert raw video files from one format to another if you edit personal videos or work at a professional film studio. Numerous conversion tools are available online. Here, we'll address frequently asked questions about video conversion programs and give an overview of the top tools that are currently on the web. It's fairly typical to convert FLV files to gain an idea. You must first convert from/to FLV if you want to stream or embed videos in HTML, play FLV files on Windows Media Player, or both. You have come to the right site if you are looking for the best conversion software. No specialized technical knowledge is needed to convert FLV to MP4. Here we will present you 5 great FLV to MP4 converter to convert files Online/Offline.
Part 1: Which format is better FLV or MP4?
The Motion Picture Experts Group created the MP4 video format, which serves as a storage medium for digitally encoded music and video files. MP4 uses different types of compression for its audio and video tracks. Here are several ways MP4 and other modern video formats are superior to FLV:
Quality: Considering that MP4 makes use of the H.264 video compression algorithm, it offers better quality than FLV. This permits effective compression without sacrificing the excellent caliber of the source footage. H.264 encoding is not supported by FLV.
Compatibility: Compared to FLV, MP4 is more versatile. Due to the widespread availability of MP4 decoding software and devices, MP4 plays without any issues practically anywhere.
File Size: Because MP4 files have better compression than FLV files, they are often smaller. This speeds up the transfer, downloading, and uploading of MP4 files. Additionally, MP4 files are more responsive to compression and maintain video quality, but FLV files suffer greatly from it.
Flash Player: The fact that FLV requires the Flash Player plugin in order to play FLV video files is a crucial FLV feature. Viewers do not require a specialist plugin to play MP4. Additionally, FLV files are not always hardware accelerated, which might cause playback on some devices to lag.
Video Features: FLV does not allow DVD-style menus and subtitles, although MP4 does. FLV files are encoded in their original form; these features cannot be added to them.
Part 2: Best FLV to MP4 Converter to Convert FLV to MP4 on Windows/Mac
Eassiy Video Converter Ultimate can convert, edit, compress, make MVs, create collages, and much more thanks to its 20+ multi-media functions. It tops the industry in supported formats with batch conversion and more than 1000 video/audio formats. Eassiy's built-in editors are great for refining your video creation because they include features like merging, trimming, cropping, adding effects, subtitles, and watermarks, lowering video shaking, decreasing video noise, and more. Among various advantages of using this software is that it works with more than 150+ different devices, including the iPhone and iPad. Moreover, it supports a various range of video formats and you can convert them into 2D or 3D video formats as well!
Key features:
It supports more than 1000+ video/audio formats and batch conversion that's industry leading.
Offers 60x faster lossless conversion technology.
Can convert up to 8K video with no-quality-loss.
20+ multimedia tools available for editing, creating MVs, compressing, making collages, and other tasks.
It has AI technology that boosts multi-core processors to increase conversion rates.
Pros:
It can convert HD/4K/5K/8K footage that includes H264 (AVC) and H265 (HEVC) files from various devices including GoPro cameras, drones, HD cameras, camcorders, and more to any playback format.
You can compress HD videos for various social media including Facebook, TikTok, and other websites.
Integrated editing tools that improves high-speed conversion and there is GPU acceleration system also available.
Cons:
The full version has more features than free version.
How to Convert FLV to MP4 No Limit:
Step 1: First you need to download and install Eassiy Video Converter Ultimate on your computer.
Step 2: Now run the Eassiy Video Converter Ultimate on your computer. Then you need to select which video files to convert from the main interface of the program. Now simply drag and drop the FLV video file from your PC or click on the "+" button to browse and import.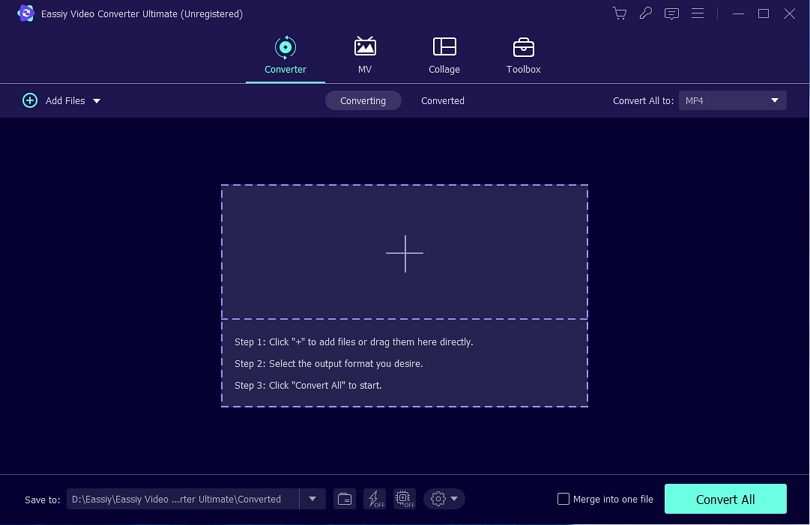 Step 3: After importing the FLV video file, select MP4 video format from the drop-down box on the "Convert All to" option. You can also click on the format icon to the right, search through and select any video format of your choice.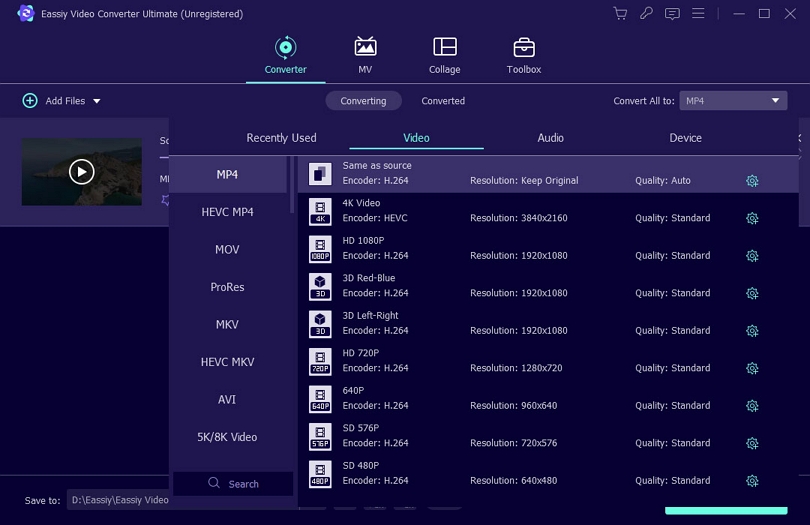 Step 4: Finally you can click on the "Convert all" button to start the conversion process of FLV to MP4. You can also change the output folder where the video will be saved after conversion, by clicking the arrow key at the bottom beside "Save to".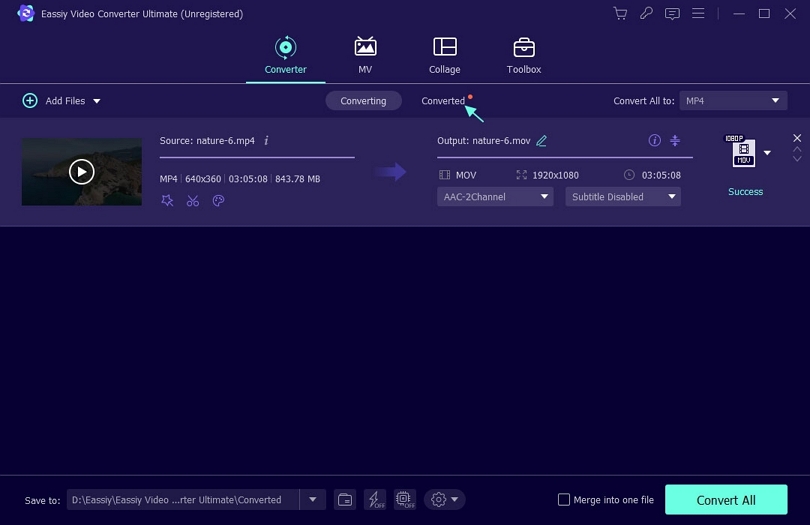 You'll be able to see the conversion progress on the interface. When the conversion is complete, you'll see the "Converted" tab with a red mark. You can go there and play the video if you want. Also the program can open the output folder directly if you wish to see.
Part 3: 4 Free FLV to MP4 Converters to Convert FLV to MP4 Online
1. Convertio
Convertio, like other online converters, has a simple design that makes it simple to upload files for conversion. You can upload files straight from your computer and select the file format you want to convert from and to on the Convertio website. You have access to additional choices for file optimization in addition to conversion. The MXF codec, profile, level, and advanced capabilities allow you to edit audio or rotate and flip your films in addition to resizing the file and changing the frame rate.

Pros:
Combines well-known cloud services.
Easy to use, quick batch processing.
Includes more than 300 forms.
Incorporates a developer API.
Cons:
The free version limits to 100 MB per file.
2. Online Converter
You can convert FLV to MP4 with Online-Convert in high definition. Additionally, you can upload video clips and convert the FLV video to MP4. Free conversions of audio, video, images, documents, books, archives, and more are available on this website.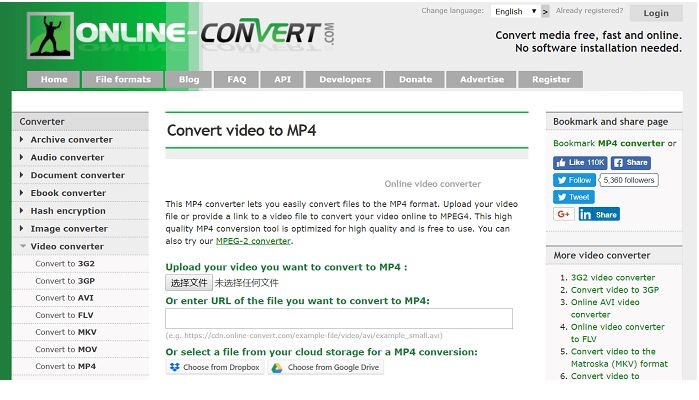 Pros:
Support conversion from more than 50 sources.
It is able to extract the audio from video files.
There's no need to register for the trial version.
Supports old file types.
Cons:
Expensive for budget-limited users.
100 MB per file, 25 files per day for free users.
3. Zamzar
The well-known FLV converter is called ZAMZAR. It is simple to convert FLV files by uploading the video files and selecting FLV or another video/audio format as the output format. In addition to locally transcoding FLV files, it also lets you paste video website URLs.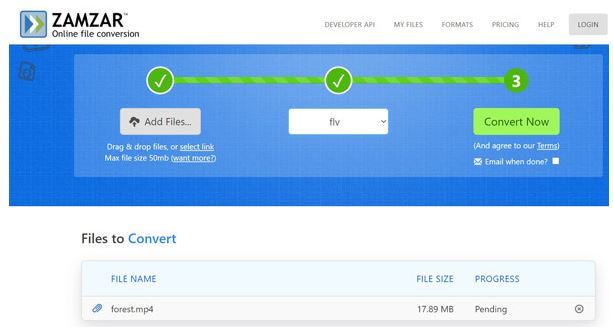 Pros:
More than 150 File Formats are supported
Convenient to email the converted documents to friends or coworkers immediately using FilePigeon's built-in email service (100 MB size limit for free users).
Enables users to email the files they wish to convert, and the transformed file will be delivered quickly.
Registered users of Zamzar have access to a personal inbox where they can save converted files.
Cons:
The waiting period for free users is rather longer because frequently you need the converted files right away.
You must convert each file manually in the free version because mass conversions are not available.
4. AnyConv
A three-step technique is provided by AnyConv to convert an FLV file to an MP4 file. Uploading a file up to 50 MB is the first step. The MP3 file is then downloaded after the conversion procedure. The procedure is straightforward, making it simple to convert the movie rapidly. To ensure that handling conversions on the website is secure, all files are instantly erased.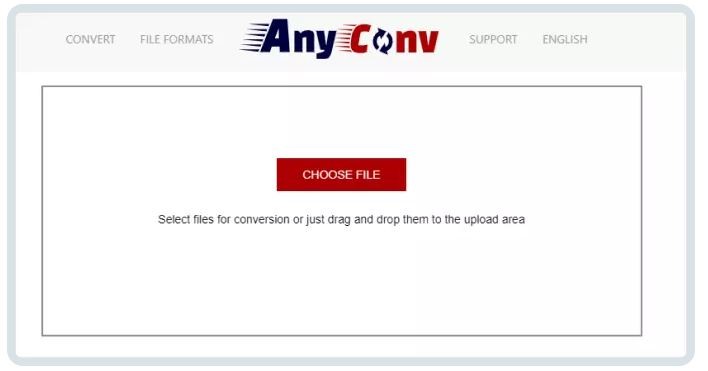 Pros:
Use a web browser to convert files on any mobile device.
Cross-platform compatibility due to its web-based nature.
Up to 60 files can be converted each hour by users.
The maximum file size is 100MB.
Cons:
Includes bundled extra software.
Overly complicated to change file settings.
Part 4: FAQ to Convert .flv to MP4
1. Is MP4 superior to FLV?
FLV is renowned for having less quality loss with higher compression than MP4, although MP4 stores video and audio in good quality. FLV appears to be preferred for video on the web, whereas MP4 can be utilized on practically all devices. Compared to MP4, FLV is typically smaller and easier for online users to download. MP4 files may be opened on mobile devices without any problems whereas FLV files require the Flash Player plug-in, which is not compatible with mobile devices. Simply put, MP4 is used more frequently than FLV.
2. Does Sony Vegas Support FLV?
FLV files cannot be opened by Sony Vegas. To use Sony Vegas, you must convert FLV to one of the supported file types, such as MOV, MP4, WMV, MPEG-1/2/4, H.264/AVC, H.265/HEVC, WAV, FLAC, AAC, MP3, OGG, WMA, etc.
3. What distinguishes FLV and MP4 from one another?
To begin with, FLV does not support menus although MP4 does, same like on DVDs. You can select from a variety of subtitles for MP4 videos because MP4 also enables captioning or subtitles. Subtitles cannot be changed and are frequently encoded with the video rather than being supported by FLV.
4. FLV - is it a reliable recording format?
FLV is a file type that Adobe Flash Player uses. It is one of the most widely used and flexible video formats, and all video platforms and browsers support it. For online video streaming services like YouTube, the FLV format makes sense. They are simple to download because of their minimal file sizes.
Conclusion
With the FLV converter, you can simply convert other video files into FLV videos for online sharing or convert FLV to other formats for playback on devices. The top 12 FLV converters for Windows, Mac, and internet are listed on this page. You can look through the reviews to discover the best FLV converter. But we suggest to use Eassiy Video Converter Ultimate; one of the greatest software to convert your FLV file to MP4.