Videoconverters have been ruling the industry ever since the emergence of smartdevices to ensure compatibility and uncompromised viewing and listeningexperience. While there are multiple media formats, M4A and MP4 have been thetop ones for audio and video users.
Nowif you are a professional, a casual editor, or even a novice who has just begunhis career in the industry, you may need an expert M4A to MP4 converter to work your way. While multiple options areavailable at a click on the web, we have sorted the best five ones for you to convert .m4a to .mp4 files seamlessly.
Sostay with us as you'll be in for a detailed discussion on the best 5 M4A to MP5converters and know the primary difference between the two formats for greaterclarity. Let's find out how to convertM4A to MP4 with some chosen converters.
Finding theBest Video Converters!
Findingthe best video converter that suits everyone's needs can be challenging as,with the rise of digitization, developers are working hard to frequently bringa new video converter to please their users and audience.
Fact Check: As per HTF Market Intelligence, videos are asource of marketing and advertising, the rise in social media platforms toshare videos, and the booming demand for digital media. And Video convertersoftware allows users to easily convert their videos into any format usingtheir device and edit them to their satisfaction. So by 2028 users can expectthe Video Converter Software to witness a growth rate of 5.40%, and the marketsize can grow to USD 601.51 million.
Pro Tip: The Internet is flooded with video conversion software, anew one emerging every other day. But you must be mindful of certain factors beforeinvesting in one. For instance, it must be capable of doing exactly what youneed.
Inaddition, user interface, speed, number of formats, etc., can be considered.And, of course, you cannot ignore the price to make a sync between your pocketand needs and then determine which one suits you the best.
Part 1: 5 Best Free M4A to MP4 Converter without Quality Loss
Beforegetting into their detailed discussion, let's glance at all the 5 M4A to MP4 video converter software.
| Software Name | Platform | Price | Best For | Star Rating |
| --- | --- | --- | --- | --- |
| Eassiy Video Converter Ultimate | Windows and Mac | Free Trial: Available; Annual Plan: $39.99; Perpetual Plan: $55.99 | Beginners, professionals, and casual editors | |
| Movavi Video Converter | Windows and Mac | Free Trial: Available for 7 days; Full Version: Starts at $49.95 | Small studios, home video editors, freelancers | |
| Leawo Video Converter | Windows and Mac | Starts at $29.95 | Beginners and professional users | |
| HitPaw Video Converter | Windows and Mac | Free Trial: Available; Full Version: $9.99 for one month 1 PC | Beginners | |
| VideoProc Converter | Windows and Mac | Free Version: Converts short video audio file for free; Full version: $25.95 | Novices, educators, live enthusiasts, gamers, sports lovers, etc. | |
1. Eassiy VideoConverter Ultimate
Best for: Beginners, casual editors, and professionals to convert,edit, compress, create, and share videos with over 20 video tools
Eassiy Video Converter Ultimate is a storehouse of over 20 multimedia tools toconvert, edit, and compress video files, make MV, collage, and much more. Witha massive variety of file formats, you can easily M4A convert to MP4 within no time and even go for bulk conversion.It is an all-in-one multimedia toolbox to merge, crop, and cut videos, addsubtitles and watermark, remove video noise, and reduce video shaking.
OS: MacOS 10.7 or later and Windows 7/8/8.1/10/11
Pricing:
Free Trial: Available
Annual Plan: USD 39.99
Perpetual Plan: USD 55.99
Family Plan: USD 149.99
Features
Convertsvideos to high-quality HD and UHD (4K/8K formats) with 60x faster videoconversion speed
Supportsover 1000 audio and video formats with batch conversion
Featuresalmost all video production features like merge, cut, crop, add effects,subtitle, and watermark
Offers 20+multimedia tools for all kinds of file types
Built-ineditors to enrich video production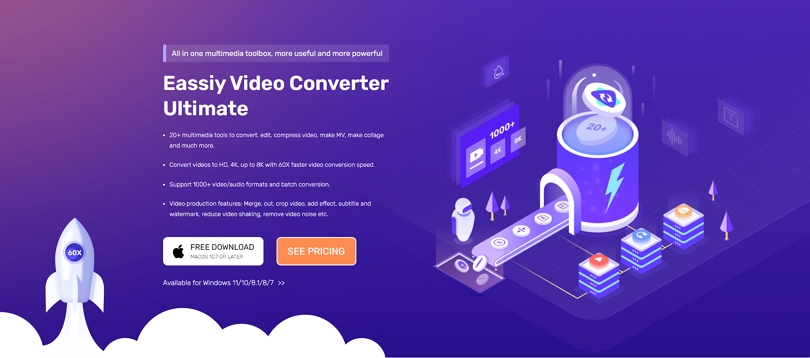 How to Convert M4A to MP4
Step 1: Launch the program and addfiles
Downloadand launch the Eassiy Video Converter Ultimate on your system. After launching,the primary interface will open up, allowing you to choose video files forconversion. Dragand drop your video files in M4A format to convert them to MP4 format. Or, youcan tap on the '+' button and browse your files.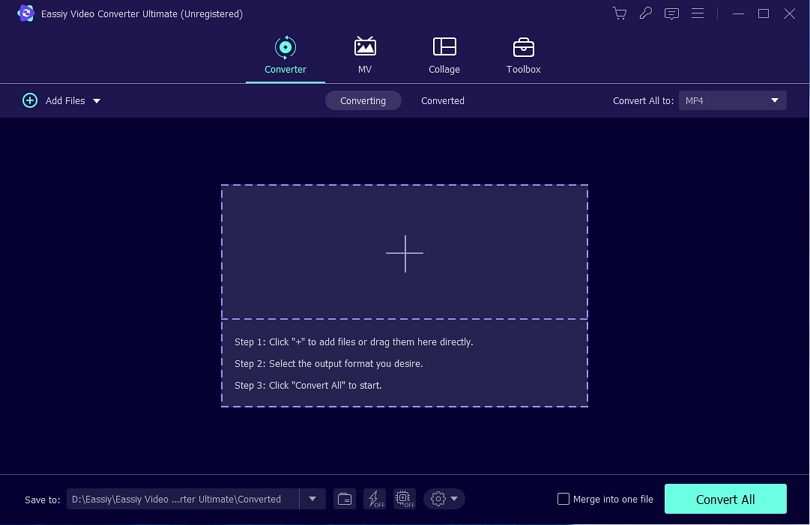 Step 2: Select MP4 format
Afteryour chosen video uploads, click on the dropdown menu of the Convert All option and select the MP4video format to proceed with the conversion. Youcan also click the format icon on the right and choose MP4 video format forconversion.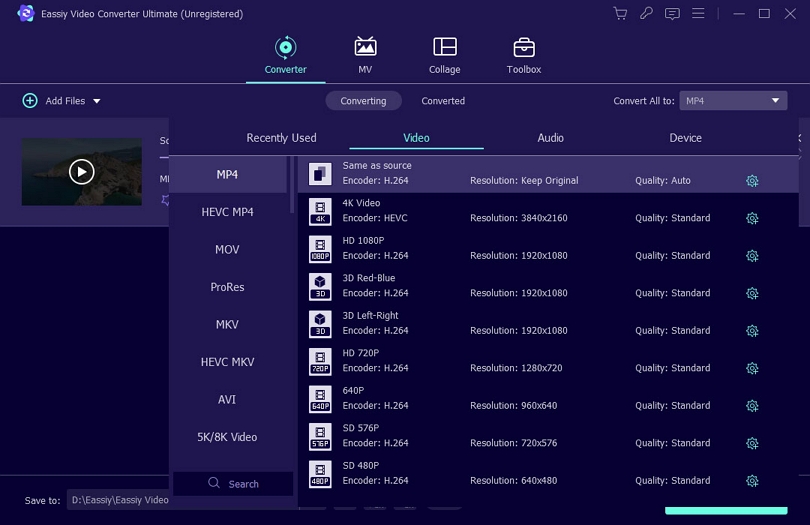 Step 3: Convert M4A to MP4 format
Clickthe Convert All button to begin thevideo conversion process. You can also tap the arrow key on the bottom to editthe Save to path. You will see the conversion progress bar, and once finished, the interface willshow Success. Once the progress completes, the Converted tab will have a redmark on its right. In addition, the software will automatically pop up thefolder where your final converted video is saved.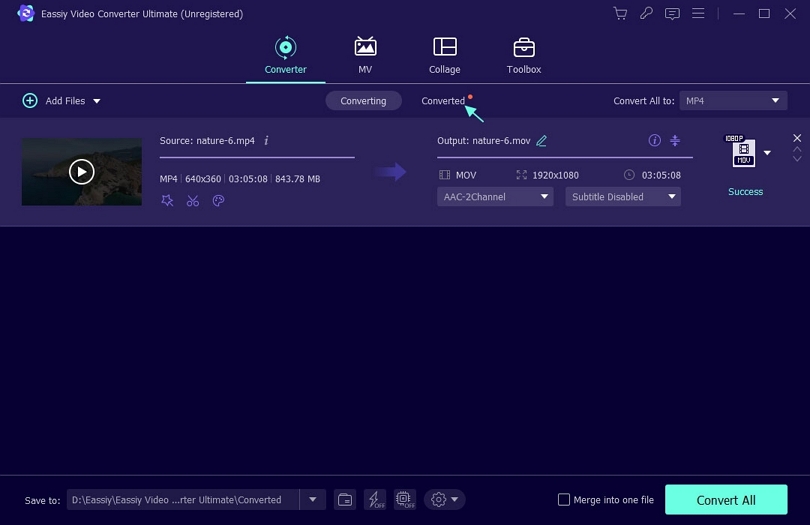 Cons:
Users getonly one license per PC unless they subscribe to a family plan.
Verdict
EasilyVideo Converter Ultimate is the go-to solution for every user as it boasts a60x faster conversion speed with multiple video and audio file formats andretains the file's original quality too. Moreover, you can boost your video'sresolution to 8K, becoming our favorite pick amongst all the other converters.
2. Movavi Video Converter
Best for: Small studios, home video editors, and freelancers
MovaviVideo Converter is another multifunctional video conversion tool that helps convert M4A to MP4 without a qualityloss. The program handles all your video editing needs, like compression, trim,crop, merge, color adjustment, adding effects, etc., to help polish your videoclips. Besides offering 180+ formats and 200+ presets, the program supportsadding subtitles to your videos in seconds and lets you convert your music,pictures, and video to any media format with the blink of an eye.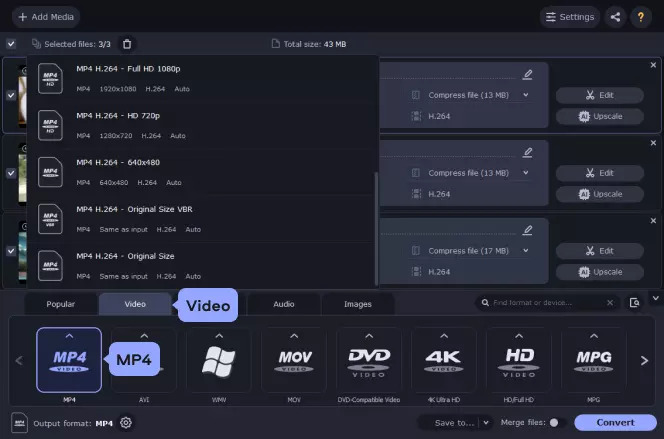 OS: Mac OS X 10.13 and higher and Windows 11/10/8.1/8/7
Pricing:
Free Trial: Available for seven days
Full Version: USD 49.95
Features
Instantlyconverts files without losing the quality with a faster conversion process
Compresseslarge videos to be uploaded anywhere
SupportsAI-powered scaling to enhance poor-quality footage
Supportsover 180 formats and 200+ presets to deliver high-quality output
Includesbasic editing tools for high output and neater storage
Cons
The freeversion limits from availing the full function and has certain restrictions
The fullprogram version lacks the ability to download online videos and burn convertedvideos to DVD
Verdict
MovaviVideo Converter is a software that supports over 180 formats and 200+ presetsand enables users to adjust various settings to edit and enhance video quality.Movavi is one of the fastest converters suitable for even convertingfeature-length films. Its strong and fast conversion and optimizing featurescover its cons in delivering high-quality output.
3. Leawo Video Converter
Best for: Beginners and professionals to convert videos and audioin multiple formats at 6x faster speed
LeawoVideo Converter is another option to convertMP4A to MP4 files at a 6x faster speed in 180+ video and audio formats onall portable devices. The tool preserves the original quality in output andenables you to set video and audio parameters freely. The program also lets youadd subtitles, select audio tracks and get six 3D modes for an enhanced viewingexperience.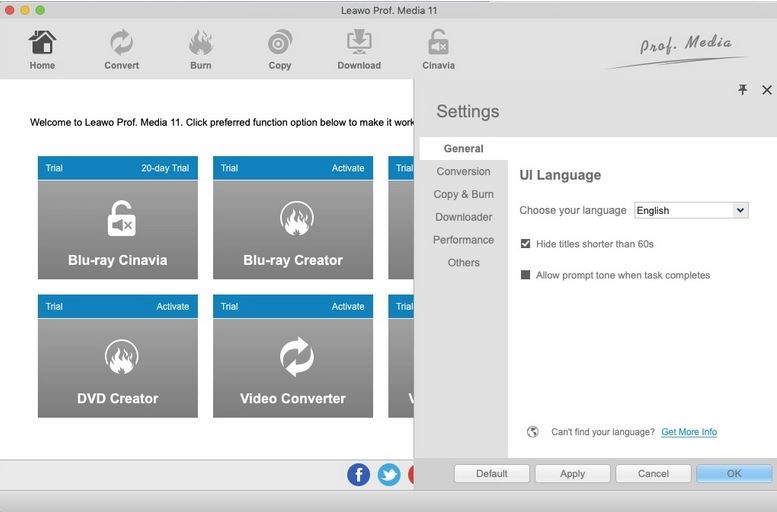 OS: Mac OS 10.13/10.14…/12/13 and Windows 7/8/8.1/10/11
Pricing:
One-year License: USD 29.95 forone license and 1 PC/Mac
Lifetime license: USD 39.95 for one license and 1 PC/Mac
Features
Convertsaudio tracks and videos between 180+ formats
Supports iOSdevices' video and audio conversion
Converts andretains the original quality of video and audio files with 6x higher speed
User-friendlyinterface with multilingual support
Supports 2Dto 3D conversion
Cons
Users mustseparately purchase extra features in the Leawo Suite, like online videodownloads and DVD-burning tools
Subtitlesand audio tracks are not as viable as other video conversion tools
Verdict
LeawoVideo Converter is an excellent tool for watching HD movies on any device likeiOS or Android at a lossless quality. In addition, besides a simple UI, it has2D to 3D conversion abilities for a better video-viewing experience.
4. HitPaw Video Converter
Best for: Beginners and professionals to download and convertvideo, audio, and thumbnails from 10000+ websites like Facebook, YouTube,Vimeo, etc.
HitPawVideo Converter is an excellent recommendation to convert .m4a to .mp4 files at the lossless quality of videos,audio, images, and DVDs. The tool meets the users' conversion needs by offeringa video converter/downloader, DVD ripper/burner, Music converter, and 2D videoto 3D with a 120x faster speed. Its various editing features help enrich yourvideo story by letting you add filters, effects, and more.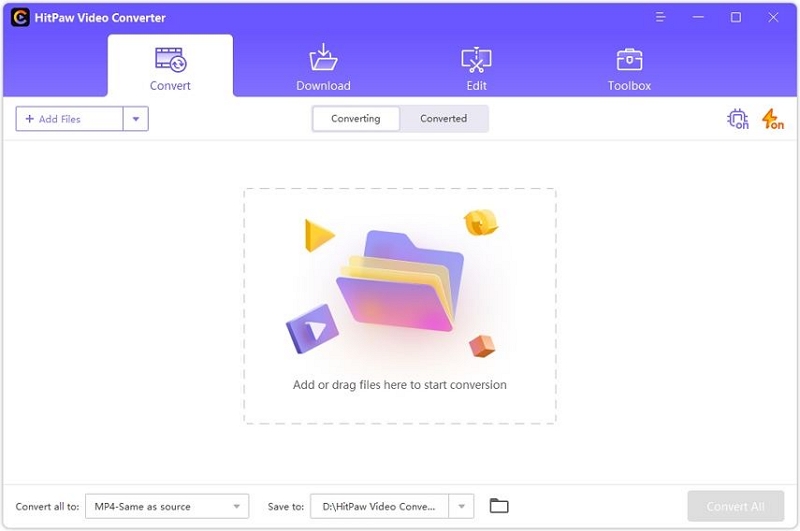 OS: Mac OS 10.13 and above and Windows 11/10/8/7 64-bit
Pricing:
Free Trial: Available
Starting Price: USD 19.95
One-year Update License: USD 39.95 per year
Single-user Lifetime UpdateLicense: USD 79.95
Features
Losslessconverter for music, videos, images, and DVDs with 120x faster speed
Convertsvideos to more than 1000 formats and devices
Offervideo-editing options to create distinct videos
Providesbuilt-in innovative AI tools to expand your creative capabilities in a snap
ConvertsApple Music, iTunes Music, audiobooks, and podcasts
Cons
Cannotadjust the output quality of downloaded videos
Copy-pasteURL into downloader is wanky
Verdict:
HitPawVideo Converter enables users to use three tools in 1 software like Converter,Downloader, and Editor to generate uncompromised videos. You can also downloadYouTube playlists, Apple Music, TikTok videos, etc., without watermarks and getoptimized converter and editor functions as well. 
5. VideoProc Converter
Best for: Beginners, educators, gamers, sports lovers, liveenthusiasts, and more to convert, resize and process large 4K/HDR videos, audiotracks, and DVDs at high speed
VideoProcConverter is a full GPU-accelerated video processing software that helps M4A to MP4 conversion at 47x real-time faster speed. With itsadvanced settings and extensive toolbox, you can stabilize and enhance video,remove noise, add a watermark, make MKV/GIF, create MU8, and more. Moreover,its built-in media downloader engine supports 1000+ video audio sites.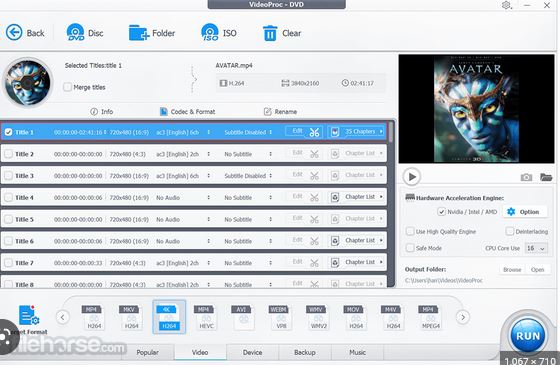 OS: Mac OS X and above, including macOS Monterey, Ventura,and higher and Windows 7/8/8.1/10 11 32-bit and 64-bit
Pricing:
Free Trial: Available to convert short-length video audiofiles of less than 5 minutes
Full Version (Premium 365): USD 25.95 for one year and 3 Macs 
Lifetime License: USD 45.95 for a lifetime and 1 Mac
Family License: USD 57.95 for a lifetime and 3 - 5 Macs
Features:
Supportsmultiple audio and video formats
Quicklyprocesses HD/4K HDR video from iPhone, GoPro, DJI, cameras, etc.
Orientedtowards quality with high-speed conversion
Offers tocut, crop merge, and add effects to polish the video footage
Providesadvanced editing in Toolbox
Cons
Often causeminor lags and drop rate on PC
Lacks abuilt-in tutorial for easy app-usage
Verdict
VideoProcConverter is the only full GPU-accelerated video conversion and editingsoftware to provide 47x real-time faster processing speed and converts largevideos within seconds.
Part 2: Why Convert M4Ato MP4?
M4Aor MPEG-4 audio format is found in Apple's iTunes Store and is generally usedto store songs purchased from therein. It contains only audio files that areusually encoded with Advanced Audio Coding, lossy digital audio compression(AAC), or Apple Lossless Audio Codec, lossless digital audio compression(ALAC).
MP4or MPEG-4 format is a commonly used format that can store audio, video,subtitles, still images, and other data and be opened easily with every mediaplayer. It is a standard specified as a part of MPEG-4 and can be viewedanywhere. Besides offering high-quality videos, the file size remainsrelatively small.
Despitethe fact that M4A files have better sound than other audio formats, the needmay arise to convert M4A to MP4 asit takes high processing power to decode, read and play the audio files.Moreover, M4A supports only AAC and ALAC coding formats.
Onthe contrary, MP4 is used with multiple stations and video playerssimultaneously. In addition, MP4 is a container format that can store videos,audio, and data subtitles to be used with various platforms. It supportsmultiple audio coding formats like AAC, ALAC, MP1, MP2, MP3, etc., so usersfind it convenient to M4A convert to MP4 and enjoy their files anywhere.
File Extension

MP4

M4A

Description

MP4 file is adigital container for video, audio, subtitles, and still images and supportsH.264 video codec with others. Fortunately, MP4 is supported by moderndevices

M4A file storesmultiple types of audio content like songs, podcasts, and audiobooks and issaved as MPEG-4 format encoded with AAC or ALAC codecs

File Size

Comparativelysmaller

Relatively smallbut multiple audio tracks often make the file size larger

Developed by

MPEG

Apple Inc

Device and OS compatibility

High compatibilitywith almost all devices and OS

Only compatiblewith some TVs, media players, and mobile devices. Compatible with Windows PConly if the user has installed a particular codec
No native supportin MacOS

Pros

High-quality video with asmaller size (high compression)
Flexible uses and compatiblewith multiple platforms
Enables to add metadatainformation to the files

Can be directly set as an iPhoneringtone
Better audio quality with asmaller size
Easy distribution of audio onthe internet  

Cons

Requires intensive ability forencoding and decoding
Can easily be distributedillegally after removing metadata information

Does not support DRM
Lacks wide support except forApple devices and VLC media players
Part 3: Frequently Asked Questions About Converting M4A to MP4
Q. Is the M4A format good or bad?
M4ais an audio format that offers a high and better quality due to the technologybehind it but provides a relatively smaller size.
Q. Will the M4A file play on theMP4 player?
Usually,MPEG-4 format is used for M4A and MP4 files. So any video player that supportsthe playback of MP4 should support playing M4A files as the two are exactly thesame formats.
Q. Can I open M4A on Windows?
Asa Windows user, you can try VLC, Windows Media Player, Media Player Classic,Winamp, and other famous media player apps to open M4A files hassle-free.
The Final Wrap
Wehope you now have ample answers and options in hand to convert M4A to MP4 within seconds. All these converters are proveneffective to help serve the purpose, and we have discussed each software indeeper detail and also pondered why users might opt for an M4A to MP4 conversion. Now it's entirely your call to settle withthe one that best fits your needs. However, our recommended pick is EassiyVideo Converter Ultimate, as it is user-friendly and offers a 60x fasterconversion.