MOV files are compatible with most media players normally but sometimes it might occur to you that some MOV files cannot be played on Windows or Mac computers. If the MOV file is so large that your machine cannot handle the video properly, the MOV not playing issue can be caused. However, the issue can be solved by converting MOV files to a common MP4 format. In this article, we are introducing 8 methods on how to convert MOV to MP4 QuickTime and Alternatives.
Part 1: Can QuickTime Convert MOV to MP4?
QuickTime is mainly a media player that plays different video files. But this program can also help you to convert video files into various formats including MP4. If you are facing a MOV file not playing issue on your device, then you can convert the file to MP4 by using QuickTime. For detailed steps, read part 2 of this article.
Part 2: Top 6 Ways to QuickTime MOV to MP4 on Mac without iMovie
Apart from QuickTime Media Player, several video converters can help you to convert QuickTime video to MP4. Here we are introducing other methods to QuickTime convert MOV to MP4 free/paid.
Method 1: How to Convert QuickTime to MP4 on Windows/Mac? [Ultimate Way]
Using a reliable MOV to MP4 converter like Eassiy Video Converter Ultimate is the most efficient way to convert MOV to MP4 without quality loss. Eassiy Video Converter Ultimate is one of the best video converters that you can find on the internet for both Mac and Windows. This program supports converting media files into 1000+ video/audio formats which include converting MOV to MP4. You can easily import all the MOV files into the converter and batch convert all of them together to MP4 with one simple click. Also, you will be able to adjust the detailed parameters. During the MOV to MP4 conversion, there won't be any quality loss. The whole process will take a few seconds as the program provides 60X faster conversion speed.
Features:
Supports converting MOV to MP4 with several simple steps.
With the built-in video editor, you can edit your video files.
Allows you to batch convert multiple MOV files at the same time.
Offers 60X faster conversion speed compared to other standard converters.
1000+ different video/audio formats are supported by this Ultimate video converter.
Steps to convert QuickTime to MP4 in Windows/Mac
Step 1: First, you have to install Eassiy Video Converter Ultimate on your computer. You will see an interface where you can choose video files to convert after launching the program. From your device, you can drag and drop video files or tap the "+" button and add the video files to the program.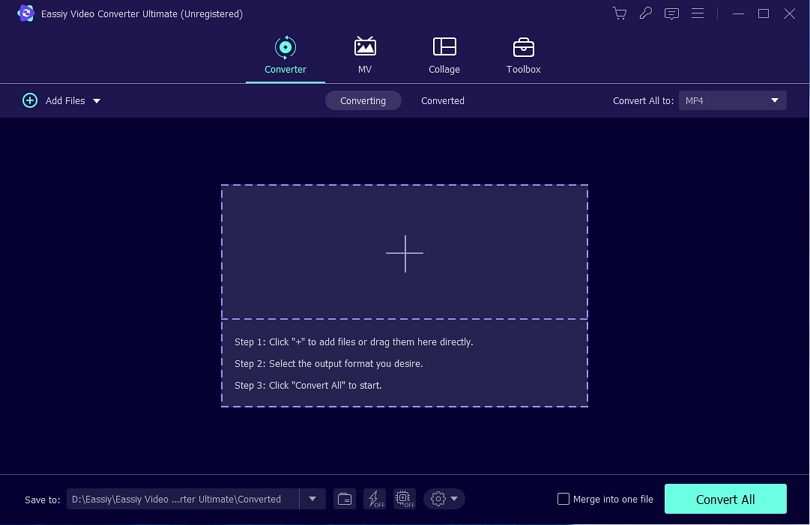 Step 2: Tap on the Convert All to tab's drop-down menu and choose MP4 as the video format for your final converted video file after uploading the video.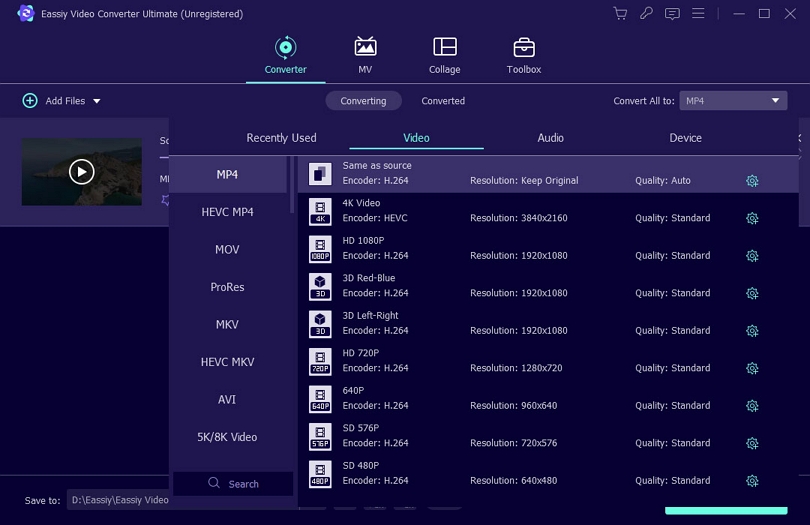 Step 3: Now, you need to click the "Convert all" button and convert the videos. If you want, tap the arrow key on the bottom and edit the Save to the path.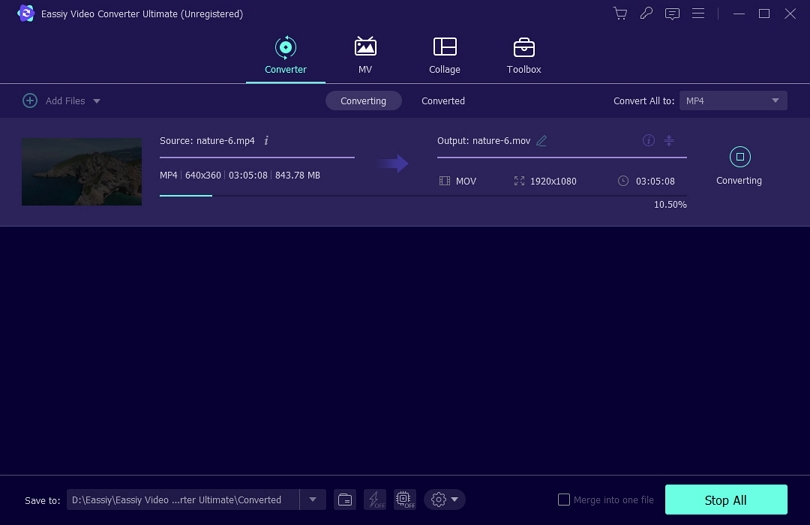 Step 4: After the conversion is done, the Converted will have a red mark on the right side and the program's interface will show "Success" to you.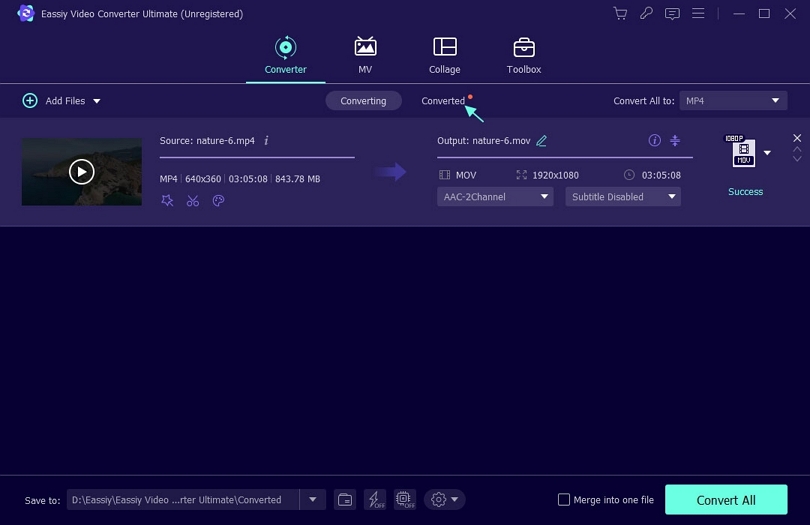 Method 2: QuickTime Convert MOV to MP4 with HandBrake
If you search for convert video files on Reddit, HandBrake is always on the list. This is one of the most popular programs to convert multimedia files. It is free and open source. To switch video file formats from one to another, anyone can get this tool for free. But remember that this program will output your MP4 file with a .m4v extension by default and you will have to revise .m4v to .mp4 manually. Here are the steps to QuickTime convert MOV to MP4 with HandBrake.
Step 1: On your computer, free download HandBrake and open it.
Step 2: To launch a file explorer, click on "Open Source" and after that, you have to add the MOV file to the screen to begin.
Step 3: To choose the MP4 format, click on the first tab after looking to the left side of the screen. Some additional quality settings that you can edit are on the right side. Just leave them at default if you are not familiar with the settings.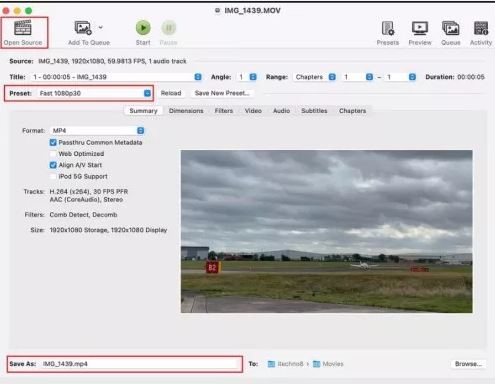 Step 4: From the bottom of the screen, choose the destination folder in the "Browser" tab and tap on the "Start" icon – the one with a green circle with a play icon to start the conversion process.
Method 3: How to Convert a QuickTime Movie to MP4 via VLC Media Player
Though VLC is a media player, it still has a lot of functions including file conversion. Apart from MP4, this program can convert videos to some of the most popular formats. Conversion might take quite a lot of time as the processing speed is not very high, especially if you are converting a large file. But you can make good use of VLC if you are OK with this. To inexperienced users, the program's interface might seem a bit confusing, so here are the steps to convert a QuickTime movie to MP4 via VLC Media Player.
Step 1: On your Mac, download and install VLC Media Player. Click the File menu after opening the program and choose Converter/Stream from the drop-down menu. Click the Media menu and choose Convert/Save from the resulting drop-down list if you are using VLC on Windows.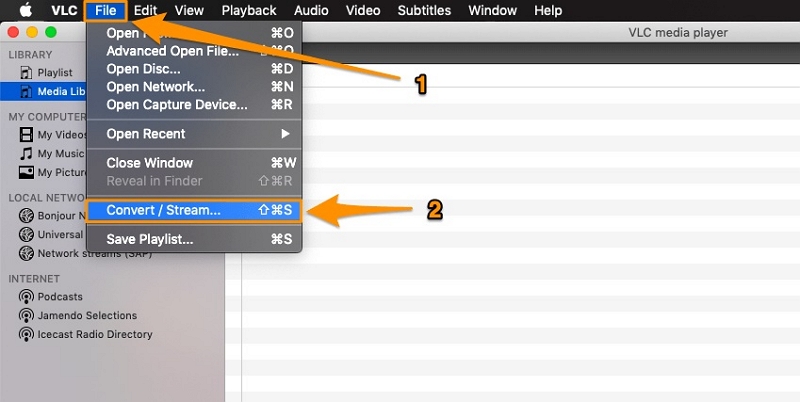 Step 2: To import the MOV video file, click the Open media button.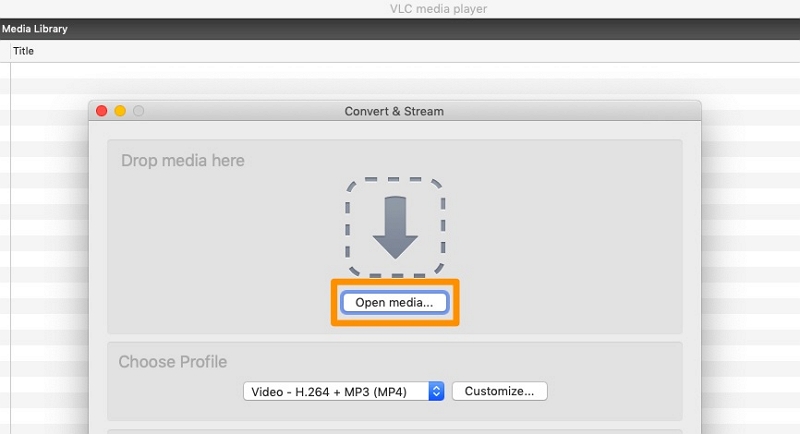 Step 3: The target format should already be set to Video – H.264 + MP3 (MP4) by default in the Choose Profile section.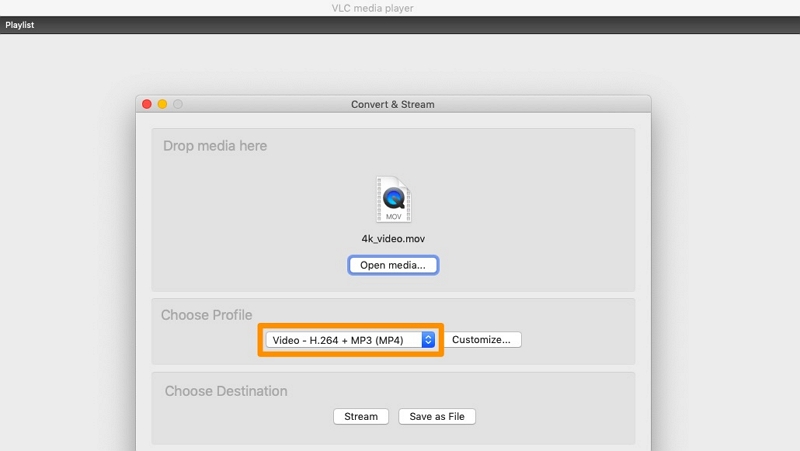 Step 4: To choose a name and where you want to save the converted MP4 file, click the Save as File button, and to start converting, hit Save.

Part 3: FAQ to Convert MOV to MP4 QuickTime
1. Can I play MOV files in Windows?
Yes, you can play MOV files in Windows. You just need to ensure that your MOV files are encoded with the right codec. Any issues you encounter might be with the specific codec used to encode your MOV files. You can try to download a media player like VLC in this situation.
2. How can I convert MOV to MP4 on iPhone?
In iPhone, there is no built-in video converting option. So, you need to look for a third-party MOV to MP4 converter app available to iOS like The Video Converter, VCVT Video Converter, and more.
3. Is there any free way to convert MOV to MP4?
Yes, you can install Eassiy Video Converter Ultimate to change MOV to MP4 on both Windows and Mac computers for free. For the detailed steps, follow method 1 of this article.
4. Why does converting MOV files to MP4 lose quality?
Generally, two reasons might affect the video quality regardless of its file format.
Change video code
Reduce video codec bitrate
Conclusion
Converting MOV video files to MP4 is easy if you know how to do it. In this article, we have introduced 8 methods on how to convert MOV to MP4 QuickTime and Alternatives. We recommend you free try Eassiy Video Converter Ultimate to convert MOV to MP4 if you want the high-quality videos back. This program is lightweight and it provides 60X faster conversion speed. For all media manipulation needs, this program is an all-in-one multimedia toolbox.