Vimeo, which has over 1.58 million active members, provides a wide choice of high-quality video material for users who can upload and watch videos online. This platform features a wide variety of video genres, and the site is continually updated to promote its objective of creating a place where viewers can go and watch the latest videos posted online. Video format conversion is an excellent way to sidestep some of Vimeo's limitations. Instead of having videos automatically converted to a lesser resolution, you can download them as an MP4 file format, play them on any device, as well as enjoy them offline.
There are several applications and methods available for converting Vimeo videos. However, because there are so many, determining the best solution may be difficult. So, in this article, we listed eight effective and efficient ways for converting Vimeo to MP4 on any platform (Windows, Mac, or Online) that really does the job.
Part 1: Can You Convert Vimeo Video to MP4?
Yes, you can convert Vimeo videos to MP4. There are a few different methods to do this, depending on your requirements. The first is by using an online converter such as Clip Converter or Online Video Converter. These websites allow you to enter the URL of the Vimeo video and then convert it to an MP4 file. The second option is to use a third-party app such as VLC Media Player or VideoProc. These apps can take the Vimeo video and convert it to an MP4 file, which you can then save and view on your computer or other devices. Whichever method you choose, it's easy to convert Vimeo videos to MP4.
Part 2: How to Convert Vimeo to MP4 on Computer? [Windows/Mac]
You'll find several commercial and free programs that effectively convert Vimeo to MP4 format. So, you may find a wide range of popular apps for any operating system (Windows/Mac) for this purpose. If you are still unfamiliar with them, consider the offline methods indicated below, which are frequently featured in this area due to their compatibility and easy-to-follow UI. So, let's look at those ways and see which option works best for you.
Way 1: How to Convert MP4 Video for Vimeo in Windows/Mac Computer? [Best Way]
If you've ever wanted to convert Vimeo content to MP4, you can do it using Eassiy Video Converter Ultimate, a brilliant program for all your converting requirements. In other words, you may easily convert clips from any common format to any other file type with this application. Over 1000 video/audio formats are supported by Eassiy, including AVI (XVID), WMV (VP6), MPEG-2, PS2 (DVD), and others. This tool can also convert HD/4K/5K/8K videos from Drones, GoPro, HD cameras, Camcorders, and many more.
Eassiy also has a number of tools for editing, compressing, and creating collages, making it suitable for both professionals and beginners who wish to effortlessly edit, compress, and convert their media assets. For example, you can blend separate clips and compress video information to fit better within the frame of your choosing. You may also apply professional effects to your video files, such as sepia tone or black-and-white filters. Furthermore, the software makes use of GPU acceleration technologies to give a high-speed conversion performance that works 60X faster. Eassiy, unlike any other Vimeo to MP4 conversion tool, allows you to effectively convert, compress, and modify your video content all in one spot.
Features:
This tool can convert video files in HD, 4K, and up to 8K resolutions to MP4 format.
It supports over 1000 different video and audio formats.
The application provides over 20 multimedia tools for a variety of video editing tasks.
For optimum performance consumption, multi-core CPU optimization with 60X speed is provided.
The tool supports GPU acceleration as well as batch conversion for higher efficiency.
Step 1: To begin converting Vimeo videos to MP4, go to Eassiy's official website and download the Windows/Mac application. Then, double-click the app's desktop icon to launch it.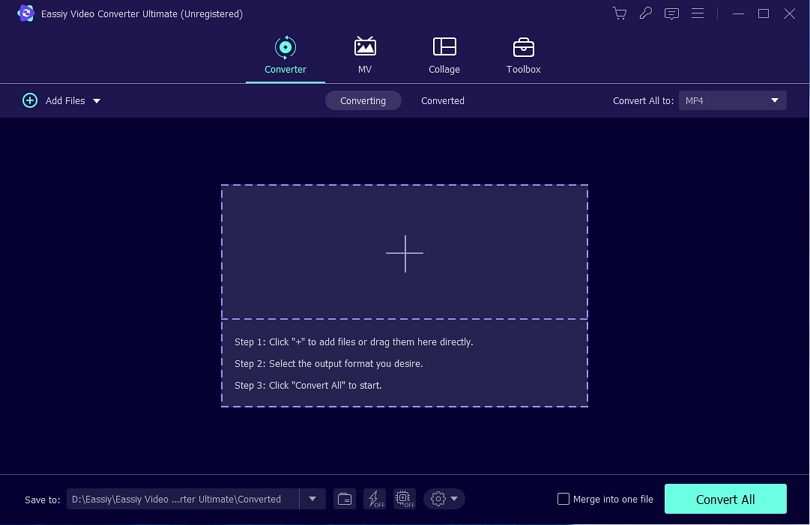 Step 2: When you run the application, you'll see the interface below, where you may select which video files to convert. After you've uploaded the desired video file from Vimeo, go to the "Convert All to" tab's drop-down menu and choose one of the video formats, in this case, MP4, as your final converted video file. By clicking the format icon, you may also browse through each video format individually.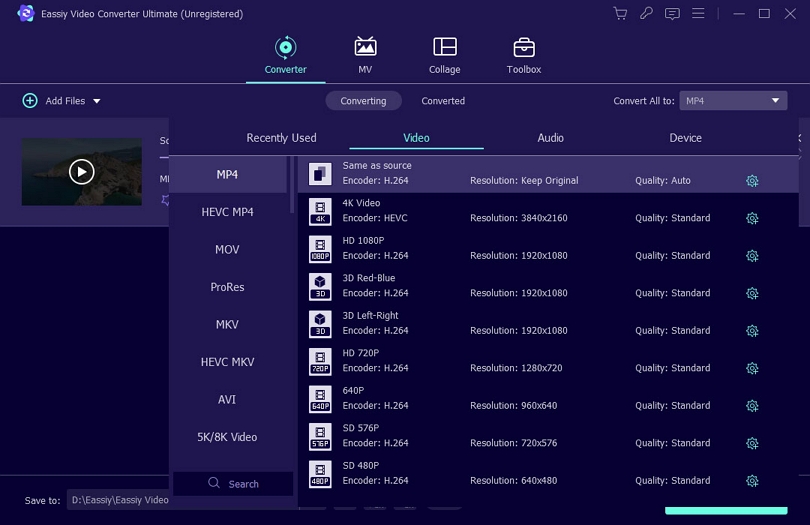 Step 3: Finally, press the "Convert all" button to begin the conversion process. A progress indication for conversion will be displayed. When the task is finished, the interface will display "Success" and Converted will have a red mark to the right. Furthermore, the program will immediately identify the position of the final converted video file.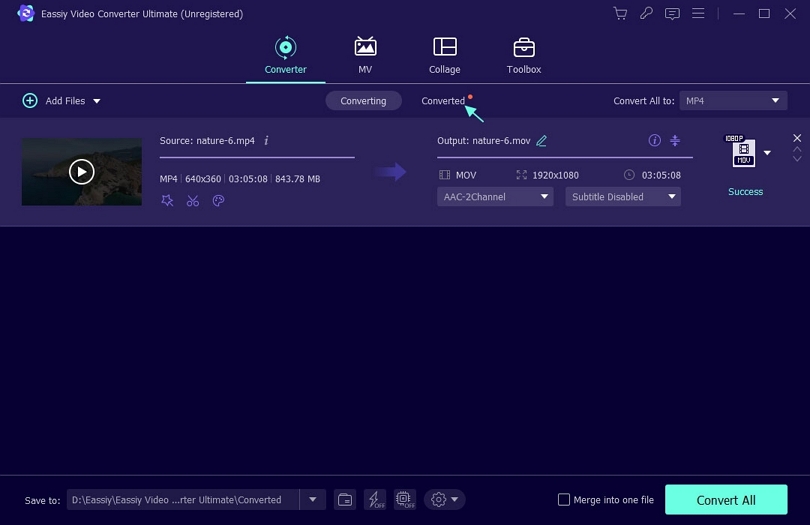 So, your input file has now been converted to MP4 format and is ready to enjoy!
Way 2: Convert Vimeo Video to MP4 with 4K Video Downloader
4K Video Downloader allows you to download and transcode videos from Vimeo and other websites such as YouTube. It works on both Mac and Windows PCs. This app allows you to download any video you desire. You may also simply extract MP3 audio from your favorite videos. When it comes to functionality and extensibility, the 4K Video Downloader is not only simple to use but also has a high success rate on any video converting tasks.
Step 1: First, download and install the 4K Video Downloader.
Step 2: Next, copy and paste the Vimeo link into your clipboard by right-clicking on it and choosing "copy link" or "save link."

Step 3: The parsing process will begin, and a list of format options will be shown. Choose the format and quality that you desire.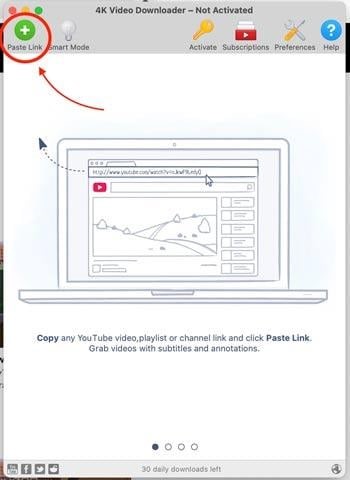 Step 4: Finally, tap the Download option. The video will be downloaded in a matter of seconds.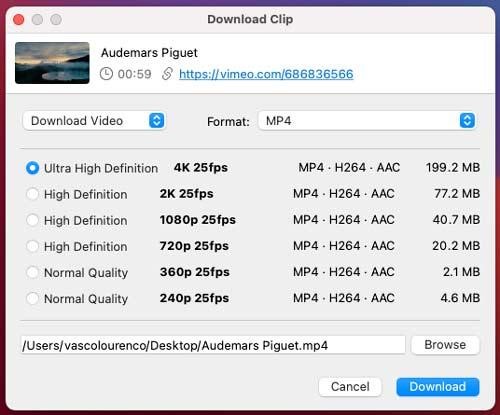 Way 3: How to Convert From Vimeo to MP4 via Wondershare UniConverter
Wondershare UniConverter is a powerful software allows you to convert Vimeo videos to MP4 format, which is compatible with a wide range of devices. Whether you want to watch videos on your smartphone, tablet, or computer, UniConverter has got you covered. With this application you can also customize your videos by trimming, cropping, adding subtitles, and more. Plus, the software supports batch conversion, which means you can convert multiple Vimeo videos at once. In other words, Wondershare UniConverter is a tool worth a try.
Step 1: To start using Wondershare UniConverter, open your web browser and go to the official website. Then, click on the "TRY IT FREE" button to install the software on your computer. Once the installation is complete, open program and navigate to the "Downloader" tab.

Step 2: Next, on the lower left side of the window, check the "Download and then Convert" mode. In the new wizard, select the video format as MP4 and choose the desired video resolution. Then, click on the link icon and paste the Vimeo video link that you want to convert to MP4.
Step 3: The Vimeo online converter will automatically start downloading the file. Once the conversion is complete, you can access the converted files from the "Finished" section.
Part 3: Top 3 Online Free Vimeo to MP4 Converter
There are extremely effective free internet choices for converting Vimeo to MP4 that function flawlessly in addition to downloading PC applications. Let's take a look at each of these four full web-based video-converting options to determine which one is right for you.
Way 1: How to Convert Vimeo to MP4 Free Online with RipSave
RipSave is a fully web-based and easy-to-use video converter that can transcode any Vimeo video to MP4 in a matter of seconds. It lets you download videos from YouTube, Vimeo, Facebook, TikTok, Twitch, Instagram, Reddit, and other websites. It's a handy tool as you don't need to download or install any software. You can do converting just by opening a web browser with a net connection. It's that simple.
Step 1: Go to ripsave.com, put the Vimeo URL into the box, and then click Download.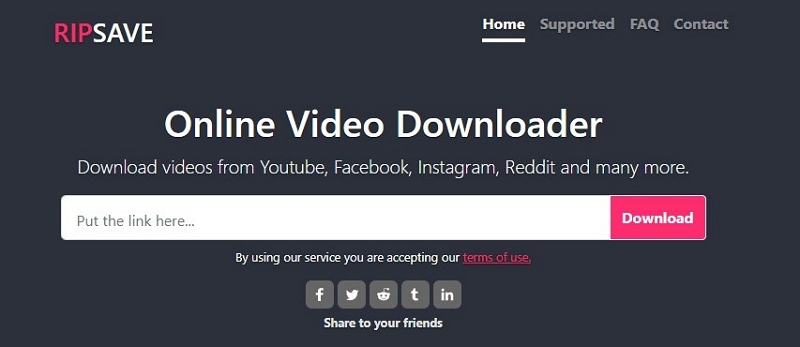 Step 2: Next, choose Download the desired quality with MP4 format and press download.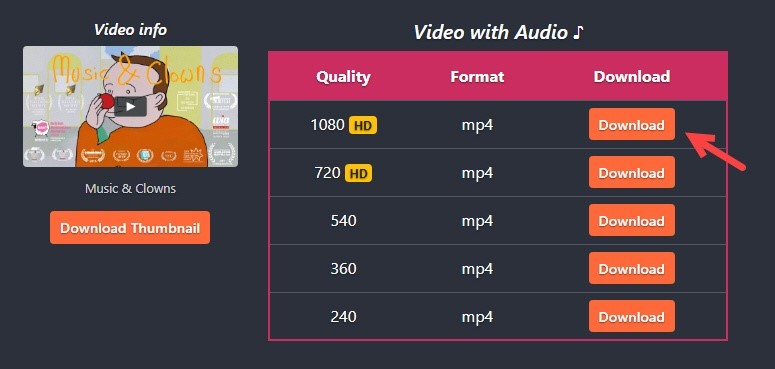 Step 3: In the lower right corner of the newly opened tab, click the more button.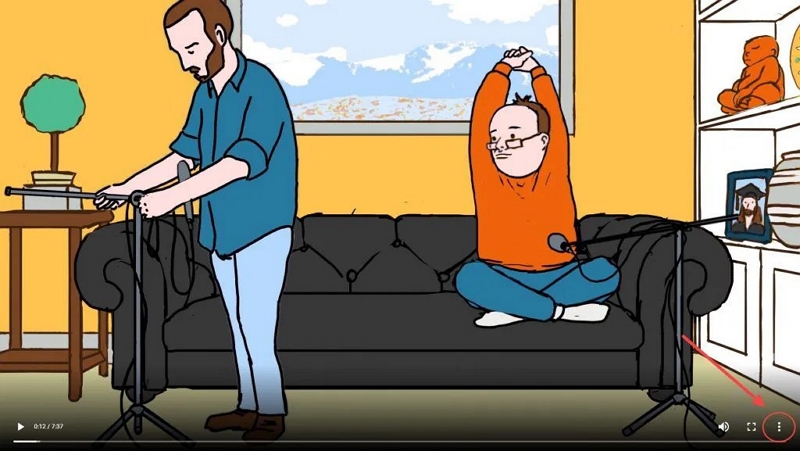 Step 4: Choose Download, and your video will begin to download automatically.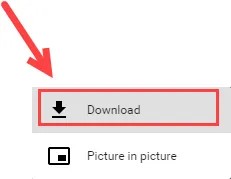 Way 2: How to Convert Vimeo to MP4 Online Free By Vimeo Downloader
Vimeo Downloader is a handy website that allows you to download Vimeo videos for free. It's your best bet if you don't need to download Vimeo content in bulk. It will try to download the highest resolution for you by default. There will be no more time-consuming download alternatives. So, it's easy to do with Vimeo Downloader in only a few clicks.
Step 1: To begin, go to vimeodownloader.com. Then copy and paste the video URL into the box and press SUBMIT.

Step 2: Next, choose DOWNLOAD VIDEO.

Step 3: At the bottom right of the newly created tab, click the more button.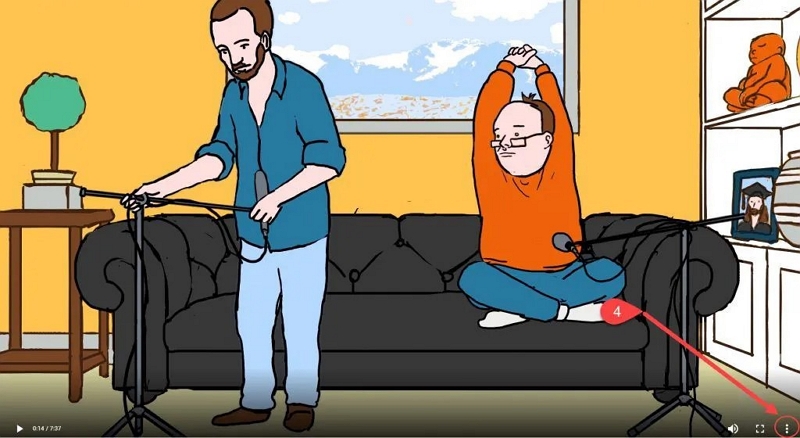 Step 4: Finally, Select Download and your video will begin downloading automatically.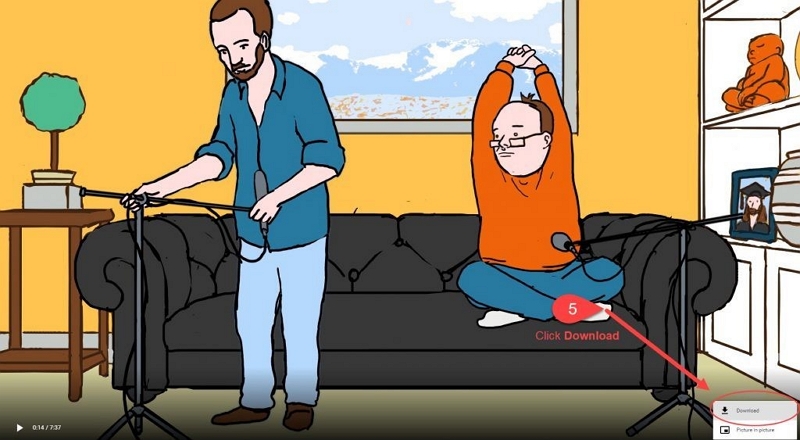 Way 3: Convert Vimeo Video to MP4 Online via Convertio
Convertio is a free converter that allows you to convert Vimeo (and other media) into MP4 and other formats. It enables multiple conversions, making it very useful if you have a large number of videos to download. You may also change the size, quality, and so on. It supports over 300+ output formats. You can simultaneously do a conversion process which is time-saving and productive to use.
Step 1: First, visit "Convertio.co" and choose Convert from the URL.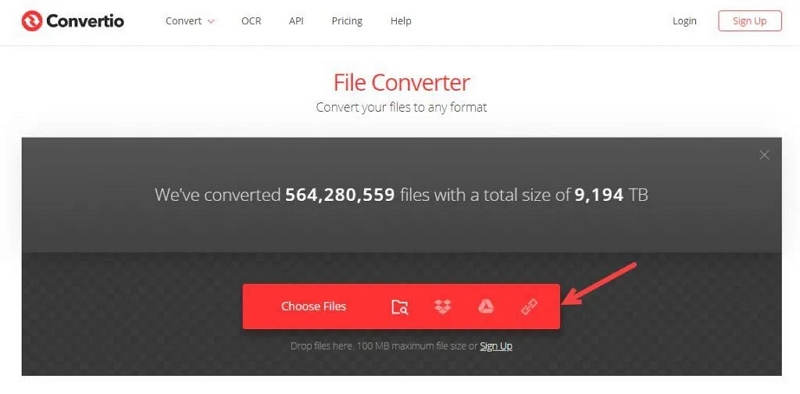 Step 2: Next, copy and paste the Vimeo URL into the box, then click Submit. You can add as many video URLs as you like if you need to download more than one video.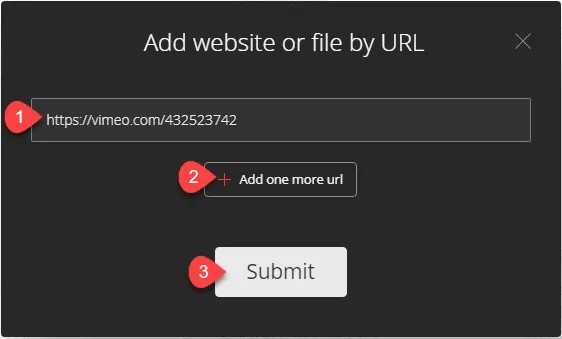 Step 3: Choose Video instead of HTML, and then choose your favorite output format, which is MP4.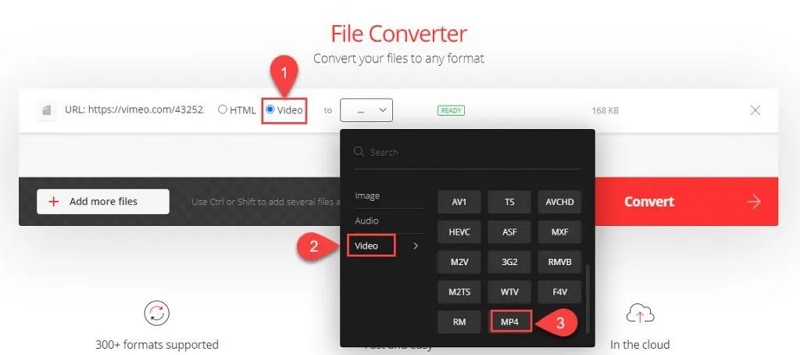 Step 4: Finally, click Convert, and the process will take several minutes. You can return later because it may take longer than you think.

Step 5: When the conversion is complete, click Download to save the file.

Part 4: FAQ to Convert Vimeo to MP4
1. Can I save Vimeo private videos?
While Vimeo does not enable users to download private videos, there are free solutions available such as 4K Video Downloader. Simply copy and paste the Vimeo URL into 4K Video Downloader, choose the format (MP4 or MP3), quality, and click Download.
2. How can I obtain an MP4 URL from Vimeo?
To find the download links for your video, open it in the video manager and select Settings to the right of the player. Scroll down to the Video file links area on the Distribution tab. Select "Download the video" and copy any of the offered URLs.
3. How can I download a Vimeo video to my computer?
SaveTheVideo and Vimeo Downloader are the most popular. All of these websites operate in the same manner: Copy the URL of the Vimeo video you want to download. Copy and paste the link into the downloader's website's input field, then click Submit.
Conclusion:
In summary, we've covered eight useful methods for converting Vimeo videos to MP4. Hope this post has given you some ideas for ways and tools to employ for this converting task. You can use any of the third-party software listed above on your Windows and Mac computers. You may also utilize online video converters or Chrome extensions instead of installing any third-party software. That said, the ideal Vimeo converter should be one that meets your download requirements. However, if you want the best tool for the task, Eassiy Video Converter Ultimate is a good choice because it is ad-free and has more features than other converters. Finally, it is up to you to decide which one is your go-to option.