All of us love to capture our happy moments like birthdays, vacations, and more on our Android phones. But as it is an electrical device, sometimes you might lose your precious photos. The loss of your precious photos is undoubtedly painful. However, there are ways to recover recently deleted photos Android. In this article, we are describing the top 6 Android deleted photo recovery methods to recover deleted photos Android. Read this article briefly if you are also going through the same issue.
Part 1: Is it Possible to Do Android Deleted Photo Recovery?
Yes, it is possible to do Android phone photo recovery. You can recover deleted photos Android because the photos are not deleted. The photos still exist on the memory storage of your phone although the deleted photos disappeared from the Android gallery or seem that you cannot find the deleted photo in Android. The deleted photos remain in the memory space but the space it occupies is marked as "unused" and can be used by new data at any minute whether stored in internal storage or external memory (SD Card). The photos will be gone and unrecoverable once there is new data written into where the deleted photos are. That's why before recovery, you shouldn't use the phone. Including installing new apps, taking photos, receiving messages, etc. any operation on phone could generate new data and overwrite the deleted photos.
Part 2: How to Recover Deleted Photos Android With/Without Backup [Best 6 Methods]
Many Android users have been asking repeatedly "how to recover deleted photos Android?" If you have accidentally deleted photos from your Android phone, you don't need to panic as there are ways to recover deleted photos Android. Here we are giving ways to recover photos from Android phones with/without backup.
Method 1: Use Android Photo Recovery Software to Deleted Photo Recovery for Android without Backup
Eassiy Android Data Recovery is one of the best desktop programs that helps you to restore deleted and old photos from Android phones. It provides you with three recovery modes to retrieve deleted photos Android. Including Samsung, Huawei, HTC, Google, LG, Sony, etc. it supports 6000+ Android devices. You can recover over 16+ file types by using this program no matter how you have lost them. It not only helps you in recovering deleted photos but also helps you to recover WhatsApp data on Android without any backup. In a few minutes, it can scan 1000+ lost photos and videos. Before recovery, you can preview the scanned data in detail. This program offers you 100% safe recovery of your data.
Features:
For photo and video, it has the highest Android data recovery rate in the industry.
Helps you to restore WhatsApp messages and WhatsApp attachments.
Provides you with three recovery modes to recover data on Android.
16+ file types are supported on Android to recover.
Scan speed is faster compared to similar other programs.
Steps to recover deleted photos Android without backup
Step 1: Download and install Eassiy Android Data Recovery software on your computer. Connect your Android device to the computer after launching the program. Ensure that you have enabled USB debugging on the Android phone so that your phone can be detected by the program.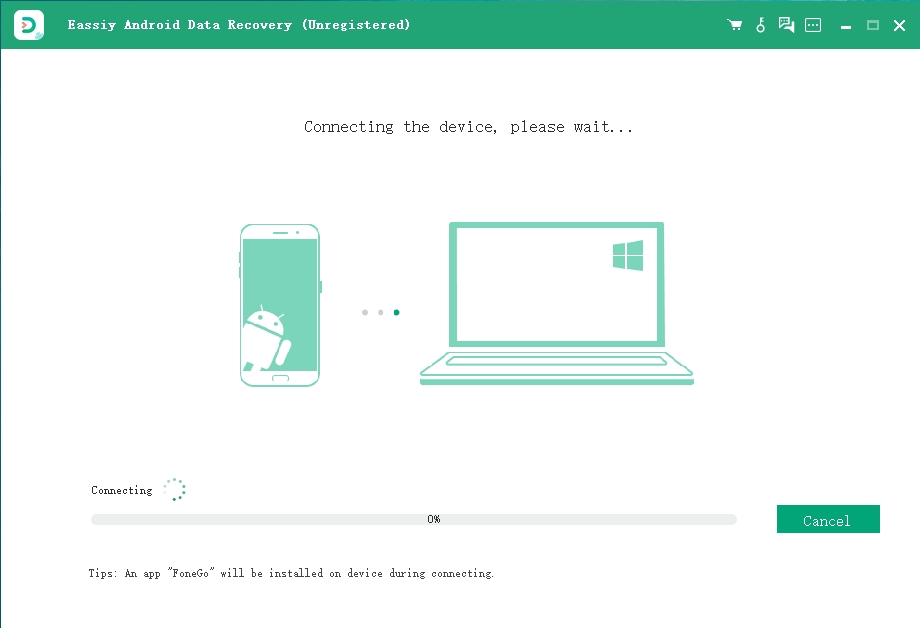 Step 2: You will see the interface that allows you to select categories of deleted files when your Android device is connected. Select "Gallery" or "Picture Library" to retrieve deleted pictures from Android gallery and to continue, click the "Next" button.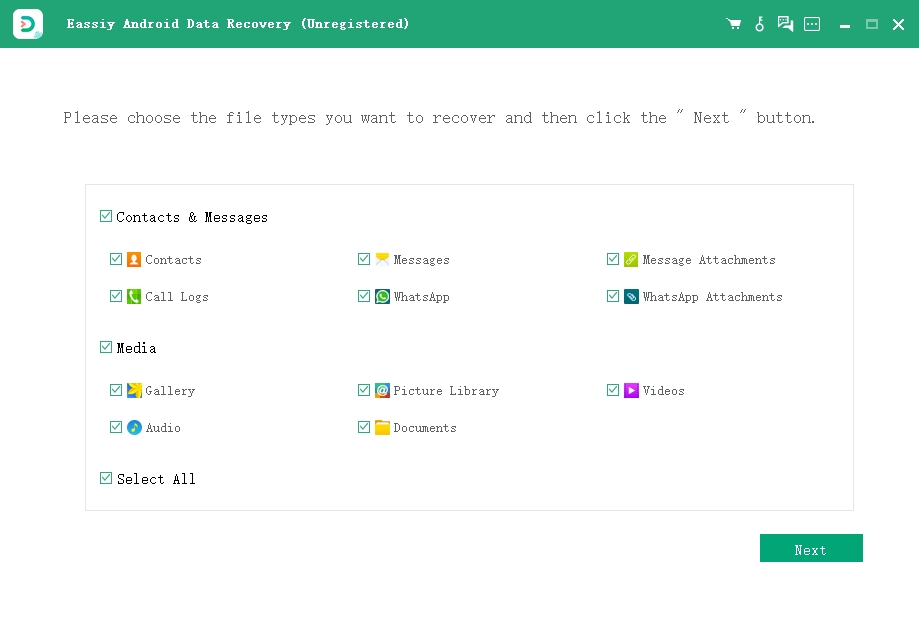 Step 3: To access deleted data, the program needs to get permission so it will add an app to your phone asking for permission which will be removed automatically after your photo recovery. Turn on Install via USB in the Developer Options after opening your phone and choose Install to get the Eassiy app via USB.
To access your phone data, allow the Eassiy app's requests on your phone. Let alone finding out the deleted photos in your Android, the photos recovery program won't be able to access your phone storage without your permission. As Eassiy software won't collect any of your information, it is totally safe to grant access to the app and your phone data are processed and stored locally on your computer. After giving the app permissions, click "Scan Authorized Files" to start scanning for deleted photos.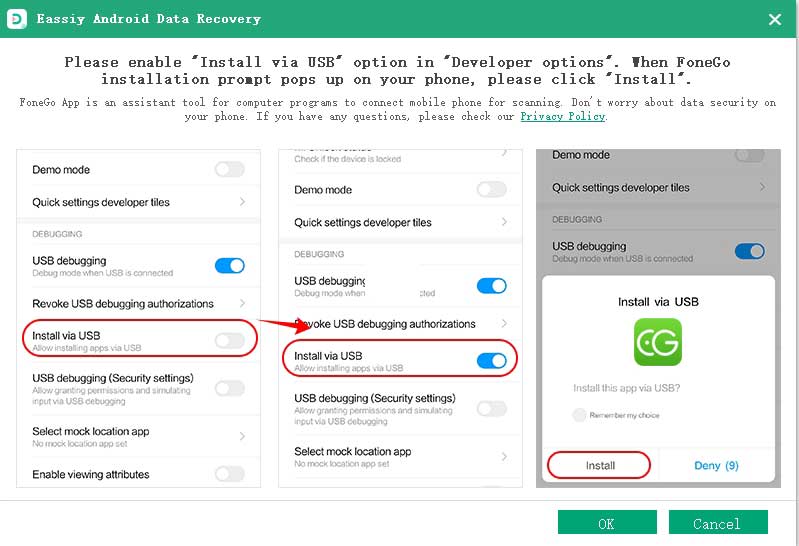 Step 4: When there are many photos on your phone, the scanning process might take some time. The scan process is completed when the progress bar comes to 100%. The Eassiy program can detect deleted images in two modes: Quick Scan and Deep Scan. To check if there are the deleted photos that you need, you can click "Gallery" or "Picture Library" on the left pane in Quick Scan. Click "Deep Scan" for the program to search out more deleted photos from your phone if not.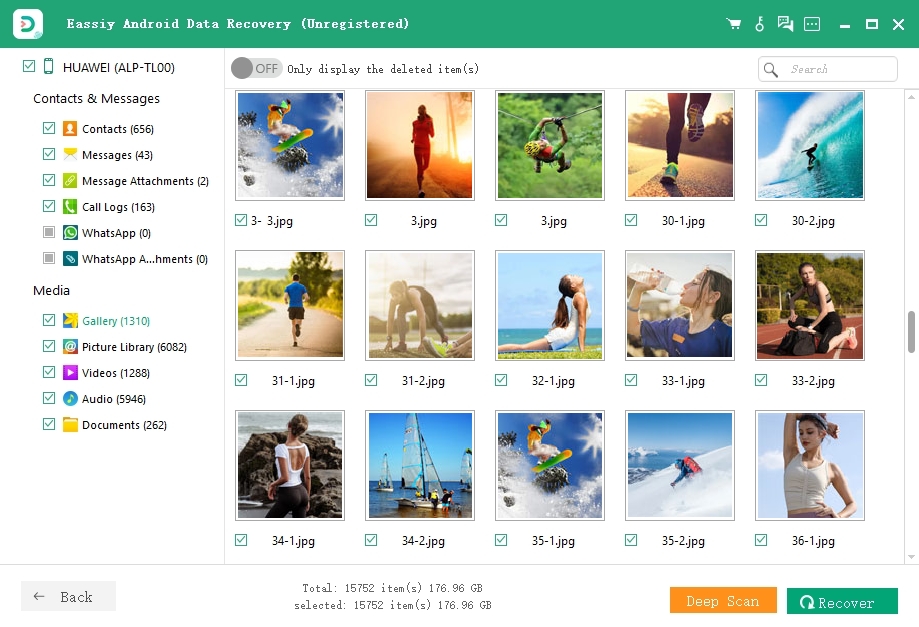 You can preview the deleted photos in full size by double-clicking them with the registered version. Click "Recover" to recover pictures to the PC after marking the ones you want to restore.
Method 2: Use Google Photos for Android Photo Recovery
You can locate and recover deleted photos from Google Photos if you have installed the Google Photos app and have the "backup & sync" feature enabled on your Android device. In Google Photos, take a look at the "trash" and recover deleted photos if they are still there. Here are the steps to use Google Photos for Android photo recovery.
Step 1: On your Android device, open the "Google Photos" app.
Step 2: Navigate to "Trash" on the left panel after tapping "Menu". Everything you will see in the trash is recoverable. For 60 days, they remain there.
Step 3: After that touch and hold a picture that you deleted.
Step 4: To recover deleted photos from the gallery on Android, hit the "Restore" icon.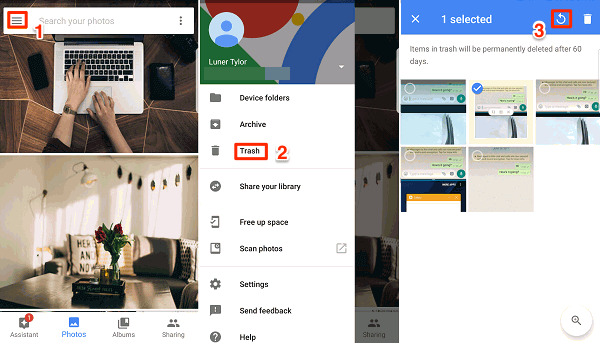 Method 3: Use Backup and Restore Option to Recover Deleted Photos Android Internal Storage
If your Android device has the Local Backup feature installed, this procedure is possible which protects information from factory resets. The methods are much the same while they may vary from device to device. Follow the given steps to use the Backup and Restore option to recover deleted photos Android internal storage:
Step 1: Locate the "Backup & Restore" option after opening "Settings".
Step 2: From the backup list, choose the file that contains your deleted photos.
Step 3: To continue, tap "Next".
Step 4: By clicking "OK", start photo recovery and to finish this process, tap "Done".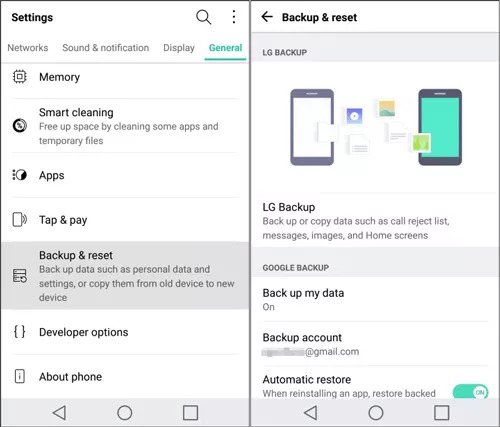 Method 4: How to Retrieve Deleted Photos Android via OneDrive
An automatic photo backup and delete feature is offered by OneDrive that frees up internal memory by uploading photos to the cloud and deleting them from the phone. Including the device with which they were taken, all images uploaded to OneDrive can be recovered from any device. Steps to retrieve deleted photos Android via OneDrive:
Step 1: On your Android device, launch the OneDrive app.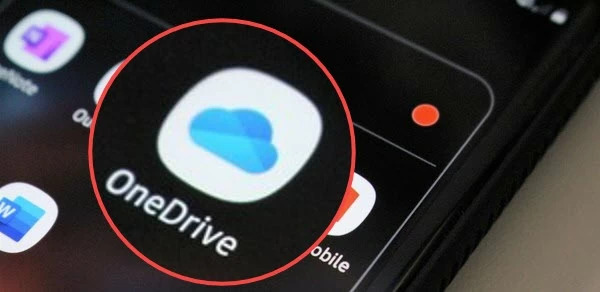 Step 2: From the bottom menu, select "Photos".
Step 3: Choose the pictures you wish to restore.
Step 4: Select "Save" after taping "More".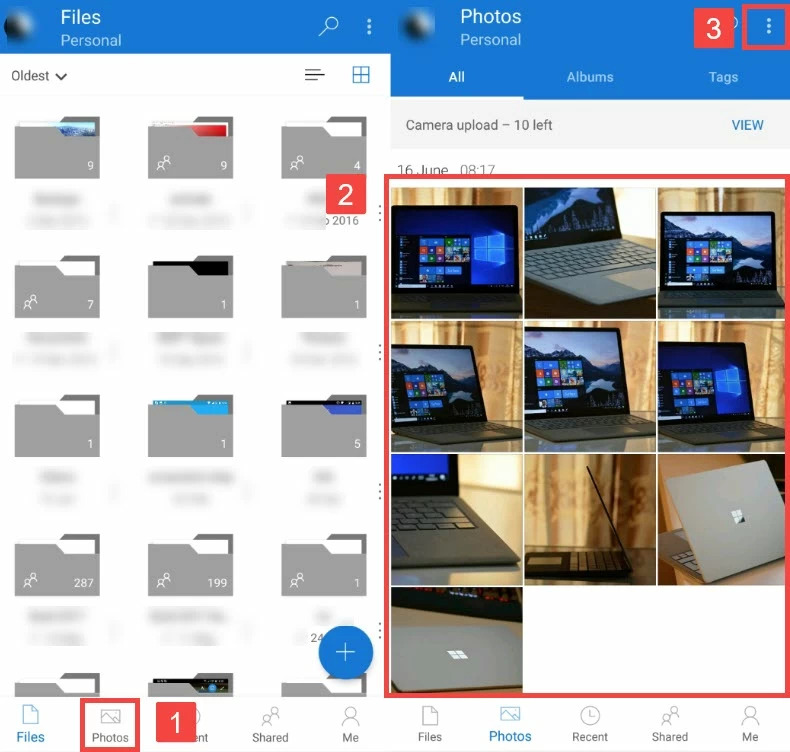 Method 5: Use Best Deleted Photo Recovery App for Android
The Android photo recovery apps don't recover deleted pictures as Android users want to get back. For more straightforward photo recovery jobs, they do come in handy. Your Android device should be rooted just like recovering photos on a computer. But DiskDigger is an Android photo recovery app that works even without root. Here are the steps to recover deleted photos from an Android phone:
Step 1: From the Google Play Store, install DiskDigger.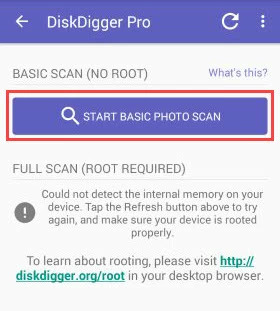 Step 2: Select one of the two supported scan methods after launching DiskDigger.
Step 3: You have to wait for DiskDigger to find your deleted pictures.
Step 4: For recovery, select pictures.
Step 5: After that tap the "Recover" button.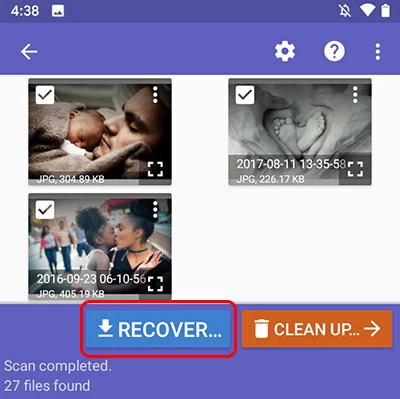 Method 6: How to Find Deleted Photos on Android from Trash
Checking your Trash Folder is the first thing you will want to do. The photo is stored in the trash folder for 30 days when you delete it from your iPhone's gallery. The deleted photo should be in the trash folder if you have deleted it recently. Here are the steps to find deleted photos on Android from Trash:
Step 1: On your phone, open the "Gallery" app and from the lower right-hand corner, tap on the three vertical lines.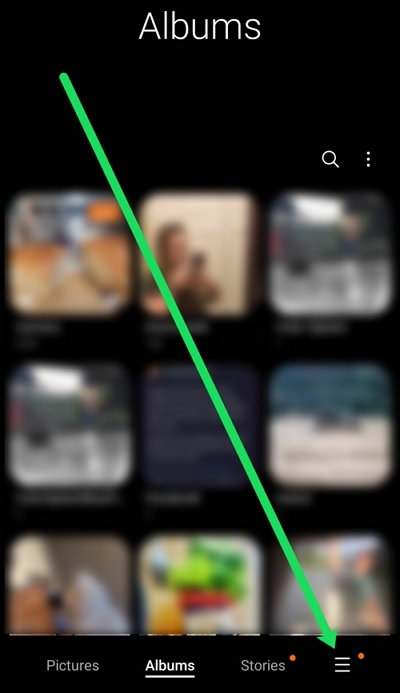 Step 2: Choose "Trash".
Step 3: In this folder, your missing photos should appear.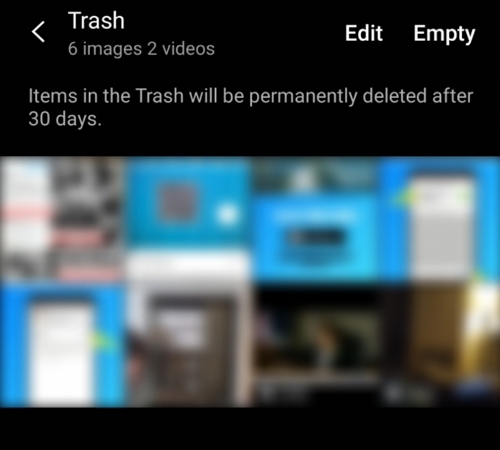 Step 4: You can easily recover them by tapping on the restore icon in the lower left-hand corner if they do.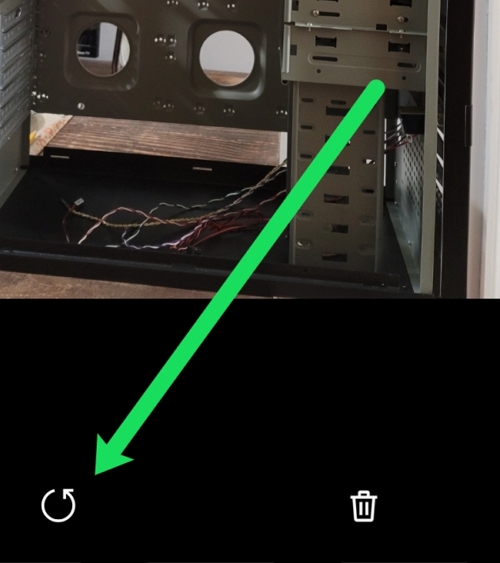 Part 3: FAQs
1. Can I recover deleted photos on Android without a computer?
To recover deleted files on Android without a computer, some users prefer an Android photo recovery app. Though not recommended still they may also be workable. You need to operate the app with your phone since you are taking a risk and by the installation of it, the deleted data might be overwritten. So it's better to turn the WiFi and mobile data off on the phone and put it aside. After that use desktop software Eassiy Android Data Recovery on a computer.
2. Can I recover Android deleted photos without root?
You might be wondering if you can recover Android deleted photos without root. But I have to tell you that for getting back the deleted pictures, there is no way to avoid rooting your phone. Because the deleted photos are stored in certain system folders which cannot be accessed on devices without root. You can get full control of the phone and find the deleted picture only after a device is a root. The only possible way to find a deleted photo on Android is that you have back up the photos somewhere, whether on cloud storage, computer, or SD card if you don't want to root your device.
3. What can I do if my gallery app is missing?
Suppose the gallery app is missing when you open your phone's app drawer. It isn't gone forever before you panic. A permanent fixture on your device is your device's native photo app. Head over to your device's settings to bring the app back to your app drawer. Filter by Default Apps after tapping on Apps. Tap on your gallery app after scrolling through the list. Tap "Enable" next.
4. Where are the deleted photos stored on Android?
On Android, deleted photos are not stored in any particular folder. Here are the steps to find out where the photos are
Step 1: First of all, you have to open your favourite search engine.
Step 2: After that type in the make and model of your smartphone + recycle bin or trash.
Step 3: Try to find any relevant information by going through the results.
The chances are that your Android device simply throws deleted photos away if you can't find anything useful.
Conclusion
Data loss is one of the common errors of Android devices. It can occur at any time due to multiple reasons. But you don't have to panic because there are methods to recover Android photos. In this article, we have described the top 6 Android deleted photo recovery methods to recover deleted photos Android. Among all the methods, we would highly recommend you to use Eassiy Android Data Recovery. It is one of the best choices for you to recover deleted photos from Android. This program helps you get back all your deleted photos with 100% safety. It makes sure that you don't lose any data while recovering them through this software.