Whether you are recording on an iPhone or a high-end recording device, escaping white noise or background sounds is practically inevitable. Nevertheless, it does not mean you cannot eradicate them. You can use background noise removal software, which uses advent-grade technology, to rework audio and remove interruptions from the audio clips with a single click. 
Scroll down to find the best background noise removal software for PC. The list encloses both advanced as well as beginner-friendly tools to cater to everyone's needs. But first, let's talk about The Best of the Best Background Noise Removal Software for mac and windows users.
7 Helpful Background Noise Removal Software You should Try In 2023
1. NoiseGator
Suitable for reducing real-time interferences, NoiseGator is a lightweight application designed to route audio through audio input to audio output. NoiseGator has two modes: open and closed. And what it does is create 'gate' filters to rule out any sound that doesn't meet a certain decibel level. For instance, if your dog is barking or your neighbor is in the midst of a renovation, NoiseGator makes your voice sound pristine by eliminating foreign noises effectively. So, it is helpful for users who meet via ZOOM or Google Meet with their colleagues or friends. It is a Java-based application that requires Java 7 or higher on Windows devices to work.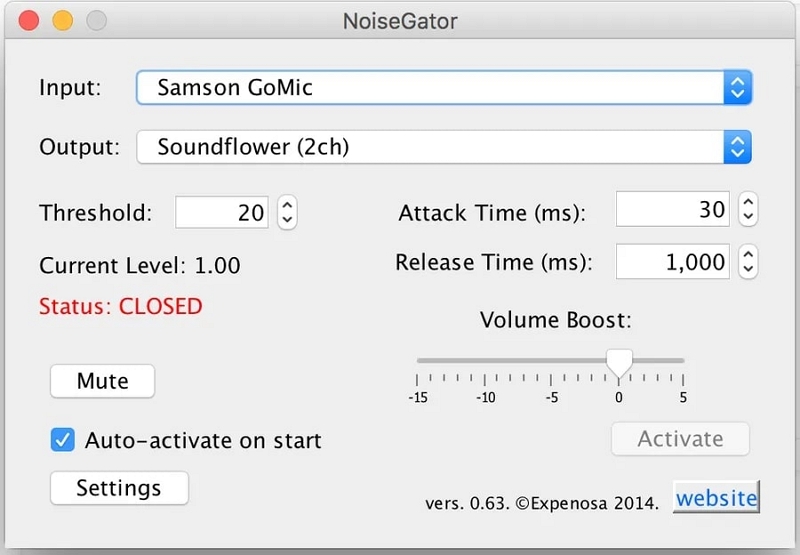 Key Features:
NoiseGator is an immaculate tool for real-time noise cancellation. It routes sounds through audio input to the audio output to eliminate alien noises.
It works even when nobody is speaking on VOIPs like Skype and Zoom.
You can Noise Gate the microphone or built-in sound receivers to kill white noises and other unwanted noises.
It allows you to feed your microphone via speakers.
Pros:
A lightweight program means it is not heavy on computer resources.
You do not have to make any tweaks. Install it, and NoiseGator will do its magic.
The cutting-edge 'gate' filters eliminate all noises under a certain decibel.
Cons:
You have to install other virtual drivers and configure them with NoiseGator for it to operate.
You always have to start NoiseGator before starting VOIPs like Skype or Zoom.
Java 7 or higher is needed on Windows for it to work.
Pricing Plans: Free and Open-Source
2. Krisp
Krisp, like NoiseGator, is also a real-time audio noise cancellation software. It can kill sounds like barking dogs, crying babies, ringing phones, and other voices that might interfere with your VoIPs. But what's fantastic about Krisp is it comes with advanced options like allowing the app to remember your voice. This authorizes you to eradicate any other noise besides yours while employing the software. However, Krisp is not entirely free like NoiseGator. Yes, it lets you use the software for 240 minutes per week at no charge. But above that, you will have to pay to use the service.
Key Features:
Krisp is the only software in the realm that can background voices alongside background noises
The innovating technology of Krisp promises crystal clear pitch no matter what
An easy-to-use application, all you have to do is download the tool and follow the instructions
The settings will overtake without any tweaks and filter unwanted noise automatically
Krisp integrates seamlessly with over 800 apps, including voice messaging, streaming, and conferencing apps
Pros:
The app recognizes your voice pitch and eliminates all other noises
The only app in the market that could kill both background noise and background voice
Setting up Krisp is a five-step process
The simple user interface is designed to make it accessible for everyone to utilize the software
Cons:
Free for only 240 minutes per week; above that, you will have to subscribe to a monthly plan
A lot of complaints from Windows 11 users about the software incompetency
The Chrome Extension of Krisp doesn't yet let you filter the recipients audio
Krisp is heavy on physical resources
Pricing Plans:
Free for 240 minutes
Personal Pro plan for US$ 5.00:  unlimited noise removal and 10GB of audio recording
Teams for US$ 5.00 per user: 50 users with added benefits
Enterprise: Flexible pricing
3. Adobe Audition
A professional-grade audio editing tool coming from a popular name in the media industry, Adobe Audition is not just an MP3 noise removal software. Instead, Audition is a fully-fledged comprehensive toolset that includes multitrack, waveform, and spectral display for creating, mixing, editing, and restoring audio content. So in case you are looking just for audio software to remove background noise, Audition is not the app for you. The reason: it costs US$ 20.99 per month. Nevertheless, it has the most advanced tools to eliminate background noise and improve sound quality. Be it low frequency or high-frequency sounds, Audition entitles you to edit specific frequency ranges precisely using the Brush or Lasso tool.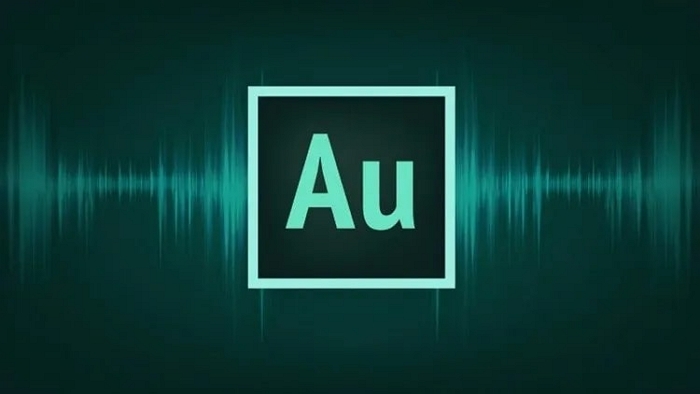 Key Features:
You can utilize an Essential sound panel to achieve the ideal sound quality on any audio clip.
Use fine-tuning effects like the DeNoise effect, Adaptive Noise Reduction effect, or Manual Noise Reduction effect to cut ambient noises.
The preview panel permits you to edit and listen in real-time.
Use Spectral Frequency Display to take a closer look at your audio clip.
Pros:
Considered as one of the best audio cleanup, restoration, and precision editing tools for video, podcasting, and sound effect design
A lot of online guides from Adobe and other experts permit you to understand the software well.
It comes with multitrack, waveform, and spectral display to edit and refine your audio.
Professional-quality editing effects
Cons:
Subscription is mandatory after the free trial and costs US$ 20.99/mo
There is a learning curve before you can edit the audio clips
No MIDI implementation
Audition is designed to collaborate with other Adobe products
Pricing Plan:
Free trial of 14 days
US$ 20.99/mo after the free trial
US$ 54.99/mo if you opt for CreativeClouds
4. Solicall
Again, a real-time audio correction tool, Solicall is an exceptional tool for noise reduction and echo cancellation. In addition to removing non-human noises like car horns, Solicall can also be configured to cancel ambient human voices aggressively. Solicall is compatible with some of the most popular instant messaging and conferencing applications and softphone programs. Of course, it is a hit in the audio noise removal software category and works with all Windows devices. Plus, Solicall is not heavy on computer resources and requires modest CPU resources to work. You can try the free version for ten days and will have to pay for it to cancel noise during calls after that. In all, it can effectively remove background noise of both on your side and from your interlocutor, allowing both of you to hear clearly.
Key Features:
Solicall performs noise reduction and echo cancellation on both sides of the call. Letting you and the interlocutor hear appropriately.
You can create different Solicall profiles and configure them as per need to refine them even further.
Solicall can also record phone calls providing support in WAV and MP3 format. But you will need a third-party MP3 encoder installed to record calls in MP3 format.
Pros:
Modest CPU requirements plus it are not heavy on resources.
It can kill both human and non-human interference.
Solicall can also record calls.
It cancels noise and echoes on both sides, allowing both parties to hear well.
Integrates well with most commercial softphones or VoIP applications
Cons:
You will have to optimize the devices that Solicall will filter. For instance, after installing the software, you have to select the input and output devices.
The free version is available only for ten days.
Designed for companies, so the minimum number of licenses you can purchase is 20
To purchase the licenses, you will have to write to the customer support team of Solicall.
Pricing Plan:
5. Samson Sound Deck
Designed to be compatible with Samson's line of microphones, Samson Sound Deck is liked by other users too. The technology of Samson takes inspiration from the digital audio processing technology of fighter jets. And Samson Sound Deck can reduce noise and produce crystal clear communication and recordings in any room. Samson Sound Deck sits on your Taskbar like other audio software to remove background noise in this list, and it transmits a rich, detailed audio signal to your preferred communication software faultlessly. In all, be it any VoIP you are using, i.e., Skype, Zoom, Google Meet, or Voice, Samson Sound Deck is the tool you can rely on to communicate your message.

Key Features:
Advanced digital noise algorithm removes repetitive background noise of surroundings and ensures that your voice is crystal clear.
The software is designed to adapt to microphone width and pickup patterns to cancel the ambient noise effectively.
You can focus and adjust the modules to filter the desired sound source.
Digitally cancels the echo from the speakers, so the output signal is not picked by the environment.
Pros:
Compatible with all Windows OS
10-band graphic EQ allows users to customize everything and direct the sound sources to match your preference
Record the meetings, calls, or music and save them to the desired location, or share them via email from within the application
Works two-way, i.e., removes noise from the received audio.
Cons: 
The clumsy and outdated user interface requires guidance to follow.
You will have to contact the support team to purchase the licenses.
An individual license is not available.
Although it works with other microphones, it is designed to work with Samson's line of microphones
Pricing Plan:
6. Nvidia RXT Voice
The Nvidia RTX Voice is still a newborn in the software to remove background noise from the audio realm. Still, it can easily compete against the granddaddies like Krisp and NoiseGator. Like Krisp, the Nvidia RTX app creates a virtual microphone and speaker within your computer to kill white background noises, echo, and ambient noises during calls and meetings via the computer. It works both ways. It means you will be able to communicate the message clearly and listen to other people well. Plus, it works conferencing, streaming, and recording applications such as Zoom, Slack, WebEx, Skype, and many others.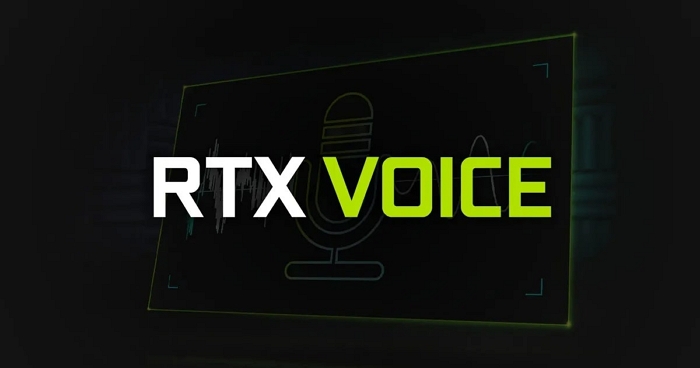 Key Features:
Nvidia supports two-way noise removal. And it can eliminate noise from outgoing and incoming audio streams on VoIP.
Compatible with most conferencing, streaming, and recording applications such as WebEx, Skype, Google Meet, YouTube, and more
A free plug-in that is available to download if you have an Nvidia RTX graphics card
The state-of-the-art technology of Nvidia RTX has an efficiency rate of 10% more than other software to cancel background noise.
Pros:
A free plug-in on Computers having Nvidia RTX graphics card
Nvidia RTX Voice is compatible with any communication channel.
It received excellent scores from the global authority POLQA.
The software comes from the Nvidia labs.
Cons:
You have to turn on the Nvidia Voice app before opening a communication channel like Skype.
It works only on Windows devices having Nvidia RTX graphics card (costs US$ 350.00)
Nvidia RTX is still in the Beta phase.
You will have to assign input and output after downloading the plug-in.
Pricing Plan:
Free with Nvidia RTX graphics card
7. Accusonus ERA Bundle
An advanced denoising app, Accusonus is designed to estimate noise profiles and adjust background noise accordingly. You will find several tools within the Accusonus ERA bundle like Voice Deepener to sound more thin & high-pitched when recording. Similarly, Mouth De-Clicker eliminates all mouth sounds, lip smacks, and saliva crackles in your track. In all, there are nine different functions of the Accusonus ERA Bundle, each making your audio clip finer and more pleasing as you choose one after another. Of course, the end result delivers the most pristine audio, clearing any and all types of unwanted noises from the audio clip.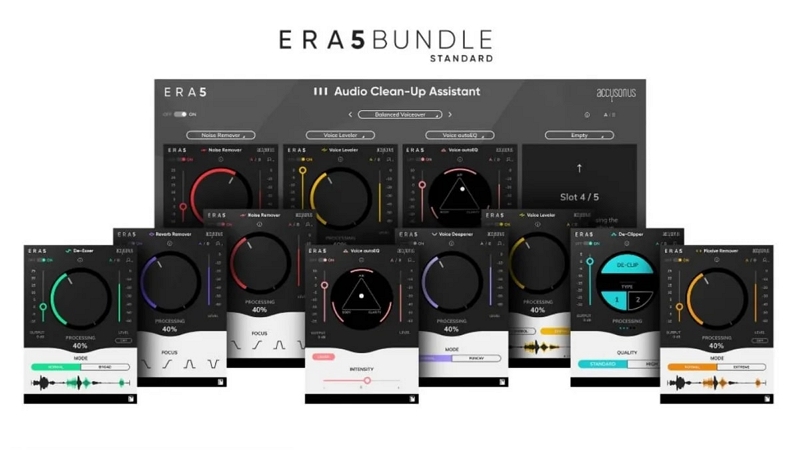 Key Features:
Accusonus next-gen audio repair bundle offers audio processing that's both fast and powerful, as well as like no other in the realm
Noise Remover, Voice Deepener, Voice AutoEQ, Reverb Remover, Voice Leveler, De-Esser, Plosive Remover, De-Clipper, Audio Clean-Up Assistant, and more utilities in the bundle
De-Esser attenuates sibilance with transparent results.
Plosive Remover suppresses distracting plosives with a click
Pros:
A true professional audio restoration plug-in bundle that comes highly recommended by the industry experts
An easy-to-use tool; most of the operations in the tool happen with a single click with no effort from your end.
Available for both Windows and Mac OS
Compatible with most Audio and Video Editors in the market
Cons:
An expensive option for beginners, especially if you will not use all the tools.
There is a bit of a learning curve at the start
Available only for Windows 10 or later
No tool to filter background noise in real-time
Pricing Plan:
ERA Bundle Standard — US$ $9.99 /month
ERA Bundle Pro — $19.99 /month (includes Standard and Noise Remover Pro, Reverb Remover Pro, DeEsser Pro, RoomTone Match)
All Access Suite — $24.99 /month (laden with Voice Changer, SFX Cellar Premium, and Music Cellar).
Bonus:
Additionally, we would like to suggest you Eassiy Video Converter Ultimate. It is one of the best programs that not only allow you to edit videos but also able to edit audio files. You can easily use this software to customize your video and audio files. This software can help you with removing background noises from videos but is not available for audio files. It offers you 1000+ video and audio formats including MKV, MOV, MP3, MP4, FLAC, OGG, AAC, WMV, and many more. You are allowed to convert your files into any format you want and it lets you compress your files as per demand. Besides, this software doesn't even cause you quality loss while performing tasks. The paid version will cost you some money but it is also available in the free version to download on both Windows and MacOS.
Key Features:
Multiple video/audio files can be converted into batches.
Supports various advanced editing tools such as merge, crop, split, add effects, subtitles, watermarks, etc.
Video noise can be removed with the help of this software.
Offers 60X faster video conversion speed compared to other tools.
Ensures the quality of your video/audio files and is 100% secure.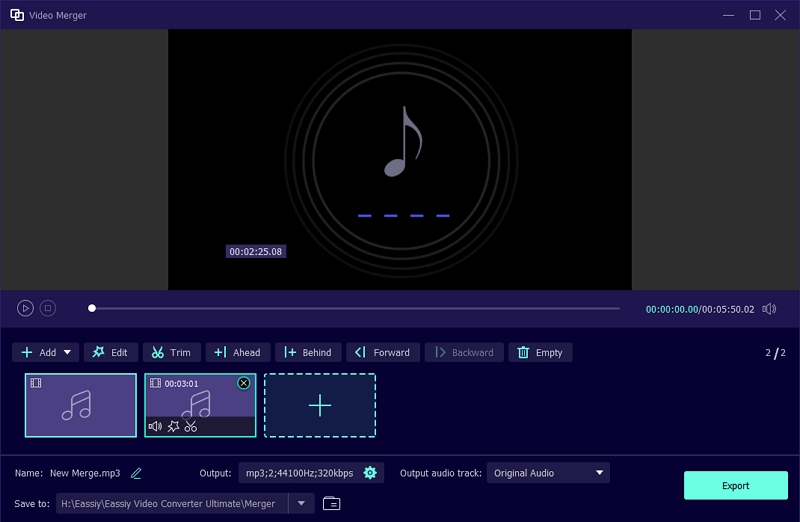 Conclusion
Of course, none of the background noise removal software is flawless. And it is not the case only with these best audio noise removal software — but every service on the internet. But computing the ideal platform for you is not problematic. All you have to do is comprehend your need and glimpse which software to cancel background noise is coherent to your necessities. Needless to say, Eassiy Audio Editor is a beginner-friendly tool that presents sophisticated functions with easy-to-use options. Meaning if you are untouched by audio editing, then Eassiy Audio Editor is the tool for you. Depending on your needs, you can also pick the other software to remove background noise from audio. Understand that choosing a noise cancellation app is more of a trial-and-error process; that is why we have listed background noise removal software with a free trial.