It's no doubt that MP3 is the most used audio file format in human daily lives. However, there are situations when you want to cut a part of an MP3 audio file on your Windows system. Perhaps you're looking to cut your favorite song and use it as your ringtone or you just want to merge audios from different MP3 files, an MP3 cutter is the right tool to help you get the job done perfectly. Fortunately, our team of experts has assessed the online realm for MP3 cutters for Windows 10. Thus, in this article, we will walk you through the best MP3 cutter for Windows 10 in 2023. So, keep reading.
Part 1: Best MP3 Cutter for Windows You Must Try In 2023 - Eassiy Audio Editor
For Windows, Eassiy Audio Editor is the best MP3 cutter for both Windows and MacOS that you must try in 2023. This software is known as an all-in-one multimedia toolbox that allows you to edit, compress, convert, merge, trim, cut, and split audio files. You can easily cut your MP3 files and also can convert or compress them. It provides various features to help you in enriching your production. Besides being multi-functional, this tool has very powerful and professional conversion functions. While converting, it makes sure that the audio file doesn't lose its original quality. By using this software, you can easily trim a part of the audio you want or cut unwanted parts of long audio seamlessly. Also, you will be able to split long audio into various parts in one simple click. In addition, we are glad to let you know that this tool also can help you with video editing, compressing, and converting.
Key Features:
Helps you to edit audio files with split, trim, cut, merge, etc.
Supports both audio and video conversion in batch without quality loss.
With multiple pictures, you can easily convert audio to video files.
Both sound and picture can be synchronized seamlessly.
Allows you to compress audio and video files as per your needs.
Steps to cut MP3 for Windows by using Eassiy Audio Editor.
Step 1. Start Eassiy Audio Editor on your device after installing it. The following homepage will display on your device once the software launches. Select the "Toolbox" tab and choose "Video Trimmer" to move forward.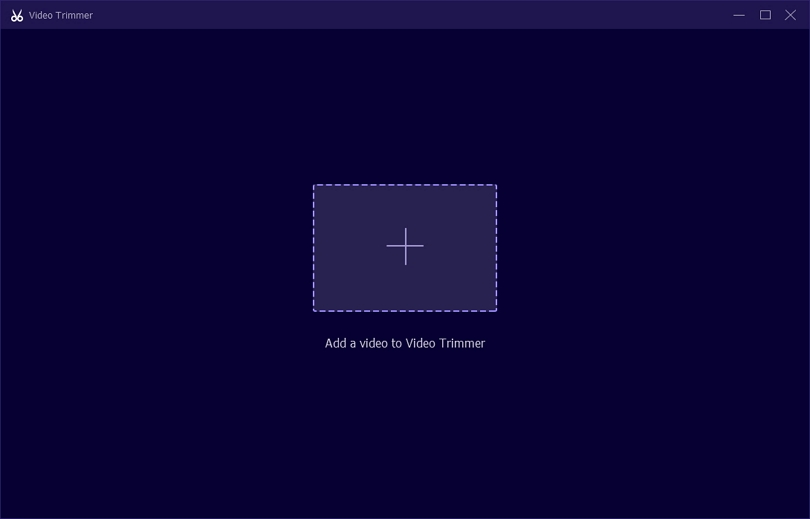 Step 2. To upload your audio, click "+" and enter the audio file or drag and drop the audio files into the window. Uploading an audio file takes time based on its size.
Step 3. After importing the MP3 file, you need to choose a starting and ending point of the audio to trim it accordingly by using the "Split" icon. Select to delete a segment or copy/paste any segment for setting them according to your choice. You can also add "Fade in" and "Fade out" effect and easily cut your audio into multiple segments before exporting. Forget about cut/trim one by one.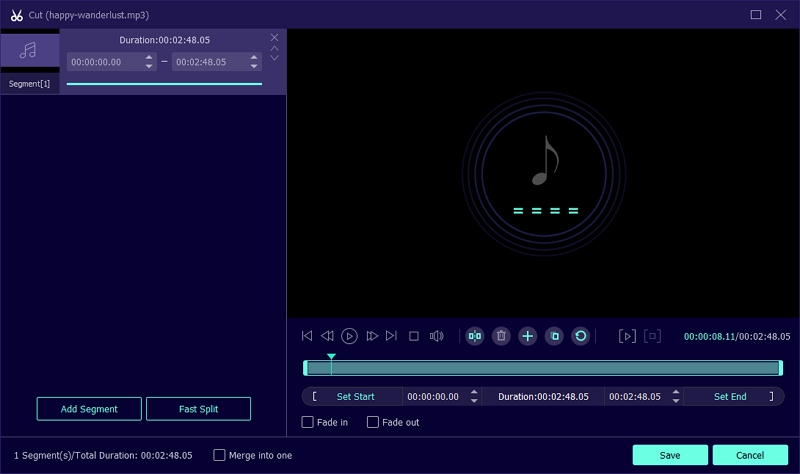 Step 4. Finally rename your file from the "Name" option if needed and set your output format from the "Output Settings" option. Then export the final MP3 file by clicking on the "Export" button. After the exporting process is complete, you'll see a pop up notification on your screen where you can click "OK" or "Trim Again".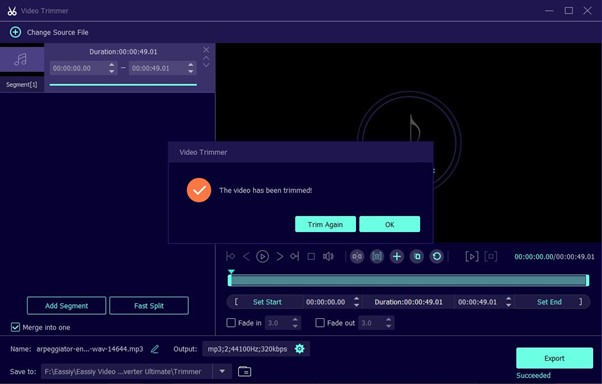 Part 2: How To Cut MP3 on Windows 10 Without Third Party Software
Windows, by default, does not include any application to cut MP3 files. However, if you are a Windows user, there is a good chance you have the VLC media player on your computer. VLC media player, a free and open-source cross-platform multimedia player, plays almost all kinds of multimedia file formats, including MP3. So, without wasting much time, let's dive in to see how to cut MP3 on Windows 10 using VLC media player.
Here's how to use a VLC media player to Cut MP3 on Windows 10:
Step 1. Launch VLC and activate Advanced Controls. Launch the VLC program > select View from the menu bar and choose Advanced controls from the drop-down list. On doing that, a red recording button will appear at the bottom-left corner of the screen.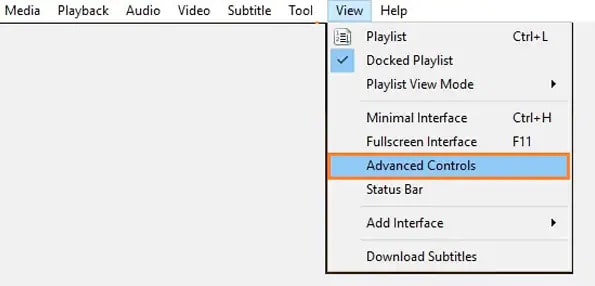 Step 2. Hover to the Media option in the main menu option. Then select Open File from the drop-down and from the pop-up windows page, select the MP3 file you want to cut.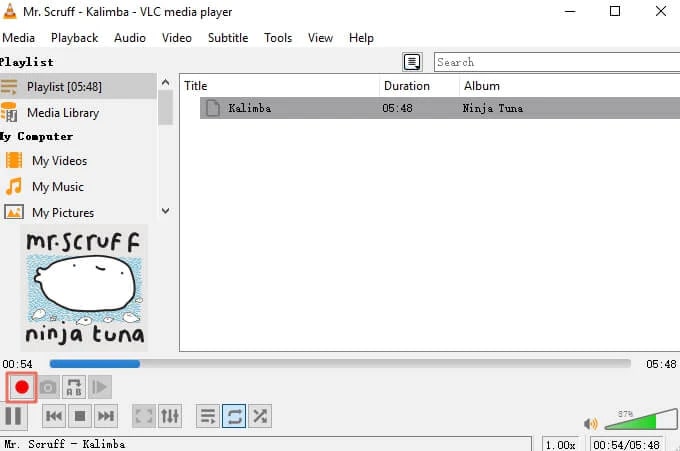 Play the file and drag the slider to determine the start point.  Then, click the red button to start the recording.
Step 3. Trim the MP3 file. Once the audio gets to the endpoint, you click the red record button again to mark the endpoint.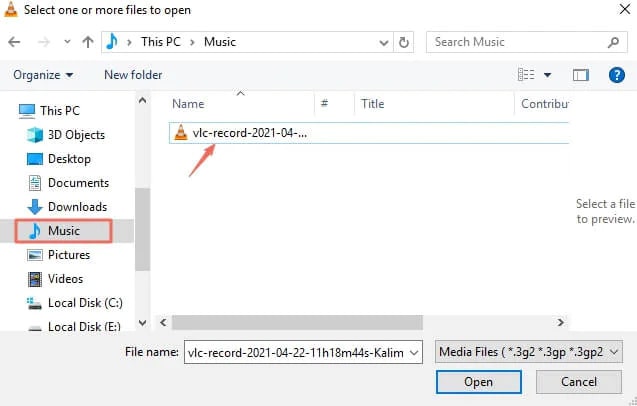 That is it! You can access the trimmed file from the Music folder under This PC on Windows 10. VLC media player saves the snaps automatically.
How to Cut MP3 Files Windows 10 Online?
MP3Cut.Net is one of the best online MP3 Cutter tools that you can utilize to cut MP3 files online via a browser on Windows 10. Of course, it is nowhere near the best audio cutter for Windows 10, i.e., Eassiy Audio Editor. But it allows users to trim audio files effortlessly for entirely free of cost. So, in a way, it is the best free MP3 cutter and editor for Windows 10.
Here's how to use MP3Cut.Net to cut MP3 files on Windows 10:
Step 1. Visit MP3Cut.net's official website. On the main interface, you will find the option for uploading files, i.e., Open File. You can choose to open the file from the local hard drive or cloud storage programs like Google Drive and Dropbox. Alternatively, you can also drag and drop the files from your computer to the program.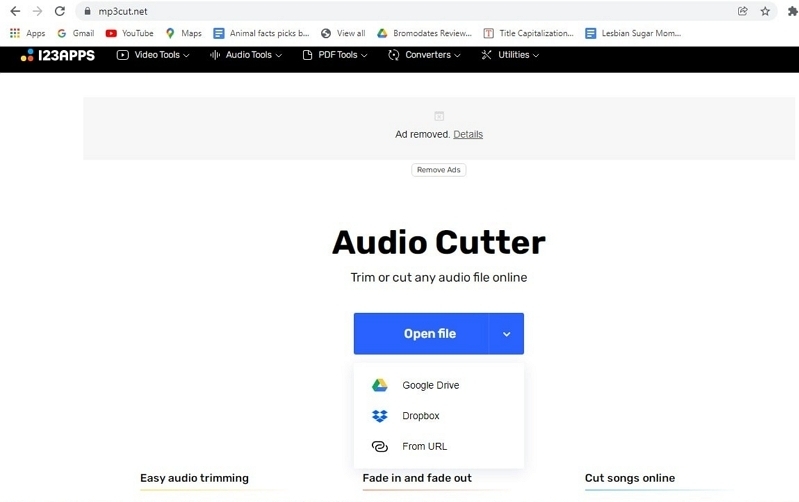 Step 2. Wait till the program loads the files and lets you access the timeline.
Use the timeline and mark the start and end sections using the slider.
Choose Cut after marking the points.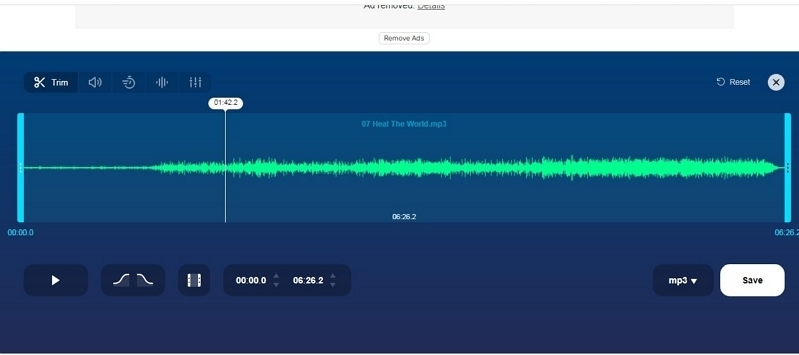 Step 3. Download the edited audio copy to your computer.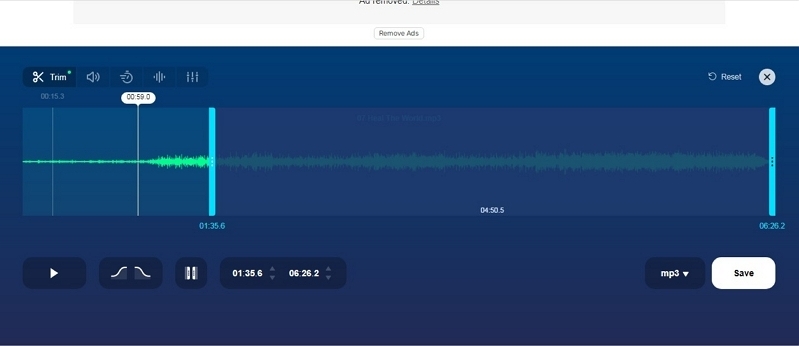 Again, it is simple. But note that the options offered by MP3Cut.Net end there. You will not see the sophisticated functions offered by Eassiy Audio Editor.
Part 3: Other Helpful Audio Cutters for Windows 10 You Should Know
In case you are still not satisfied by the best MP3 cutter for PC, i.e., Eassiy, here are some alternatives to Eassiy Audio Editor. These tools cannot compete Eassiy functionality, but that does not mean they are totally incompetent.
1. Audacity
A full-fledged audio editor for Windows users, Audacity, includes all basic as well as advanced audio editing features, i.e., cutting, splitting, merging, removal of unwanted noise, and more! Given the simple interface and great functionality, one can easily comprehend why Audacity is deemed as the best audio cutter for PC by several users.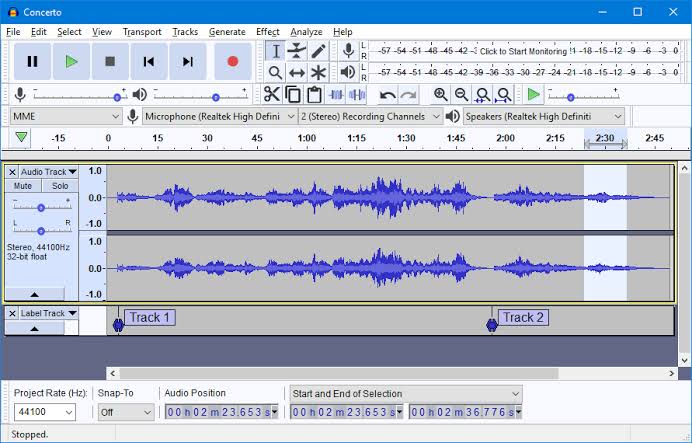 Pros:
The modern and intuitive user interface makes it simpler for the users to utilize the application like an expert
Trim, split, merge, convert audio files effortlessly
Audacity supports all major audio file containers, including MP3, WAV, M4A
Cons:
Only a handful of audio effects; in comparison, Eassiy offers more!
2. MixPad
A multitrack, mixing, and recording software, MixPad hands you the pieces of equipment used by professionals in a simple way. There is no doubt that you can edit audio files like an expert and make the standard audio sound more professional. There are numerous audio effects, music, sounds to help you do that. However advanced, the tool is cumbersome, and there is a fine learning curve before you can master it.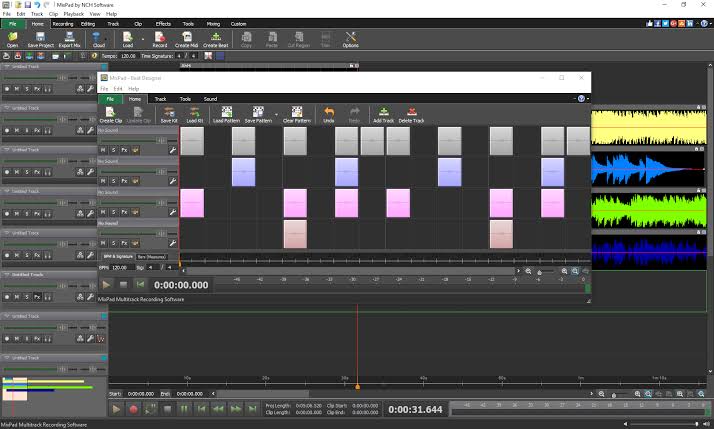 Pros:
Thousands of audio effects, royalty-free music tracks, and sounds to transform normal audio like a Hollywood-themed soundtrack.
Advanced beatmaker to create your own music.
Recorder to add your vocals.
Cons:
The cheapest subscription of MixPad comes at US$ 99.00 — hefty and unaffordable for an average user
3. WavePad Audio editing software
Free for non-commercial use, WavePad Audio Editing software does not charge you a dime if you are not using it for commercial purposes. Coming to its toolset WavePad Audio Editing Software includes all necessary functions to trim audio effortlessly. The software supports over 50+ file formats, so be it MP3 or any other format, WavePad can help you trim the audio clip for entirely free!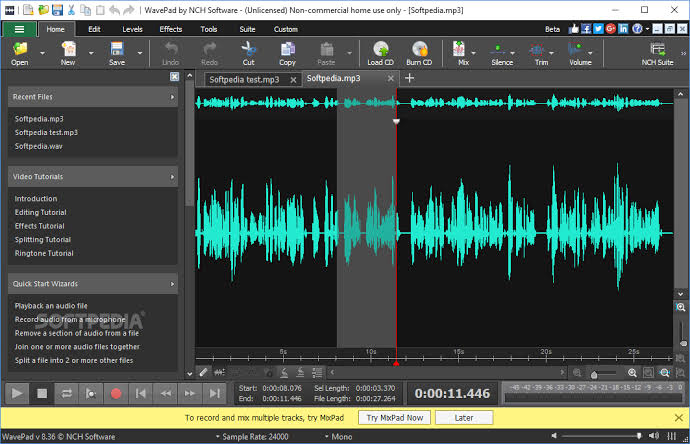 Pros:
Batch Processing
All editing tools
Tons of effects
Supports all file formats — audio
Cons:
Learning curve required to understand the tool and utilize it
Conclusion:
Hopefully, this list of best MP3 cutters for Windows 10 should have acquainted with a tool that fits your purpose. Again, Eassiy Audio Editor is our favorite for its inclusion of all the critical tools necessitated by any audio editor. The reason you should use a sophisticated tool like Eassiy Audio Editor is that it helps you step up your game. And become an advanced audio editor. It may very well be that you require an application to trim a piece of audio that has nothing to with being professional, but again, there is nothing wrong with attaining perfection.