An audio merger is an implement that combines various audio files into one audio file like MP3, OGG, AMR, FLAC, ALAC, M4A, etc. It helps you to remove unnecessary noises from the audio clip. There are many reasons to marge audio files. But most of the audience doesn't want to learn how to combine audio files because it is kind of complicated stuff to learn. They start to find an excellent MP3 merger to get rid of the problem. There are many audio mergers in the market. Some of them allows you to sequence the files and merge them as per as you need. In this article, we are suggesting you 10 best MP3 merger to merge audio files easily.
Top 10 MP3 Merger to Merge MP3 Files
When it comes to merge audio files, there are many software available but not all of them can provide the perfect features you need. In this article, you will get to know about the 10 best MP3 merger of various platforms and choose the suitable one for you.
1. Eassiy Audio Editor
For both Mac and Windows PC, Eassiy Audio Editor works as an excellent MP3 audio merger and joiner tool. Including MP3, this software supports all other popularly used audio file formats. It provides super-fast processing speed and the MP3 files can be merged without losing the original quality. You can add the MP3 or audio files directly from the system. This program allows you to customize your audio files with multiple functions such as cut, trim, crop, convert, compress, and others. Besides audio files, you will be able to customize your video files also with trimming, cropping, converting, compressing, etc. To download this all-in-one multimedia program, visit their only official website.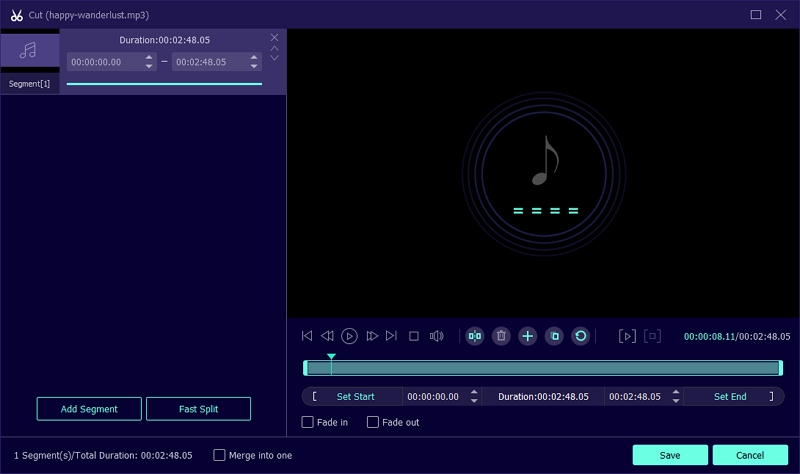 Key Features:
Multiple MP3 files can be joined into one track with a simple click.
Audio files can be customized before the merge with trimming, cropping, adjusting bitrate, and others.
Allows you to convert audio/video files into other formats with no quality loss.
Offers various editing tools to customize the audio/video files and make them attractive to others.
Compared to other common tools, it provides faster conversion speed.
Pros:
No restrictions over the file number that you can combine.
Easily convert audio to video with images.
Provides fast processing speed while merging.
MP3 files can be compressed into a smaller size without quality loss.
Cons:
The free version doesn't have as many features as the paid version.
2. QuickTime
QuickTime is a video editor and also capable of merging audio clips. If you are a Mac user, you must be familiar with it. This application was developed by Apple Inc. and it is available for free to all macOS users. You can merge audio from videos to other audio files in this software. It offers you some limited features to edit.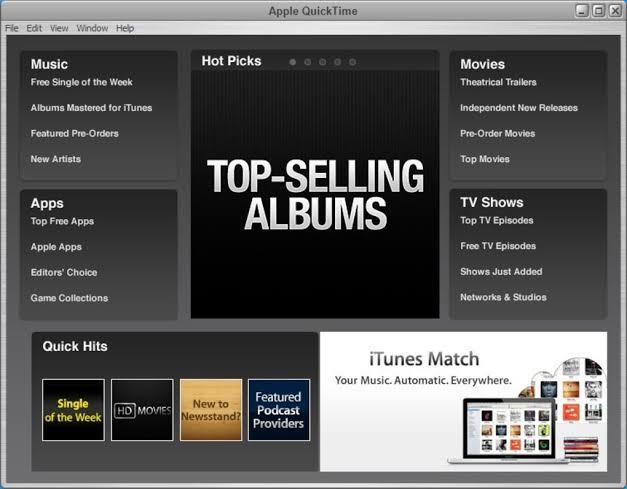 Pros:
Users can merge audio and video into one document.
Easy to merge files without any complications.
Users can trim and split the audio.
Cons:
Have limitation over editing.
There is no way to add files at the beginning.
3. iMovie
iMovie is a video editing software which also lets you marge multiple audio files into one. This application was promoted by Apple Inc. for iPad, Mac and iOS gadgets. It is easy to use and it also lets you edit the clips before combining them into one. iMovie offers various effects for editing clips.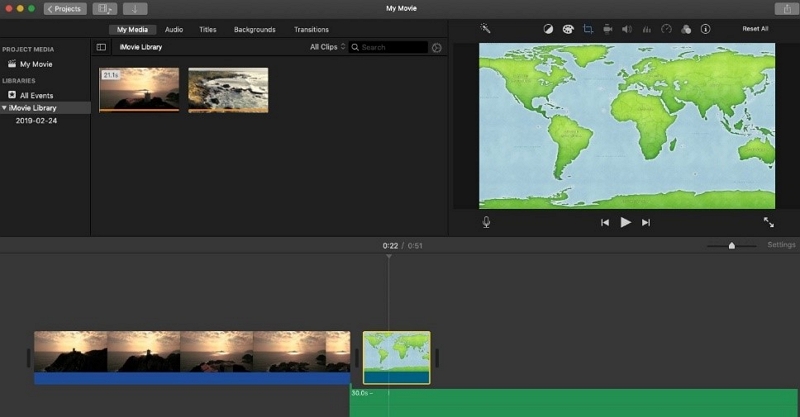 Pros:
Easy to use to merge audio files even for the beginners.
It's free for Mac users as it comes by default.
iMovie offers better options comparing QuickTime player.
Users can find it easy to share features.
Cons:
This tool is very much simple.
It needs a lot of storage.
Users can find it slow while working with big files.
3. Audio Joiner
Audio joiner is an online based audio merger which is free and easy to use for the beginners. This tool supports over 300 file formats with crossfade features. You can combine files without worrying about privacy issues because all uploaded files will be deleted a few hours after you complete your work.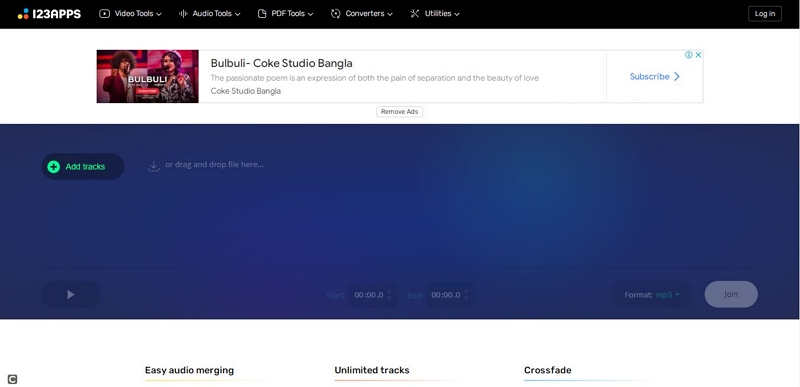 Pros:
Too much easy to use.
Users can add song from online.
There is no limitation over the number of audio files you can combine.
Users can use it without installing anything.
Cons:
Upload speed can be effected for network status.
No way to split and add audio in another video.
4. Audacity
Audacity is a free audio merger with impressive tools to edit and merge audio files. It lets you manage audio files in various formats such as AIFF, MP2, MP3, WAV, OGG and FLAC. You can easily combine multiple audio files to make a long recording or song. In this application, you will find a graph where you can see audio waves from where you can choose what to keep or remove.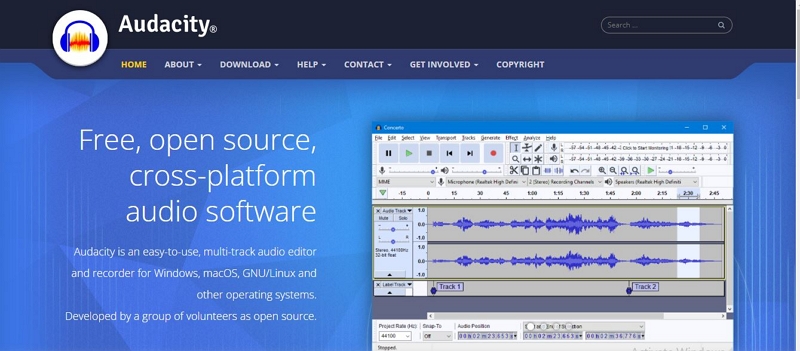 Pros:
It is easy to use, free and an open source software.
Export your recordings in different file formats, including multiple files at once.
Have the ability to record live audio through the microphone.
Cons:
Bugs can make this application unstable.
It has limitation over the mixing capabilities.
Some features are very difficult and not so easy to use.
It has safety issues.
5. MP3 Toolkit
MP3 Toolkit is a free and open source application which supports Windows platform. It gives you permission to do anything with your MP3 file. It lets you merge audio files in some formats such as WMA, OGG, WAV, MP3 and a few more. You can add here many files to merge. This program has tools like Converter, Ripper, Tag Editor, Merger, Cutter and Recorder. If you want to merge audio files only, you can try it.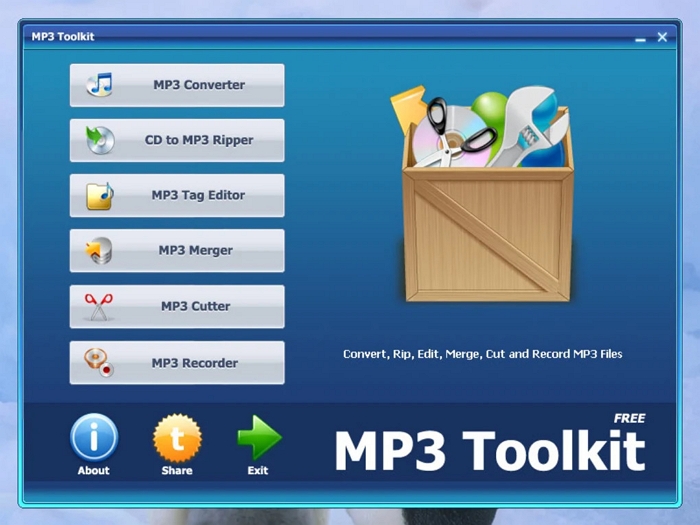 Pros:
Users can merge audio files to MP3.
Supports formats like WMV, MP4, WMA, WAV, OGG, FLV, M4P.
Switch bitrate and audio channel.
Cons:
There is no option to edit audio files.
Only supports Windows platform.
6. WavePad
WavePad is an audio editor for Windows and Mac. It offers a waveform editing graph and also allows you to record or edit audio files. This software can handle a great number of audio files. It helps you cut, copy, paste, delete, insert and add effects. It supports almost all formats like VOX, WAV, MP3, GSM, WMA, AU, AIF, FLAC, AMR etc.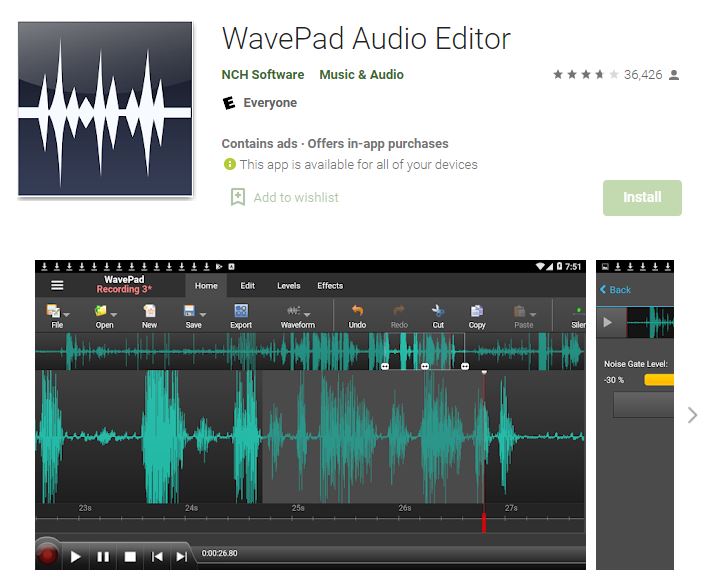 Pros:
Have audio effects like amplify, normalize, equalizer, envelope, reverb, echo, reverse and many more.
This software supports more than 40 various file formats.
Easy to use interface.
Cons:
Multitrack recording needs a software extension.
Free version has limitation without supporting plugins.
7. Clideo
Clideo is a free and open source MP3 merger where you can upload as many files as you want without installing any app in your system. It allows you to add multiple audio files at once, so you don't have to choose one by one. In this program, you can change the sequence, add crossfade and then select to merge them into one.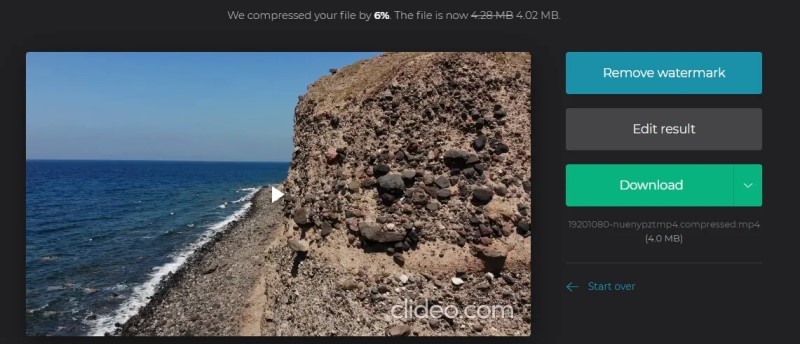 Pros:
Easy to use.
Well matched with all the popular audio formats such as WAV, WMA, MP3 and others.
Free to use web/online audio merger.
Cons:
No way to split or edit files.
It has limitation over features.
No match for experienced users.
8. EaseUS Video Editor
EaseUS Video Editor is video and audio editing software. Both Windows and Mac users can use it. This was invented by EaseUS. This program has a basic editor. It allows you split, trim, merge audio files and add effects. It provides you specially designed tools for audio merging.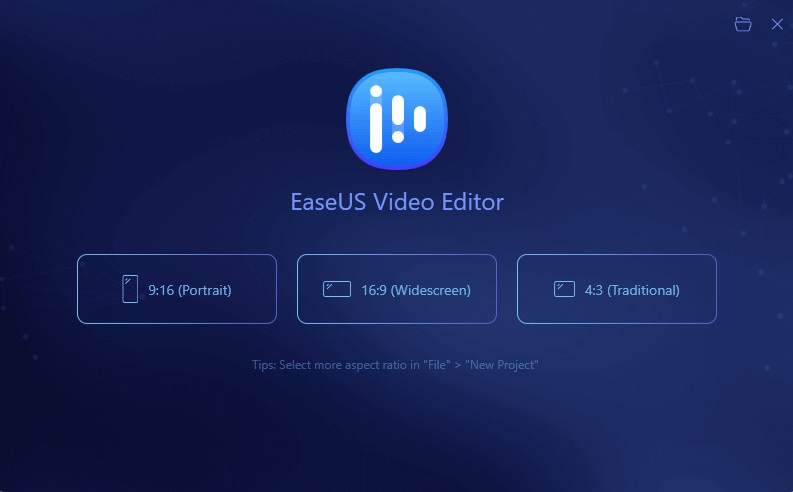 Pros:
This tool can separate or extract audio from any video.
User can adjust the audio speed as they want.
Saves the edited audio files in MP3 or AAC formats.
Cons:
This software is quite expensive.
Doesn't have proper editing features.
Free trial doesn't allow over 2 minutes.
9. MiniTool Movie Maker
MiniTool Movie Maker is a free and simple audio merger software without ads. It supports you to merge your audio file into different formats like AAC, FLAC, WAV, M4R, M4A, MP3 etc. This software is not only an audio merger, but also a free audio editor, audio trimmer, audio splitter and audio cutter.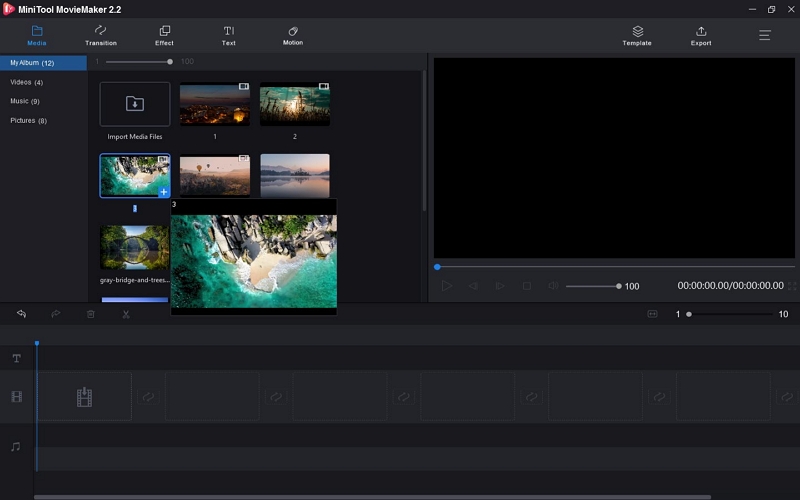 Pros:
It doesn't have any ads.
User friendly interface.
Supports a great number of audio file formats.
Quality remains the same after merging.
Allows to edit audio tracks before merging them.
Cons:
This application only supports Windows 10/8/7.
Have limitation over features.
Effects cannot be custom-made.
FAQ (Frequently Asked Questions)
Some FAQ about MP3/audio merger to merge MP3/audio files
1. Can you merge two audio files together?
Yes, you can simply use a powerful audio/MP3 merger like Eassiy Audio Editor to merge two audio files together.
2. How can I merge multiple audio files into one?
To merge multiple audio files into one, follow the below steps properly.
Step 1: Download, install and open Eassiy Audio Editor on your computer. Go to "Toolbox" and open "Video Merger". Tap the "+" sign and upload the local MP3 files or you can directly drag them into the interface.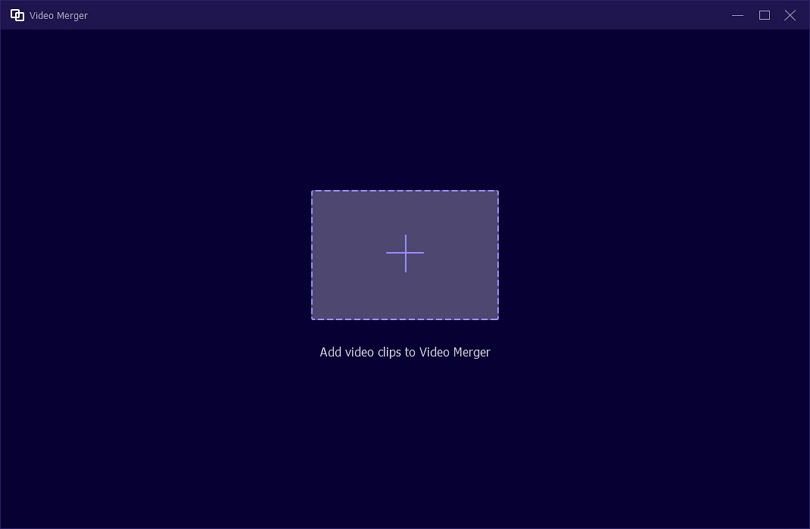 Step 2: This software lets you add as many audio clips as possible. Before the merge, you can make changes to your audio like edit, trim, ahead/behind, forward, etc.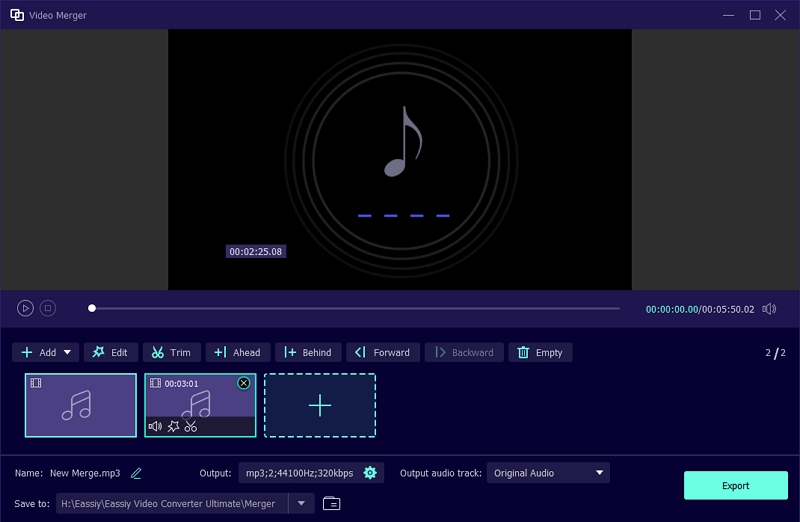 Step 3: Give a name to your new merged file by tapping on "Name" after you have merged them based on your needs.
Step 4: It also allows you to adjust the audio setting. You can export your new audio file by tapping on the "Export" button and waiting until it is finished.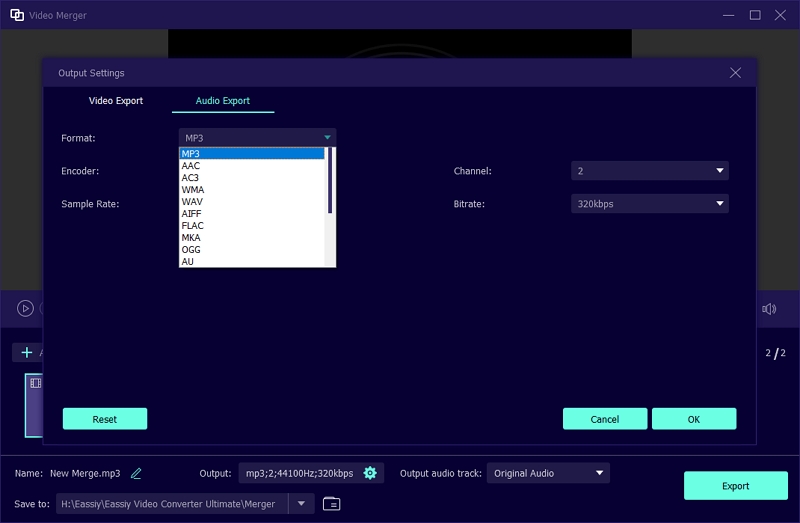 3. What is an audio merger?
An audio merger is a tool that can join, combine or merge audio files into one file in the order of your choice.
4. Is Eassiy Audio Editor/Merger free?
Technically, yes. Because you can use the free version of Eassiy Audio Editor to merge audio files easily. The catch is, you won't be able to use it to its full potential unless you buy a subscription package.
Conclusion
Audio/MP3 mergers are common because of their wide usage among people for combining audio files. By reading this article, you have understood the pros and cons of various mp3 song merger that can help you out. These MP3 mergers have the potential to be the best in the market among various other mp3 audio merger and joiners. Any of these tools are useful but if you want our opinion, we would pick Eassiy Audio Editor without blinking. It has all kinds of advanced features yet simple operations that can be followed by any user.