Are you trying to find the greatest MP4 to MP3 converter so you can better listen to MP4 videos whenever you want? Asking how to convert MP4 to MP3? If you enjoy listening to music, you probably want to learn how to easily convert MP4 files to MP3 files. When it comes to saving additional music and lowering the amount of space required, MP3 format works wonders. Despite the fact that there are numerous applications for the work available online, converting MP4 format files to MP3 is not a simple task. In order to make your conversion work easier, we have included the 12 best MP4 to MP3 Converter for Windows/Mac/Online in the post below.
Part 1: Which MP4 to MP3 Converter is the Best?
There are times when we want to listen to our favourite songs or podcasts but are unable to locate the audio file for the song or podcast. In these situations, we consider how much more convenient it would have been for us if we had access to the audio of the song or podcast in question rather than just the video. A reliable MP4 video to MP3 audio converter would then come into play. However, there are a variety of MP4 to MP3 converters available.
Compatibility: Priorities come first. You should think about the make and model of the cameras you'll use most frequently and whether the editing program in question can handle these file types.
Simplicity: The same exponential growth in technology that produces so many video editing options also makes the software more difficult to use. Before utilizing a program, you should review its general description for simplicity.
Smart features: Smart features, or automated tools that undertake routine but time-consuming chores, can save a ton of time during the editing process. Although not all software has intelligent capabilities and few have every useful option, these products are becoming more widely available.
Optimization: In order to enhance system speed while concurrently importing and rendering video material, many programs include optimization options. This increases accessibility for all users and removes the requirement for the purchase of pricey or specialized equipment.
Part 2: 3 Best MP4 to MP3 Converter for Windows/Mac
1. Eassiy Video Converter Ultimate
With its 20+ multi-media functions, Eassiy Video Converter Ultimate can convert, edit, compress, generate MVs, create collages, and much more. With batch conversion and more than 1000 video/audio formats supported, it leads the industry. The built-in editors on Eassiy are excellent for polishing your video production because they include tools like merging, trimming, cropping, adding effects, subtitles, and watermarks, as well as reducing video noise and shaking.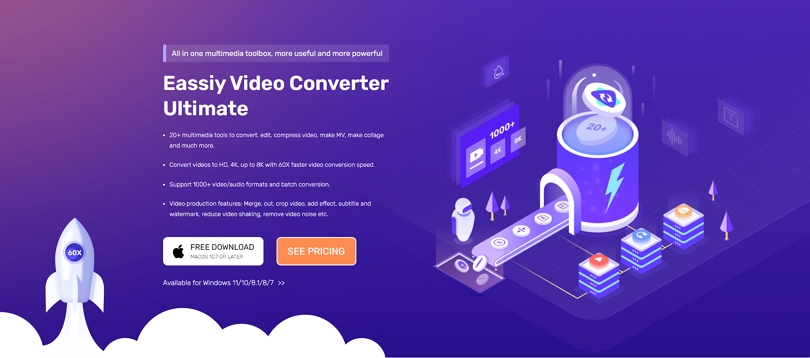 Key features:
1000+ video/audio format support, as well as batch conversion that is unmatched in the market
60x quicker lossless conversion technology Up to 8K video conversion with no quality loss
Provides more than 20 multimedia tools for activities including editing, compressing, building MVs, making collages, and more.
Multi-core CPUs are boosted by AI technologies to raise conversion rates.
Pros:
Converts HD/4K/5K/8K footage from drones, GoPro cameras, HD cameras, camcorders, and more to any playback format, including H264 (AVC) and H265 (HEVC).
HD video compression for Facebook, TikTok, and other sharing platforms.
Integrated Editors for Better Results High-speed conversion and GPU acceleration are both accessible.
Cons:
The advanced version has more features.
2. Movavi Video Converter
More than 180 different formats, including HD ones, can be converted using Movavi Video Converter. The videos will be compressed without losing quality. To improve the final film, you will also be able to rotate, merge, and trim different video fragments. You can also see a "Convert Sample" to get a preview of the finished product. A lot more options are available with the premium version, which also makes it possible to extract audio from the videos.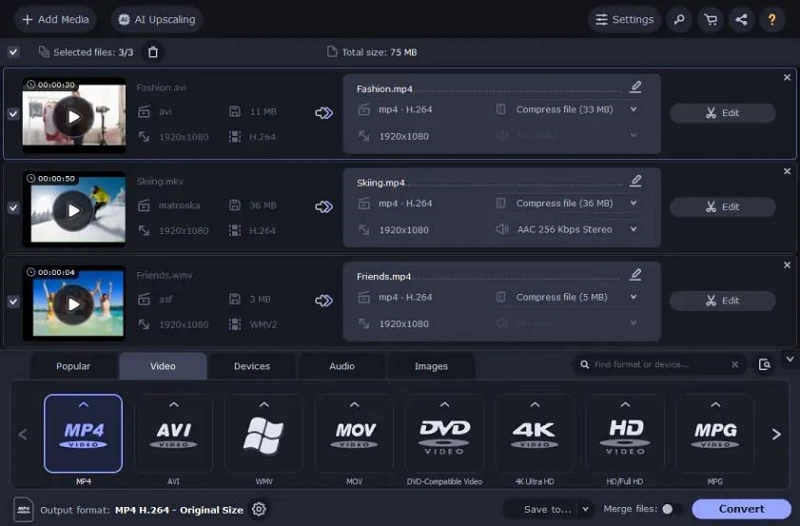 Pros:
Major Formats Supported: The app boasts an astounding 180+ file format support.
Additional built-in editing tools, such as those for trimming and combining, are available.
Fast File Conversions: The utility delivers incredibly quick file conversion processing times.
Timeline scaling enables millisecond-accurate media file cutting by allowing you to enlarge or reduce the timeline scale.
Cons:
Limited Editing Functions: Unless you upgrade, you don't have access to all of the software's features.
When using the free trial, your converted video will have watermarks added to them.
3. Freemake MP4 Video Converter
MP3, FLV, and AVI are just a few of the popular formats that Free MP4 Video Converter can convert. The video and audio formats can be edited with ease using a preset editor. It's also possible to combine many video files into one using a special feature. There are downloads available for almost every Windows version. The converter is simple to use and gets right to work.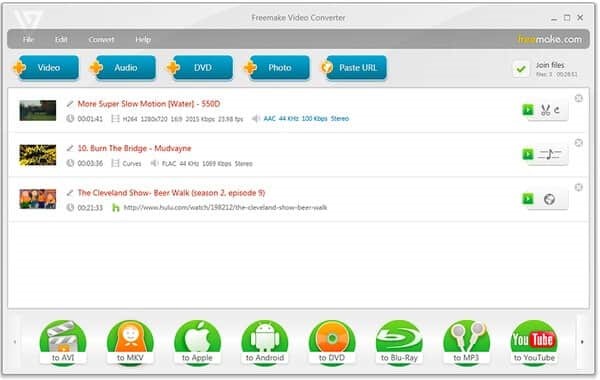 Pros:
500+ formats are supported
Edit and DVD-burn videos.
Obtain online video
Make presentations of your photos.
Cons:
Large videos require a lot of time to transcode.
Some functions need to be activated online.
Part 3: 3 Online MP4 to MP3 Converters
1. CloudConvert
Almost all music, video, document, ebook, archive, image, spreadsheet, and presentation formats are supported by CloudConvert, a free online tool. This is possible through your browser. The program allows you to drag and drop MP3 files from your computer, Google Drive, Dropbox, through a URL, or by other means.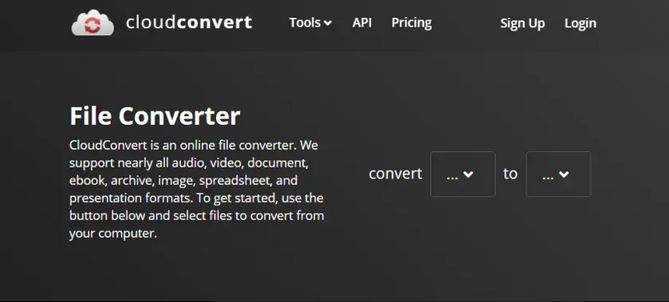 Pros:
Excellent conversion without artifacts or faulty file conversions.
Simple user interface.
Extremely flexible in the formats it supports.
Free of advertisements.
Cons:
Interface design could use a facelift to modernize it.
2. AnyConv
A three-step technique is provided by AnyConv to convert an MP4 file to an MP3 file. Uploading a file up to 50 MB is the first step. The MP3 file is then downloaded after the conversion procedure. The procedure is straightforward, making it simple to convert the movie rapidly. To ensure that handling conversions on the website is secure, all files are instantly erased.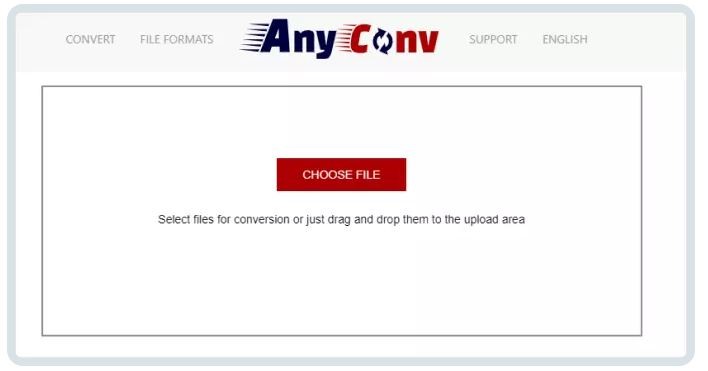 Pros:
Use a web browser to convert files on any mobile device.
Cross-platform compatibility due to its web-based nature.
Up to 60 files can be converted each hour by users.
The maximum file size is 100MB.
Cons:
Includes bundled extra software.
Overly complicated to change file settings.
3. Online Convert
You can convert MP4 to MP3 with Online-Convert in high definition. Simply upload your song and instantly download the MP3. Additionally, you can upload video clips and convert the MP4 video to MP3. Free conversions of audio, video, images, documents, books, archives, and more are available on this website.
Pros:
Support conversion from more than 50 sources.
It is able to extract the audio from video files.
There's no need to register for the trial version.
Supports old file types.
Cons:
Expensive for budget-limited users.
100 MB per file, 25 files per day for free users.
Part 4: Comparison Table to convert MP4 Videos to MP3 Videos

Name

Best for

Free Trial

Ratings

Supported files

Pricing

Eassiy Video Converter Ultimate

Most Effective all-inclusive multimedia program

Free trial with limited features.

5 stars

1000+ File Format

Annual Plan for
US$39.95

Movavi Video Converter(Windows)

Additional built-in editing tools
Fast File Conversions

Free Trial
with limited features

4.5 stars

180+ formats

$79.95  for Lifetime

Freemake MP4 Video Converter (Windows)

video and audio formats can be edited with ease

Free trial

5 stars

500+ File Format

Free

CloudConvert(Online)

allows you to drag and drop MP3 files from your computer

Available

4.5 stars

200+ file format

Monthly Subscription: $9.00

AnyConv (Online)

Speedy Conversion

None

5 stars

400+ Video Format

$7.95

Online- Convert (Online)

Free conversions of audio, video, images, documents, books, archives, and more are available

Free Trial

4.5 stars

32+ file format

24h pass: $7.99/1GB
Part 5: FAQ for How to Convert an MP4 to MP3
1. Can I convert MP4 to MP3 in VLC?
From the Start Menu, launch VLC Player. Click Media > Convert / Save in the navigation bar. When you have found the file you want to convert, click the Add button. To convert or save, click the button.
2. Is MP4 or MP3 better?
Due to its support for all kinds of multimedia files, the MP4 file format is significantly more flexible. Due to the fact that it only allows audio files, the MP3 file format is relatively less flexible.
Conclusion
The top 12 various yet top MP4 to MP3 converters are covered in the article above. You can convert MP4 files to MP3 format using any of the tools described above. The aforementioned article should have assisted you and provided a solution to your problem of converting any MP4 format file to an MP3 format file. Please add any questions or comments you may have in the space provided below. Sincerely, we think that the fantastic Eassiy Video Converter Ultimate merits your help. It offers the finest chances and practical knowledge for converting MP4 Videos to MP3 Video format.