Multiple audio and subtitle tracks are frequently stored in the multimedia container format MKV. However, playing an MKV file on a Windows PC can be difficult because to its less widespread use than other video file formats like MOV and MP4. It's likely that a video in MKV format won't open or play if you try to play it on a TV, an Android phone, an iPhone, or a third-party video player. You can be left wondering if there is a problem with the file as a result. Actually, it isn't! The format is what's giving us problems. Fortunately, converting MKV files to MP4 is a simple process. You can convert MK4 to MP4 on Windows and Mac or Online without losing the quality using the following 8 Aspiring methods.
Part 1: Can I Convert MKV to MP4 on Windows 10?
The open-source multimedia container format Matroska (MKV), which is similar to AVI and MP4, may combine audio, video, subtitles, and other data into a single file.It supports a number of available codecs, including HEV, SRT, H.264, DTS, and others. Additionally, Blu-ray and DVD content can be stored on it the finest.
Although video and audio are the most popular types of data to be stored in MP4 containers, it can also be used to store other types of information like subtitles and still photos. It supports online streaming, just like the majority of contemporary container formats.
MKV is entirely compatible with Windows 10, but you can run into compatibility problems when using it on other systems because MKV files aren't supported by Mac, iPhone, and other portable devices. The majority of compatibility problems in the video space are caused by codecs rather than by the container. You can use Windows 10 to convert MKV files to MP4 to resolve this problem. On Windows 10, it is possible to convert MKV files to MP4 files.
Part 2: How to Convert MKV to MP4 on Windows/Mac/Online? [Best 8 Methods]
The following section of this post will lead you through 8 aspirational methods for converting MKV to MP4 utilizing various programs. Now check them out.
Method 1: Incredible Way on How to Convert MKV to MP4? [Highly Recommended]
Understanding how to convert MKV to MP4 on a Mac is crucial. You may create MP4 files using Eassiy Video Converter Ultimate, making it simpler to use them on any device, independent of operating system. You may quickly and easily convert videos on a Mac by downloading this conversion program. Since Eassiy Video Converter Ultimate works with all operating systems and file formats, you may use it as your go-to tool for both professional and domestic needs.
Eassiy Video Converter Ultimate can convert, edit, compress, make MVs, create collages, and much more thanks to its 20+ multi-media functions. It tops the industry in supported formats with batch conversion and more than 1000 video/audio formats. Eassiy's built-in editors are great for refining your video creation because they include features like merging, trimming, cropping, adding effects, subtitles, and watermarks, lowering video shaking, decreasing video noise, and more.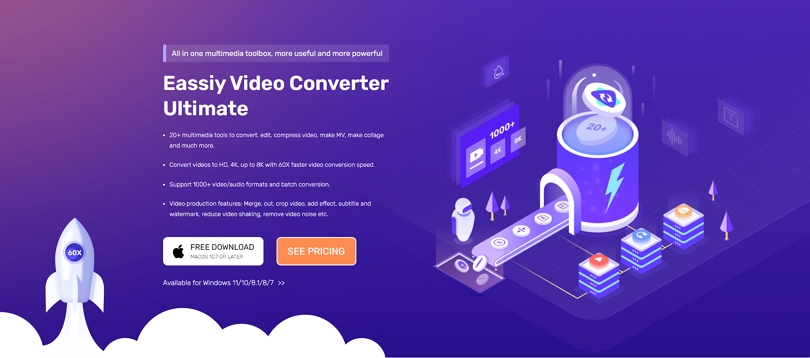 Steps to follow:
Step 1: Download and install Eassiy Video Converter Ultimate.
Step 2: Open and Insert Files
Launch Eassiy Video Converter Ultimate on your device to get started. You can choose which video files to convert from the following interface after the program has launched. Drag and drop video files from your device or use the "+" button to browse for them.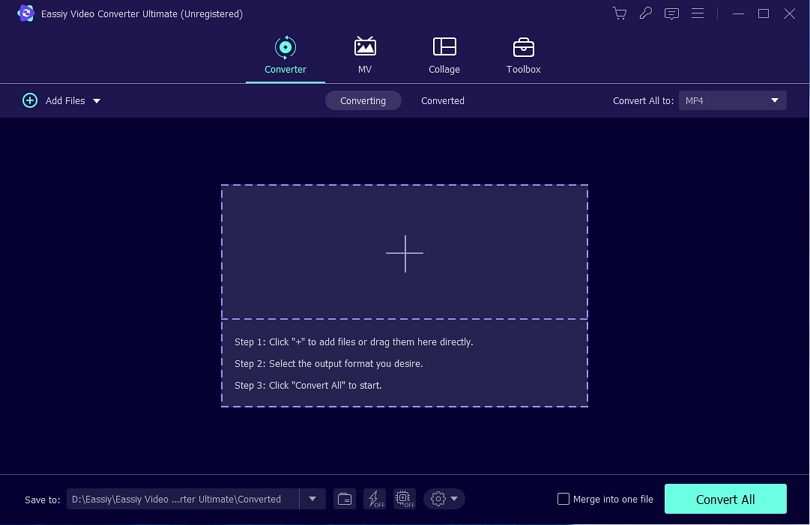 Step 3: Choose Your Video's Output Format
Once the video has been uploaded, choose MP4 video formats from the drop-down box on the Convert All to tab. alternately, click the format icon to the right and individually choose each video format you desire.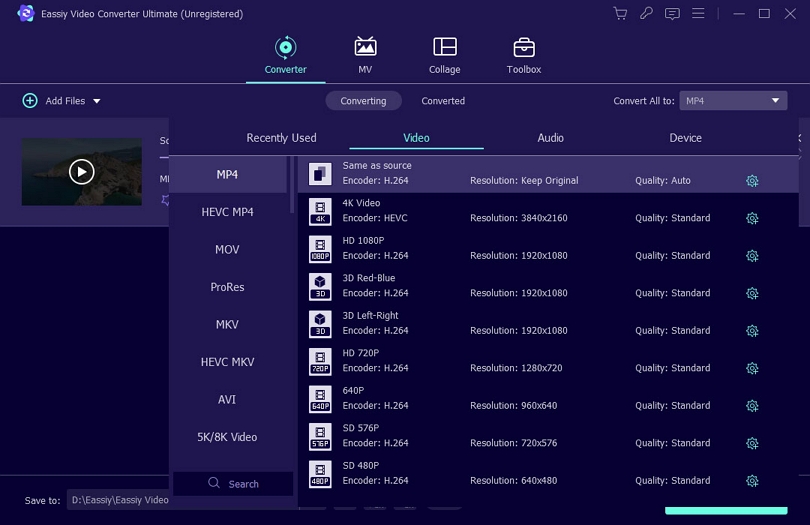 Step 4: Convert the video
Click the "Convert all" button to start converting your videos right away. If you'd like, you may edit the Save to path by tapping the arrow key at the bottom.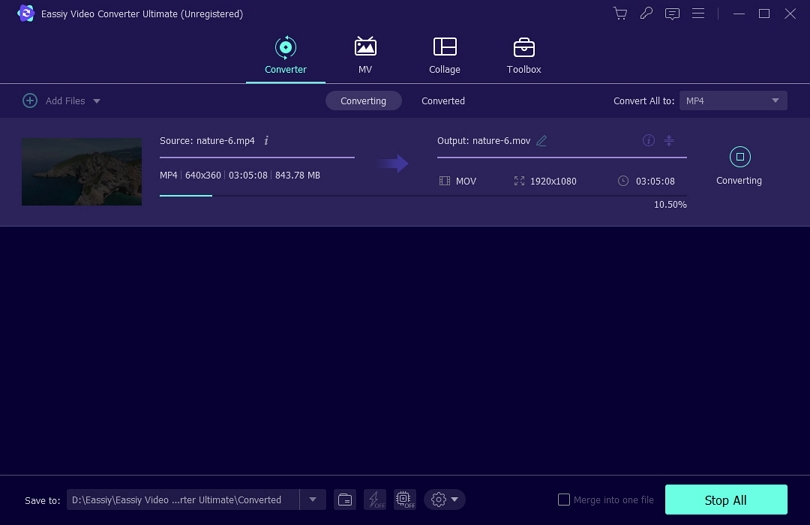 The conversion's progress bar will be visible. The interface will display "Success" after the operation is finished, and Converted will have a red mark to its right. Additionally, the software will instantly open the folder where the finished Video is kept.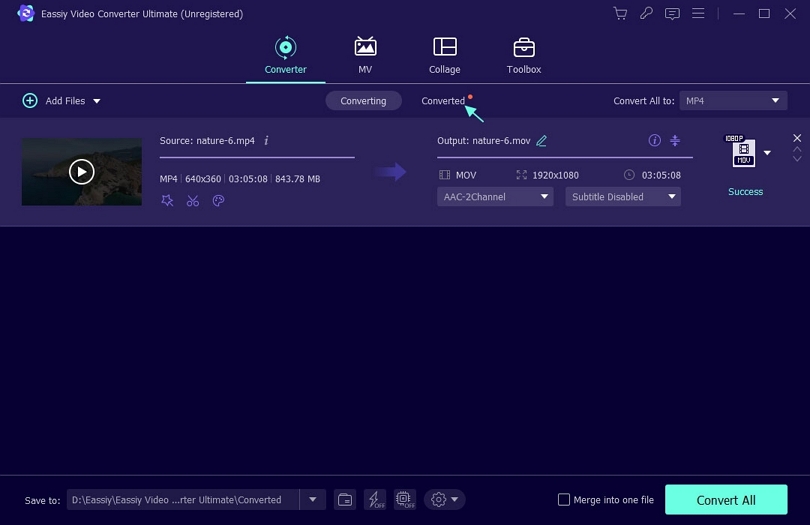 The main advantage of utilizing this program is that it works with over 150 different devices, including the iPhone and iPad, and supports a wide range of video formats. Your videos can also be converted into 2D or 3D video formats.
Method 2: How to Convert MKV File to MP4 Using Permute on Mac
Because macOS doesn't natively support MKV, there may be a high demand from Mac users for an MKV to MP4 converter. You would need to convert an MKV file into an MP4 if it were provided to you. Here, Permute, a flexible video converter for macOS users, is what we advise you to utilize.
Step 1: Download Permute and launch it on your Mac. From the menu bar, select "File > Open."
Step 2: Select "Open" after uploading the MKV file you wish to convert to MP4. Then select "MP4" from the drop-down menu by clicking "Video" in the top-left corner of the screen.
Step 3: To begin the conversion, click the "play" button in the MKV file's sub-window.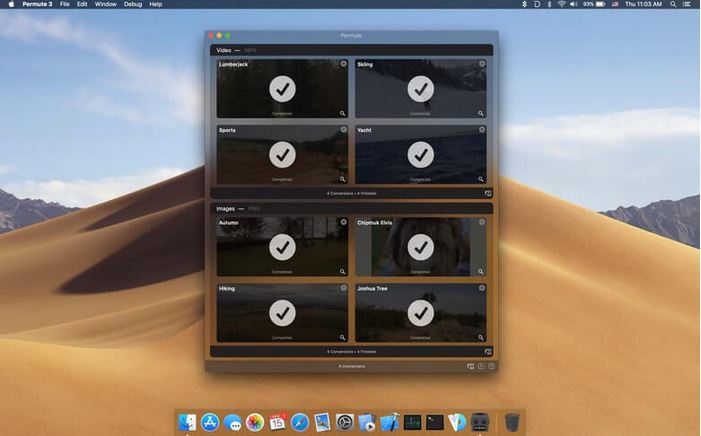 Method 3: How to Convert an MKV File to MP4 Using Freemake
Freemake has almost ten years of experience as a popular free video converter.It is distinguished by its speedy, trustworthy converting process and large range of supported video formats, which unquestionably includes converting MKV to MP4 on Windows 10/11. The produced video typically bears an obtrusive watermark, which is detrimental for Freemake.
Step 1: Launch the program on your computer after downloading it for free. To import the MKV video files you want, click the "Add Video" button.
Step 2: From the output format bar at the bottom of the interface, select "to MP4" as the output format.
Step 3: On Windows PCs, click "Convert" to convert the MKV format to MP4.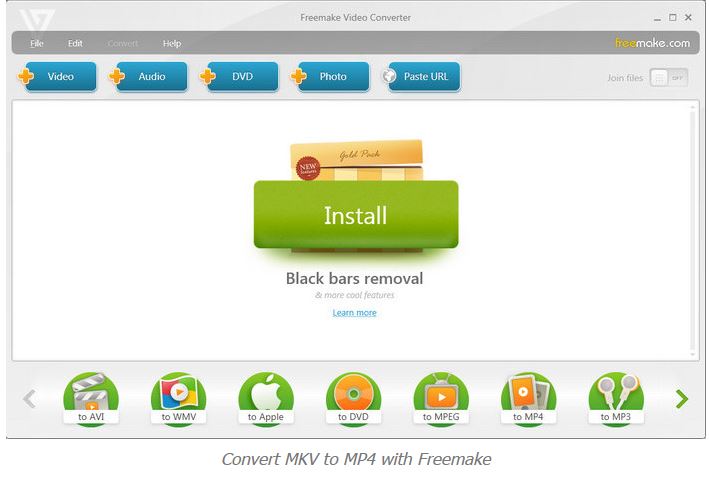 Method 4: Convert MKV to MP4 VLC Media Player
VLC is a well-known, free multimedia player that allows playing back a variety of video formats. Additionally, VLC may be used as a video converter to switch from one video format to another, such as MKV to MP4. If you don't want to install any additional software on your computer, it adequately satisfies the typical video format conversion demands on Windows and Mac, even though it may not be as powerful as professional video converters.
Step 1: Launch VLC on your computer (for this example, use a Windows 10 PC). Click Media in the toolbar and choose Convert / Save to open a new Open Media window.
Step 2: To import your desired MKV video, click the Add button and then navigate. It allows you to import many videos at once. Next, select the Convert/Save button.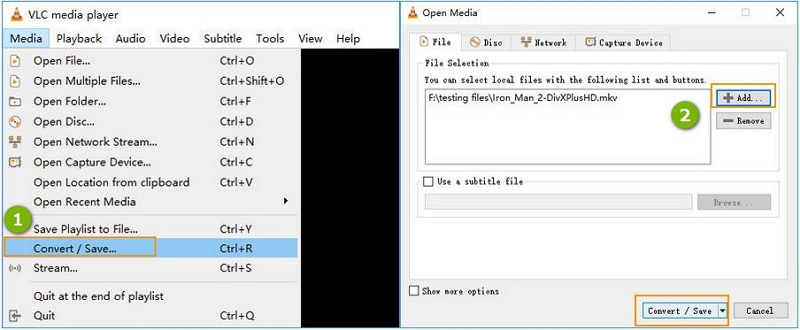 Step 3: For the output format, select Video - H.264 + MP3 (MP4). The Edit selected profile button is located next to the drop-down list, and it allows you to customize video parameters like the video/audio codec and subtitles.
Step 4: Select the output video's destination path by clicking Browse.
Step 5: To convert MKV to MP4, click Start when finished.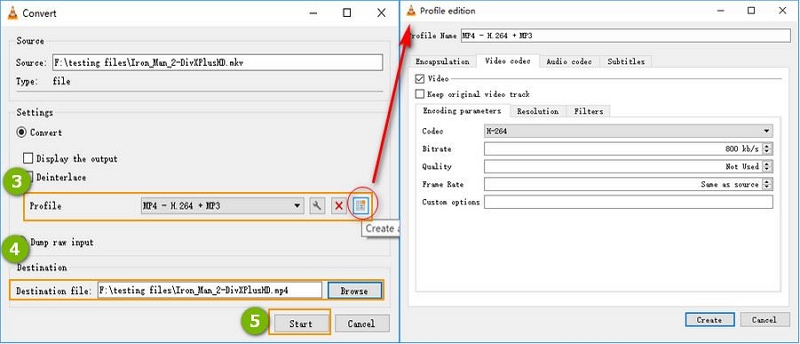 Method 5: Convert MKV to MP4 Windows 10 on HandBrake
If you want another free method to convert your file formats with high-quality then you can use HandBrake. It's a free and open-source program that's highly helpful. The program essentially has a various pre-set file conversion options and it can be easily used as a video encoder. You can download the software for free on the HandBrake website.
Step 1: First download, install and launch the Handbrake program on your computer. From the main interface, select "Open Source" from the menu at the top.
Step 2: Now you need to choose the MKV file that you want to convert to MP4.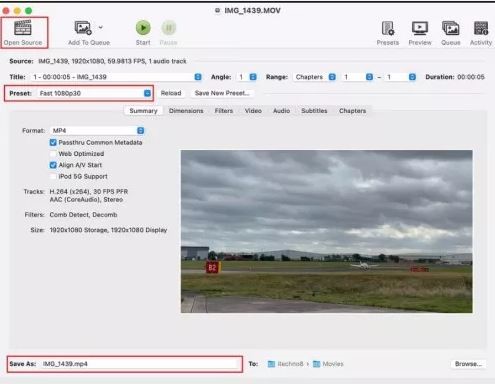 Step 3: After you have imported the MKV file in Handbrake, you can select your desired output file format MP4 from the "Preset" menu. Moreover, to set the output folder where the converted MP4 file will be saved, use the Save As menu from the bottom of the window.
Step 4: If you want to batch convert your MKV files to MP4, you can use the "Add to Queue" option from the interface. After adding the first file to the queue, you just need to open a new window and add a new MKV file to the queue. And keep doing it for multiple MKV files.
Finally, you need to click on the "Start" button to begin the conversion process once Handbrake has finished loading all the MKV files.
Method 6: How to Convert a MKV to MP4 with VideoCandy
With the free online tool Video Candy, you may start converting videos right away without creating an account.
Step 1: Go to the official MKV to MP4 website of Video Candy.
Step 2: To import your MKV into Video Candy, click Select File. You may use it to load videos from your PC or by URL from OneDrive, Dropbox, and Google Drive.
Step 3: Click the Convert button to begin the conversion process and wait.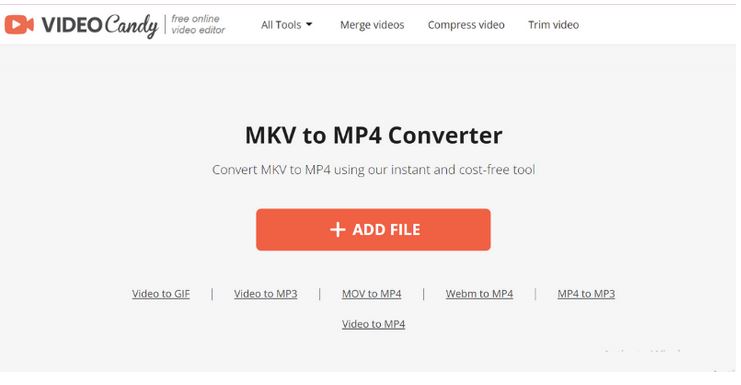 Part 3: FAQ on How to Convert MKV to MP4
1. MKV or MP4—which is superior?
Each video format has benefits and drawbacks. Simply put, MKV is more frequently used to convert DVDs and Blu-Ray discs into video files, although MP4 is more compatible and has lower file overhead.
2. Is it possible to convert MKV without losing quality?
Using the ground-breaking SuperSpeed mode of Eassiy Video Converter Ultimate, you can transfer MKV to MP4 without losing quality.The application allows for batch processing, which accelerates conversion. This clever program can also convert MP4 to MKV.
Conclusion
Choose the best MKV to MP4 converter from the list on this page based on your needs whenever you need to convert MKV to MP4 to fix an issue with incompatibility on specific devices or reduce the file size. We advise Easaiy Video Converter Ultimate if you are a frequent user. You may effortlessly convert MKV files into MP4 without losing quality with the aid of this software. Additionally, you may quickly complete various video or audio conversion jobs with it. The media converter is worth a shot, in my opinion!