If you have a YouTube account, you must have noticed there are loads of files on your computer. For example, if you open up your media files using Windows Explorer and sort them by type and name, you'll see a lot of files with the extension ".mp4". These are just video files that were encoded into MPEG-4 (or MPEG). In the same way, videos can be encoded into other formats such as MP3 or FLAC. Videos can also be saved as multiple versions of MP4. The most popular version is the .mp4 format which is used by almost every operating system today, like Windows 10 and Android devices. The real question is, how do you convert a video file to MP4?
In this article, we'll introduce you to eight easy and effective ways to convert video to MP4 on any platform (PC, Android, iPhone, Online) you want these procedures to apply.
Part 1: Can We Convert Video to MP4?
It is possible to convert videos to MP4, but it will take some time and need the assistance of some video converting programs. The first thing you need to do is make sure that the video file is compatible with your computer's operating system. The two most common formats are:
MPEG-2 video (MPEG2 Video)
MPEG-4 AVC/H.264 video (H.264 Video)
If you don't know which one your file is, it's best to convert them both so you can see which one works best for your system. Once you've done that, you'll need a program that can help you convert videos from one format to another. There are many applications available online both free and paid. Also, there are web-based tools that can easily carry out any video conversion process free of cost. MP4 is a container format that allows for more efficient compression of the video file. Because of this, it is better for viewing on your computer or mobile device. It's why converting your videos to MP4 is a good idea.
Part 2: How to Convert Video to MP4 on PC [Windows/Mac]?
Typically, when you download a video from the Internet, it is in MKV or AVI format. So, you'll need to convert the video to MP4 format in order to make it compatible with digital devices or video players. In this section, we will show you how to convert video to MP4 on your Windows device using several programs. Let's get this party started!
Method 1: Best Way to Convert Movies to MP4 - Video Converter Ultimate [Recommended]
If you've ever wanted to convert your video files to an MP4, you may rely on Eassiy Video Converter Ultimate, an excellent program for converting any video content to MP4. Not only that, but you can use this tool to easily convert videos of any popular format to any other file type. Over 1000+ video/audio formats, including AVI(XVID), WMV(VP6), MPEG-2 PS2(DVD), and others, are supported. Furthermore, this utility can convert HD/4K/5K/8K videos from Drones, GoPro, HD cameras, Camcorders, and other devices to any format for viewing, including H264(AVC) and H265(HEVC). On top of that, Eassiy includes a number of tools that allow users to edit, compress, and make collages, which is excellent for both professionals and beginners who wish to make standard video content.
In terms of video editing, this tool allows you to combine several clips and reduce video information to make a standard video size for any web-based platform. You may also add professional effects to your video files, such as sepia tone or black-and-white filters. To make your MP4 file as smooth as possible, the software makes use of GPU acceleration technology. Eassiy additionally employs multi-core CPU optimization to ensure that each file is converted as quickly as possible without sacrificing quality. So, when it comes to MP4 conversion tasks, Eassiy Video Converter Ultimate could be your one-of-a-kind solution out there.
Features:
This tool can convert video files to MP4 format in HD, 4K, and up to 8K quality.
It supports over 1000+ different video and audio formats.
It supports GPU acceleration as well as batch conversion technology.
The application provides over 20 multimedia tools for a variety of video editing projects.
For optimal performance usage, multi-core CPU optimization is provided.
Step 1: First, go to Eassiy's official site and download the Windows application. Then, install and open the program on your PC.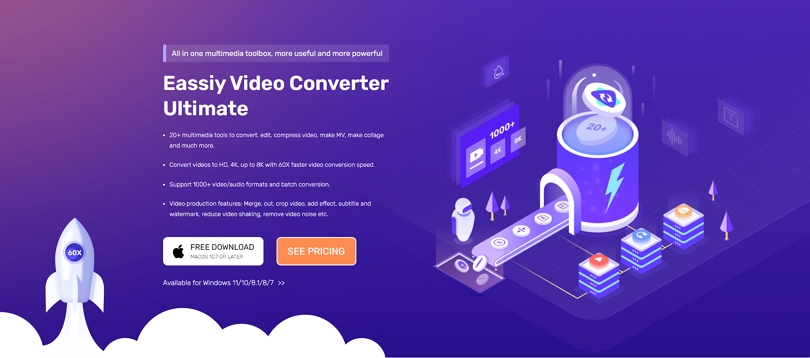 Step 2: When you launch the software, you'll get the following interface, from which you may select which video files to convert.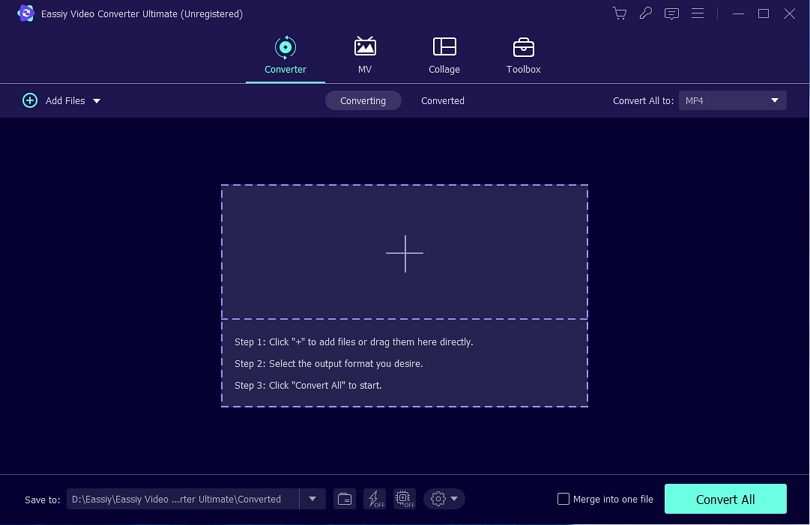 Step 3: After uploading the media, go to the "Convert All to" tab's drop-down menu and choose one of the video formats, in this case, MP4, for your final converted video. You may also go through each video format one by one by clicking the format icon.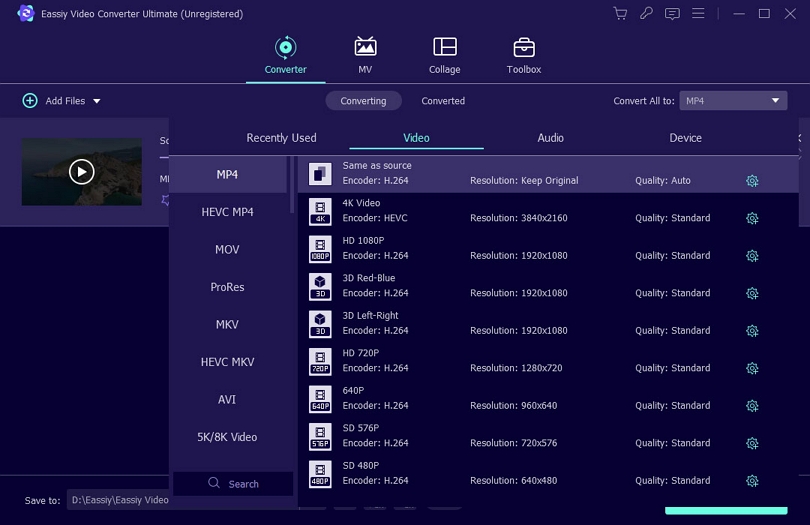 Step 4: Finally, choose "Convert all" to start converting your videos. Using the arrow keys at the bottom, you can change the file location to your preference. A progress indication for conversion will be displayed. When the procedure is finished, the interface will display "Success," and Converted will have a red mark to the right. Furthermore, the program will immediately identify the location of the converted video.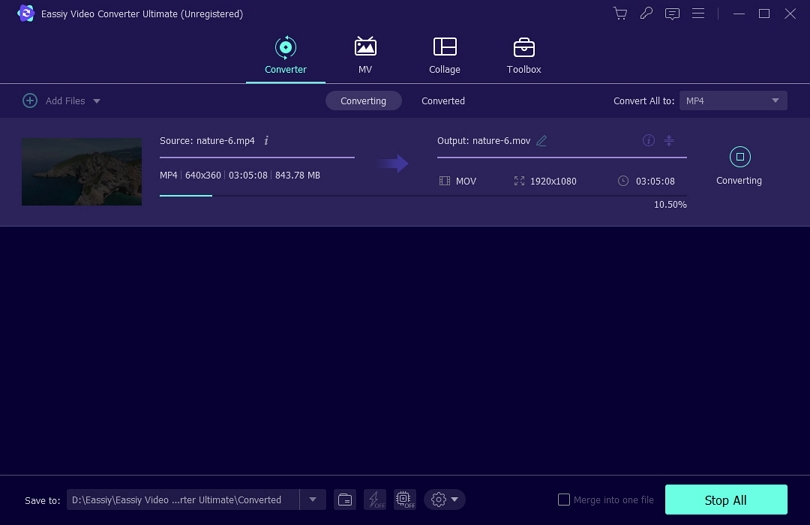 The final output, which is an MP4 video file, now can be accessed from your device.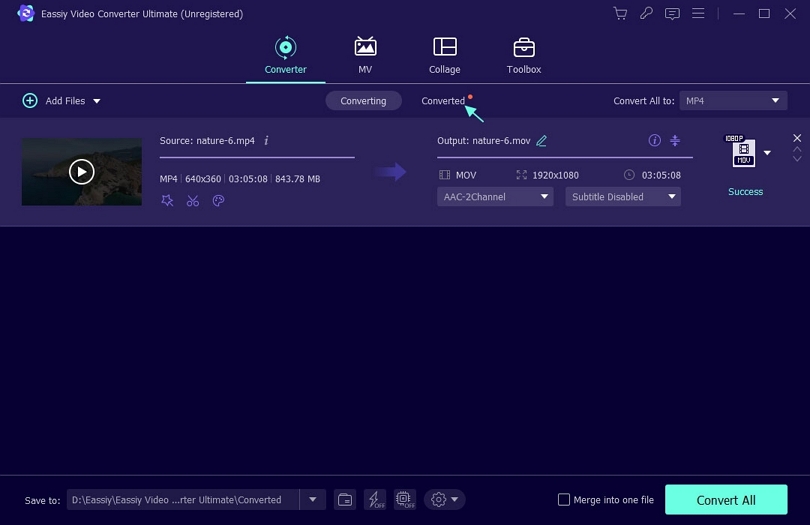 Method 2: How to Convert a Video to MP4 with Freemake
Freemake Video Converter freely transforms video and movies across 500+ formats, including web videos. You can carry out the conversion to MP4, MP3, AVI, WMV, DVD, iPhone, Android, and other major formats with this tool. In other words, you can convert any size or type of video file for free in this program. Apart from converting video files, Freemake can also rip and burn DVD/Blu-ray, Cut, Join, and Rotate clips, Embed video to online sites, Convert movies with subtitles, and Upload clips to YouTube. It's a versatile application for video conversion, compression, and shearing solutions.
Step 1: First, get and install Freemake for your laptop or desktop PC.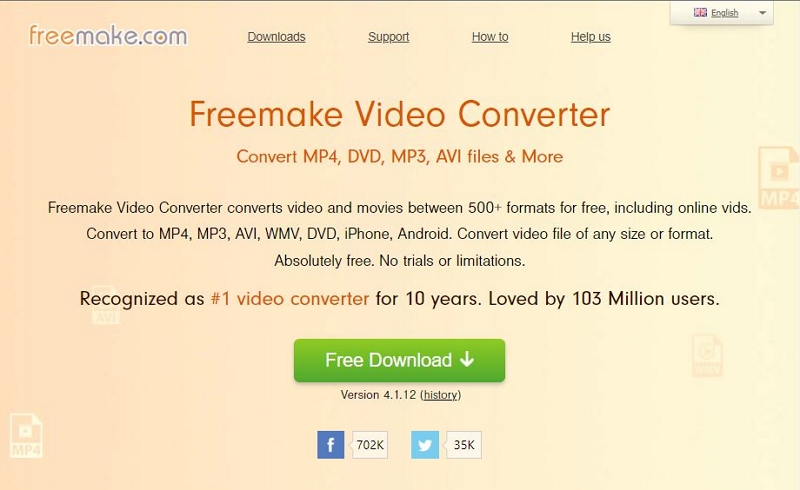 Note: Please keep in mind that the freeware is not Mac-compatible.
Step 2: Choose the video files to be transcoded. And then drop them into the app. You may include as many files as you want.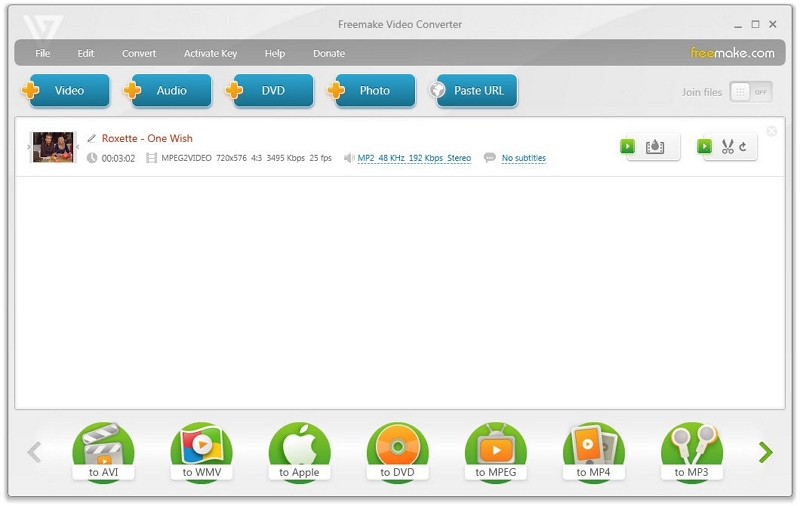 Step 3: Next, at the bottom of the software's screen, select "to MP4".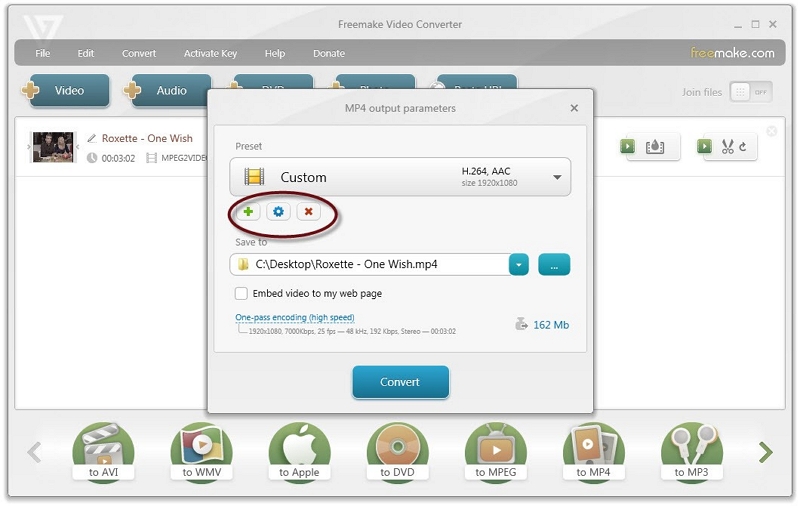 Step 4: When you select the "to MP4" output format, a window will display where you may configure the final MP4 clip settings.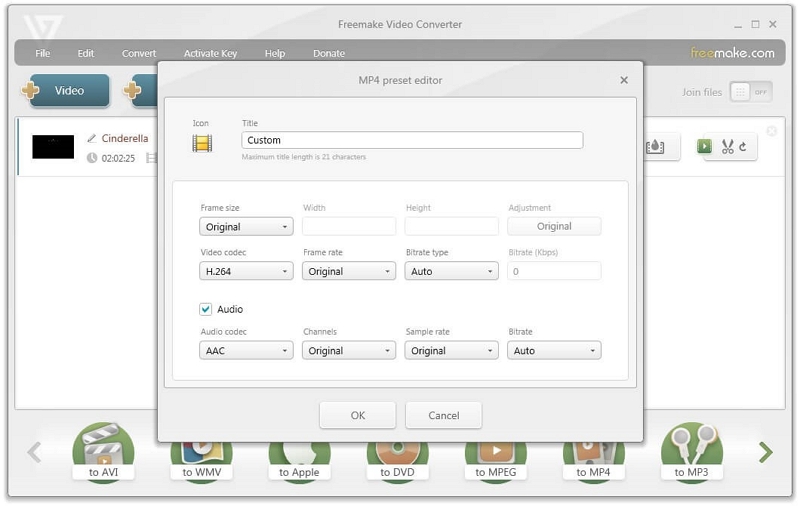 Step 5: Finally, choose a location for your MP4 clips. It is not essential to save files on a PC, instead, select your cloud drive folder or a USB flash drive as the encoding destination path.
Step 6: When you're finished with the settings, click the "Convert" button. Depending on the capacity of your PC, the file-converting procedure may take some time.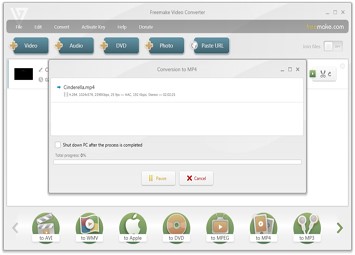 Method 3: How to Convert Video Files to MP4 Using Free MP4 Video Converter
Free MP4 Video Converter is a video conversion program that allows you to convert any MP4 video file to be compatible with the Amazon Kindle Fire, Apple iPod, iPhone, iPad, Blackberry, HP Touchpad, and other devices. The application accepts the following input formats: .avi, .ivf, .div, .divx, .mpg, .mp4, .m4v, and so forth. The interface of Free MP4 Video Converter is fairly simple, allowing you to drag and drop any file type from the list above and convert the files fast in only a couple of steps. Choose the device you wish to use to play the file, then proceed.
Step 1: First, download and install the Free MP4 Video Converter on your computer.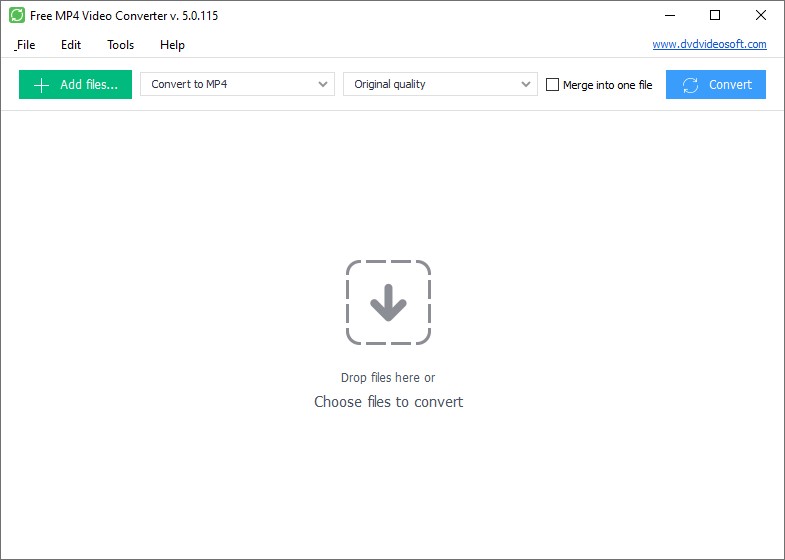 Step 2: Next, click the "Add files" option to choose any input video file from your device.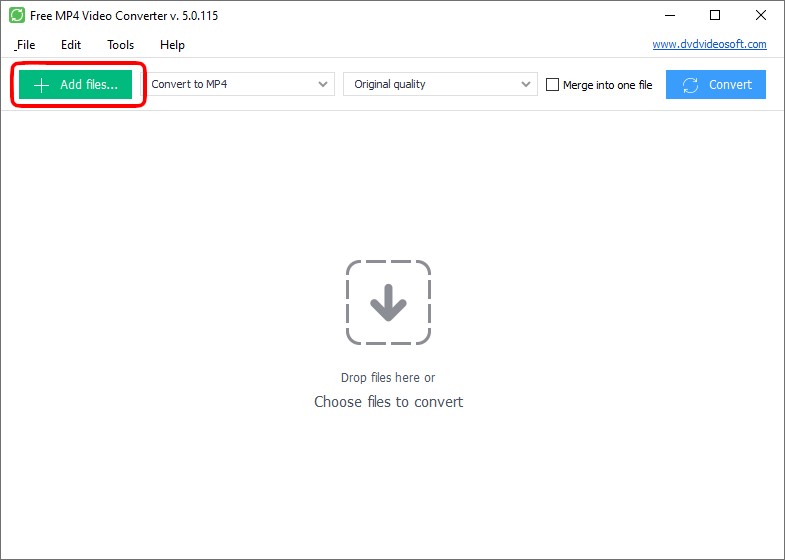 Step 3: Choose presets by selecting your device, screen resolution, and other settings from the mp4 converter's main submenu.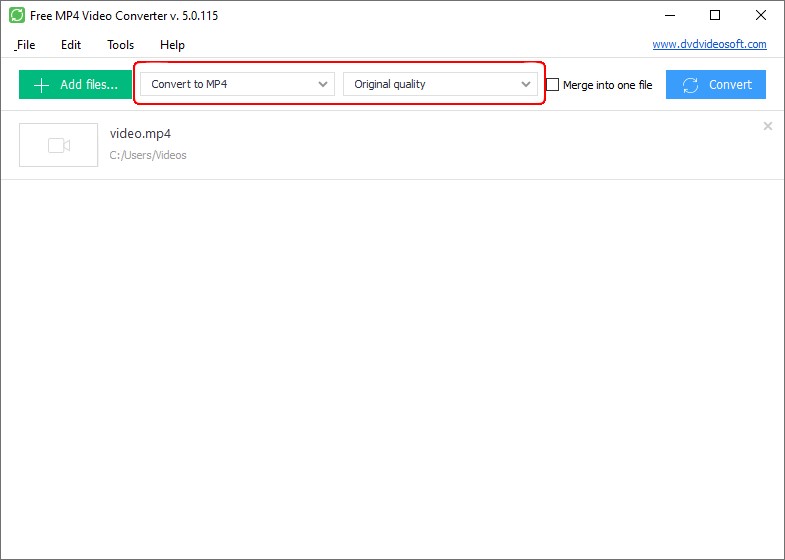 Step 4: Finally, press the Convert button and wait for the video to finish converting.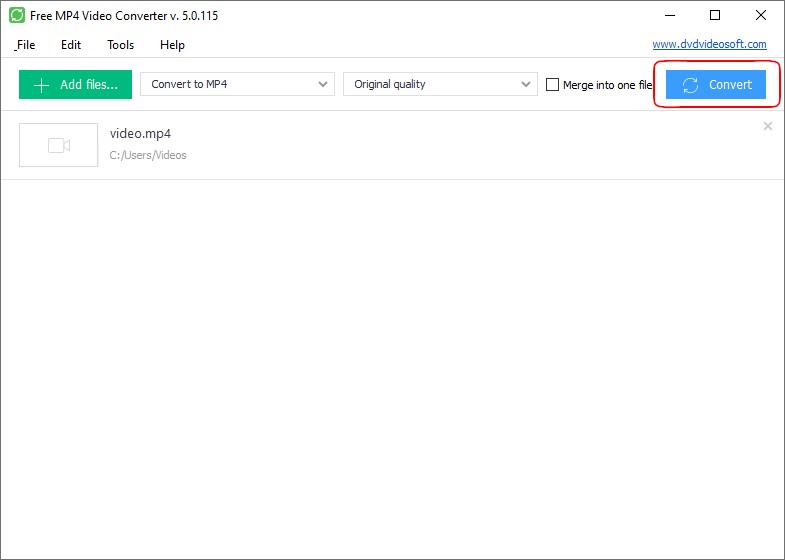 Note: You may configure the computer to switch off when the conversion procedure is complete before pressing the Convert button. To do so, simply go to Tools - Options - Advanced and click the relevant item.
Part 3: Convert to MP4 Online Free
Aside from offline apps, there are also extremely effective online solutions for converting any video format to MP4 that function flawlessly. Let's investigate these web video converting programs and determine which one is ideal for you.
Method 1: How to Convert MP4 from Videos by Adobe Express
Adobe Express is an effective and easy-to-use template-based web application for quickly creating engaging online content. Adobe offers a simple online medium for converting any video format to MP4 with ease. Furthermore, with Adobe Express you can easily modify the length of your clip with an effective trimming tool. This program also allows swiping the handlebars to customize the options for editing your video content. You may also silence the audio of your converted video clip using the Mute option. In other words, Adobe Express is a valuable web tool with some outstanding features that will make your converting procedure more productive and efficient.
Step 1: First, you need to visit Adobe Express by following this link below: https://express.adobe.com/tools/convert-to-mp4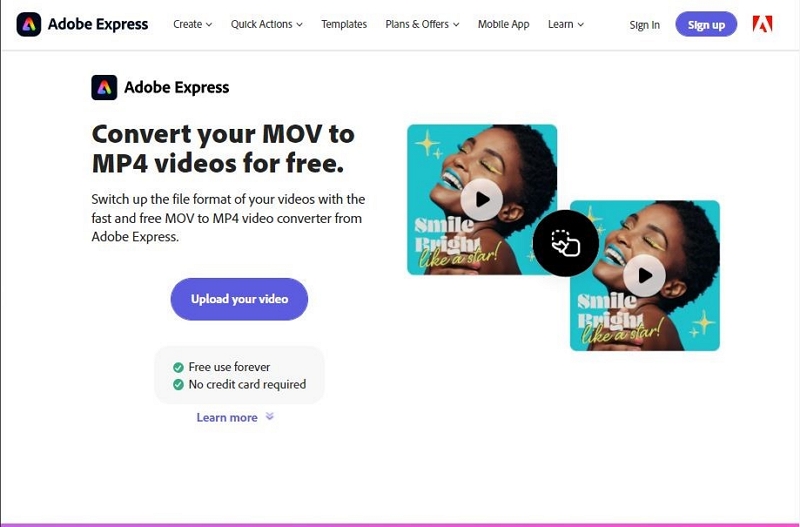 Step 2: Next, click the "Upload your video" option to select any video file from your device that you wish to convert to MP4.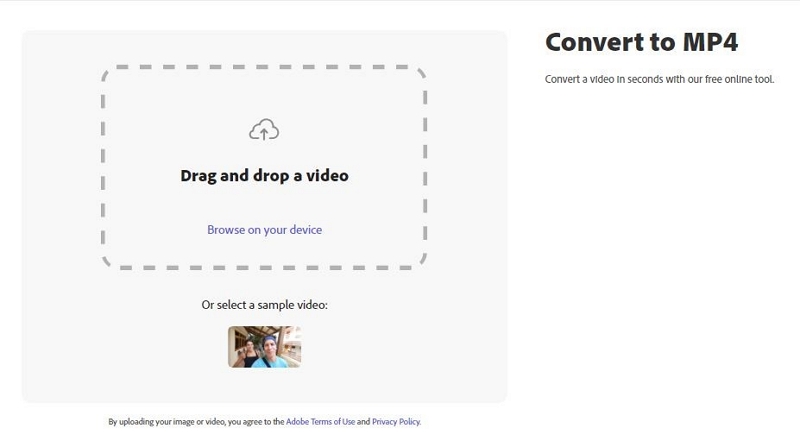 Note: Videos of up to an hour in length can be converted. No more than that.
Step 3: Your video will be converted to MP4 automatically after uploading. If necessary, you may additionally cut, mute, and preview the output.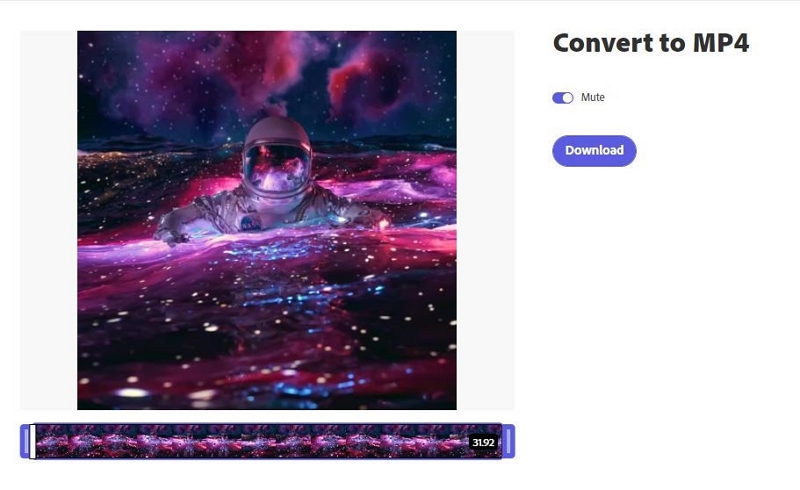 Step 4: Finally, just hit the "Download" button to save the fully converted MP4 file.
Method 2: How to Convert to MP4 Online via ConvertFiles
Convertfiles.com provides an easy way for online video to MP4 conversion. Convert video to MP4 in a few simple steps by uploading the video clip to be converted. Choose MP4 as your output file format and press the convert button. Wait a few moments and your conversion will be finished. Your MP4 file will be available for download. You may also deliver a download link to your email if you like. It's a completely free and safe procedure. ConvertFiles also provides several file converter categories, like archive converter, document converter, e-Book converter, and so on. When it comes to video file size compatibility for conversion, ConvertFiles supports files up to 250 MB in size.
Step 1: First, visit "https://www.convertfiles.com/" and there select any video format from your device for MP4 conversion by clicking the "Browse" button.

Step 2: Next, select a destination format which will be MP4, by tapping the down arrow sign from the "Output format" option.

Step 3: Finally, press the "Convert" button to convert and download your output file immediately.

Method 3: How to Convert File to MP4 from Kapwing
Kapwing is a collaborative video editing tool that allows users to produce video content collaboratively from scratch. It's also an effective tool for converting your video to another format and assisting you in taking your work to the next level! The online video converter from Kapwing supports a variety of file formats, including 3GP, MOV, WEBM, GIF, and others. This web application is user-friendly. Just upload your original video to Kapwing, then choose a file type and let the converter do the rest. In addition to converting videos, you can also cut, merge, crop, and resize them, as well as add music, text, animations, and transitions to your video file.
Step 1: Go to "https://www.kapwing.com/tools/convert" and upload the video you want to convert. Your video can be in whatever format you like. If your video is not in a browser-compatible format, it will be converted to mp4 before being uploaded.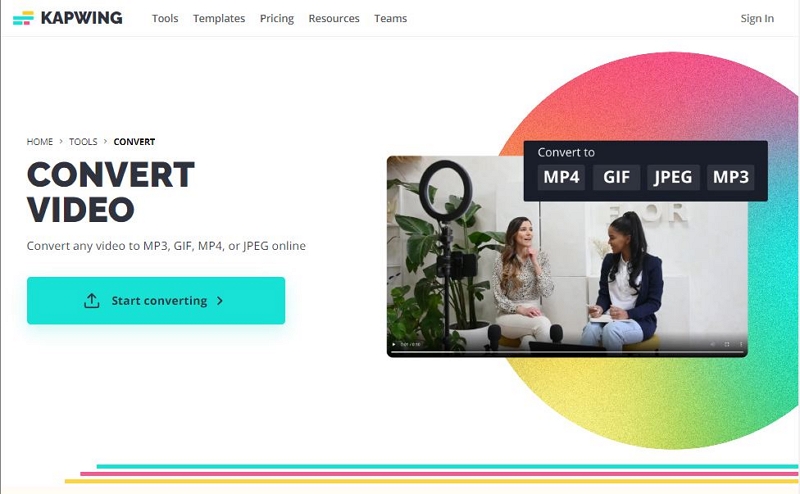 Step 2: Next, click Export Project to choose the output format of MP4 for your video conversion. Before completing your conversion, you can cut or alter your video to better suit your needs.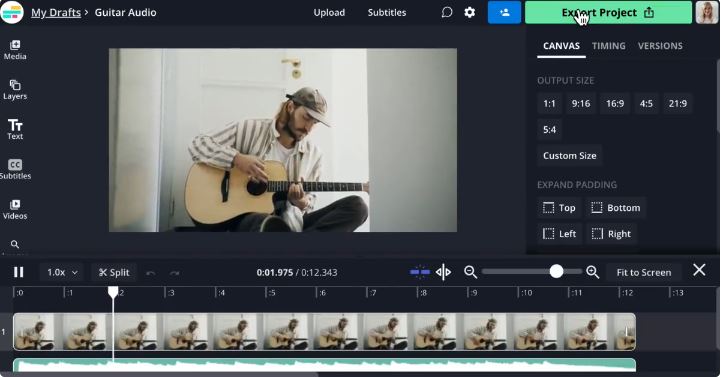 Step 3: Finally, to process the converted video, click Export. Now, download, save, and distribute your new video to your friends.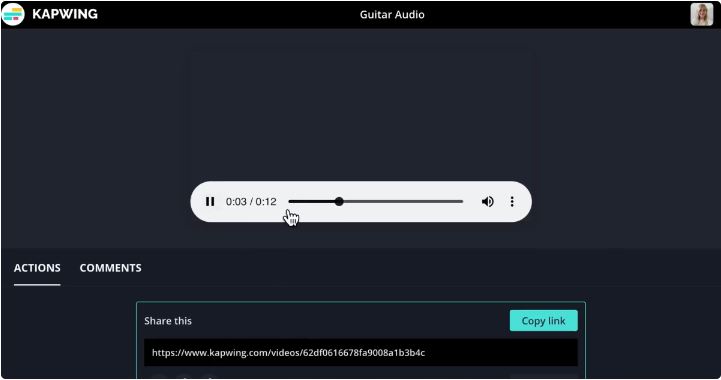 Part 4: How to Convert Videos to MP4 on Android
VidSoftLab Video Converter has an amazing user interface and a plethora of capabilities, such as video converting, chopping, compression, joining, and stabilizing, to mention a few. It can convert videos to MP4 on Android, as well as FLV, WebM, MKV, 3GP, MPEG, and presets for Windows, Apple, and Xbox. Premium is required to encode 4k and 1080p MOV videos. Otherwise, the generated MP4 video can only have a maximum resolution of 960p. However, according to the opinion of several customers who purchased the premium version, there was no difference in quality.
Step 1: To begin, launch VidSoftLab Video Converter.
Step 2: Next, click the "Video Converter" tool on the main screen.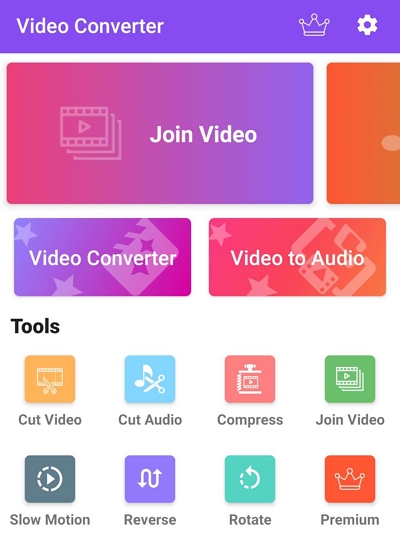 Step 3: Choose a video format from your Android device by tapping the arrow in the lower right corner of the application.
Step 4: Select a format. The default "Common" setting is fine and then hit "arrow" once again.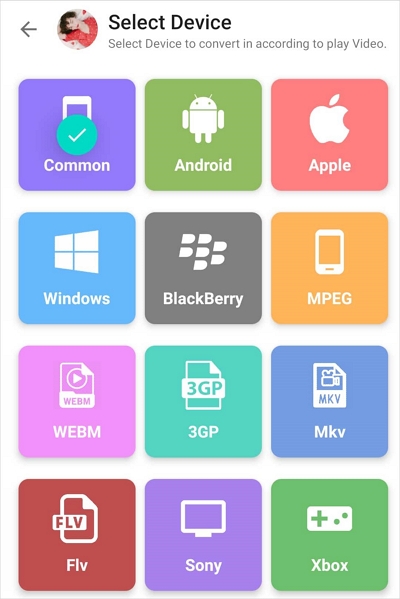 Step 5: Continue by configuring the video and audio settings to your liking.
Step 6: To change the video format on Android, use the "right" button.
Part 5: How to Convert a File to MP4 on iPhone
Media Converter is a popular free software for converting audio and video files on your iPhone, with over 12,000 reviews. One of the app's advantages is that it does not add a watermark to your video. Another advantage is that the program does not require an online connection to transcode videos. As a result, you don't have to be concerned about poor upload and conversion speeds. So, this application is a great option for converting any video to MP4 on your iPhone device.
Step 1: Start the Media Converter application and select the Import Files (+) option.
Step 2: Next, choose Import From Photo Library from the drop-down menu of the application.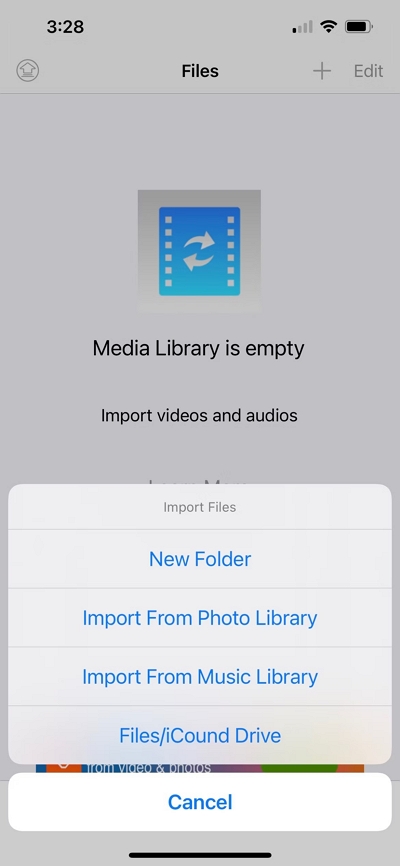 Step 3: Choose the video to be converted and select Done.
Step 4: In the Files list, tap on the freshly imported file. Choose Convert Video (Trim) and select mp4 as the format option.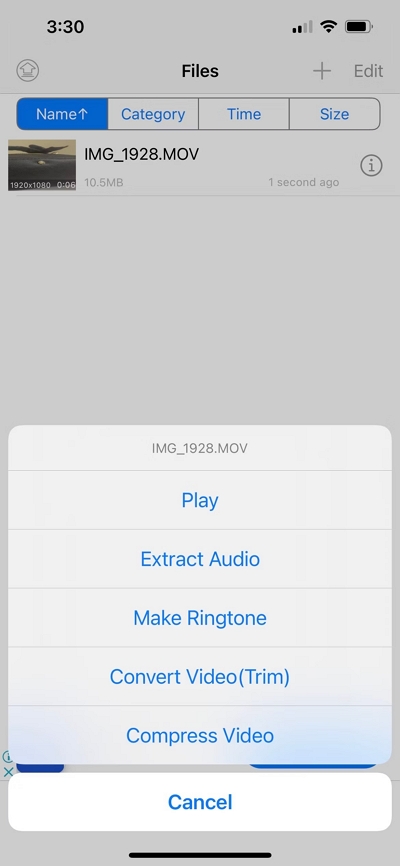 Step 5: Click the Convert button (the icon shows an arrow coming out of a box). Finally, your converted video is now in the Files list with the file extension.mp4.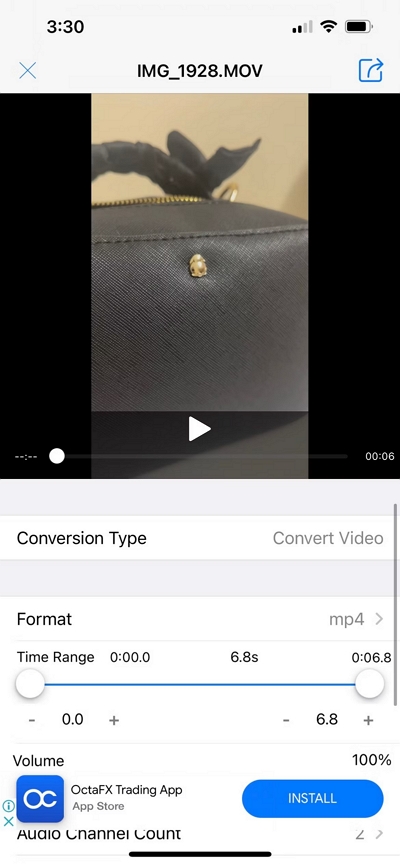 By pressing on the Information icon, you may download or share your MP4 video. Then, depending on your file destination, select Save to phone album or Send and Share.
Part 6: FAQ to Convert Video to MP4
1. What exactly is the MP4 format?
MP4, also known as MPEG-4 Part 14, is a digital multimedia container format that is most typically used to store video and audio but can also hold subtitles and still photos.
2. Which video format is the best?
It's difficult to tell which video format is better. To select the best video format for your purposes, you must first grasp the differences between them.
3. How can I batch-convert videos to MP4?
Batch conversion is supported by several video converters. Simply import multiple videos at once, and it will convert them to MP4 in one go.
Conclusion
MP4 has become the de facto standard for any system, device, and future models. To adapt, conversion proves to be a reliable approach. To make this feasible, we've briefly discussed the many methods for efficiently converting any video format to MP4. One might choose to work in a specific way for convenience. However, free tools convert video to MP4, but it takes a bit of time and sometimes could be not that convenient in an overall spectrum. To address such issues, Eassiy Video Converter Ultimate is a powerful resource for converting any video file to MP4 and other formats. Its extensive capabilities provide a great deal of versatility while converting video files, guaranteeing that you obtain exactly the format that you want with no effort.