Are you eager to know how can you change the ringtone on an Android phone? Do you want to make new iPhone ringtones via your favorite music? Here, we are recommending an all-featured iPhone ringtone maker and transfer to help you convert MP3 to M4R ringtones for iPhone. Also, we will describe to you how you can easily transfer new ringtones to your iPhone and how you will be able to set ringtones on iPhone and Android.
Are you bored of using the same ringtone with others? You will come up with the idea to change your ringtone for different reasons. But do you have any idea about the way to set or change the ringtone on your phone?
You might still choose to set one of your favorite music as the new ringtone with many pre-installed ringtones, new mail alert sounds, text tones, and many more on your iPhone. Compared to setting ringtones on an Android device, you will not be able to directly set an MP3 song as an iPhone ringtone. For iOS devices, you need to convert the music in MP3, FLAC, AAC, etc. to M4R format. But do you know the process of making iPhone M4R ringtones?
Though, you can easily buy new ringtones via Apple iTunes store. But still, we would like to suggest you to make new iPhone ringtones by yourself.
This post will describe how to make your own iPhone ringtones. In the meantime, you will get easy ways to transfer these M4R ringtones to your iPhone. Moreover, you can learn the detailed steps to customize your Ringtone, New Mail Sound, Calendar Alerts, Text Tone, and more on your iPhone. For Android, you can set any music file as the ringtone and almost all audio types are supported, so here we are just listing the steps of setting ringtones on Android phones.
Part 1. How to make M4R ringtones for iPhone/iPad/iPod
Here, we sincerely recommend the powerful iPhone Ringtone Maker for you to quickly turn your favorite songs into M4R ringtones. This software highly supports any famous audio format such as MP3, WMA, AAC, AC3, WAV, etc. Additionally, many frequently-used video formats such as MP4, MKV, MOV, AVI, and more are also supported by this tool. By using this, you will be able to handily extract audio tracks from movies and convert them to iPhone ringtones.
Follow the below steps to make your iPhone ringtones:
Step 1. Open iPhone Ringtone Maker
By double-clicking the download button below, you have to free download, install, and run Eassiy Phone Transfer on your computer. Via a USB cable, connect your iPhone to your PC. The program will show your iOS device's basic information on the interface by automatically recognizing it.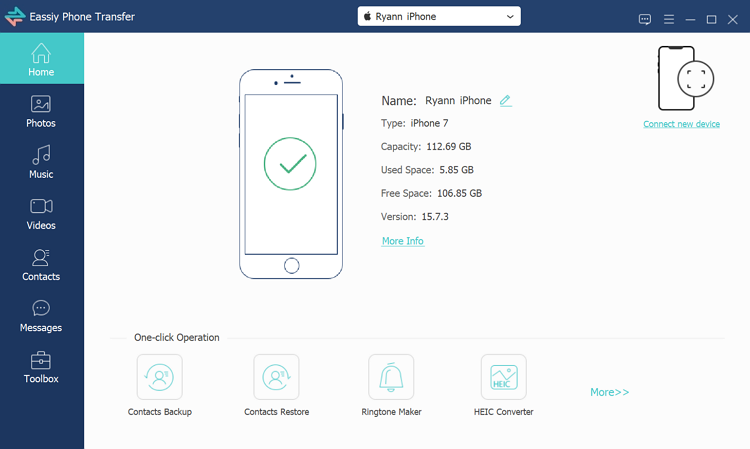 Select "Ringtone Maker" on the right by clicking "Toolbox" on the left.
Step 2. Choose music
To import the songs you want to create iPhone ringtones, two options will be provided here, "Add File from Device" and "Add File from PC". To upload your audio, click either of them.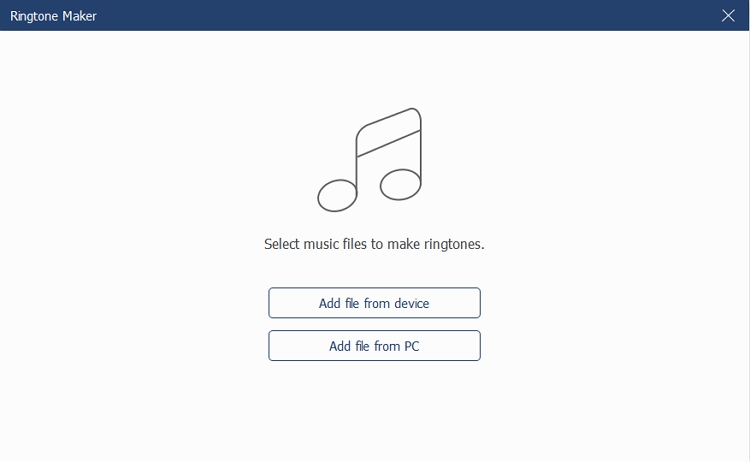 Step 3. Edit ringtone of iPhone
You can start to edit the uploaded audio when you enter the ringtone maker interface. You are eligible to cut audio to only save the necessary parts. In addition, you will be able to add "Fade in and fade out" sound effects to the output ringtone.
Step 4. Make and transfer iPhone ringtone
In this step, you will be able to connect your iPhone to this ringtone maker. Make sure the "Add to Device" option is checked after your iOS device is connected. To create your own iPhone ringtones, tap on the "Generate" button.
Automatically, the created M4R ringtones will be transferred to your iOS device. After that, you are allowed to set your preferred one as an iPhone ringtone.
Part 2. How to set iPhone ringtone
You will be able to make an iPhone ringtone and transfer it to the specific ringtone folder on your device with the method given above. Now, you can follow the below guide to customize your ringtone, new mail alert sound, text tone, and more on your iPhone.
1. Open the "Settings" app after unlocking your iPhone. Then click on the "Sounds & Haptics" options.
2. You will be able to change your Ringtone, New Mail sound, Text Tone, Calendar Alerts, and more by entering the Sounds & Haptics interface. To select and set a ringtone, click on the "Ringtone" option. Here, you will be able to these created iPhone ringtones.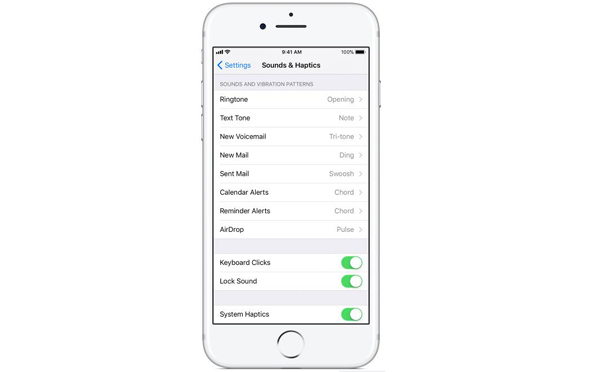 Also, you can set a Ringtone or Text Tone for modified content. Tap Edit in the upper-right corner after finding the person in the Contacts app. Select a new sound by tapping Ringtone or Text Tone.
Part 3. How to set Android ringtone
The operation of changing or setting ringtones on various Android devices is slightly different. Here we are taking Samsung as an example.
Click on "Sound and Notification" and "Ringtones" after finding Settings on your main interface. The default ringtones will be listed in the popup window. Click OK after selecting any one you like. Tap ADD and search the music if you want to add your own music as the ringtone.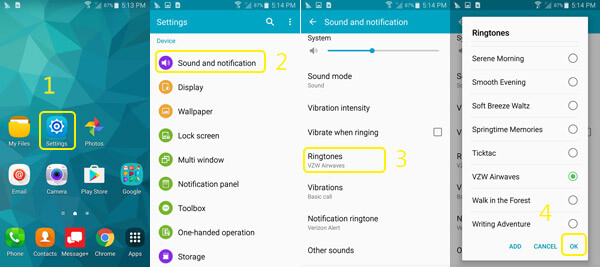 You might have found and set your favorite music as the ringtone by doing these. But you will not be able to set the start time of a song as the ringtone. As for the ringtone, you must have to set the whole song which might be not what you desire if the song is 4 minutes and 15 seconds long for example. Before you set the music as the ringtone on your Android phone, you had better trim the music with Eassiy Phone Transfer first.
In this article, we mentioned the way to make a ringtone and set a ringtone on an iPhone. Also, we recommended a great iPhone ringtone maker for you to make ringtones with your favorite songs. In addition, you will get a straightforward guide to setting different ringtones on an iPhone. You can leave us a message if you still have any puzzles.