How can you change the bitrate of MP3 the easiest way? Bitrate is in short the audio quality of a particular file. Generally, the bitrate identifies video and audio file quality and size. If the bitrate is higher; the file size and type are superior and more vast. So, it may have some restrictions like:
Files occupying extra computer space
The file shifting pace is too slow
Uploading files taking consuming time
The ideal way to overcome these limitations is to change the file bitrate.
The tedious audio file conversion task could be seamless using the best audio converter online tools. In addition, it reduces the need to install software on your device to perform audio file conversion. While tons of these tools are available online, here we have reviewed the seven best online audio converters you should try in 2023.
Practical Way 1: Eassiy Audio Editor [Best Pick]
Are you looking for a perfect way to change the bitrate of MP3 files? Eassiy Audio Editor can be the best pick for you to change the bitrate of audio files. With its easy and simple user interface, even the newbies can easily swap the bitrate of their desired file. This efficient tool provides numerous features to enrich your audio files such as trim, cut, crop, convert, compress, split, batch convert, etc. It has the fastest audio conversion speed in the market and doesn't affect the original quality of your audio. You can convert your audio into other formats smoothly. Besides this, it is the ultimate toolbox that also helps you to edit, convert, and compress video files. This software supports more than 1000+ video/audio formats including MP3, MP4, WAV, FLAC, AVI, MOV, MKV, etc. for conversion. Also, it has its own built-in editor to give you the best experience while editing your various file types.
Key Features:
With the fastest conversion speed, both audio and videos can be converted into various other formats.
Supports converting files into the batch and 1000+ numerous video/audio formats.
Comprehensive multimedia program with most tools in the industry.
Allows you to compress your audio files as per your demands.
Different audio files can be easily converted to videos with images or videos.
Steps to change the bitrate of MP3 via Eassiy Audio Editor
Step 1: First of all, visit their official website and download the software on your desktop. After that, follow the instructions to install it permanently. Once you are done with these things, launch the program by right-clicking on the icon twice.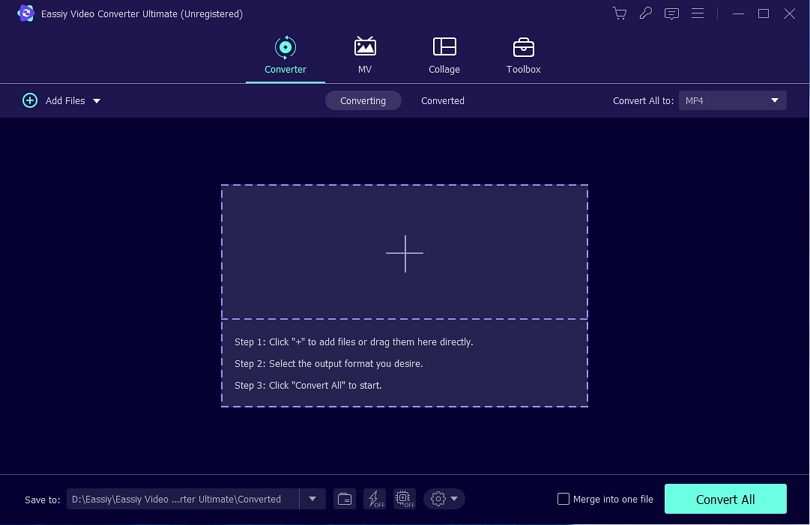 Step 2: Then you will see a pop-up window in front of you to upload your audio file. You can either drag and drop audio or tap the "+" sign to add an audio file to the program.
Step 3: Here you will be able to modify the name, size, format, resolution, bitrate, and where you want to save the audio file. Besides the "Size" option, you will find a slide and by sliding the dot, you can resize your audio file easily.
Step 4: Once you have done making changes to the setting, check the audio quality by tapping on the Preview button. To get your audio file to your desired bitrate, click on the "Compress" button and the file will be ready within seconds.
Practical Way 2: Online Audio Converter
Online Audio Converter offers a vast library of conversion options. You can use this advanced tool to convert almost any file online. The device is an advanced solution for users looking for an online solution to avoid installing software for file conversion. You can use this app to convert hundreds of files in a few simple clicks.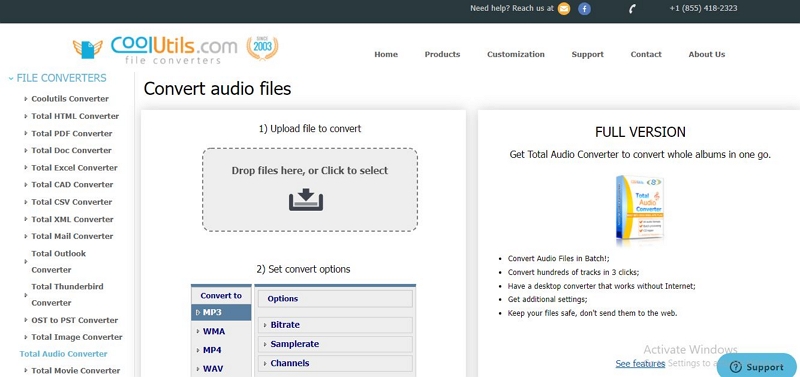 Step by step guide to change audio bitrate via Online Audio Converter
Step 1: Visit the online audio converter official website
Go to https://www.coolutils.com/online/Audio-Converter/. It shows the same interface as is given in the main image of the online software above.
Step 2: Upload your MP3 or audio file
Drop audio files or click to select in the Upload file to convert tab.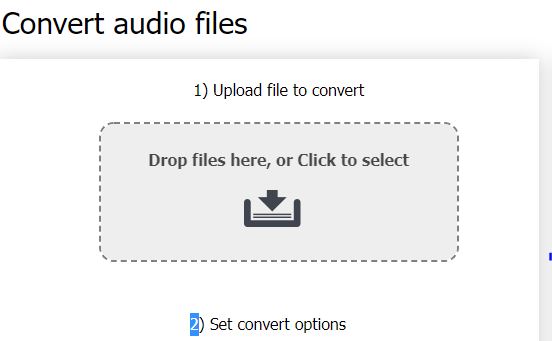 Step 3: Go to the Bitrate tab
Go to bitrate > MP3 and select the bitrate value in the given window below. Here, you may not get the option to increase the bitrate of MP3.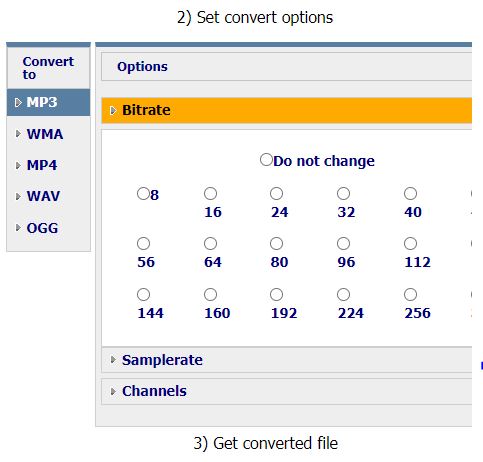 Step 4: Download MP3 file after modification
After changing the bitrate, click the Download converted file button as the final step below.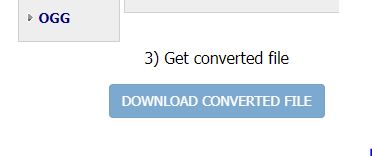 Final Verdict: Being an online software, you are left with particular security hassles while using it. Also, we've noticed the uploading and downloading speed is pretty slow, and it doesn't support batch tasks.
Practical Way 3: VLC Media Player
The VLC media player can not only convert between different video formats, but it also does the same with converting audio formats. Thought initially to play media only, this player has many additional functions. Those who need to transition between different audio formats do it for compatibility issues and size reduction. While most devices support almost all popular audio formats, we sometimes need to convert them for various reasons.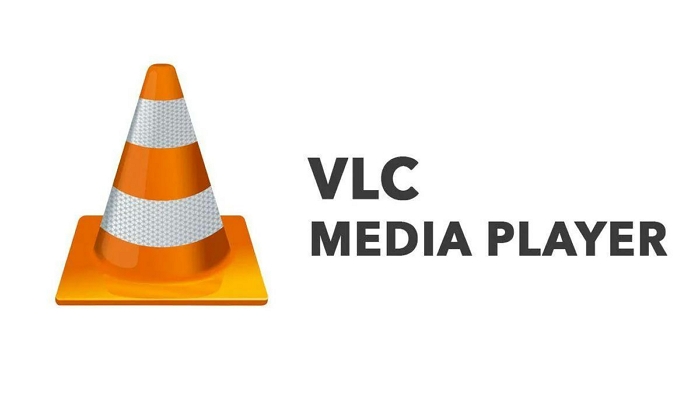 Step by step guide to change audio bitrate via VLC Media Player
Step 1: Go to Convert.
In the main panel, go to Media > Convert / Save [CTRL + R ].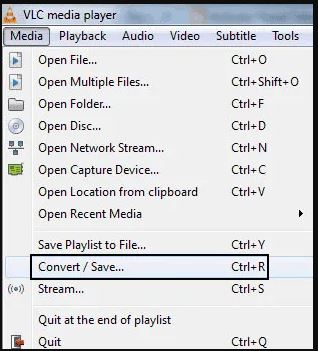 Step 2: Add MP3 file
Tap the Add option to browse your song file placed in the Open Media dialog. Then click on Open.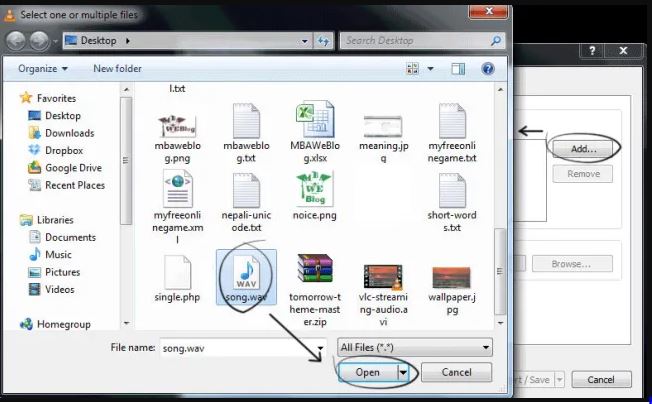 Step 3: Save the audio file.
Select the Convert/Save button to proceed to the next step.

Step 4: Change audio profile.
In the convert dialog box settings, only transform the Profile part. Choose the audio format. However, specific formats in the dropdown are Audio – MP3, Vorbis (OGG), MP3 (MP4), FLAC, CD. Next, choose the format you are converting to by default.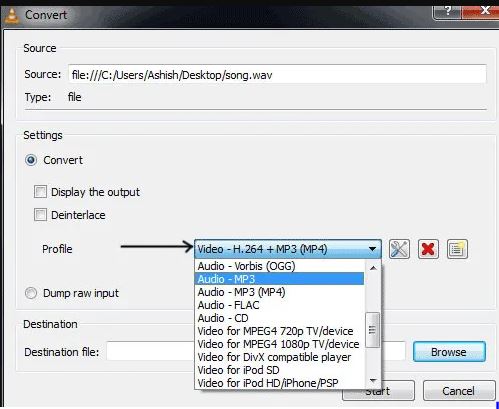 Step 5: Change bitrate
In the next option, switch to the Audio codec tab—Mark the "Audio" checkbox to activate it. You can set different options. You can change:
Bitrate: Type in the bit rate value like 128 KB/s, 256 KB/s, etc. Decreased bit rate value reduces the quality as well as the file size.
You can tap on create to save this new profile after choosing the options for the new profile. It will head you to the previous step, where you will find this new profile as an option from the Profile selection dropdown.
Final Verdict: So, these are pretty lengthy steps you need to follow to change the bitrate of MP3. And, we feel that using VLC media player also offers an outdated user interface than other latest and quick software available. However, there would be no security issues in using the VLC media player.
Practical Way 4: Joyoshare Media Cutter
Joyoshare MP3 Cutter can provide a secure solution for cutting without uploading any audio files to a cloud. It's specialized in trimming any audio tracks, like M4A, AAC, AC3, FLAC, AIFF, WMA, AU, MP3, etc., into different sections instantly. Moreover, there is no output quality loss.

Step by step guide to change audio bitrate via Joyoshare Media Cutter
Step 1: Import audio files
Click the "Download" button. Get the latest and updated version of Joyoshare Media Cutter set up on your PC. Open and then begin importing audio files with discordant bitrate. For this purpose, click the "Open" button or use the drag-and-drop function.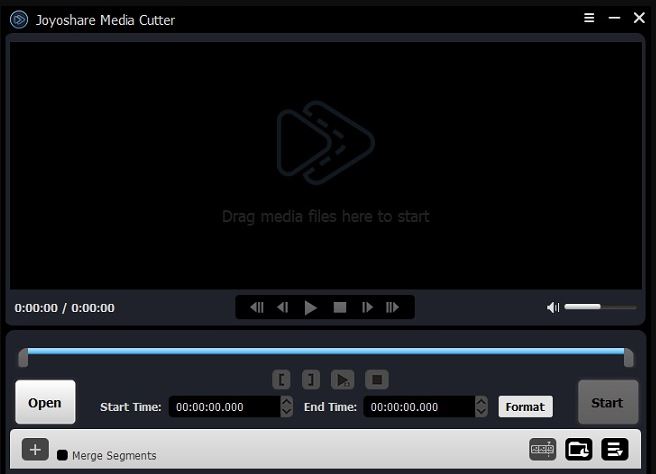 Step 2: Begin encoding
After uploading the MP3 file, start adjusting the "Format" button to the format customization. In the next panel, highlight the encoding mode first, please, because only with it can you make changes to MP3 bitrate. Then, select MP3 under the "General Audio" option. A gear icon appears at the top right corner of the selected format. It would help if you touched this icon to bring out a sub-menu and then hit the "Bit Rate" dropdown box to select a proper bitrate for your MP3 file. Depending on your needs, you can set 64kbps, 96kbps, 128kbps, 160kbps, 192kbps, 256kbps, or 320kbps as MP3 bitrate. Once done, click "OK."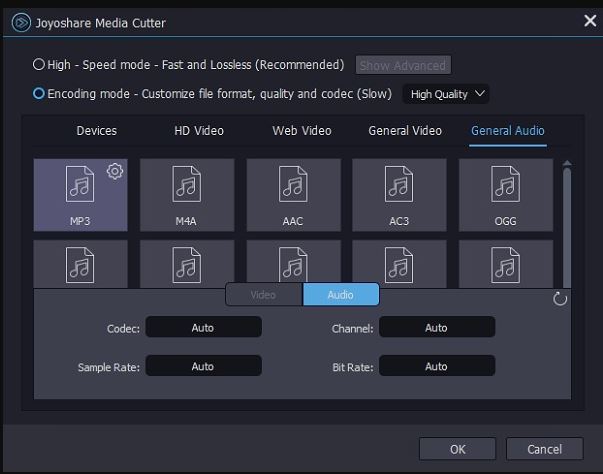 Step 3: Save MP3 file
Return to the previous window. If something is unwanted in your MP3 file, drag the timeline controller to remove or enter temporal interval to cut precisely simply. Besides, you can access the editing interface to trim MP3, apply sound effects, adjust volume, etc., to your heart's desire. Finally, press "Start" to export the resulting MP3 file when all you want is complete.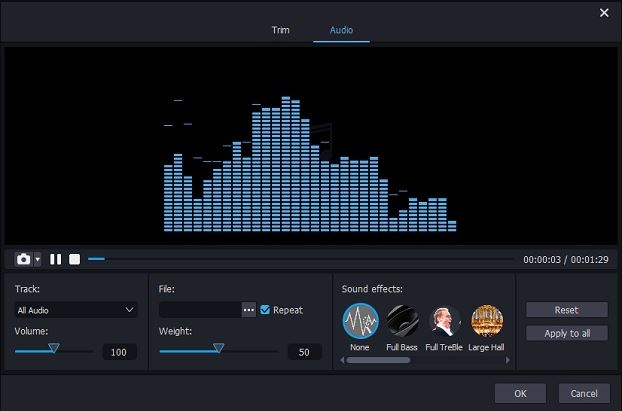 Final Verdict: This is all you need to change audio bitrate via Joyoshare Media Cutter. Although, these steps are quite complex understand for a newbie, you'll feel better after getting hands on the software.
Practical Way 5: Audacity
Marketed as a multipurpose and free audio editor, Audacity is an excellent idea to change audio bitrate and designed to be open-source by a team of volunteers. You can enjoy it on Mac, Windows, Linux, and many other operating systems, almost at a whim. Although the limitation of an intuitive interface, it is not difficult to use it to change audio quality as instructed below with a few clicks.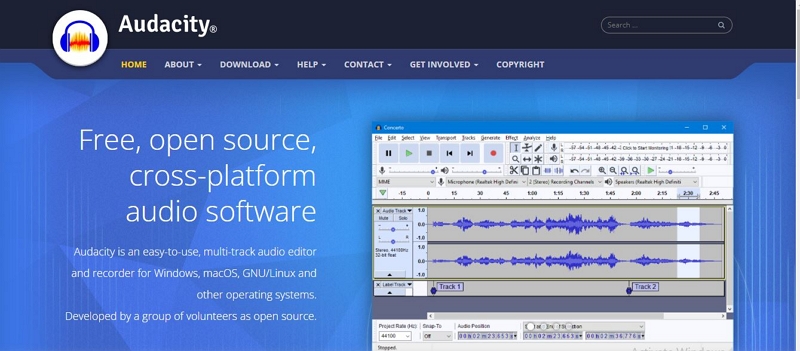 Step by step guide to change audio bitrate via Audacity
Step 1: Launch Audacity
Download Audacity software. Afterward, head to "File"> "Open..." to browse the local folder and select the target MP3 file, or directly and drag it to the interface;
Step 2: Start export
Whereafter, select the top menu "File" option and then to "Export" from the dropdown list > "Export as MP3";
Step 3: Export audio
On the bottom of the "Export Audio" screen, there are four bitrate modes - "Preset," "Variable," "Average," and "Constant." You need to specify one method and set a specific bitrate under the corresponding "Quality" option;
Step 4: Save the file
After everything else, customize a file name and select the output path. Hit "Save" and pop up the "Edit Metadata Tags" window. If necessary, edit your MP3 tags. On completion, press on "OK" to export the final MP3 audio.

Final Verdict: So, this was our last practical option on how to change the bitrate of MP3. However, we find this option a bit complex. However, beginners may not be able to gather the learning curve of Audacity at the earliest stages, but professionals may get the hit!
Some FAQs
1. Does changing bitrate impact sound quality?
Minimizing bitrate will ultimately impact sound quality, but the file size will decrease simultaneously. Take it this way: when a CD converts from the original media, it compresses to adjust within the "content" in a smaller "box," and by doing so, an amount of data gets lost. That is a kind of loss compression. So, on the other hand, you may not get a higher sound quality by increasing the audio bitrate.
2. What is a good Bitrate for audio?
64 (AAC)/96 (MP3) kbps for music is one of the ideal rates as a general-purpose setting that will be pleasing to the listeners. This is the usual bitrate for podcasts and is compatible with current devices, including smart speakers and mobile devices.
3. Can I convert 128kbps to 320kbps?
It is no. 128kbps files are pretty smaller than 320kbps files. The underlying reason is that they have been "compressed" much more from the original audio. ... The new file will be more extensive and massive but won't contain a single byte of musical information more than the 128kbps version. Bigger file, no increase in audio quality.
4. What bitrate should I use for MP3?
When it comes to changing audio bitrate, size does matter—the more kilobits per second, the greater the sound quality. For most general listening, 320kbps is ideal. But, of course, CD-quality audio that stretches to 1,411kbps will sound better.
5. How can I improve MP3 audio quality?
Normalize the audio. Download MP3Gain.
Use audio editing software. Download and install audio editing software.
Always consider using top-quality audio. MP3 is a lossy file format. Thus, the voice quality won't be similar to like on the CD.
Invest in better equipment.
Conclusion
With the tips above, it is effortless to change the audio bitrate. Firstly, you must keep about 10 cms between the speaker and the microphone. Secondly, remove background noises. So, remove any devices that can produce sound and tell everyone around to be quiet. Thirdly, avoid interrupting each other. Finally, the sound quality depends significantly on the microphone's quality and the type of microphone used. If you follow the Eassiy audio editor, the quality of your audio files will also drastically improve than before!