Want to record interviews and lectures on the go with a simple audio editor? The great news is, you are not required to use a full-blown PC or apply rocket science to do some basic or even moderate audio editing level or redesign your audio. There are various powerful apps for both Android and iOS to edit audio on the go. We will unveil some of the best audio editing apps you can try on Android. Let's Begin.
Android is the most used mobile OS out there. There are plenty of users right now who use the mobile operating system. In addition, Android is always known for its massive app ecosystem. So, let's look at the final list of 7 easy audio editors 2023 as given below!
Part 1: 7 Simple Audio Editor Review 2023! [Free and Pro Versions]
Today, we will be talking about the best music editing apps for Android. With audio editing apps, you can edit music files on your Android. So, let's check out the best audio editing apps for Android.
1. Eassiy Audio Editor
Do you want to edit your audio without facing any quality loss issues? Then you can try Eassiy Audio Editor. This efficient audio editor is one of the best audio editors in the market that offers you different audio formats including MP3. You will be able to batch convert and edit your audio files with split, merge, trim, etc. Besides this, Eassiy is also an all-in-one multimedia toolbox that can also be used to edit, convert, and compress video files. By using Eassiy, you can easily enrich your video/audio files. This software provides you with 20+ multimedia tools for different file types. Regarding conversion speed, quality, and supported formats, Eassiy Audio Editor is at the industry-leading level. Even newbies will find it easy to use and efficient. You can edit your audio files with it and share them on various social sites such as Facebook, Twitter, Instagram, YouTube, and more.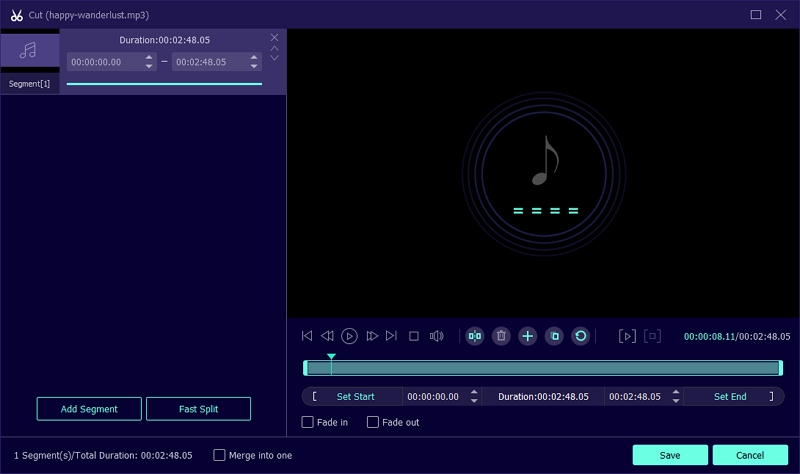 Key Specs:
Helps you to edit audio with trim, cut, split, merge, etc.
Sound and pictures can be synchronized.
Supports converting various audio files in batch.
Allows you to compress audio files as you like.
Doesn't cause you quality loss while converting audio to any format.
Pros:
You can edit audio to video files with numerous pictures.
Allows you to edit out ID3 tags of audio.
Helps you to synchronize audio and pictures easily.
You will be able to convert your audio files into other formats including MP3, WAV, AAC, etc.
Cons:
As this software is still new in the market, we still couldn't find any cons yet.
2. FL Mobile Studio
Pricing: $15
FL Studio Mobile is one of the famous audio editing applications on the Android platform. It features a full editor setup with many effects and many other features. It also supports Chromebooks. Some additional features include hardware MIDI support, the ability to save in various file formats, and extras like drum pads if you need to make your beat. There are in-app purchases for extra plugins if you're looking to purchase them. It's a pretty effective yet a bit pricey option.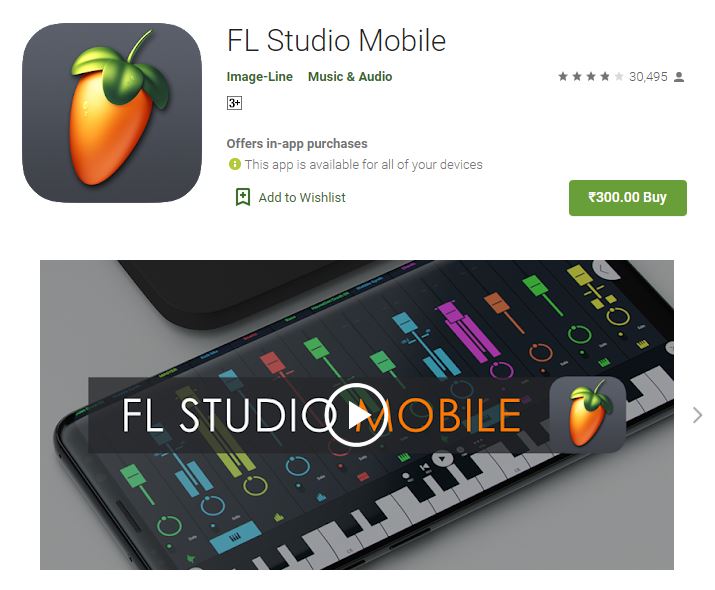 Key Specs:
Configure virtual drum pads and keyboard
Audio recording for live performances
Volume Fader
MIDI Control
Advanced Sound Creation
Pros
Quickly produce music
Available as a free plugin
Affordable for a premium plan
Cons
Not ideal for beginners
No free version in terms of usage
3. Cubasis 3
Pricing: $49.99
Cubasis 3 is Cubase's mobile version. The mobile version isn't quite as robust, but it can quickly get the job done. It also includes an unlimited number of MIDI and audio tracks (the trial has four of each), pitch shifting, time-stretching, more than dozens of effect processors, 550 audio loops, etc. Of course, projects made here also work with the desktop version of Cubase. Unfortunately, Steinberg is also very loose with the trial. It doesn't last forever, but you can restart it as many times as possible.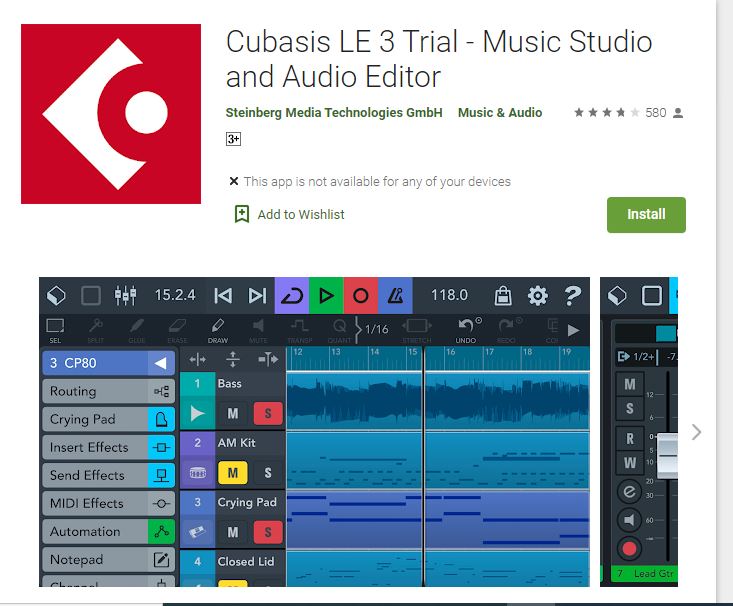 Key Specs:
Track Freeze – New update
75+ additional effect presets
Good arrangement view
MiniSampler for custom sounds
Micrologue for mobile-friendly users
Pros
Good desktop DAW experience
Great touch options
Compatible with other apps as well
Cons
4. Lexis Audio Converter
Pricing: Free
Lexis Audio Editor is one of the easy free sound editor apps on Android that omits many of the whistles and bells of its more expensive counterparts and relies on a more accessible experience. The app consists of a 10-band equalizer, lower speed, tempo, pitch changes, and noise removal tools. You probably won't create studio-level stuff with this. That said, it's good enough for some TikTok meme sounds or other similar use cases.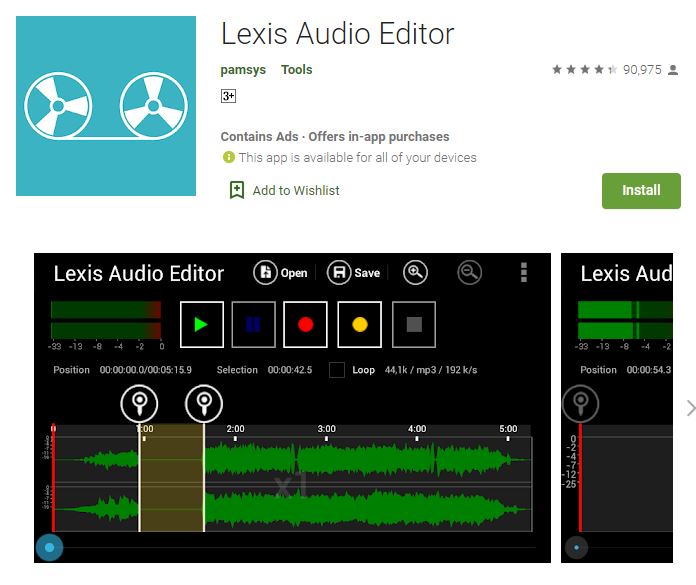 Key Specs:
Merge different audio files
Ten band equalizer
Change speed and pitch tempo of audio file
Compatible with various audio formats
Audio recording options
Pros
Simple user interface
Different advanced features
The free version is also available
Cons
May need to buy the premium version for working on MP3 format.
5. N-Track Studio
Pricing: Free; Standard subscription ($0.99/mo); Extended subscription ($1.99/mo); Suite subscription ($5.99/mo)
N-Track Studio is a decent mobile DAW and a simple audio editor, though. It provides unlimited audio, MIDI, drum tracks, effects, reverb, and other basic stuff like that. The UI is clean and straightforward. The app further includes an integrated metronome if you're recording your stuff. Additional features include sharing your recordings online, 2D and 3D spectrum analyzer, sample pack, a loop browser, and more. It's a bit buggy but otherwise tends to work well.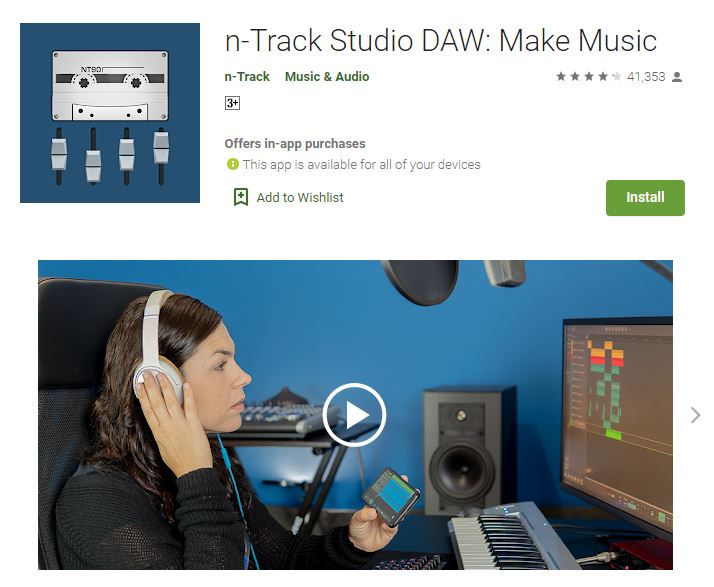 Key Specs:
Stereo & Mono audio tracks
Step Sequencer Beat Maker
MIDI tracks with built-in Synths
Loop Browser & in-app Sample Packs
Virtually unlimited number of ways (max eight tracks without in-app purchases)
Pros
Both simple and advanced features
Up to 8 tracks in the free edition
Songs can be saved online and can be shared among others easily
Cons
Limited features in free version
6. Mstudio
Pricing: Free
Mstudio lets you record,  mix, edit, extract, merge, and convert audio or MP3 files. It also contains advanced features like tempo change, pitch adjustment, mutter, and omit. Moreover, you can remove audio from current video clips, convert, and even amplify audio, cool right? Every feature is separate, and you don't have to dive through a long list of menus to look for any of those features. You can select a role and take it from there. In addition, all the files processed with this app come neatly organized in the saved files tab.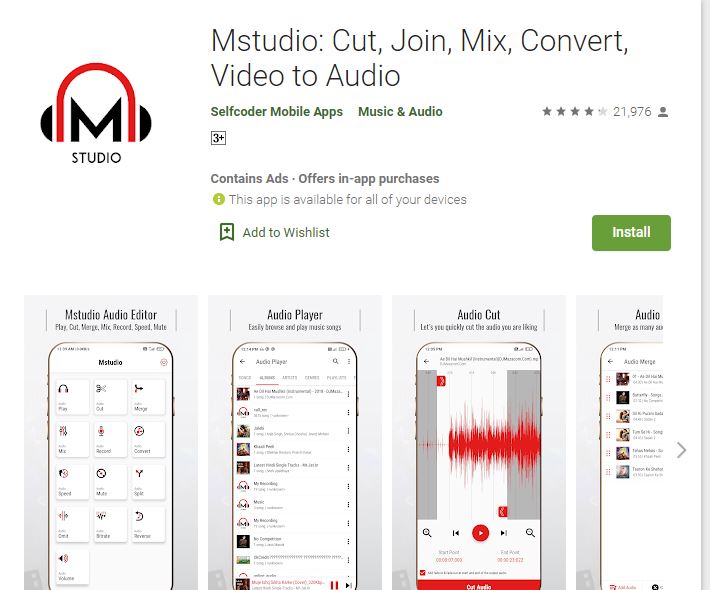 Key Specs:
MP3 Cutter
MP3 Player
MP3 Merger
MP3 Mixer
Video to Audio Converter
Pros
Easy to use
High-quality recordings
It contains all audio-related features
Cons
Very slow
Not advanced
Outdated user interface
7. Voice PRO
Pricing: $11.99
With Voice PRO, you can record your music or voice in 100 formats with up to 320kbps bitrate and 48000 Hz sample rate. It also helps encode the audio file in 8 or 16 bytes and register them in Stereo or Mono formats. Other functions of the app are its ability to add real-time background music to your recordings, merge and mix recordings in any format, remove vocals, file conversion, support for encryption, call recording, tag specific parts of the music, and earphone control micromanage background effects, etc.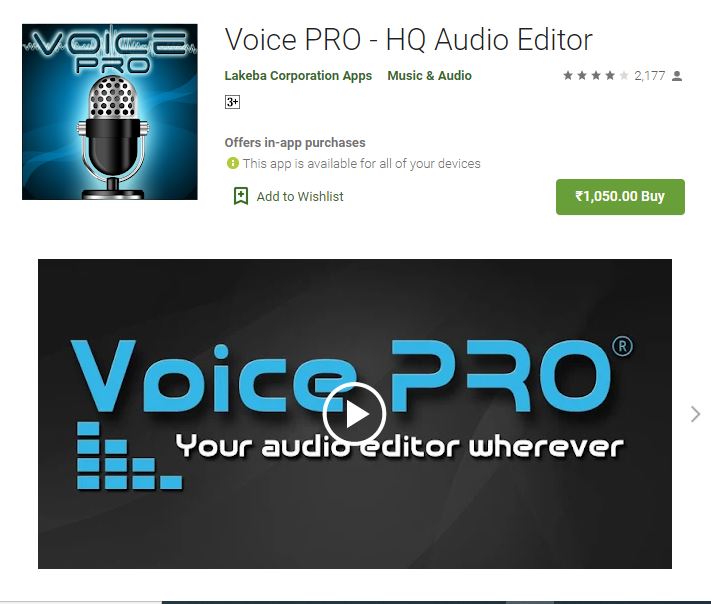 Key Specs:
Record in more than 100 formats
Decrypt and Encrypt your records
Mix with other background or records
Backup and restore documents on services like Google Drive etc.
Vocal Synthesizer
Pros
Various primary and advanced features
Interactive user interface
Compatible with backup platforms
Cons
Free version not available
Some FAQs
1. What is the best audio editor for Android?
We suggest using the Eassiy audio editor as the simple audio editor for both newbies and professional users. It contains all the audio editing features an editor needs if they are looking to become advanced in the field.
2. Which is the best audio?
A lossless audio file format is the ideal format for sound quality. These include FLAC, WAV, or AIFF - "hi-res" because they are better or equal to CD quality.
3. Is AAC or MP3 better?
AAC provides an ideal or good MP3 quality at a similar bitrate, even though AAC also uses lossy compression. Conversely, MP3 offers lower quality than AAC at the same bitrate.
4. What does M4A mean?
M4A is an audio file extension. It has advanced audio coding (AAC) as a feature for lossy compression. The format was usually the successor to MP3, which had not been made initially for audio-only but was known as layer III in MPEG 1 or 2 video files. Thus, M4A generally stands for MPEG 4 Audio.
5. Which is the best MP3 codec?
FLAC — Fully Lossless Audio Codec: FLAC is considered by many to be the better version of MP3. It compresses files to petite sizes without any perceived loss in audio quality. In addition, FLAC files are very lightweight and versatile and can be played back on any device that can play MP3s.
Conclusion
Thus, these were my picks for simple audio editors for Android. Some apps like Voice PRO and FL Studio Mobile cater to professionals. In contrast, others like the Eassiy Audio Editor are simple free audio editors for both casual and professional users. If we have not mentioned any of your favorite Android audio editing apps, comment below and share them with us.