In this article, you shall see how to change the BPM or tempo via an MP3 tempo changer. As the name suggests, BPM or tempo measures a song's number of beats per minute. For example, 60 BPM shows that there is one beat per second. On the other hand, if the BPM is 120, it simply refers to two beats per second. And so on! The beat generally means the time signature if we talk about the musical notation.
The higher the tempo is, the faster the song is. It is also essential in film scoring, modifying the mood and feel of a song, setting up the metronome, and more. If you wish to change the BPM of a song, here is a guide for you with our top list of tools to change MP3 tempo.
10 Best Picks of Audio Tempo Changer 2023!
There are countless MP3 tempo changes on the Internet, but only a few of them have the right potentialto change audio speed. Thus, this section compiles a list of the audio speed changers or audio tempo changers to choose from.
1. Audio Alter
Pricing: Free
Platform Compatibility: Windows, Mac
An online platform, Audio Alter will offer you various tools for modifying audio files as per your requirements. Audio Alter Tempo Changer is the tool you have to use to change the speed of your MP3 audio file out of the vast audio tools. You will be able to permanently change the speed of your audio file to play fast or slow as per your requirements by using this online tool. It supports WAV, FLAC, and OGG file formats apart from MP3 files. If you want to edit your audio files besides tempo changing, we would recommend you to try Eassiy Audio Editor. Though Eassiy doesn't have any feature of tempo changes, it offers you various other features to edit your audio and video files without quality loss. You can compress and edit your MP3 files as you want with this editor. Also, it helps you to convert your audio and video files into 1000+ other audio/video formats. To download this software, you can visit their official website and download it for free.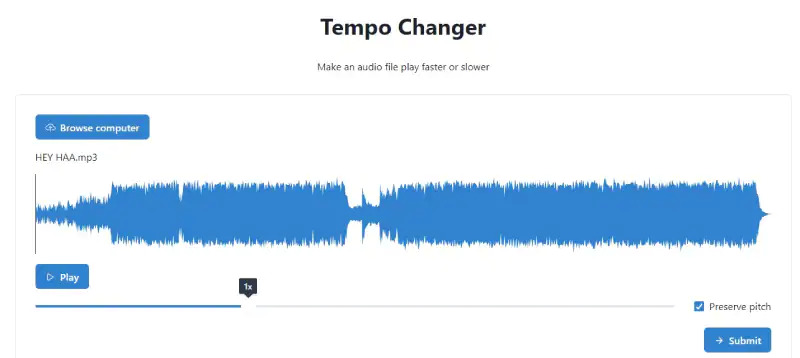 Key Features:
Various audio file formats are supported to convert.
While changing the speed, this online platform preserves pitch.
For different modifications, a wide range of audio tools is available.
Allows you to listen to the music after you are done making changes to get the exact results.
Pros:
You will be able to drag and drop audio from anywhere you want.
Doesn't require you to download it on your desktop as it is an online platform.
To get your desired result, you can listen to the audio file after making changes.
Cons:
There isn't any security of your files because this tool is totally online based.
Though it says it is totally free, it may cost you some money for several purposes.
Might cause you a quality loss issue while changing the tempo of your MP3 files.
2. Online Tone Generator
Pricing: Free, yet they receive donations
Platform Compatibility: Windows, Mac
The Online Tone Generator is a free MP3 pitch changer that lets you change the pitch of the MP3 or WAV format audio files. To use the tool, you're only required to select the audio file for modifying the tone from your PC. Hit the Play button for music when you change the pitch of your selected Audio. You may use the slider or enter the number of semitones within the text box on this MP3 Tempo changer.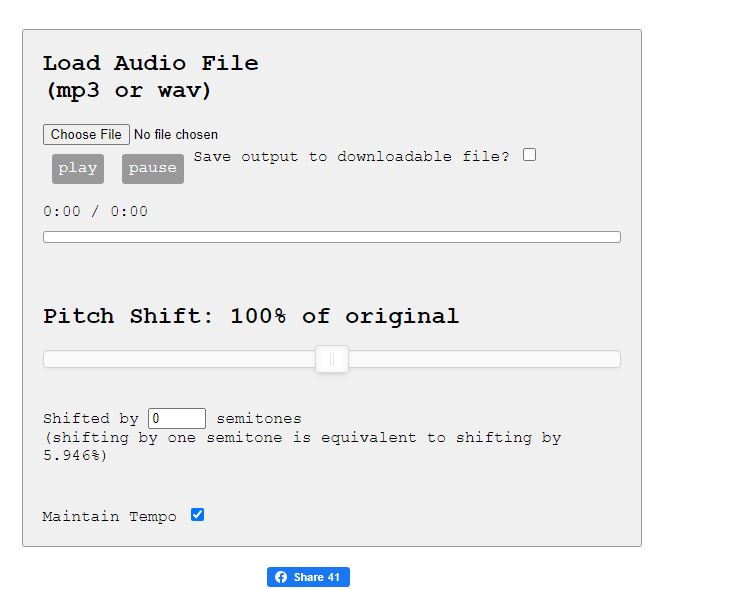 Key Features
Easily modify the audio's pitch and save the file in mp3 format
Despite changing audio's pitch, it may adjust the audio's tempo by unchecking or checking the "maintain tempo" option
After shifting the pitch, you'll automatically get a downloadable file below the tab "Recordings."
Only available with the updated versions of the Chrome, Safari, and Firefox browsers
Pros
Quick website loading speed
Free
Easy to use
Cons
Slow processing
Lacks batch processing
Confusing interface
3. TimeStretch Audio Player
Pricing: Free
Platform Compatibility:Windows, Mac
The TimeStretch Audio Player is another good audio pitch changer with a clean interface a clear call-to-action buttons. The features of this tool include.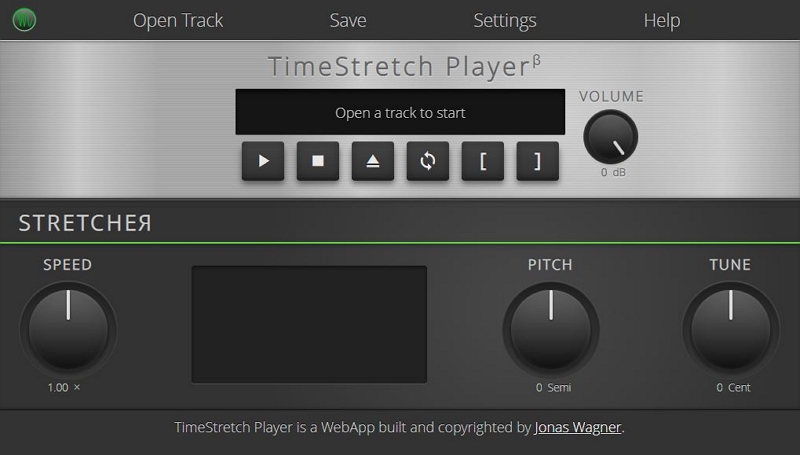 Key Features
User-friendly editing interface
Just open track, enter volume, play, and edit sound
Tune, pitch, and speed changer options
Easy to save the modified version with this pitch changer online
Pros
Easy to use
Online
Various speed change options
Cons
Lacks usage instructions
Slow processing to change tempo of audio file
A bit hard for beginners
4. Change Music Pitch and Speed
Pricing: Free
Platform Compatibility: Windows, Mac
This audio pitch changer tool can easily change the speed and pitch or the higher or lower notes. From learning the instruments or music training, pitch change is a must. This online pitch changer tool is an easy audio pitch changer that is often needed when a singer gets to rock with the high notes. The tool further helps to transform the pitch to a comfortable range.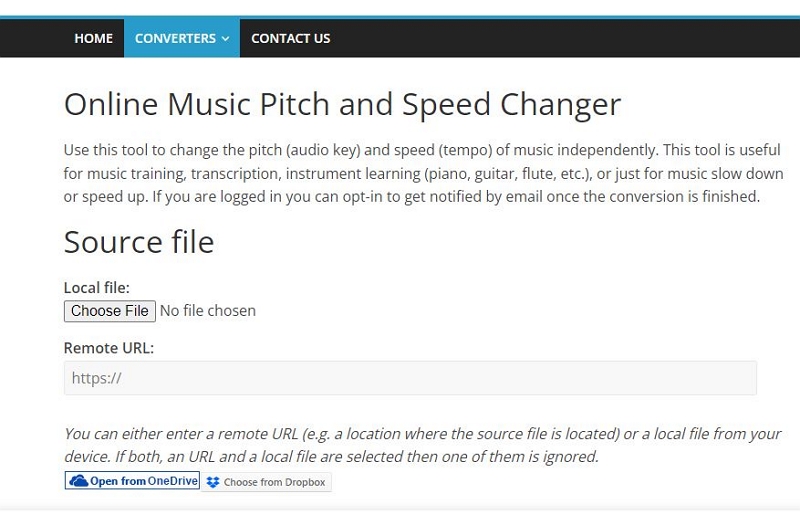 Key Features
Change tempo of audio file and pitch independently
Gives notification once the conversion is over
Put in the audio file's remote URL or choose and upload from your device for pitch changing
Free pitch changer online
Pros
Cons
Outdated interface
Slow processing
Lacks greater features
5. SpeedPitch
Pricing: Free
Platform Compatibility: iOS
Amazingly professional audio editing software, SpeedPitch is a straightforward app with various features. You are required to upload a song from your music library and get going. The features of SpeedPitch are.

Key Features
Free app with a friendly interface
Slow down music by reducing the tempo
It lets you change pitch without disturbing the tempo
Select your song and use it with the iPod library
Pros
Free
Good features
Interactive user interface
Cons
Only for iOS users
Limited features
Lacks batch processing
6. TwistedWave Online
Pricing: If you edit more than 1,000 minutes of Audio in a given month, a volume discount of up to 60% is applied to the edited and output minutes.
Usage Discount (Cost / minute)
0 - 1,000 minutes - 0% Discount ($0.10)
1,000 - 10,000 minutes - 20% Discount ($0.08)
10,000 - 100,000 minutes - 40% Discount ($0.06)
> 100,000 minutes - 60% Discount ($0.04)
Platform Compatibility: Windows, Mac
TwistedWave Online allows you to access it only through a web browser. It's a great audio editor and recorder, this pitch changer online tool requires no download, or you are not required to save it as the server to process the audio file.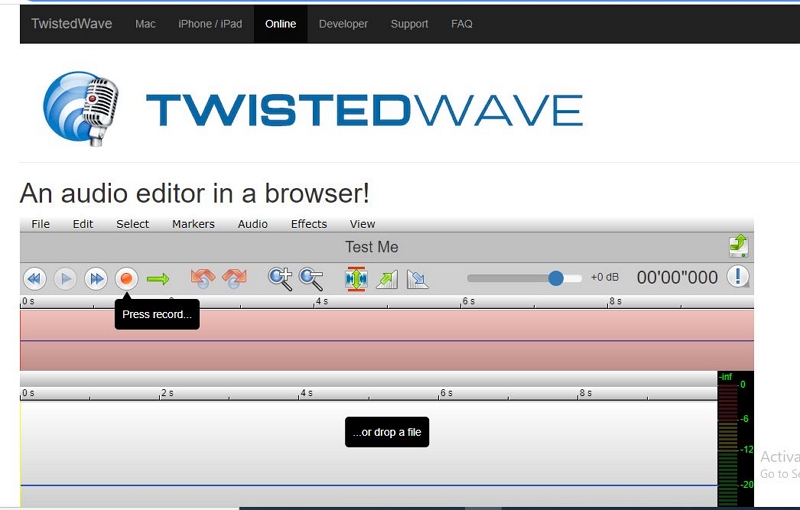 Key Features
Free account with limited features of editing only the mono files of 5 minutes in duration
Web-browser based audio editor
No requirement to download or save the file. It is saved automatically on the server
Even if you close the main panel, you get a complete undo history and the audio files
Pros
Online tool to change MP3 tempo
Easy to use
Compatible with platforms like Google Drive etc.
Cons
Limited features in free version
May not provide updates
Security concerns
7. Voice Changer
Pricing: Free
Platform Compatibility: Windows, Mac
VoiceChanger is another interesting MP3 tempo changer online tool with different sound options that you may target to transform your voice. You may use a MIC to upload an audio file or direct recording directly. The features of VoiceChanger are.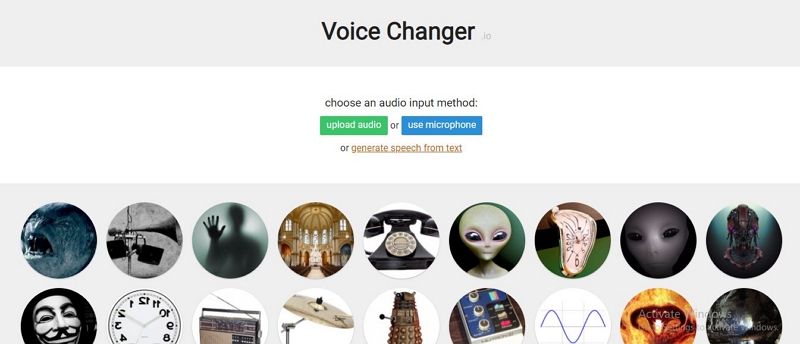 Key Features
You can choose the input method as an audio uploador MIC Easy to check various audio files available and download.
The produced audio clips can be helpful for any purpose
No need to provide credits to VoiceChanger while using it
Pros
Online tool to change MP3 tempo
Various kinds of voices to select from
Free to use
Cons
Lacks of certain useful features
Not a dedicated browser
A bit unreliable interface
8. Audio Speed Changer
Pricing: $4/mo or $48/year
Platform Compatibility: Windows, Mac
This tool lets you slow down your playback speed or change the key for instrumental training or comfortable singing? Audio Speed Changer is one of the ideal speed changer and audio pitch changer tools to simplify your worries.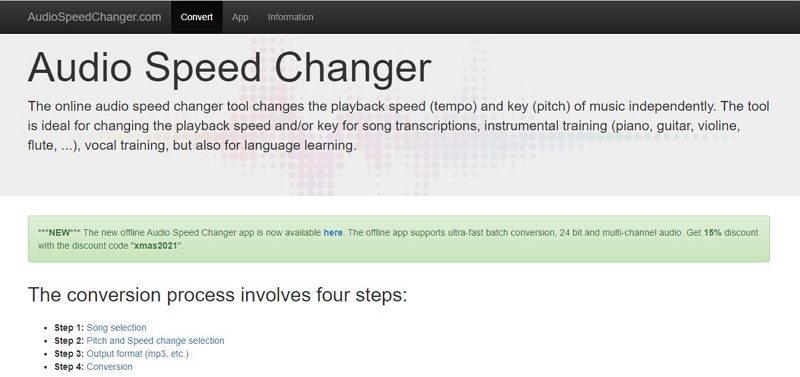 Key Features
Free pitch changing and speed changing tool
Easy to use and simple interface: Select a song and upload>Set the right semitones that you are comfortable with>Change the playback speed in percentage>Select the format to mp3 or m4a and method to time-based or frequency based>Finally, convert easily by hitting the button.
Pros
Compatible with the various online and local links for audio files
Change speed and pitch
Output in M4A or MP3 format
Cons
No preview of files after the speed is changed
Limited output format
No editing
9. TimePitch
Pricing: Free
Platform Compatibility: iOS
You can share and create music with TimePitch as it is an easy-to-use app that also helps you change the pitch and tempo of the audio file without any complications. The features of TimePitch include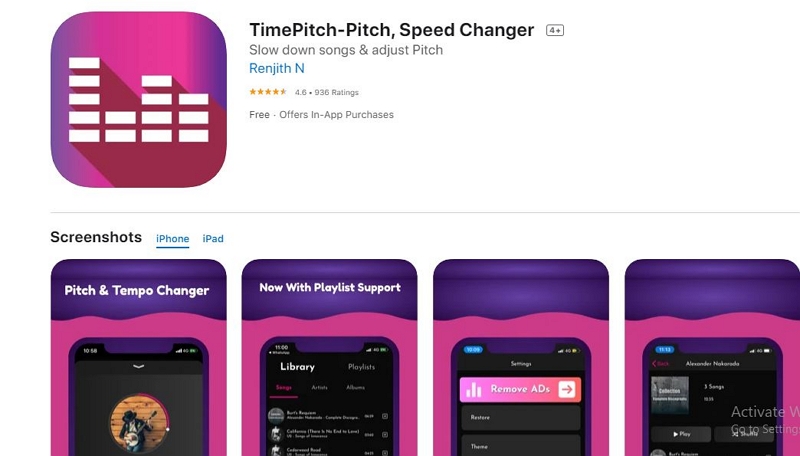 Key Features
Simple to use even for the beginners
Free for use and download
Tempo and
pitch sliders to change audio pitch and speed
Select songs from the music library
Pros
Free audio tempo changer
Various dedicated features
Reliable user interface
Cons
Only limited features
No updates
10. Audiopo
Pricing: Free
Platform Compatibility: Android, iOS
If you desire to modify your audio files, try Audiopo. It is a real-time and free audio tempo changer and pitch changer that helps you decrease or increase the speed and other keys of the audio playback while you listen to it. The features of Audio are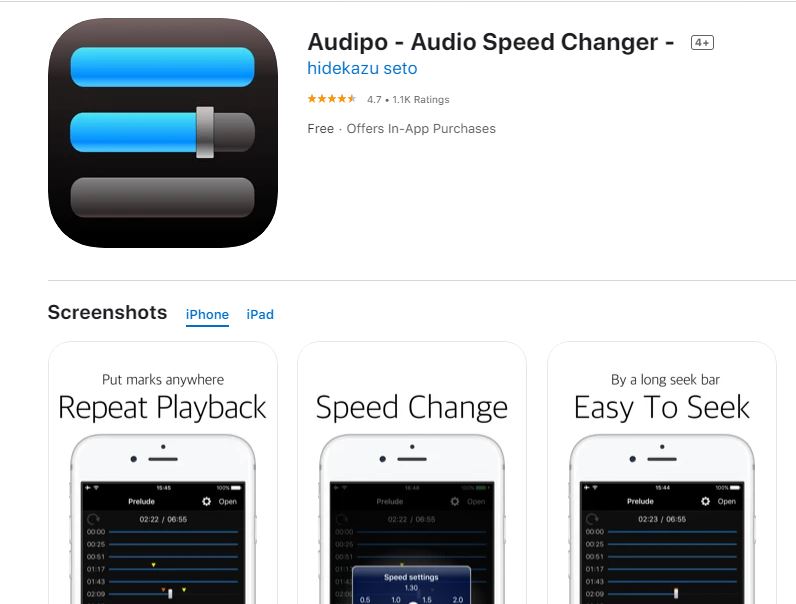 Key Features
Available for both iPhone and Android users
Clear and user-friendly interface
Get funny effects while lowering the pitch of the audio file
Real-time modification of pitch and tempo allowed
Advanced audio control for long audios
Add marks anywhere in your audio tracks
Pros
Free
Interactive user interface
Various advanced controls
Cons
Only for IOS users
Slow processing
Conclusion
The MP3 tempo changers are a great way to provide your music with the right note and pitch. All the audio tempo changer tools mentioned above let you control the speed or tempo of the music. An audio pitch changer is essential for learning musical lessons or playing instruments. It can be easily used online or with more security by downloading dedicated software designed for the only purpose, which has a new feature of voice effect. Go check it out!